Have you ever thought about utilizing internal comms storytelling effectively to make your employee newsletters compelling?
Don't you love reading email newsletters that draw you in?
Whether it's the clever use of witty language within each email or outstanding employee newsletter design design, the key to a good email newsletter lies in being able to effectively master the art of internal comms storytelling.
When it comes to crafting a stellar employee newsletter, you need to start thinking about what kind of employee stories will captivate your audience.
Should you aim to play with words and use wit to draw your reader in? Or should you focus on key design elements and let the images in your newsletter convey a story?
The answer is, you can choose either approach.
But the key to any good story requires you to make sure you understand who is actually reading your employee newsletter? Is it solely focused on employees? Or are there other stakeholders involved, such as members of the C-Suite?
Once you understand who your target audience is and what they need, you can focus on making them the hero of your story. Every word or visual should be about attracting them, drawing them in and keeping them hooked!
5 Ways to Use Effective Internal Comms Storytelling for Your Employee Newsletters
Here are some basic principles to keep in mind to master the art of internal comms storytelling until it becomes second nature to you:
When writing your employee newsletters or focusing on its design, don't forget your why. Ask yourself why you're writing this email or why you're designing it. What's your end goal? Is it to announce a new organizational change? Is it to get employees to sign up for the company's new employee wellness program? Having the end-goal in mind will help you craft a compelling story.

Hone in on

who your target audience is and why should they care. Remember, your target audience (in this case, most likely your employees) is always the hero of your story. They are the only ones that matter. So, it's your job to make them feel special. Rock their day!

Use different visual elements within your company newsletters to create drama, suspense or ignite some kind of emotional response. Be sure to also

hone in on the right colours to attract your audience.

Keep your tone light and conversational and

ensure you're using emojis within your emails

as well as

personalizing your emails

.

Keep your copy short and concise. You're writing in an age where employees are most likely reading your emails on mobile devices. Short and snappy stories work the best!
Still not sure you can master the art of internal comms storytelling within your employee newsletters to boost employee engagement?
Luckily for you, we've compiled a list of three types of  company newsletter ideas from various brands to show you how each of them utilizes one or more basic principles of the art of storytelling to form an intimate bond with their target audience.
You can take inspiration from these newsletter ideas for the workplace to craft compelling creative ideas for your employee newsletters.
Let's have a look at some of our top picks!
1) Airbnb: Inspiration for Epic Employee Newsletter Ideas

The above newsletter from Airbnb effectively utilizes the power of storytelling and offers great inspiration when crafting your employee newsletter.
The first way this newsletter deploys great storytelling is the use of the word "you" in their introductory copy. They seem to know exactly who their target audience is, which in this case, are the hosts who open up their homes to other people via Airbnb. They've then created various targeted content that would only appeal to this particular segmented audience. Everything revolves around how you can be a better Airbnb host, stand out and attract guests to choose your home.
We've mentioned before how important it is to use personalization and segmentation to tell better stories within your employee newsletters and this is one of the best examples of a newsletter that utilizes personalization and segmentation beautifully. Luckily for you, if you're using ContactMonkey as your email plugin, you can personalize the subject line and body of your employee emails.
The second way Airbnb is effectively deploying the art of storytelling in this newsletter is by dividing up the information into different content blocks.
This is a great way to tell a story visually as it ensures you don't overwhelm the reader and keep them engaged with different elements within your story. This is also an excellent way to keep your newsletter copy short and concise. Remember, short and snappy stories usually work best!
Key takeaways for your employee newsletters:
Personalize all employee emails, especially the subject line and body of your email.
Segment employees according to country, region, age etc. to boost employee engagement.
Keep your copy short and snappy and use content blocks to tell more effective stories within your emails

2) Netflix: Draw Inspiration for Your Employee Newsletter Content Ideas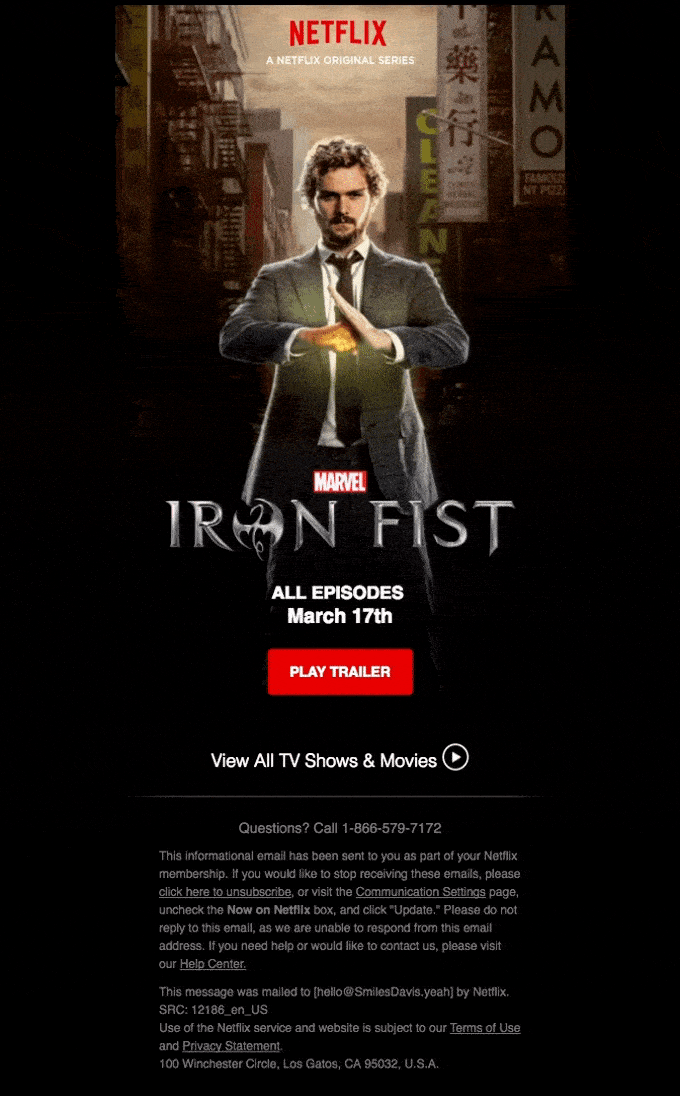 Netflix is known to use the power of suspense to draw their readers in. Suspense is a powerful emotion used in storytelling to captivate your audience and make them keep coming back for more.
Much like the addictive nature of their TV shows, Netflix utilizes suspense within their newsletters as well. They mostly draw on visuals and design to tell the story.
The above newsletter for the popular TV show, Iron Fist, is an excellent case in point. The use of the actor's animated image takes over most of the space strategically.
You're not expecting the image to become animated all of a sudden. This sudden change in the visual will make you want to press the CTA button to view the trailer.
The sleek design and dark imagery tells a story as well. It evokes emotions of suspense, tension and uncertainty.
The key to utilizing the art of internal comms storytelling in any newsletter is to ensure you don't give away the whole story. You need to give the audience bits and pieces and get them to want more so they can take an action, such as click on a CTA button to visit your website to read the whole story.
Key takeaways for your employee newsletters:
You can use the art of suspense by animating your employee newsletter using the above example. This can be as simple as using a visual of your employees from your company's last event, animating those visuals and then asking the audience to click on a button to read the whole story on your website.
If you don't wish to use animated visuals in your newsletters, you can try using videos or simply use a darker colour in your employee newsletter to evoke suspense. The above newsletter example is a great one to simulate for your employee newsletter to highlight special events such as Christmas or Halloween as you're more likely to get away with using colours that aren't a part of your usual brand palette during such times.
The newsletter content in the above newsletter can also be used to create the best employee newsletters that can offer great inspiration for employee spotlight ideas.
3) The Hustle: Inspiration for Office Newsletter Ideas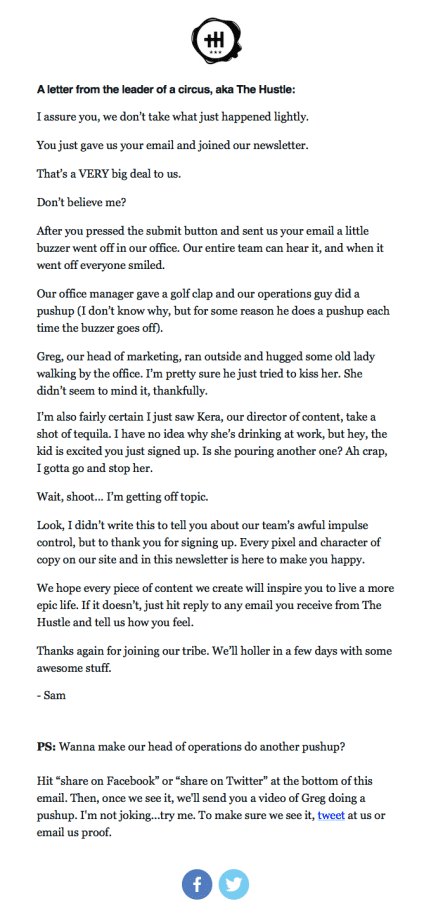 The above newsletter content from The Hustle is a great example of how you can simply rely on the power of the written word to grab the attention of readers.
If you're an internal communications pro looking to create epic newsletter content without having to rely on visuals and designs, then the above is an excellent newsletter example for you.
The copy is slick and makes even the most boring events sound interesting
Internal communications folks, look at the copy on this one to figure out how to make company news sound exciting in order to bolster employee engagement.
Key takeaways for your employee newsletters:
Use the above newsletter design to welcome and onboard new employees. Make the entire narrative about them. Use a photo of them if you want to or just use the power of wit to introduce them to the entire company and make them feel special. Weave a story that's funny and that showcases something unique about your new employee.
Utilize social media buttons, if possible, within your employee newsletters so that you can encourage employees to share an update or the announcement of a new employee on social channels. Pro tip to remember: Good stories are always those that others are willing to share.
We hope the above examples inspired you to tell better stories within your employee newsletters? Have you ever incorporated effective storytelling techniques that have enabled you to create better employee newsletters? Share with us in the comments below. We'd love to hear from you!
Convinced of the power of internal comms storytelling within your employee emails? Want to learn how to track your internal emails using ContactMonkey? We can set up a personalized demo for you and your team. Just click on the button below to book your demo!