Ever wondered how to boost employee engagement during the busiest time of the year? As an internal communicator, you'll know that coming up with New Year and Holiday messages that resonate with employees during the holiday season requires tons of planning and work.
But you can choose to look at it differently. If you can somehow learn to leverage this spirit within all your New Year and Christmas messaging, you'll be able to boost employee engagement.
Luckily for you, we have some tips to help you stay on track with your internal communications messages, effectively leverage the holiday spirit, and find holiday employee engagement activities. In this post, we'll discuss 5 ways for you to ensure your communications messages resonate with employees during Christmas and New Year.
Create better emails. Try ContactMonkey today.
Start a 14-day free trial. No credit card is necessary.
Want to leave holiday email design to the experts? Download our pre-made holiday newsletter templates for free.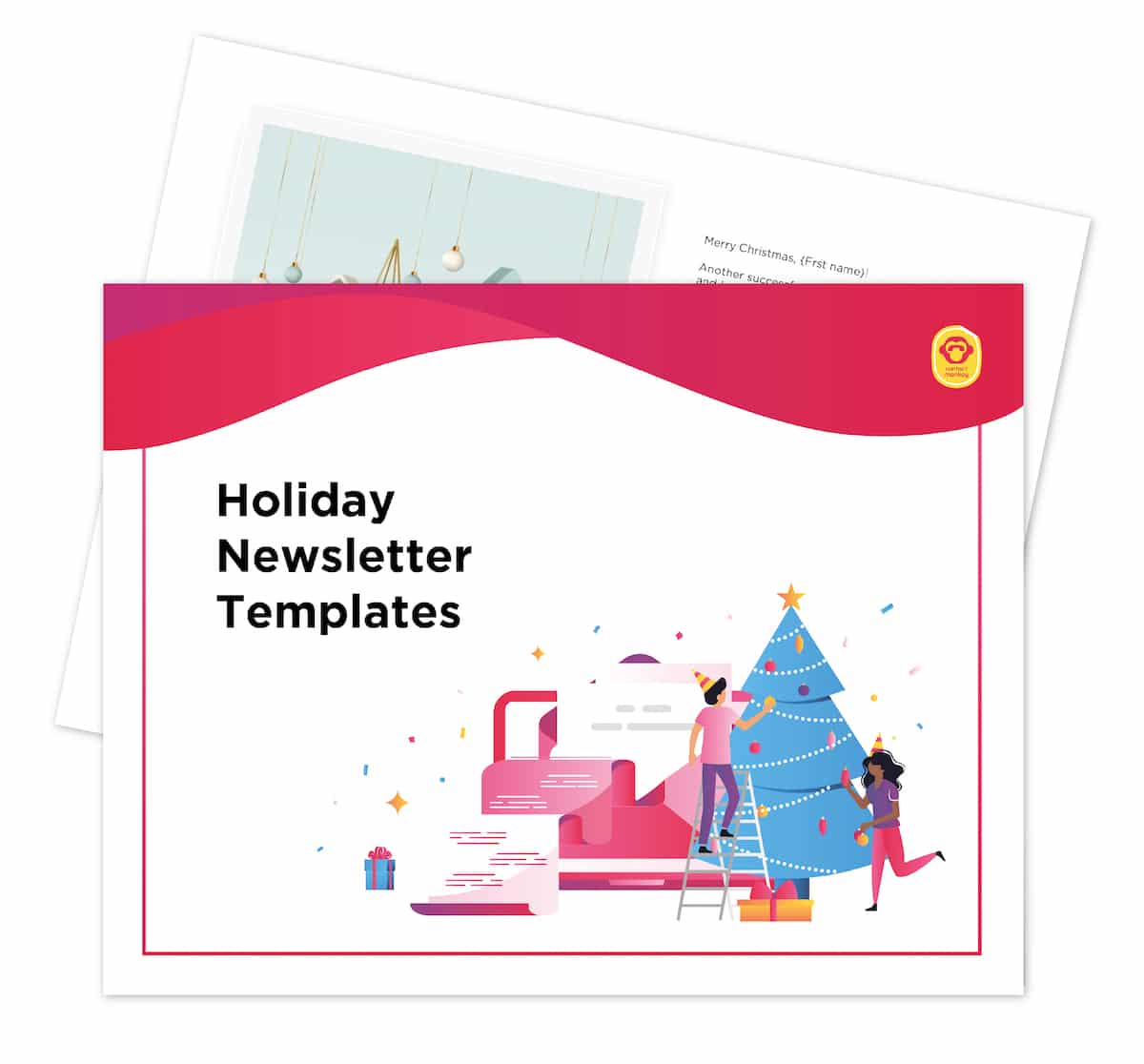 Internal Comms Holiday Messaging: 5 Ways to Boost Employee Engagement
Engaging holiday messaging relies on great employee engagement ideas for the holidays. First, you have to plan out dynamic and inclusive employee engagement activities for Christmas and New Years. Then, focus on learning how to create email newsletters to feature your holiday activities.
We've outlined our top holiday messaging and Christmas employee newsletter ideas alongside some great employee engagement trends for Christmas and New Years.
1. Plan in Advance to Boost Employee Engagement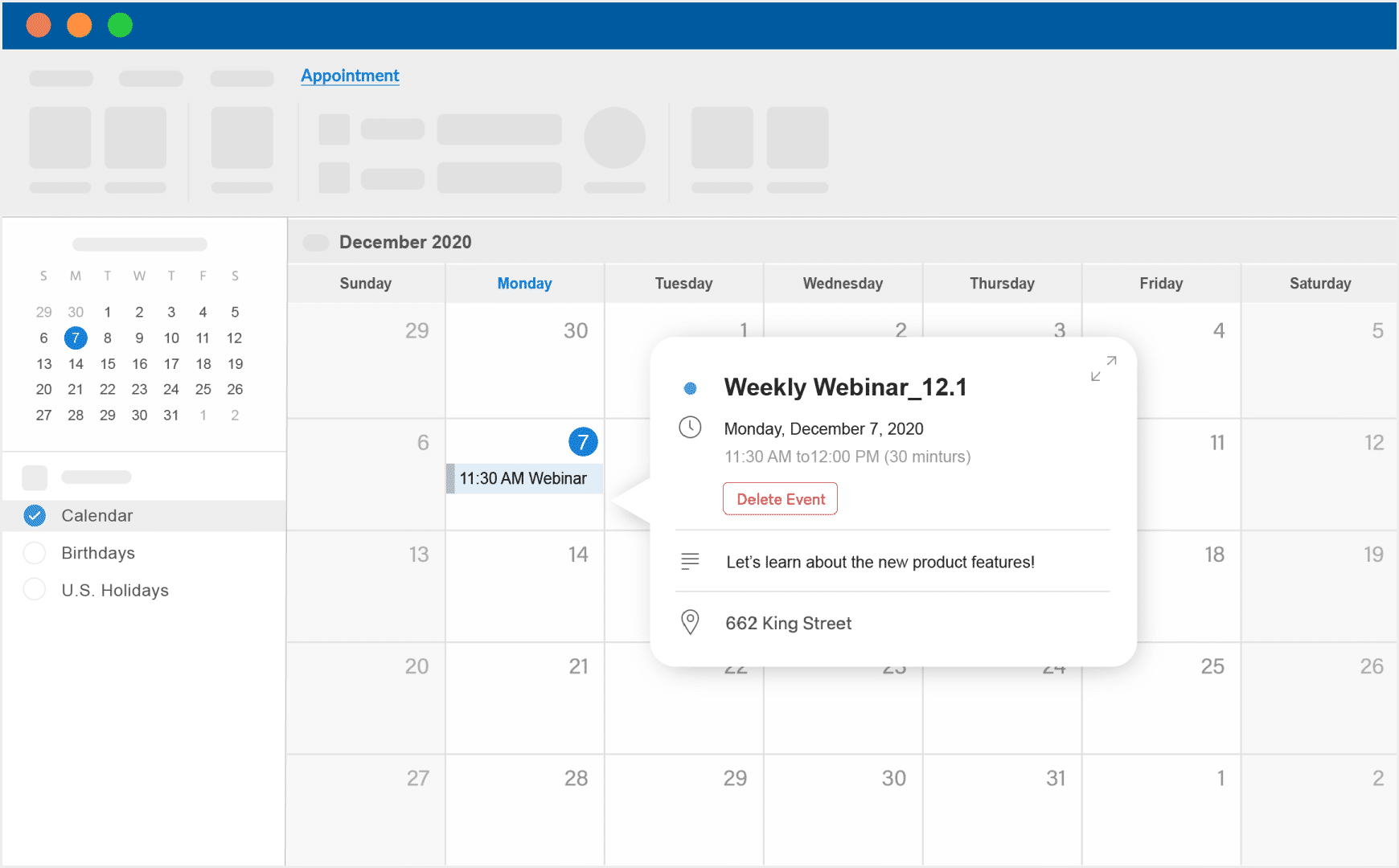 For starters, make sure you plan everything way ahead of schedule to ensure you're able to clearly communicate your year-end goals to employees well in advance. An easy and efficient way to do this is by implementing an internal communications planning calendar.
Secondly, if as an internal comms professional you've been suddenly tasked with the responsibility of creating an end of year Christmas party for employees, you need to ensure you plan ahead.
Intricate details such as budget, venue, food, dietary restrictions of employees etc. need to be taken into account in advance. Last minute party planning is unlikely to go well.
Planning your Christmas and New Year's communications well in advance will also ensure you're able to align your holiday messaging to your business's objectives and your strategic communication plan.
A great way to inform your planning is by using an email performance tracking tool. This type of software helps you find the best times to send internal newsletters and schedule future email sends to maximize engagement. It also lets you see the type of content employees enjoy the most. You might also consider sending to specific distribution lists within your team to further cater the messages. Using ContactMonkey's List Management feature, you can create and manage these lists without having to bug your IT department.
This is a great method for your overall employee engagement survey strategy because you have a better idea of what your employees expect for the holidays.
2. Boost Employee Engagement by Involving All Employees
If you truly wish to boost employee engagement and retention, you'll have to get all employees involved in the Christmas comms planning process!
Talk to other departments. See if there are staff from each team who can help you plan fun holiday employee engagement activities. Then, enlist their help in coming up with creative Christmas messages. If you are hiring new employees over the holiday season, be sure to include them with a holiday-themed new employee onboarding email.
If you're ever stuck with content, you can try ContactMonkey's OpenAI integration. With a simple prompt, you can generate engaging copy that is high quality and relevant to your audience.
One of the best ways to get employees involved is by creating a fun Christmas video. One that speaks to your company's values, culture, and employee engagement.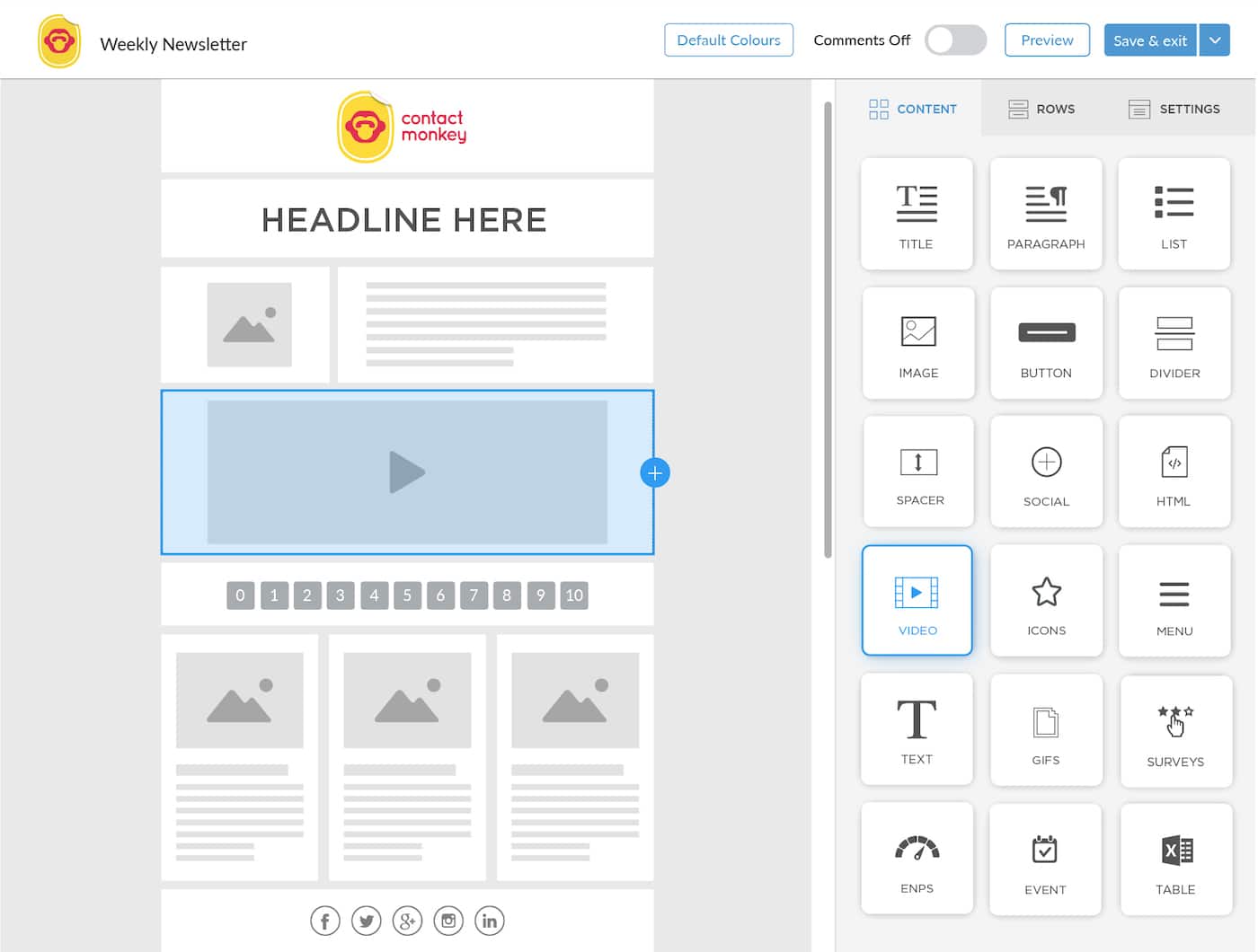 Check out this brilliant video by SpottyDog Comms, where they've created a fun Christmas video involving all their employees singing a rendition of the infamous Christmas carol, 12 Days of Christmas!
What a fun way to ignite the holiday spirit and boost employee engagement through a creative communications campaign!
3. Introduce Christmas Games
If you don't have the time or the budget to plan a lavish end-of-year holiday Christmas party, there are tons of low budget ideas to help boost employee engagement, bolster your employee engagement best practices, and get everyone in the holiday spirit.
How about creating a fun Christmas trivia night? One where you divide employees into various teams and quiz them on Christmas carols, famous Christmas movies and lots more!
Throw in a Christmas movie that you can screen afterward or add in some Christmas caroling. Now you've got a perfect, low-budget holiday party right there!
Alternatively, you could also put some internal influencers in charge of planning the office holiday party or implementing a fun gingerbread house building contest. Isn't that a super fun way to improve employee engagement?
4. Awards Ceremony to Boost Employee Engagement
Instead of a games night or a holiday Christmas party, how about hosting a fun awards ceremony instead? This fun employee recognition idea is a great way to showcase to employees that you appreciate the work that they do. And it doesn't necessarily have to be high-budget.
According to Response, it can be as simple as rewarding employees on a Friday afternoon, coming up with fun awards such as "Most Creative Employee of the Year," the "One with the Messiest Desk" or "Most Organized Employee," etc.
You shouldn't look to give awards according to performance or targets. Instead, come up with creative awards that reflect the unique personalities of each employee.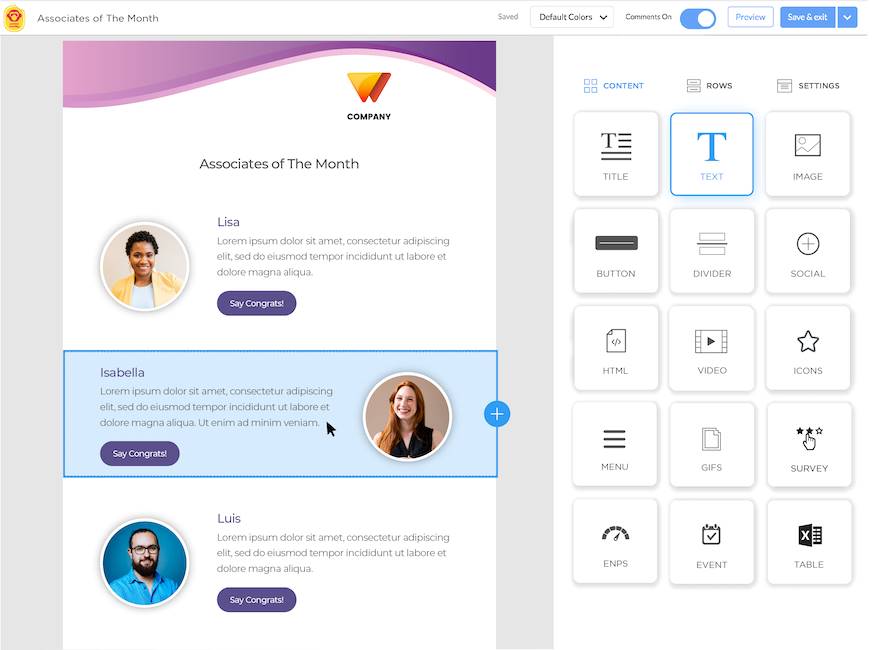 This can be especially helpful if your company has gone through any kind of recent disruptions and you're unable to host a lavish party but want to still relay the message to your employees that they matter!
5. Create a Fun Holiday-Inspired Employee Newsletter
If you're really short on time and didn't get to plan in advance, then you should simply strive to create a fun holiday employee newsletter that really stands out. Here are a few company holiday newsletter ideas to help you out:
Use photos
You can use a fun photo of your employees from your Christmas party last year. Or, you can use a recent one, showcasing all employees. Be sure to wish employees happy holidays and thank them for all their hard work.
Create different sections
If you have space in your newsletter, you can break down the content into different sections. Showcase your company's year in review and all the accomplishments, events and targets achieved by your company during the year.
With ContactMonkey's event management feature for Outlook, you can create, curate, and monitor events straight from your inbox. Not to mention, employees can register for holiday activities and events from the comfort of their email.
Here's an example email to inspire you to create your own holiday employee newsletter: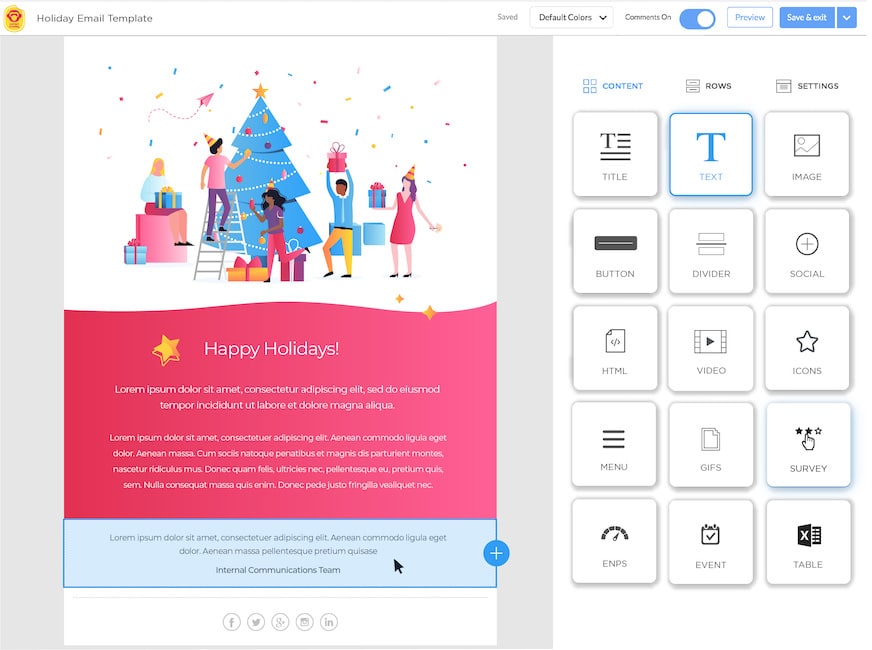 Be sure to acknowledge the work of each employee. Clearly communicate that none of this could have been achieved without them!
Add interactive or animated elements
You can make the employee newsletter stand out even more by deploying interactive elements such as GIFs. Check out the interactive Christmas newsletter below. Isn't it a great way to give your employees a gift within the employee newsletter?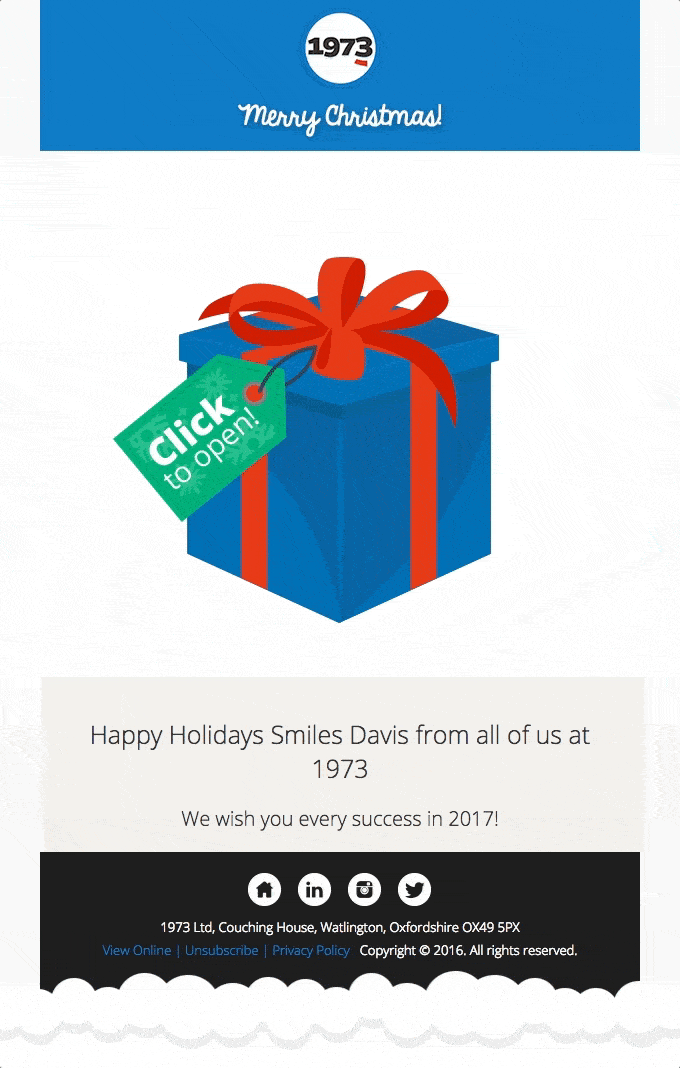 (Click here to view the full interactive email)
Incorporate video
If you want to dial up the appreciation, consider incorporating video internal communications. Ask the CEO of the company to record a video where she wishes all employees happy holidays. Additionally, the video should include acknowledgment of everyone's hard work throughout the year and gratitude for dedication to the company.
Bonus Tip: Be sure to personalize employee emails, by addressing each employee with their first name within the subject line and body of the email. With the ContactMonkey's internal communications tool, you can easily segment employee distribution lists and personalize each email!
Oh, and if you're looking for employee newsletter templates, you can use our easy to use drag and drop email builder to create beautiful, responsive HTML newsletters in minutes!
6. Gather employee feedback
If you're confused about what employees expect during the holiday season, run a poll or a survey in advance before you make any detailed plans. Collecting employee feedback is a fundamental part of any employee engagement model.
With ContactMonkey's internal email tool, you can easily embed employee pulse surveys and polls straight into your internal newsletter.
This way, you can conveniently gather employee feedback and suggestions from the same place that you communicate with employees daily.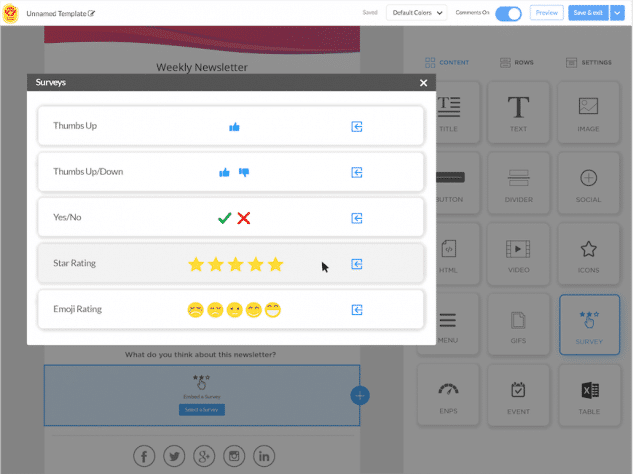 Level Up Your Holiday Employee Engagement Ideas
So, there you have it! 5 tips to up your internal comms game during the holiday season to show why employee engagement is important. What's important is to develop activities that truly resonate with employee interests and that are informed by employee feedback. This way, you can continuously improve your holiday employee engagement activities with each holiday season!
Do you have any tips that have worked for you in the past? Share with us in the comments below. We'd love to hear from you!
Want to learn how to boost employee engagement by tracking your internal emails using ContactMonkey? We can set up a personalized demo for you and your team.