One of the hottest topics in the internal communications space is employee engagement. Whether looking at past or present data, there are a lot of employee engagement trends to take stock of, especially as we move towards an increasingly digital world and workplace.
Even though employee engagement is something that companies deal with internally, the effects of lower levels transcend the office walls.
Its impact on mental health and wellness, work/life balance, and employee advocacy make it something that we can't stop talking about anytime soon.
If you're an internal communicator, manager, leader, or HR professional looking to bring more cohesion to your organization through a people-first approach, then keep reading.
Engage staff with a modern internal comms tool.
Start a 14-day trial. No credit card is necessary. Zero risk.
What is Employee Engagement?
Employee engagement is how attached or invested someone feels to the company they work for, and their role within the organization. Overall, employee engagement is related to higher performance and better business outcomes.
Organizational psychologist William Kahn identifies 3 key aspects of employee engagement
Physical engagement relates to your employees' mental and physical willingness to expend energy towards their tasks.
Cognitive engagement measures how aligned employees are with the goals of their organization, and how this knowledge informs what efforts are required of them to succeed in these aims.
Emotional engagement is how employees actually feel about their employer. Nurturing a meaningful and understanding work environment for your employees has a tremendous impact on their ability to succeed.
Ultimately employee engagement is a deeply complex, multi-faceted aspect of your business strategy. To best understand the key drivers of employee engagement at your organization.
Top Employee Engagement Trends for 2023
We've narrowed our best employee engagement trends for 2023 to this list of 20. While employee engagement models and initiatives are important, it's also important to understand why employees may be looking to leave your organization in the first place.
Our list will examine the several important factors that cause employees to tune out, and describe strategies to remedy this to make your organization an employee engagement powerhouse.
1. Allow a healthy work/life balance
One of the major takeaways from the shift to remote work is that your employees have a lot of their plate. Their ability to do their jobs effectively relies heavily on how they're able to manage their work responsibilities and personal life. To truly prioritize employee engagement, your organization needs to help employees manage this balancing act.
Effective time management starts from the top. If you want your employees to meet their deadlines, ensure employees are given reasonable deadlines for their work and the resources needed for them to complete their tasks. Minimizing the amount of back-and-forth required for your employees to succeed plays a huge role in helping your employees concentrate on their tasks.
The next important aspect of this balance is flexibility. If an employee is particularly overwhelmed, give them the time and understanding they need to get back on track. Trying to force an employee to meet deadlines and prioritize work over their at-home responsibilities is a recipe for low engagement.
2. Foster a stress-free workplace
The better-equipped your employees are to balance their work and personal responsibilities, the less stressed out they'll feel while working. But there are more things businesses can do to ensure that their workplace is as stress-free as possible.
This is where managers really need to step up. They need to treat their team members fairly, and hold themselves accountable to their employees. This doesn't mean micromanaging and dictating every minute aspect of employees' work life. Rather, managers need to understand the condition in which their employees do their best work, and then taking steps to create and maintain those conditions.

There are countless factors that contribute to stress at work, but these are three employee engagement statistics every manager should keep in mind:
80% of adults struggling with depression reported some difficulty with work, home, and social activities.

72% of today's employees want employers that support mental health and well-being initiatives.

83% of workers

regularly experience stress at work.
Understanding the problems your employees face is the first step to remedying them, and communication is key for this understanding. Read on to learn how your organization can identify the issues that matter to your employee.
3. Collect employee feedback often
If you want to be serious about employee engagement, get serious about employee feedback. Employee feedback is your business' best approach to understanding what really matters to your employees, which is the foundational of your employee engagement strategy.
There are numerous ways you can collect employee feedback. Face-to-face conversations were the preferred method for businesses with in-office employees, but with the mass shift to remote work internal communicators need new and innovative ways to reach out to their employees.
Using your internal communications is a terrific way to gather employee feedback for several reasons. Letting your employees voice their opinions immediately after receiving information helps them focus their feedback while the details are fresh in their minds. It also encourages your employees to engage with your internal communications on a regular basis, as it provides them an opportunity to provide you with their feedback. Finally, it's fast and easy, and doesn't require a lengthy back-and-forth which can be fraught with anxiety over how their responses will be received.
With ContactMonkey, you can use your internal emails and newsletters to collect employee feedback in various ways. Conduct employee surveys using a variety of feedback options including emoji reactions, star ratings, thumbs up/down, yes/no, and more: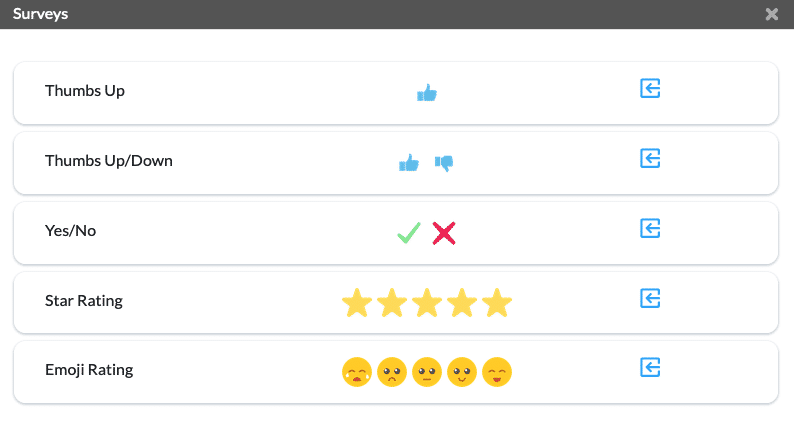 These are fun ways to elicit employee responses while maintaining the look and feel of your internal communications. But employee feedback can take more forms than just preset responses. This is where anonymous employee feedback comes into play. ContactMonkey allows you to enable anonymous employee comments along with your surveys to let your employees add their specific input with their survey response: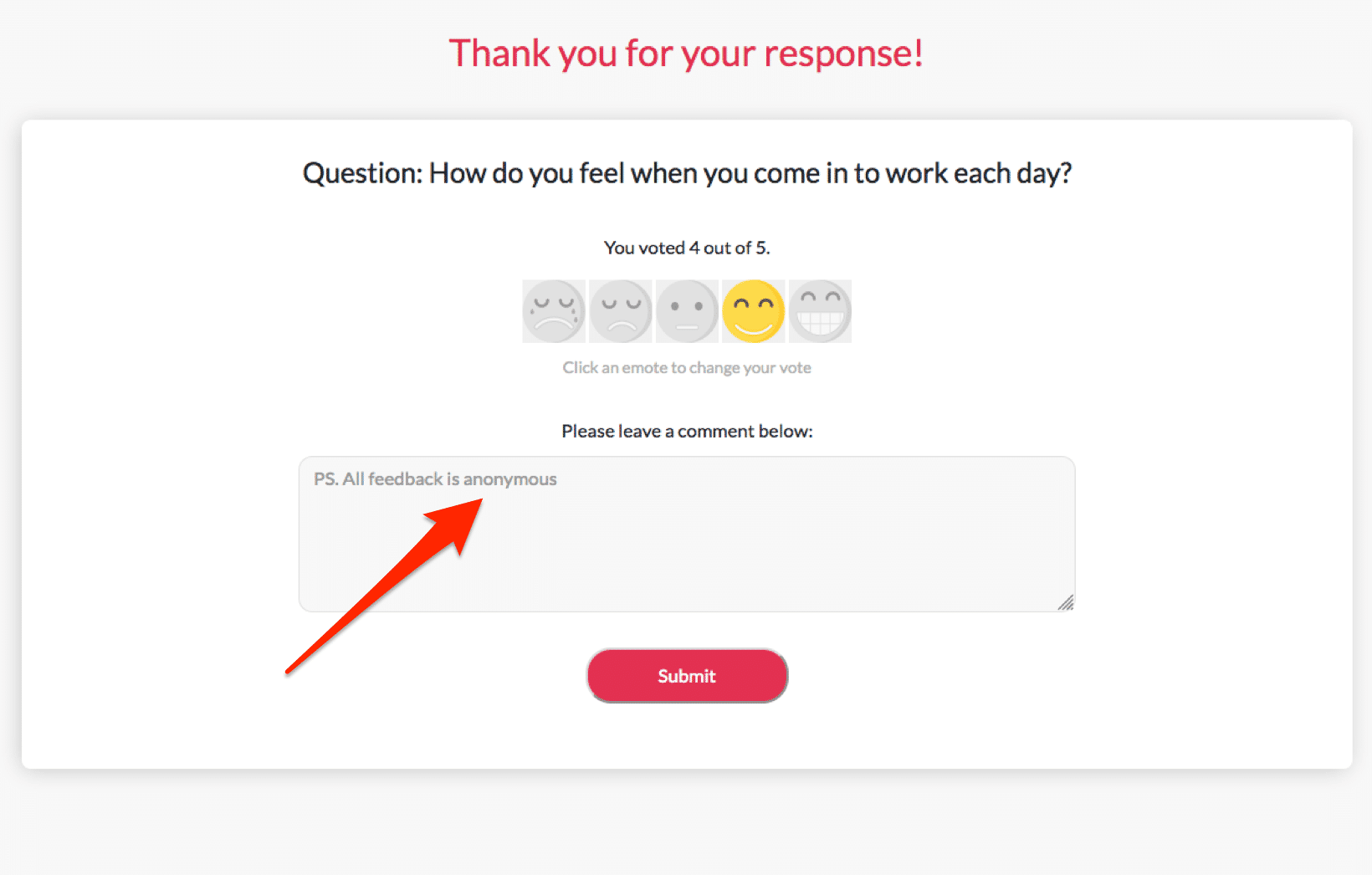 Anonymous feedback lets your employees speak their mind without having to worry about follow-up questions. This means they'll be more inclined to speak their minds about what's concerning them. This honest feedback is crucial to properly facilitating a stress-free, employee engagement-forward business.
Not sure what questions to ask on your employee surveys? Try using ContactMonkey's OpenAI ChatGPT integration to generate content for your email based on prompts you provide. Simply describe what you'd like to learn, pick the generated questions you'd like, and edit them for your audience.
4. Get savvy with your internal communications
Taking a step back from specific internal communication content to look at the practice as a whole, your internal communications strategy plays an important role for how employee engagement is treated at your organization.
Who you send your internal communications to, when you send them, how often you send them, what you choose to include in them; all of this contributes to how your employees feel towards their workplace. A stellar internal communications approach will help your employees stay on top of what matters for their success, and won't overwhelm them with unnecessary or redundant information.
Whether you're building your employee email approach from the ground up, or you're a seasoned communications veteran refining a well-established strategy, an internal communications audit can help reveal the strengths and weaknesses of your internal communications. Internal communications can be a tremendous driver of employee engagement, so give it the attention it deserves.
You can also increase email engagement by reducing the amount of irrelevant emails your employees receive by using custom email lists. With ContactMonkey's List Management feature, you can create custom email lists—without IT—that integrate with your Human Resource Information System (HRIS) like Workday and ADP, as well as Azure Active Directory, so they'll update automatically.
5. Accommodate your remote and hybrid workers
At present, 75% of workers say they are more productive at home. The main reasons they cite are less distractions, lowered commuting stress, and fewer office politics to navigate.
Since the year 2005, Work From Home has increased by 103%. With that figure in mind, having a policy or protocol in place is a must.
There may be the misconception that because they don't have to commute, and don't even have to get dressed and make themselves presentable for the office, that remote workers aren't working nearly as hard. However, they're usually working more hours than their brick and mortar employees in lieu of not having to leave the house.
With this in mind, it's important to reward your employees and their hard work. If they're hitting their goals, acknowledging this is a great way to let them know that you're just as mindful of their work as those who you see in person every day.
6. Be clear about your expectations as a manager
Let's go back to William Kahn's second aspect of employee engagement: cognitive engagement. When your employees understand the goals of your organization, they carry that clarity into their individual tasks, connecting the small details of their role with the overall success of the business and their coworkers. Manager play a crucial role in facilitating this clarity.
Employees never want to guess what their manager expects from them. From Day One employees are working to find their way in your organization, and managers influence this ongoing process tremendously.
Managers should always be upfront about organizational goals, individual tasks, and how the two fit together. From managing the weekly tasks of employees, to explaining how those tasks translate into the overall success of the business, managers' communication skills need to be on point.
You can also use employee handbooks to outline expectations for new employees. This kind of resource is great because employees can refer to it whenever they need a refresher.
Be open to employee feedback and sensitive to different employee needs. You can't force an employee to learn differently than how they already do; understanding the nuances of what drives employees and then incorporating those details into their management approach is a huge factor for higher employee engagement.
7. Emphasize meeting presence
If the team members in the brick and mortar office are having a meeting, there is no reason to exclude remote workers. There is a ton of tech available, like Zoom, that makes it easy for telecommuters to be in the room when issues and ideas are being discussed.
This alleviates feelings of isolation and exclusion for remote workers. It enforces connection with teammates, and also allows remote workers to participate in real-time, rather than getting information retroactively.
8. Utilize social media
How can social media generate positive employee engagement? There are quite a few advantages to using social media for business, including improving employee engagement.
Social channels open up new means of communications, give employee platforms to discuss ideas and ask questions, give leadership a space to post employee or company news, and make information delivery more interactive for internal communicators. Three ways that social media can feed into internal communications are:
Providing leaders and their team members with a platform to give and receive praise

Using

multiple channels

for internal communications (e.g. Slack messages)

Presenting values and culture in a visual, approachable way
Although the majority of social media platforms are external, it's definitely worth thinking about how they can work for you internally. Starting internally and then moving externally with your message could be ideal—just think about your goals.
9. Offer tangible employee benefits
High levels of employee engagement and retention need to be a top priority for organizations and their leaders. Not only is it good for employees, but it's also excellent for business.
In fact, organizations that are considered to be the best for employee engagement achieve earnings-per-share growth of about 4x more than their competitors. The numbers show that focusing on employee engagement trends makes good business sense.
While the previous trends we've discussed are surefire ways to fortify your employee engagement, there's no more direct approach to encouraging engagement than offering competitive employee benefits. From salaries, to bonuses, to vacation days, to stock options, there are countless ways companies can make their workplace as attractive as possible for top talent. Try conducting an employee benefits survey to find what's important to your employees.
10. Recognize employee accomplishments
We touched on how managers should be crystal clear about their expectations for employees and relate how employee accomplishments contribute to overall organizational goals. While it's important for employees to understand how their work fits into your business' big picture, it's even more important to recognize employees for their contributions.
Employee recognition efforts should be a regular part of your internal communications. Whether it's a section about an employee of the month, a specific milestone accomplishment, or a monumental team effort to achieve a goal, you should highlight your employees' good work and value to the organization often.
Employee recognition helps employees find pride in their work. When your employees care about their work and the good it brings to the organization, they're more likely to contribute innovative ideas for improving the business. Recognition also helps employees connect with one another and emphasizes how their teamwork brings success for everyone.
11. Create a culture around professional and personal development
In addition to recognizing employee's good work, your business should also prioritize your employee success in extra-curricular work activities. Work can be time consuming, and employees can be challenged to make space for programs and initiatives that are outside their every-day duties.
Try implementing an employee development program that allocates a monthly stipend for employees to spend as they like. Create time in employees' schedules dedicated to these development programs, and encourage managers to check in on employees' progress in their efforts.
A company culture that encourages personal employee development has myriad benefits. Employees get a break in the monotony of day-to-day work to learn something that is important to them. They'll acquire a new skill that will help them advance in their careers or their personal life. And they'll feel supported by their employer who has demonstrated that they're valued beyond what they produce for the business.
12. Diversity and inclusion, gender equality, female empowerment
No work force is homogeneous, and our differences are what contribute to our success as a team, organization, and society. Diversity, equity, and inclusion initiatives allow businesses to celebrate the unique makeup of your workforce.
Recognizing the differences in your employee population also means recognizing the different struggles they face. Businesses should be acutely aware of the social issues facing people of colour, women, individuals with disabilities, and other marginalized groups. Be sensitive to the struggles of these groups, educate your overall workforce about these issues, and provide spaces and resources for those who need support.
Not only will taking an active approach to DEI improve employee engagement at your business, but it will make your business more attractive to an ever-diversifying pool of talent. There is no need to pigeonhole your business' potential by failing to recognize how a diverse workforce contributed to its success in the first place.
Bypass email-sending limits of Outlook and Gmail.
Send all of your internal emails within ContactMonkey.
13. Plan social activities to foster relationships between co-workers
Employee engagement is the connection employees feel to their employer and each other; and it's important to nurture both these relationships. With more remote workers than ever before, employees can become siloed from each other, only interacting within Zoom meetings, where what's talked about is usually always the work at hand.
This makes planning time and activities for employees to connect with each other even more important. Whether implementing a meet-up program over zoom, hosting lunch and learns, or planning monthly or weekly in-person events, giving your employees time to get to know one another helps nurture fulfilling work relationships.
Employees that are friends with each other have less hurdles to clear when asking for help or advice. Strong inter-employee relationships help remove the anxiety of reaching out to a coworker with a question or comment. And a business that prioritizes team building events and activities shows that employee well being is just as important as productivity.
For a full list of employee activities to build strong work relationships, check out our blog on the best employee engagement ideas.
14. Have a solid onboarding process for new employees
Starting at a new company can be an overwhelming, time-consuming process, not only for the new employee for others who are new employee-adjacent. New employees are presented with a huge amount of information when they're starting out, and are tasked with sifting through it all to determine what information is actually important and what information they'll only need to reference one every 15 months. Good organizations understand this challenge and provide resources to help new employees settle as quickly as possible.
Your new employee onboarding process is something to take seriously for countless reasons. In helping new employees understand their roles and responsibilities, it will also alleviate the amount of work existing employees have to do to help your new employees settle in. A great onboarding process helps nurture cognitive engagement from the get-go, informing employees how they fit into the organization and what their work means.
15. Provide opportunities for career growth
The prospect of progress is crucial for both employee well being and engagement. For employees to find meaning in their work, they need to feel like they are progressing in their lives, both career-wise and personally.
We mentioned how personal development programs help employees develop useful skills that equip them to take on more challenges in their lives. Opportunities for career growth work in a similar fashion: they provide employees with tangible, desirable goals toward which they can work.
This again relates to cognitive employee engagement. Business' should help employees understand the opportunities available to them from the very start. These goals will motivate employees to do their best work as they work towards a goal that is personally important to them.
16. Measure employee engagement factors
Employee engagement is a complex, multi-faceted assessment of what makes employees give effort towards their jobs. While there is no one metric that perfectly measures employee engagement, businesses' can measure various factors that contribute to overall employee engagement.
We've spoken about how employee surveys and feedback can be used to both gauge employee engagement and gain new ideas for what to improve. But there is another aspect of measuring employee engagement that is particularly indicative of whether an employee is engaged or not: Employee Net Promoter Score (eNPS).
eNPS measures two things: how likely your employees are to recommend your business' product or service to their friends and family, and how likely they are to recommend your business to friends and family looking for jobs. While not complete, this one measure can tell you a tremendous amount about how your employees think about your business.
ContactMonkey's email template builder allows you to embed eNPS surveys directly into your internal communications. Simply drag the eNPS scale onto your email template and connect it with the question you'd like to ask (product-related or job-related). After your employees have answered the survey, your eNPS results will appear in your analytics dashboard:
eNPS can be used as a useful KPI for your employee engagement strategy. But be sure to augment your results with employee feedback and other measures of employee engagement.
17. Prioritize Mental Health
According to a study by Gallup, 62% of engaged employees feel work positively affects physical health. Unfortunately, workplace loneliness levels are increasing. Employees feel a lack of camaraderie and support, and therefore less connected to their companies and roles.
When employee morale is low, your workforce goes through a period of employee disengagement and staff often start looking for a new job. To combat this, a lot of companies are providing wellness programs to help their employees lower stress levels. These include:
Stress management classes
On-site meditation sessions
Massage chairs
One way to get valuable employee mental health insights is by conducting an employee experience survey. This type of survey asks questions about work-life balance, work environment, and overall experience in the company. It provides a comprehensive assessment of in-person and digital employee experience.
18. Find employee engagement spokespeople
It can be tricky trying to jump start your employee engagement efforts. Especially in workforces with low employee engagement, employees might not participate in engagement activities even if the activities are interesting or relevant to them. An employee engagement spokesperson can help kick start your engagement efforts and encourage others to join in.
Find a highly-engaged employee and see if they'd like to lead an engagement initiative. Encourage them to remind their coworkers of the upcoming event, describe exactly what's going to take place, and allocate time for everyone to attend—but always make attendance optional, lest you defeat the purpose of the initiative.
This can help your employee engagement initiatives seem more organic and less forced than orders coming from above. By sharing their enthusiasm for the event or activity, your spokesperson can encourage other employees to take part.
19. Encourage leadership to go the extra mile
For larger companies, employees can often feel cloistered from those who make decisions that affect their work. Leadership can remedy this disconnection by featuring themselves directly in internal communications and employee engagement initiatives.
If you're planning an engagement activity, encourage C-suite to take part or introduce the event. Feature videos and writing from CEOs via leadership communications. Efforts to put a face on authority and humanize leadership can go a long way for helping employees feel connected to their work and workplace.
20. Give employee offboarding the attention it deserves
Just as with employee onboarding, offboarding procedures are vital for employee engagement. Solid offboarding procedures can provide a wealth of knowledge about the employees' time at your organization. And they can provide critical assessment of what worked and what can be improved, which will ultimately strengthen your employee engagement efforts.
Make Employee Engagement a Priority at your Workplace
Consider implementing an employee exit survey as part of your offboarding process. You'd be surprised as to how many exiting employees are enthusiastic about sharing their opinions about their time with your company.
People want to work for companies that care about them as a human being, and not just what they can do for the business. Employees want to know who they're working for, and be their authentic selves at work.
If life throws a curveball, they want to know that they can get support through work. When they're ready for the next steps in their careers, they want to feel like their employer is invested in them.
If you make your people the priority, you will only see greater success in your organization. By sticking to employee engagement best practices, you show your employees that you value transparency in their internal communications, and there's no reason why you can't give them what they want!
Paying attention to these employee engagement trends are a great way to stay ahead of the curve. Create, send, track, and measure internal emails with ContactMonkey—and gather employee feedback in real-time. Book a free demo to see more.