Employee recognition is an essential part of keeping your teams motivated and engaged. If you feel like your employee recognition ideas have been falling flat, it's time to get creative.
Imagine the following scenario: an employee works for weeks on a project, triple-checks their work, and goes above and beyond to deliver exceptional results. The day they present the finished product, everything goes without a hitch. The clients love it.
And management? Nothing. No feedback or recognition. So what's the likelihood that this employee will be driven to work just as hard on the next task?
It's safe to say the chances are low.
When managers don't provide regular employee recognition, staff feel undervalued. Employee engagement levels plummet and your teams have little inspiration to go above and beyond in their work.
In this post, we'll show you some effective and fun employee recognition ideas to help ensure that your staff stays motivated and engaged on the job.
What is Employee Recognition?
Employee recognition is all about showing your employees that they're valued and respected within your organization. It could mean celebrating a major deal they closed. Or it could be about expressing gratitude to an employee who consistently inspires her team and brings energy to the workplace.
Big or small—it's important to find a meaningful way to celebrate every employee accomplishment.
With ContactMonkey, you can create thoughtful and dynamic employee thank you messages and take employee recognition to the next level. Our drag-and-drop email template builder lets you use images, add GIFs to outlook emails, and even insert videos to turn your next company newsletter into an employee wall of fame.
A great employee newsletter idea: get the whole team involved in recognizing a top-performer by adding emoji reactions and comment boxes right into your employee newsletter.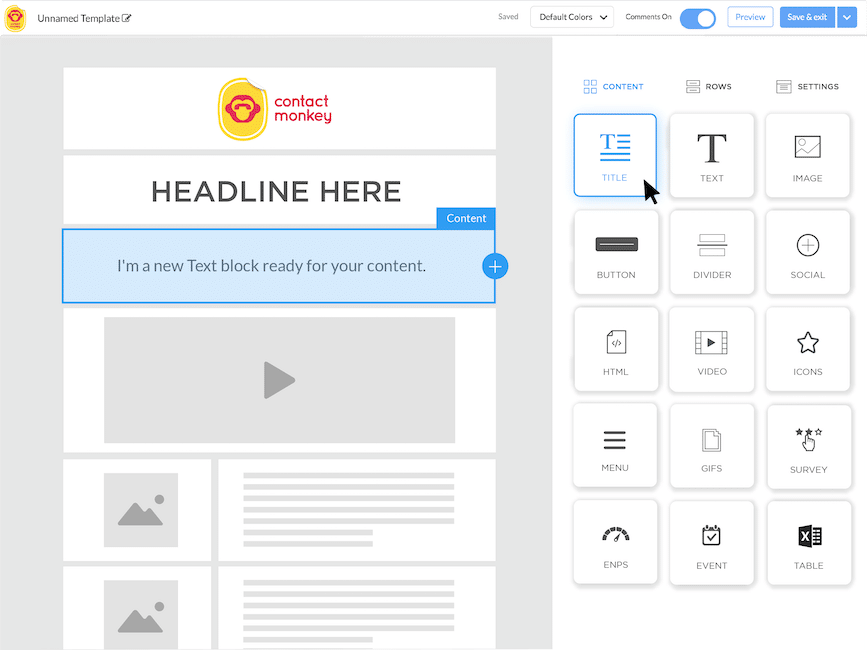 Why is Employee Recognition Important?
Employee recognition goes beyond making staff feel good about themselves—although it does that too.
What employee recognition truly succeeds at is boosting employees' confidence in their work and empowering them to do even better. And there's not much mystery as to why.
When hard work is recognized, it lets employees know that they're headed in the right direction and that their efforts are valued by your team.
Case in point, employee recognition has been proven to boost employee engagement, increase employee retention, and improve workplace productivity. In sum, employee recognition is important because it improves employee experience while boosting your company's bottom line.
Types of Employee Recognition
While there are many ways to deliver employee recognition, the strategies generally fall into two types. These recognition methods can be summarized as:
Structured recognition
Structured recognition methods are more traditional. They often consist of programs with a top-down approach. Meaning, managers or senior leaders express their appreciation for certain employees using awards or financial bonuses.
Structured employee recognition methods include:
Employee of the month awards

Recognition during annual review

A years of service award

Retirement bonus
Although these may not be the most innovative of employee recognition ideas, they help make employee appreciation an anticipated and consistent event. They also help create a stronger company culture where employees have attainable goals and know that their leaders will recognize them when they work hard.
Unstructured recognition
This is among the more novel employee recognition and employee engagement ideas. Unstructured recognition is being implemented at many companies that seek to make recognition a daily ritual.
With unstructured recognition, employee appreciation is thought of as part of the company's daily workflow. Colleagues are encouraged to show gratitude and appreciation to each other rather than leaving it exclusively to managers.
Because unstructured methods can involve celebrating top performers in your company newsletter or sending out a 'congrats' message on a chat tool, it's easy and straightforward. It also doesn't require a huge internal communications budget so it can be done often.
Examples of unstructured employee recognition include:
Peer-to-peer recognition

Points-based recognition and awards systems

Performance incentives

Celebrating personal life milestones
20+ Employee Recognition Ideas
How your company recognizes its employees will be unique to your organization, its internal brand, and values. The good thing is, there are many creative employee recognition ideas out there that can be tailored to your organization. Let's break down a few of them below.
1. Say thanks more often
It's easy to forget about the importance of saying thank you in the hustle and bustle of the workday. But showing gratitude through this simple gesture is one of the easiest and best employee recognition methods.
Just imagine all the moments when you've taken time to offer help to someone and the act went unnoticed. You probably felt frustrated or stopped putting an effort to help altogether.
Research shows that most of us feel much more motivated and engaged when we feel appreciated. Start by practicing gratitude regularly and encouraging senior leaders to model this behaviour. When saying thanks is shown to be the norm, your whole workplace will soon follow suit.
2. Create a company thank you feed
If you want to take the simple 'thanks' to the next level, create a thank you feed—either virtual or in-office—within your workplace. You can leverage the technology you already use for your internal announcements—whether it's an intranet software or employee newsletter.
An easy way to go about this is to create an employee thank you feature using an interactive employee newsletter that allows everyone to contribute.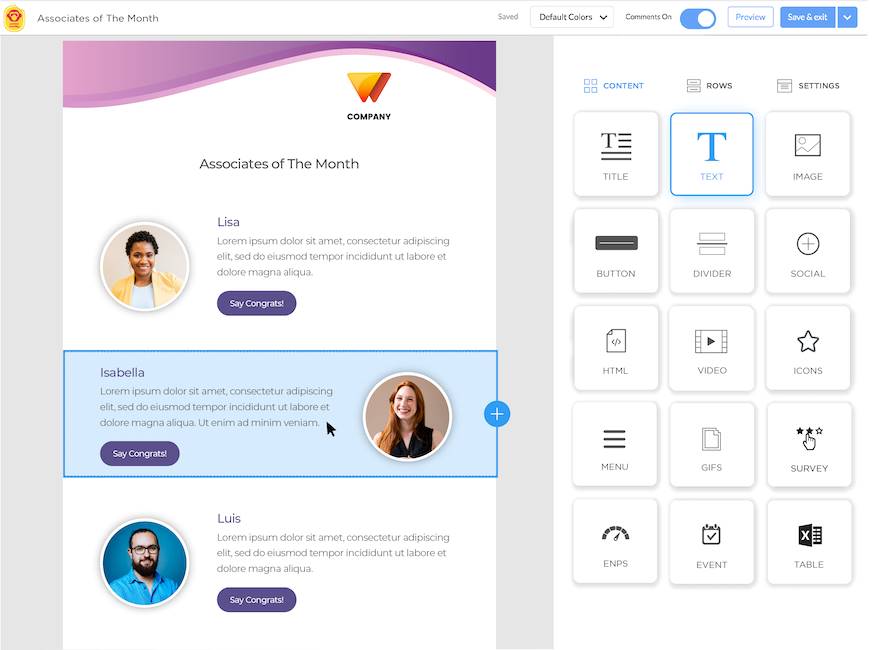 With ContactMonkey, it's simple. Embed an employee pulse survey into your next company newsletter and ask employees to name a colleague that's helped them out throughout the past month. Using the comments box, employees can share the name of the colleague as well as a few words of appreciation.
Afterwards, simply gather the responses in your analytics dashboard and publish them in the next newsletter. It's an easy and thoughtful way to show thanks and place gratitude at the forefront of your company culture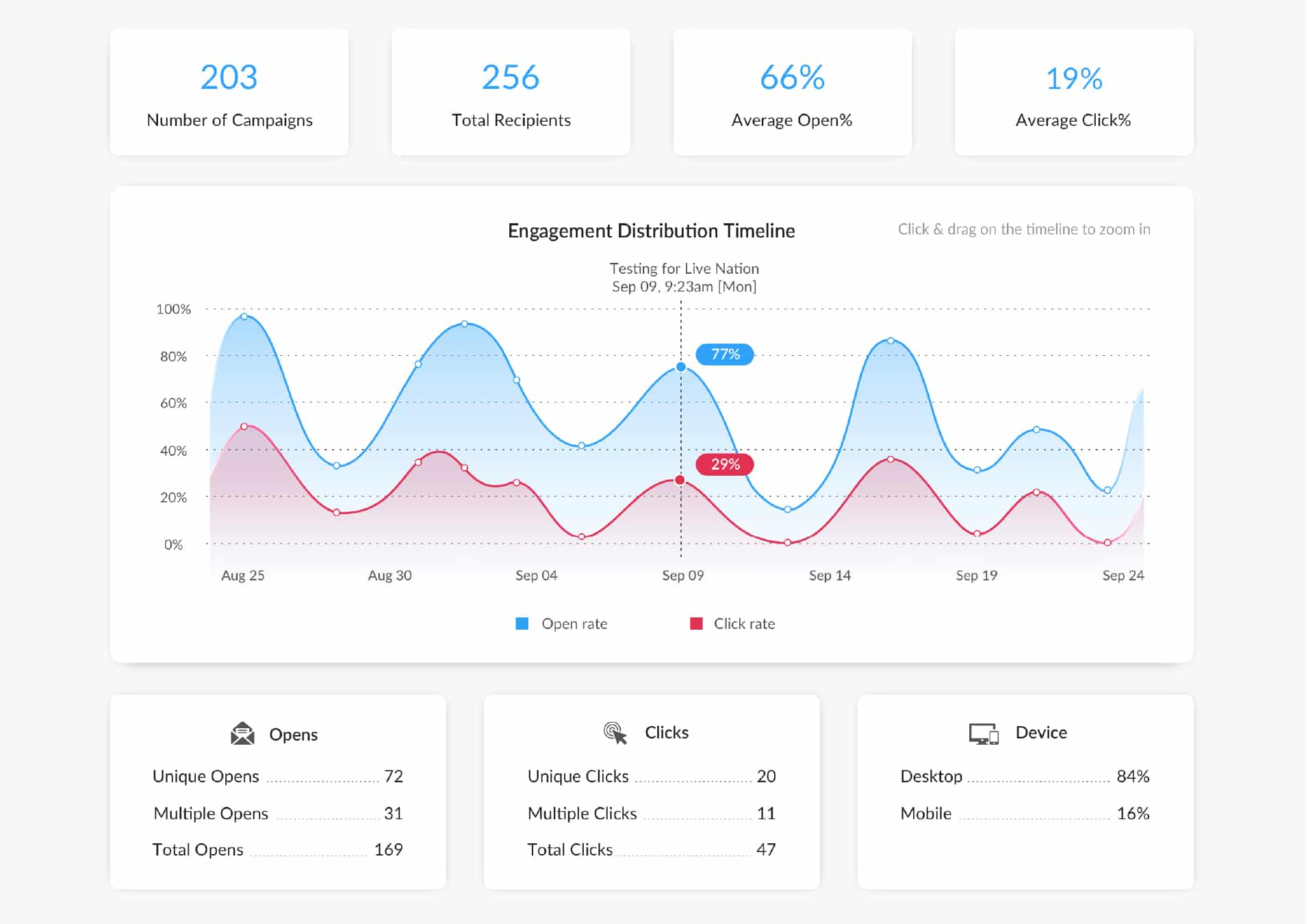 If you have internal or external regulations around email privacy, you can use ContactMonkey's anonymous email tracking to gather email metrics from your employees while maintaining their privacy.
3. Send a gift card
Let's face it, whether we're 5 or 50, we all get excited about free stuff. Showing your recognition and appreciation for a coworker with a gift card is another simple and effective way to give thanks.
Gift cards let you reward top performers without tackling the various employment contract clauses or tax challenges that can come with cash. They also offer some personalization as you choose the store, while allowing employees to tailor the reward to their preferences. That keeps you from doing all the guesswork.
4. Town hall meeting shoutouts
The virtual town hall meeting has truly taken centre-stage in the post-pandemic workplace. With the goal of getting employees on the same page, this virtual event brings together different teams across your company. That makes it the perfect time and place to showcase employee recognition and appreciation.
There are many ways to do this. Team leaders and presenters can be asked to prepare the name of one or multiple 'standout players,' who they announce at the end of their other updates.
You could also use your virtual town hall to promote peer-to-peer recognition. Simply use your town hall agenda to include a segment called 'employee shoutouts.' Your host can ask participants to raise their hand and share a few words about an employee who really helped them in the past month.
This is a great way to recognize employees in front of the whole company and make them feel valued not just by your team, but the whole company at large.
5. Early finish surprise
An early finish is one of the employee recognition and appreciation ideas that can be used for your whole team collectively. If your team surpassed their quarterly goal by a long shot, surprise them with an early finish the next Friday.
This strategy can also be implemented on a regular basis among employees who have daily targets such as sales. Once an employee hits their target on a given day, they can leave early! It's a simple but effective strategy to keep employees motivated.
Check out our list of employee appreciation day ideas for more inspiration.
6. Bonuses
Before you release a sigh and keep scrolling because you don't currently have the budget to give out cash prizes, remember that bonuses come in all shapes and sizes.
While you should invest in a sizable annual bonus for top performers, there are many ways to give out small bonuses that show employee appreciation year-round.
In fact, bonuses can even be given on a peer-to-peer basis. Senior leaders. Managers, and coworkers alike can share small monetary bonuses via online platforms like Bonusly or Motivosity.
With small bonuses, everyone at your workplace is able to give and get recognition, which is a win-win situation.
7. Verbal praise
While this may be the oldest form of employee recognition in the workplace, when done right, it can be highly effective.
Verbal recognition can be given on a peer-to-peer basis and in an ad-hoc manner. That gives it an honest and authentic touch because the feeling of gratitude is fresh in one's mind. This sort of feedback is much more likely to come across as genuine and meaningful.
Although it's almost always an informal employee recognition strategy, verbal praise can also be part of a structured staff recognition program. Such is the case with employee 'shoutouts' during a virtual town hall.
8. Written praise
Thank you notes from management are a simple, genuine, and thoughtful show of employee recognition and appreciation.
While on-the-spot verbal praise has its set of benefits, if you're in a rush or need to reflect on what to say, written notes are your go-to. These can be hand-written and left on your employee's desk as a card, or sent virtually via your employee newsletter.
With ContactMonkey, you can thank an employee or a whole team of staff in a way that lets everyone in the company know about their accomplishment. Use the email template builder to drag and drop your header and text, write your message, and embed your template right from Outlook or Gmail. It's that simple.
When done right, thank you notes allow managers to fully articulate their gratitude. It also offers a chance to provide positive employee feedback that helps employees recognize their winning assets.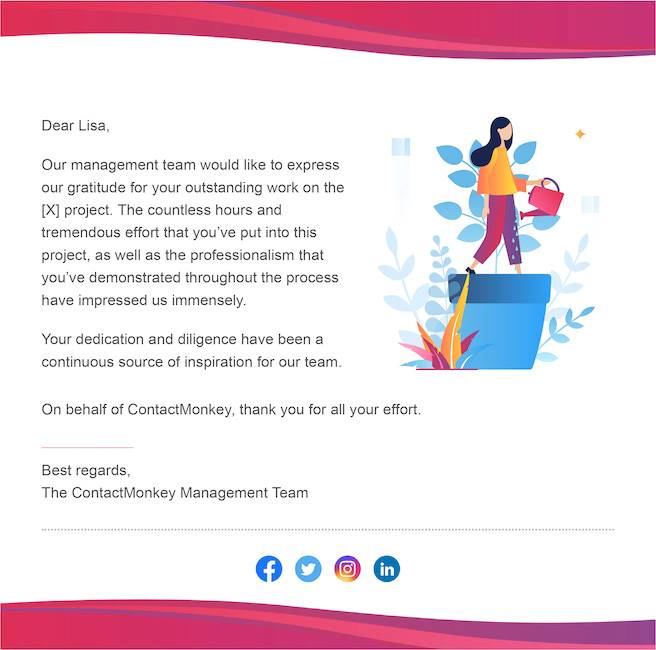 Need to send a recognition email to a select group of your employees? Use a custom email list to increase engagement while reducing clutter in your employees' inboxes. With ContactMonkey's List Management feature, you can create your own custom email lists—without needing IT—that integrate with your Human Resource Information System (HRIS) like Workday and ADP, as well as Azure Active Directory, so they'll update automatically.
9. Peer-to-peer recognition
Being recognized by coworkers is just as important as recognition from leadership. Employee recognition from colleagues is a great way to measure overall employee engagement. And it supports a positive company culture.
To no surprise, peer-to-peer recognition also leads to some important benefits for employee performance. According to recent studies, peer-to-peer recognition increases employee performance by up to 14 percent.
To promote peer-to-peer employee recognition at your workplace, make sure to model this behaviour among managers and senior leaders. By complementing this form of employee appreciation with the other methods mentioned in this guide, you'll be able to foster a culture of employee recognition.
10. Value-based awards
Values-based awards are those given to employees for demonstrating certain behaviours, attitudes, and habits rather than simply meeting a target. Semi-regular, monthly, or quarterly awards are given to employees who truly reflect your company values.
This could be an employee who always takes initiative in organizing company events or bringing timely industry news to everyone's attention. In sum, it's an employee who's a team player and embodies your company values in clear ways.
By creating an awards system for this type of employee recognition, it will motivate employees to look beyond their work tasks. They'll begin paying attention to how they go about implementing organizational values and complement hard work with team work.
11. Lunch on you
Not every employee will enjoy a grandiose show of appreciation. But if a member of your staff has been consistently delivering outstanding work, a simple thank you note may not be enough.
A private lunch with management or a couple of team members can be a great alternative. This not only shows appreciation and provides a tangible reward, but also offers space for meaningful one-on-one conversation.
Lunch outings also give your management team a quiet and at-ease environment to discuss an employee's achievements. It's also a good opportunity to share actionable employee feedback and tips for the future.
12. Surprise time off
Much like the early finish, surprise time off is a great way to express thanks to your employees. At the same time, it provides them with the much needed rest and recovery to do great work.
Everyone will enjoy this simple and thoughtful token of appreciation and you can count on boosting employee morale as well.
13. Office outing
An office outing is a great way to reward a large team of employees who have shown excellent work. At the same time, it offers an amazing opportunity for team-building.
Ideas for this sort of event are truly endless. You can take your team go-karting, arrange a cooking lesson, go bowling or golfing and everything in between.
If your team has a large remote workforce or is implementing hybrid work, there are also dozens of virtual events to choose from. With platforms like groupon there are many discounted options for group events too so make sure to check those out!
14. Self-care activities in the office
When employees give 110 percent to a task, there's no doubt that it can be exhausting. It's important to have strategies for rewarding employees while prioritizing their wellbeing.
You can organize on-site massages, mindfulness sessions, or fitness classes for the team. Whichever option you pick, consult with employees on which wellness activities align with their needs and accessibility concerns.
With ContactMonkey's employee pulse surveys you can easily check which wellness activities your employees prefer while specifying options your company can currently accommodate. Pick two or three activities and add either thumbs up/down or star rating response options. Embed your email template from Outlook or Gmail and send off your message.
Employees can rate which activities are their favourite and you'll receive responses in your ContactMonkey dashboard.
Not sure what questions to include in your employee surveys? Try using ContactMonkey's OpenAI ChatGPT integration to generate survey questions based on prompts you provide. Simply describe what you'd like to accomplish with your survey, and then edit the suggested questions according to your audience.
15. Sticky notes
Sticky notes are thank you messages with a twist. These are great for small, frequent displays of gratitude from either management or colleagues.
You can leave these small tokens of thanks on an employee's computer, keyboard, or favorite coffee mug. If you have a remote or hybrid workplace and are looking for virtual employee recognition ideas, worry not. You can substitute physical thank you notes with virtual thank you cards using platforms like Kudoboard.
16. Office party
This type of event is perfect for a remote workforce. It can be used to reward a department of employees or your entire company.
Say your business closed a major deal or had a record-breaking quarter, reward all your employees with a half day of food, games, drinks and entertainment.
If your employees still work from home, there's no need to feel limited either. During the pandemic, many companies have released creative and innovative virtual party ideas. Not to mention, many new businesses have popped up specializing in planning and organizing virtual work events.
You can now send your employees at-home party kits, including drinks or charcuterie boards. While parties are a pricier option and will require that you budget in advance, they're a clear token of appreciation for your employees and will pay off in the long run.
17. Delicious treats
If food is the path to your heart, you already know the value of a delicious treat. Baked goods, cake, or donuts are an easy but effective way to reward a top-performer or an entire team.
For a single employee award, bring the surprise treat to their desk and leave it alongside a thank you note. For an entire team, leave a box of donuts in the staff kitchen with a thank you card.
If you have a remote workplace, send the desserts to your employee's house. You can easily find bakeries and shops that give discounts when you order in bulk or those that let you add thoughtful notes and beautiful wrapping for an extra touch.
18. Social media recognition
Social media is where your company showcases the very best of its brand. When an employee makes it to your social media page, they'll have a clear idea of how important their contributions are to your team. It's one of the best ways to show them how proud you are of their accomplishments.
You can create a short Instagram feature with the employee's best photo and a short bio outlining their accomplishments. You could also do this over Twitter, or LinkedIn. The latter is great for recognition related to promotions or professional development.
19. Team trophy
A team trophy serves as a company-wide token of employee recognition. It could be either one item that everyone in your company agrees upon—such as a t-shirt, hat, or stuffed animal—or a different item every month.
Whichever item you pick, your staff will have to all vote on who they think should get the team trophy in a given month or quarter.
With ContactMonkey, employees can vote directly and anonymously from their employee newsletter.
Using ContactMonkey's email template builder, simply embed a question such as, 'Who is our top performer this month?' and drag a comments box below. Then, embed your template into Outlook or Gmail. Employees can cast their votes and you can determine the trophy recipient from the survey response analytics.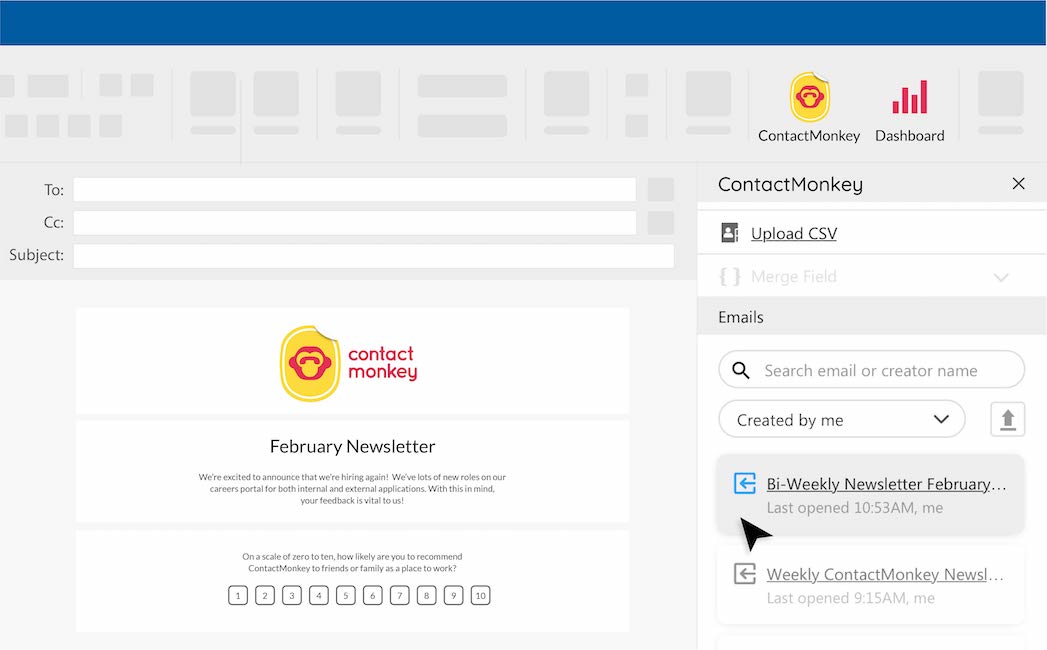 20. Rewards software
While a rewards software may require a bit more commitment and investment from your team, it's one of the best ways to engage staff through employee recognition. A rewards software works sort of like an internal company store—exclusively for your company's employees.
Much like any brand name store, this store contains a selection of items—from clothes to household items and digital tools—labeled with your company's logo. Each employee has a profile in the online platform. When someone's recognized for an accomplishment, their manager or senior leadership team adds points to their user account.
Employees can accumulate points for small prizes or save up for big prizes down the road. This is also one of those employee recognition program ideas that lets you gamify staff rewards and make it a fun, goal-driven process.
21. Week of VIP parking
This one is as effective as it is straightforward. If your company has started to communicate a return to the office but finds itself in a big, bustling city, finding parking can be a tedious task for staff.
Even with a company lot, you can often end up with a parking spot that demands a lengthy hike to the office entrance. A week of VIP parking in a prime location can be a coveted prize.
For employees who drive, VIP parking is a great reward, especially if paired with some quality company swag. Some bonus employee appreciation gift ideas include branded water bottles, T-shirts, or funky socks.
22. Virtual team workshop
This is one of few virtual employee appreciation ideas that combines the best of virtual parties with personal or professional development. It's a great way to reward a team of employees and can even work in a remote or hybrid workplace setup.
The event should be placed towards the end of the workday, so employees get some extra time for relaxation. Remember, your workshop shouldn't feel like a chore, so a webinar on the wonders of Excel is out of the question.
Instead, use ContactMonkey's pulse surveys and survey questions to employees to ask your employees what virtual workshops they're interested in. You can ask employees to share their preferences in the comments box, or do some research ahead of time and provide options for employees to rate. Popular picks include cooking, painting, or improv, but the choices are endless. 
Employee Recognition Best Practices
The employee appreciation ideas we've covered in this post do more than just provide inspiration for rewarding quality work. They also spotlight some best practices that should be applied to any employee recognition strategies—whether you choose to stick to our list or come up with your own.
Whichever approach you take, here are some important best practices to remember:
Ensure that leaders understand the importance of employee recognition
If you want to take your employee recognition strategies beyond the age-old employee of the month award and make them more meaningful, you'll have to get senior leaders on board.
Many employee recognition strategies require planning or financial investment, which makes leaders' input essential.
Using this guide to showcase the benefits of employee appreciation, and the ROI on employee engagement, you can start building a plan to get buy-in from management.
Make employee recognition everyone's business
While employee recognition from managers is extremely important, it shouldn't be limited to these two parties.
In order to reap the benefits of employee recognition on workplace engagement, it needs to become a part of your company culture. For that to happen, peer-to-peer recognition is essential.
Start by providing ample channels for employees to share and receive positive feedback. With ContactMonkey's interactive employee newsletters, you can streamline employee feedback and make employee appreciation a regular part of the work week.
Spotlight company values in your employee recognition program
Employee recognition shouldn't be limited to staff who surpass their sales targets or close a major deal.
It should also extend to employees who embody your company values and strengthen your organizational culture. That means rewarding employees who consistently offer to help others, who reach out to new hires to make employees feel welcome, and do anything else that exemplifies your company's values.
Use ContactMonkey for Employee Recognition
Employee recognition is an essential part of an engaged workforce. But we understand that not every company has the budget or manpower for pricey gifts or regular catered lunches. And that's okay.
Employee recognition can start with small, meaningful deeds that simply show employees you care. With ContactMonkey, we can help you get started.
With ContactMonkey's employee newsletter templates, you can create unique and thoughtful employee appreciation features as well as thank you emails. Book a free demo to see ContactMonkey in action: