Do you know what employees really think of your company? With our list of employee engagement survey questions, you can gather better workplace insights and improve employee engagement across the board.
By asking for feedback via effective employee survey questions, your employee-manger relationships flourish and result in increased productivity. But to get these kinds of results, you must regularly solicit employee feedback and ask the right questions the right way.
Let's take a deeper look what employee engagement survey questions companies should be asking and how these questions can improve productivity at your business.
What is an Employee Engagement Survey?
An employee engagement survey consists of questions designed to measure the connection employees feel between themselves, their workplace, and their coworkers.
Employee feedback survey questions can vary in format and cover numerous work-related topics like company goals, coworker relationships, manager conduct, and more.
An employee engagement survey is one of many kinds of employee surveys. Learn about other kinds of surveys by downloading our internal survey email templates.
Why use surveys to measure employee engagement?
There is no single metric that gives a complete picture of your employee engagement situation. Instead, internal communicators should use a combination of quantitative and qualitative measurements to assess employee engagement.
Surveys gather qualitative feedback about how your employees feel. This information can be used to contextualize employee email analytics and give you insights into the efficacy of your employee engagement strategy.
Pro Tip: Organize and segment employee sending lists to target the right employees with the right surveys using ContactMonkey's list management tool.
The Right Way to Ask Employee Survey Questions
Companies often rely on collecting employee feedback via upward-feedback methods such as performance reviews and one-on-one talks directly with managers. But there are some major drawbacks to relying entirely on those.
Employees may not feel safe giving direct and/or identifiable feedback to managers, resulting in biased, dishonest responses. Annual or even quarterly reviews can make it difficult to collect timely feedback and implement solutions.
Instead, combine well-thought-out employee feedback survey questions with a survey tool that lets you incorporate feedback into your regular internal communications.
Types of employee survey questions
If you would like a yes or no answer to whether management clearly relays expectations, provide a dichotomous scale (yes/no) response style. Dichotomous scale questions are useful for quick surveys like pulse surveys. They provide hard, quantitative data about whatever question you're asking.
If you would like to know the level of engagement of one of your employees, it's best to offer Likert scale responses using star ratings or emoji reactions. That's because improving employee engagement is not always straightforward and may be better represented on a scale.
The third kind of survey questions for employee are open-ended questions. These let your employees go beyond dichotomous or likert-style answers to provide their own feedback. These kind of questions are great for letting employees share their ideas or opinions.
80+ Best Employee Survey Questions
Workers whose managers communicate with them regularly are three times more engaged than those with managers who don't communicate, according to Gallup. But the type of questions you ask is equally important.
Following are our favourite employee engagement survey examples. Feel free to choose those that best suit your business needs so you can create more effective employee survey questionnaires.
Employee survey questions about management communication
Miscommunication in the workplace is a leading cause of employee disengagement and reduced productivity. These questions are targeted at ensuring smooth two-way communication between management and employees.
Does your manager clearly communicate expectations?
Is your manager responsive to your questions, ideas, and suggestions?
Are you comfortable providing feedback to your manager?
Does your manager explain the reasons behind their decisions?
I'm comfortable giving my manager feedback.
My manager values my input and perspective.
I feel comfortable disagreeing with my manager.
How could your manager be a more effective communicator?
Quick Tip: Instantly generate staff survey questions directly from your newsletter builder with ContactMonkey's OpenAI integration.
Employee survey questions about management effectiveness
Fifty percent of employees leave their companies because they're unhappy with their boss, according to Gallup. By regularly asking workers how they feel about their managers, organizations can identify problems and increase employee engagement and retention. The feedback process can start as early as the employee onboarding phase, and can end as late as an employee's exit interview.
Does your manager have the expertise and ability to help you and your team succeed?
Do you find that your manager makes effective decisions?
Does your manager work well with everyone on the team?
Is your manager engaged with you and your team?
I'm satisfied with my manager.
I feel my manager values me and my contributions.
My manager is engaged with my team and me.
How could your manager be a better leader?
What feedback do you have for your manager?
Employee survey questions about management style and development
Effective leaders are committed to their workers' professional growth and development, and employees want to work with managers who keep this in mind. In fact, 76% of workers seek opportunities for career growth, so it's important to gauge if management is taking steps to accomplish this by asking these staff survey questions about management.
Do you regularly receive constructive feedback from your manager?
Does your manager make clear how your performance is measured?
Do you think your manager is fully aware of your skills and abilities?
Does your manager recognize your achievements?
My manager sets clear goals for me.
I regularly receive useful feedback from my manager.
My manager gives me the freedom to do my job in the way I think is best.
How would you describe your supervisor's management style?
What do you wish your manager did differently?
Employee survey questions about employee engagement
You already know that employee engagement is important for everything from business productivity to employee retention. So including questions on engagement in your next employee pulse survey is a must. Here are our top suggestions.
Do you see yourself still working at this company in two years' time?
Is your work meaningful to you?
Do you feel aligned with organizational values?
Are you regularly involved in work events and team-building activities?
My company's mission/vision inspires me.
I would recommend my company as a great place to work.
I feel that I'm a valued member of my team.
Describe how you feel when you come into work every day.
How often do you find yourself searching for other job opportunities?
Employee survey questions about professional growth and development
Opportunities for career growth are directly proportionate to employees' level of engagement and satisfaction at work. That's why ensuring that your employees have enough options for career growth and that they are aware of these opportunities is vital.
I am progressing in my personal and professional development at this company at the pace that I want.
There is an opportunity to reach my full potential at this organization.
I feel that I am in control of my career path.
There are sufficient employee coaching and training opportunities available to me.
I can see a clear career path in this organization.
There are enough opportunities for professional development at my company.
My path to promotion and growth within the company is clear to me.
In terms of training and professional development, what resources would you like to see your company continue to offer?
Share 2-3 career goals and why they are important to you.
Employee survey questions about compensation and benefits
While benefits and compensation play a massive role in employee satisfaction and wellbeing, some staff are not fully aware of what's available to them. At the same time, if employees are dissatisfied with your compensation and benefits, it may be time to invest in making improvements.
Are you compensated appropriately for the job you perform?
Do you have a clear understanding of compensation policies and available benefits?
Is there someone who you can talk to if you don't understand your benefits?
Do you think your compensation and benefits package matches your skillset?
My compensation and benefits meet my own needs/those of my dependents.
Our company provides competitive compensation and benefits compared to other organizations in our industry.
I wish to know more about the compensation and benefits package that I'm eligible for.
List the benefits you wish were improved/expanded.
Is there anything you'd like to know more about within your compensation and benefits package?
Employee survey questions about wellness and work-life balance
Engaged and productive employees have lives outside of work. In order to bring their best foot forward at work, they need to have enough time for their personal priorities, interests, and friends and family.
Do you think you currently have a healthy work life balance?
Would you benefit from offloading some of your tasks to another team member?
Are you usually able to get home on time to your family?
Have you ever missed an important personal event due to work?
I'm satisfied with my daily work hours.
I often work overtime.
Overall, I'm satisfied with my work/life balance.
What do you think management can do to improve to your work/life balance?
If there was one thing that could help alleviate work stress for you, what would it be?
Employee engagement survey questions: 1 to 10 scale employee engagement survey questions
Not every survey questions will have a yes or no answer. Use these 1 to 10 scale employee engagement survey questions to gather more nuanced employee feedback.
On a scale of 1 to 10, how comfortable do you feel sharing your opinions at work?
On a scale of 1 to 10, how well do you get along with your coworkers?
On a scale of 1 to 10, how supported do you feel by your manager?
On a scale of 1 to 10, do you feel your feedback is valued by your employer?
On a scale of 1 to 10, how manageable is your workload?
On a scale of 1 to 10, how would you rate your office accommodations?
On a scale of 1 to 10, how aligned do you feel with your employers' values and beliefs?
On a scale of 1 to 10, do you feel like your work contributes to your employers' overall success?
Open-ended employee engagement survey questions
Open-ended employee engagement survey questions let your employees leave a comment as their answer. Using ContactMonkey's anonymous employee commenting, you can provide open-ended survey questions to your employees so they can share how they feel without reservation.
You can enable anonymous employee commenting on all your survey questions with ContactMonkey. Enable anonymous comments on your 1-10 scale questions for added context.
What is one thing you would change about our employee engagement initiatives?
What kind of resources would help you more easily accomplish your goals?
If you could give your manager one piece of advice, what would it be?
What benefits would you like to be provided by your employer?
What kind of career development support would you like to be offered?
What is your ideal work environment?
Which engagement initiatives do you like the most? Which do you dislike the most?
What is your preferred method for providing employee feedback?
Is there an aspect of our business which you think we can improve?
5-answer Likert scale employee engagement survey questions
5-answer Likert scale questions give employees a range of answers to describe the degree to which they agree with a certain statement. Use these questions to assess how your employees think about your current employee engagement efforts.
My manager values my work and recognizes my successes.
My work contributes to the success of the business.
I can ask for help whenever I need it.
My suggestions are taken seriously and acted upon.
I am given opportunities to advance my career and move up in the company.
Management is sensitive the needs of me and coworkers and ask about our well being.
Employee Engagement Survey Question Best Practices
Your employees' time is valuable; in most cases employees have to take time from their schedule in order to answer your surveys. Respect your employees' time by issuing surveys on a set basis, like yearly or quarterly. Overwhelming your employees with surveys can lead to fewer and less-considered responses.
Keep your surveys short and sweet. Decide on a specific topic you want to learn about, and carefully choose the questions you think will best elicit the information you need. If your employees know an upcoming survey will only takes a few minutes to complete, they'll be more likely to respond.
Finally, act on your employees' feedback. This might be the most important employee survey best practice. If your employees feel as though their feedback does not matter, they'll stop responding. Be sure to publicly address the feedback you receive; you can even highlight particularly thoughtful responses you receive.
What are the benefits of employee engagement surveys?
Apart from giving you a snapshot of your employee engagement situation, employee engagement surveys themselves can positively contribute to higher employee engagement.
Employee engagement surveys are a give-and-take undertaking. Employee feedback helps you understand what's important to your employees and provides you with ideas to improve their engagement. It also gives your employees a chance to share their thoughts and shape how their employer treats them.
This symbiosis relies on your business acting on the feedback you receive. As we mentioned in the previous section, collecting but ignoring employee feedback is a recipe for low survey engagement. But acting on employee feedback helps refine your employee engagement efforts and shows your employee that their input does matter.
How to implement your employee engagement surveys?
Be clear and honest about why you're issuing a survey and why it's important for your employees to respond to it. Provide employees time to fill out the survey, and ensure that you notify them when their responses are looked at.
If you conduct surveys on a recurring basis, let employees know ahead of time that a survey is going to be issued—like marking the date on their calendars. Letting your employees know about your surveys ahead of time can prime them to start thinking about issues that are important to them.
Use ContactMonkey to Ask Survey Questions To Employees
When you combine effective staff survey questions with regular and anonymous polling, you have yourself a powerful tool for increasing employee engagement. And that's exactly what ContactMonkey offers. Here's how:
All of the feedback submitted through ContactMonkey is anonymous, creating psychological safety for employees, which empowers them to share honest commentary.
Users can quickly and simply send out regular surveys to employees by embedding pulse surveys questions directly into newsletters and other internal communications, fostering a company culture of feedback. You'll also be able to instantly use your existing sending lists and employee groups using ContactMonkey's HRIS integration.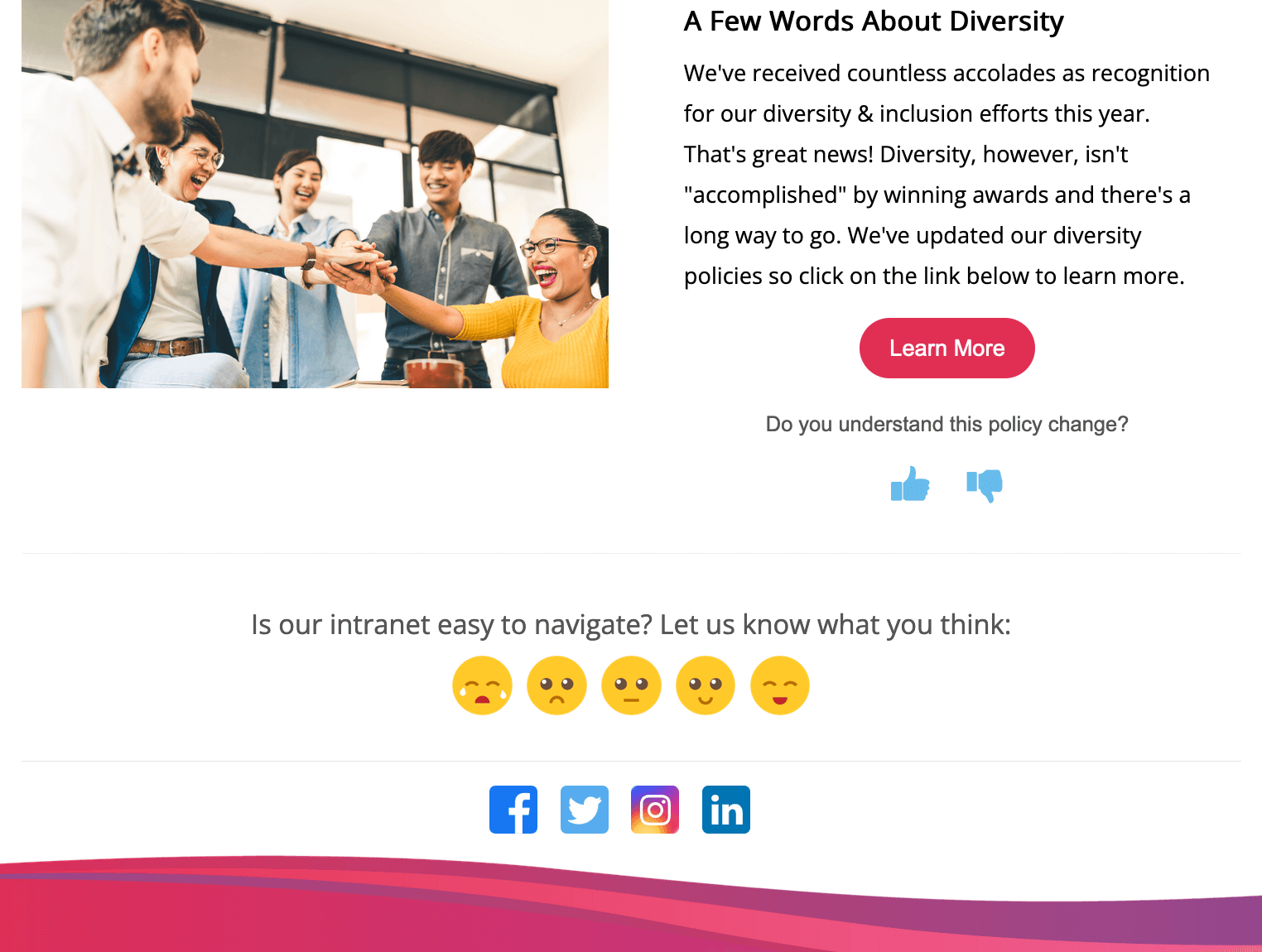 ContactMonkey's detailed analytics allow users to track responses over time, making it easy to find the best times to send internal emails: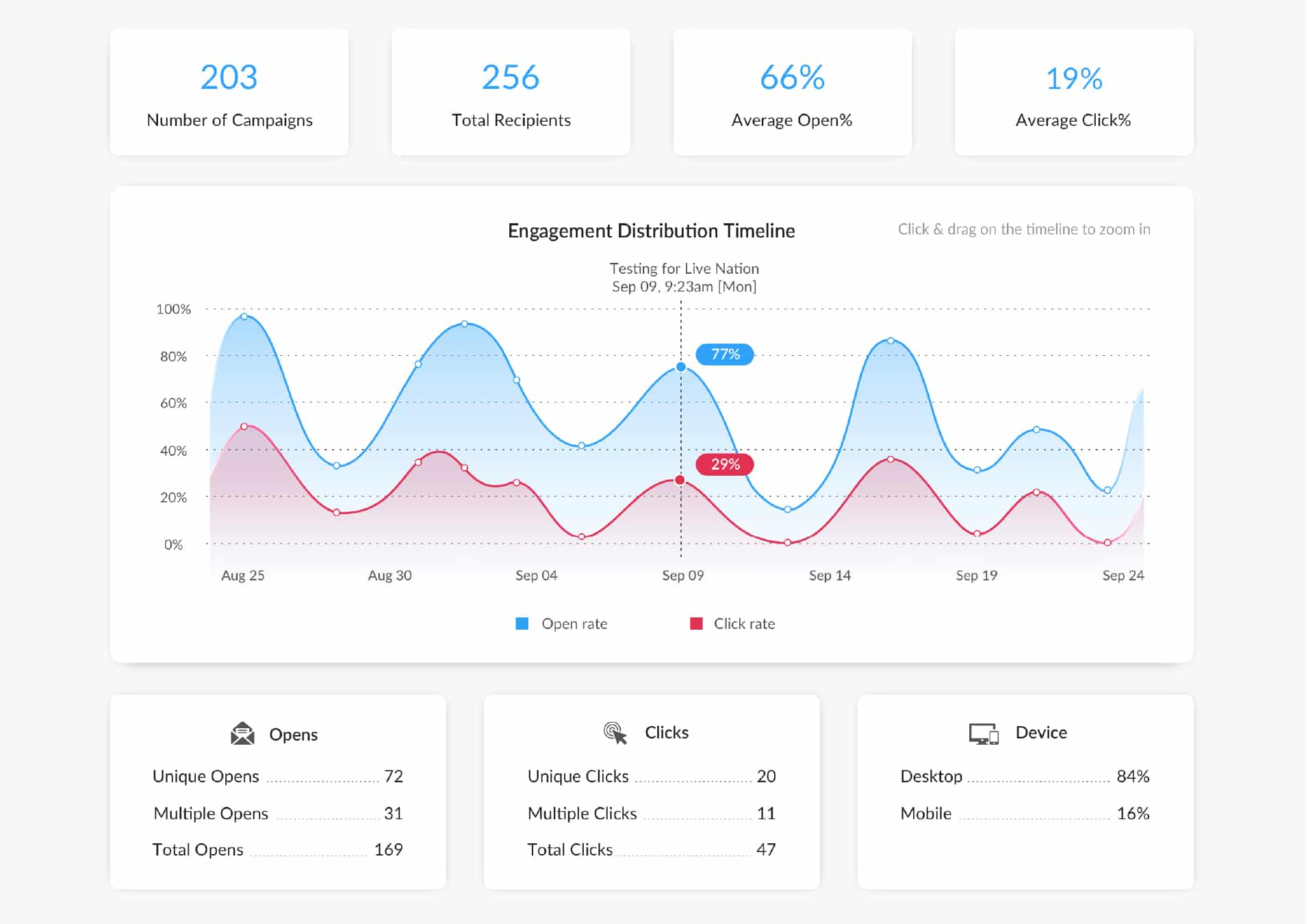 With segmented email stats, you can get a handful of other insights alongside your survey responses. Using ContactMonkey's email template builder to create and send your survey, you'll learn when and where your surveys were opened as well as which departments engage with them most: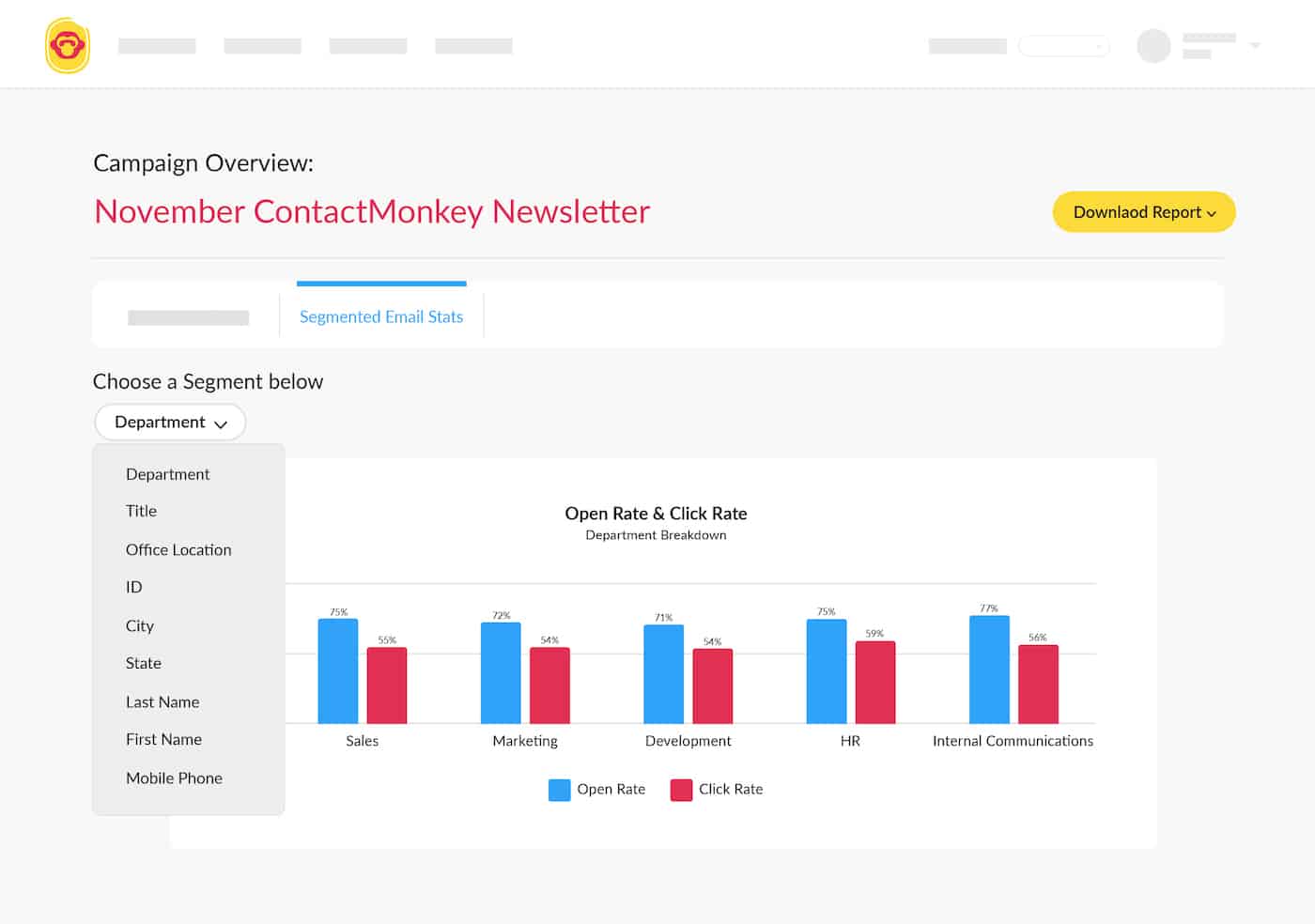 With ContactMonkey's all-in-one employee engagement software, you can collect employee feedback right from your Outlook or Gmail inbox using employee survey questionnaires. That way, feedback becomes quick, simple, and streamlined as part of your work routine. Use employee feedback to create more engaging internal communications, improve your employee recognition ideas, and reduce employee turnover.
Get Insightful Feedback With Great Employee Survey Questions
Asking for employee feedback is important. But asking the right employee engagement survey questions is what will distinguish 'just another survey' from an actionable tool for boosting employee engagement.
Accomplishing this requires that you have a system in place to gather and analyze employee insights effectively. Our employee engagement survey examples are just part of your employee engagement strategy. That's where ContactMonkey comes in.
ContactMonkey is an easy-to-use employee engagement app that can create a variety of surveys to gather employee feedback. And its detailed and easy-to-understand analytics enable users to track important metrics and identify trends.
Ready to start polling your employees to improve the effectiveness of your company's leadership? Book a free personalized demo: