Workplace safety standards help employees feel comfortable and secure while they work. With the help of an employee safety survey, you can gauge how employees truly feel about your company's safety standards, and address concerns.
Workplace safety is absolutely essential for employees to be able to do their best work. But safety goes beyond the programs and policies your company has in place to tackle incidents and emergencies. It also involves how you communicate safety procedures and measures, whether they reach employees, and whether employees understand them.
As workplace safety has a huge impact on employee engagement and performance, conducting regular employee safety surveys is essential. In this guide, we'll show you how to use employee surveys to determine whether important safety procedures are received and understood. Understand what drives engagement in your organization with these employee engagement survey questions.
Create and send employee surveys today.
Gain valuable employee feedback with ContactMonkey.
What is an Employee Safety Survey?
An employee safety survey is a series of questions that assist organizations in collecting employee opinions regarding workplace safety.
The goal of these asynchronous communications is to determine whether or not the safety measures in place are adequate and whether more safety measures should be introduced. You also learn how well safety protocols are communicated and whether there's a gap between perceived safety and the safety measures in place.
For an employee safety culture survey to truly hit the mark, it needs to include compelling survey questions. In addition, the questions need to be in a user-friendly format. Participants need to find it easy to respond, and engaging enough to share detailed feedback.
With ContactMonkey's pulse surveys, you can easily embed employee safety questionnaires right into company newsletters and emails. Choose between surveys based on dichotomous or Likert Scale questions.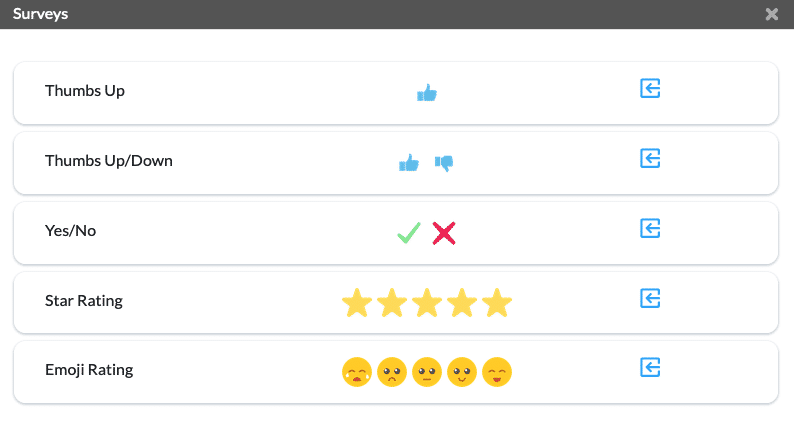 Emoji reactions, eNPS surveys, and star ratings let employees respond to questions on a scale. Meanwhile, yes/no and thumbs up/down options let employees respond via a dichotomy.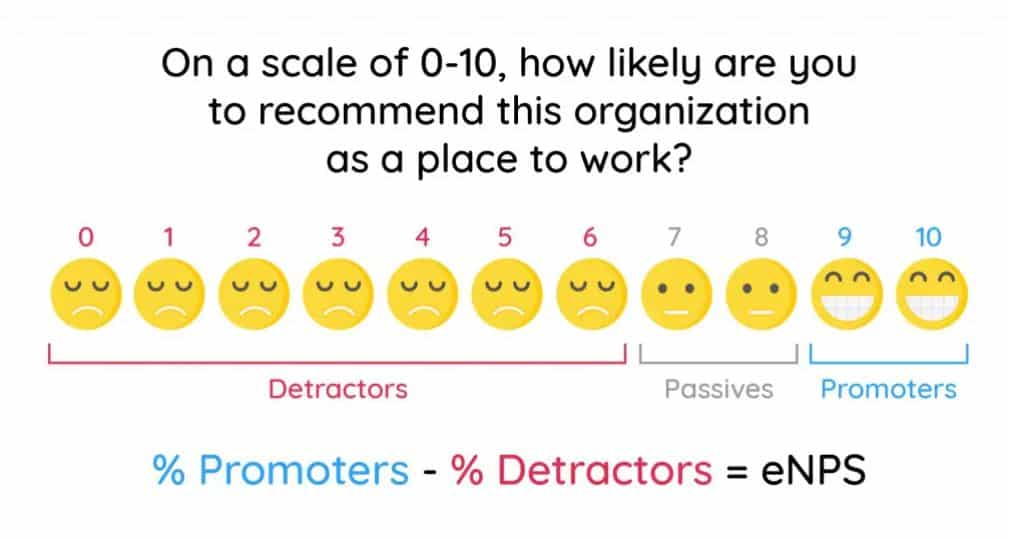 Both are easy to create, embed using ContactMonkey's email template builder. Not to mention, you can send your survey conveniently from Outlook or Gmail.
Create an employee safety survey right now.
Start your 14-day trial. No credit card necessary.
Why are Employee Safety Surveys Important?
Employee safety perception surveys are important because they reveal problems with existing workplace safety measures ahead of time. In addition, they build a culture of employee safety across your organization. As a result, it's easier for employers to change and adjust safety procedures with the help of employee feedback before an actual incident or crisis strikes.
The importance of an employee safety culture survey questionnaire is proportionate to the importance of workplace safety itself.
The perceived level of safety across your company determines the overall level of comfort that employees experience at work. As such, it impacts concentration, employee productivity, customer service, and so much more.
It's equally important to remember that employee safety is not just about physical wellbeing. Employees need to feel psychologically safe and know that they are in an inclusive environment.
With ContactMonkey, you can create and send employee safety pulse surveys straight from your internal newsletter or employee emails. Response rates and analytics can be found in an easy-to-use dashboard. You can visualize results and clearly see where change is needed.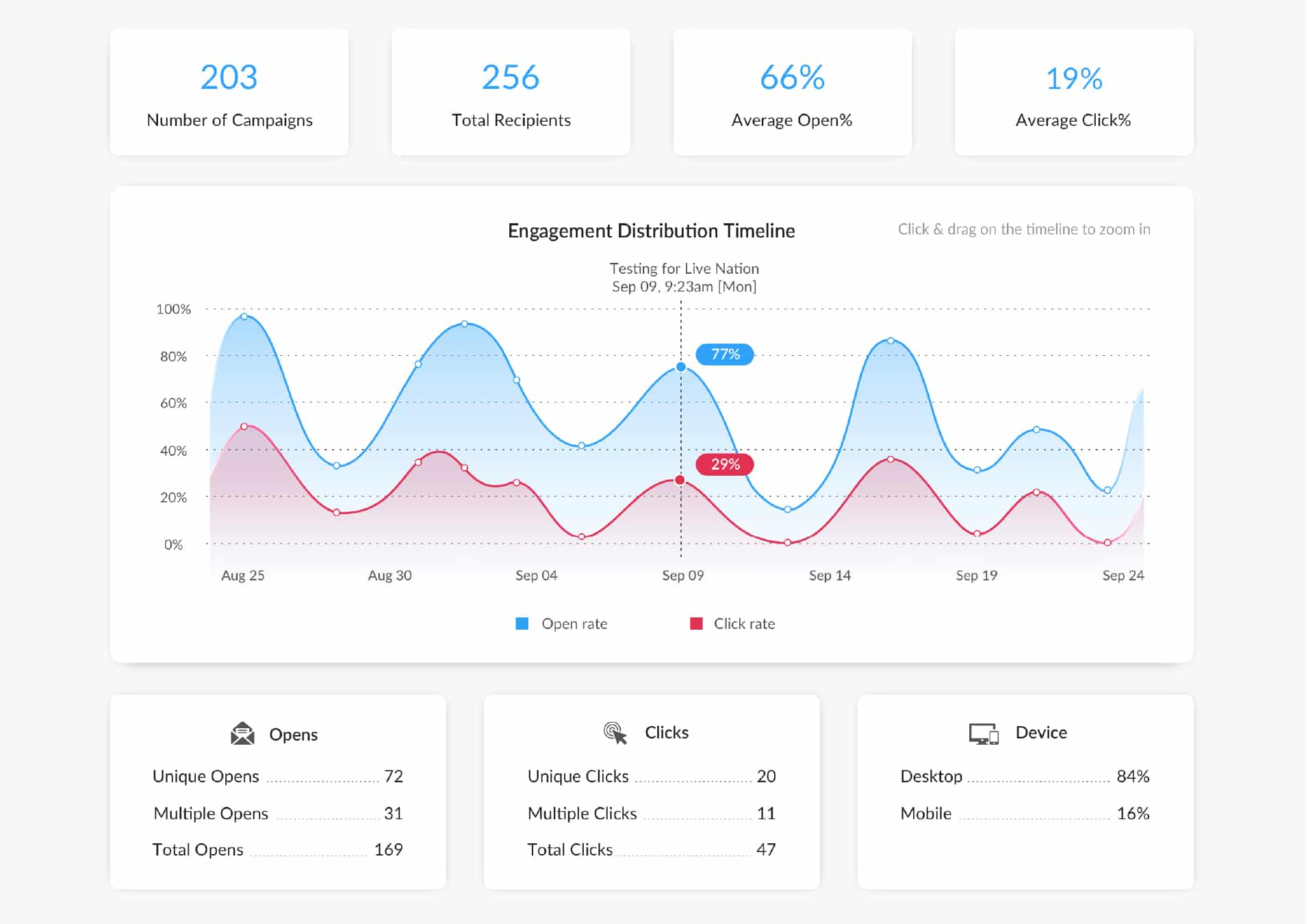 Not to mention, by turning on anonymous commenting, you can gather more detailed and honest feedback on important safety information.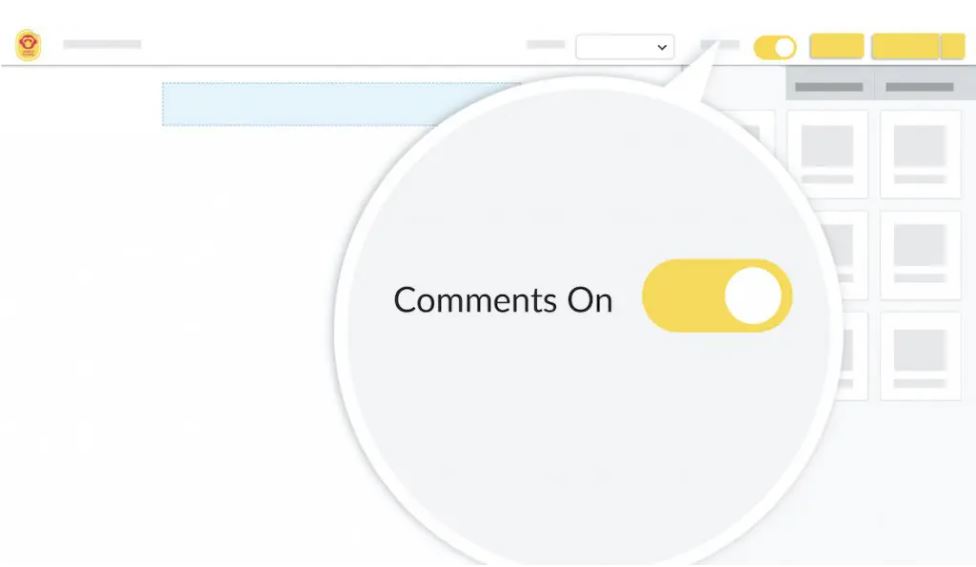 Employee Safety Survey Questions to Ask
Your employee safety survey questions should be short and straightforward. At the same time, you need to be able to accurately gauge employees' perceptions of workplace safety and identify unspoken safety concerns. The best approach is to combine simple, closed-ended questions with slightly more detailed open-ended questions.
Below, we've listed some employee safety survey examples to get you started. You'll also find employee safety survey templates that you can import or create in minutes with ContactMonkey's email template builder.
Overall, I feel safe at my workplace. [Yes/No]

How likely are you to recommend your friends and colleagues to work with us? [Employee Net Promoter Score (eNPS)

My manager shows their commitment to health and safety by leading by example.

[Yes/No]

How dedicated do you perceive your organization to be toward employee safety? [Star rating]

I believe that my physical and psychological safety is a priority for my manager. [Yes/No]

I have a good understanding of my company's health and safety policies. [Yes/No]

I understand my own health and safety responsibilities in the workplace.

[Yes/No]

There are regular conversations about safety related matters between employees and managers. [Yes/No]

In the situation of a safety emergency in our office, I would know what to do, or where to find the appropriate guidance/resources.

[Yes/No]

I am aware of our office building's emergency evacuation plan. [Yes/No]

Our company treats all security concerns with high urgency. [Yes/No]

Our company conducts ongoing IT security training and phishing awareness. [Yes/No]

All incidents are investigated in a timely matter in order to improve safety in the workplace. [Yes/No]

Our organization has sufficient employee coaching opportunities to improve workplace safety. [Yes/No]

I have the necessary knowledge to handle an emergency situation. [Yes/No]

I feel well-informed about possible safety hazards at my workplace. [Yes/No]

What could management, and our organization more broadly, do to increase safety at our workplace? [Anonymous comments]
How to Create and Send an Employee Safety Survey Using ContactMonkey
Employee safety is, and should be, the highest priority for any organization. As such, you need to conduct safety surveys on a regular basis. This way, employees always have a reliable outlet for expressing any concerns before problems occur, and you can measure employee engagement around their survey responses.

With ContactMonkey, it's easy to gather the necessary insights to make strategic improvements to your safety initiatives. Not to mention, you'll be on track to fostering a culture of feedback and trust within your organization.
Let us show you the power of ContactMonkey.
In minutes we can show you how to create surveys.