Your employee feedback efforts will depend in large part on how willing your employees are to give feedback. Pulse surveys are great for building a culture of feedback at your organization.
Using pulse surveys, you can reap a double benefit from your internal communications. Not only do you gain valuable actionable feedback from your questions, but your employees will feel heard if their feedback is acted upon.
Want an easy way to collect employee feedback using pulse surveys and more? With ContactMonkey you can gather valuable insight from your employees using your internal communications. You can book a free demo to see ContactMonkey in action.
What is a Pulse Survey?
Pulse surveys are short, focused questions used for collecting employee feedback around any given topic. Pulse surveys are conducted frequently as they do not require much time to complete.
Good pulse survey questions will let employees respond with both qualitative and quantitative feedback.
Internal communicators can use the latter to gauge employee engagement trends, and the former to gather specific feedback—which often informs those employee engagement trends.
What are the benefits of pulse surveys?
Employee pulse surveys have some sizeable benefits. These include:
Helping employees feel heard and valued.
Providing valuable insights on the effectiveness of different business processes.
Measuring the quality of employee experience/digital employee experience.
Improving employee engagement by showing staff that their input can make a difference.
If you act on the feedback provided by your employees they will feel heard and be open to providing additional feedback.
Using pulse surveys for internal communications
The sweet spot for the right number of pulse surveys to send will depend on your organization, your employees, your content, all kinds of things.
It's important to scrutinize your pulse surveys and put yourself in your employees' shoes. Ask, "does this question matter to my employees?" and answer honestly.
Pro Tip: Streamline pulse survey design and delivery with ContactMonkey's OpenAI-powered email-builder.
Topics For Pulse Survey Questions
Employee engagement pulse survey questions have one universal quality regardless of the business: they have to matter to your employees!
We've thought of 9 different topics you can centre your pulse survey questions around. They are sorted with the most "grabbing" topics at the top:
| | |
| --- | --- |
| Topic | Why it matters |
| Wellness | Questions about wellbeing are super relevant to your employees day-to-day and give your employees a chance to share their experiences. |
| Workplace culture | Company culture is felt daily, and your employees surely have thoughts and ideas about improving company culture—find out via employee survey questions about company culture. |
| Company | Ask about events, initiatives, products, processes. Or ask about more top level issues, like company vision, values, mission, or strategy. |
| Internal communications | Communication surveys provide you with feedback about your email content, frequency, format, and more from employees. |
| Compensation and benefits | These types of survey questions will let you see whether employees believe they are fairly compensated for their work, which has a lot of impact on employee engagement. |
| Change management | Transitions, even exciting ones, can be difficult. Learn how employees feel about the way change is handled in your organization by asking them for feedback on change management. |
| Professional development | Check whether employees are satisfied with your company's current professional development offerings and what else they want to see. |
| Work-life balance | Burnout has a huge cost on employee disengagement. So it's important to ask employees whether they experience sufficient work-life balance in their roles and, if not, what support could help them achieve it. |
| Leadership | We already know that leaders have a huge impact on employee morale and business performance. So it's vital to ask pulse survey questions that get to the root of how employees feel about your company's leaders. |
And remember: if your employees see that you act on their feedback, they'll be much more inclined to provide feedback in the future!
Top 35+ Pulse Survey Questions to Ask Employees
Using the topics mentioned above, we've put together these pulse survey questions to help you get started. Feel free to personalize these questions to make them unique to your organization.
Employee pulse survey questions usually ask for closed-ended questions: "yes", "no", "somewhat", and so on. But your pulse surveys can be used to collect qualitative feedback in addition to quantitative.
With ContactMonkey, you can give your employees the option to leave anonymous comments after responding to your pulse surveys:
Our top 36 pulse survey questions are broken down according to the quantitative/qualitative binary as well as response style. If you're using ContactMonkey you'll be able to include the qualitative addition to each question and pick from a number of different survey response options.
Wellness
Do you feel [your company] supports your wellbeing? What's one thing [your company] can do to support your wellbeing?
Do you feel remote work has been a positive experience? What has been the biggest challenge for you while working remotely?
Does your team leader support your wellbeing? How could your team leader improve their support for you?
Do you plan on returning to work when it is safe? How can [your company] ensure that you feel safe returning to work?
Culture
Are you given adequate opportunities to share your ideas? Do you feel your suggestions are considered and acted upon?
Do you feel management is giving attention to the right issues? Where do you feel should management's attention be directed?
Has your connection to your coworkers been affected by remote work? What's the thing you miss most about working in-person?
Do you feel like you are valued as a team member of [your company]? What is your preferred form of recognition?
Company
Do you feel that [recent event, meeting, etc.] was a productive use of your time? What should be your team's priority moving forward?
Do you think [process, procedure, policy] can be improved? What is the biggest impediment to productivity your team faces?
In your opinion, has [project, initiative, product] been a success? What is one thing we could have done differently regarding [project, initiative, product]?
Are you optimistic about our upcoming X [project, release, event]?
Internal communications
Do you find our employee newsletters useful? What is your favourite type of email newsletter content?
Do we send too many employee emails? What is a reasonable number of emails to receive in a week?
Is our email newsletter content entertaining? What kind of content would you like to see more of?
Are email newsletters important for your day-to-day routine? Do email newsletters help you stay up-to-date on company news?
Compensation and benefits
On a scale of 0-5, do you feel that your company's employee benefits plan fulfills your needs?
Which benefits do you consider to be the most important? (Short answer)
Answer yes/no: The company's contribution to my retirement funds is generous.
Overall, do you believe that you're fairly compensated for your work? (Yes/No)
Change management
Are you optimistic about our upcoming change initiative/acquisition/product launch? Why or why not?
What resources would be most helpful in guiding you through our new software?
Will you require dedicated training to get accustomed to our new software/procedures? What training format do you prefer (e.g., live tutorial, online course, one-on-one walk-through)?
What is one thing we could have done better in past change initiatives?
Professional development
Does this company provide sufficient opportunities for you to grow professionally/personally? (Yes/No)
This company offers a generous professional development allowance. (Agree/Disagree)
Do you see a clear path for career growth within this company?
What other professional development opportunities do you wish we provided that aren't currently on offer? (Short answer)
Work-life balance
Do you think the breaks provided are sufficiently long enough for you? (Yes/No)
How often do your tasks surpass work hours? (very often, sometimes, never)
Do your work responsibilities ever interfere with childcare and/or other family responsibilities? (Yes/No)
Are there any changes you recommend that can improve your work-life balance? (anonymous comments)
Leadership
Do you agree with this statement: "My manager provides clear goals for our group." (Rate using numeric scale or star ratings)
Do company leaders recognize your work on a regular basis?
Are company leaders successful in conveying transparency across leadership communications?
Overall, are you satisfied with our company's leadership team? (Yes/No) If not, what improvements do you wish they would make? (Comments)
Best Practices And Tips For Creating Pulse Surveys
Pulse surveys are an ongoing feedback process, and keeping their format clear and consistent is key to enticing employees to respond. When writing survey questions for your employees, it's important to keep these three pulse survey objectives in mind:
Keep it brief
Your employees are busy. Even employees inclined to respond to surveys will skip them if they're deemed too time consuming.
The best pulse survey questions are brief. Don't get bogged down trying to elicit the perfect employee response, instead try to write a clear, easy-to-understand question.
Keep it focused
The more clearly you word your question, the more likely employees will answer it.
Focus on the reader. Ask them about how they think and feel about things, or about their opinions or ideas. Questions where your recipient gets to assert their individuality are best.
Pro Tip: Reach the right people with the right content by segmenting your audience using ContactMonkey's list management tool.
When writing your pulse survey questions for employees, try your best to "narrow the context" of your sentence as much as possible. Ask yourself:
Does my question rely on information my recipients have? Is it mentioned in the rest of the email?
Can employees answer this question quickly and concisely?
Is the sentence written clearly?
For more advice on clear writing, we highly recommend Joseph M. Williams and Joseph Bizup's Style: Lessons In Clarity and Grace.
Keep it fun
The last thing you want is for your employees to think of pulse surveys as a chore. Keep employees on their toes with the occasional fun pulse survey questions. Ask them about their weekend, their pets, their favourite foods, anything to break up the seriousness that they were expecting in an employee email.
Analyze and understand your pulse survey results.
Get ContactMonkey's powerful analytics and reporting.
How ContactMonkey Makes Pulse Surveys Better
We've mentioned how ContactMonkey is a pulse survey tool that allows internal communicators to gather anonymous employee comments along with pulse surveys. But ContactMonkey does so much more to make your pulse surveys easy and effective.
ContactMonkey allows you to easily create sharable pulse survey templates with a variety of response options, from emojis to anonymous comments. Using the drag-and-drop email template builder, you can add different types of surveys into any employee newsletter, and gather in-depth feedback in no time: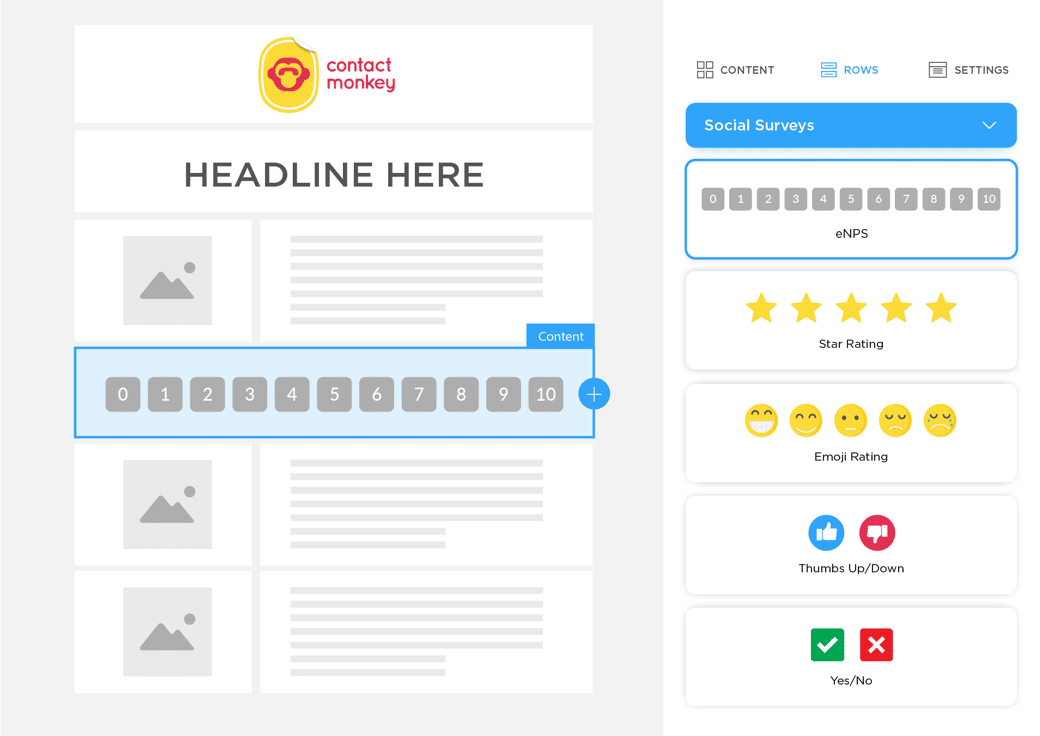 All information you collect using pulse surveys is visualized within ContactMonkey's campaign dashboard. From here, you can view how employees responded to your surveys and read their anonymous comments:
With ContactMonkey, you can turn your email newsletters into two-way communication channels between you and your employees. You gain their valuable insight, while they get a chance to feel heard and affect change at their workplace. Win-win.
What's Next?
Now that you've got a system of pulse survey questions in place that collects and encourages employee feedback. Now what?
Act on their feedback! Not all ideas and advice you'll receive will be winners. But show that you are listening to your employees by implementing their best suggestions. Employees who feel they have a real say in their workplace are far more engaged than those who feel powerless to share their opinions. And important issues—like information gleaned from staff benefits surveys—can have a huge impact on your employees' overall engagement.
With all the benefits of using pulse surveys with your employees, what's stopping you from trying them out? Book a free demo of ContactMonkey to see how pulse surveys work in action.