Many business decisions rely on employee feedback. But let's face it, getting your entire workforce to fill in a lengthy employee survey is no small task. That's where pulse surveys come in. We'll break down how to create a pulse survey and why they're an essential part of your internal communications strategy.
For too many companies, the annual or quarterly employee survey is much like a visit to the dentist. Few people enjoy it, some avoid it, but at the end of the day, most power through it because it's essential for the health of the company.
But the truth is, employee surveys don't have to feel like a chore. Not to mention, they should take place more consistently than that visit to the dentist you've been avoiding. And luckily, there's a way to get surveys done quickly, and without the drama.
What is a Pulse Survey?
A pulse survey is a quick, informal, and consistent check-in with your employees. Pulse surveys consist of just 2-5 brief and focused questions. This format makes them ideal for bi-weekly, monthly, or quarterly checkups. Not to mention, because these surveys are so brief, it's easy to install them regularly. Consequently, they become a tool for fostering a culture of continuous feedback at your company.
What are The Benefits of Pulse Surveys?
A universal dilemma for employers is striking a balance between checking in with staff sufficiently and not being overbearing. Most employers recognize that asking employees how they're doing only once or twice a year isn't enough. Yet at the same time, making your teams regularly fill out lengthy surveys is indisputably irksome.
Employee pulse surveys allow you to regularly check in with your workforce, pinpoint concerns early on, and give staff the opportunity to ask questions. And a pulse survey's powers all lie in its simple, condensed format.
Here are just a few handy benefits that pulse surveys have to offer:
Pro tip: Instantly generate employee survey questions directly from your email builder with ContactMonkey's OpenAI integration.
Gathering up-to-the-minute feedback

, concerns and questions, so it becomes easier to highlight situations that need urgent attention.

Measuring the impact

of certain business decisions more accurately through real-time feedback.

Showing employees that you care

about their input on a range of matters, and genuinely value their opinions.

Fostering a feedback culture

across your workforce, where employees feel comfortable expressing what's bothering them and providing suggestions for how to improve business.

Building continuous dialogue

across your teams to avoid siloed working habits.
Types of Pulse Surveys and Use Cases
Recognizing the different types of employee pulse surveys at your disposal, and how to use them, can help you gather more precise feedback. When you have a framework for your survey, you get much more out of it. You're also able to act on your feedback quicker, and show employees why sharing their feedback was truly worthwhile.
The first step is determining what you want to measure. Employee pulse surveys can serve a range of use cases. These include checking employee engagement levels, determining your Employee Net Promoter Score (eNPS), and seeing how well your team understands workplace safety.
Here are just a few types of employee surveys to keep in mind:
For a complete list, read our blog on 15 types of employee surveys and how to use them below.
Pulse Survey Strategy and Objectives
When it comes to pulse survey strategy, there's no one-size-fits-all approach. Your pulse survey cadence and questions should be customized to your organizational needs.
For instance, if your company is going through a period of rapid change, conducting a change management pulse survey on a weekly basis would be totally normal.
If you've just hired new staff, and you're sending out a new employee email, adding in a survey at the beginning/end of the week may also be useful. This way, they'll know there's always an open feedback channel where they can ask questions or share challenges. Once your new recruit approaches the one month mark, you'll want to phase out the frequency of your surveys.
Whatever your survey objectives may be, there are some pulse survey best practices that are always part of an effective pulse survey strategy:
Sharing the purpose

behind your survey so that employees know why participation matters

Making surveys fun

and engaging using emoji reactions, star ratings, and thumbs up/down

Allowing anonymous comments

to open room for more honest and detailed responses

Picking great questions

(we provide some inspiration below)

Keeping things focused

by narrowing down a single topic per survey

Being specific

by mentioning

real-life examples of workplace experience

Using the first person

if you want to stay consistent with a pulse survey's informal and conversational style
What is a Pulse Survey Trying to Measure?
If you're wondering how to create a pulse survey, you probably already have something in mind that you want to measure. But you'll need to be specific. Once you know what you're trying to find out, it's helpful to set some benchmarks for your employee survey responses and response rates.
For instance, how will you know if the majority of your workplace is engaged? Do your employees want more virtual team-building events? What metrics or feedback will determine this? What are your overall pulse survey objectives?
A pulse survey tool, like ContactMonkey, takes the confusion out of establishing and checking your survey benchmarks. It does this by enabling users to gather both quantitative feedback, like eNPS, and qualitative feedback, like anonymous comments.
For instance, using an eNPS survey, you can measure employee engagement by seeing if enough of your staff would recommend your workplace to their friends or families.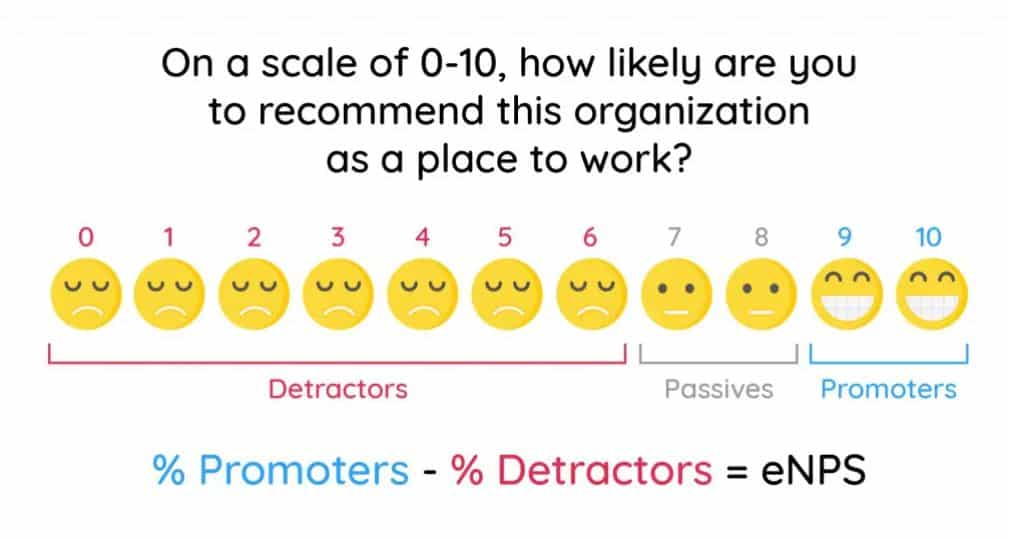 In general, eNPS ranges from -100 to +100. So something between -10 to +20 is considered to be a normal score, while results between +40 and +50 are considered to represent an excellent eNPS. For more tips on measuring pulse survey results, check out our blog on employee survey analysis.
Pulse Survey Topics
Your pulse survey topics should not be limited to exploring employee experience and satisfaction. While these are important to cover, you should also consider surveying your employees on a range of business-related topics.
Don't forget, your staff have a unique position and outlook on business matters. So they can provide a new set of eyes on a problem or business challenge.
Some other pulse survey topics to consider include:
Management communications

Operational efficiencies

Corporate social initiatives

Pay and benefit structures
Types of Pulse Survey Questions and Examples
If you've ever watched a press conference or a talk show, you know just how powerful great questions can be. A meaningful question doesn't just get to the root of an issue, it brings into light new insights and ideas.
A well-articulated question, also helps you get more specific feedback and avoids the problem of vague or evasive answers.
When thinking about your own employee pulse survey questions, try to ask them in a way that elicits a precise response. At the same time, consider offering the option of both quantitative and qualitative feedback. In other words, play around with both closed-ended and open-ended questions to see what types of questions are best suited for getting quality feedback.
Here are a few different types of pulse survey question examples to consider:
Pulse survey questions about remote work
Do you feel that our company supports employee wellbeing?

What's something that our company can do to support your wellbeing further?

Do you feel that remote work has been a positive experience?

What's been the biggest challenge for you while working in a hybrid/remote workplace?
Pulse survey questions about management
Do you feel that management is allocating attention to the right issues?

Where do you feel that management's attention should be directed?

Do you feel like you are valued as a team member of our company?

What is your preferred form of

workplace recognition

?
Pulse survey questions about employee wellness
I am satisfied with my organization's overall wellness programs and benefits.

[Answer on Emoji scale]

My manager encourages me to find a good work/life balance.

[Yes / No]
Pulse survey questions on employee safety
Overall, I feel safe at my workplace.

[Yes/No]

I understand my own health and safety responsibilities in the workplace.

[Yes/No]
Check out our blog post on the best pulse survey questions for more examples.
How to Create a Pulse Survey: Step-by-Step Guide to Building and Sending Effective Surveys
Learning how to create a pulse survey isn't difficult when you have the right tools. Below, we'll break down how to send a quick pulse survey to employees in mere minutes. We'll also look at how to track and measure your survey results to maximize the benefits of your survey. Let's dive in!
Step 1: Choose your pulse survey topic and questions
Before you can begin building your pulse survey, it's important to thoroughly reflect on your goals. Ask yourself, "What do we want to learn from this survey?" and "What sort of business processes or workplace concerns is our survey trying to tackle?"
By asking yourself these types of questions, it becomes easier to ask employees the right questions as well. That's because when you know what you're trying to find out, it's easy to determine what sort of data you'll need.
Quantitative data like star ratings and eNPS will help you get concrete analytics for questions on employee engagement and satisfaction. But you'll also want some qualitative comments to find out how employees want the company to improve going forward.
Meanwhile, anonymous comments are especially important when it comes to conducting pulse surveys on sensitive topics such as diversity and inclusion in the workplace, or employee safety.
Pro Tip: Organize and segment employee sending lists to target the right employees with the right questions using ContactMonkey's list management tool.
Step 2: Frame your pulse survey by providing context
The short and concise structure of a pulse survey makes it important to provide thorough context. The best way to do this is by learning how to create an email newsletters and trying employee newsletter ideas like embedding your surveys. This way, you can ask pulse survey questions in relation to a particular newsletter segment or message.
For instance, in the section of your newsletter announcing a new company software, you can add a few questions to see how employees feel about it. Ask questions like, "Will you need training for our new company software?" or "Do you think this software will help business efficiencies?"
With ContactMonkey's pulse survey tool, you can easily embed your surveys into your internal emails. All you have to do is drag and drop your pulse survey questions to your desired location in the newsletter. This way, you automatically provide context by adding your survey next to relevant newsletter text. You can even add photos alongside your survey if your question requires a reference image:
Step 3: Choose a pulse survey tool
There are many employee feedback tools available, from SurveyMonkey to TinyPulse. But these platforms all have one thing in common. They require your employees to visit a third-party provider, load a new page, and take extra steps to complete their survey. While some of your employees might follow through, many won't bother.
Why? Because the more time it takes employees to complete a survey, the less employees will be interested in completing it.
Email builders like ContactMonkey, allow you to embed a pulse survey directly into your HTML emails. And they let you do it in a matter of seconds. Just drag and drop the survey title onto your email template, choose the type of survey you want, and type a question.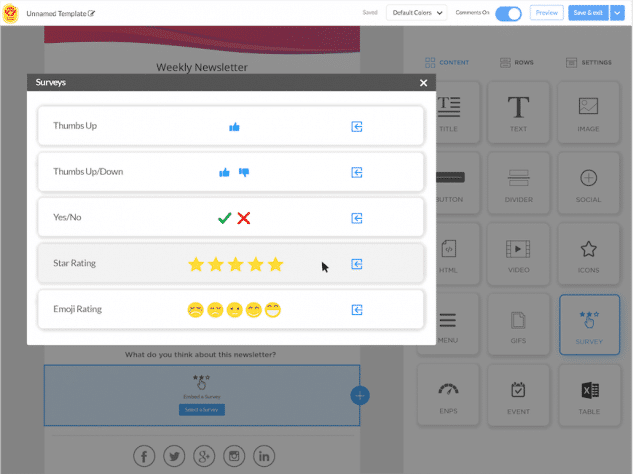 Not to mention, ContactMonkey lets you easily resize your surveys to fit into absolutely any email layout. So your surveys always flow seamlessly with the rest of your newsletter content.
Step 4: Decide what response style you want to enable
Remember, your employee survey results are only as good as the questions you ask. And the response options you offer play a big role in determining the quality of your questions. With a tool like ContactMonkey, you have a handful of response options to choose from, including emoji reactions, star ratings, eNPS, and anonymous comments. Simple and playful options like emoji reactions and star ratings are great for fun pulse survey questions. Meanwhile, eNPS score, thumbs up/down, and anonymous comments are ideal for more nuanced topics such as feedback on management.
Step 5: Embed, preview, and send your pulse survey
With most pulse survey tools, embedding your survey will involve adding a link or attachment. ContactMonkey makes it simpler. You can embed pulse surveys right into your Outlook or Gmail newsletters.
Using our email builder, add your survey tiles to a pre-made or customized responsive email template. Preview your survey by changing the view within your email template builder and edit your template for mobile devices: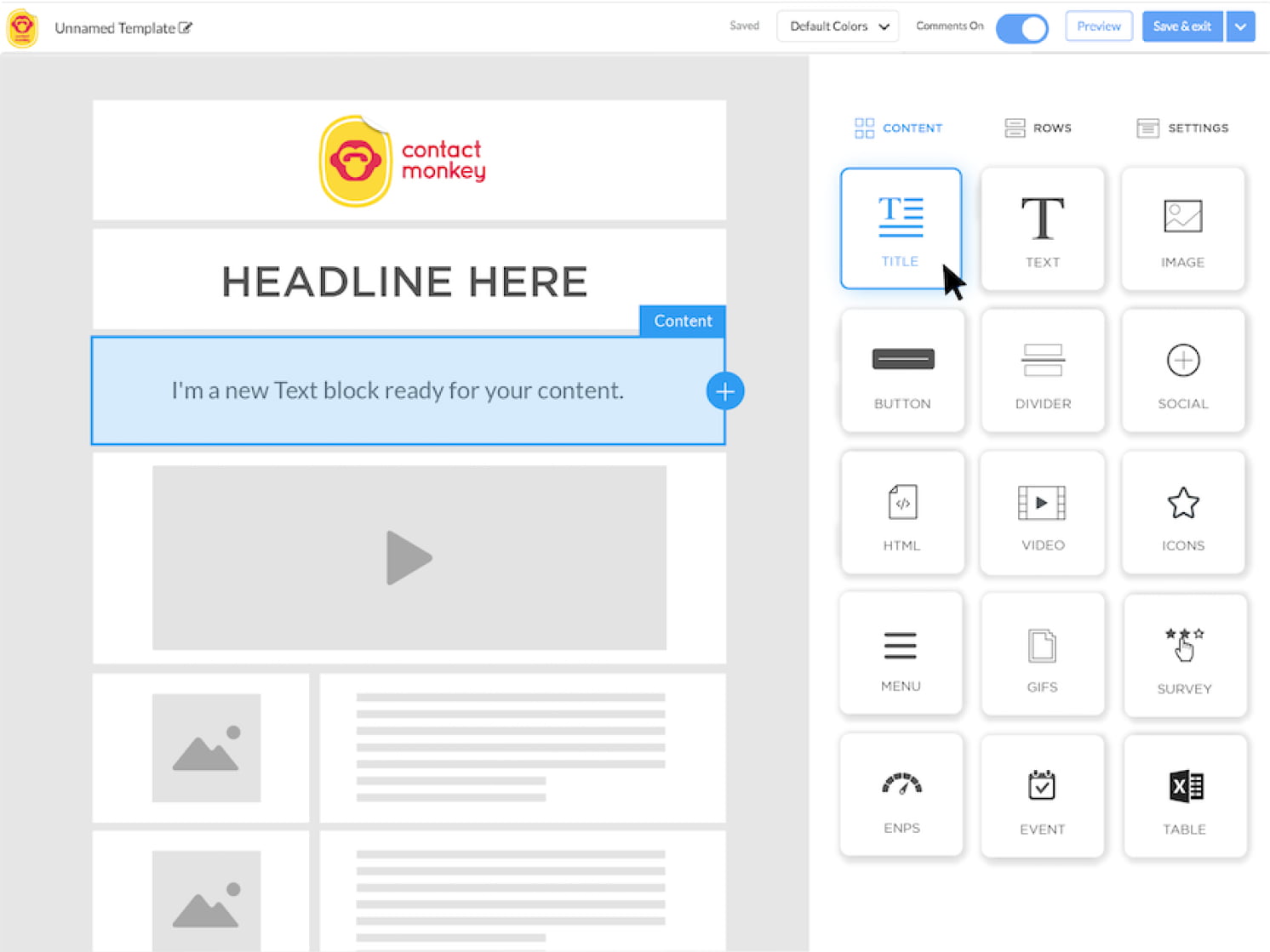 Once your email template is to your liking, open your Outlook or Gmail inbox and click the "new email" tab on the left-hand corner to begin creating a new message. You'll see a "ContactMonkey" icon which will give you access to your created pulse survey email templates. Pick your template and it will immediately populate into your new email message.
With ContactMonkey, you'll be able to send your survey to your existing email distribution lists or CSV. When you're set, hit 'send and track' and start receiving detailed email analytics, and survey responses in your ContacMonkey dashboard.
You can also organize and segment employee sending lists to target the right employees with the right information using ContactMonkey's Human Resource Information System (HRIS) integration.
Step 6: Track pulse survey responses and analyze survey data
With ContactMonkey's pulse survey tracking, you'll be able to get analytics on both your survey and the email itself. Find out your email open rates, read times, and click-through-rates, alongside survey answers and response rates.
With this range of data at your disposal, you'll not only have insight into the questions posed by your survey. You'll also have information on the quality of your pulse survey itself: how engaging it was, and what you can change. Once you begin sending pulse surveys at regular intervals, you'll have the Campaign Comparison tool to inform you on which emails and pulse surveys were most engaging and when internal email click-through rate is growing.
Using ContactMonkey's email scheduling, you can then set your pulse surveys to go out at specific times and days. This in turn will help maximize your survey responses.
How to Create An Effective and Engaging Pulse Survey
A pulse survey's value proposition is to deliver consistent employee feedback with less hassle—both on your end, and your employees.' More importantly, what pulse surveys consistently succeed at is reminding employees that your management team truly values their perspective.
Pulse surveys serve as a powerful team-building tool and a medium for creating a culture of feedback. They're also versatile in that they can be embedded in countless internal emails, from employee newsletters to leadership communications.
Learn how to use an internal communications software to save time and effort on creating engaging pulse surveys. Continue to build a strong internal brand voice, and cross-organizational dialogue with captivating employee emails. Book a free demo today.