Change management pulse surveys are a must-have tool for employers leading change in their organization. These short and focused employee surveys let you easily gather feedback and build a change management strategy attuned to their needs.
You already know that change is necessary for your company's growth. By investing in an effective change management strategy, you can make the transition process a space of opportunity.
Employee pulse surveys are a simple but powerful tool to boost your change management strategy. By zeroing in on employee feedback, pulse surveys pinpoint areas of concern so you can address gaps and avoid bracing against a current of change resistance. We'll explore how you can use employee feedback to optimize your business' change management processes, and what communications tools you can use to collect employee feedback.
Start change with a modern internal comms tool.
Start a 14-day trial. No credit card is necessary. Zero risk.
What is Change Management?
When we talk about change management, we're talking about a proactive approach to navigating change. It consists of change leaders guiding their organization through different stages of a company transition—whether it be an exciting expansion or a sudden merger.
Change management can be broken down into two core components:
Your change management strategy:

this involves a broad set of best practices that guide your transition process from preparation to rollout and reinforcement. Its key elements include a thorough

change impact assessment

, a compelling change vision statement, effective communications with your workforce, and continuous feedback.

Your change management plan:

it's where we get into the nitty gritty part of your change management strategy with actionable steps based on defined goals and metrics.

This should include a step-by-step process. One that involves picking change leaders, breaking down necessary tools and training, establishing KPIs, and creating a workflow.
Popular change management models
While many employers revert to the trial and error method when it comes to their change management strategy, using tried and tested solutions is a better place to start when implementing change.
Consider change management models as adjustable templates for your change management plan. You'll need to ensure that the model you pick fits the type of change (e.g., acquisition vs. new product) and scope (e.g, structure vs. culture) you're targeting.
We've narrowed down the classics to get you started.
Kurt Lewin Model
Lewin compared change management to the process of transforming one solid shape into another through three stages:
Unfreeze is when we clearly identify and communicate why change is necessary.
Change should be focused on proper mentorship, training, and guidance for employees.
Refreeze is when change is solidified and visible in things like employer brand and internal brand voice.
To move from one stage to the other, employee feedback is necessary to gauge readiness, check where support is needed, and notice problem areas.
John Kotter's 8-step model
Kotter's framework prioritizes the prep-work for change itself. It's been successfully adopted at companies like PepsiCo, who used it to spearhead a culture change in their company. Central to the model is developing a sense of urgency around change from the very start and effectively communicating why change is needed. Another important component is celebrating small wins.
The McKinsey 7s model
The McKinsey 7's model is a staple among change management experts. It underscores the interconnected nature of your company—how different teams, structures, and objectives continuously interact and impact one another.
Regardless of which change management model you use, you'll need to gather employee feedback to see what's working well and where you need to adjust your strategy. By tapping into employee insights, change management pulse surveys can help you plan, communicate, and implement change. And they'll let you do it in a way that positively resonates with your teams.
Why Use a Change Management Pulse Survey?
An employee pulse survey is a quick, and focused question on a specific topic. The goal is to provide a "pulse check" of your employees' moods, opinions, likes, and dislikes in a given context – say, your new digital transformation initiative.
Change management pulse surveys are short and don't take much time to complete. They can be used on a regular or semi-regular basis. This makes pulse surveys a powerful tool for creating a continuous feedback stream.
With ContactMonkey's email template builder, you'll be able to create, send, and track employee pulse surveys directly within Outlook and Gmail. Get great employee feedback, gather email stats, and show data to support the efficacy of your change management communications.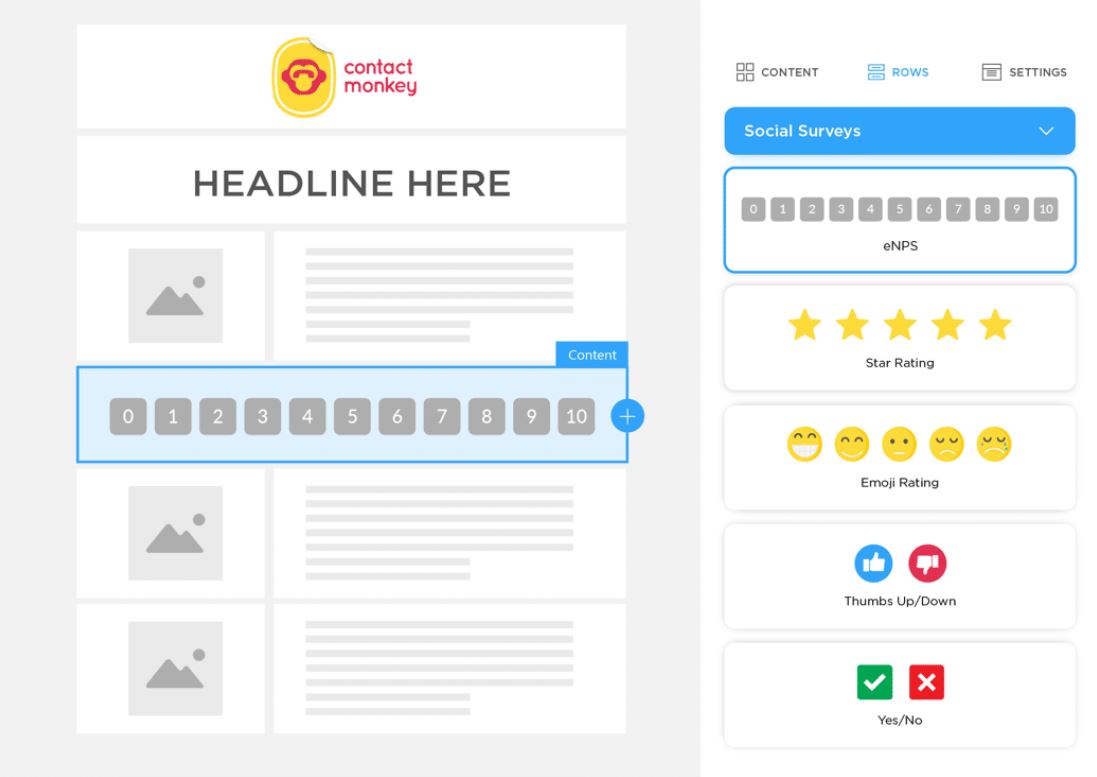 5 Ways to Use Change Management Pulse Surveys
A change management pulse survey should be used from the planning phase to implementation and reinforcement. We've broken down how you should be using employee pulse surveys at key stages of your change management process.
1. Use employee survey data to check your company's readiness for change
Whether you face an upcoming digital transformation or a proposed merger, you need to assess all of your company's strengths and weaknesses in confronting change.
A change management pulse survey helps you gather employee feedback to use as actionable insights in the preparation process for change.
Here are a few ways you can go about this:
Conduct an impact assessment
Change management pulse surveys will let you conduct a thorough impact assessment showing where the biggest obstacles to your change management process may emerge. An impact assessment looks at how a specific change will impact each area of your company. Both on a structural level and an individual level.
The most important part is understanding your employees' life on the job, which is where employee pulse surveys come in very handy. A change management pulse survey will let you gather employee insights across multiple teams, departments, and even company locations.
With ContactMonkey's pulse survey tool, you can take advantage of scale ratings and thumbs up/down options for quick and easy responses. Mix it up by throwing in a qualitative question with the comments feature.
Keep your pulse survey questions simple but meaningful by asking things like:
What tools do you use most in your role?

What aspect of your role do you find most valuable?

Complete a stakeholder analysis
A stakeholder analysis consists of creating a list of people and teams who will be directly impacted by your intended change. A change management pulse survey will let you quickly gather insights about your key stakeholders and gauge resistance.
The goal is to develop a deeper understanding of each stakeholder, so the key is asking simple but meaningful questions.
Combine quantitative and yes/no questions with short, qualitative ones to gain a better understanding of your key stakeholders. Ask closed-ended questions like:
Do you feel that the new software would increase your team's productivity?

Are you optimistic about our upcoming change initiative?
With ContactMonkey, you can take advantage of Likert Scale-style questions to determine the strength or intensity of employee attitudes towards your change initiative. A common example is star ratings. These allow you to measure agreement statements and gauge your stakeholders' approval rating on your change initiative.
For open-ended feedback, try asking questions like:
What is one thing we could have done better in past change initiatives?

What resources would be most helpful in guiding you through our new software?
2. Use employee feedback to create an engaging change vision statement
An inspiring vision statement is at the forefront of successful change management. Your change management pulse survey will help you understand what will resonate with your employees the most. By gathering feedback, you'll be able to get a clear idea of what actually matters to your employees. You can then gauge how their priorities can be addressed in your change vision statement.
Try asking a combination of open-ended and closed-ended questions like:
What do you value most about your role?

Are you proud of working for company [x]?
Remember, your change vision is what will motivate your employees to buy into the change process. It should be emotionally appealing by connecting to your employee motivations, goals, and wellness.
Change management pulse surveys will help by letting you know what resonates with employees first.
Learn how to boost employee morale during the change management process with our intuitive guide.
3. Establish clear metrics for your change management plan using survey data
Once you've put in the initial research, the next step is to put your insights into an actionable change management plan. Change management pulse surveys can help you learn what tools and training are needed and when. They'll also help you understand what deadlines are appropriate, and who your change leaders should be.
Once your plan is underway, regular employee pulse surveys will let you keep track of performance.
Your change management plan should include these 3 core components:
Key Performance Indicators (KPIs)
Your change management KPIs can use metrics such as the number of people onboarded onto a new software program or using a new tech tool. Use a pulse survey to gauge how many of your employees have tried out the new software and whether they found it helpful. With ContactMonkey, you can turn employee answers into clear, quantifiable metrics on your Campaign Dashboard.
Timeline
The process of implementing change within a company is never quick—lasting about 6-12 months on average. Establishing a few flexible short-term deadlines will help keep your teams on track. If you're not yet sure which deadlines are realistic and which aren't, conduct a pulse survey asking your employees questions like:
Did you find that you had sufficient time to complete task [X]?

Do you think task [X] was a productive use of your time?
Change leaders
A change management leader can be anyone in your company who is equally passionate about the proposed change.
With ContactMonkey, you can use individual email tracking to see which employees open/clicked on/read your emails the most. This can help you get started on choosing who should be part of your leadership team by seeing who is already most engaged.
Bypass email-sending limits of Outlook and Gmail.
Send all of your internal emails within ContactMonkey.
4. Leverage feedback for effective change management communications
Once you're ready to communicate your change management plan, use employee pulse surveys to amplify engagement and get valuable feedback.
Make a great first impression
Your initial communications can be the make or break factor. Just 17% of employees rated their leader highly when it came to recent change-related communications.
To hit the ground running with your change management communications, use an interactive email tool with embedded pulse surveys. Unlike static email, which gives you no insights into how recipients engage with content, interactive email tools like ContactMonkey use pulse surveys to create dialogue and track reader data.
After showcasing your change vision statement and plan, add in your employee pulse survey. Use a combination of Likert Scale questions and open-ended questions such as:
How do you feel about the change overall?

Is there anything that you're concerned about? If yes, please leave in the comments.
With ContactMonkey's employee pulse surveys, respondents can also take advantage of guaranteed anonymity. Employees can provide comments without a name or email being associated with their response, which means more honest feedback.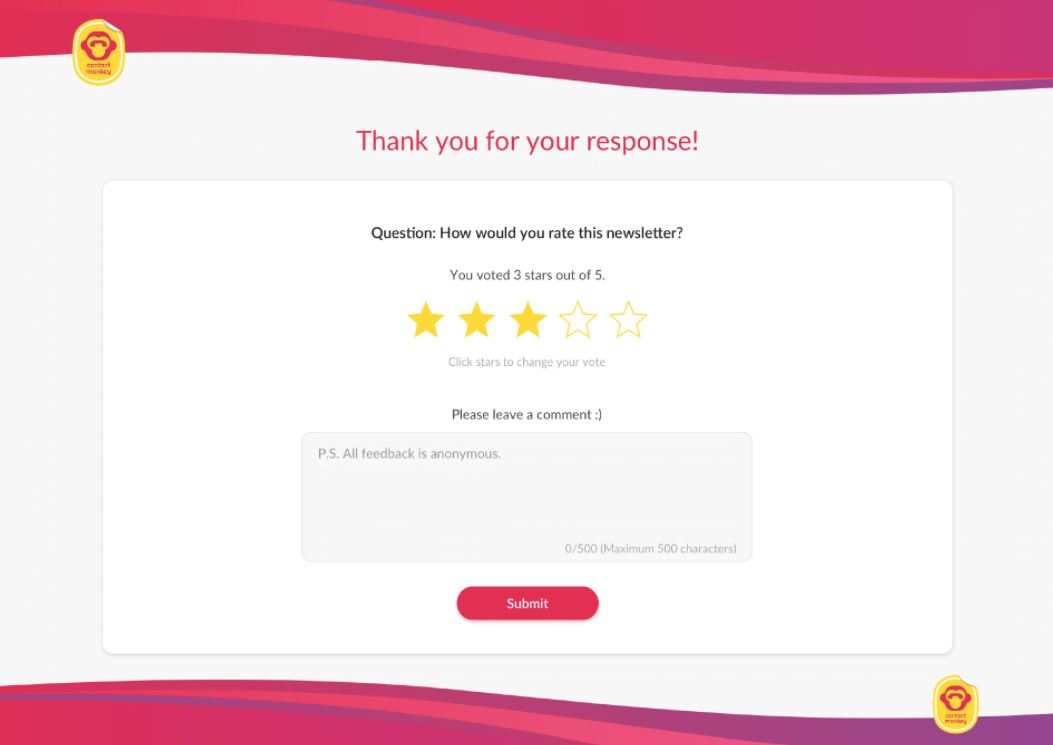 Choose the right time and place
Your change management communications are responsible for keeping your employees aware and aligned. If you want to grow support across teams, you need to ensure everyone's in the loop.
Leverage your pulse survey data to find the best times and channels to share your change management communications.
If you're using ContactMonkey, you can gather all of your key insights in your Campaign Dashboard. Here you'll find exact data on what times of the day your employees are engaging with your communications the most. You can also schedule sending to fit your target timeframe and maximize email opens.
5. Build a continuous feedback culture with change management pulse surveys
Intermittent feedback doesn't cut it when it comes to a period of continuous change. To stay aligned with employees during every stage of the transition, use change management pulse surveys to encourage a continuous feedback culture.
With a healthy feedback culture, authentic and constructive feedback becomes a regular part of your company during the change management process and beyond.
Change management pulse surveys are a great way to get the ball rolling because they allow you to make feedback a habit.
You can also see how your communications are resonating with employees by asking for their feedback using communication pulse surveys. This way, you'll stay attuned to employee needs in the long run.
Improve Change Management with Employee Pulse Surveys
Change management is no walk in the park. It's a challenge and you may need to adapt your strategy a few times before you start seeing success. The key is to build a human-centred approach by continuously gathering feedback and using it to guide your change management strategy.
At the end of the day, successful change management means your teams are motivated, engaged, and feel that their concerns are being addressed. A seamless pulse survey tool like ContactMonkey will make this task a little easier.