Across the board, there's more familiarity with the annual employee survey that Human Resources teams send out. These are the long-form, somewhat complex questionnaires that every employee receives in their inbox at a key point in the year. 
So much can change at a company in a week or month, let alone in a year. Concerns of all sizes go unaddressed and unnoticed when employee feedback is so seldom gathered. On the flip side, pulse surveys can be administered as often as once a week, but tactics around this differ from company to company. 
💡 If you're looking to get started with employee pulse surveys, or working diligently to find the best pulse survey strategy and cadence possible for your organization, then keep reading!
What is an Annual Employee Survey? 
Let's start at the beginning. We can only assume that most people reading this know what an annual employee survey is versus an employee pulse survey; best to cover our bases. 
An annual employee survey is used by leadership teams to gather employee feedback, and data around employee engagement, morale, and overall motivation to perform. Typically, they contain about 50 questions, and aim to measure complex states in a workplace. 
Annual employee survey questions look at: 
Feelings around work conditions (e.g. the physical office space, interest in work, style of work, autonomy vs. micro-management) 

Opinions on leadership and management teams 

Job satisfaction (i.e. compensation, benefits) 

Company policies and their day-to-day effects 

Causes of turnover and retention 

Employee diversity 
When all is said and done, annual employee surveys should be used to promote organizational change and support employee performance on a larger scale. Again, the disadvantage to them not being as frequent is that unaddressed concerns and issues have time to fester. 
Annual employee surveys support employees by: 
Determining if employees have what they need to be the best at their jobs

Gauging level of support in a role, as well as how well the role fits with their skills

Calling into question workload sizes 

Learning if employees believe their role gives them a purpose 

Understanding if they feel acknowledged or if their role matters 

Identifying areas for career growth 

Finding avenues to strengthen relationships with fellow individual contributors in their departments, their leaders, and other employees in the organization

You should use an annual employee survey when: 
Organizational needs center around collecting a ton of data from all employees 

You want feedback on a bunch of areas in one place 

If you're looking to do a deep dive on employee data 

You're revamping larger company goals 
Cons of annual employee surveys: 
Focus on one data point for the whole year 

Length because of large number of topics covered, which impacts response rates 

Never in tune with speed of organizational change 

Too seldom to reveal trends 

No real picture of pressing issues 

Data takes time to parse and present
If there are issues that have presented themselves, don't use the annual employee survey to gather feedback before resolving them. These issues will only go deeper, and you simply can't afford to keep employees waiting. By the time you get around to dealing with the issue, it may be too late, and you may have lost some of your best performers.
What is a Pulse Survey?
A pulse survey consists of 1 to 10 questions, and usually takes under five minutes to complete. They're fun to do, touch on a specific topic, and are short by design. Depending on what you want to know, the length of your survey will vary. A pulse survey with only one question is effective in gathering relevant, timely data on employee sentiments. 
Some areas of interest include: 
Organizational changes

Company news (internal and external) 

Effectiveness of training 
You should use employee pulse survey questions to:
Provide real-time information with accurate data 

Generate high responses rates due to length 

Build culture around growth and communication 

Show that leadership values individual contributors 

Complement large-scale company initiatives and larger surveys 

Make it easier for companies to respond to feedback quickly 

Provide relevant discussion topics for meetings 

Measure the success of complex changes 

Engage younger arms of the workforce 
Cons of employee pulse surveys: 
Data can be skewed if the focus question is too leading or too complex 

The narrow scope makes for literal topic coverage 

Questions must be paired with an action to generate meaningful employee engagement 

The questions must be goal-focused in order to offer value 

Employees may not see the relevance of the pulse survey without being provided with a full scope of its purpose, and what the data will be used for 
How Employee Pulse Surveys Started
In their current state, employee pulse surveys have been used in the workplace for less than ten years. Overall, employee surveys have been used for about 100 years. The earliest surveys were known as "employee attitude surveys," and successful industrial companies in the 1920s were the first to use them. Perhaps this was a contributing factor to the success they saw. 
Outside of factories, employee attitude measurement tools gained popularity during World War II. There was a great deal of effort put into researching and observing morale on the battlefield in order to recreate high morale environments. 
Pulse Survey Best Practices for Internal Communicators
Depending on what the goals are, internal communicators can distribute an employee survey as frequently as once a week. However, it's important to note that if you're going to ask your employees to complete a survey that often, then you must be prepared to take some sort of action. If they keep doing the work on their end and providing feedback that isn't being taken seriously, the pulse survey will start to lose its effectiveness, and employee engagement will also be affected. 
"The most typical reason people don't want to fill out your [employee] survey is because you haven't done anything since the last one. They don't have survey fatigue; they have lack-of-action fatigue." – Didier Elizinga, CEO of Culture Amp 
Be open and up front with your employees. Tell them why you're sending them the surveys, take care in creating the right questions for your pulse survey, make sure length and frequency of distribution are reflective of one another, and use analytics to truly understand the data you've collected. 
Once you nail down your pulse survey cadence, you'll start to collect more relevant feedback, gather meaningful insights, and give employees confidence that leadership takes their opinions seriously. Because they're so quick to complete, pulse surveys usually glean a higher response rate, boost morale, and promote a culture around open communication.
Why Should Internal Communicators Use Employee Pulse Surveys? 
When it comes to making company decisions, especially major ones that will affect employees directly, it's important that you understand what your employees are thinking. The best way to do this is by gathering feedback, which helps senior leadership to bridge gaps and build relationships with individual contributors. 
Employee pulse surveys don't have to completely replace annual employee surveys. In fact, they can serve as a nice complement to the larger data set that the annual version would leave you with. If you're going to go this route as an internal communicator, ensure that you have a plan for the annual employee survey in place first, so that you can lace core questions into your pulse surveys and build up your data over time.
How to Pair Long-Form Employee Surveys and Pulse Surveys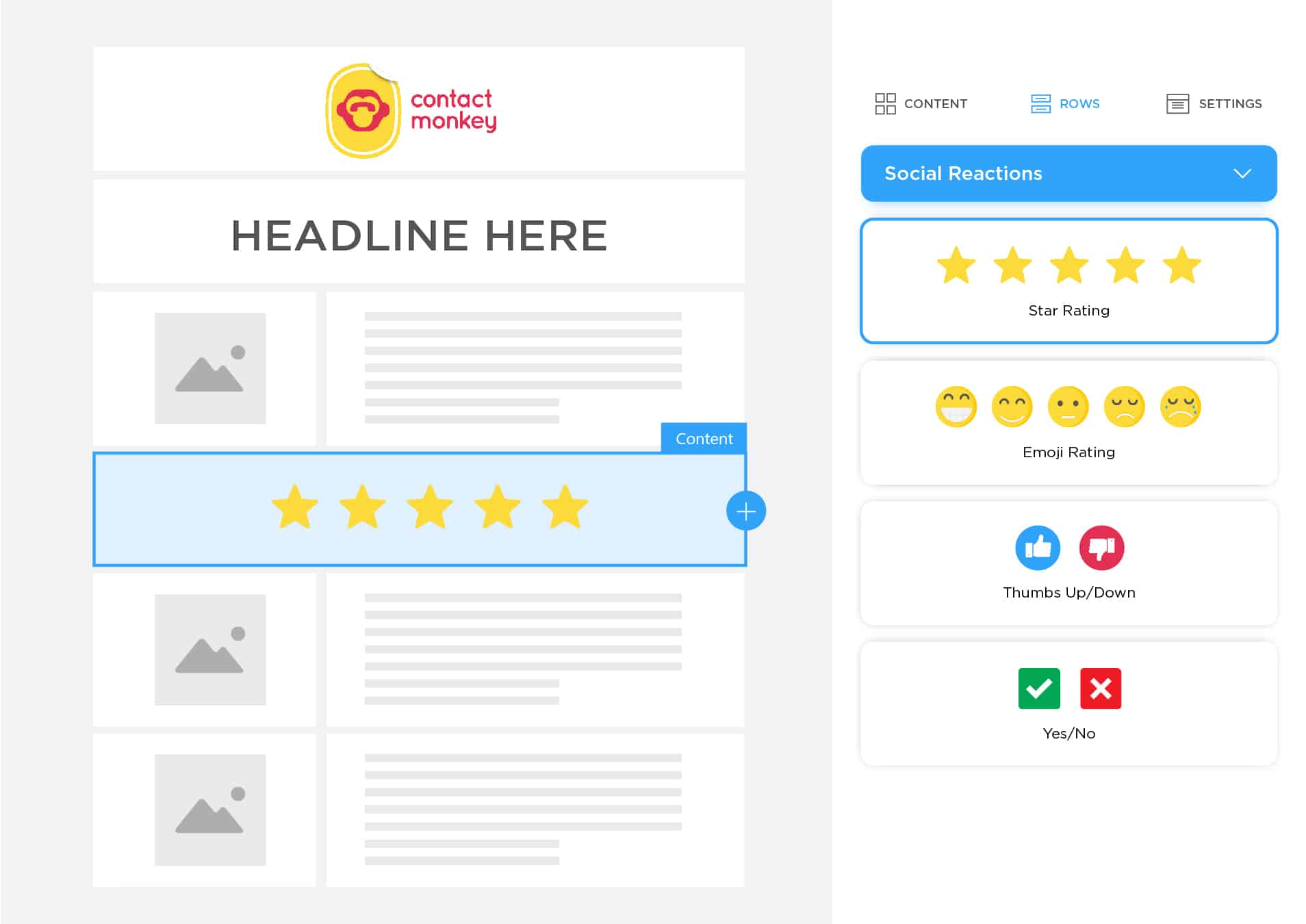 According to Culture Amp, thinking about your surveys in terms of quarters can be a worthwhile approach. Of course, pulse surveys can (and probably should) be conducted more than twice a year, but if you're trying to paint a bigger picture, the quarterly cadence might work best. 
Q1: Baseline Employee Engagement Survey
This initial employee survey will help internal communicators to understand where employees are at. They'll be able to gain insight into what is driving employee engagement, and make plans accordingly based on the feedback they receive.
Q2: Employee Pulse Survey
After evaluating the data from the baseline employee engagement survey, internal communicators can now take the opportunity to identify a single focus area. Remember to keep this short (~10 questions) and respect your employees' time; survey should take less than five minutes to finish. The main purposes of the Q2 pulse survey are: 
Understanding if any progress has been made on the main issue identified in Q1  

Providing evidence to employees that you are listening to them and taking action on their concerns 

Reminding employees of the steps taken thus far 
Q3: In-depth Employee Survey
At this stage in the employee survey process, internal communicators should use this as an opportunity to dissect a single topic that's important to employees. These could be topics like company values and culture, perks and benefits, employee well-being, and the effectiveness of leadership. 
Q4: Employee Pulse Survey
The year-end pulse survey should be used by internal communicators as a means of following up with employees after they've completed the deep dive survey. Use the results from the Q3 survey as inspiration for the questions. This will help you gauge the impact made so far. 
💡 Even though the purpose of each survey is clear to those who create them, remember that your job is to improve communication. Don't hide things from employees. Be clear about what you're asking them to do, why you're asking them to do the surveys, and how they will directly benefit from the results gathered.
How Employee Pulse Surveys Increase Employee Engagement 
Overall, employees that are engaged in their work are more productive and take less time off. Employees in customer-facing roles have been shown to make their customers happier. With employee pulse surveys, not only should you expect a much higher participation rate, but you should expect to see direct results from the actions you take post-survey.
Responding to the feedback given will: 
Make employees feel listened to 

Encourage employees to build better work habits 

Foster a workplace culture of continuous improvement 

Give you leverage to ask follow-up questions to the initial pulse survey question
Some pulse survey examples of follow-up questions are:
How likely are you to recommend our company to a friend?

What's holding you back from recommending our company as a place to work?

When something negative happens here at work, do you know who to ask for help?

How can we better inform you as to points-of-contact within the organization? 
When all is said and done with each employee pulse survey, don't forget to: 
Reassure employees about anonymity to encourage future participation 

Communicate clear about how you will be using the information collected

Keep thinking about ways to make the process fun 

Share the results with everyone in an effective way 
Proven benefits of having engaged employees: 
Employees are more satisfied overall 

Higher rates of retention (and therefore lower turnover) 

Employees feel more motivated and about

17% more productive

 

Better attendance at work 

Increased levels of loyalty
How to Engage Your Employees at All Levels 
Make sure new employees are properly onboarded when they join. 
This doesn't just have to do with training and making sure that new hires have all the tools that they need to succeed in their roles. You may also want to consider that you pair them with an employee who has been with the company for a while, and is in a similar role as the new employee. This will give them a familiar person to gravitate towards, and a resource for answers to questions around personal experience in a role. 
Give frequent feedback.
Whether it's praise or constructive criticism, your employees need to hear it. Sometimes, your comment can be all your employee needs to feel great about the rest of the day, or find the motivation to push through on a project. When giving criticism, even if it's something to be improved upon, you should deliver it in such a way that the employee feels that change is possible and that it will help them at work. 
Offer personal and professional development opportunities. 
Success in the office is imperative, but learning through different means and perspectives will only benefit your business. People have goals, hobbies, and passions outside of the office walls and if they've shown their investment in the company, employers should reward and acknowledge that they are a person first, and an employee second. If an employee can give a rationale as to why a certain course or conference will benefit them professionally, there's no reason why you shouldn't support them financially. 
Be honest and transparent. 
Since employee satisfaction is being measured through internal communications, it's important that leaders are open and honest with their teams. Don't wait to deliver news about organizational changes, and make sure there is a plan in place for when and how to give the news to employees. If some folks find out before others, there's time for the rumour mill to get working, which can negatively impact morale and leave some employees feeling slighted if they think they're the last to hear the news. 
Provide strong perks and benefits. 
Don't just use these as a way to draw in new employees. These things should not just be present on the website, in job postings, or mentioned in interviews. You don't want new employees to feel like they've been tricked early on. This level of deception is going to count against you as a reason that they leave, whether they mention it in the exit interview or not. 
Some examples are: 
Unlimited vacation 

Gym memberships

Transportation subsidies

Weekly lunch options 

Remote work and flexible hours 
How to Choose a Pulse Survey Response Scale
We've spent most of our time thinking about what to ask. Deciding how you want employees to respond and which response scales you want to use to gather those responses are both just as important as deciding on the question to ask in the first place. 
When choosing questions and scales, keep in mind the following factors: 
The

object

of the employee survey question that you're sending out 

The

style

of survey that you want to send, either a single question or a few 

The

timeline

that you are giving for survey responses 

The

sample size

completing the employee survey 
Here are two of the different pulse survey response scales you may wish to consider:
Likert Scales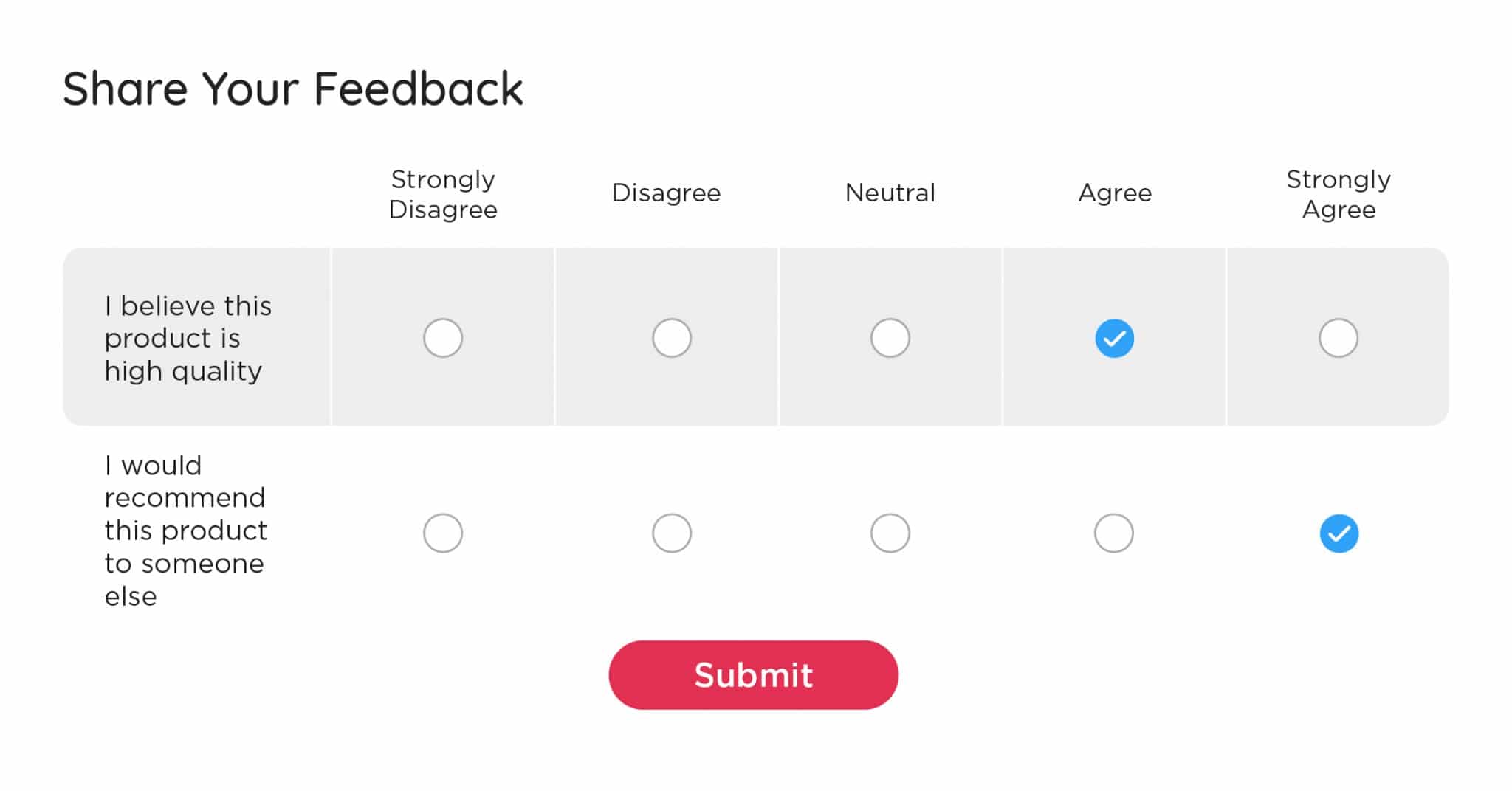 These are used to determine the strength or intensity of an attitude. They typically offer five options in a range, but can go up to seven. A common example is a "Strongly Disagree" to "Strongly Agree" range. Not only are they used for measuring agreement statements, but Likert scales also work well for:
Frequency 

Quality 

Importance

Likelihood
Dichotomous Scales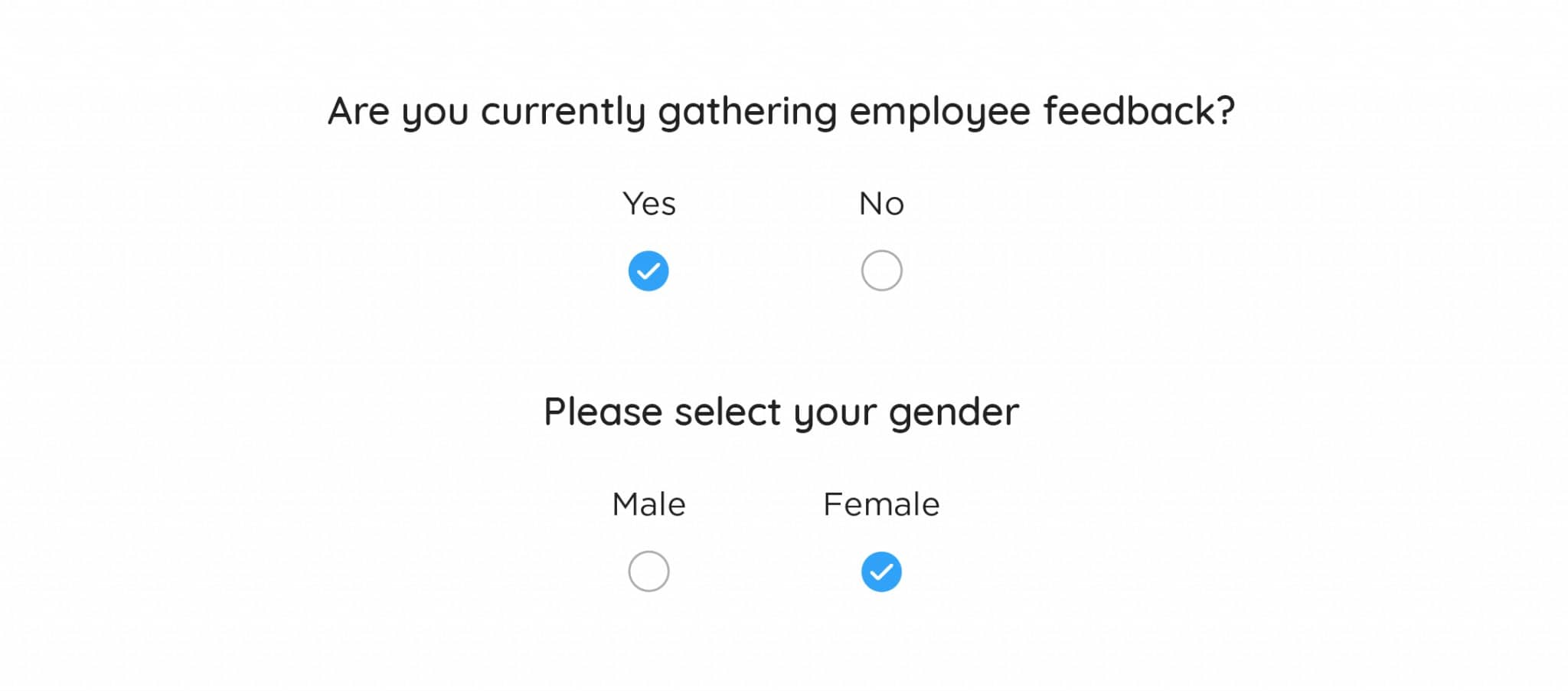 The root of the word, di, means "two." These scales and questions have two possible answers. They can be as simple as Yes vs. No. Other examples include Agree vs. Disagree, and True vs. False. Other than in an employee survey, dichotomous scales can work well for narrowing down lists of potential users to those who are strongly invested in a product.
How to Create an Effective Employee Pulse Survey 
Pulse surveys differ depending on their objectives, but there is still a general framework that you can use as a guide. Here are seven key steps to follow when creating your employee pulse survey: 
Choose your questions. 
Remember that you're aiming to keep it short. Your pulse survey should have no more than 10 short questions for employees to answer. Ensure that these questions add value to the organization. If you wish, you can focus on a particular topic or theme, but don't shy away from variety. You can narrow down your questions over time. 
Give notice about the survey to employees. 
Don't take employees by surprise with the pulse survey. Not only should you let them know when to expect, but also how their feedback will be handled, and whether or not it will remain anonymous. Always choose transparency. 
Conduct the survey. 
Send the pulse survey out at a time that considers employees' time. Make sure that it's given in a way that is convenient for them to complete. Consider how you send it out also. You can send it through an internal email, but you can also post on your company Intranet (if you have one), or send a trigger via SMS.
Analyze employee feedback.
When the survey is over, take a quick first pass of all of the responses, making a mental note of any emerging trends. Then, go through the feedback more thoroughly, make notes on areas for improvement, and any positive feedback about what employees feel is working well. 
Share results with the larger team. 
Put some time aside to share the results, even if it's at a high level, with employees. This will reassure them that their feedback is being taken seriously, and provide an open forum for them to ask any questions they may have. If you set the tone for sharing results, they'll be even more enthused to respond going forward, which will positively influence response rates and employee engagement. 
Provide next steps and actions. 
Let employees know the "now what." Since the results are out in the open, there is going to be the expectation that some sort of action is taken. If you're not somewhat quick to act, employees will probably feel like it was just for optics, and a waste of their time. Don't risk good morale for safety or apathy. 
Repeat the process.
Due to their length (or lack thereof) and how convenient they are to complete, employee pulse surveys should be conducted regularly. Look at responses over time to see if any trends have changed, or any progress has been made after you've taken action.
How to Use the Data Collected From a Pulse Survey
Before collecting survey data, be sure to encourage employees to give honest and constructive feedback. The employee pulse survey isn't just for the benefit of the communications team or upper management; it's for continuous improvement in the entire organization. To benefit your audience, get them engaged in the process early, set expectations for the pulse survey, and make it clear who will be directly involved in using and interpreting the data you collect. 
It's a common practice to collect data around both actionable (driver) and non-actionable (outcome) items. Typically, about 75% of the focus is on actionable items, 15% is placed on non-actionable items, and the remaining 10% of focus goes towards open-text items. 
Here are some other things to keep in mind: 
Keep data sets relevant by focusing on feedback and taking action 

Communicate with employees through the same channels for consistency 

Be open with your process so that your process isn't overshadowed 

Don't fall into the trap of using employee pulse survey results to boost manager score cards
Inevitably, employees will have questions about the data you share with them. Use the data collected from employees to answer these questions and outline the potential actions that will be taken. When it comes to the workplace, it's always a good idea to provide answers based on logic and facts, rather than feelings. Opinions are valuable, but facts are more important when it comes to major organizational change.
What Are the Top Employee Pulse Survey Questions? 
We are using the term "top employee pulse survey questions" loosely, because every organization has different reasons behind why they survey their employees. The below list features some of the most frequently asked questions, which can serve as inspiration for your next employee survey: 
On a scale of 1-10, how happy are you at work? 

Would you refer someone to work here? 

Do you have a clear understanding of your promotion path? 

On a scale of 1-10, how would you rate your work-life balance? 

Hypothetically, if you were to quit tomorrow, what would your reason be? 

Do you feel valued at work? 

How frequently do you receive recognition from your manager?

The last time you accomplished a big project, did you receive any recognition? 

Do you believe you'll be able to reach your full potential here?

If you were given the chance, would you reapply to your current job?

Do you foresee yourself working here one year from now? 

Do you believe the leadership team takes your feedback seriously? 

What three words would you use to describe our culture? 

Do you feel the management team is transparent? 

On a scale of 1-10, how comfortable do you feel giving upwards feedback to your supervisor? 

Do you feel like coworkers respect each other? 

Do you believe we live authentically by our organizational values? 

Does our executive team contribute to a positive work culture?

Do you have fun at work? 
Looking at these questions, a number of them place focus on leadership and management. Earlier, we spoke about not using pulse surveys to add or subtract from managerial scorecards. However, the feedback that you receive from individual contributors through employee pulse surveys needs to be acted on. If there is generally more negative feedback pointing towards management, it could be an opportunity to: 
Dealing with Negative Feedback from Pulse Surveys
Have discussions with management around ways to improve based on feedback trends

Enlist a third-party consultant to provide a new perspective on management

Encourage everyone to

participate in a personality test

to understand how people like to work and be managed 
If you're finding that employees have no qualms giving feedback on management through the pulse surveys, be persistent. Don't shy away from asking more follow-up questions around leadership, as there should be no repercussions. There are no guarantees that leaders within the organization will view this positively, but it will foster a company culture of progression and change. 
What Do the Numbers Around Employee Pulse Surveys Look Like? 
According to the CEB Corporate Leadership Council, 90% of organizations distribute annual employee surveys. By stark contrast, only 19% of organizations use employee pulse surveys throughout the year. 
"Employee engagement has become the top issue on the minds of business leaders, directing us to an entirely new model of management." –15Five Blog
Here are some other noteworthy statistics:
One-third of organizations using employee pulse surveys send them out twice a year, while one-fourth send them out quarterly 

87% of employees around the world are not engaged in work 

Companies with highly engaged employees outperform peers with weakly engaged employees in earnings by 147% 
The message is clear: employees need to be in the loop. By feeling like they're truly a part of the company, they'll likely feel more attached and akin to the company, its mission, and its people. Employees who are happy will be able to better deliver on assignments, and feel like there's purpose behind the tasks they have to complete. 
How to Use ContactMonkey for Pulse Surveys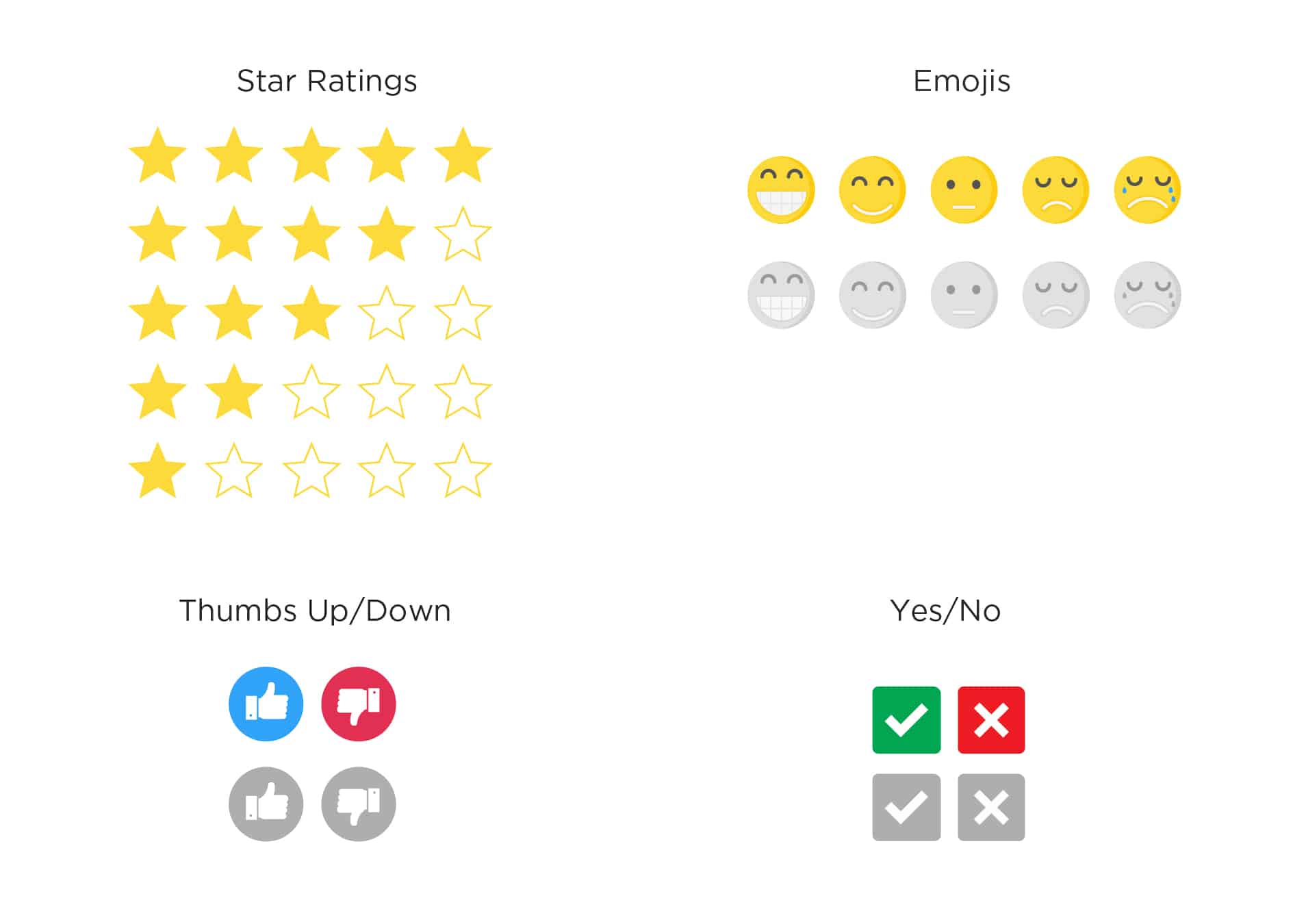 Collecting employee feedback is an important sep towards strong employee engagement levels, which is why we decided to make this process easy and efficient. We give internal communicators the option to add feedback mechanisms (like employee surveys) right into their internal emails, opening a two-way communication channel. 
The ContactMonkey tool features an email template builder that you can use to gather employee feedback. This can all be done within your Outlook or Gmail inbox, and you can include pulse survey and employee comments.
Along with questions, pulse surveys can feature social emoji reactions. These can come in the form of a 5-star rating system, thumbs up vs. thumbs down, and a smiley face scale. You will be able to view results in real-time within your ContactMonkey email analytics dashboard and action feedback quickly or share results with upper management.
Ready to see how these seemingly small changes can have a big impact on employee engagement levels? Schedule a personalized demo of ContactMonkey today!
You might also like: 
27 Ways to Engage Employees in 2020 
How to Create an Internal Communications Plan in 2020 
Why You Shouldn't use a Marketing Tool for Internal Communications
The Ultimate Guide to Internal Communications
Internal Email Tracking in 2020