With more remote workers than ever before, internal communicators need a fast way to gather employee feedback. Employee pulse surveys offer an easy-to-implement solution for gathering quick, quality feedback.
Collecting employee feedback is an easy decision; you collect valuable insight while your employees voice their opinions and feel heard. But not all employee feedback is the same.
Savvy internal communicators have a selection of employee feedback methods at their disposal and employ the one best suited for the current task. Pulse surveys may represent the shortest variety of employee surveys, but their value is massive.
What Is a Pulse Survey?
An employee pulse survey is a short, focused question about a pertinent workplace topic.
This type of survey is usually included alongside other communications like employee emails and newsletters. The other communications help to contextualize the survey.
Pulse surveys get their name from the idea of a "pulse check"; a way to quickly gauge how your employees feel about any given issue.
Why should all companies use pulse surveys?
Using pulse surveys, internal communicators can get an instant snapshot of their employees thoughts and opinions. This is a great approach to gather real-time feedback in order to inform any business decisions you may be considering.
Pulse Survey Benefits: Advantages of Pulse Surveys
The biggest advantages of employee pulse surveys lie in their short format. Here are just a few key pulse survey benefits:
Improves survey completion rate: It's easier for employees to fill out these quick questionnaires.
Helps employees feel heard: Employee pulse surveys show that you value employee feedback.
Lets employees focus on their response: Get feedback on a single question or issue, rather than several.
Makes collecting feedback more efficient: Employees can read and answer most pulse surveys in less than 30 seconds.
Can be inserted alongside other content: They can even solicit information about the content it's embedded beside.
Foster a workplace culture of continuous improvement: By consistently gathering insights on how employees feel, you'll be able to stay ahead of the curb when it comes to workplace engagement and retention.
Track employee feedback trends: Pulse surveys are more regular than other kinds of survey, which allows you to detect trends more easily.
These advantages make employee pulse surveys especially effective for measuring employee engagement, checking whether staff received key company updates, and gauging reactions to change management.
Common Uses of Pulse Surveys
It's not always easy to ask employees for feedback. But the right question can be the difference between a prompt response and a blank answer.
When choosing pulse survey questions, keep in mind the following factors:
The objective of the employee survey question that you're sending out.
The audience from which you're collecting employee feedback.
The timeline that you are giving for survey responses.
The sample size completing the employee survey.
Using the above criteria, you can easily determine what kind of question you can ask and the best way to ask it. From meeting suggestions to content feedback, pulse surveys can fit into a wide range of use cases.
What Can You Measure With Pulse Surveys?
Pulse survey questions can collect a variety of employee feedback. It's useful to categorize the two kinds of pulse survey questions according to two scales:
Likert Scales
Likert Scale-style questions are used to determine the strength or intensity of an attitude. They typically offer five options in a range, but can go up to seven.
A common example is a rating range, like star ratings. Not only are they used for measuring agreement statements, but Likert scales also work well for measuring:
Frequency
Quality
Importance
Likelihood
Likert Scale-style questions are super easy to use with a pulse survey tool like ContactMonkey. With emoji reactions and star ratings, you can gather feedback featuring a range of replies: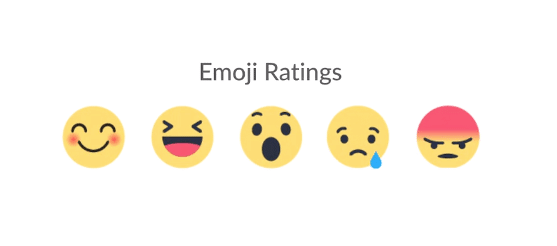 Dichotomous Scales
Dichotomous questions have two possible answers. They can be as simple as yes/no, agree/disagree, true/false, and more:

With ContactMonkey you can easily add yes/no, thumbs up/down, and other dichotomous scale-style questions to your employee emails.
Pulse Survey Best Practices
Now that you know how to create effective pulse survey questions, let's review some strategies for maximizing the reach of your surveys.
Establish a pulse survey cadence: If you're constantly sending out surveys but employees don't see any action being taken, it won't be long before they begin to ignore them. Create a regular cadence so you can act on the feedback you receive.
Give notice about the survey to employees: If you're starting a regularly-recurring pulse survey, make an announcement to your employees as to when and where they can respond to your surveys.
Personalize your pulse surveys: Personalize your email subject line according to who is receiving it. With ContactMonkey's merge tags, you can easily add personalized text into your survey questions and email subject lines.
Time your surveys perfectly: Send the pulse survey out at a time that considers employees' time. If you don't know what's a good average open time for your industry, you can use ContactMonkey's Internal Benchmark Report for 2023.
Ensure feedback is anonymous: Pulse surveys sent with ContactMonkey are completely anonymous—responses are never associated with an email address or username. If your staff want to elaborate on their responses, you can enable anonymous commenting on your pulse surveys.
Send to only relevant audiences: Use custom emails lists to target your pulse surveys to only relevant employees. With ContactMonkey's list management feature, you can easily create custom email lists that integrate with your Human Resource Information System (HRIS), so your email lists update automatically.
How Often Should You Use Pulse Surveys?
We recommend sending no more than one pulse survey per week. Overwhelming your employees with surveys will cause them to tune them out, and eventually ignore them entirely.
Try adding them to weekly or bi-weekly internal communications like your weekly employee newsletter. Or if you're sending them as standalone pulse surveys, create a monthly or bi-monthly cadence so your employees can learn when to expect them.
Pulse Survey Template Examples
Pulse surveys are almost always recurring. Save time on your pulse survey communications by creating pulse survey templates or by using our templates.
Pro Tip: If you're struggling to create content for your survey, ContactMonkey's OpenAI integration lets you generate email content quickly and easily.
Here are just a few employee survey templates to incorporate into your pulse survey strategy.
1. Management pulse survey template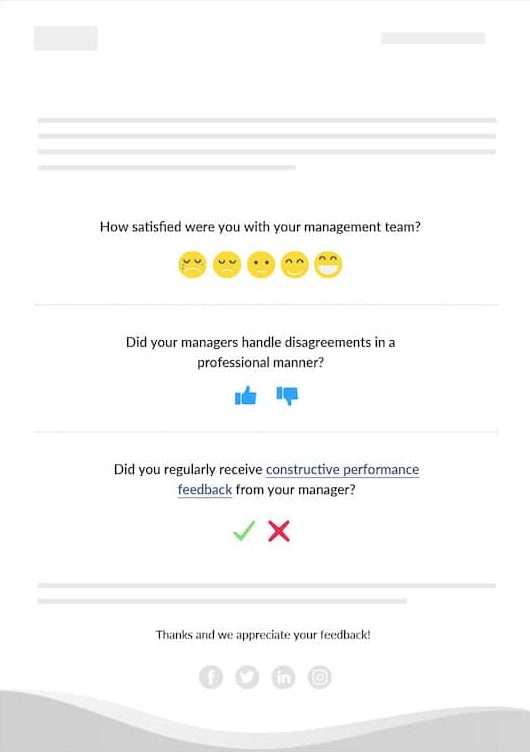 2. Work/life balance pulse survey template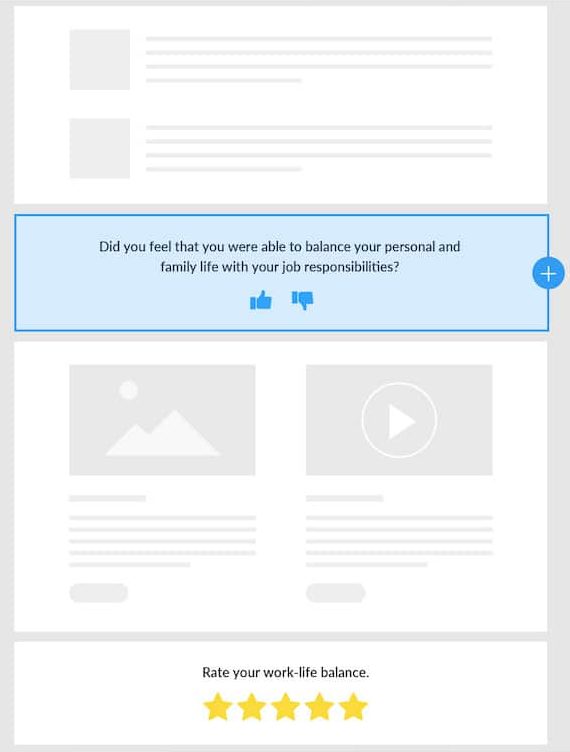 3. Company culture pulse survey template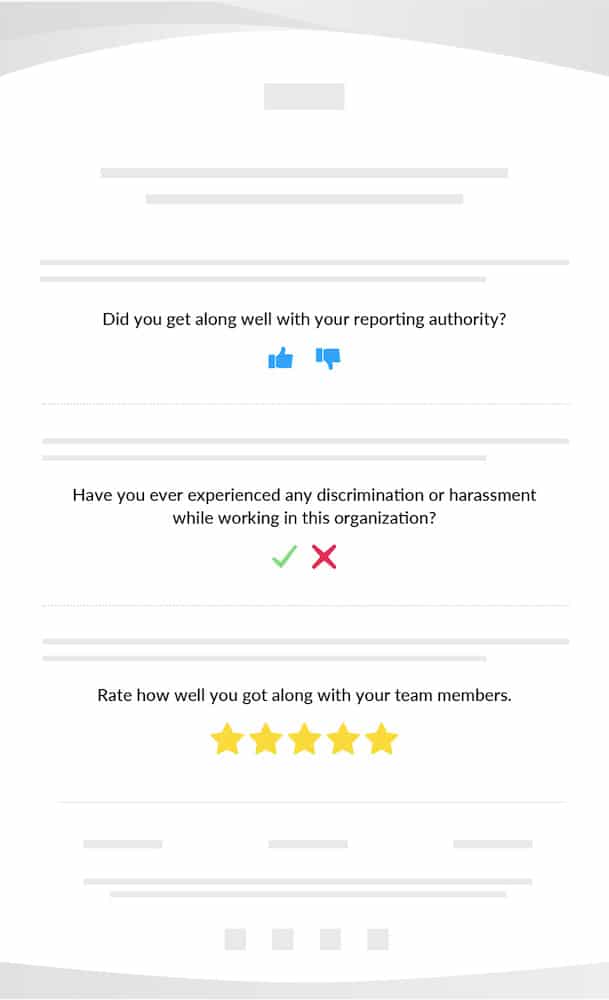 4. Professional development pulse survey template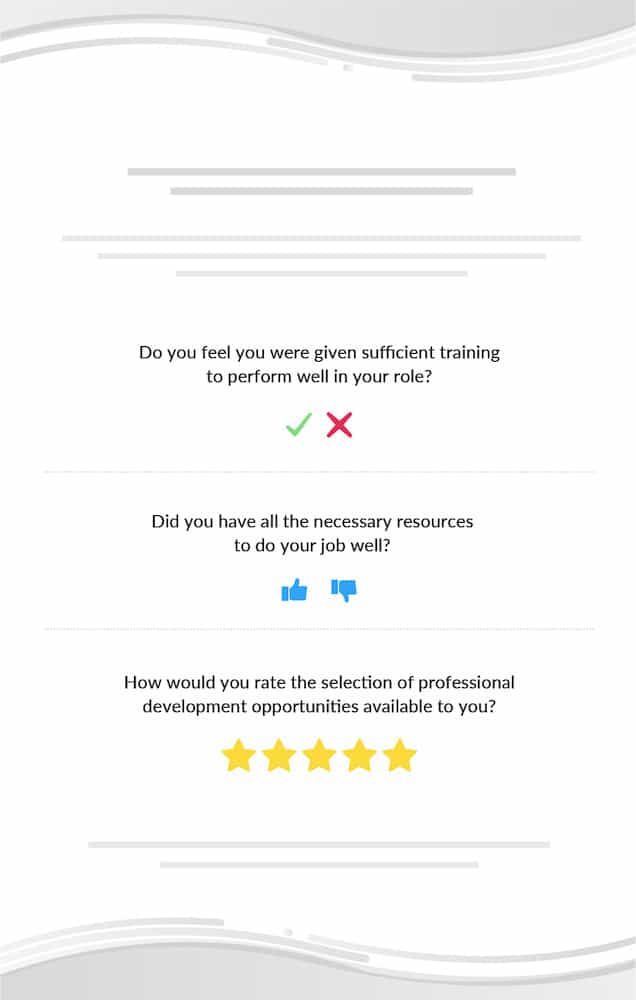 How to Create Pulse Surveys With ContactMonkey
Creating an employee pulse survey using ContactMonkey is super easy.
The first step is to create a ContactMonkey account. You can easily get a free ContactMonkey account by booking a free demo. Once you're set up, you'll have access to the drag-and-drop email template builder.
In the email template builder, create a row on your email template where you'd like to insert your survey question. We recommend using an entire row for your question so that it can be easily seen: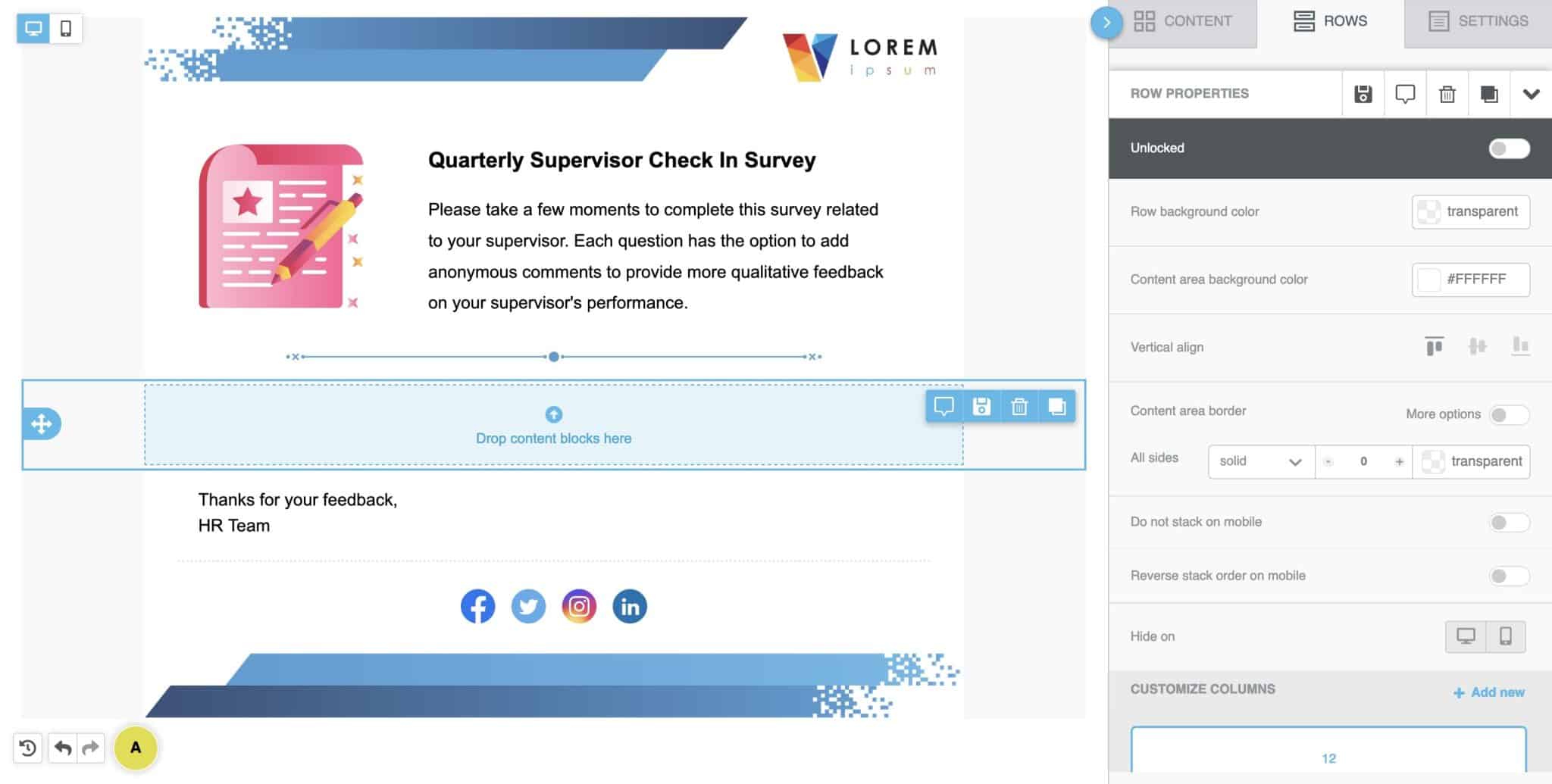 Drag the survey tile onto your row and click Select Surveys: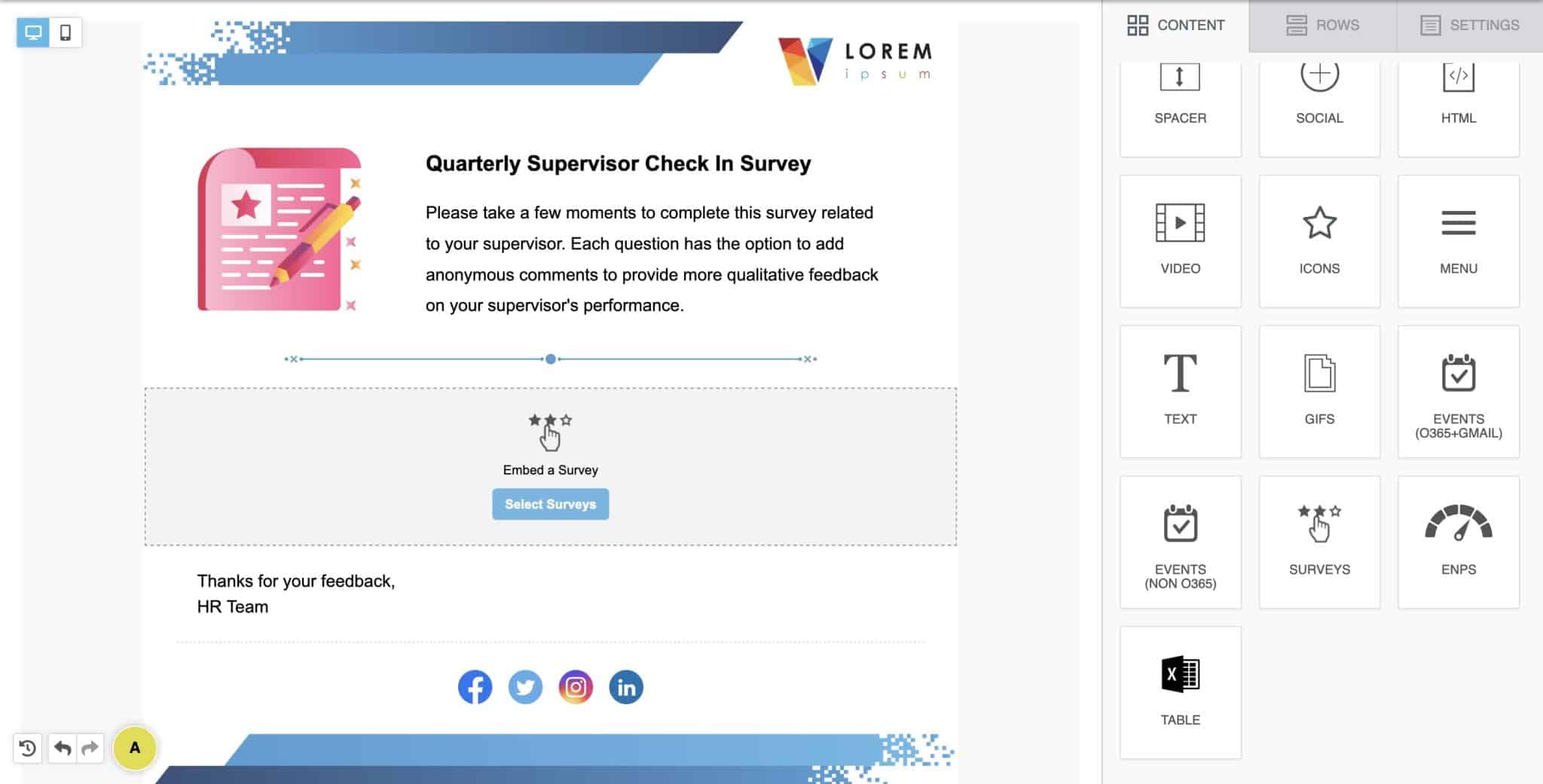 Here you can choose what kind of feedback you'd like to collect with your pulse survey template: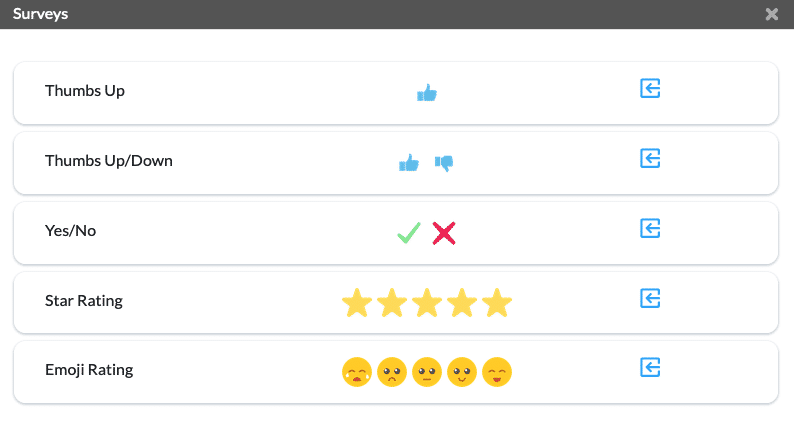 Once you've selected your employee engagement pulse survey, you then drag the text tile into the same row as your survey. Make sure it's placed into the same row to ensure your question is linked with the pulse survey responses.
Here's an employee engagement pulse survey example to give you an idea: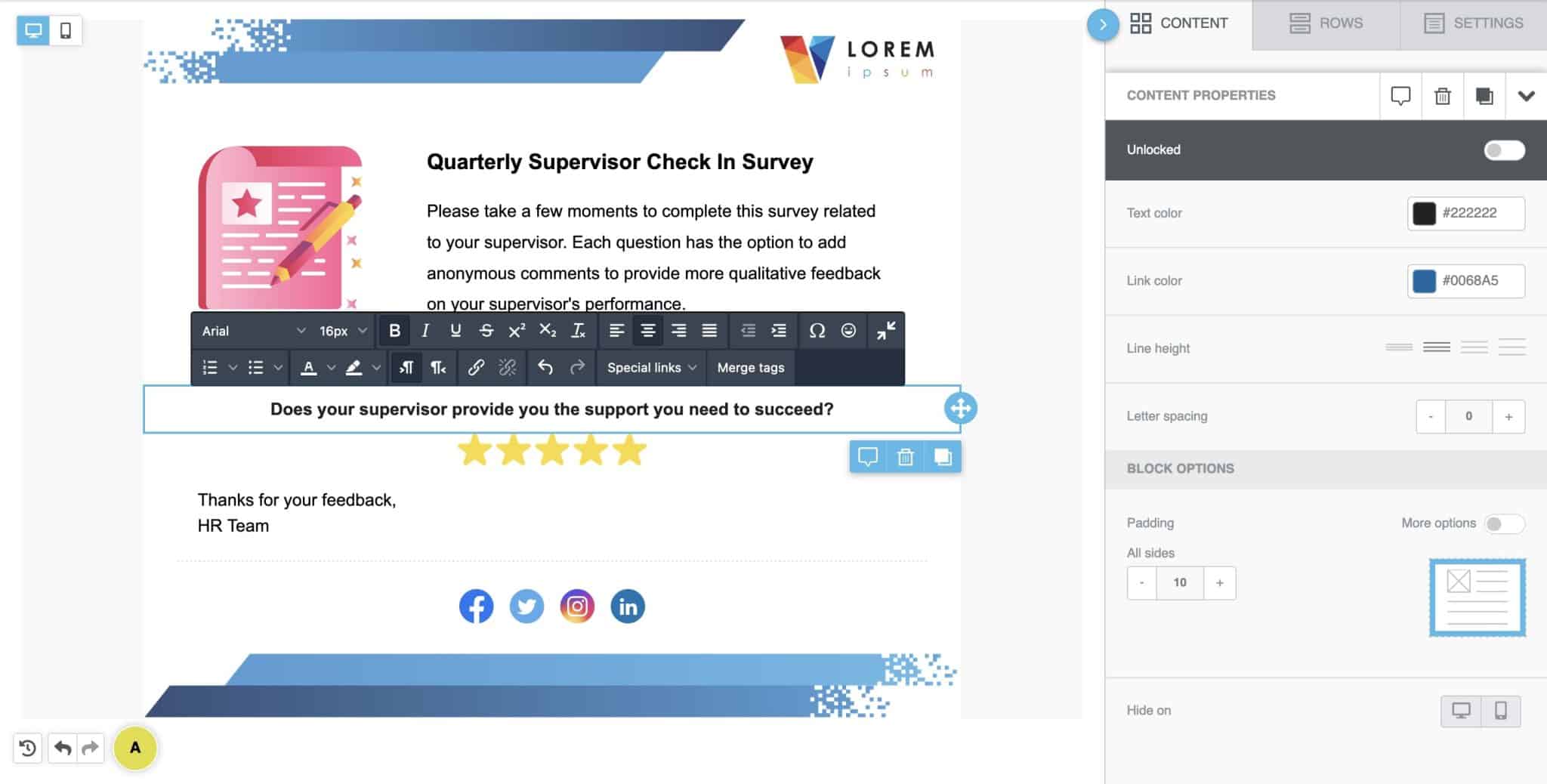 And it's as simple as that! You've successfully embedded a pulse survey into an internal email. Using ContactMonkey, you can create saved employee engagement pulse survey templates that you can reuse to save time on your email creation.
What to Do With Pulse Survey Results
Employee feedback is invaluable for driving employee engagement via internal communications. Not only can you gather company pulse survey feedback about specific issues or questions, you can also gauge how engaged your employees are with your emails.
After you've gathered adequate employee feedback from your pulse surveys, here's what you can do to take action:
Determine areas of concern and opportunity
Using employee pulse survey results in conjunction with your email stats can provide invaluable insights.
Example: you send out a pulse survey for employees about a common topic. However, when you check how it's performed you see that employee response is enormous; the open rate and number of pulse surveys responses are through the roof.
An overwhelming response can indicate a topic that needs to be addressed—providing you content for follow-up pulse survey questions.
But you can dig even deeper. With ContactMonkey's segmented email stats, you can see how email engagement breaks down according to section or division, job title, and office location: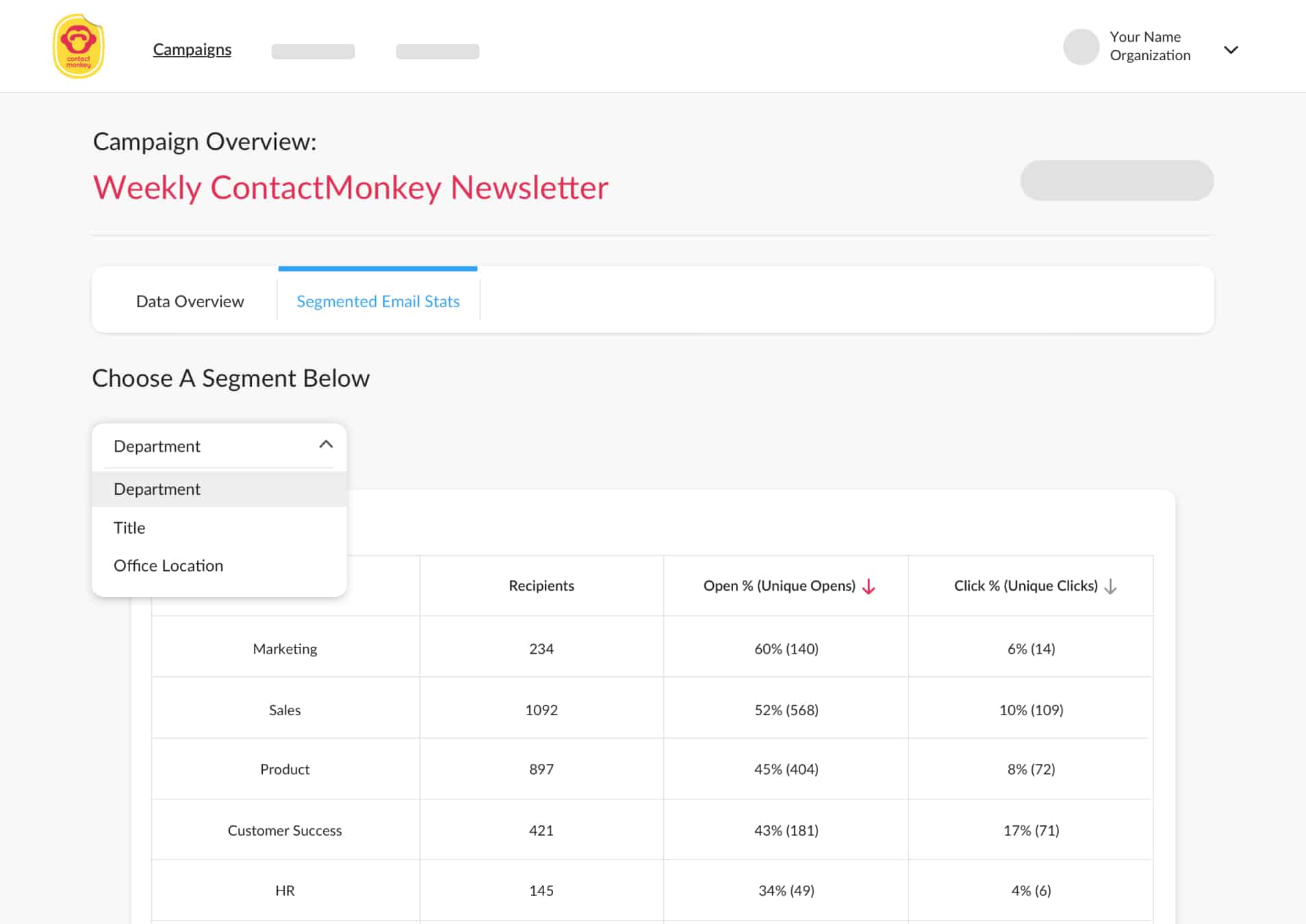 See what questions matter to which parts of your company, and send relevant questions to the right place using custom email lists.
Gather employee pulse survey analytics
In addition to survey responses, you should also look at the email tracking stats for emails containing pulse surveys.
Metrics like open rate, click-through rate, opens by device and location, and read time can give you a detailed picture of employee engagement. These stats show how employees are engaging with your pulse surveys.
Using ContactMonkey, all of your pulse survey email stats can be viewed on your analytics dashboard: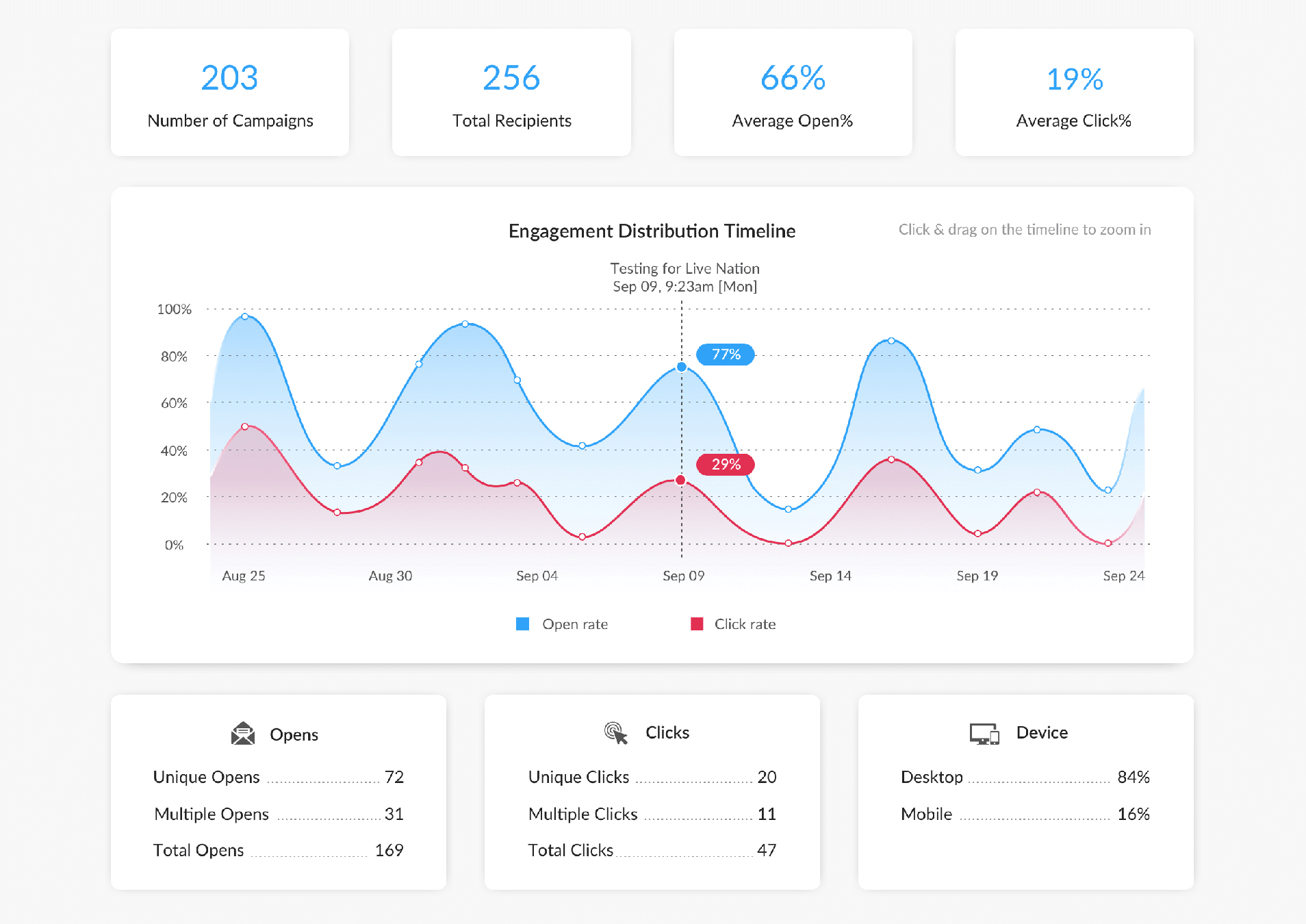 You can even see what parts of your emails are grabbing your employees' attention the most: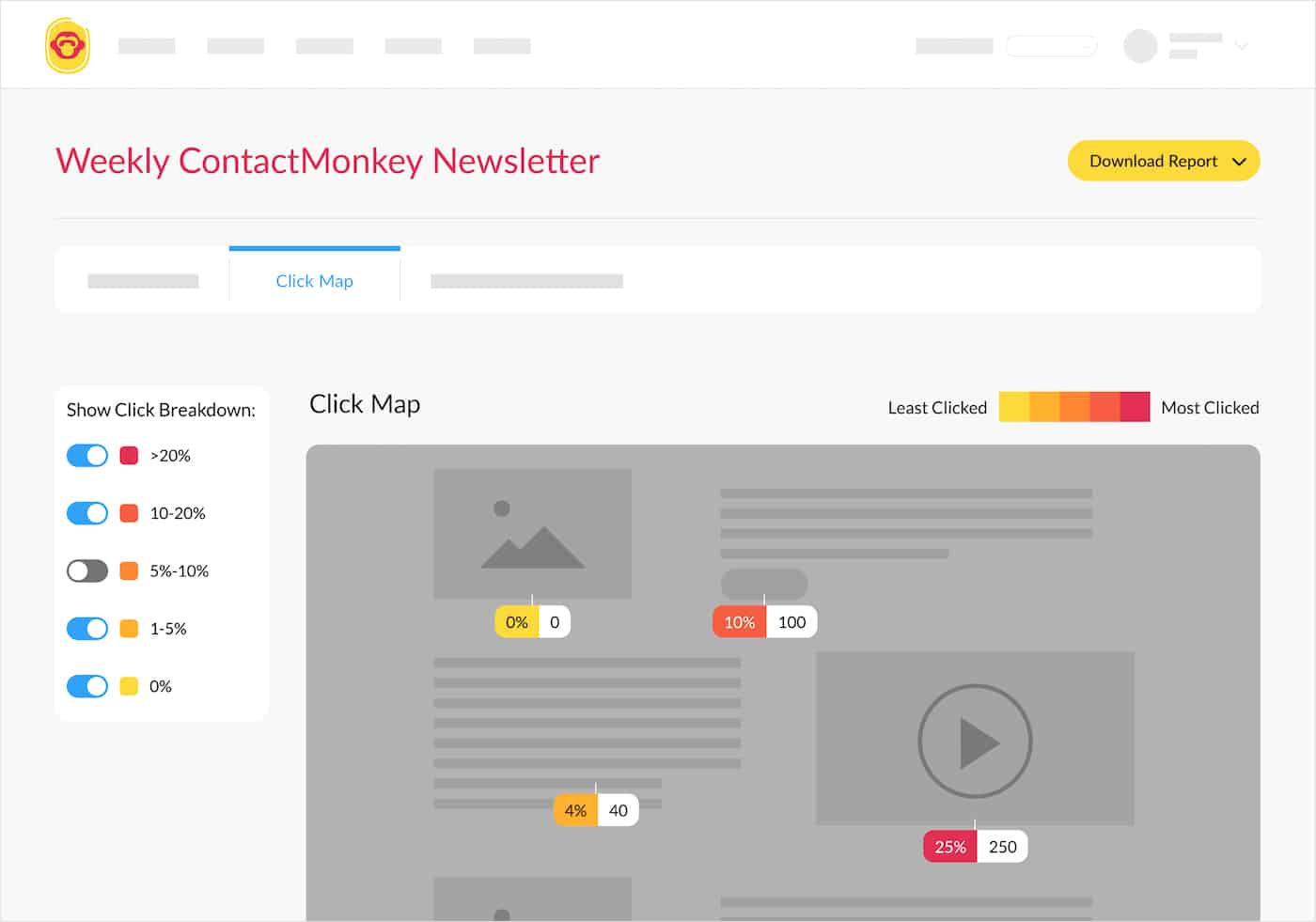 Not getting enough responses on your pulse surveys? Using ContactMonkey's click maps feature, you use engagement data to inform your email design to ensure your employees are seeing your surveys.
Share results with your employees
Put some time aside to share your employee survey results with employees, even if it's just at a high level. Be clear about your pulse survey objectives.
This will reassure your employees that managers take company pulse survey feedback seriously. It will also provide an open forum for employees to ask any questions they may have.
If you set the tone for sharing pulse survey feedback, they'll be even more enthused to respond going forward, which will positively influence response rates and employee engagement.
Better, Easier Pulse Surveys with ContactMonkey
As internal communicators, you need to give employees easy opportunities to provide company pulse survey feedback and express their ideas. This feedback can inform how you approach internal communication and employee engagement activities.
Regularly featuring non-intrusive surveys within your employee emails or newsletters gives those employees inclined to respond a chance to make their voice heard, and perhaps less vocal employees a chance to add their thoughts anonymously.
With ContactMonkey you can easily create, send, and track employee pulse surveys within your inbox. Since you can easily track emails in Outlook and Gmail, you can get quality employee feedback, gather email stats, and show hard data to support the efficacy of your internal communications strategy.
Ready to see how these seemingly small changes can have a big impact on employee engagement levels? Schedule a free demo of ContactMonkey today!