Employee feedback can shed light on countless areas for your business to improve, yet choosing the right employee feedback tools is not quite as simple.
Due to its overwhelming value, employee feedback is a much sought-after resource for internal communicators. Discovering new ideas, building a feedback culture, and boosting employee engagement are just some of the many benefits of collecting regular employee feedback.
Though the value of employee feedback is immense, how employee feedback is gathered differs greatly business to business. Finding the right employee feedback tool for your unique workplace culture is the key to gathering great feedback.
Thankfully, there are myriad employee feedback tools on the market. We'll show you what they offer and how they differ from one another, so you can find that which best suits your business.
What Is Employee Feedback?
Employee feedback is information that your employees share with the business regarding their experience, expectations, or opinions. Employee feedback is a valuable employee engagement tool for internal communicators. And regularly gathering employee feedback is a fundamental part of a data-based approach to internal communications.
But why is employee feedback valuable? Why spend time acquiring it? The employee feedback process has numerous benefits not just for growth and productivity but also for employee engagement.
Via employee feedback, you elicit actionable insights about various aspects of your company and identify the employees who best understand your company's objectives and ambitions. Not only does employee feedback give you great information, but your employees will be more engaged and willing to share their feedback if they see that it is acted upon.
What Types Of Employee Feedback Can Be Acquired?
Employee feedback can take many forms and cover many topics. Depending on the type of feedback you're collecting, employees can weigh in on issues like job satisfaction, engagement, workplace culture, potential pain points, and any number of other areas of business that impacts employees. Whether you're looking to improve internal communications for your small business or large corporation, collecting employee feedback is an easy decision.
Not all employee feedback is straightforward question/answer analysis. Businesses often want to assess how likely their employees are to recommend the business' product or service to their friends or family.
Employees likely to recommend such things will contribute to a higher employee Net Promoter Score (eNPS) for your business than those employees who don't speak much about their workplace to acquaintances. eNPS is calculated according to how each employee responded to the survey, rather than looking at their response in isolation: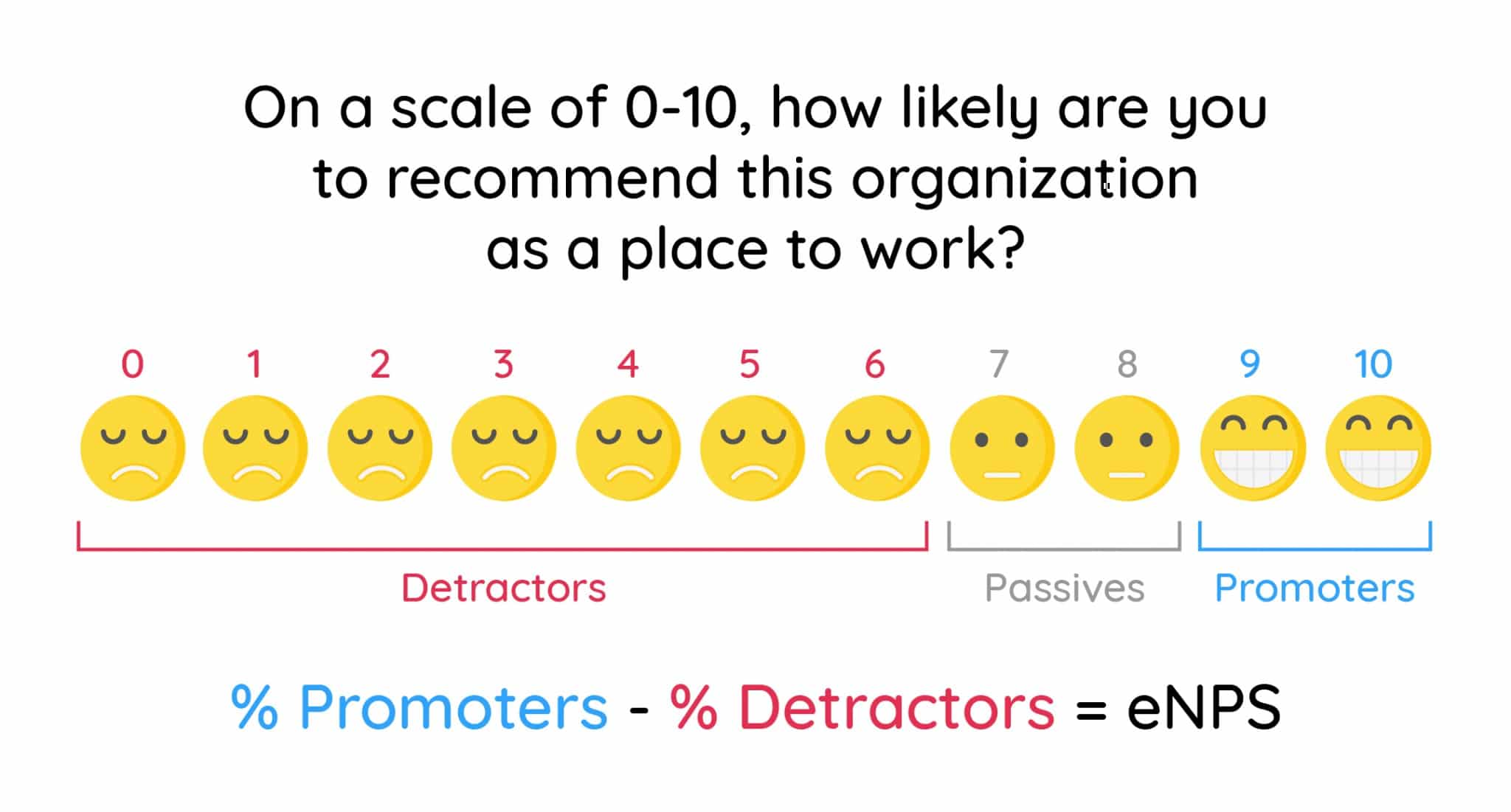 Despite eNPS being an important indicator of employee engagement, many employee feedback tools don't offer users the option to measure eNPS. Using ContactMonkey, measuring eNPS is simply a matter of drag-and-drop. You can build an eNPS survey with your employee emails in seconds, and the responses will automatically be calculated and displayed in your analytics dashboard.
What Employee Feedback Tools Should I Use?
As we mentioned earlier, feedback can take on all shapes and sizes. The great news for businesses is that there are numerous employee feedback tools aimed at collecting various kinds of employee feedback.
When assessing which solutions to check out, always keep your needs—current and future—at the forefront of your decision-making process. Conduct frequency surveys? A fast, easy-to-use employee feedback tool is probably right for you. Opt for longer, more deliberate surveys? A tool with in-depth customization is likely your best choice. Picking the right employee feedback tool can literally save you days on your internal communications; suffice to say, the right choice matters!
ContactMonkey
ContactMonkey is an incredible employee feedback tool for countless uses and functions. Like we mentioned, you can easily embed eNPS surveys into your employee emails using ContactMonkey's email template builder, and view your results in your campaign analytics dashboard.
You can collect other kinds of employee feedback just as easily. Simply drag the survey tile where on your email you'd like it to display, and choose from a selection of surveys featuring emoji reactions, yes/no responses, thumbs up/down, and more:
Not sure what questions to ask your employees? Try using ContactMonkey's OpenAI ChatGPT integration to generate survey questions for your emails. Simply describe what you'd like to figure out, generate and choose the best questions, and edit them according to your audience.
Gather feedback in many ways with ContactMonkey.
Embed pulse surveys, emoji reactions, eNPS, and more.
With all of ContactMonkey's surveys, including eNPS, you can enable Commenting through which employees can contextualize their survey responses anonymously: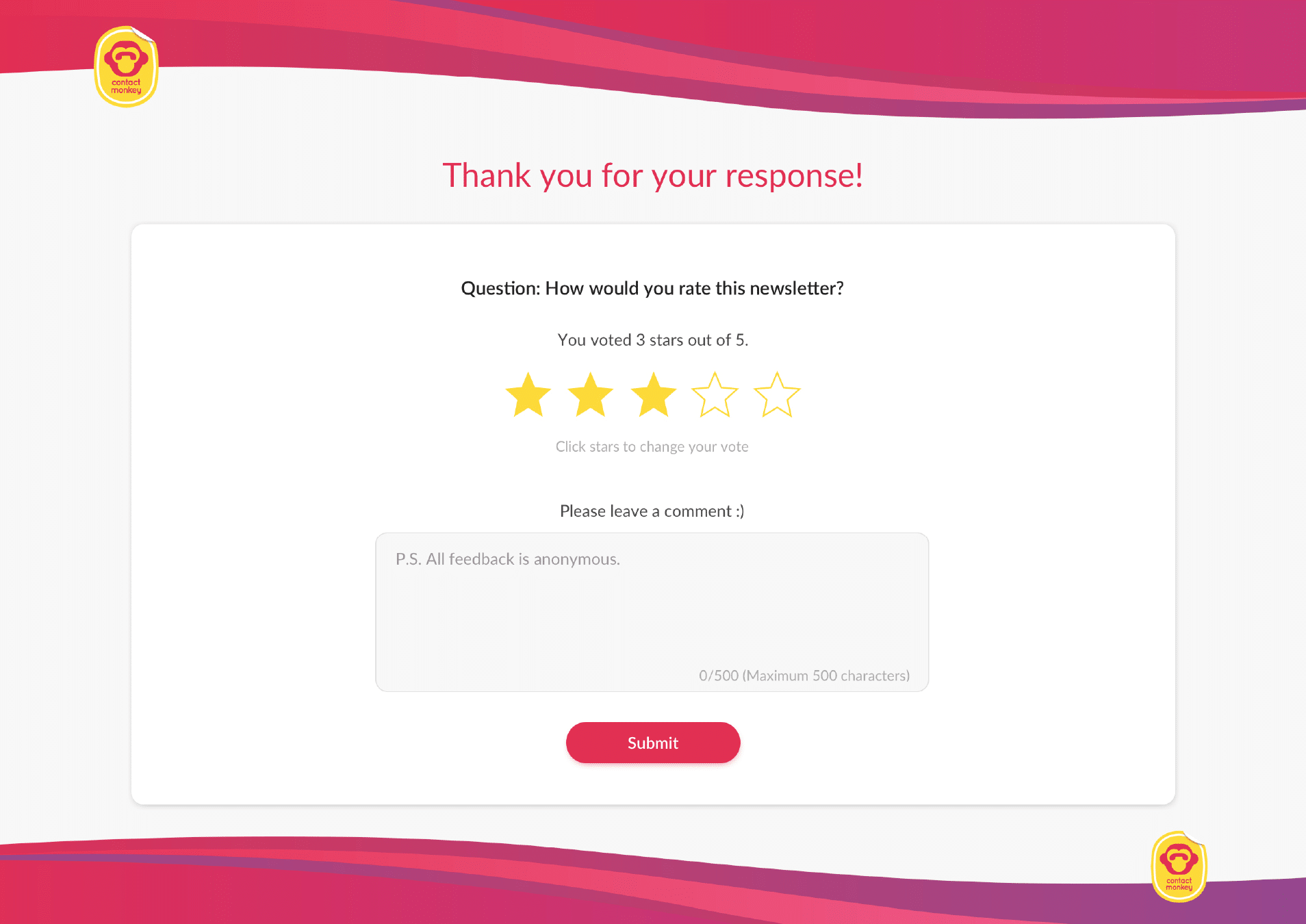 Designing great surveys is one thing, getting your employees to actually complete them is another thing entirely. Thankfully ContactMonkey has you covered. Using merge tags, you can personalize the body copy and subject line of your survey email according to the recipient—which is proven to boost open rate by 26%.
Analyze your employee surveys using ContactMonkey's in-depth email tracking. Explore which parts of your company are more engaged than others using segmented reporting: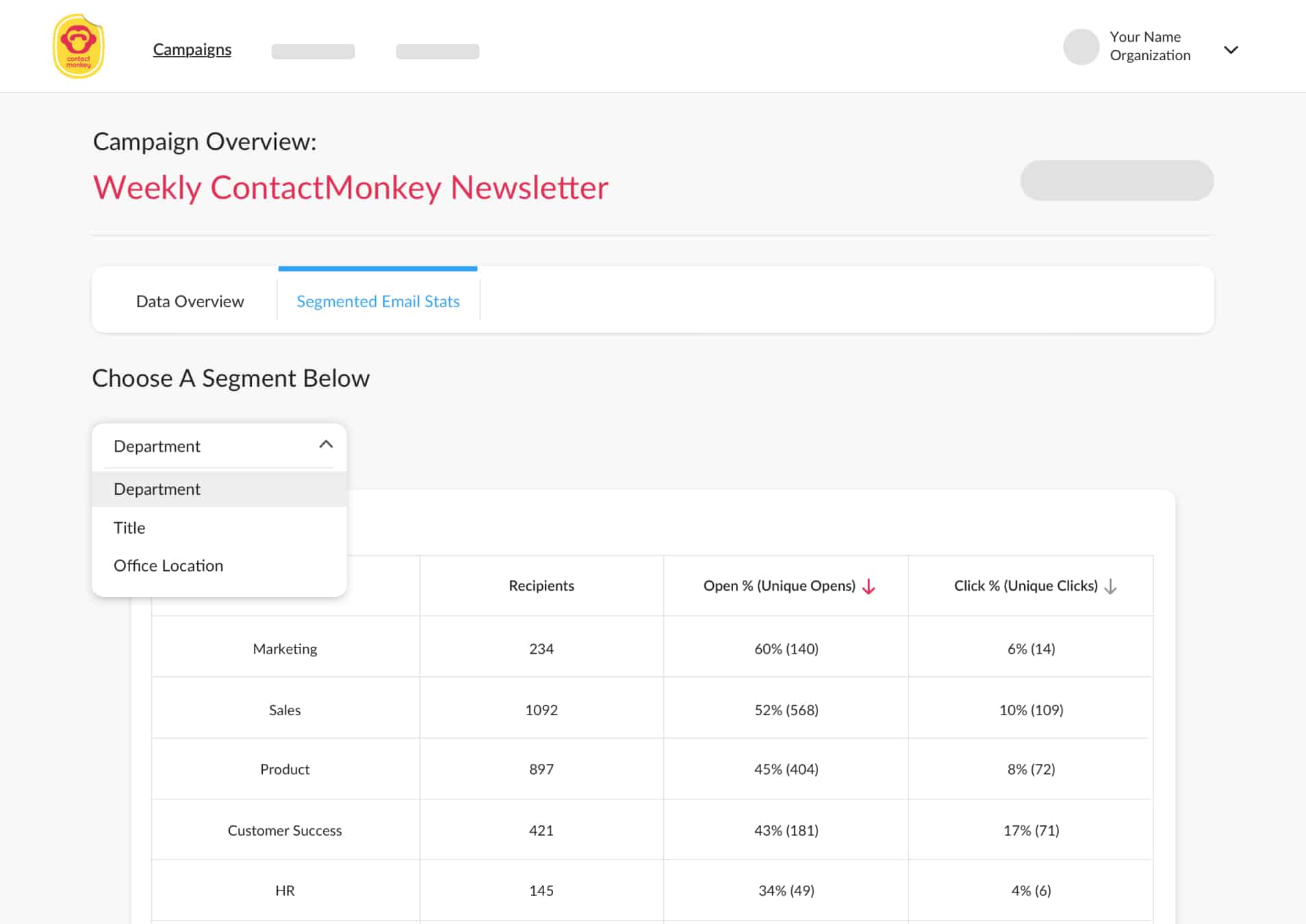 Does your organization have internal or external regulations around email privacy? Using ContactMonkey's anonymous email tracking, you can gather email metrics while protecting your employees' privacy.
You can see how ContactMonkey optimizes employee feedback and increase employee engagement by booking a free demo with one of our friendly internal communications experts.
15five
15Five pride themselves on their holistic, evidence-based approach to everything Human Resources and performance management. 15Five's unique software solution offers a platform to bridge the gap between management and employees, and includes numerous functions to encourage engagement and feedback:
Mobile support to reach employees who aren't sitting at a computer all day.
Post pulse surveys questions to your company's platform that will appear for your employees' desktop and mobile devices.
1-on-1 meetings functionality lets employees have detailed conversations with management.
Employees can request feedback around particular topics directed at specific people.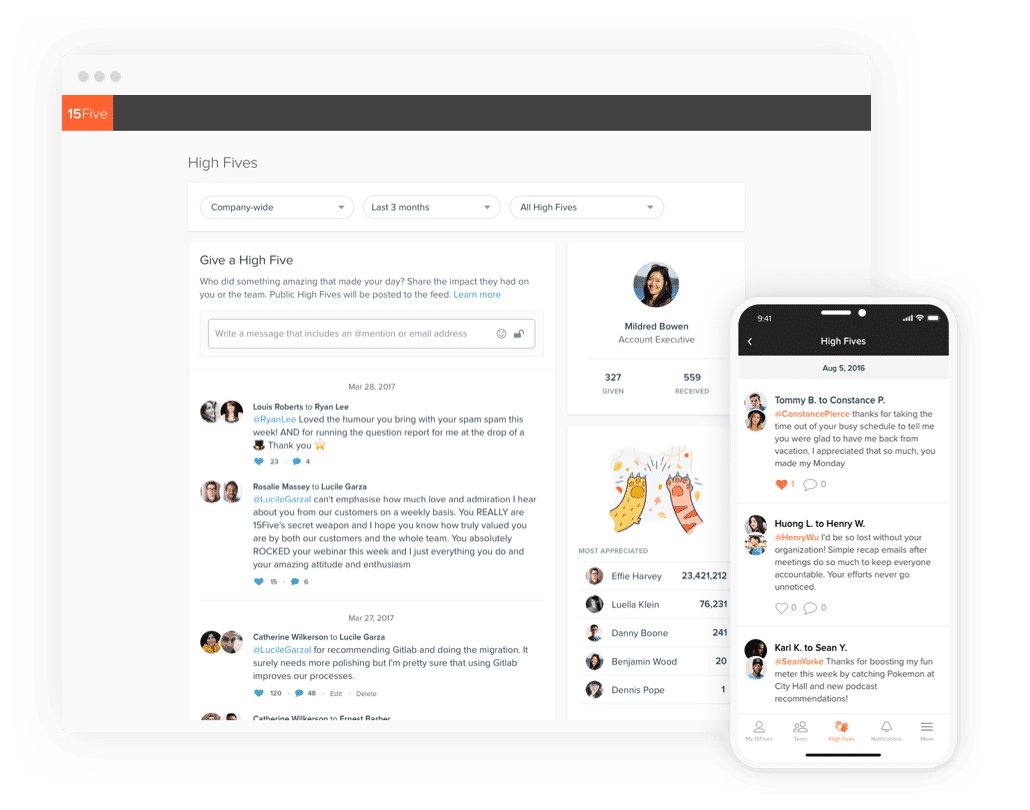 Summary of 15five
15Five is a performance management tool rather than an internal communications tool, which means that in order to reach employees they must access 15Five via their computer or mobile apps.
ContactMonkey easily integrates with your existing Outlook or Gmail inbox so your employees need not adopt a new platform. And because emails designed with ContactMonkey are fully responsive, they'll look great on whatever email client or device your employees already use.
Officevibe
Much like 15Five, Officevibe offers in-depth employee feedback options via their platform. Officevibe is all about team management, and their platform gives users a wide array of tools to measure their employee engagement:
1-on-1 meetings let employees speak their mind about numerous topics set by an agenda.
In-depth survey tools feature resources like pulse surveys, custom polls, anonymous employee feedback, eNPS, and more.
Tracking for employee engagement levels over time, and compare how your business stacks up against others in your industry.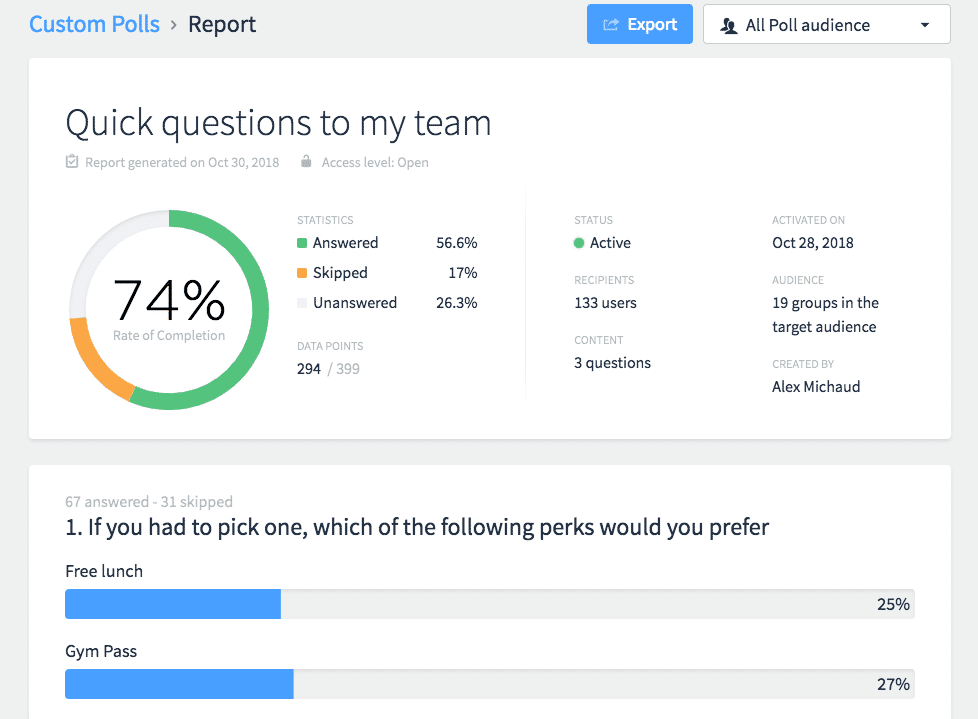 Summary
Officevibe is a fantastic team management tool that can help you understand complex employee engagement issues. But like 15Five, employees must navigate through the Officevibe app in order to access the feedback materials.
With ContactMonkey, your employees need not access a new platform in order to give feedback. Get more eyes on your surveys by embedding employee surveys, pulse questions, eNPS questions, and more directly in your employee emails. Employees can give feedback right from their desktop or mobile devices. No new apps required.
TINYpulse
TINYpulse is an employee engagement software meant to take the complexity out of collecting employee feedback and boost employee engagement. Like Officevibe and 15Five, the TINYpulse platform features numerous resources for management to find out how their employees really feel about issues that affect the business:
Easy-to-use employee engagement platform.
Numerous feedback options including anonymous feedback, science-backed questions, and survey templates.
1-on-1 meetings can help employees share their true feelings.
Track engagement over time to identify employee engagement trends and areas of improvement.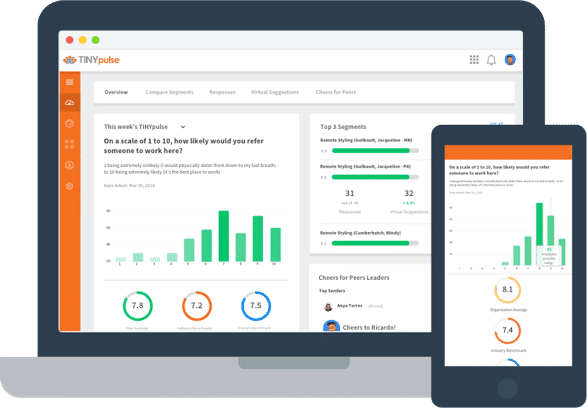 TINYpulse is its own platform, which means employees will have to access employee feedback materials via their software. Employees love saving time just as much as internal communicators, and having to learn about a new app can be draining.
With ContactMonkey, your employees give feedback directly from their inboxes, no new apps required. This is how we at ContactMonkey see the situation: the easier your employees can provide feedback, the more likely they are to do it!
The more eyes you get on your survey, the more responses you'll get and the more feedback you'll receive. It's that simple.
Using ContactMonkey you can track open rate, click-through rate, read time, and more about your employee feedback emails. Determine which parts of your business are most engaged using segmented reporting, and find your best performing surveys using ContactMonkey's compare campaigns feature.
Energage
Energage helps managers create a solid workplace culture at their business. Energage is aimed at "increasing engagement, reducing turnover, and attracting the right talent". They offer numerous employee engagement options from their platform including:
Various surveys including workplace surveys, annual surveys, pulse surveys, and more.
Employer branding to better express your company's values to candidates.
Data insights and survey analysis.
Tools for creating meaningful and engaging employee interviews and discussions.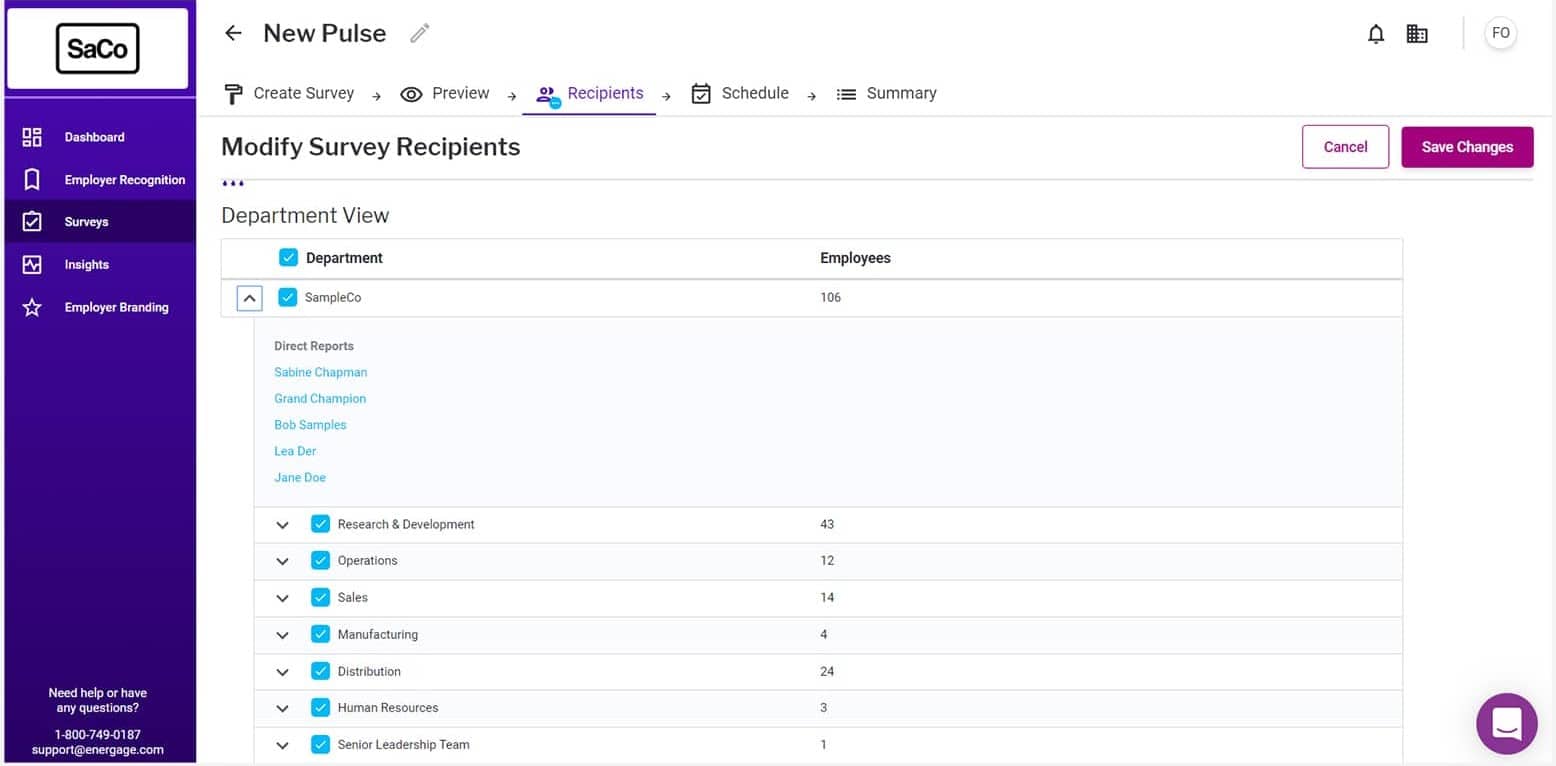 Energage has a really nice-looking platform that makes it easy to create surveys if you're management or complete surveys if you're a worker. But, like the rest of the platforms we've reviewed, your employees are still required to access the platform in order to fill out surveys.
ContactMonkey requires no login or opt in. Maybe most importantly your employees can't unsubscribe from your employee emails, so you can always gather accurate data on who is (and isn't) completing your surveys.
SurveyMonkey
SurveyMonkey is a comprehensive survey tool that helps you build in-depth, great-looking surveys. Unlike the tools we've mentioned already, SurveyMonkey's surveys can be used for both internal and external audiences. Gather employee feedback and customer feedback with:
Schedule surveys with automated deployments.
Track feedback on both an employee and department basis.
Gather feedback via weblink, email, mobile chat, social media, and more.
Automatically analyze your results and get powerful analysis.
Export your results or integrate your data with your favorite apps.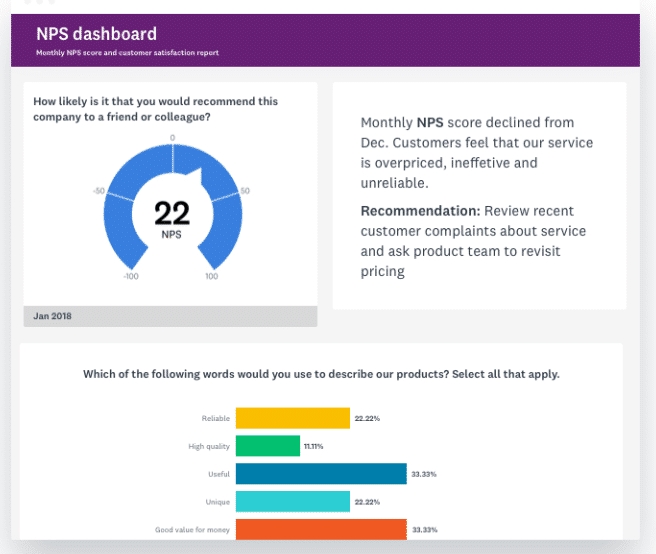 Though SurveyMonkey does not require users to access a platform in order to respond to surveys, they are required to fill them out in their browser. With ContactMonkey employees can respond directly from their inboxes, which means more and faster employee feedback. You can also use ContactMonkey's tracking feature to discover who has and hasn't filled out your survey yet to maximize your results.
Choosing The Right Employee Feedback Tool
Ultimately, the right employee feedback tool for your organization is the one that your employees find the easiest through which to provide feedback. You can have the most comprehensive analytic tools available but they won't be worth anything if you have no feedback to analyze.
With ContactMonkey, you can maximize the reach of your employee feedback surveys and ensure that you're getting as many responses as possible. Both your email tracking stats and your survey results are displayed within the same dashboard, so you can easily compare how many people responded to your survey versus how many people even opened the email.
You can see firsthand how ContactMonkey can maximize your employee feedback results by booking a free demo with one of our friendly experts.