With the number of internal communications tools increasing by the year, you have more choices than ever for choosing the right solution for your business. We break down the key differences between Staffbase and ContactMonkey, and examine why ContactMonkey is a top Staffbase alternative.
An internal communication tool has a huge impact on how your business operates. It can save you time and effort on your internal communications, consolidate your employee engagement efforts, and provide key insights into your employee email performance.
We'll explore everything you need to know to make an informed decision, including what is Staffbase and the key differences between ContactMonkey vs. Staffbase. The better you understand how these two solutions work with your internal communications goals, the easier your decision will be.
Choosing the Right internal Communications Tool: Key Questions to Ask Yourself
When choosing a new software solution, it's useful to audit your internal communications needs to better understand exactly what features will benefit your business. We lay out some of the key questions that can help guide you in the right direction.
Feel free to add questions of your own based on your business' unique needs. The more you understand your internal communications, the better you'll be able to choose the right solution.
Who is going to be using the tool?
If the aim of adopting internal communications software is to save time and effort while improving your business communications, then it's important to identify whose jobs will be made easier by a given solution. Understanding the role of the solution's potential primary users will help guide you toward the features that will most benefit their day-to-day work.
For example if your chosen solution is going to be used by internal communicators, then a tool like an email template builder or feature like scheduled sending will help them create and send better internal emails more easily. Streamlining your internal communications with an email template builder can save you huge amounts of time during your design process.
If your internal communications team is responsible for informing employees about upcoming events, then a solution that integrates event management into its platform will have a big upside for your business. ContactMonkey's internal communications tool features a dedicated event management feature that makes it super easy for you to create events, embed invitations within your internal communications, and collect RSVP along with employee feedback: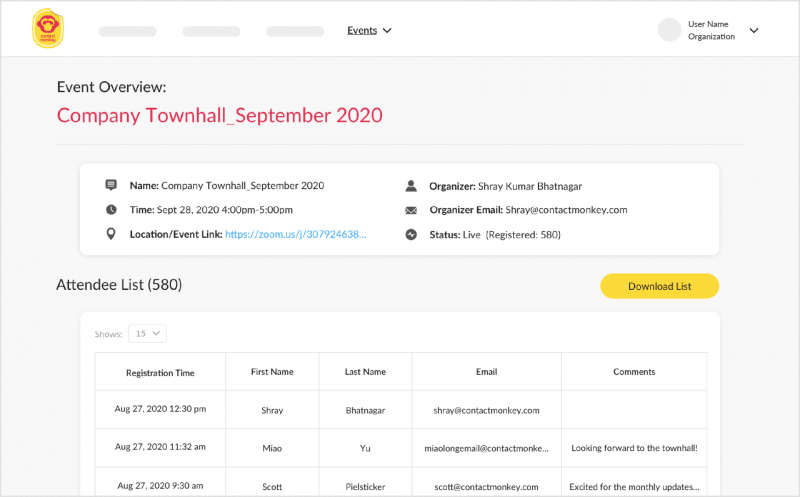 We're highlighting event management because it illustrates the key differences between various internal communications solutions, and why ContactMonkey is a top Staffbase alternative. You can use Staffbase to create event invitations and collect employee feedback, but since ContactMonkey has a dedicated feature for these tasks, you'll save more time when building out your events and have an easier time managing attendance: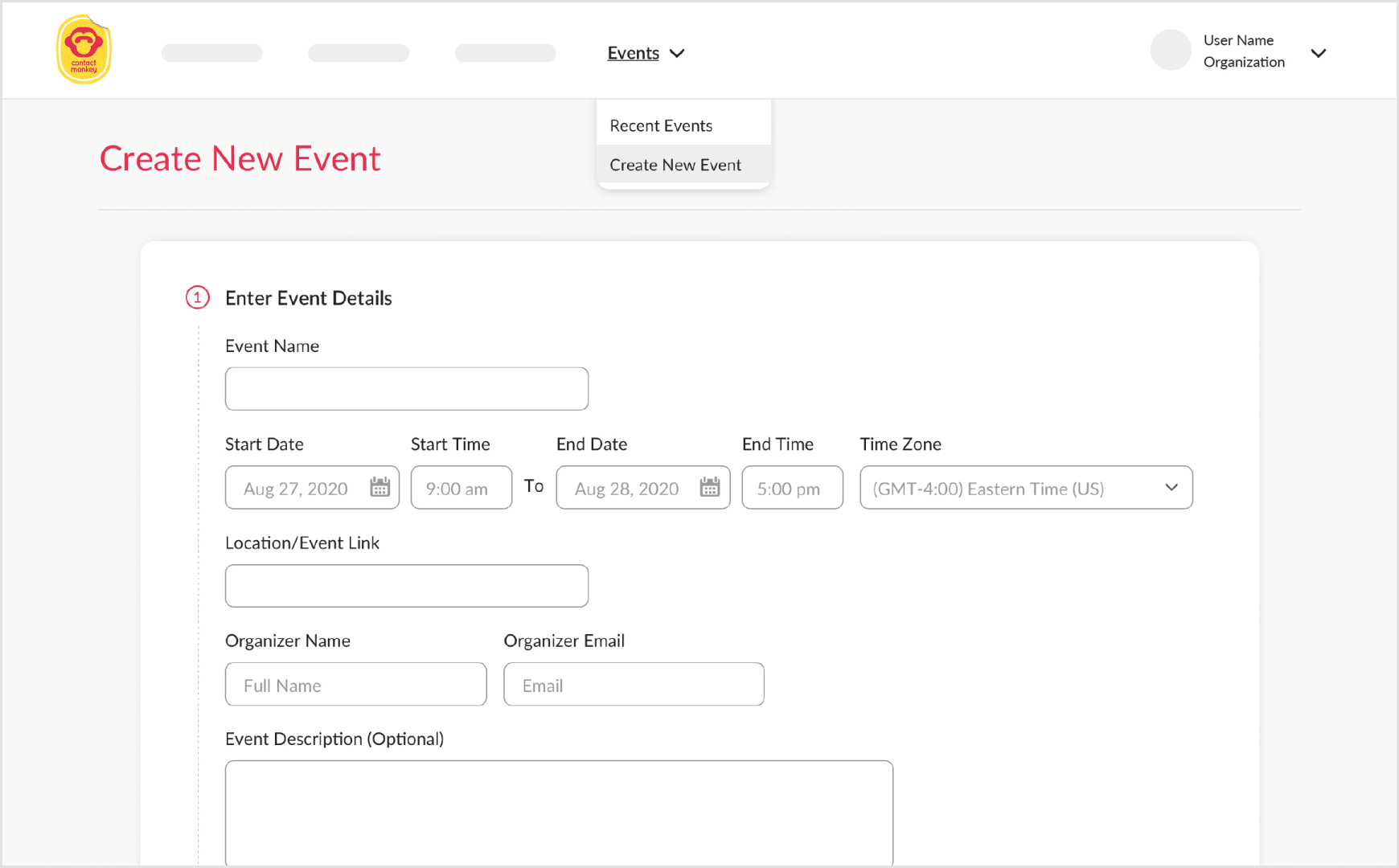 Consider creating a list of the recurring tasks that your internal communication team has to perform. Prioritize tasks that happen more than others to help you decide which features will have the greatest impact on productivity. Event management helps ContactMonkey stand out as a top Staffbase alternative.
What is the interface like?
After you've determined who will be using your chosen software solution and how, it's important to ensure they can actually get comfortable with using it on a daily basis. It is also important, as we previously mentioned, that employees are comfortable with how your chosen tool will affect their ability to send and receive internal communications.
Both ContactMonkey and Staffbase are designed with internal communicators in mind. But how the two solutions operate is quite different, which is why it's important to understand how your business' specific internal communications function. Most business emails are conducted from either Outlook or Gmail, which means your chosen solution should integrate with either of those platforms.
As a stellar Staffbase alternative, ContactMonkey offers both Outlook and Gmail integrations, so you can access ContactMonkey's full suite of features directly from your email inbox: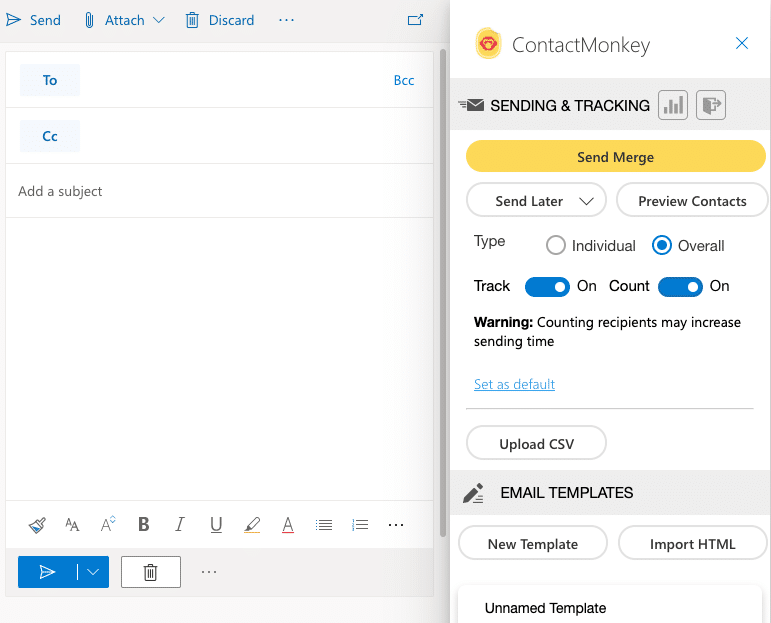 With ContactMonkey email creation, sending, and tracking are just clicks away from your already-existing email inboxes, which helps you optimize your internal communications workflow.
You can even generate email content based on prompts using ContactMonkey's OpenAI ChatGPT integration. Simply describe what you want in your email and then edit the output text according to your audience.
While Staffbase does offer plugins for these platforms, it also requires you to use their standalone application. In addition to this, businesses must implore their employees to download the Staffbase app in order to access certain aspects of their internal communications.
Ultimately, you want your internal communications solution to provide as few hurdles as possible to get its full benefits, and this is where ContactMonkey shines as a Staffbase alternative; it works with your existing internal comms infrastructure and does not require any additional actions on the part of your employees. If the majority of your employees work away from a computer and only have access to their phones, your internal communications software should account for that.
With ContactMonkey, you can send SMS communications directly to your employees' mobile devices in addition to emails. Send updated shifts, crisis communications, emergency text messages, office hours, weather alerts, and more immediately to your employees' mobile devices: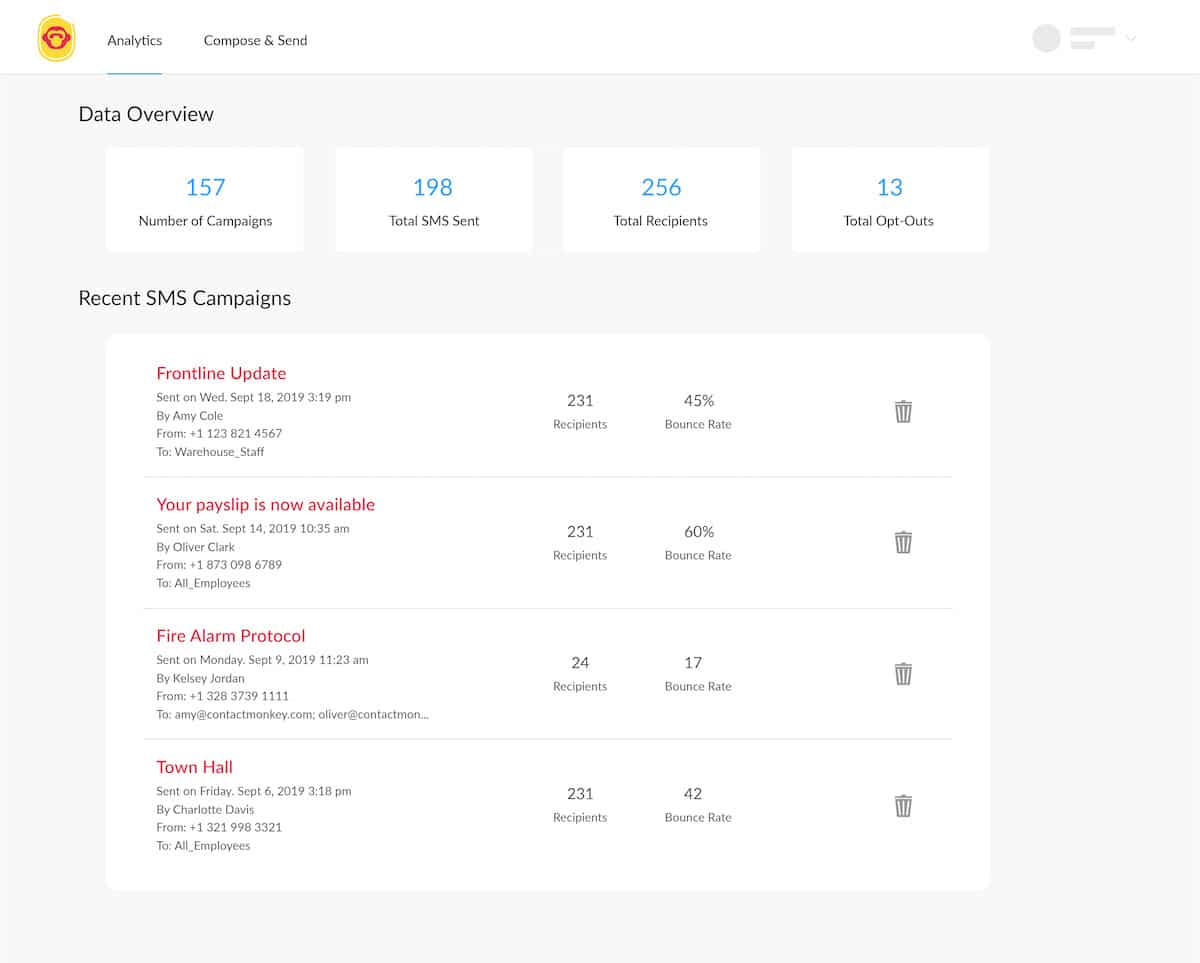 With ContactMonkey's SMS employee communications, you can quickly create SMS messages, choose who you're sending them to via CSVs, and see how your past campaigns have performed. Save time on your SMS messages using our free SMS message templates, and send with confidence knowing that your employees aren't required to download a dedicated app to receive your internal communications.
You can also target employees with relevant information by using custom email lists. With ContactMonkey's List Management feature, you can create your own email lists without needing IT approval. This can help you drive email engagement and reduce the amount of emails your employees receive.
ContactMonkey integrates with your Human Resource Information System (HRIS) like Workday and ADP, as well as Azure Active Directory, so your lists will automatically update as employees join and leave your organization.
What metrics are collected?
Internal communications tracking and internal email analytics let you know whether your efforts are driving engagement among your employees. Combined with employee feedback, your internal communications solution can provide you with quantitative and qualitative data to shape your internal communications strategy.
Both ContactMonkey and Staffbase offer in-depth email metrics and analytics. You can track:
Open rate
Click-through rate
Read time
Opens by device and locations
Engagement by time
And more
You can then analyze this information using features like compare campaigns and segmented reporting to help you refine the content you send to your employees. Internal email analytics are the key to identifying which emails perform best among different segments of your organization.
While this information is important, what you do with it matters even more—and how your chosen solution allows you to implement the insights gleaned from this information will ultimately determine your success.
For example, if the data you collect—be it open rates or direct employee feedback—shows you that email engagement is suffering because employees find it depersonalized or irrelevant, your chosen software should offer an easy solution. You can refine the content you send based on how different segments engage with your internal communications, so you only send what's relevant to certain employees.
With ContactMonkey, you can take this one step further by sending personalized internal communications to your employees. Using merge tags, you can customize the subject lines and body copy of your emails based on who's receiving it: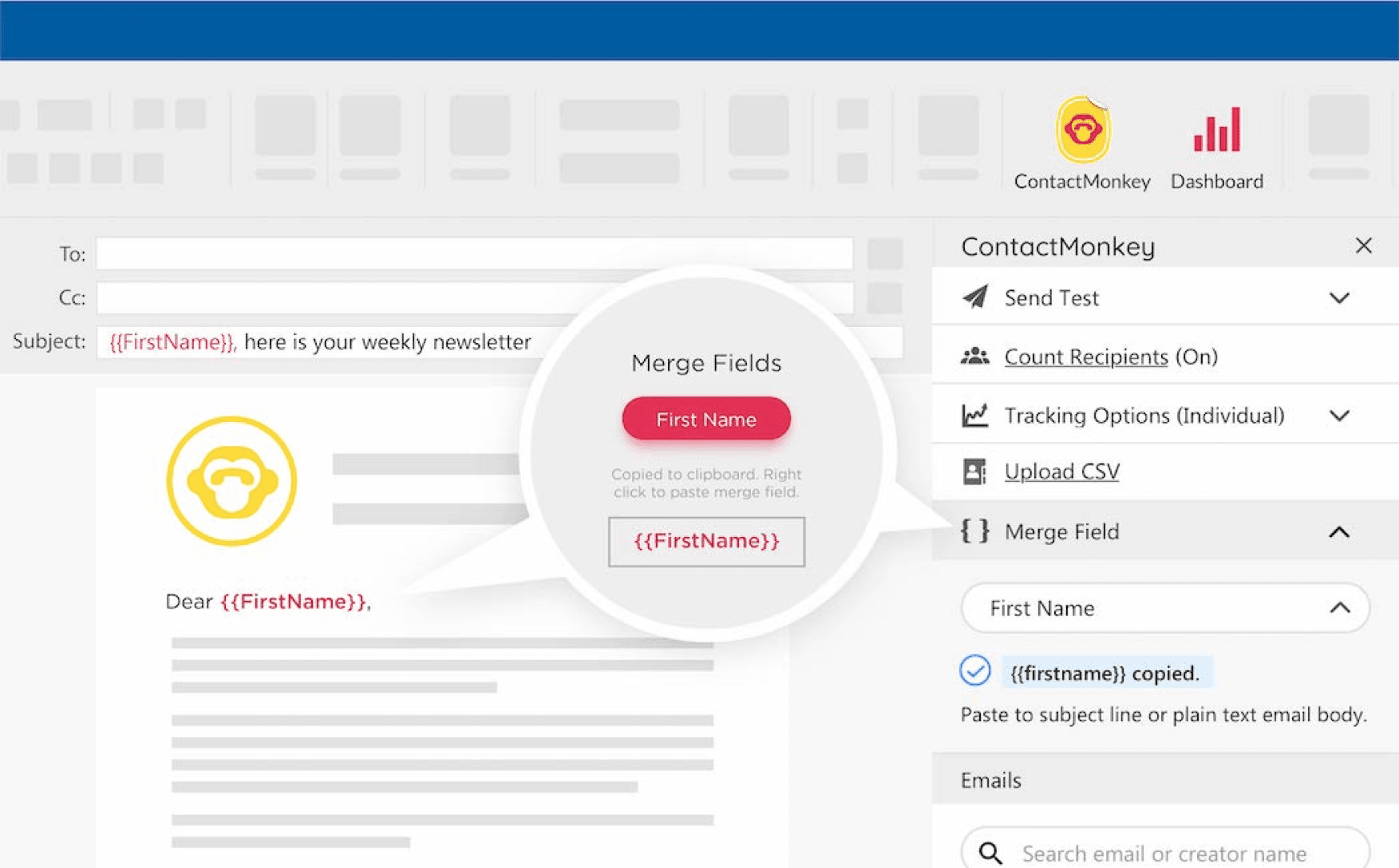 Email personalization, combined with content refined via analytics, can help you send more engaging and relevant content to your employees. When you provide real value to your recipients, they'll come back for more, because they know what you're sending them really matters to them.
In addition to quantitative email metrics like open rate and click-through rate, ContactMonkey's click maps feature allows you to see what parts of your internal communications are catching your employees' attention. Use click maps data to optimize your email design to ensure your employees see the information you need them to see: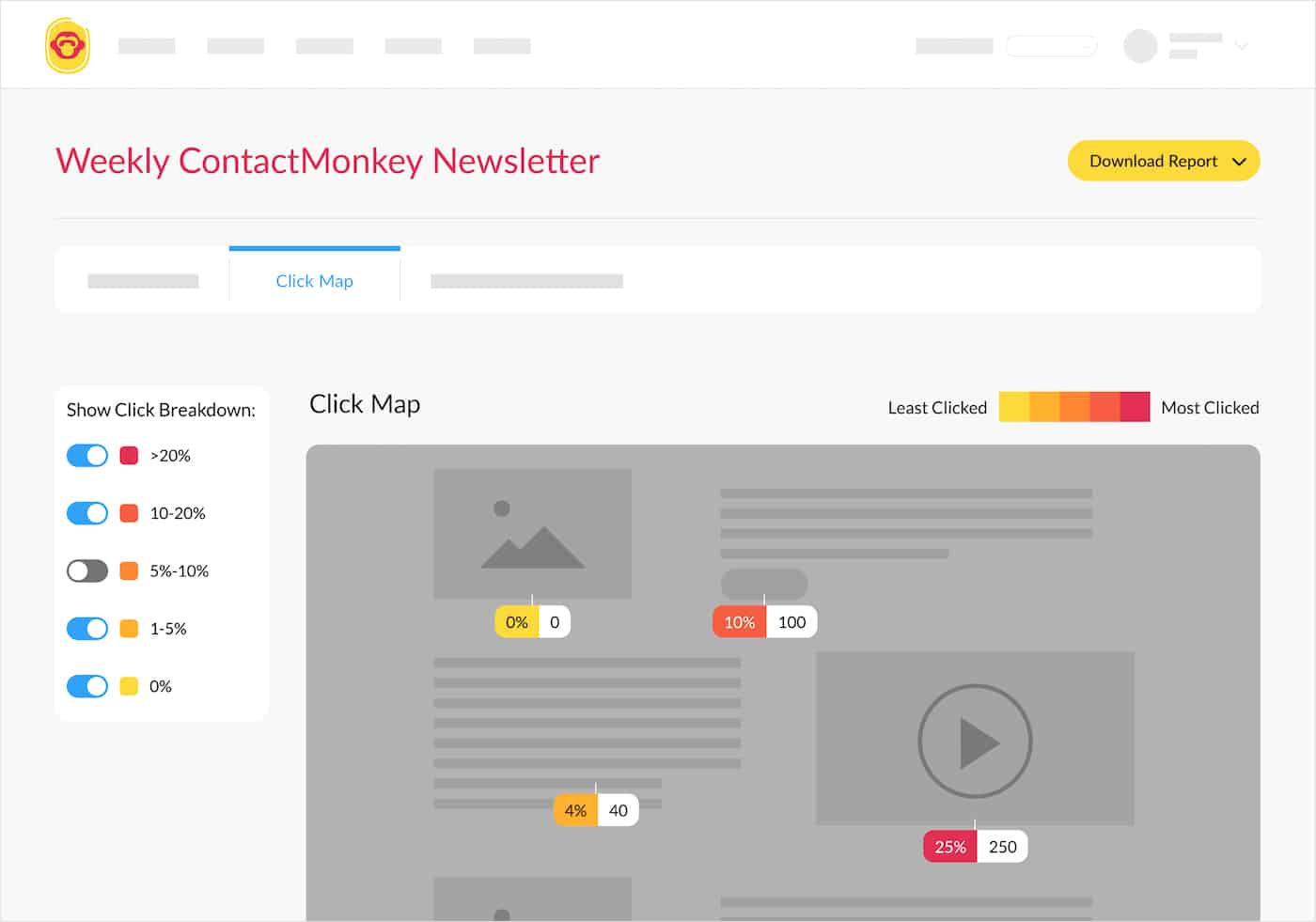 Does your organization have external or internal regulations about email privacy. You can still collect email metrics while protecting your employees' privacy using ContactMonkey's anonymous email tracking.
Get powerful email analytics with ContactMonkey.
Know exactly what content resonates with employees.
How does the tool handle privacy and security?
While security and privacy might not have the same appeal compared to what features a given solution offers, it ultimately determines the viability of that solution for your business—especially when it comes to internal communications.
Since ContactMonkey uses your existing email infrastructure, all of your emails will remain on your servers. Unlike external marketing tools, you won't have to worry about ContactMonkey affecting your ability to send emails securely. Emails sent using ContactMonkey do not have an unsubscribe button, so no need to worry about your employees removing themselves from your distribution lists. ContactMonkey email don't get flagged as spam, so they'll always hit your employees' inboxes and not their junk folder.
ContactMonkey is GDPR compliant, and is SOC 2 certified, meaning our third-party service providers are held to the highest standards when it comes to handling your information.
The key difference between ContactMonkey and Staffbase regarding security involves the regulations that dictate SMS text messaging. In many countries, there is specific legislation that outlines the appropriate conduct for businesses sending SMS messages, and violating that legislation can result in massive fines. We've explored everything you need to know about the Telephone Consumer Protection Act (TCPA) and SMS compliance so you can send messages to your employees with confidence.
Why Choose ContactMonkey as Your Internal Communications Tool?
Now that you have a solid idea of your internal communications environment, you can think about how each solution addresses your business needs. Some solutions have features that others don't, and based on your audit you can decide which features matter most for your success.
We've created a few different comparisons to help you differentiate the features offered by ContactMonkey from those offered by Staffbase. Easily see why ContactMonkey is a top-tier Staffbase competitor.
Staffbase exclusive features:
Content optimizer
Standalone employee app and app analytics
Employee intranet
Features shared by ContactMonkey and Staffbase:
Email template builder
Employee feedback collection
Surveys
Emoji reactions and eNPS
Overall email tracking
Email tracking analytics
Team email collaboration
Read time
Custom branding
ContactMonkey exclusive features:
Event management
SMS employee communication
Full Outlook and Gmail integration
Personalization for subject lines and email copy
24/7 customer support
Individual email tracking
OpenAI ChatGPT integration
List management
Anonymous email tracking
Click maps
ContactMonkey vs. Staffbase comparison chart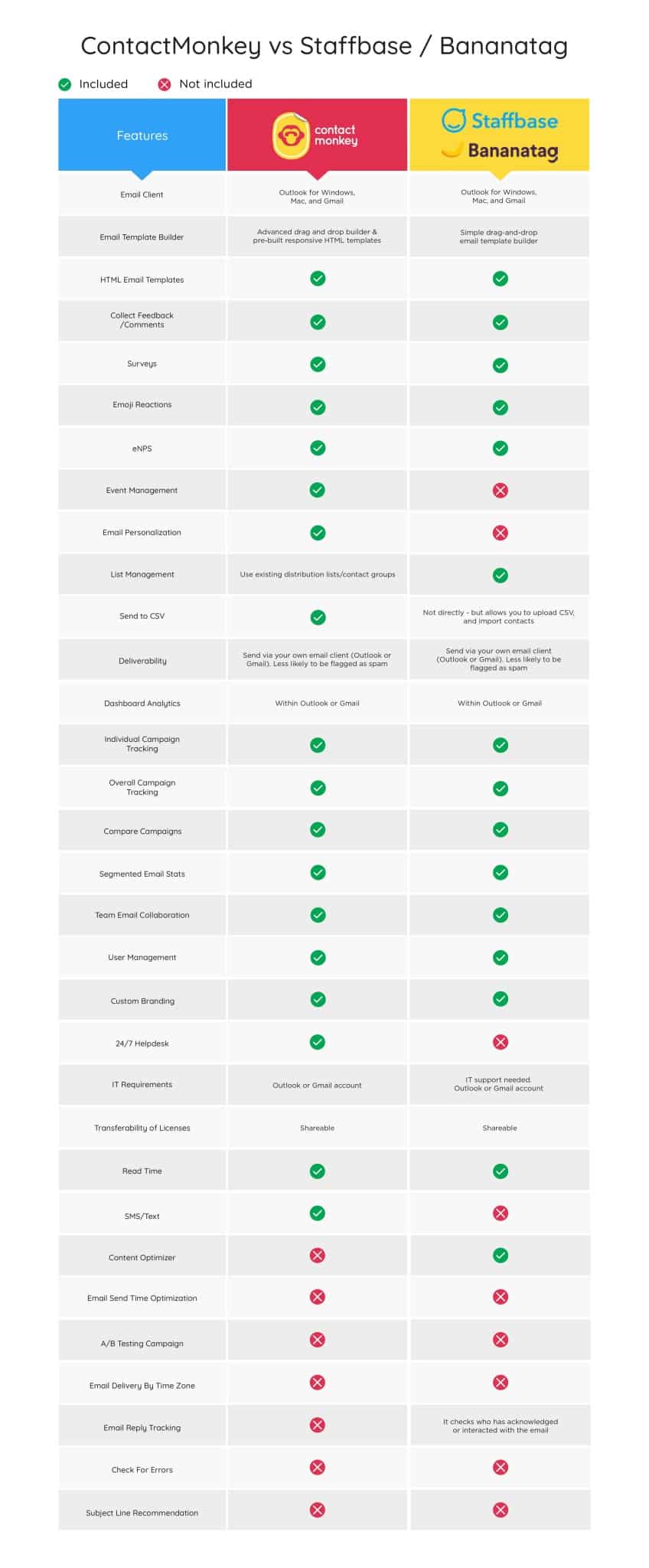 Why Choose ContactMonkey Over Staffbase
While ContactMonkey and Staffbase share many of the same features, the two platforms differ in important ways. ContactMonkey integrates seamlessly with your existing internal communications infrastructure, whereas Staffbase features a more standalone interface.
If your business does not have an established internal communications set up, you may consider Staffbase to centralize your internal communications. The caveat is that this will require both your internal communicators and employees to learn new software and acquire the relevant software in order to access your content.
If you're looking to improve your existing system with as few hurdles as possible, ContactMonkey is the clear favourite as a top Staffbase alternative. Adding ContactMonkey to your Outlook or Gmail inbox is a simple and fast process, and your employees do not need to adopt any new software in order to view your newly optimized internal communications.
ContactMonkey is a proven internal communications tool used by companies large and small to improve their internal email processes and boost employee engagement. To learn more about what makes ContactMonkey a top Staffbase alternative, check out our Customer Stories.
Make An Informed Decision for Your Internal Email Tool
ContactMonkey's easy-to-adopt integration and engagement-driving features like SMS messaging, email personalization, and event management make it an ideal choice for businesses wanting to improve their internal communications capabilities.
Rather than overhaul your existing communication processes, ContactMonkey expands the functionality of your business's current infrastructure, which means the learning curve for ContactMonkey is significantly easier than Staffbase, and is a top Mailchimp alternative and Poppulo alternative. If your business relies on email to stay in touch with your employees, ContactMonkey is the easy winner.
Want to see exactly how ContactMonkey can improve your internal communications? Book a free demo to see our internal communications tool in action: