Whether you realize it or not, your internal communications are the foundation for success at your business. Master your internal communications with our list of internal communications examples and ideas.
Big or small, local or international, remote or onsite. However your business is set up, you rely on internal communication for giving your employees the information they need to succeed.
Despite the importance of internal communications many businesses either don't give it the effort it warrants, or are unsure of how to approach it.
We'll go over some of the basic requirements for successful internal communications, and cover some added steps you can take to ensure your company runs as smoothly and efficiently as possible.
Improve your internal comms with ContactMonkey.
Start a free 14-day trial. No credit card is necessary.
What Is Internal Communications?
Internal communications is any interaction that occurs between members of your business. Employee newsletters, welcome emails, event invitations, even slack messages all fall under the umbrella of internal communications.
The role of internal communications differs greatly from business to business. Organizations may rely on employee emails to communicate with their remote workforce, while others might use their employee newsletter to keep employees informed on the latest company news.
However you use your internal communications, it's worth remembering that your internal communications are always evolving. New technology, new internal communications best practices, and new insights frequently shake up the world of internal communications, and the best businesses stay on top of these trends and benefit from them.
11 Effective Internal Communications Examples and Ideas
Whether you're a seasoned internal communicator or brand new to the field, there's always new ways from which to approach your internal communications. Use these ideas and examples to jumpstart new initiatives at your business and improve your company culture.
1. Create an internal communications strategy
A dedicated plan or strategy is essential for your internal communications success. To resist the temptation to glomb onto what's new and neglect what's old, your internal communications strategy outlines the people, processes, and objectives to which you'll adhere.
When your drafting your internal communications strategy, it's important to include this information:
Overview of your existing internal communications landscape. List ways that you communicate with your employees, and how they communicate with management, like leadership communications.
Members involved with creating and sending your internal communications. These stakeholders will be responsible for implementing and monitoring your internal communications strategy.
Schedule of your planned communications. Planning your internal emails ahead of time can help you stay on track, keep your emails fresh, and avoid work buildups.
Key performance indicators (KPIs) for your internal communications goals. Your KPIs will help you stay focused and make it easier to measure your success come the end of your strategy's timeframe.
These are the basic components of your internal communications strategy. For a more in-depth look at developing your company's strategy, check out our blog on How to Create an Internal Communications Strategy.
2. Leverage your existing Outlook or Gmail accounts
Many tools that purport to improve your internal communications require you to manage your emails via their platform. For companies that have built their internal communications within Outlook and Gmail, this can be a huge challenge.
An internal communications tool that works with your Outlook and Gmail is far easier to adopt and operate. ContactMonkey is a plugin for both of these email service providers, and works within your existing inboxes. No having to build your contact lists again, no learning how to send emails from a marketing tool.
3. Use distribution lists for effective communication
Departments of your company will have different objectives, timelines, and priorities. The best internal communicators send only relevant information to those who need it, and the best way to do this is via distribution lists.
Distribution lists divide your employees' emails into different groups, usually based on department or location. Outlook uses distribution lists to divide up your contacts, and Gmail uses a similar function called Groups to section your email recipients.
Instead of sending a sales-related email to everyone at your company, distribution lists can be employed so that only employees on sales teams will receive the email.
Using ContactMonkey's List Management feature, you can create your own email lists without needing IT. Email lists help reduce the amount of irrelevant emails your employees receive, and—when created using ContactMonkey—integrate with your Human Resource Information System (HRIS) like Workday and ADP, as well as Azure Active Directory, so your lists automatically update.
4. Manage your email inbox sending limits
If you've tried emailing everyone at a company with thousands of employees, you've likely encountered Outlook or Gmail sending limits. These email service providers limit the number of emails users can send on a daily basis to prevent abuse like email spam.
Distribution lists can be used to help manage email sending limits, as email service providers view such lists as a single email. But to get the most out of your distribution lists—like email metrics—a tool like ContactMonkey is a must. Centralize your internal email creating, sending, and tracking to improve the quality of your internal communications with ContactMonkey.
5. Keep branding consistent across your internal communications
Branding isn't only important for external marketing, but for internal marketing as well. Your employees will take your internal communications as seriously as you do, and if you use inconsistent language, design, or branding you implicitly suggest that these things aren't important at your company.
Consistent branding isn't only for your employees' sake; using email templates can help you save time and effort on your internal communications. With ContactMonkey's email template builder, you can easily create branded email templates you can use for various internal communications: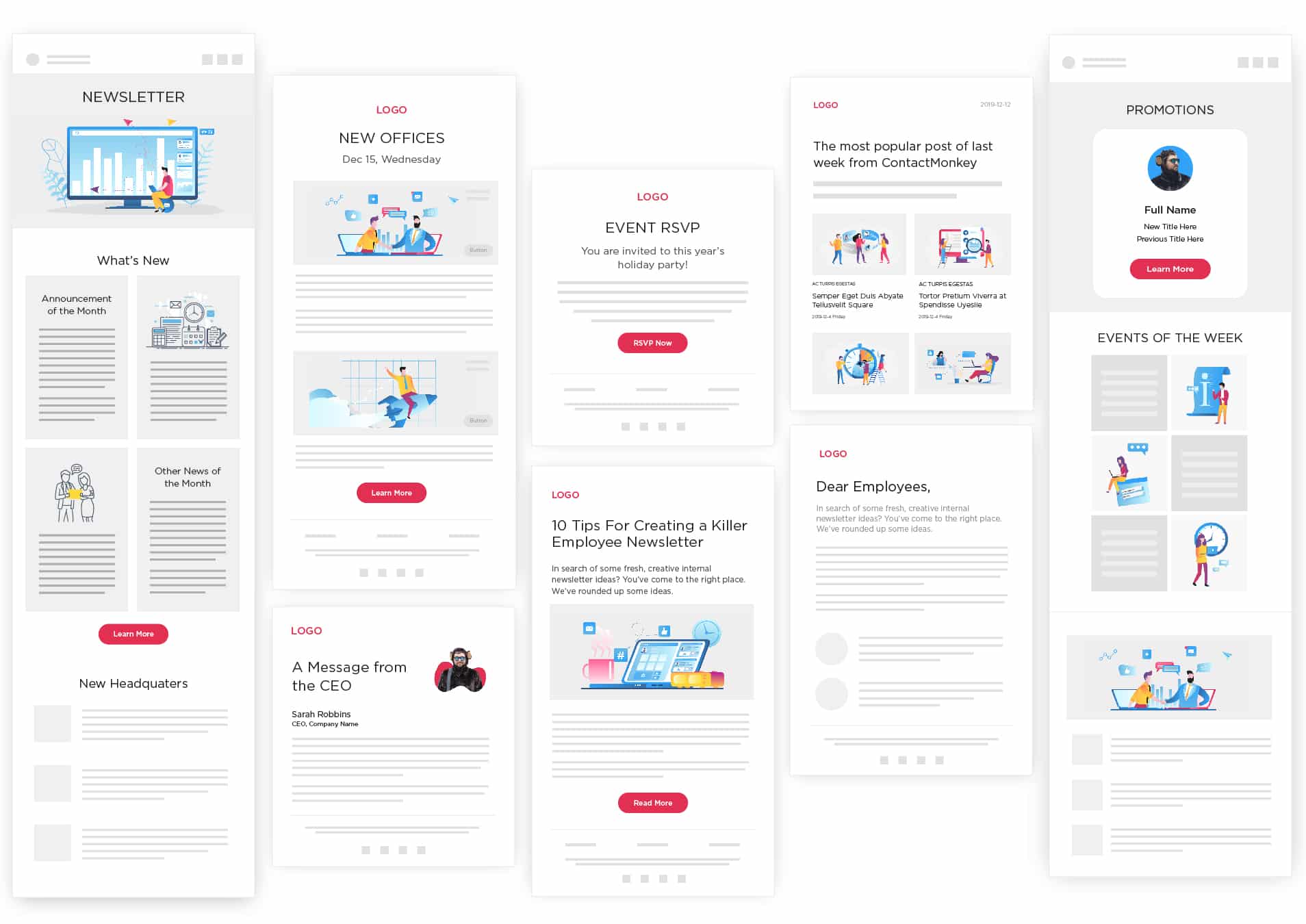 Instead of redesigning your internal emails whenever they need to be sent, simply select an existing template and plug in your new content. Consistent branding can help employees differentiate between your various internal communications, so you can save time contextualizing your emails and get right into the important information.
6. Focus on employee engagement
We've mentioned how sending only relevant information to your employees helps nurture email engagement. This is part of an overall approach to thinking about productivity via employee engagement.
Employee engagement measures how your employees connect with your company and each other. Engaged employees contribute more at their jobs because their work matters to them; they feel personal pride in their efforts and share the success of their colleagues and business.
Employee engagement is directly related to productivity and growth, and is an important measure for internal communicators. Do your internal communications aid or hinder employee engagement? Try out these great employee engagement ideas to get a better idea of your employee engagement landscape.
Understand what drives engagement in your organization with these survey questions for employees.
7. Collect employee feedback on a regular basis
A big contributor to your company's employee engagement is whether your employees feel like their opinions matter. Collecting employee feedback via surveys and questionnaires can provide a double benefit for your business:
Your employees get to contribute their ideas and criticisms to help improve their work and workplace; and
You get valuable insights as to what really matters to your employees.
Step up two-way communication across your company with our employee feedback examples. With ContactMonkey, you can embed emoji reactions, star ratings, thumbs up/down, yes/no, and more into your internal emails: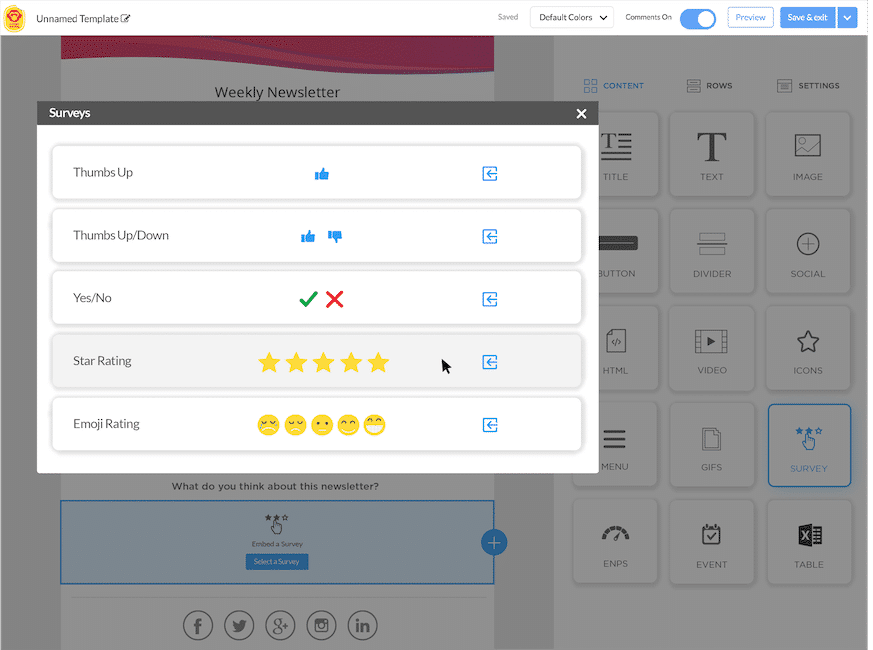 Collecting employee feedback can encourage greater email engagement, as your internal emails now act as a two-way conversation between management and employees. You can even collect anonymous employee feedback by enabling comments on your internal communications: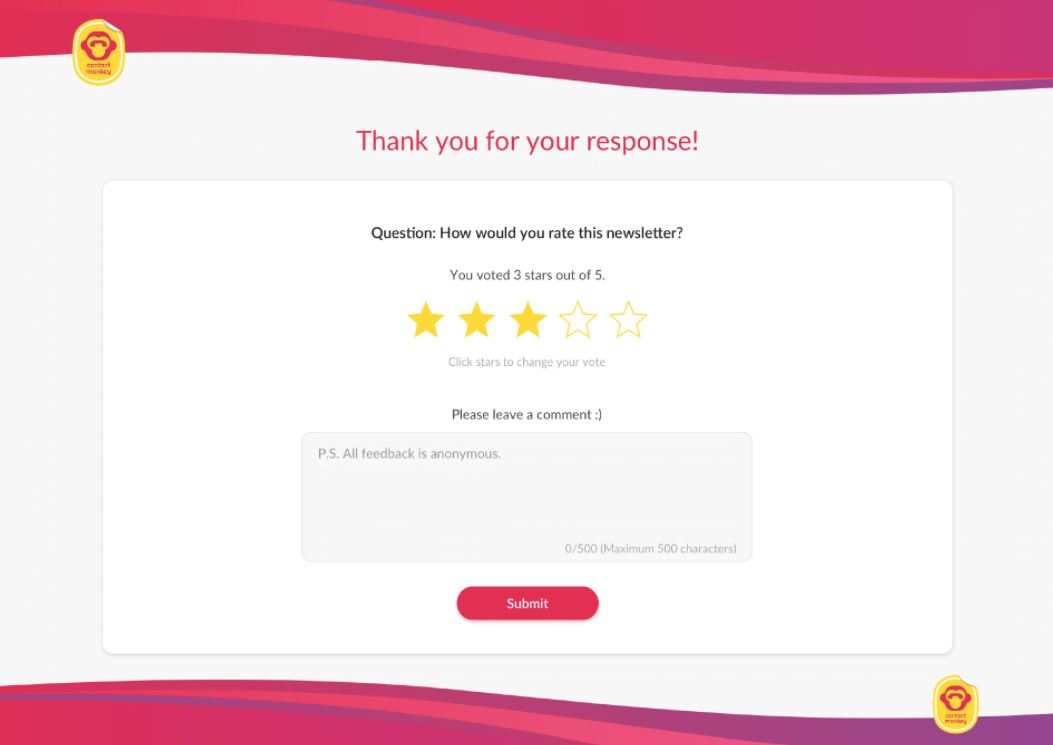 Remember, it's not enough to simply collect employee feedback, you have to act on it as well. This will emphasize to your employees that their feedback really matters, and will encourage further contributions. Give ContactMonkey a try to see how easy it is to collect employee feedback via your internal communications.
8. Feature personalized emails for greater engagement
An easy way to battle the monotony inherent to internal communications is to add a personal touch for each of your employees. Thankfully, this is easily done with the right tools. ContactMonkey lets you easily personalize both the subject line and body text of your internal emails: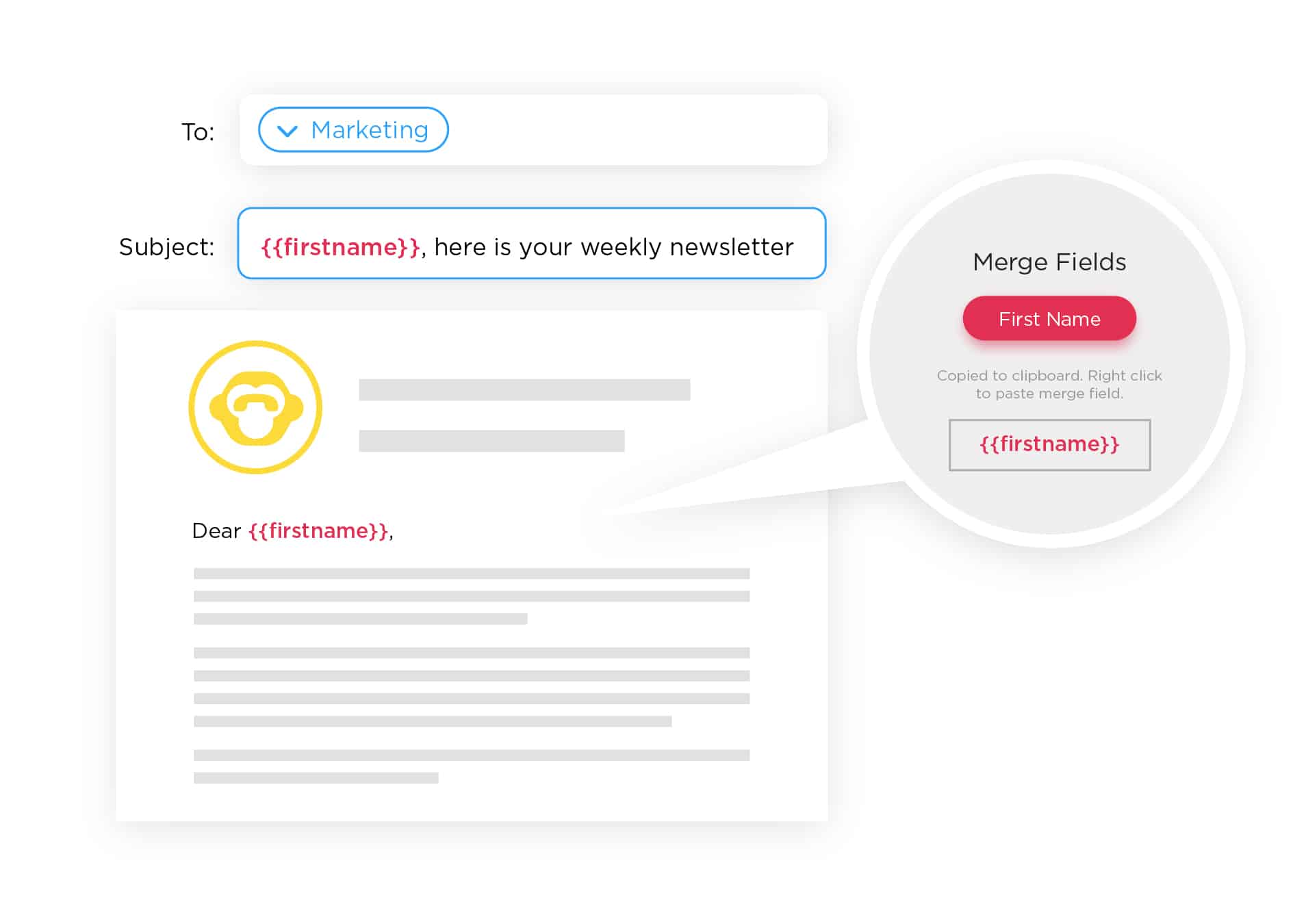 Personalized emails can boost your open rate by up to 50%. It takes mere seconds to add custom text into your internal communications, so the question is: if you aren't already personalizing your internal emails, why aren't you?
Check out ContactMonkey to adopt one of the top internal communications examples and learn how to build a business case for new internal communications tools with our step-by-step guide.
Not sure how to start your employee email? Use ContactMonkey's OpenAI ChatGPT integration to generate fresh content for your emails based on prompts you provide.
9. Plan company events the smart way
Events play a part at every business. Whether you're hosting a monthly town hall, end of year holiday party, or weekly fitness meetup, attending events is a fundamental part of your employees' experience at your business.
Take your company events to the next level by managing them with ContactMonkey. Create invitations, embed them in your internal emails, track RSVPs, and even collect employee comments, all from the same platform: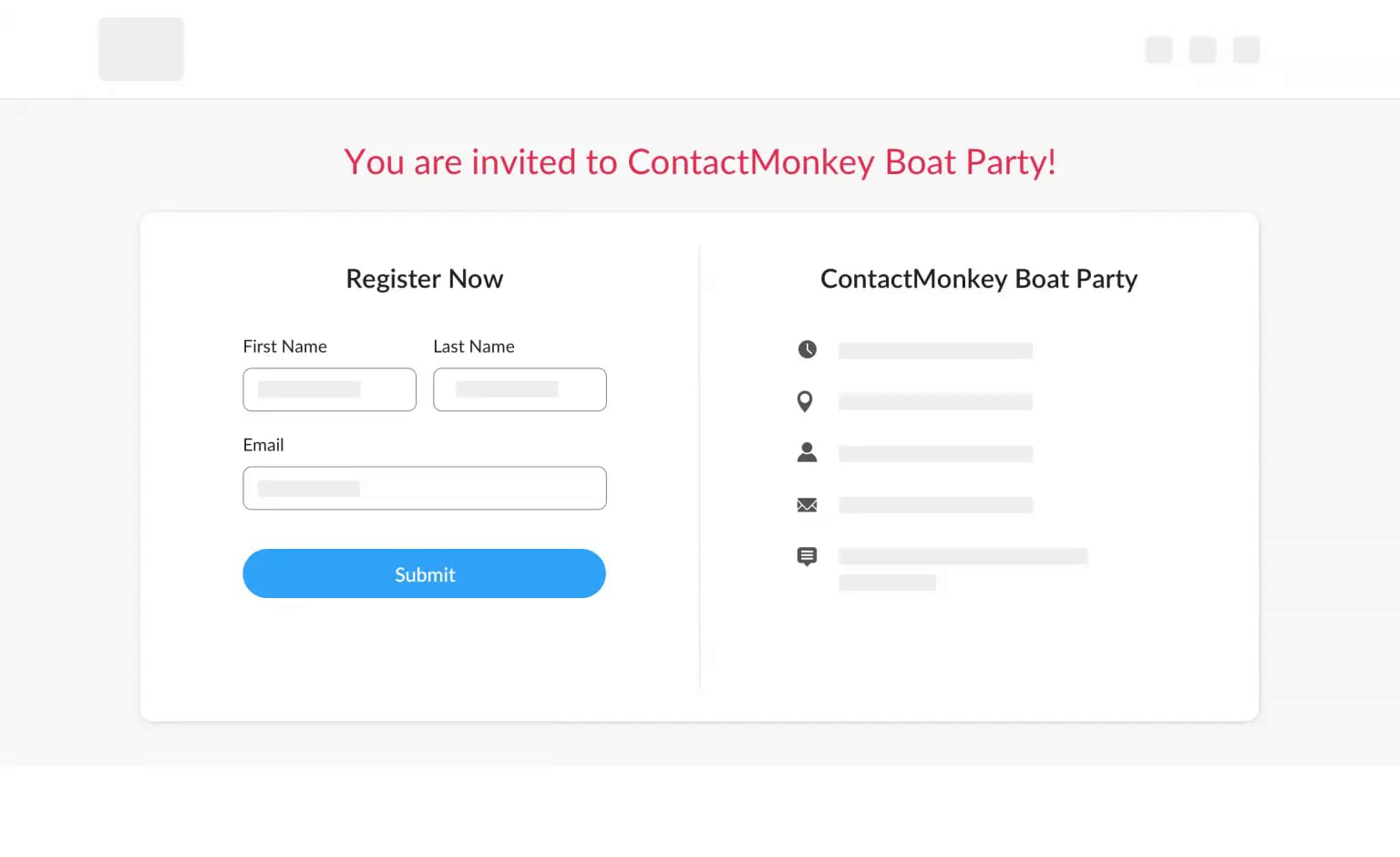 You can use the metrics and comments you gather from your invitations to focus your event to be as engaging as possible. No more guessing whether your next event will be a hit with employees; with ContactMonkey's event management feature, you'll have the knowledge ahead of time.
10. Manage your internal communications teams effectively
Are you working in an internal communications team to keep your employees informed and engaged? Though "teamwork makes the dream work", keeping track of who does what when can be a challenge for even seasoned internal communicators.
While your internal communications strategy outlines the various responsibilities of your team, you need a tool that can accommodate and manage multiple users. With ContactMonkey's team management features, you can easily choose who has access to what resources to help you avoid unwanted changes or interruptions to your workflow.
Working on a large project? ContactMonkey supports multiple users working on a single email. You can leave comments for your team members and they'll be alerted by email when you tag them, just like in Google Docs.
Optimize your internal communications workflow and save time on creating employee emails by effectively managing your internal communications team.
11. Track internal emails metrics for better content
How can you determine if your efforts to improve your internal communication have made a difference? Use internal email tracking to measure the success of your internal communications and inform your team's KPIs.
Email metrics like open rate, click-through rate, read time, opens by device and locations, and individual tracking stats can give you a detailed picture of how your employees engage with your emails. Combined with internal email benchmarks, you can learn what it takes to be an industry leader in internal communications.
Does particular email content resonate more with your sales team than other departments? Are all of your recipients engaging with your higher education communications? With ContactMonkey, all of your email metrics are visualized within your email analytics dashboard: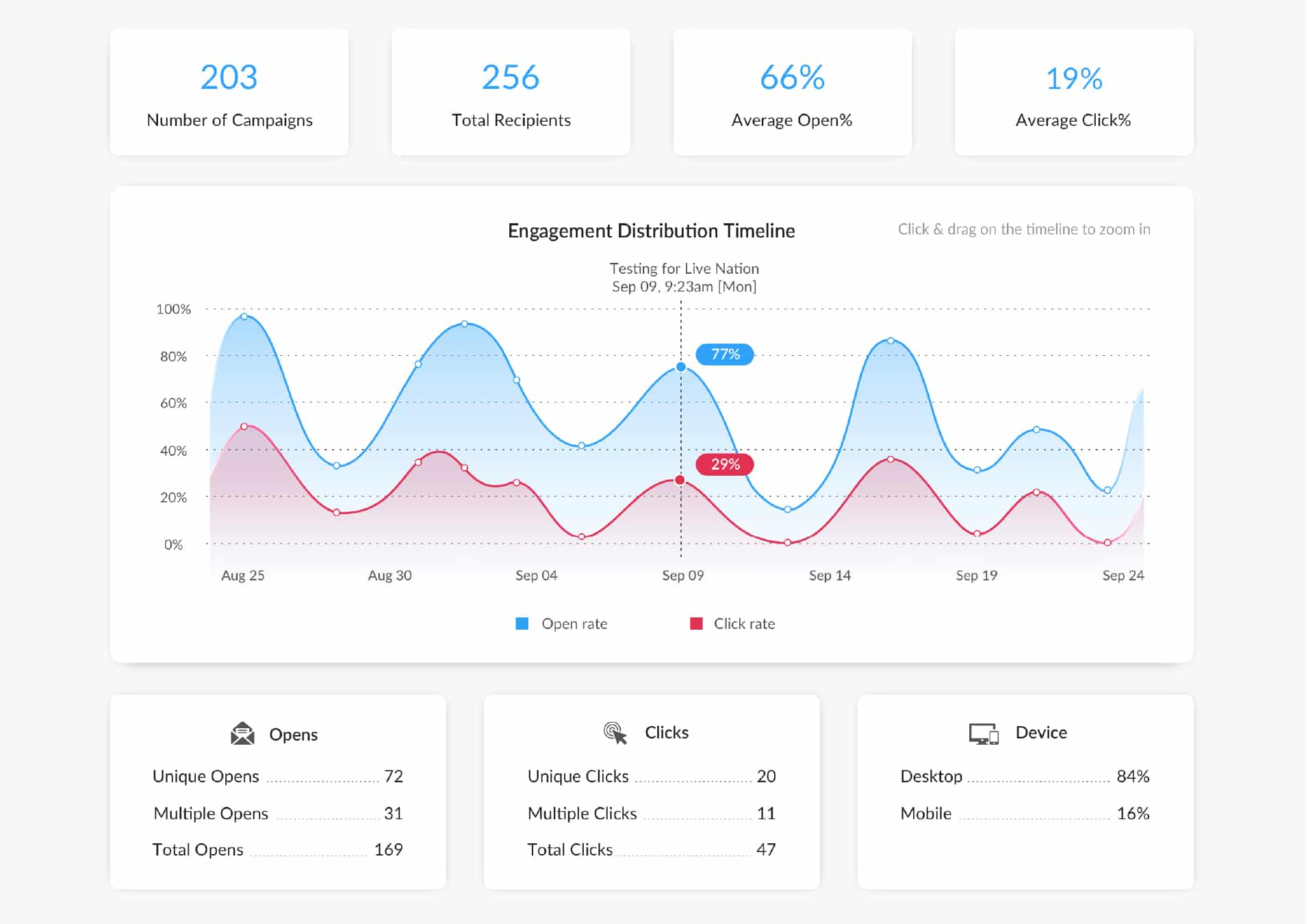 Not only can you track your email metrics, but you can also compare your various email campaigns against one another to gauge their relative performance. By enabling individual tracking, you can even see how individual employees engaged with your emails, tracking the number of times they opened your emails or clicked on a link contained within.
Does your organization have internal or external requirements for email privacy? With ContactMonkey's anonymous email tracking, you can gather email metrics while maintaining employee privacy.
To see how you can start tracking your internal emails, book a free demo of ContactMonkey for an in-depth look at your company's email metrics.
Start Improving Your Internal Communications Today
If you've reached this point you hopefully have several new internal communications ideas to try out at your business. Whatever method or activity you choose to adopt, you can be assured that improving your internal communications improves your business' overall performance.
After all, internal communications is the means by which your business operates; give it the importance it deserves to reap the benefits of an optimized, effective approach to internal communications.
Interested in seeing all the ways that ContactMonkey can improve your business? Don't hesitate to book a demo to learn how to use an internal communications software to boost employee engagement: