Humans love stories—always have, always will. By leveraging the power of storytelling for internal communications, you can take workplace engagement to the next level and win the hearts and minds of your employees.
One day, while on a Backpacking trip, Dave Gilboa lost his glasses. As a young grad student, he couldn't afford to replace them, which led to days of discomfort. Returning from the trip, he vowed to make vision care more accessible.
In 2010, Gilboa co-founded the affordable eyewear retailer Warby Parker. For each pair sold, Gilboa made it his mission to distribute a pair of glasses to someone in need, accomplishing this through nonprofit partnerships.
Warby Parker's brand origin story is powerful because it underscores the company's philosophy and vision. In this post, we'll dive deeper into the elements of a great story and show you how to use internal communications software to harness the power of internal storytelling.
Pro tip: Use ContactMonkey's Mailchimp alternative to enhance internal storytelling with the help of multimedia and interactive elements.
What is Internal Storytelling?
Internal storytelling is all about building compelling narratives to increase employee engagement.
With their ability to captivate our attention and build empathy, stories are powerful mediums for connecting and engaging your workforce.
They can be used to amplify a message and make it more memorable. Not to mention, stories can appeal to employee emotions and instill pride while building trust and connection.
These capabilities are especially important when rallying employees behind a company mission, strengthening company culture, or issuing change management communications.
How Does Internal Communications Storytelling Work?
Internal stories are able to pique our interest and expand our understanding of people and concepts by triggering two important psychological processes:
Transportation: taking the audience to a different place and time than the ones they currently inhabit. This inspires the imagination and expands our creativity.
Identification: putting the audience into another's shoes. Being able to share in someone else's experience builds empathy and extends our perspectives.
Together, these factors help us step out of ourselves, learn something new, and grow our empathy by entering spaces and identities different from our own.
Benefits of Storytelling for Internal Communications
In addition to grabbing our attention, stories can change how we relate to one another, help us rethink biases, and change our minds. And that's not even half the story.
Psychologists believe that stories lay down a framework for how we think. They are primal and timeless structures for communication, which have existed for ages.
Not to mention, stories engage our imagination. So they're processed by our brain in much the same way as actual experiences. As a result, they trigger emotions that generate empathy.
Pro tip: Instantly generate tailored employee messages directly from your email builder with ContactMonkey's OpenAI integration.
For all these reasons and more, the benefits of internal storytelling are numerous. Here are just a few to keep in mind:
Increase empathy

by transporting us into the lives and experiences of others.

Improve information retention

by making insights nearly 22 times more than standalone facts and figures.

Improve understanding of complex concepts

by relating them to familiar situations and experiences.

Subvert our biases

by expanding our understanding of the lives and challenges of others. This is especially valuable in terms of diversity and inclusion communications.

Boost employee engagement

by capturing and holding employee attention.
What Makes a Great Story?
Before you begin thinking about how to incorporate storytelling into digital employee communication, it's important to recognize what makes a great story. Here are a few of the essentials:
Strong narrative voice

: this is what pulls us in and helps us identify with the narrator.

Relatability:

there should be some familiarity with the situations, challenges, and achievements of the characters in order for the story to pique our interest.

A hook or conflict to be resolved:

a challenge that needs to be overcome compels us to keep reading/listening to the story till the end.

Immersion in the story:

using details and examples to really drive the story home and make us feel a part of the narrative.

Accessibility:

a story that uses simple language is easier to understand.

Resolution:

narrative arcs appeal to our familiarity with the "hero's journey"

—

a timeless story structure that sees struggle followed by triumph.
Read our guide on the latest internal communication trends to drive employee engagement across your organization.
Try a modern internal communications tool.
Start a 14-day trial. No credit card is necessary. Zero risk.
10 Tips for Internal Communication Storytelling
Poor organizational communications are usually the culprit behind low employee engagement levels. If you want to get your employees to pay attention and maintain interest in your content, these ten internal communication storytelling tips can help do the trick:
1. Develop your brand origin story
This type of internal storytelling lays the foundation for your brand vision and values. Most people know that Apple started in a garage and Facebook was developed in a dorm room. That's because the brands tell these stories time and time again.
The narratives have a big impact on the companies' internal culture. They instill pride in workers by showing how far their company has come, as well as by underscoring the core values.
In the case of Apple and Facebook, their stories emphasize how innovative thinking and employee empowerment can lead to tremendous growth and industry disruption.
Curious to see what the experts have to say about improving internal communications? Check out our list of the best internal communications books by the biggest names in IC.
2. Choose the right tools and mediums to share internal stories
Ever heard the quote "the medium is the message"? Then you probably know just how important the tools that you use to present your internal story are.
An employee newsletter will let you reach the greatest amount of workers in the shortest time. Not to mention, with ContactMonkey's internal communications tool, you'll be able to add employer branding to tie in your storytelling efforts with your brand identity.
This includes customized colors, fonts, and logos.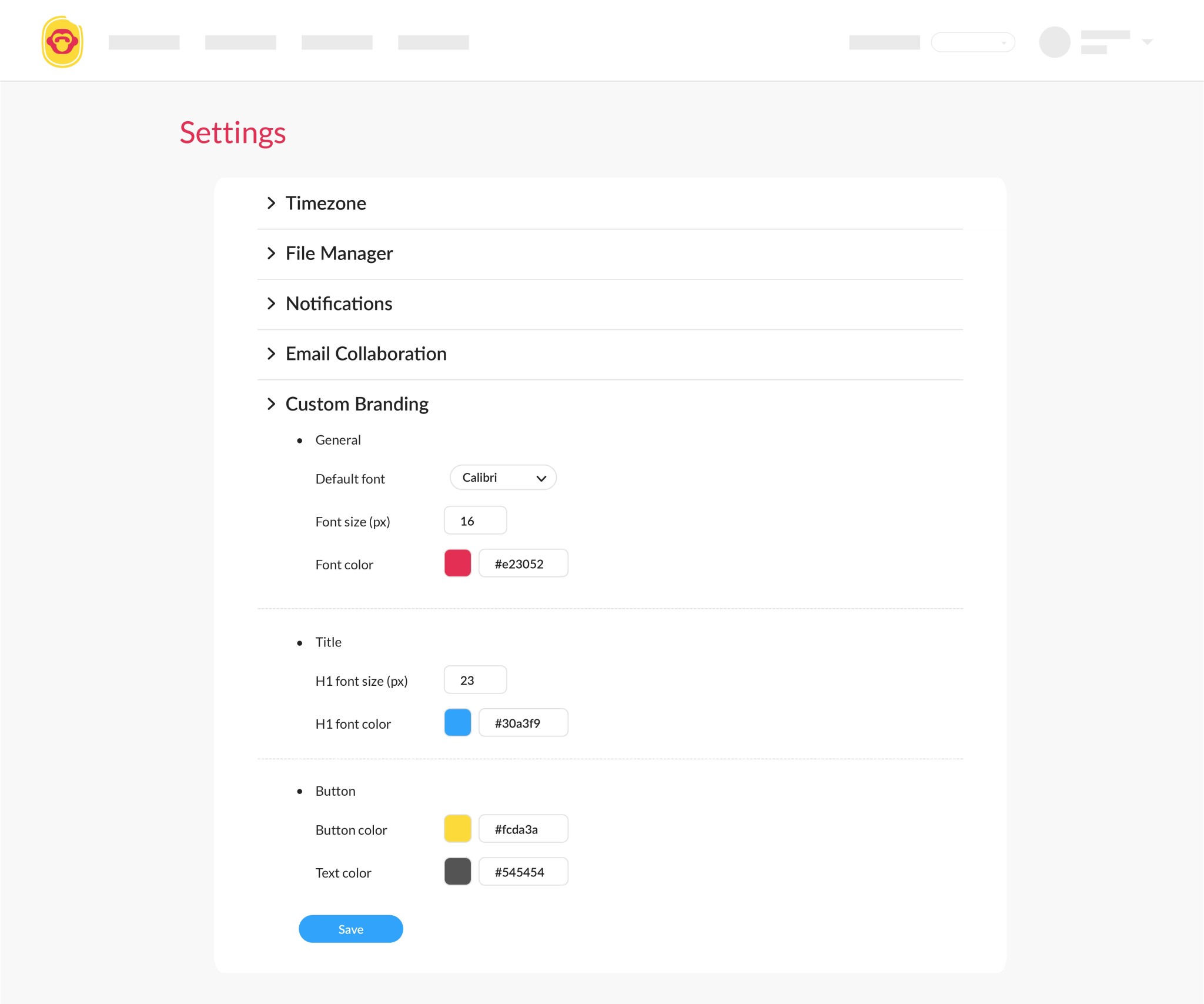 Want to make beautiful newsletters faster? Learn how to create employee newsletters that stand out with our step-by-step guide.
You'll also want to consider which medium will allow you to convey the message and scope of your story the best. Will you need audio? What about visuals?
For instance, say your storytelling efforts are geared towards discussing a challenge your company seeks to overcome. In this case, it's best to have leaders speak to your story and vision in real-time.
A virtual town hall would be the best medium as it enables storytellers to address a live audience and convey more authenticity.
3. Add visuals
Images and videos appeal to a greater range of senses and can help inspire stronger emotions. Not to mention, visual storytelling can make information more memorable and break down complex facts.
You can implement visuals in internal storytelling by adding images of your company office back in the day. Or, you can add a video timeline of how your company grew throughout the years.
This is something that Indeed does well. In their onboarding communications, they add images of their first office in the back of the founder's car as well as a timeline of the company's growth. In this case, the company's origin story is used to boost employee morale and instill motivation.
4. Use repetition
Stories that relate to your brand vision, values, and identity need to truly stick. And this doesn't mean retelling your brand story over and over. It can be as simple as reiterating a company saying throughout your digital workplace communications.
Brands like Nike exemplify this strategy. Their brand slogan "Just do it" has become a metonym for their company story and vision.
With ContactMonkey's email builder, you can create and save employee branding across all of your Outlook and Gmail email templates⁠—fit with brand slogans, logos, and colours. You can also select from a variety of pre-made internal message templates for any occasion—from leadership communications to fun employee survey questions.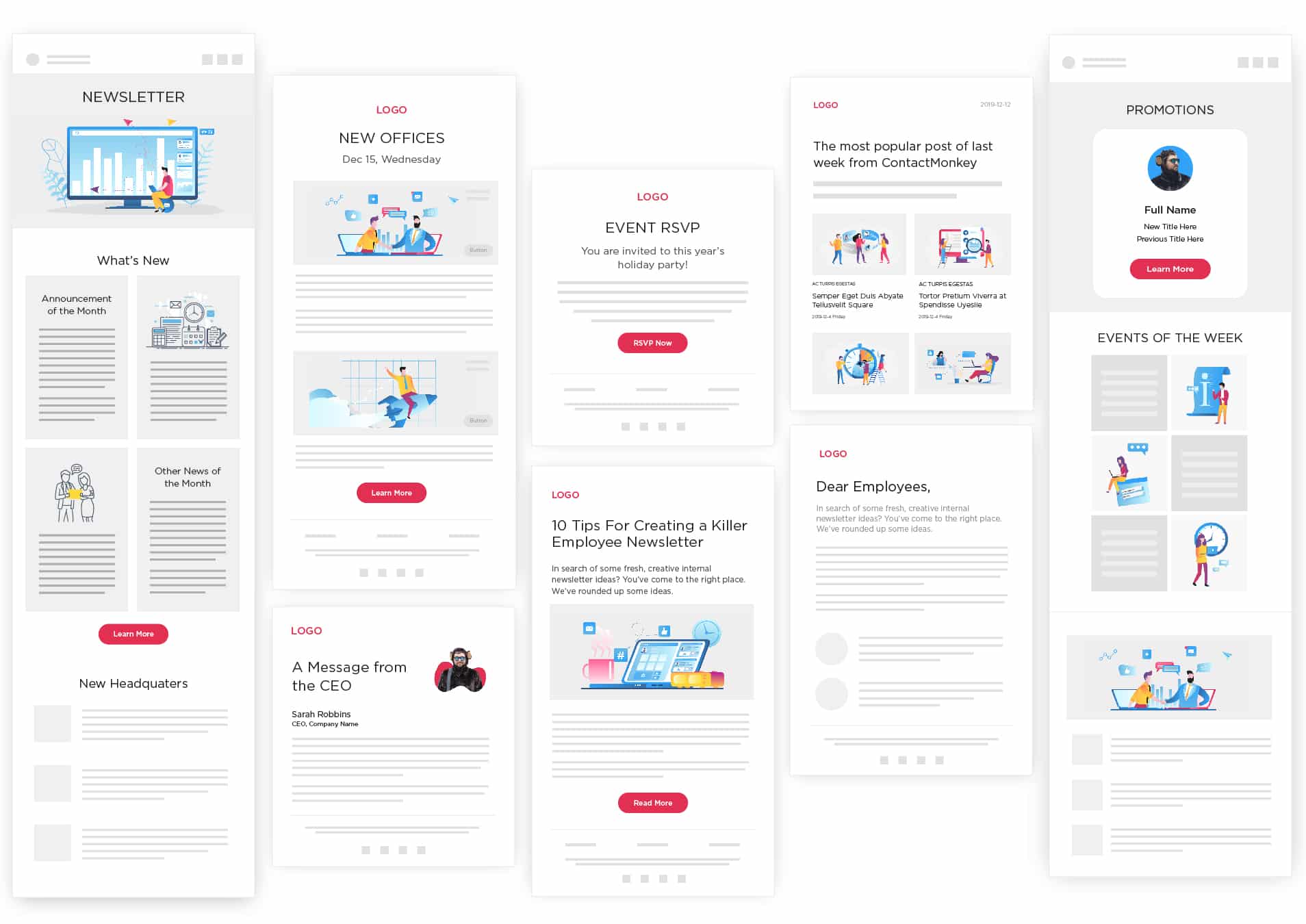 When it comes time to create your next newsletter, you'll simply swap in the text while maintaining the signature elements representing your brand story.
5. Humanize your stories
When you feature real people and authentic challenges in your internal storytelling, it makes your narratives more relatable.
For instance, you can boost employee motivation by embedding real customer stories, including the challenges your clients faced and how your company has helped them.
This type of internal storytelling instills pride in your employees by showing the impact they make on customers' lives.
Such internal stories can easily be embedded into employee newsletters through bite-sized "Customer Success" internal email campaigns. Add specific teams or employee names into your client success story for an extra employee recognition idea.
Alternatively, you can create an employee-specific recognition segment where you honour the achievements and stories of different staff members: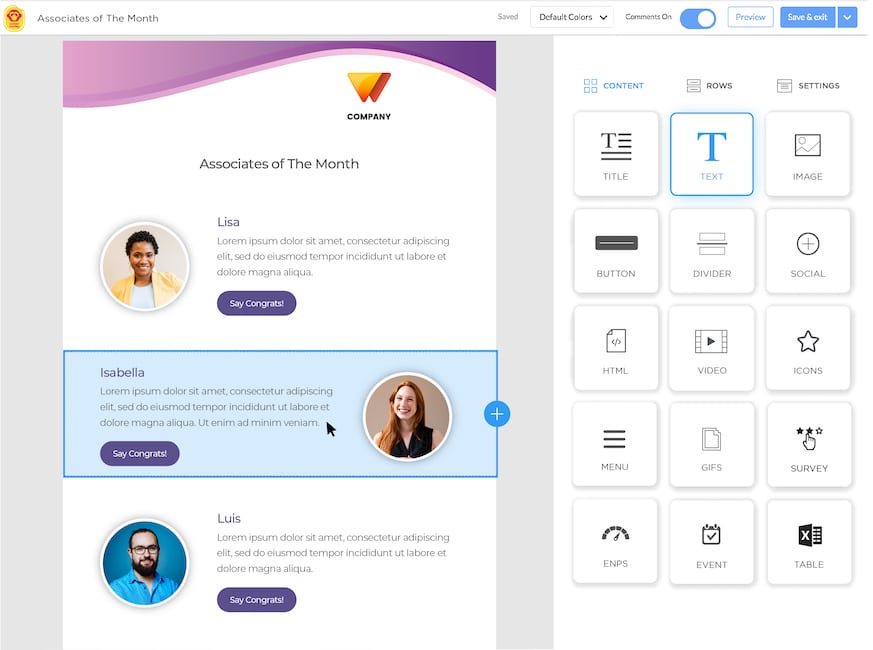 6. Encourage leaders to guide storytelling efforts
The job of successful leaders is to gain the trust of their teams and guide the organization in achieving business goals and internal communications objectives. This is only possible when leadership communications nurture a strong connection with employees.
Storytelling helps build these bonds by helping to amplify a leader's vision as well as making leaders themselves more personable and relatable.
For instance, if your company leaders can open up to employees and share some of the initial struggles they faced in their careers, it can be a bonding experience.
It will also show humility and motivate employees through any professional difficulties they may be facing.
7. Engage internal influencers
While stories from leaders should be an important component of your internal communications strategy, employee-generated stories are just as powerful. In fact, 92% of people are more likely to trust a recommendation from their peers over corporate communications content alone.
Determine your internal influencers and ask them to share their story of growth within the company. They can do this during virtual team-building events, through employee social media, or with a personalized feature in your employee newsletter.
Find out who your internal influencers are with ContactMonkey's internal email tracking. With ContactMonkey, you'll be able to see who opens and clicks through your internal emails the most. You'll also be able to see who responds to your embedded employee surveys, whether it be company culture surveys or employee exit surveys
You'll also be able to track internal email click-through-rate and open rate improvements over time by comparing campaigns side by side.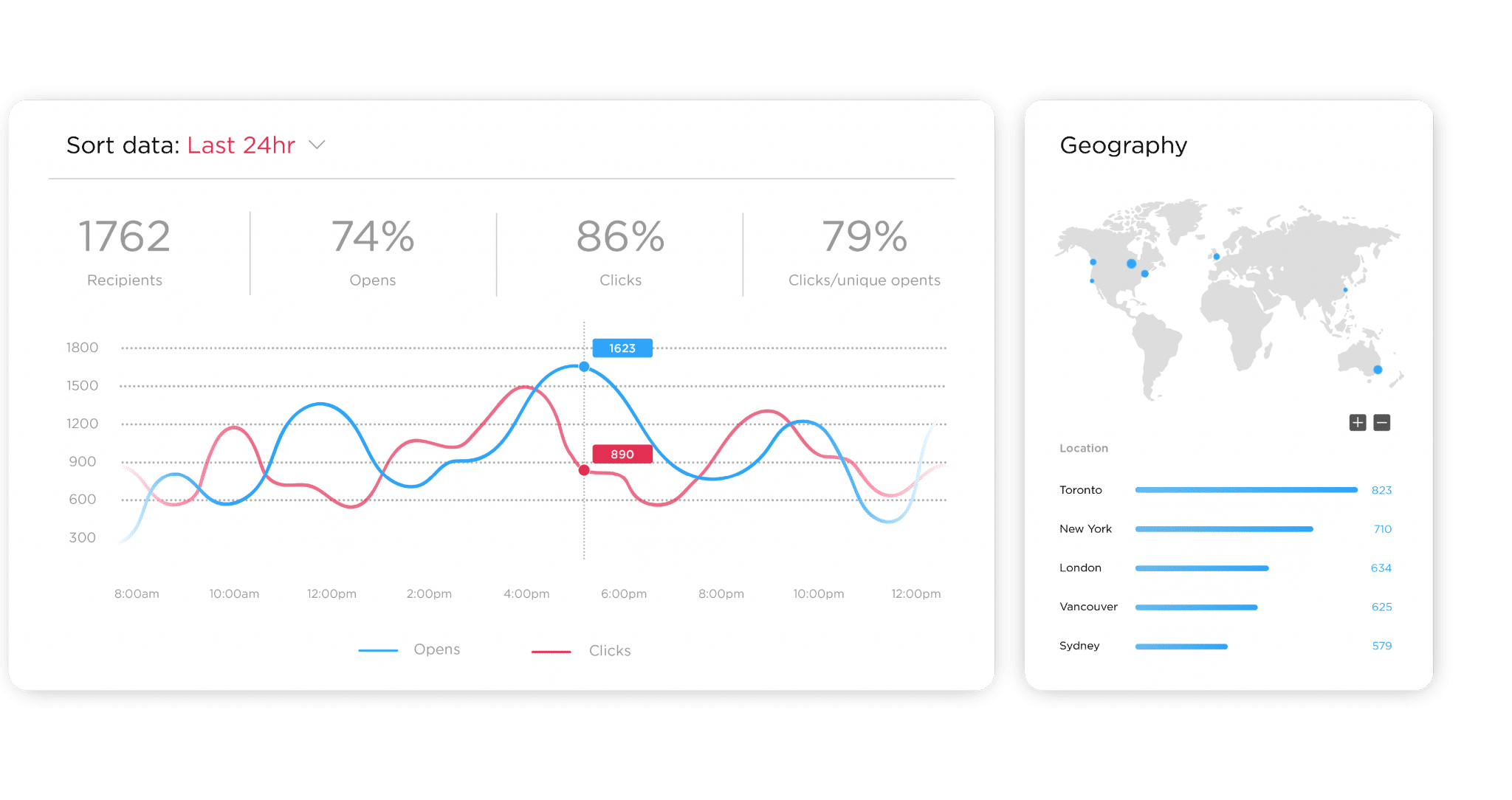 For quantitative insights about your brand promoters, you can also embed Employee Net Promoter Score (eNPS) surveys directly into employee newsletters: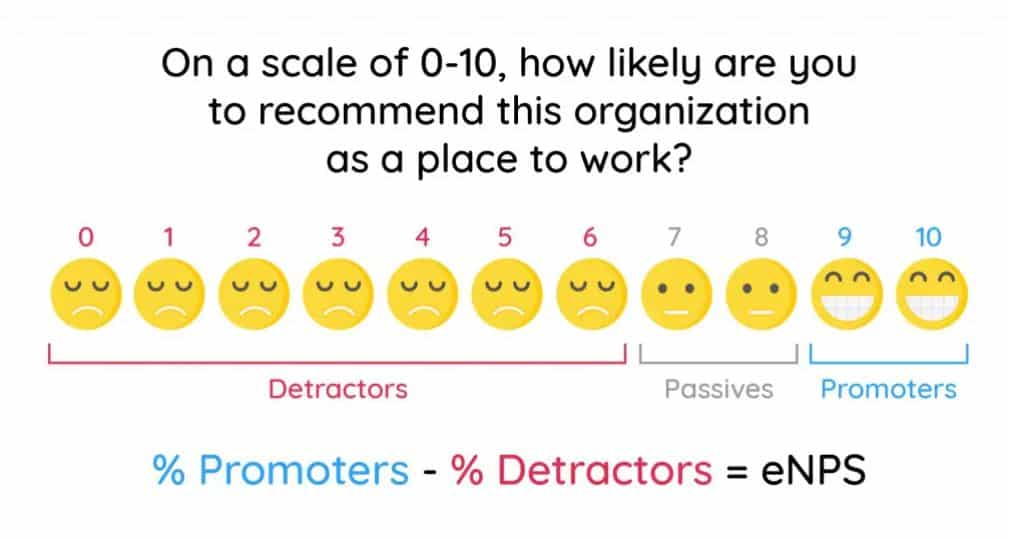 8. Make your stories easily accessible
Accessibility is everything. It doesn't matter how compelling of an internal story you have under your belt, if it's difficult for employees to find and engage with, it's ineffective.
Think about where your employees turn to the most, and what platforms will be the most accessible. For most companies, internal emails are the most popular resource among employees.
But you may also want to share internal stories across employee social media, such as Yammer, in Slack communities, and on LinkedIn. Use these platforms to tie your internal and external brand.
And remember, storytelling isn't just about a single message. It's about building a narrative over time and space. That includes tying your story together across various communications channels that employees turn to the most.
With ContactMonkey, you can conveniently navigate multiple communication channels and sending lists through our HRIS integration.
9. Use simple language and avoid jargon
Let's face it, we've all enlisted the help of Sparknotes when it came to tackling a particularly challenging English assignment. And this didn't mean you hated reading or storytelling.
More often than not, it was about simplifying stories that were too complex to understand or engage with.
In the corporate world, simple and straightforward storytelling is a must. Whether you're sharing a story about your vision for the company's future, or looking back at its history, it's important to avoid jargon and corporate language.
It makes for cold and detached storytelling that won't do much to make your employees feel relatable or empathetic. Instead, opt for simple, engaging language and authentic storytelling.
10. Immerse readers through details and examples
The best stories are able to pull us in and leave us momentarily suspended in a different world with the help of vivid detail. It's in that moment that we're truly able to expand our imagination and develop empathy, which is the goal of internal communications storytelling.
While your corporate storytelling probably won't involve mythical lands, you'll still need to use rich detail and descriptions to engage your audience. For instance, if you're laying down a vision for your company's future, you'll want to use examples.
What will your office look like in five years? Which technologies will help guide your business towards a modern transformation? What principles will drive your efforts?
Use images and videos in your internal communications to drive your storytelling and make it that much more engaging.
Improve Internal Communications Storytelling With ContactMonkey
As remote work takes over, business environments are becoming more dispersed, and workers more isolated. In these circumstances, internal storytelling can help you overcome many internal communications challenges. They serve as a unifying thread that keeps employees connected and engaged. Not to mention, storytelling helps you connect with workers on a more emotional level, develop a shared sense of identity, and solidify company values.
With multimedia elements and interactive features, ContactMonkey helps you take your internal communications storytelling to the next level. Not convinced? See for yourself with a 3-minute free demo.