Your internal newsletter isn't just a workplace resource hub. It's a powerful piece of your internal marketing strategy and brand storytelling. But if you're still unsure on how to create an employee newsletter that engages staff and drives your brand vision, it's time to get to work.
The word "newsletter" often evokes email updates designed to pique the interest of an organization's customers and prospects. But newsletters are just as impactful for your internal marketing strategy as your external engagement. Think of it as two sides of the same coin. Your external newsletter impacts how people outside of your company perceive your brand. Your employee newsletter determines the impression of those within.
That being said, creating an effective company newsletter takes a dedicated internal communications tool. When you use an external newsletter software like Mailchimp, for internal comms, employees are able to easily unsubscribe from vital communications. Not to mention, tools like Mailchimp are not compatible with all versions of Outlook and Gmail. A dedicated internal newsletter tool helps avoid issues and maximize your email engagement.
What else does it take to turn an employee newsletter into a driving force for employee engagement and workplace alignment? That's what we'll find out as we explore how to design an employee newsletter that truly stands out.
What Is an Internal Employee Newsletter?
An internal company newsletter is a one-stop-shop for employee resources, company updates, and industry news. Ideally, your employee newsletter is supposed to synchronize all the information floating around across your organization and its various departments.
From the software updates launched by your IT team, to that survey from your Social Committee, a newsletter spotlights all company initiatives.
Rather than an asynchronous communication, your employee newsletter is recurring message for keeping staff engaged and showcasing your brand identity.
It's also an important feedback channel—a place to gather staff input and build cross-organizational dialogue. This is especially important across large enterprises where different departments may be working in silos.
What Are the Benefits of an Employee Newsletter?
Your internal newsletter isn't simply a vehicle for sharing new company developments with employees. Employee newsletters can single-handedly boost employee morale, improve workplace productivity, and serve as a driver of employee engagement. Here's the full breakdown of employee newsletter benefits:
Create better staff newsletters with ContactMonkey.
Engage employees with surveys, videos, and more.
What Does a Modern Employee Newsletter Look Like?
A modern newsletter is visually appealing to readers while conveying interesting and engaging content. It should captivate readers with dynamic email newsletter design and personalized subject lines.
Once you reel in your audience, you'll need to maintain their attention with compelling content.
That being said, making your employee newsletter engaging isn't all that simple. It takes a creative mindset and a bit of research on the part of your internal communications team.
Employees receive dozens of emails daily, so there has to be something unique about your newsletter to make it stand out. Here are a few of the latest and future employee newsletter best practices to consider.
Interactivity:

this takes your internal newsletter beyond a static email, allowing readers to click, like, comment, and more.

Responsive design:

Your email design has to accommodate a range of email rendering tools, like mobile, and services like Outlook and Gmail.

Animation

:

CSS animations and

animated GIFs in emails

will give a fresh, new face to your internal employee newsletters.
Want a quick and foolproof way to create newsletters that stand out in your employees' inbox? With ContactMonkey's all-in-one employee engagement tool, you can build beautiful interactive newsletters in minutes.
Choose from dozens of pre-designed Outlook and Gmail newsletter templates and customize any element with our drag-and-drop email builder.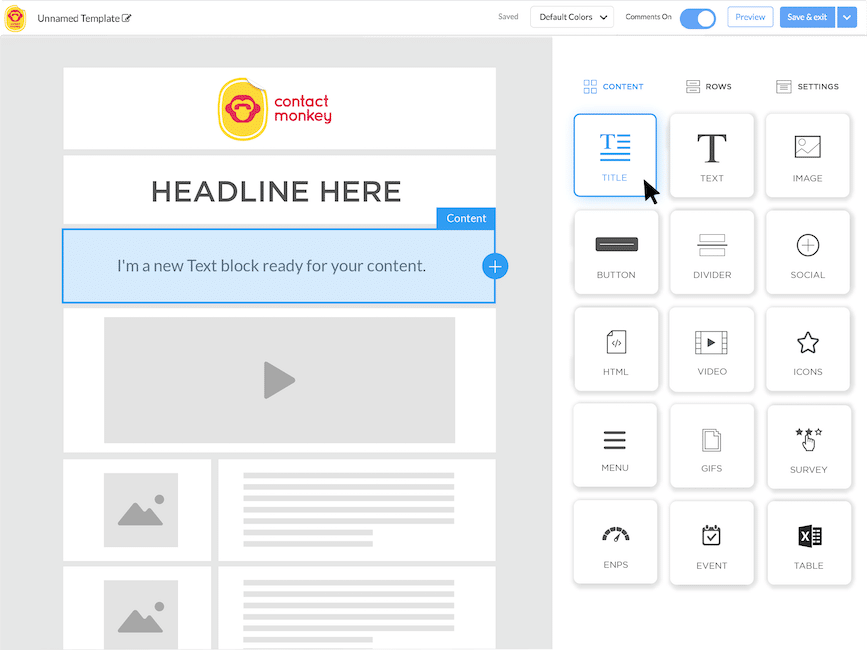 ContactMonkey integrates with Gmail and Outlook, letting you easily embed, send, and track responsive HTML emails from your existing mailbox. You can use your own server while getting the added benefit of avoiding 'unsubscribes' as you're using a dedicated internal communications tool.
Not sure what to include in your email newsletter? Using ContactMonkey's OpenAI ChatGPT integration, you can write a prompt describing what kind of content you'd like to include in your newsletter. It will generate text based on your prompt, and all you have to do is edit and customize your text according to your audience.
Types of Employee Newsletters
Like with anything, implementing a tailored approach can help you reach new heights when it comes to newsletter design. An employee newsletter that's customized to audience needs and brand goals always stands out.
In order to create tailored employee newsletters, you'll need to understand the different types of newsletters and their core purpose. Each different type of internal newsletter will have its distinct focus, and the content you create should be centered around a relevant theme. Here are just a few kinds of newsletters consider:
How to Create an Employee Newsletter for Internal Communication
Now that we've covered the essentials of an employee newsletters, it's time to get some hands-on practice. Below, we cover how to create an internal newsletter step by step, as well as the best tools to use. We also provide tips on how to write an employee newsletter that grabs your readers' attention and motivates them to open up your next email.
Step 1. Choose a reliable internal newsletter tool
A quality internal communications tool can do more than just speed up your newsletter creation process. It can help bolster your brand identity by coordinating brand content, ensure that newsletters display properly, and help you schedule emails at the best times.
Most importantly, however, it can help you see how your internal newsletters are performing.
With ContactMonkey's all-in-one internal communications software, you get detailed employee newsletter analytics, along with a handful of other functionalities. Here are just a few things you can do using ContactMonkey's employee engagement software:
Create stunning, professional internal emails and send from

Outlook

and

Gmail

Personalize

internal newsletters

, emails, and event invitations to improve

employee engagement

.

Gather in-depth employee feedback with embedded

pulse surveys

,

eNPS

surveys,

anonymous employee comments

, and more.

Collect in-depth

email metrics

like open rate, click-through rate, opens by device and location, and more.

Schedule synchronized sending based on best-performing times.

Develop effective employee engagement survey questions.
Organize events, parties, trips, and other employee engagement activities easily.
Step 2. Determine the priorities of your internal newsletter
Ask yourself: what is my newsletter trying to accomplish? Do I want to create a lighthearted email about company updates and fun virtual events? Or perhaps, the focus is on delivering change management communications. Maybe it's a little bit of everything.
Make a quick list of the key topics you want to cover, and divide them up by key themes or categories. Each content category can then have its own designated section in your newsletter.
This keeps things organized and helps make your message clear. Not to mention, employees who are in a rush will easily be able to skim through your newsletter.
If you're wondering how to write an internal newsletter that really grabs your audience's attention—simplicity is key. Spare the corporate jargon, keep it clear, concise, and personable.
Step 3. Choose your internal newsletter design
Hans Hoffman, an artist and teacher, once said that "design is the intermediary between information and understanding." This point really rings true when it comes to your employee newsletter. Great design draws us in, but it also brings clarity, helps organize information, and improves understanding.
With a dynamic layout and fun visuals like videos, images, and GIFs, you can instantly boost your email newsletters. In addition, smart use of colour and space can improve your newsletter even further.
With ContacMonkey's email template design service, you can leave the work to the experts. We'll create a stunning, branded template that evokes your company culture and identity. All you'll have to do is embed your text and hit send.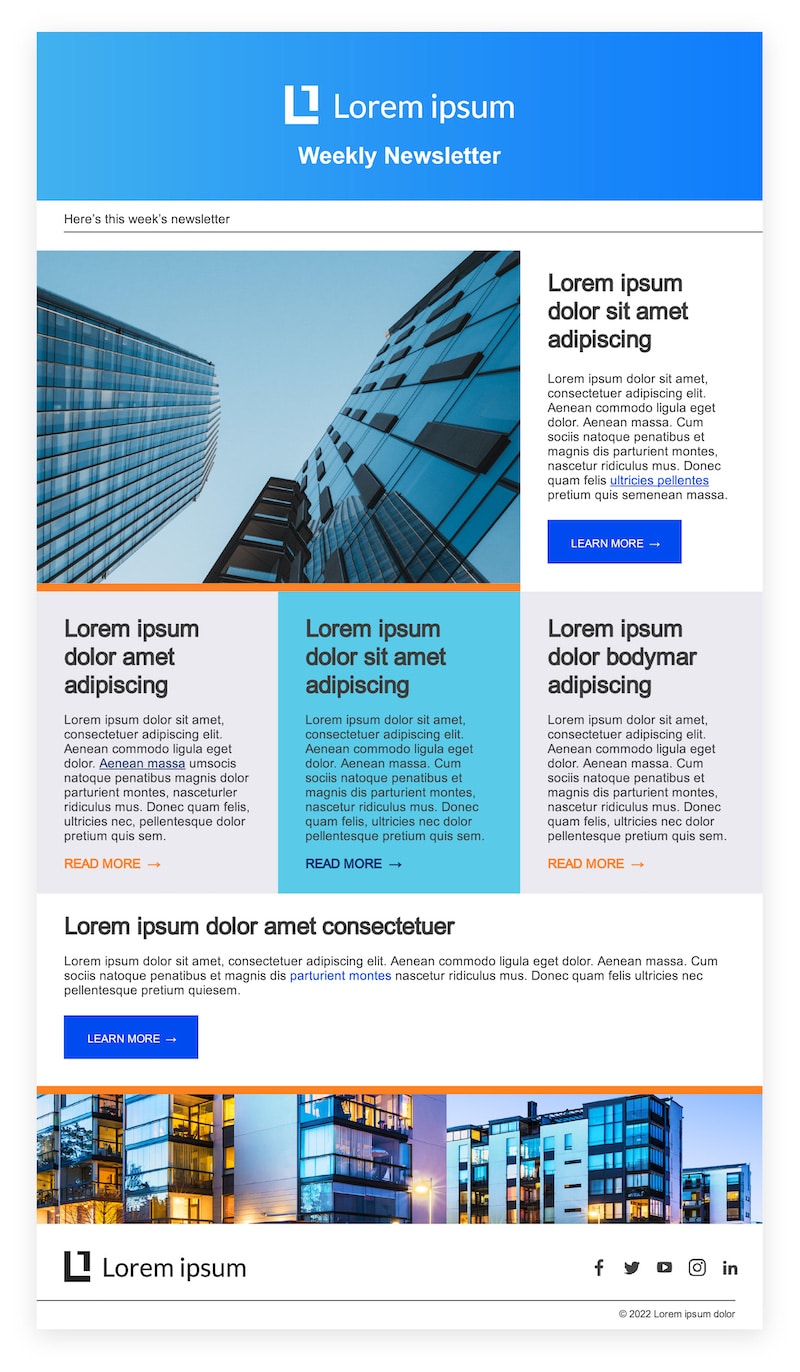 Prefer to take design into your own hands? ContactMonkey's customizable email templates and drag-and-drop elements, will let you take creative control without the headaches. The template builder makes it incredibly easy to customize employee newsletter to your precise specifications. It's also easy to embed fun employee surveys to transform your newsletter into a two-way conversation.
Step 4. Embed and schedule your personalized newsletter
With a tool like ContactMonkey, sending your customized employee newsletter takes seconds. The Outlook add-in and Gmail plugin lets you send responsive HTML newsletters right from your inbox.
Once you click the ContactMonkey icon, a sidebar will give you full access to your saved ContactMonkey templates. Use the search filter to find all of your templates by name or category. Then, click on your template of choice to insert it into your email window.
Before you send or schedule your email, ensure to add an individual touch. Personalized subject lines increase the chances of the email getting opened by up to 26%.
With ContactMonkey's internal communications tool, you're able to personalize your emails' body copy as well as the subject line: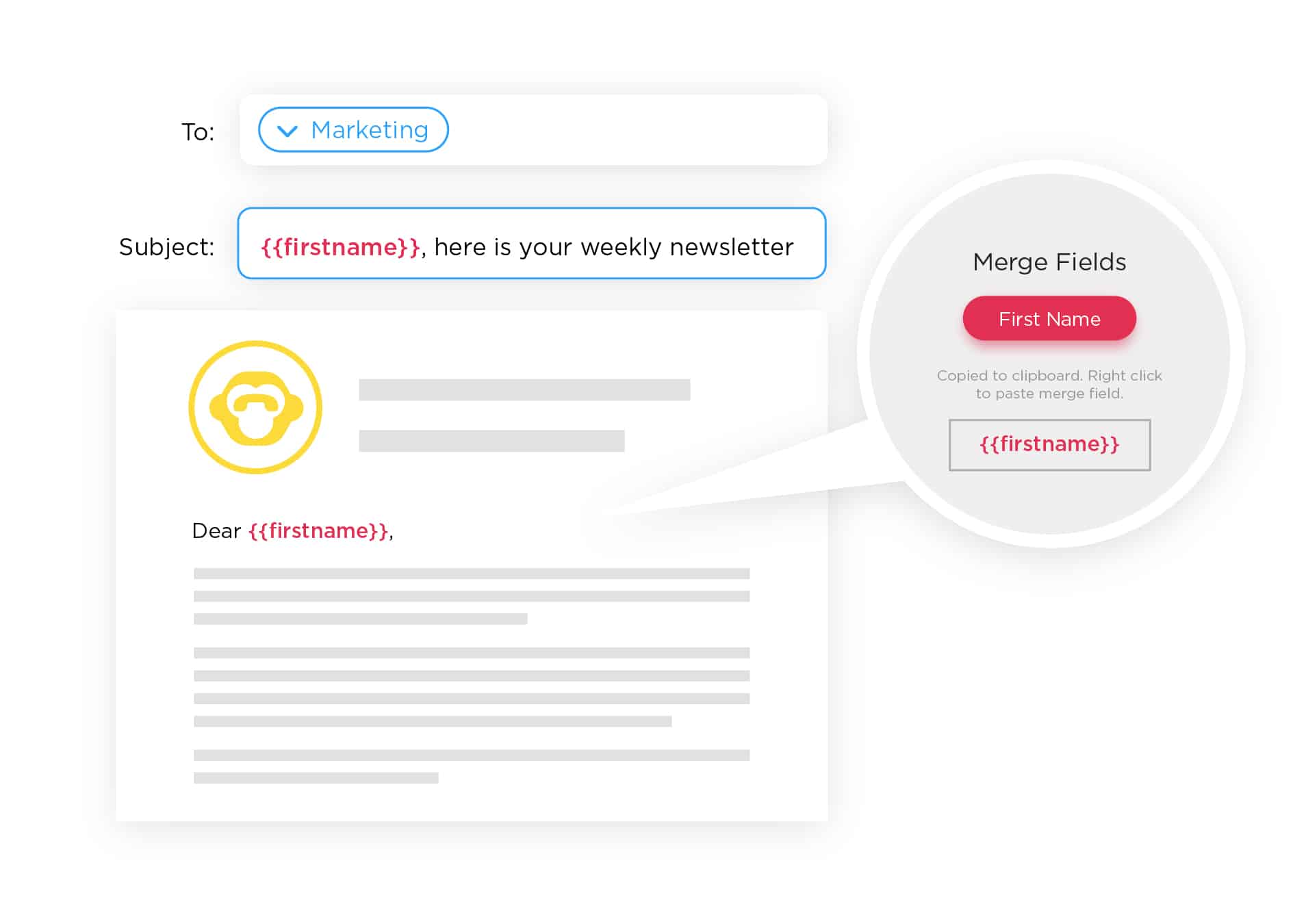 Once you're ready to send, hit the 'send and track' button or schedule your send for later to ensure that your newsletter reaches employees at the right time.
You'll be able to send your message to your Outlook distribution list, CSV, dynamic groups, and everything in between.
You can also create custom email lists using ContactMonkey's List Management feature—without having to wait on IT. You custom email lists can help you target employees with relevant email content, and reduce the amount of emails your employees receive. ContactMonkey integrates with your existing Human Resource Information System (HRIS) like Workday and ADP, as well as Azure Active Directory, so your lists will automatically update as employees join and leave your company.
Step 5. Send and track your internal newsletter
With an email tracking tool, every time you send employee newsletters, you're gathering a handful of valuable insights and metrics. You can then use these to improve your future content.
ContactMonkey's comprehensive email tracking software goes beyond open rates. It tells you the click-through-rate on your embedded resources, the most popular links, average read times, and a whole lot more. These metrics are some of the best ways to measure employee engagement.
Not to mention, the segmented reporting feature lets you break down all the data by company location, department, and employee job titles.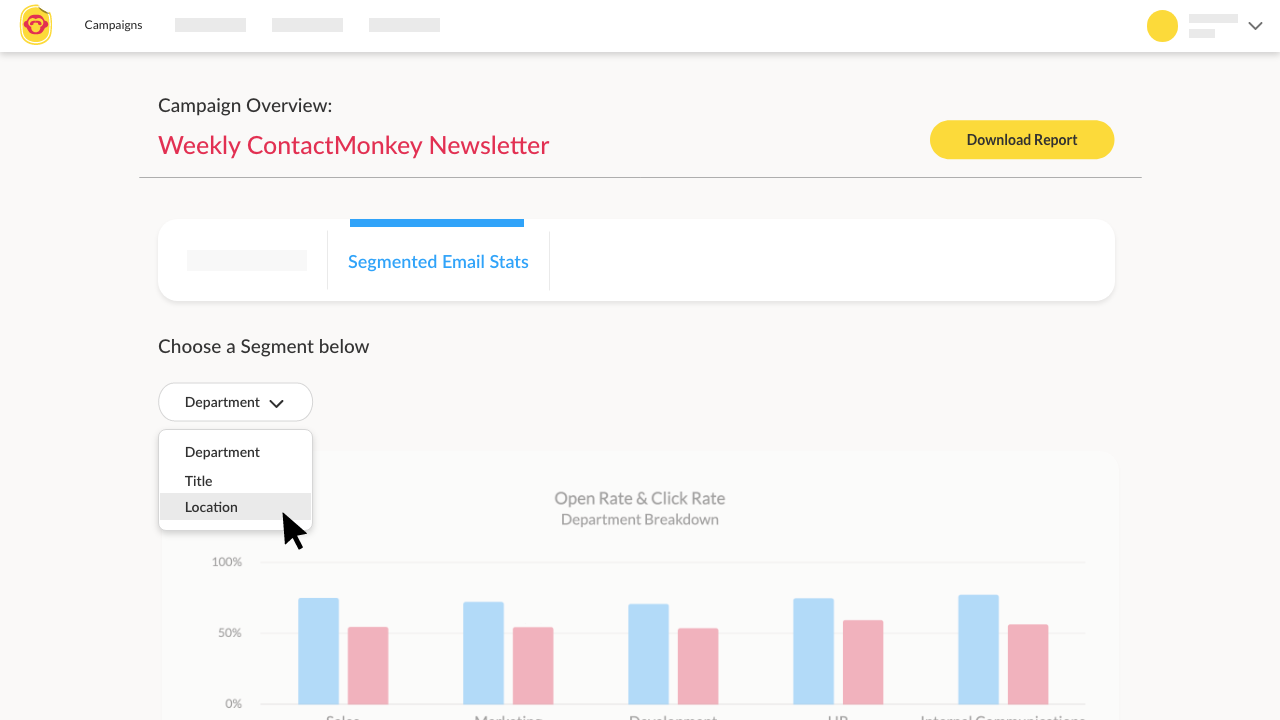 Does your company have internal or external regulations about email privacy? You can still gather email metrics while protecting your employees' privacy using ContactMonkey's anonymous email tracking.
How to Create an Employee Newsletter That Engages Employees
Now that you know all the steps to creating a compelling employee newsletter, it's time to put your knowledge to the test. Learning to create newsletters isn't difficult. But building a newsletter that captivates and engages staff can take a bit of ingenuity—and great internal software.
With ContactMonkey's employee newsletter tool, avoiding boring corporate emails is easy. With a suite of professional and easy-to-use design software, plus in-depth analytics tools, you can create stunning newsletters in minutes. Not convinced? Book a free demo to see ContactMonkey in action.