Searching for the best Mailchimp alternatives that can take on the challenges of internal communications? We've compiled a list of the best employee email tools that outperform Mailchimp every time.  
Mailchimp is a popular external email marketing tool. But it wasn't designed to tackle the needs of internal communicators.
When you use Mailchimp for internal communications, employees can unsubscribe from key communications just like customers (they shouldn't). They're also more likely to fall victim to privacy breaches as Mailchimp makes a web version copy of your internal newsletters (yikes).
Companies need to leverage the power of both external and internal tools. But they shouldn't use them interchangeably.
Dedicated internal communication tools like ContactMonkey make a big difference when it comes to improving the reach, security, and design of your internal emails. We'll walk you through the best of the bunch below.
What is Mailchimp?
Mailchimp is a popular email marketing platform. We think Mailchimp is great for external marketing, but it's not designed to create and send internal communications. Mistakenly, Mailchimp is often used for internal communications. This can cause many issues for your company.
Why Mailchimp struggles with internal communications:
Your internal emails will be coming from Mailchimp's servers (not yours)

.

Employee newsletters sent with Mailchimp can end up in the Spam folder

.

You can't create your internal emails directly in Outlook

.

Mailchimp creates a web version of your internal newsletter (a huge privacy concern)

.

Mailchimp

enables employees to unsubscribe to internal emails.
Internal emails sent with Mailchimp can get flagged as spam.

You can't collect employee feedback or employee opinions within your email

.
Why use a Mailchimp alternative?
Check out what Kate Kraley from Mettler Toledo has to say after making the switch from using Mailchimp for corporate communications:
"Using Mailchimp was such a pain that we only tracked eNews. Once we started using ContactMonkey and analyzed the data, we could convince our leaders we needed to use more eNews rather than ad-hoc emails because open rates for eNews were higher. ContactMonkey has helped us understand what employees are interested in!"
Since making the switch, Mettler Toledo has seen a time savings of 4 hours per day (or 25 days a year). If you want to save time, start using an internal email builder like ContactMonkey.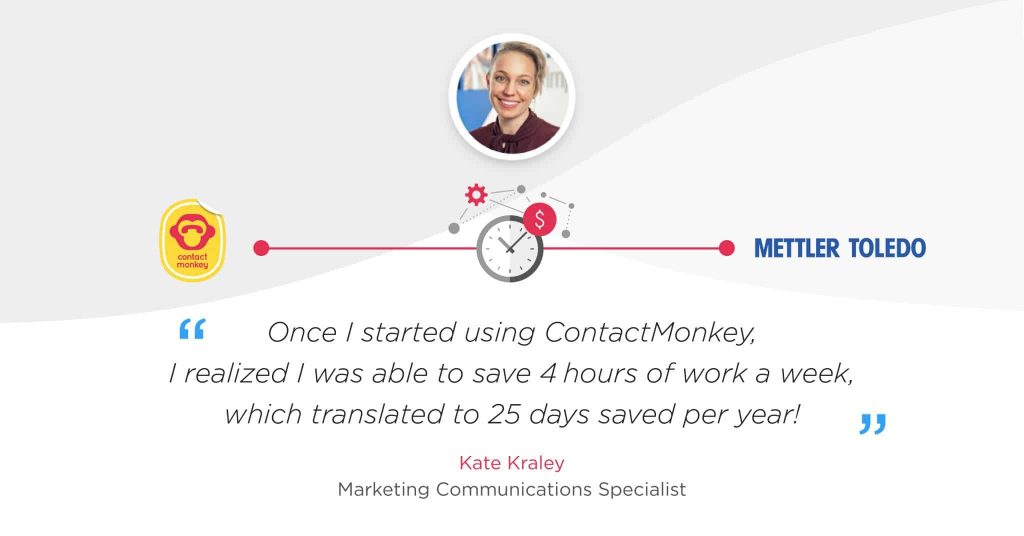 Below, we cover the best Mailchimp alternatives. Be aware most of the alternatives to Mailchimp are external marketing tools that limit your internal communications.
All companies should also use an internal email tool to send their internal newsletters and emails. Internal communications professionals are rushing to use ContactMonkey to increase employee engagement.
In just 15 minutes discover:
ContactMonkey's beautiful designs for Outlook or Gmail.
How the tool will engage your employees right away.
Powerful email analytics to optimize your communications.
Check out this short video of ContactMonkey employee newsletter software in action. Or, test out our email builder for free (14-day free trial) to see how easy it is to create stunning internal emails and newsletters that employees actually read.
Create incredible internal newsletters in less time!
Try ContactMonkey's email template builder for free.
Top 15 Mailchimp Alternatives
There are loads of internal newsletter software alternatives for Mailchimp, but we'll help you cut through the chaff to find the right tool for your organization.
Be sure to check out our internal communications case studies to see how other companies use ContactMonkey to improve employee engagement and productivity.
1. ContactMonkey
What is ContactMonkey?
ContactMonkey's tool for internal communications is built right into Outlook. The email template builder coupled with your Gmail and Outlook internal communications email tracking tool truly gives you the best of both worlds.
You can create and build templates from scratch with our drag-and-drop content blocks. Or, choose from dozens of beautiful and responsive email templates to feature your company newsletter ideas:
Building, sending, and tracking employee engagement from your newsletters is simple. You can stay within the email client you use every day rather than having to learn how to use an external third-party email marketing system.
Access pre-built templates and customize them as you like. No more boring plain text emails! And you can quickly learn how to create employee newsletters that stand out with our intuitive guide.
Try our email or newsletter templates today.
Start a free 14-day trial. No credit card is necessary.
Why is ContactMonkey a great Mailchimp alternative for sending internal emails?
ContactMonkey seamlessly plugs into your Outlook or Gmail and is the best option from this list primarily because you never have to leave Outlook or Gmail!
The email at scale feature totally eliminates Outlook email limits and Gmail email limits. You can reach all of your employees whenever you want and send beyond your email inbox's set limits.
Meanwhile, the email template builder allows you to design responsive HTML newsletter templates for Gmail or Outlook from scratch, choose from our library of pre-built templates or simply import your favourite HTML templates: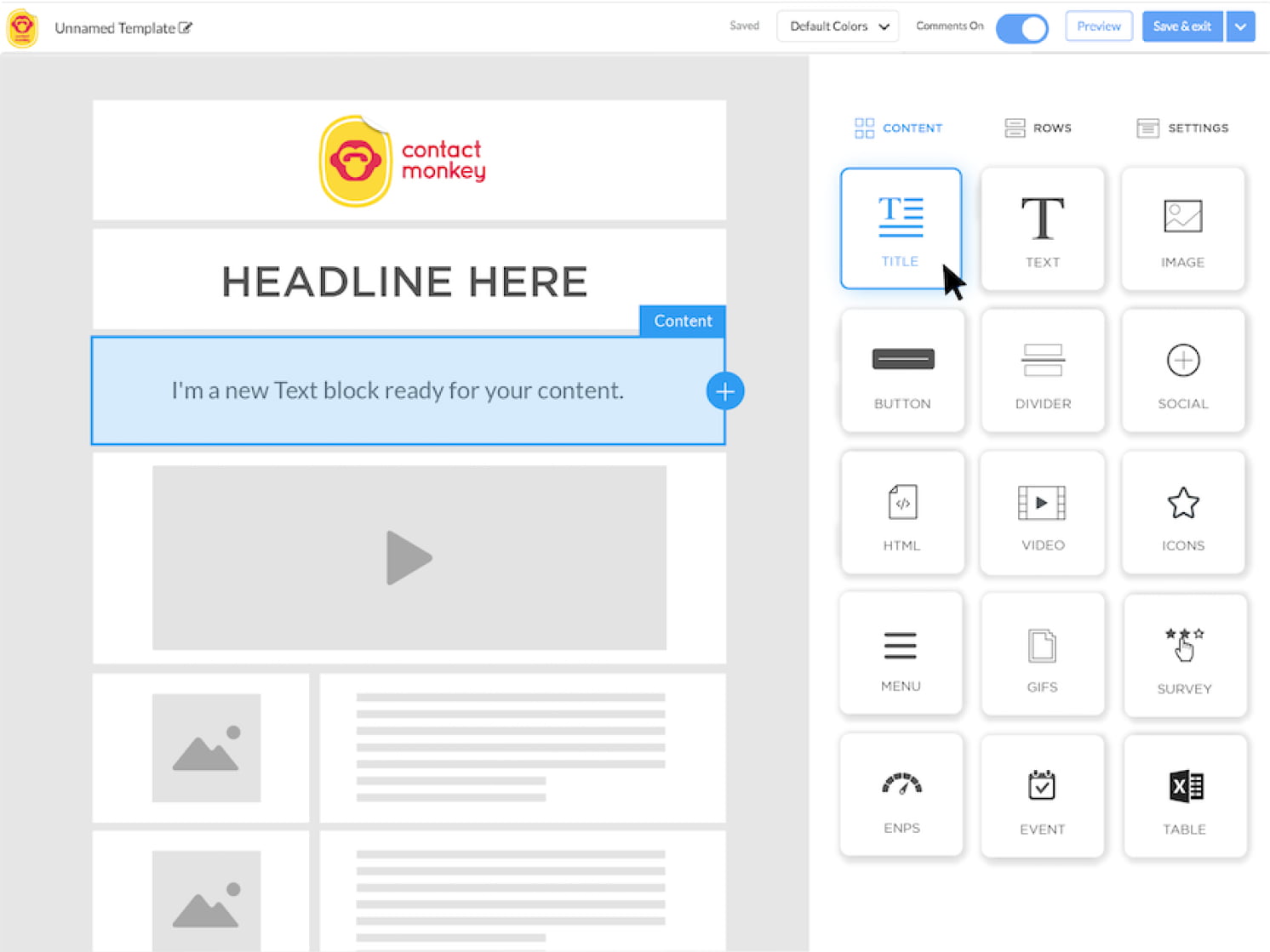 Here are more features that you can access with ContactMonkey:
Email collaboration: allow multiple team members to work on a single email.
Personalize your employee communications: easily add in your own branding, include company photos or videos, and ask questions based on events in your organization.
Event management: easily create and embed event invitations into your employee emails, and track RSVPs.
Manage and build your own distribution lists: navigate all of your distribution lists without having to seek approval from IT or management.
OpenAI integration: Improve your workflow and save time on your internal emails using our OpenAI integration.
In-depth email analytics: Track and analyze email metrics like open rate, click-through rate, read time, opens by device and location, and more.
Anonymous email tracking: gather email metrics while maintaining your employees' privacy.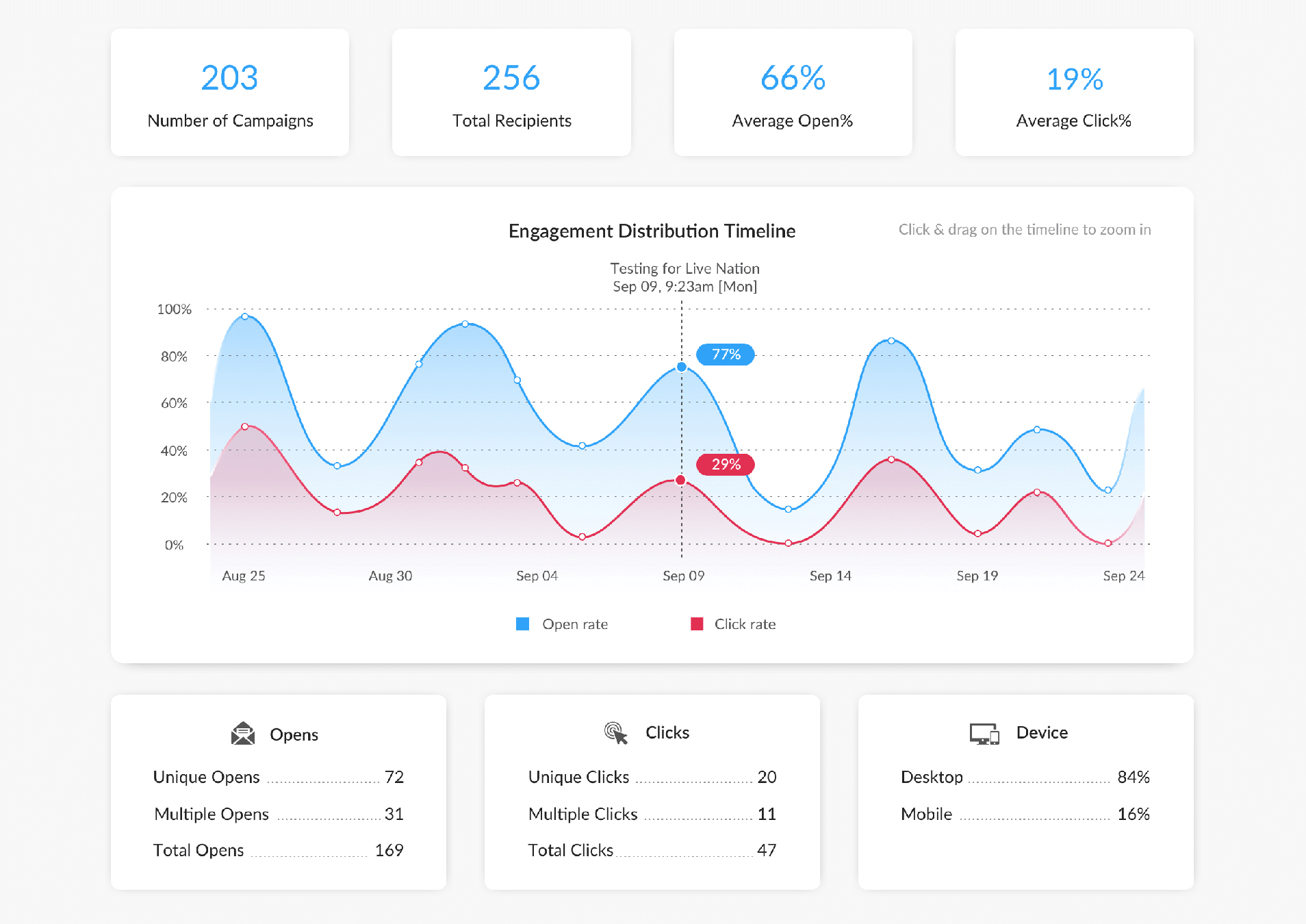 Create amazing employee surveys: Add emoji reactions, employee pulse surveys, star ratings, and more to create an interactive email template and gather employee feedback in real-time.
Design better emails using click maps: Use click maps to determine how your employees are engaging with your emails.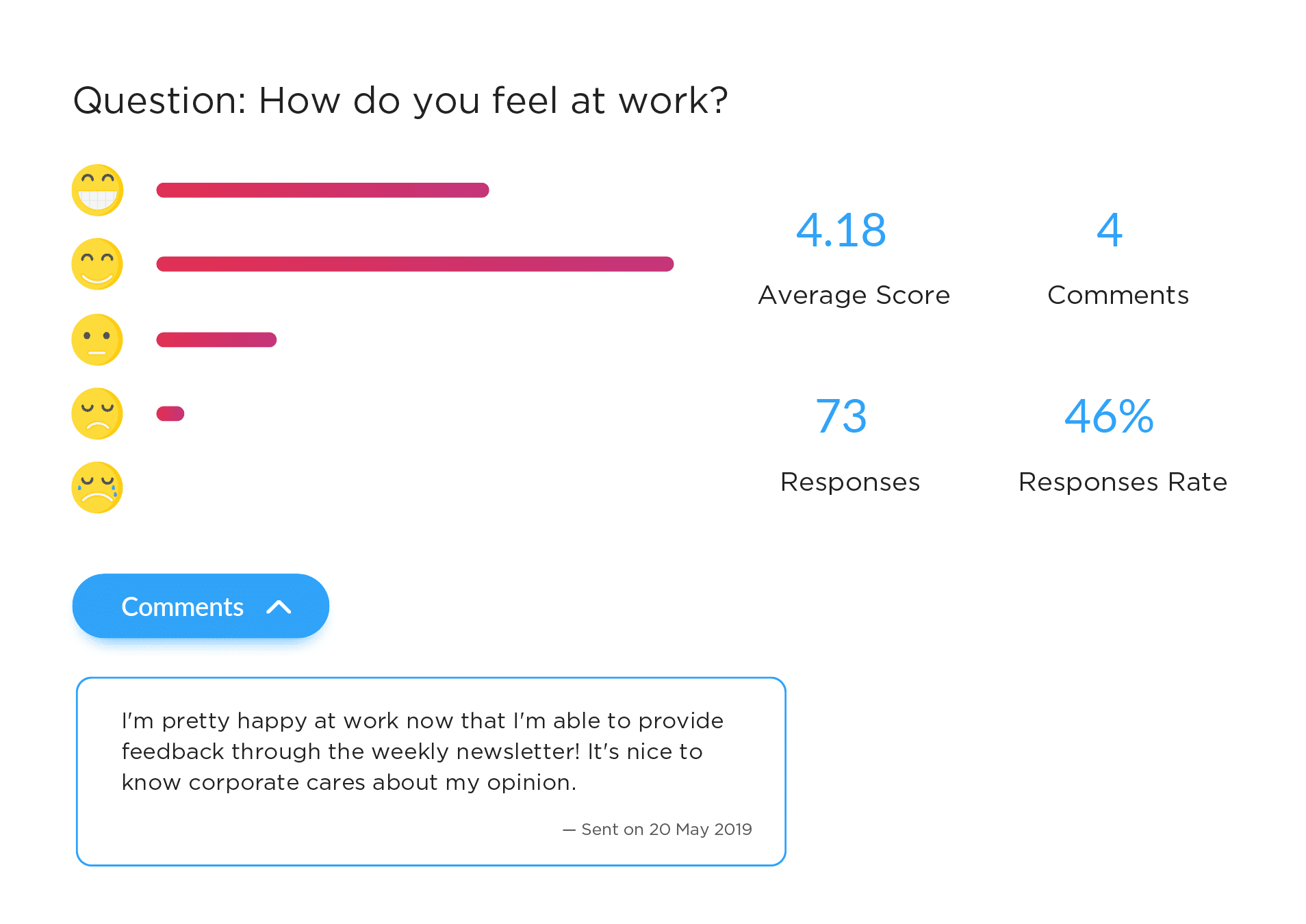 Guaranteed internal reach: disable unsubscribe options and make sure employees get all the information they need
Is this Mailchimp alternative worth it?
If you're serious about optimizing your internal email process and increasing employee engagement, there is no better Mailchimp alternative for internal communications than ContactMonkey. Our internal communications tool has features and capabilities you can't find in any other internal email solution, and you'll be supported by our world-class Customer Success team.
2. Constant Contact
What is Constant Contact?
Much like Mailchimp, Constant Contact is a popular option in the email marketing world for those looking to create email newsletters.
What are Constant Contact's features?
Here are a few reasons internal communications professionals may want to consider the Constant Contact alternative as a top choice over Mailchimp:
Manage your employee lists: This feature is extremely handy when it comes to managing large employee lists. You can easily have a number of different employee lists in Constant Contact and add tags to your various lists.
Create beautiful emails: Just like Mailchimp, Constant Contact also has tons of email templates that can be customized to create a unique employee newsletter.
You can upload five images for free and also have access to free stock images that you could use within your internal newsletter.
Responsive email design: With their email preview feature, you can easily view your company newsletter to see how it looks on your mobile device and on your desktop before you hit send.
Mobile responsiveness is important and if you're confused on why it matters, we encourage you to check out this blog on the importance of email responsiveness.
Is this Mailchimp alternative worth it?
Constant Contact stands out as a great Mailchimp alternative primarily because it has a higher deliverability rate than Mailchimp does.
Bear in mind that like all other email marketing software, it will have an unsubscribe button and you'll have to create a new employee list within their platform since you can't use your Outlook distribution lists. You'll also have to keep the Outlook email limits in mind.
Quick Tip: See how Constant Contact measures up as an email newsletter software in our in-depth review of Constant Contact.
3. Hubspot Email Marketing
What is Hubspot?
HubSpot is a popular Mailchimp alternative. Both tools have a lot of similarities, but HubSpot offers some interesting features that make it a worthwhile product to consider.
What are Hubspot's features?
Automation: Mailchimp allows you to send autoresponders and set up drip campaigns, but HubSpot's automation platform does much more than that. With HubSpot, you can trigger emails based on actions your subscribers take, add delays and conditional logic, but you can also manage your contact database.
Marketing platform: HubSpot is more than just an email tool, it's a growth platform that is designed to help you grow your business. The free plan comes with an arsenal of free tools for marketing, sales, and customer service: forms and popups, live chat and chatbots, ad management, and more. The paid plans offer advanced automation and more advanced features that you can grow into.
Do your work in different languages:

HubSpot's software supports six different languages: English, Japanese, French, Spanish, Portuguese, and German.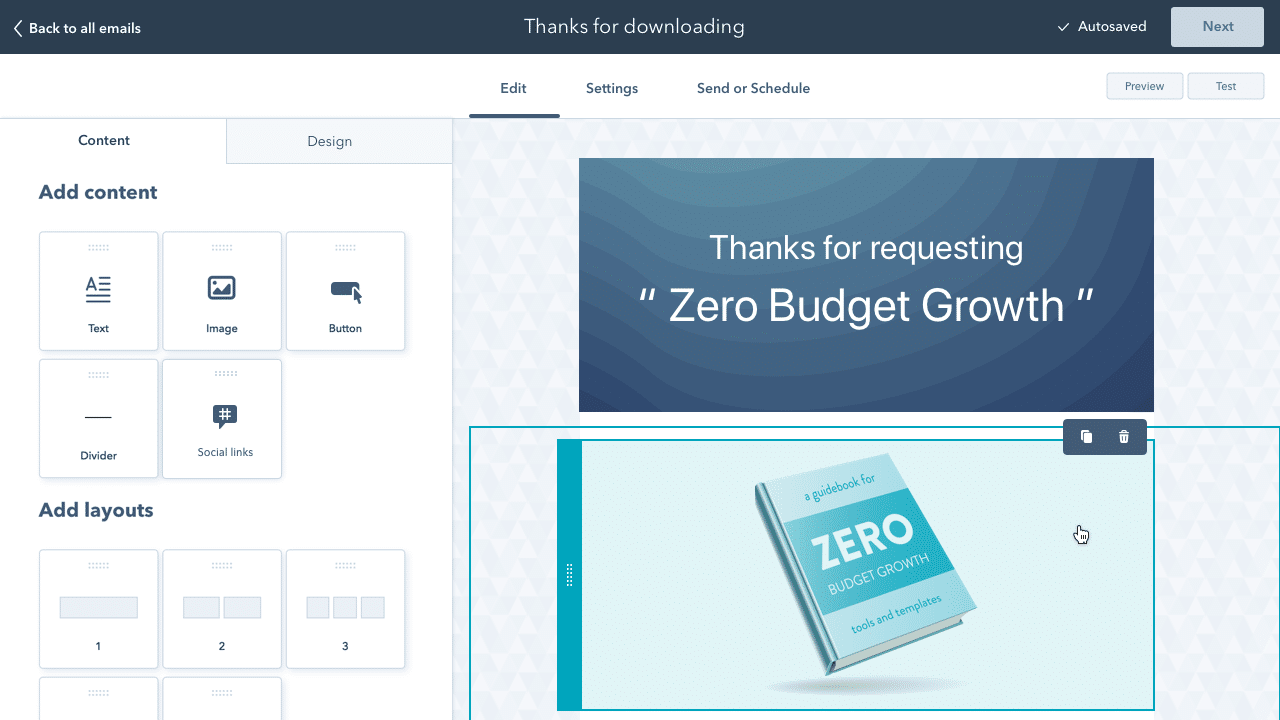 Is this Mailchimp alternative worth it?
Hubspot is a great sales tool, but is not ideal for internal communications as it lacks many of the features included with ContactMonkey.
4. Campaign Monitor
What is Campaign Monitor?
Campaign Monitor deserves a place in this list due to its affordable pricing and easy-to-use features.
What are Campaign Monitor's features?
Choose from dozens of newsletter templates: Campaign Monitor offers a wide array of beautiful email templates that you can easily customize for your employee newsletters.
User-friendly interface: Much like Mailchimp, Campaign Monitor has an easy to use, drag and drop interface that offers a wide range of different fonts.
Personalize your email campaigns: Personalization is an important facet of email marketing campaigns that internal communications pros need to adopt as well.
By using the personalization features in Campaign Monitor, you can insert your employee's first and last name into the subject line of each email you send out.
Is this Mailchimp alternative worth it?
Again, bear in mind that you'll have to deal with the unsubscribe button and the possibility of employees opting out from your important corporate updates, employee newsletters and announcements. For a detailed breakdown of this software, check out our Campaign Monitor comparison.
5. Moosend
What is Moosend?
Although lesser known, Moosend is an effective Mailchimp alternatives out there when it comes to creating employee newsletters with ease.
What are Moosend's features?
Drag and Drop Campaign Editor: No need to worry about having design skills. Using the drag and drop feature, you can easily design beautiful internal newsletters with ease.
Real-time analytics: Track every email campaign sent to gauge employee engagement by analyzing opens and link clicks: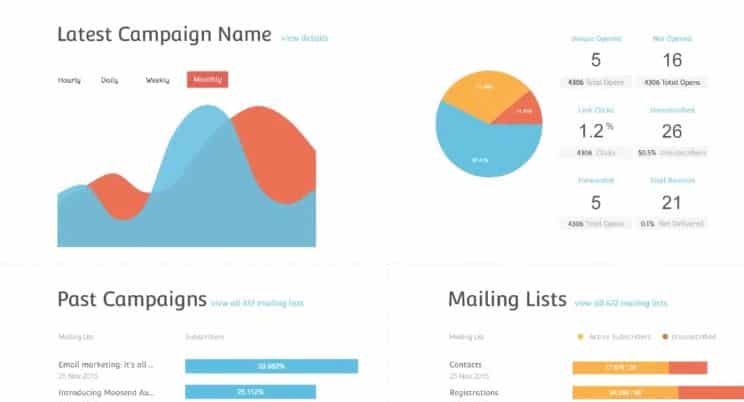 Is this Mailchimp alternative worth it?
Moosend is also an external marketing tool, so if you're looking for an internal marketing tool, you'll run into many of same problems you do with Mailchimp.
6. GetResponse
What is GetResponse?
When assessing brilliant Mailchimp alternatives, one of the main reasons we've chosen GetResponse for this list is because it offers a number of special features that may be of interest to internal communications professionals.
What are GetResponse's features?
Webinar editor: If you are in charge of creating training videos for company wide policies and procedures, you may benefit from using GetResponse's webinar features.
Use the webinar editor to create training videos for your employees.
You'll be able to easily track which employees registered for the webinar and which ones attended live so that you can gauge employee engagement levels in your organization.
Free access to iStock photos: GetResponse is an easy tool to use when creating employee newsletters because of its simplistic design and access to dozens of free iStock photos.
Send your campaigns in different languages: This is a great feature to have for your internal communications campaigns especially if you're handling different employee lists with branches that may operate in different countries.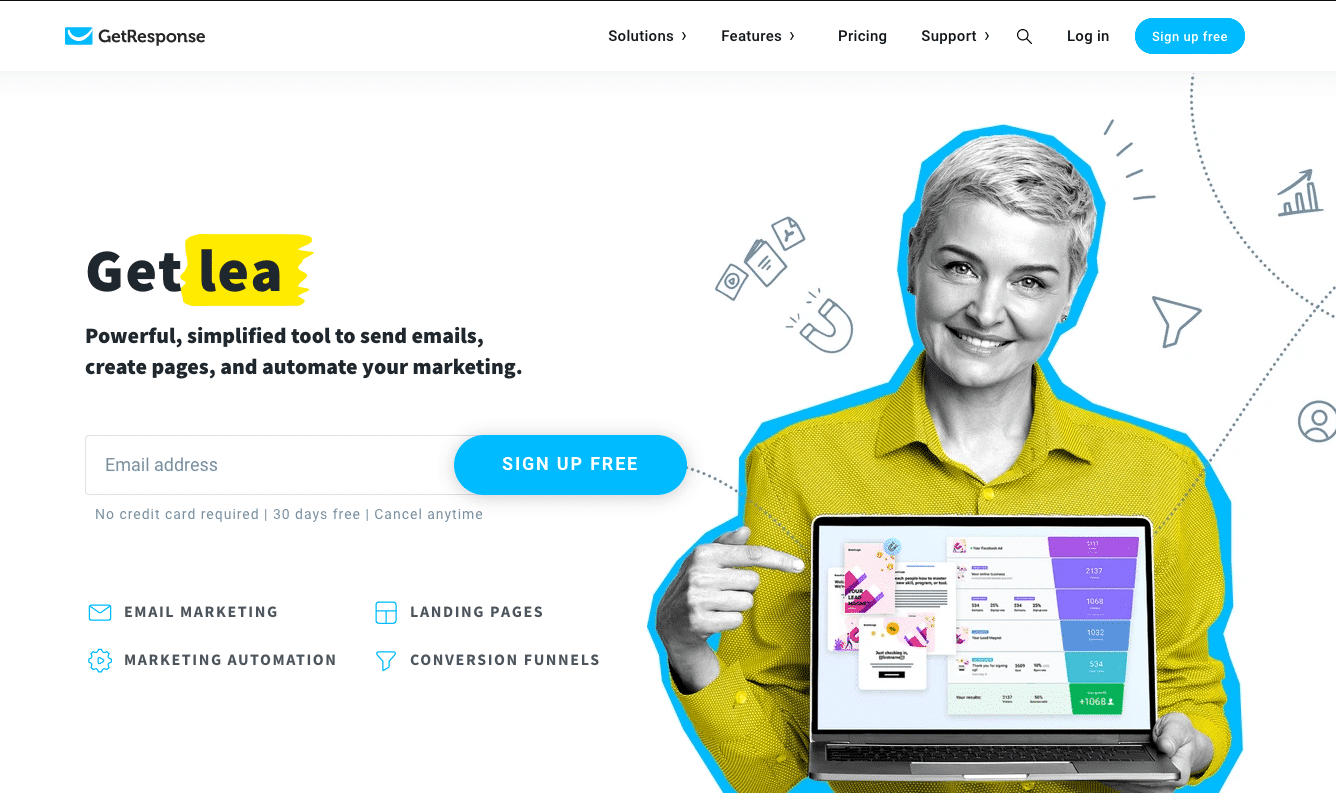 Is this Mailchimp alternative worth it?
While GetResponse boasts a number of email marketing features, it lacks the capabilities to offer a practical internal communication alternative for Mailchimp.
7. ConvertKit
What is ConvertKit?
When assessing Mailchimp alternatives, ConvertKit is one of the sites like Mailchimp worth considering when thinking about creating your internal company newsletter.
What are ConvertKit's features?
Create targeted email campaigns: With the ability to manage various lists, ConvertKit can enable you to create different segmented lists (for example you could create segmented employee lists based on location, age, cultural traits, etc).
Resend to those who haven't opened your emails: Do you find it frustrating when you send an email to subscribers, but not everyone opens it? ConvertKit allows you to resend your email to those groups who didn't open your initial email. This means fewer people are missing your important company announcements.
Analyze email metrics: Easily analyze important stats such as open rates, clicks, conversion rates and more.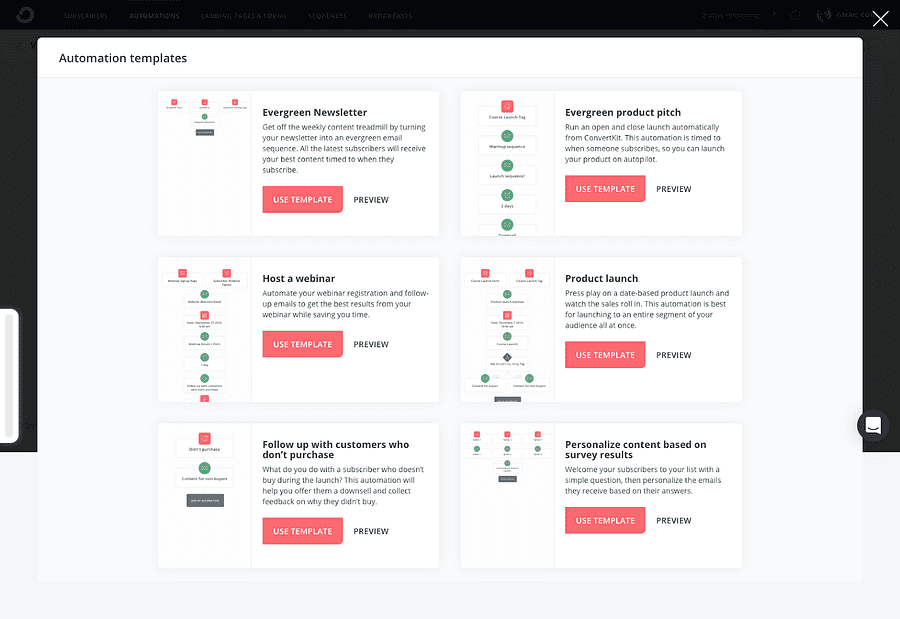 Is this Mailchimp alternative worth it?
ConvertKit offers options for building and internal newsletters and tracking email metrics, but lacks features found in dedicated internal communication tools.
8. Chamaileon
What is Chamaileon?
Chamaileon is a Mailchimp alternative focused on creating internal newsletter templates.
What are Chamaileon's features?
Built-in email templates: You'll have access to 100+ built-in email templates and can also utilize 1000+ templates blocks to build your emails.
Easy collaboration with team members: You're able to invite multiple users to your account so if you have a designer on your team and want feedback from them, this will make the production process much easier.
No rendering issues: Ever noticed how Outlook newsletters often show an error message where your images are supposed to appear? Chamaileon templates are unlikely to cause such errors if you use them in conjunction with ContactMonkey's internal communication app.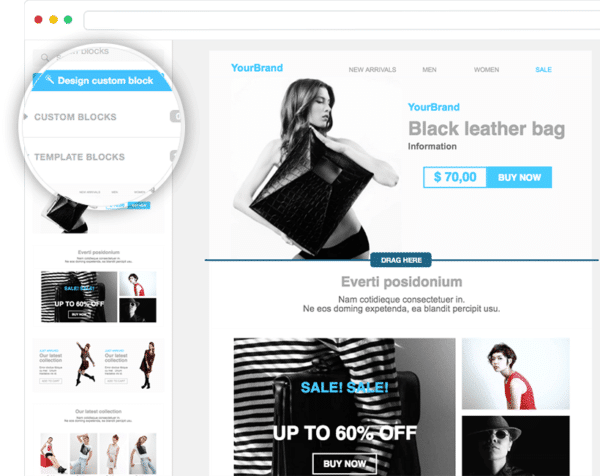 Is this Mailchimp alternative worth it?
Chamaileon can be used for creating internal newsletters, but lacks other features like email analytics and engagement metrics.
9. Venngage
What is Venngage?
If you're looking to keep things incredibly simple, another good Mailchimp alternative is Venngage's newsletter creator for your internal newsletter.
What are Venngage's features?
Choose from professionally designed templates: If you don't have access to a designer on your team, you can easily choose from Venngage's library of professionally designed email templates.
Make it visually appealing: You can add fonts, charts, graphs and much more when customizing your internal newsletter using Venngage.
You can also update the internal newsletter template to use your unique brand colours and logo.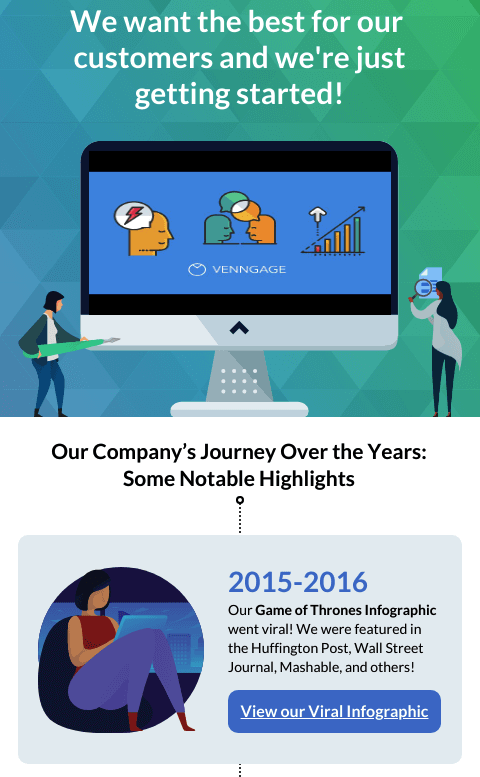 Is this Mailchimp alternative worth it?
We like this company newsletter template that you can customize for your own internal newsletter. You can find tons of other company newsletter templates here. But you'll have to use it in conjunction with other internal communications tools.
10. SendInBlue
What is SendInBlue?
Although we personally find Mailchimp easier to use, SendInBlue is still a great Mailchimp alternative due to its exceptional social media tracking.
Another plus: It's also less expensive than Mailchimp.
What are SendInBlue's features?
Powerful design tool: SendinBlue's intuitive easy-to-use drag and drop interface will allow you to create employee newsletters with ease.
Segmentation options: Just as in Mailchimp , you can manage your employee lists and target users based on region, country etc. so that you're ensuring you're catering newsletter content to your employees' unique needs.
Detailed reporting: Evaluate the success of your campaigns by tracking relevant email metrics to gauge employee engagement such as opens, link clicks etc.
Is this Mailchimp alternative worth it?
SendInBlue offers many features similar to ContactMonkey, but is designed for external emails like Mailchimp is.
11. AWeber
What is AWeber?
One of the best and most popular options for those looking for alternatives to Mailchimp, AWeber has quickly taken the email marketing world by storm.
What are AWeber's features?
Drag and drop email builder: You can choose from pre-made custom templates and customize certain aspects to fit your brand using AWeber's drag and drop builder.
Access their image gallery: Boost employee engagement by choosing photos from AWeber's free stock gallery or upload and save your own images. For those who've ever asked, "is Mailchimp free?", this feature is for you.
Extensive tracking capabilities: Just as with Mailchimp and many of the other newsletter tools for external and internal newsletter creation, AWeber offers extensive email analytics so you can figure out which newsletter content resonated most with your audience based on the data.
You will have to be wary of the fact that due to the unsubscribe button, many employees may decide to opt out of your emails.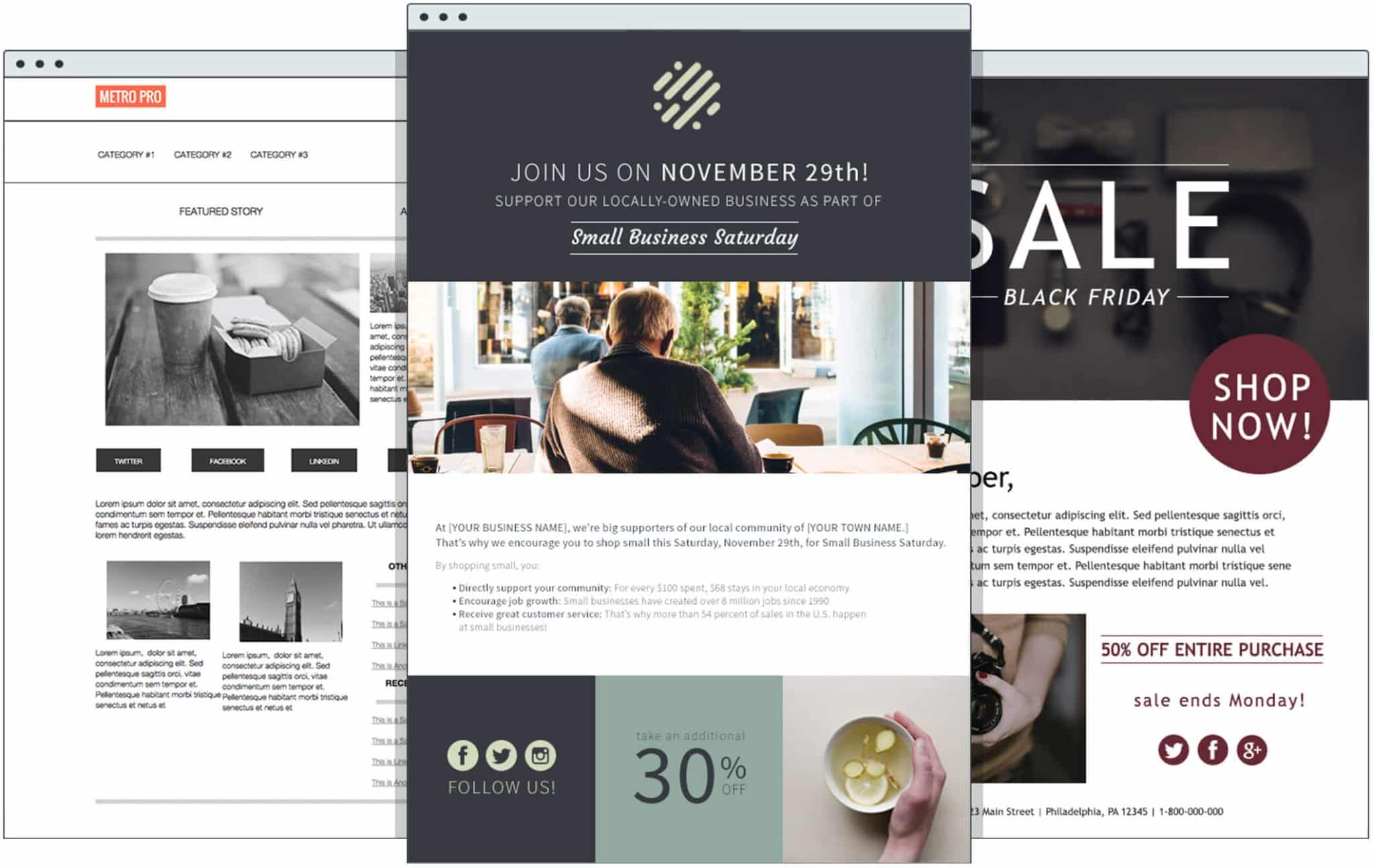 Is this Mailchimp alternative worth it?
Same story as many of the entries on this list: fantastic tools, but designed for external emails. The unsubscribe button is a deal-breaker for anyone serious about their business' internal communications.
12. Stripo
What is Stripo?
When searching for internal newsletter creators or Mailchimp alternatives, Stripo offers a robust email builder for internal emails.
What features does Stripo have?
Ready-made online templates: Stripo offers 300+ free HTML email templates that you can customize and export (to Outlook 365 using ContactMonkey) or to more than 30 types of email service providers.
Personalize your employee emails: By using merge tags when creating employee newsletters, recipients will see their names in the subject line and body of the email and will be more likely to open the internal newsletter.
Stripo markets their templates to beginners, professionals, agencies and designers. And these templates work great for your employee newsletters as well.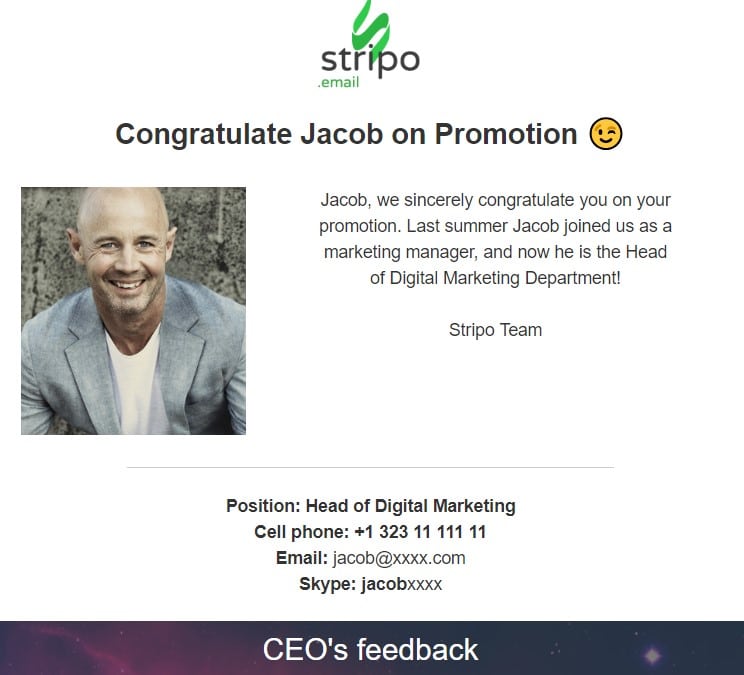 Is this Mailchimp alternative worth it?
Stripo's email builder is quite impressive, but it lacks the email metrics found in other internal communication tools.
Quick Tip: Check out our in-depth comparison of Stripo's email builder against ContactMonkey's internal communication tool.
13. MailerLite
What is MailerLite?
MailerLite is a young contender on the market and an excellent Mailchimp alternative for email design.
What are MailerLite's features?
Drag-and-Drop Newsletter Editor: No design skills necessary. Just like with Mailchimp, all you have to do is simply drag email blocks and put them where you want.
Dynamic Content: Take personalization to the next level by dynamically targeting email blocks to specific employee lists.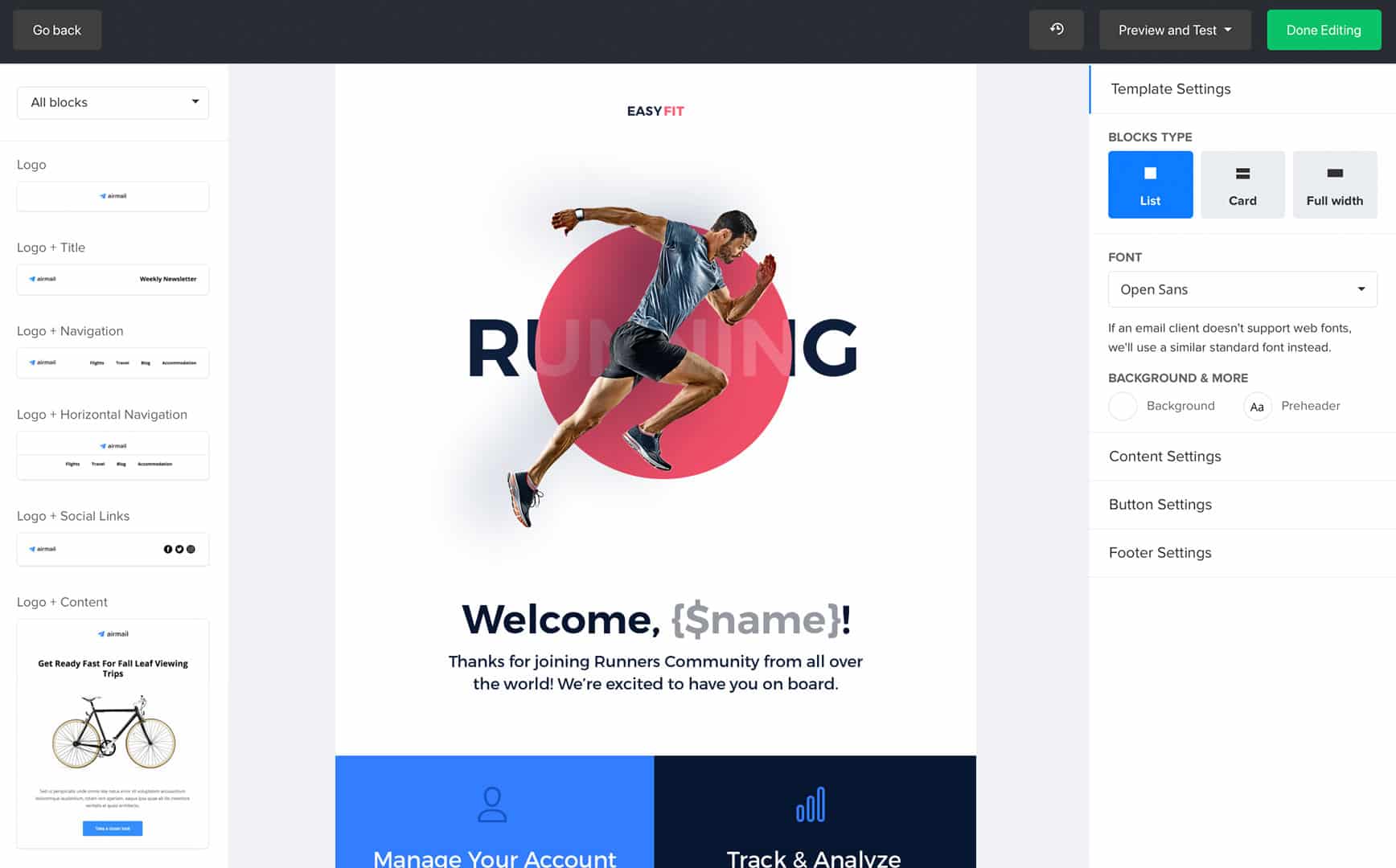 Is this Mailchimp alternative worth it?
MailerLite is certainly worth checking out if you're on the hunt for a seamless drag-and-drop builder for your employee emails. But you'll have to look elsewhere for a more comprehensive internal communication solution.
14. Robly
What is Robly?
Robly has recently emerged as a great Mailchimp alternative as well. It may be a remote teams communication tool worth checking out.
What are Robly's features?
Tons of free mobile optimized templates: You don't need to worry about email responsiveness with Robly. You can go through hundreds of their mobile friendly templates and choose the ones you think would be a good fit for your internal newsletter.
Tailored email template: You can take a ready-made template and ask the Robly team to customize it to match your branding and colours.
Is this Mailchimp alternative worth it?
Robly offers some great email templates and template solutions, but does not have the other tools required for internal communications.
15. Newsletter2Go
What is Newsletter2Go?
Newsletter2Go is another possible Mailchimp alternative you may want to consider for your employee newsletter.
What are Newsletter2Go's features?
Employee list management: If you're serious about sending targeted employee emails to segmented employee lists according to geographical location, department, branch etc, Newsletter2Go can help.
Granular segmentation options: These may be helpful for you to track and gauge employee engagement.
Great reporting features: Extensive analytics are provided (e.g., email clients used and click map data).
Alongside customizable click and opening data, there is also the option to run analyses by segments.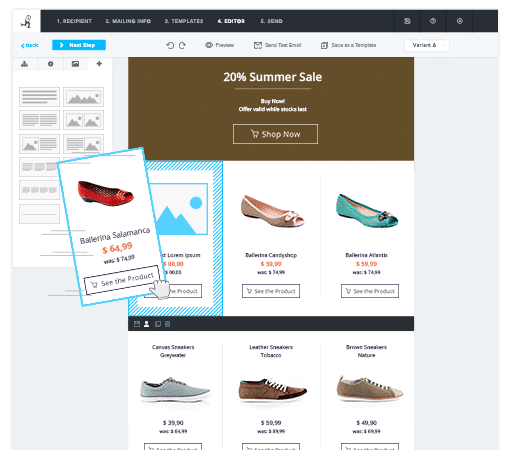 Is this Mailchimp alternative worth it?
This is a surprisingly robust email tool, though again designed specifically for external communications.
Honourable mentions when choosing Mailchimp alternatives:
There are a lot of other Mailchimp alternatives that have surfaced on the market and are gaining traction.
Adobe Campaign – Visualize the entire customer journey.
Autopilot – This marketing automation software is built for those who are visual first.
Campayn – Easily design and automate email communications.
Dotmailer – This all-in-one platform lets you create marketing automation for email, SMS, social media.
Drift – Great for those trying to craft conversational emails.
Drip – Helps online store owners make their businesses stand out.
EngageBay – All-in-one marketing and customer relationship management tool.
eSputnik – Send out campaigns via email and text message.
Exponea – Use this tool to "sell to customers, not sessions."
iContact Pro – This email campaign management platform exists to solve today's marketing challenge.
Klaviyo – Built for online businesses in need of strong email segmentation.
Mailjet – For agile marketing and dev teams to put out communications.
MailPoet – If you're using WordPress, this newsletter plug-in is great.
Marketo – Picked up by Adobe in early 2019, this marketing automation suite is a top-rated platform.
Maropost – This email tool is described as follows: "Email is our core. Customer engagement is our passion."
Omnisend – eCommerce marketing tool gives you the ability to add multiple channels to your marketing outreach.
SendPulse – An all-in-one, multi-channel email marketing tool.
SharpSpring – This marketing automation platform helps 10k+ businesses drive/convert leads.
SparkPost – Promotes team collaboration on designing and sending out email communications.
TinyLetter – Built to help you "find your people, share your work, and keep it simple."
Visme – Create stunning graphics, infographics, and newsletter templates in the visual builder.
Wishpond – If you're not strong at coding but are looking to scale your business, this platform could be for you.
Wix ShoutOut – For small businesses looking to do email updates, invitations.
What's the Best Mailchimp Alternative for Internal Communications?
In a nutshell, there are tons of email marketing software and tools designed for large as well as small businesses.
Internal communicators may find the email analytics, list management, and template builder options in Mailchimp helpful for creating employee newsletters.
But ultimately, you'll have to leave Outlook, manually manage your employee mailing lists, and send your communications via Mailchimp's servers. You also won't be able to remove the "Unsubscribe" button, and your emails may end up in your employees' junk folders.
Take your internal communications to the next level!
Book a free demo to transform your internal comms.
The winner is…ContactMonkey
We recommend using our email tool designed specifically for internal communicators to send responsive employee newsletters and measure employee engagement. Not only does ContactMonkey have all the features you need to optimize your internal communications, but it integrates seamlessly with Outlook and Gmail so you don't need to rely on an external platform.
We offer a lot of the same great features that Mailchimp does, but we don't create email campaign URLs or send via a different server. Our platform is more reliable for sending employee emails, and offer advanced features for optimizing your internal email content that are not available with an external tool like Mailchimp.
See why ContactMonkey is the top Mailchimp alternative for internal communications on a free demo. We'll show you how ContactMonkey can help you meet and exceed all your internal email needs.