Are you looking for Mailchimp alternatives for your newsletter? In this blog, we examine the best Mailchimp alternatives for creating an internal employee newsletter. We've highlighted some of the main features of each email newsletter tool so you can gauge which Mailchimp alternative is best suited for your internal communication needs. 
We've also included some up-and-coming tech outside of our 14 favourite alternatives to Mailchimp.
Creating an internal newsletter for various employee lists is hard work! But, when most people think of email newsletters, using Mailchimp for internal communications is almost always the default response.
Have you considered other Mailchimp alternatives that may better fit the need of an internal communications professional?
href="https://cta-redirect.hubspot.com/cta/redirect/6282300/1603ebdd-d94d-4e3e-9d1a-59d287ec24ab" >
Should I Use Mailchimp for Internal Communications?
Tons of internal communications professionals ask this when considering Mailchimp for corporate communications. The truth is, Mailchimp is awesome for external marketing, but it's not that great for internal communications. 
Why Mailchimp for external marketing:
Website integration for marketing campaigns:

Mailchimp offers 200+ integrations that integrate easily with lists from your other marketing softwares (like Hootsuite). 

Email automation:

You can design external email marketing campaigns based on event triggers – right from your website. 

Segmentation and list management: You're able to segment customer lists based on things like location, and name the lists for email marketing.
When looking at Mailchimp alternatives, keep in mind:
Comparable pricing:

Products you're seriously considering should have a similar price point to Mailchimp.  

Core Mailchimp features:

The Mailchimp alternative should offer you the key features that you need to be successful (like workflow design or drip campaigns).

Scalability: High-volume marketing softwares are built for different goals and needs. Weigh all features against your long-term plan.
Mailchimp is bad for internal communications because:
Your internal emails will be coming from Mailchimp's servers (not yours).

Your internal email communications are more likely to end up in the Spam folder.

You can't create your employee newsletter in Outlook. 

Mailchimp creates a web version of your internal company newsletter. So long, privacy!

If you're using Mailchimp for internal communications, you have to keep the "unsubscribe" button. So, employees may miss out on important company news. 

You can't collect employee feedback within your email. 
Need more convincing? Check out what Kate Kraley from Mettler Toledo has to say after making the switch from using Mailchimp for corporate communications:
"Using Mailchimp was such a pain that we only tracked eNews. Once we started using ContactMonkey and analyzing the data this tool gave us, we could convince our leaders we needed to use more eNews rather than ad-hoc emails because open rates for eNews were higher. ContactMonkey has helped us understand what employees are interested in!"
Although Mailchimp has established itself as an industry leader when it comes to creating marketing email newsletters, there are several other Mailchimp alternatives you should consider for your company newsletters.
Let's go over them, shall we?
Disclaimer: Mailchimp and many of the other options on this list are great for: tracking email engagement, sending professionally designed newsletter templates, list segmentation, and analytics. But, most of these tools are specifically for external marketing. So let's go over what are the best Mailchimp alternatives for internal communications!
For internal communicators with the goal of increasing employee engagement, we truly believe that tools such as ContactMonkey are much better suited.
Since making the switch, Mettler Toledo has seen a time savings of 4 hours per day (or 25 days a year).
Creating an Internal Newsletter Using Mailchimp Alternatives for Internal Communications
1) Mailchimp Alternative: ContactMonkey
ContactMonkey's tool for internal communications is built right into Outlook. The email template builder coupled with your Outlook and Gmail internal communications email tracking tool truly gives you the best of both worlds. 
You can create and build templates from scratch with our drag-and-drop content blocks. Or, choose from dozens of beautiful (and responsive) email templates.
Building, sending and tracking employee engagement from your newsletters is simple. 
You can stay within the email client you use every day, rather than having to learn how to use an external third party email marketing system. 
From basic to more advanced templates, you can access pre-built templates and customize them as you like. No more boring plain text emails!
Why ContactMonkey is a great Mailchimp Alternative for sending newsletters
Email client integration: ContactMonkey seamlessly plugs into your Outlook or Gmail and is the best option from this list primarily because you never have to leave Outlook or Gmail!
Email template builder: Design responsive HTML email templates from scratch, choose from our library of pre-built templates or simply import your favourite HTML templates. 
Personalize your employee communications: Add in your own branding, include company photos or videos, and ask questions based on events in your organization. You can even insert merge tags and personalize your email subject lines and body copy. 
Gather employee feedback with pulse surveys, comments and emoji reactions: Add social reactions, pulse surveys, star ratings and employee comments to create an interactive email template and gather employee feedback in real-time. You can see all results and employee comments live on your dashboard! 
Send from Outlook to existing distribution lists: There's no need to build new segmented lists in order for them to be compatible with our tool. It's as simple as uploading a CSV with the merge fields you want.
Track email metrics: You can track who opened your email newsletter, when, at what time and on which device by analyzing opens and link clicks.
Guaranteed internal reach: The tool is also specifically designed for internal communications pros in mind. With no unsubscribe option you can make sure employees get all the information they need.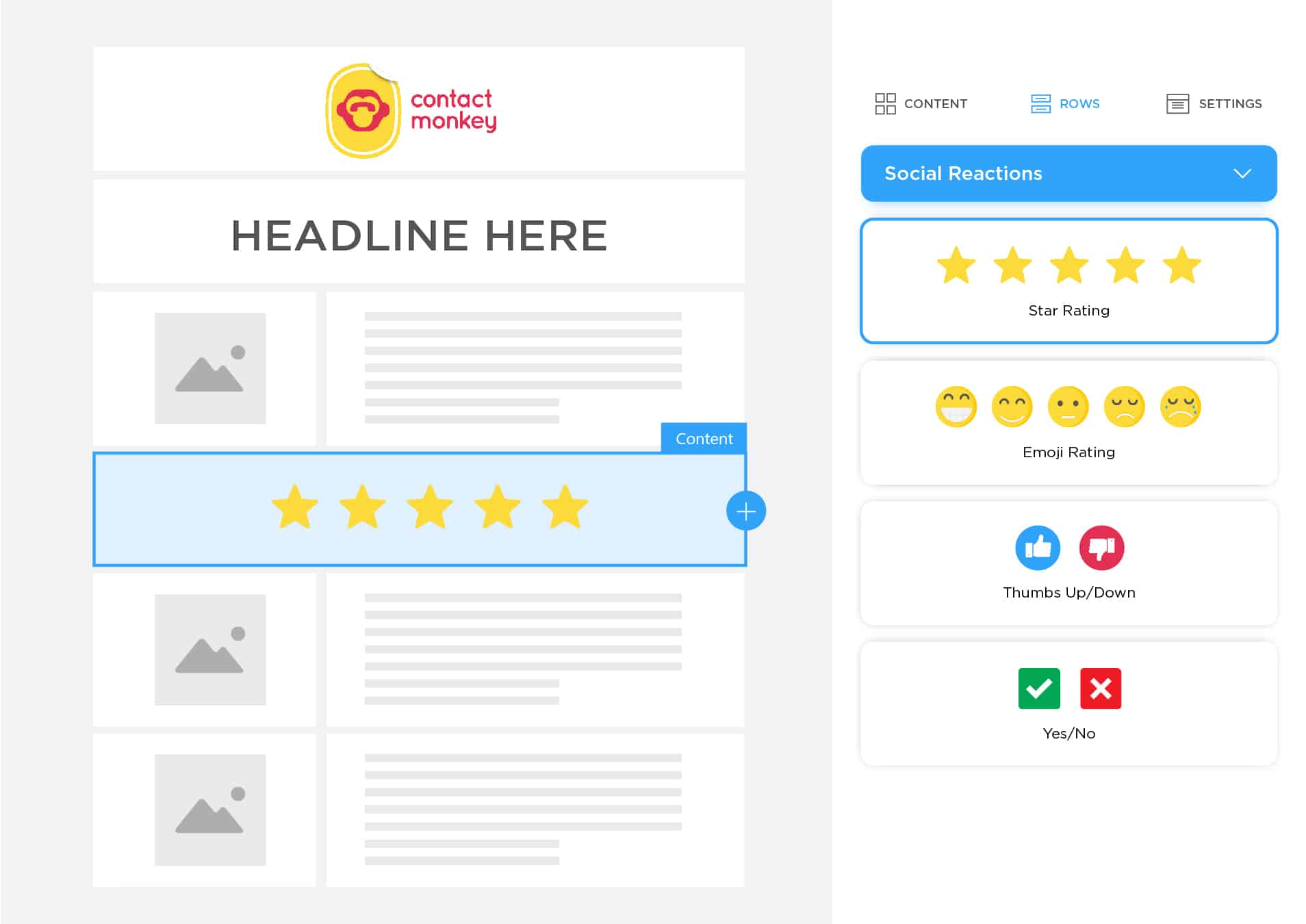 2) Mailchimp Alternative: Constant Contact
Much like Mailchimp, Constant Contact is a popular option in the email marketing world for those looking to create email newsletters.
Here are a few reasons internal communications professionals may want to consider this as one of their top Mailchimp alternatives:
Manage your employee lists: Internal comms pros, this feature is extremely handy when it comes to managing large employee lists. You can easily have a number of different employee lists in Constant Contact and add tags to your various lists.
Create beautiful emails: Just like Mailchimp, Constant Contact also has tons of email templates that can be customized to create your own unique employee newsletter.
You can upload five images for free and also have access to free stock images that you could use within your internal newsletter.
Responsive email design: With their email preview feature, you can easily view your company newsletter to see how it looks on your mobile device and on your desktop before you hit send.
Mobile responsiveness is important and if you're confused on why it matters, we encourage you to check out this blog on the importance of email responsiveness.
Constant Contact stands out as a great Mailchimp alternative primarily because it has a higher deliverability rate than Mailchimp does.
Do bear in mind that like all other email marketing softwares, it will have an unsubscribe button and you'll have to create a new employee list within their platform since you can't use your Outlook distribution lists.
Check out the video below to gain a full understanding of how to use Constant Contact to create your company newsletter. Or read more about Mailchimp vs Constant Contact.
3) Mailchimp Alternative: Campaign Monitor
When thinking of great Mailchimp alternatives, Campaign Monitor deserves a place in this list due to its affordable pricing and easy-to-use features. Here are some reasons why we like this Mailchimp alternative:
Choose from dozens of newsletter templates: Campaign Monitor offers a wide array of beautiful email templates that you can easily customize for your employee newsletters.
User-friendly interface: Much like Mailchimp, Campaign Monitor has an easy to use, drag and drop interface that offers a wide range of different fonts.
Personalize your email campaigns: Personalization is an important facet of email marketing campaigns that internal communications pros need to adopt as well.
By using the personalization features in Campaign Monitor, you can insert your employee's first and last name into the subject line of each email you send out.
Again, bear in mind that you'll have to deal with the unsubscribe button and the possibility of employees opting out from your important corporate updates, employee newsletters and announcements.
If you're wondering how to use a ready-made email design in Campaign Monitor and tweak it to fit your needs, check out the video below:
4) Mailchimp Alternative: Moosend
Although lesser known, Moosend is one of the best Mailchimp alternatives out there when it comes to creating employee newsletters with ease. Here's why:
Drag and Drop Campaign Editor: No need to worry about having design skills. Using the drag and drop feature, you can easily design beautiful internal newsletters with ease.
Real-time analytics: Track every email campaign sent to gauge employee engagement by analyzing opens and link clicks.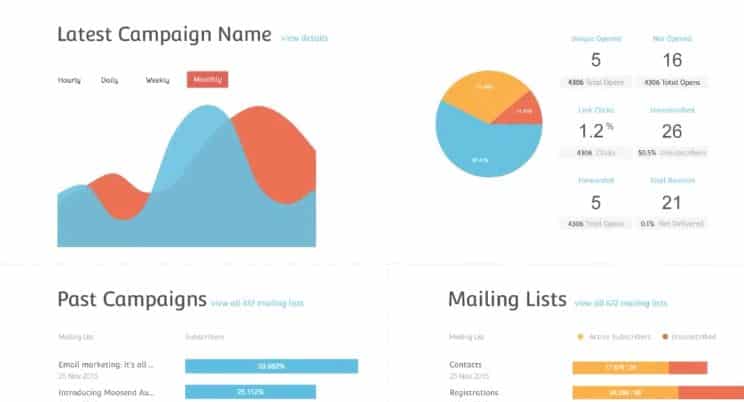 5) Mailchimp Alternative: GetResponse
When assessing brilliant Mailchimp  alternatives, one of the main reasons we've chosen GetResponse for this list is because it offers a number of special features that may be of interest to internal communications professionals:
Webinar editor: If you are in charge of creating training videos for company wide policies and procedures, you may benefit from using GetResponse's webinar features.
Use the webinar editor to create training videos for your employees.
You'll be able to easily track which employees registered for the webinar and which ones attended live so that you can gauge employee engagement levels in your organization.
Free access to iStock photos: GetResponse is an easy tool to use when creating employee newsletters because of its simplistic design and access to dozens of free iStock photos.
Send your campaigns in different languages: This is a great feature to have for your internal newsletter especially if you're handling different employee lists with branches that may operate in different countries.
To learn how to create and send an email marketing newsletter via GetResponse, watch the video below:
6) Mailchimp Alternative: ConvertKit
When assessing Mailchimp  alternatives, ConvertKit is worth considering when thinking about creating your internal company newsletter.
Here are a few reasons why it's on this list of top Mailchimp alternatives:
Create targeted email campaigns: With the ability to manage various lists, ConvertKit can enable you to create different segmented lists (for example you could create segmented employee lists based on location, age, cultural traits, etc).
Resend to those who haven't opened your emails: Do you find it frustrating when you send an email to subscribers, but not everyone opens it?
ConvertKit allows you to resend your email to those groups who didn't open your initial email. This means fewer people are missing your important company announcements. That's pretty cool, isn't it?
Analyze email metrics: Easily analyze important stats such as open rates, clicks, conversion rates and more.
For a comprehensive overview, check out this video by Email Tool Tester reviewing ConvertKit:
7) Mailchimp Alternative: Chamaileon
Chamaileon is a good alternative to the Mailchimp editor if you're looking to create an internal newsletter template.
Here are a few reasons why:
Built-in email templates: You'll have access to 100+ built-in email templates and can also utilize 1000+ templates blocks to build your emails.
Easy collaboration with team members: You're able to invite multiple users to your account so if you have a designer on your team and want feedback from them, this will make the production process much easier.
No rendering issues: Ever noticed how Outlook newsletters often show an error message where your images are supposed to appear? Chamaileon templates are unlikely to cause such errors if you use them in conjunction with ContactMonkey.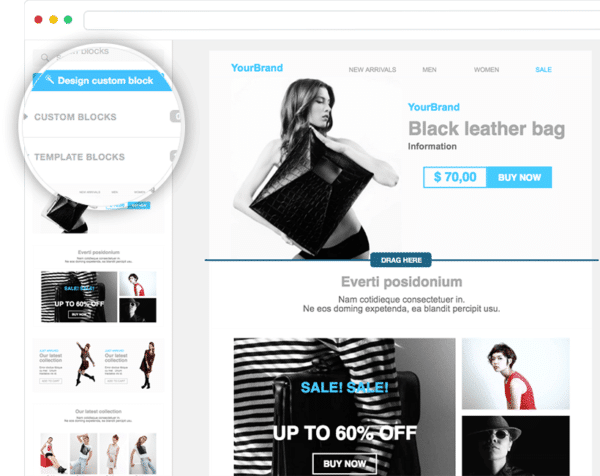 8) Mailchimp Alternative: Venngage
If you're looking to keep things incredibly simple, another good Mailchimp  alternative is Venngage's newsletter creator for your internal newsletter.
Here are a few features you'd be able to use:
Choose from professionally designed templates: If you don't have access to a designer on your team, you can easily choose from Venngage's library of professionally designed email templates.
Make it visually appealing: You can add fonts, charts, graphs and much more when customizing your internal newsletter using Venngage.
You can also update the internal newsletter template to use your unique brand colours and logo.
After you're done, you can simply download your newsletter template and send it via Outlook.
In order to make it responsive, make sure you have ContactMonkey's internal communications solution installed. Our solution ensures responsiveness so you can say goodbye to common causes of Outlook rendering issues.
We like this company newsletter template that you can customize for your own internal newsletter. You can find tons of other company newsletter templates here.

9) Mailchimp Alternative: SendInBlue
Although we personally find Mailchimp easier to use, SendInBlue is still a great Mailchimp alternative due to its exceptional social media tracking.
Another plus: It's also less expensive than Mailchimp . Here are some other helpful features:
Powerful design tool: SendinBlue's intuitive easy-to-use drag and drop interface will allow you to create employee newsletters with ease.
Segmentation options: Just as in Mailchimp , you can manage your employee lists and target users based on region, country etc. so that you're ensuring you're catering newsletter content to your employees' unique needs.
Detailed reporting: Evaluate the success of your campaigns by tracking relevant email metrics to gauge employee engagement such as opens, link clicks etc.
Check out this great video review of SendinBlue:
10) Mailchimp Alternative: AWeber
One of the best and most popular Mailchimp alternatives, AWeber has quickly taken the email marketing world by storm. Here are some reasons you may consider AWeber for your internal newsletter needs:
Drag and drop email builder: You can choose from pre-made custom templates and customize certain aspects to fit your brand using AWeber's drag and drop builder.
Access their image gallery: Boost employee engagement by choosing photos from AWeber's free stock gallery or upload and save your own images.
Extensive tracking capabilities: Just as with Mailchimp and many of the other newsletter tools for external and internal newsletter creation, AWeber offers extensive email analytics so you can figure out which newsletter content resonated most with your audience based on the data.
You will have to be wary of the fact that due to the unsubscribe button, many employees may decide to opt out of your emails.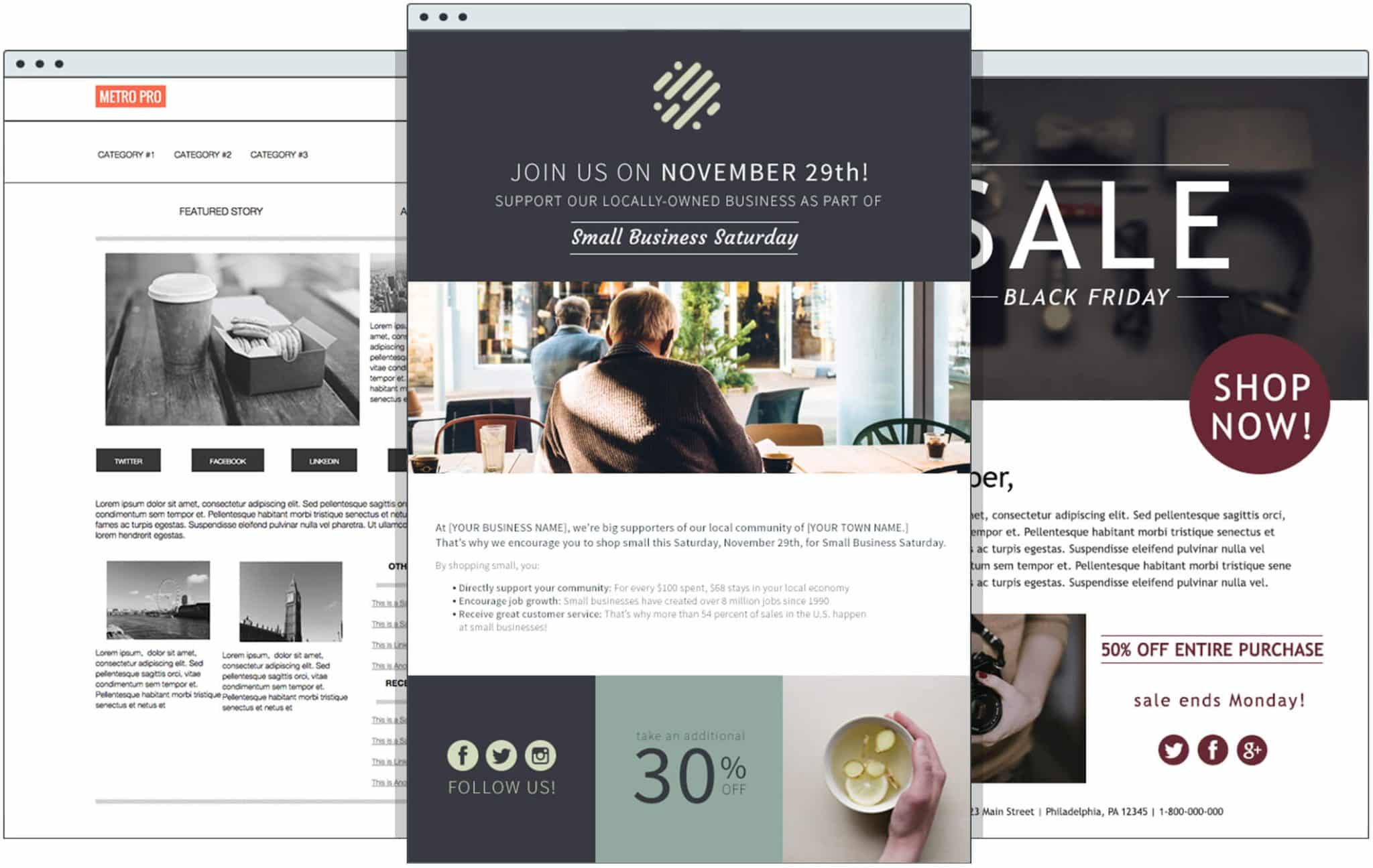 11) Mailchimp Alternative: Stripo
When searching for internal newsletter creators or Mailchimp alternatives, you may want to check out Stripo's email editor for the following features:
Ready-made online templates: Stripo offers 300+ free HTML email templates that you can customize and export (to Outlook 365 using ContactMonkey) or to more than 30 types of email service providers.
Personalize your employee emails: By using merge tags when creating employee newsletters, recipients will see their names in the subject line and body of the email and will be more likely to open the internal newsletter.
Stripo markets their templates to beginners, professionals, agencies and designers. And these templates work great for your employee newsletters as well.
Check out this blog post from their website on creating internal company newsletters.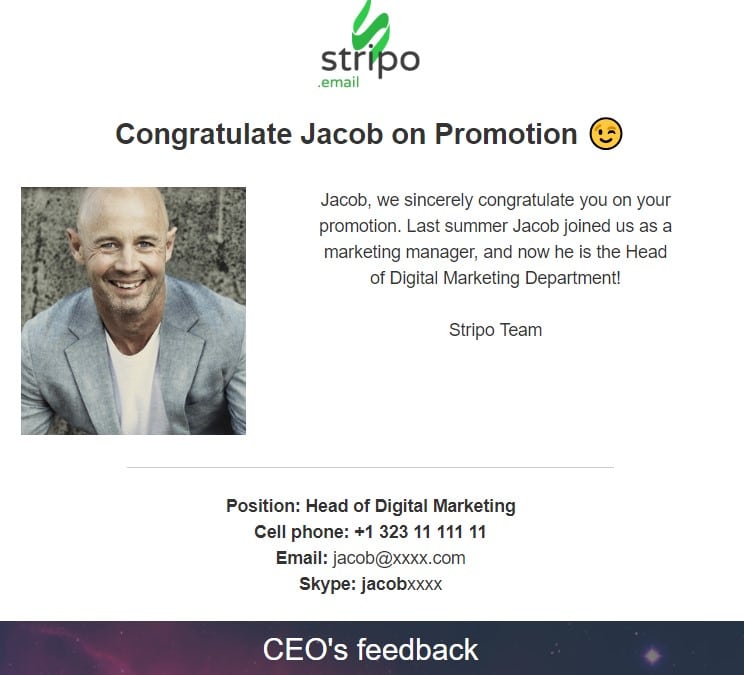 12) Mailchimp Alternative: MailerLite
MailerLite is a young contender on the market and an excellent Mailchimp alternative. With regards to its newsletter tool, here are the main features you may be interested in if you're looking to create an internal newsletter for employees:
Drag-and-Drop Newsletter Editor: No design skills necessary. Just like with Mailchimp, all you have to do is simply drag email blocks and put them where you want.
Dynamic Content: Take personalization to the next level by dynamically targeting email blocks to specific employee lists.
MailerLite is certainly worth checking out if you're on the hunt for a seamless drag-and-drop builder for your employee emails.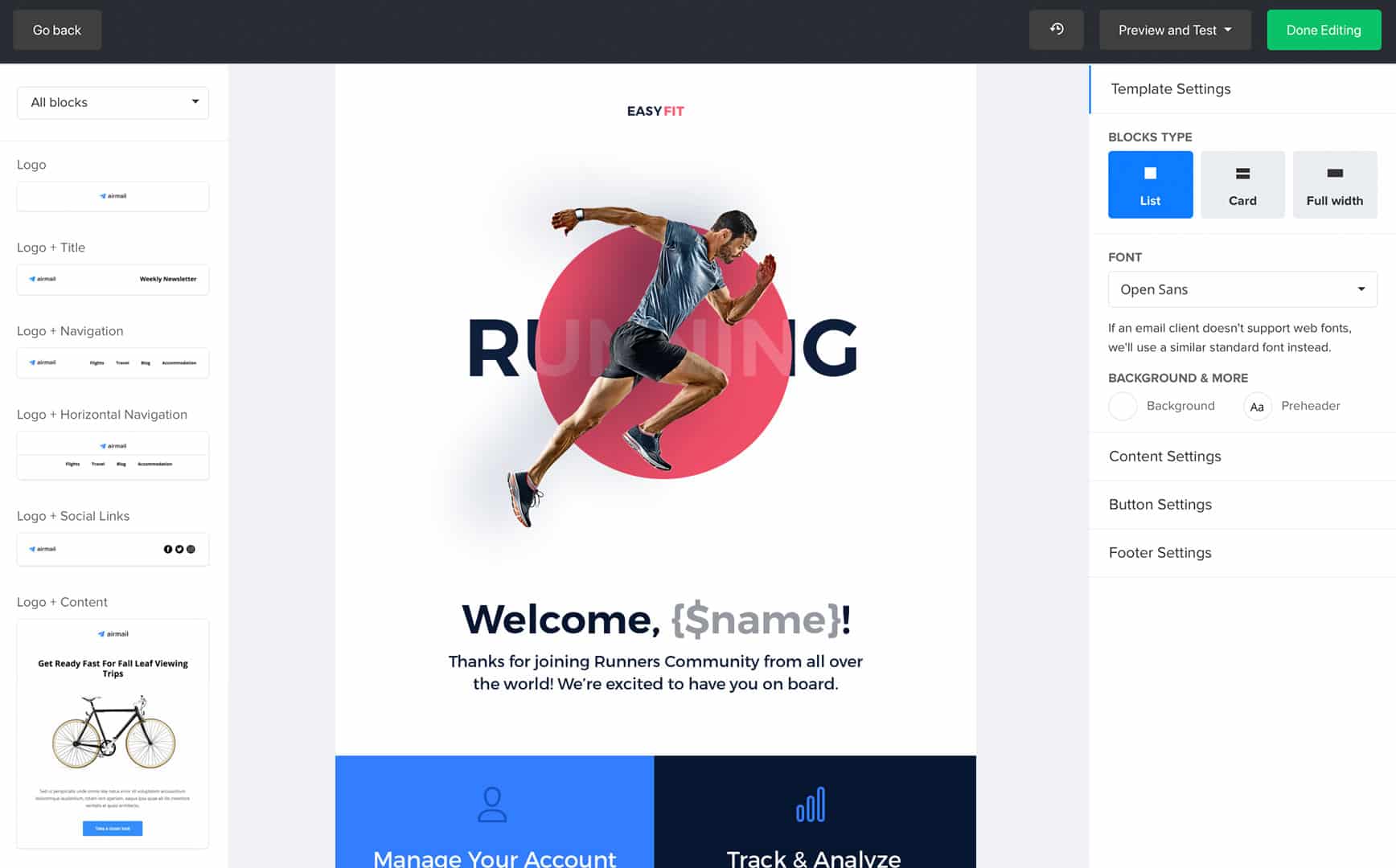 13) Mailchimp Alternative: Robly
Robly has recently emerged as a great Mailchimp alternative as well. It may be worth checking out for the following reasons:
Tons of free mobile optimized templates: You don't need to worry about email responsiveness with Robly. You can go through hundreds of their mobile friendly templates and choose the ones you think would be a good fit for your internal newsletter.
Tailored email template: You can take a ready-made template and ask the Robly team to customize it to match your branding and colours.
Check out this step-by-step tutorial: 
14) Mailchimp Alternative: Newsletter2Go
Newsletter2Go is another possible Mailchimp alternative you may want to consider for your employee newsletter because of the following features:
Employee list management: If you're serious about sending targeted employee emails to segmented employee lists according to geographical location, department, branch etc, Newsletter2Go can help.
It comes with granular segmentation options that may be helpful for you to track and gauge employee engagement.
Great Reporting Features: Extensive analytics are provided (e.g., email clients used and click map data).
Alongside customizable click and opening data, there is also the option to run analyses by segments.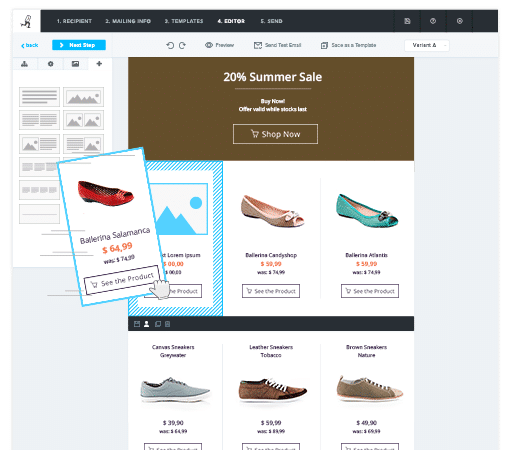 Honourable mentions when choosing Mailchimp alternatives: 
There are a lot of other Mailchimp alternatives that have surfaced on the market and are gaining traction.
href="https://cta-redirect.hubspot.com/cta/redirect/6282300/1603ebdd-d94d-4e3e-9d1a-59d287ec24ab" >
What's the Best Mailchimp Alternative for Internal Communications?
In a nutshell, there are tons of email marketing software and tools designed for large as well as small businesses. 
Even though we want to choose ourselves as #1, we recognize that all of the Mailchimp alternatives cater to different wants and needs.
It's likely going to take lots of research (and even more demos) for you to decide what works best for your employee newsletters. 
Internal communicators may find the email analytics, list management and template builder options in Mailchimp helpful for creating employee newsletters. 
But ultimately, they'll have to leave Outlook, manually manage their employee mailing lists, send their communications via Mailchimp's servers, they won't be able to remove the "Unsubscribe" button and so on. There are several other ways that our tool differs from Mailchimp. 
Therefore, we recommend using a tool designed for internal communicators (like ContactMonkey) to send responsive employee newsletters and measure employee engagement. 
We still offer a lot of the same great features that Mailchimp does, but we don't create email campaign URLs or send via a different server. 
The result? An added layer of security and credibility that comes with being able to send the employee newsletter straight from your Gmail or Outlook inbox. 
With ContactMonkey, you can easily send responsive emails and send to all your employee distribution lists without leaving Outlook or Gmail. 
Also, you won't have to worry about Outlook messing up the look and feel of the employee newsletter you've created.
Let us know which tools you've used for your employee newsletters in the comments below. We'd love to hear from you!
Top Internal Communications Resources to Kickstart 2020
ContactMonkey & Mailchimp Comparison
Ultimate Guide to Internal Communications
The Real Reasons Why You Shouldn't Use a Marketing Tool for Internal Communications
Top 12 Internal Communications Tools
10 Tips for Creating a Killer Employee Newsletter
How to Send Your Employee Newsletter in Outlook
How to Create and Use Distribution Lists for Employee Engagement in Outlook
Want to learn how to track your internal emails using ContactMonkey? We can set up a personalized demo for you and your team.
href="https://cta-redirect.hubspot.com/cta/redirect/6282300/5bdfb1bf-4869-444c-9ccb-234e6d7a7d55″ >