From employee engagement to workplace culture to change management, businesses often face similar challenges to each other even if those businesses are radically different. While the specifics of these challenges may differ, how other businesses solve these challenges can give you new insights into addressing your own.
We're always interested in how our customers use ContactMonkey to solve their internal communications challenges, which is why we publish customer case studies. Learn how other businesses solve their communication challenges and get inspiration on ways you can improve your business by using an internal communications tool.
What is an Internal Communication Case Study?
An internal communication case study examines how a company addressed a specific problem facing their organization, or achieved a specific goal. Communication is crucial for every business, and communication challenges can manifest in all kinds of situations.
An effective internal communication case study will clearly outline the problem, solution, and result of the business' efforts to reach their goal. An internal communication case study should also outline best practices that were developed in this process, and how those best practices serve the business going forward.
Why are internal communication case studies important?
A good internal communication case study should not only explain the circumstances around a specific business' problems and solution. It should also help others develop new ways to approach their own internal communication challenges, and shed light on common communication pitfalls that face a majority of businesses.
Whenever you're facing a particular communication problem at your workplace, we recommend searching out a relevant internal communication case study about businesses facing similar issues. Even though the particulars may be different, it's always important to see how internal communications problems are solved.
Featured Resource: Internal Email Benchmark Report 2023
How do your internal email performance metrics compare to 20 key industries?
5 Best Internal Communications Case Studies
We put together this list of our favourite ContactMonkey case studies that best demonstrate the many problems our internal communications software can be used to solve. If you want to learn more about any of these customers and see other case studies, check out our Customers page.
Create engaging internal emails today.
Start a 14-day trial. No credit card is necessary. Zero risk.
1. Mettler Toledo Saves Days on their Internal Communications with ContactMonkey
When Kate Kraley began as Mettler Toledo's Marketing Communications Specialist, she wanted to use internal communications to increase engagement and improve communication with employees.
But Mettler Toledo—a global manufacturer of precision instruments for various industries—had a confusing and ineffective array of internal communications channels. Here's how Kate took charge of internal communications at Mettler Toledo with ContactMonkey.
Challenge
Kate came to an internal communications department tasked with reaching employees through a number of channels. Email was the main focus of their approach, but this encompassed many forms of communication based on email like employee newsletters, eNews, and quarterly email updates.
Kate wanted to improve the quality of their internal communications. She used a variety of tools to create their newsletters, including using Mailchimp and online HTML template builder. But because Mailchimp is not for internal communications, Kate and her team found themselves spending over 8 hours a week building their internal communications:
"We faced challenges with Mailchimp. Since we had to leave Outlook to use Mailchimp, we found it was double the work to maintain distribution lists in both Outlook and Mailchimp. The HTML builder in Mailchimp was also difficult to use as it didn't work well with older versions of Outlook, compromising the layout."
Kate also needed a way to determine whether Mettler Toledo employees were actually reading her internal communications. She used Mailchimp to track open rate, but wanted more in-depth measures of engagement. That's when she switched to ContactMonkey.
Solution
Kate found ContactMonkey via the IABC Hub in 2018, and began testing it out. ContactMonkey's all-in-one internal communications software removed the need to switch from tool to tool. Using our email template builder, Kate now builds visually stunning email newsletters and templates without having to navigate away from Outlook: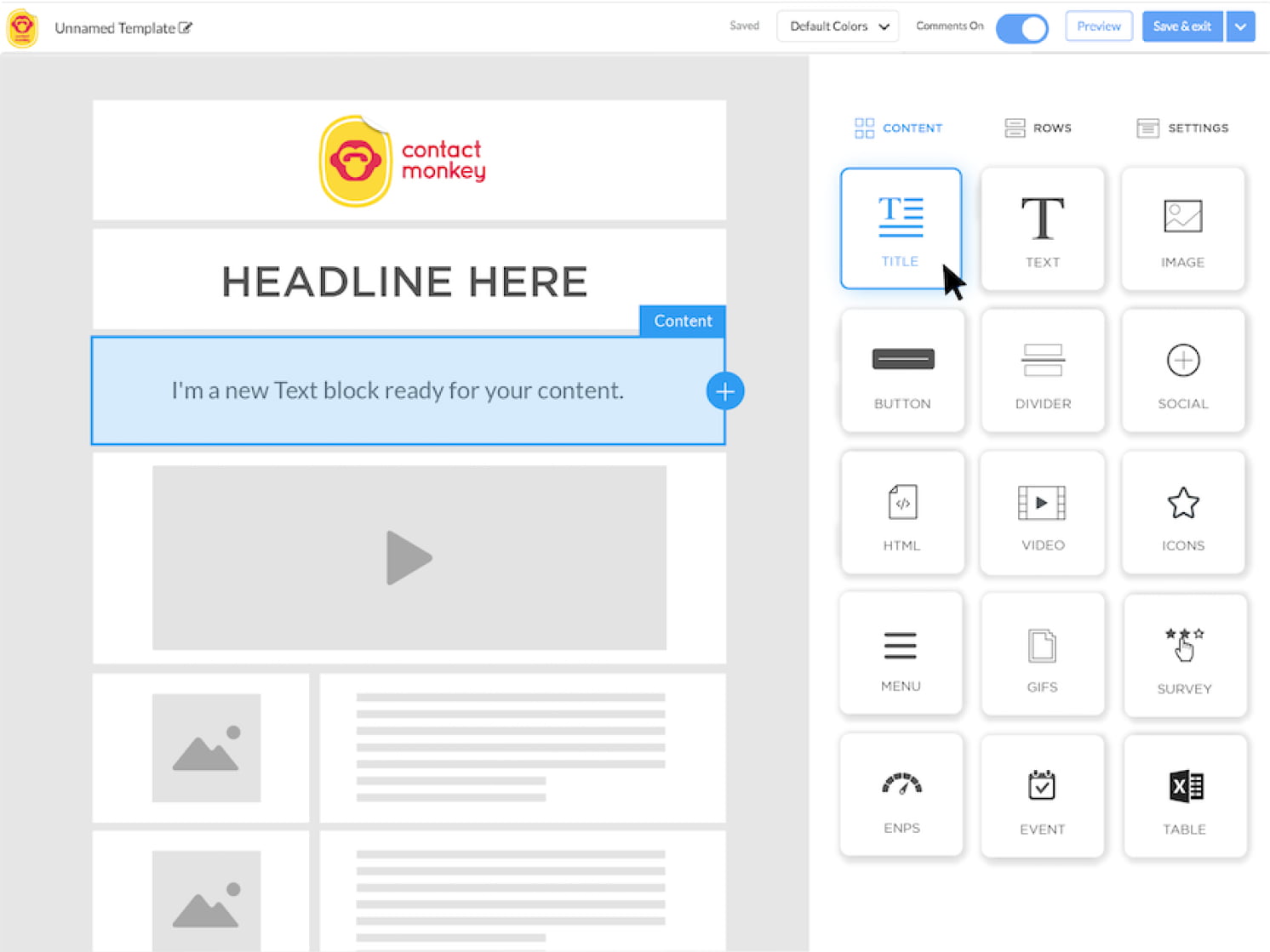 She also now has access to her own analytics dashboard. Kate analyzes numerous email metrics like open rate, click-through rate, read time, opens by device and location, and more to see which communications are driving the most engagement. With this new centralized approach, Kate knew she had found the right solution:
"Once I started using ContactMonkey, I realized I was able to save 4 hours of work a week, which translated to 25 days saved per year!"
2. BASF Manages Their Remote Workforce with ContactMonkey
Mark Kaplan is the Global Communications Manager at BASF's Agricultural Group—a department of the German chemical company BASF SE. Because BASF has offices and production sites around the world, Mark coordinates with other internal communicators across the company to drive employee engagement.
With the success of any business comes new challenges, and BASF isn't any different. While Mark knew he had to keep others informed of the latest news from the BASF Agricultural Group, he was aware employees would be receiving news from other parts of the company as well.
Challenge
With many different departments sending their own internal communications, Mark faced a difficult task: keeping employees engaged while being careful not to overwhelm them with countless emails and updates.
"We try to be very strategic with what we're sending out because people are already getting a lot."
Not only did Mark have to find a solution that made his email communications more engaging, but he also had to prove the value of whatever solution he chose to management. How could Mark show that he was increasing employee engagement while avoiding tuning out from oversaturation?
Solution
Mark began using ContactMonkey to create better internal communications for BASF employees. Using our drag-and-drop email template builder, he designs emails that maximized communication and minimized distractions, keeping information to just what his recipients needed to know.
Mark uses ContactMonkey's email template library to save time on his email design process. He also uses the easy drag-and-drop format of the email template builder to add multimedia into his email communications to save space and increase their effectiveness: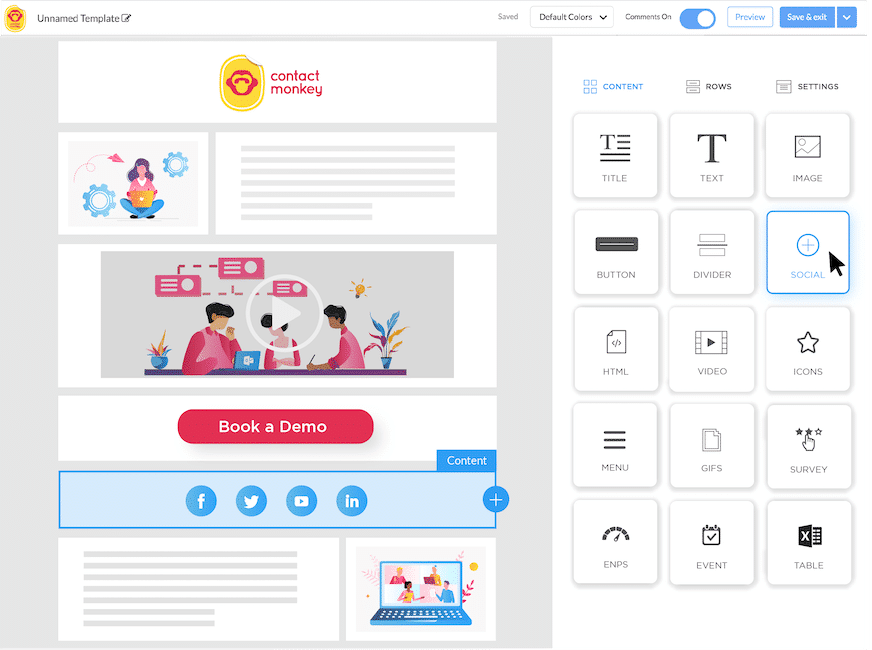 Mark uses the email analytics provided by ContactMonkey to determine the best times to send internal emails. Not only does email analytics help Mark increase engagement on his employee emails, but he now has hard data he can show management to prove the value of his internal communications.
"ContactMonkey has been great in that I can download a report, attach it to an email, and send it to our top leadership and say, "Oh, wow. 88% of the organization opened this in the last 24 hours, I think we should do more of this." It's that little extra credibility."
3. Alnylam Drives Remote Employee Engagement Using ContactMonkey
Employee engagement is crucial for ongoing productivity and growth, and Alnylam's Brendon Pires wanted to leverage their internal communications to increase engagement.
Brendon is an internal communications specialist at Alnylam—the world's leading RNAi therapeutics company—and is tasked with keeping their 2000+ employees engaged and informed. But Brendon's existing internal communications process was leading to issues all over the place.
Challenge
Like many companies, Alnylam shifted to remote work when the COVID-19 pandemic hit. Brendon knew that employees would be relying on his emails to stay up-to-date on the latest company news and announcements, but their existing internal communications tool wasn't up to the task:
Scheduled emails were prevented from being sent out.
Email design was a chore with a difficult-to-use email builder.
Intranet traffic was down and Brendon's emails weren't driving traffic to it.
Email tracking was limited as many internal emails were being flagged by their tracking software's firewall.
"We were having consistent issues and it had been going on for like a couple of months. It was one issue after the other, between emails not sending because they were getting caught in our firewall, and then tracking not being consistent. So at the end of the day it was kind of like that's really important, you know? Obviously if I can't send that email that's a problem. So that's what really drove us to look at other solutions like ContactMonkey."
Brendon and Alnylam use Outlook for their employee emails, so he began looking for alternatives to his current software. That's when Brendon found ContactMonkey.
Solution
Right away Brendon had a much easier time creating internal emails using our email template builder. He can create stellar internal emails and email templates that drive more engagement.
Brendon also uses ContactMonkey's embedded star ratings to let Alnylam employees rate the emails they're receiving. This helps Brendon and his team zero-in on their most engaging email content. He also uses our email analytics to measure engagement via open rate and click-through rate. He maximizes his results on these metrics by using ContactMonkey's scheduled email sending: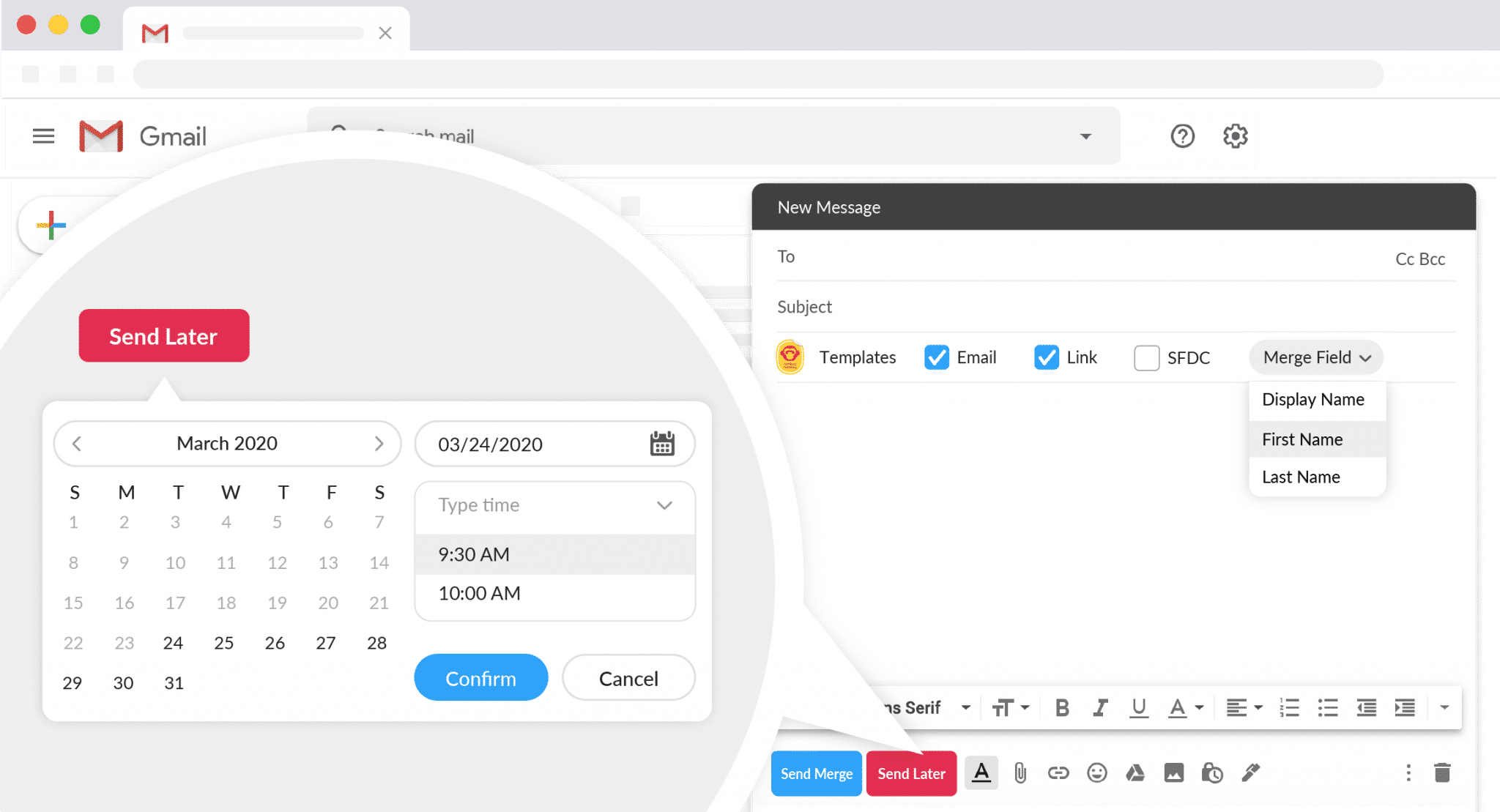 Using ContactMonkey, Brendon was able to increase email engagement and drive traffic to Alnylam's internal intranet. He now sends emails without worry of encountering sending errors that can hinder engagement.
"ContactMonkey is really easy to use and allows me to create really nice content. There's enough customization so we can do what we really want and have some creative freedom."
4. Travel Counsellors Ltd. Stays Connected with Remote Employees Using ContactMonkey
In an economy deeply impacted by the COVID-19, countless companies had to adapt to new challenges. As Community Manager at Travel Counsellors, Dave Purcell experienced firsthand the effects on morale and engagement his over 1,900 partners experienced as result of the quarantine and resulting societal changes.
Dave wanted to regularly check-in on Travel Counsellors franchisees' wellbeing, and measure their engagement over time. But Dave's current method of checking-in on an audience of over 1,900 was not up to the task.
Challenge
Using their existing email software, Dave encountered all sorts of problems when trying to gauge wellness and drive email engagement. He and his team were unable to create personalized internal communications, as they were told it just wasn't possible with their existing "solution". They also experienced numerous tracking issues, as they were receiving tracking numbers that didn't make any sense.
"The stats we had previously were unusable and that's the easiest way I can put it. I was getting 200% open rates, which was just impossible."
Realizing that email tracking and personalization were must-have features for him and his team, Dave sought a new email software that could deliver what he was looking for.
Solution
With the aim of sending personalized emails and tracking wellness in his organization, Dave was immediately impressed by ContactMonkey. "I stumbled across ContactMonkey, and everything just screamed: 'This is the right platform for us'. It's pretty fantastic."
Dave uses ContactMonkey's merge tags to create personalized subject lines and body copy based on the recipient: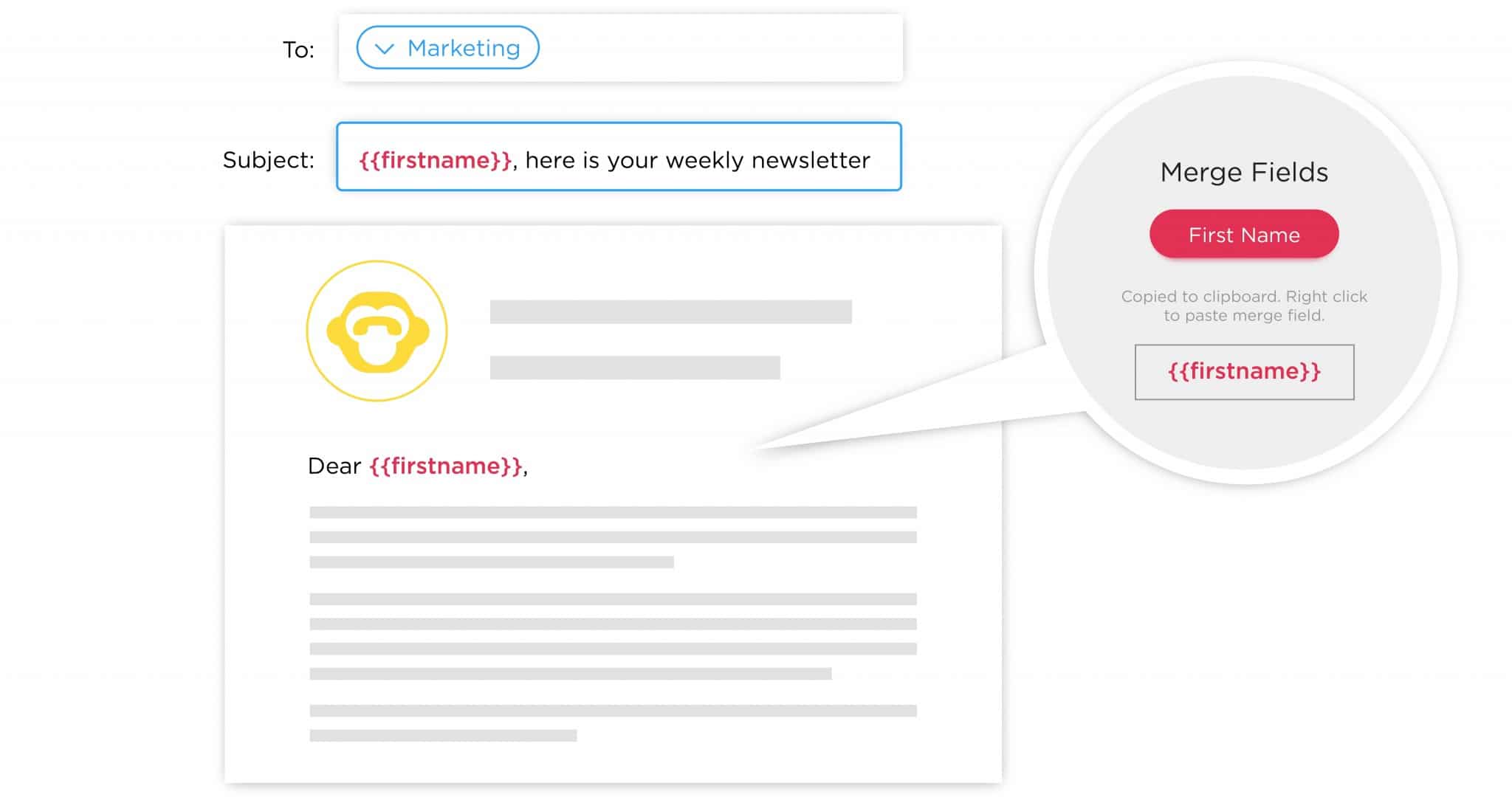 He also began using emoji reactions on his weekly employee newsletters, using them as a pulse check survey for his audience.
"Mindset and wellbeing have always been a big part of what we do. It's even more so now. Our franchisees craved that personal interaction. 'Welcome to a Brand New Week' checks in with them on a Monday, sees how they're feeling with emoji reactions. And we do the same on a Friday."
In addition to customization and surveys, Dave uses our email template builder's custom employer branding options to save time on creating his email newsletters. All of this is driven by email analytics that help Dave and his team determine which content is generating the greatest engagement.
"Our commercial team is looking at what people are engaging with in terms of link clicks and what they're not engaging with and changing our tactic depending on that. We also send an update from our CEO and we can now track this more accurately. We're getting a 90% open rate within two days."
5. Exemplis Takes Charge of Internal Communications with ContactMonkey
When Corey Kachigan arrived at Exemplis as Engagement and Communications Lead, she knew she had her work cut out for her. Exemplis—the largest volume manufacturer of office seating in North America—was experiencing rapid growth but did not have any sort of internal communications strategy. Corey knew if she wanted to properly manage Exemplis' ongoing growth, she'd need to make internal communications an indispensable part of the business.
Challenge
Before Corey arrived, Exemplis' existing internal communications consisted only of random announcements and update emails. They had no defined approach for sending internal communications, which lead to emails that can cause employees to tune out.
"Our receptionist would email: 'Hey, whoever left their coffee mug in the sink, please clean it and take it back to your desk.' And it's like, okay, that just went to 200 people."
Corey and her team knew they had to harness their email resources better, and wanted a way to measure what employees actually wanted to see.
"We need some metrics to gauge whether this is working or not. We're rolling out all these things, but we can't tell if employees are even clicking these emails. Our team is inundated with hundreds of emails a day. How do we know they are reading these and how do we know they find it valuable? We have no idea."
They also wanted to use emails to align their ever-growing employee base with Exemplis' core values and vision. Using Mailchimp—an external marketing email tool—resulted in more problems than solutions. Corey experienced issues with importing and tracking emails within Outlook. She realized that Mailchimp is not for internal communications, and set out to find a new solution to power her employee emails.
Solution
So Corey began searching for a new email software for internal communications. Creating a definite approach to internal communications was just one priority of hers; she also wanted to prove the value of internal communications to management using hard data.
What first stood out to Corey about ContactMonkey was the crisp layout and that it worked with Exemplis' existing Outlook system. ContactMonkey uses your company's existing email services, and this meant Corey would no longer encounter internal email problems caused by an external tool like Mailchimp.
Corey now uses email metrics and employee feedback to inform her internal communications approach. She features pulse surveys on her internal emails, and uses the results in combination with email metrics to pinpoint what Exemplis employees want to see.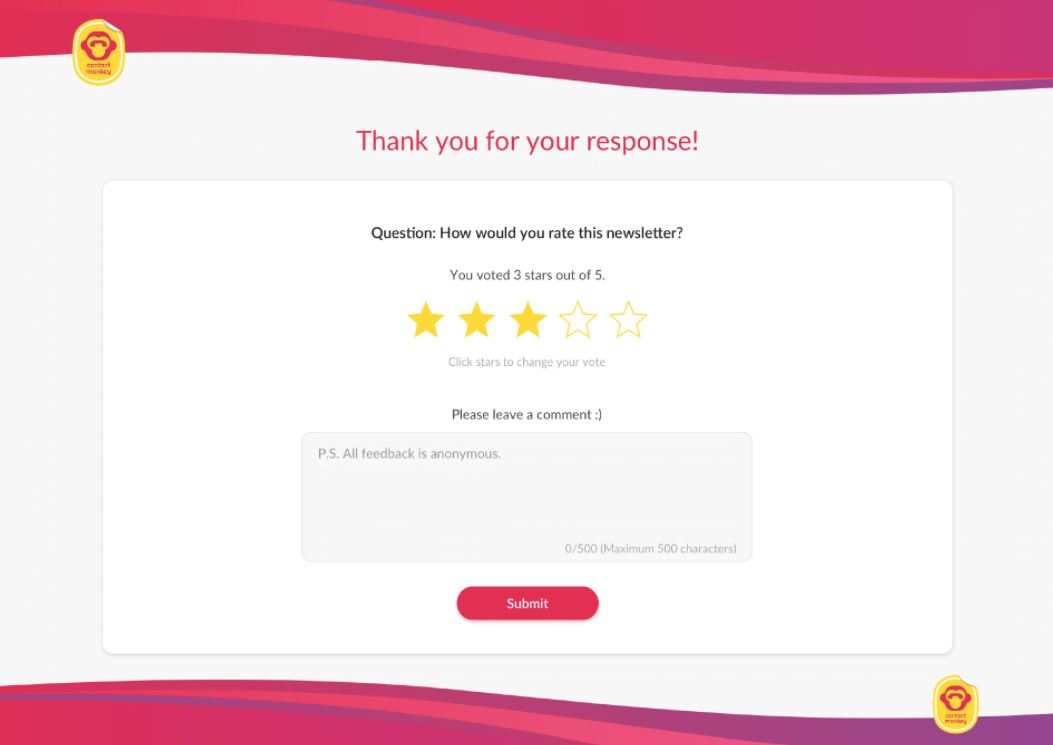 With ContactMonkey's email analytics, Corey can point to real engagement data to back up her internal communications objectives.
"The thing I love about ContactMonkey is that it allows us to communicate more consistently with our team, but also be able to have the data to back it up. When we used to send out newsletters, we didn't really have a way to see who did or didn't open it, who clicked what and they couldn't interact with the communication besides reply to me, which was super cumbersome."
Achieve Your Internal Communications Goals with ContactMonkey
Although internal communications is a common aspect of all businesses, everyone approaches it differently. Finding out the best email practices that work for your employees is a crucial step in the quest for increased engagement.
Read even one internal communication case study and you'll see how ContactMonkey stands out among other internal communications tools. You can create, send, and track internal emails, and collect employee feedback and email metrics to develop innovative internal communication tactics. Whether you're a seasoned internal communicator or new to the field, ContactMonkey can turn your internal communications into a powerful driver of productivity and growth at your organization.
Discover the power of modern internal comms tools.
See the benefits of ContactMonkey in about 15 minutes.
Want to see ContactMonkey in action? Book a free demo to see how our internal communications software can transform your employee emails: