With more organizations permanently adopting remote work, internal intranets have become integral parts of many internal communications strategies. Intranets can be the hub of your internal communications; a one-stop shop for employees to find the latest announcements, sign up for initiatives, and engage with each other.
There is an important caveat for effective intranets: people have to actually use them! Your painstakingly-designed internal intranet portal won't benefit your company if your employees aren't logging in regularly. In fact, according to CMS Wire, 90% of intranets fail in their first 3 years. With ContactMonkey, you can easily drive traffic to your intranet, and remind employees who have yet to sign up to do so.
Leveraging your other internal communications channels is key for wide-spread intranet adoption. 95% of respondents to our Global State of Internal Communications Survey say email is their preferred internal communications channel. We'll explore how you can get the most out of your internal communications by leveraging multiple channels. Additionally, we'll explore how to use intranet for internal communications and how to engage employees on your intranet.
Want a fast and easy way to get your employees using your intranet? Book a free demo to learn how ContactMonkey is a must-have internal communications tool for companies with intranets.
What Is An Intranet?
According to IC Thrive, intranets are "tools exclusively accessible to employees and allows the storage and sharing of documents and processes." As such, using an intranet for internal communications can be powerful. It allows employees to access critical information wherever/whenever they'd like.
Modern intranets work very much like social media websites. In many apps, employees can view a centralized newsfeed where company information is displayed. Here's what SharePoint's newsfeed feature looks like: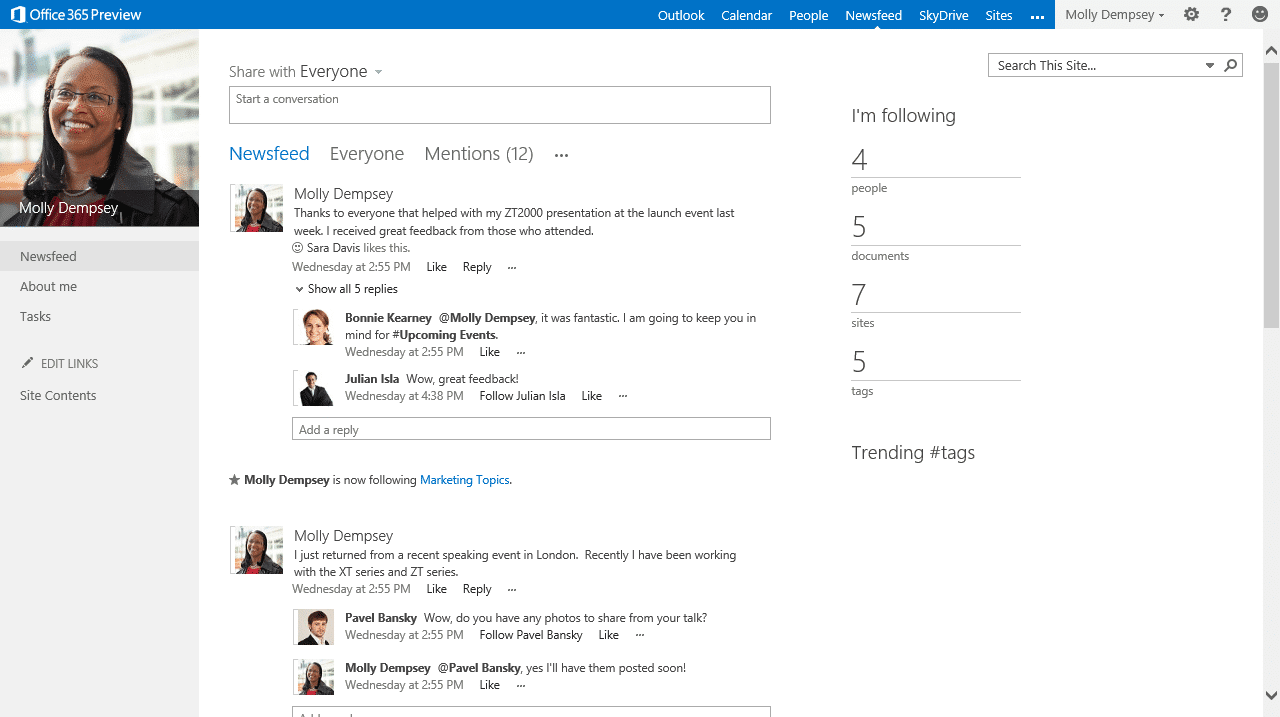 Another shared feature of intranets and social media is interaction. Many intranets provide forums or discussion boards for employees to share ideas and content with each other. Forums can be great resources for working out solutions, as they are easily searchable for future reference.
Intranets can even feature blogs for your employees to read. Your goal is to have your employees check your intranet as they would their regularly-frequented websites.
Intranets and internal communication
Though powerful, intranets should be just one aspect of your overall internal communications strategy. Combining a comprehensive intranet with channels like email, messaging apps, town halls, and face-to-face communications is an effective way to create a positive internal communications environment.
Ultimately, your internal communications are meant to get information to your employees. However, you set up your various internal communications channels, ensure it's easily accessible by your employees. Ease of access will encourage your employees to make checking their internal communications—like an internal intranet—a habit.
What's the Difference Between Intranets, Extranets, and Internet?
It's no mystery why many of us get confused between intranets, extranets, and the internet. But it's important to clear things up.
Internets and extranets are two sides of a similar solution. But their distinction is an important one. An intranet is only accessible by the internal teams of an organization. Meanwhile, an extranet is accessible to any third parties authorized by a company. These can include customers, vendors, or other stakeholders.
Now the difference between intranets and the internet is much more clear-cut. Intranets emerged around the same time as the internet, but that's about all they have in common.
The internet is a public network, accessible to most entities with an online connection. An intranet is a completely private network. It's privately owned and cannot be accessed by anyone except authorized individuals. Authorized parties are usually limited to the employees of a given company.
What Are The Benefits of a Company Intranet?
Since the advent of remote work, internal communication and collaboration have been continuously transforming. As companies push for increased digital transformation, a company intranet helps synchronize the new range of channels and resources. Let's take a closer look at some of the advantages of an intranet:
Simplifies the storage of resources and files: employees can access a range of documents from one location.
Helps support a streamlined approach to communication: intranets store employee names, titles, and other contact details so colleagues can easily reach out, connect, and collaborate.
Makes content management easy: an intranet is basically a jack of all trades, so they can help you synchronize content from forums, blogs, and other features, all in one place.
Showcases your internal brand: because intranets unify all your company content into a single channel, they naturally make it easier to showcase what your brand is all about.
How ContactMonkey Augments Your Intranet
While your employee intranet can be the centerpiece of your internal communications, it's important to contend with its limitations. Using an internal communications tool—like ContactMonkey—can fill the gaps in your strategy and help boost the effectiveness of your intranet.
ContactMonkey is an easy-to-use internal communications software that lets you create, send, and track HTML emails from your Outlook or Gmail inbox. With ContactMonkey's email management software, you can boost employee engagement and save time on your email design process.
Below, we'll explore how to increase intranet engagement, and how to measure intranet engagement with the help of internal communications best practices.
Grow your intranet using email
Adoption is one of the biggest challenges internal communicators face when using an intranet. Internal communicators need to leverage their other channels to raise awareness about the usefulness of the intranet.
Being the most popular internal communications channel, employee email is crucial for encouraging intranet adoption. But you can go one step further with ContactMonkey to ensure intranet adoption is widespread.
Use ContactMonkey to track all of your intranet-related email updates. With segmented email stats, you can view a detailed breakdown of your organization to see which departments are most engaged with your intranet via how they engage with your intranet-related emails (or, more importantly, which ones aren't!):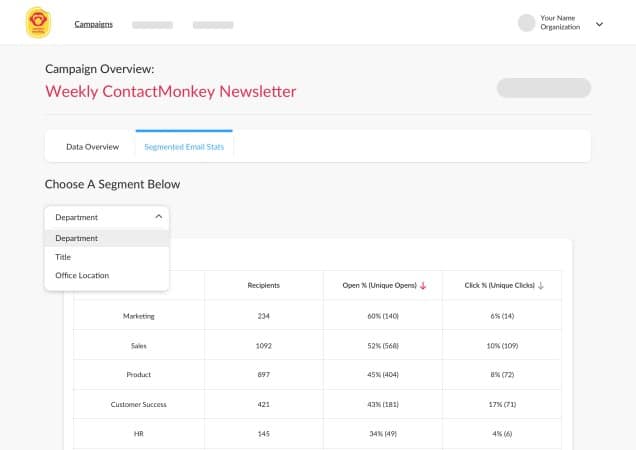 Compare email statistics from different intranet email updates to find your best performing content. With compare campaigns, you can demonstrate to management how employee engagement with the intranet has improved over time.
ContactMonkey can also help you drive more traffic to your intranet. Use merge tags to personalize your subject line and body text according to the recipient. According to CampaignMonitor, emails with custom subject lines are 26% more likely to be opened. You could even help with email and employee engagement by improving your copy. Using ContactMonkey's OpenAI integration, you can generate high quality copy in seconds—all with a simple prompt.
Learn how easy it is to create custom subject lines using merge tags by booking a free demo.
Alert employees to issues with your intranet
Intranets are internet-enabled platforms that feature a wide-range of content and media. While this complexity allows for engaging and informative content, it can sometimes fail.
Email benefits from the reliability of their providers like Outlook and Gmail. Hundreds of millions of people depend on these platforms to function, which makes your email one of the most reliable channels between you and your employees. Experiencing an issue with your intranet where employees cannot access it? Give them the information they need via their emails!
Not only is email super reliable for sudden alerts to your employees, it's also faster. With email-enabled mobile devices the norm for most employees, your employee emails are crucial tools for things like crisis communications. Link to crisis-related materials hosted on your intranet site via employee emails to get your employees the information they need, fast.
Gather employee feedback faster
With forums, surveys, and employee help centres, intranets can be powerful tools for collecting employee feedback. But like everything intranet-related, employees are required to login to their company's intranet before any feedback can take place.
With ContactMonkey, you can embed pulse surveys, emoji reactions, star ratings, thumbs up/down, and more within your emails. Your employees can respond to your surveys directly from their email inboxes, on desktop and mobile devices. One click or tap and your employee can give you valuable feedback on any given topic.
You can also use your emails to collect anonymous comments with your surveys. Simply enable comments on your surveys to let your employees share their thoughts about whatever question you asked:
Anonymous questions are great for fine tuning your intranet content. Ask your employees what they think of your intranet content, what content they'd like to see more of, or whether they've encountered any issues using the intranet.
Schedule employee opinion surveys for given intervals after launching your intranent to get a good idea of how your employees feel about it. ContactMonkey's internal communications calendar call help you coordinate these emails with the launch of your intranet.
Fortify All Your Internal Communications Channels
Intranets are great, but they're just one aspect of many with regards to your internal communications. To truly improve your internal communications you will need to utilize multiple channels to get information to employees, from employee newsletters to leadership communications.
When you're developing your internal communications strategy, it's important to consider how channels work together. Your intranet can be a great resource, but on its own it's unlikely to make a significant impact on your employees.
Think of your intranet as a retail website and your employees as potential customers. Using your emails to market the value of your intranet to your employees can greatly increase adoption and engagement. Leveraging all your internal communications channels to benefit each other is the key to great employee engagement in your organization.
Learn how to use an internal communications software to make your intranet more powerful. Book a free demo to see why ContactMonkey is a must-have for any organizations intent on improving their intranet: