Achieve your engagement goals and demonstrate the value of your internal emails by developing an internal communications strategy.
An internal communications strategy ensures that your employee communications are sent in a timely manner and that you have plenty of time for stellar design. It also keeps you on track to meet your key performance indicators (KPIs), which helps management build trust in your internal communications.
We'll walk you through everything you need to know about internal communications strategies, and share our favorite internal communication strategy ideas. We'll show you how you can develop your own effective strategy to maximize your internal emails' effectiveness.
Pro tip: use a dedicated internal communication software to carry out your strategy. Try ContactMonkey's internal communication tool to get serious about your internal emails.
What is an Internal Communications Strategy?
An internal communication strategy describes the goals your business wants to achieve using your internal communications. Your strategy should cover both the overall objectives of your communications as well as the method you'll employ to meet those internal communication objectives.
At an overall level, your strategy describes how your digital workplace communications drive employee engagement and exemplifies your company culture. This should include what your internal communications are used for, who receives them, and what internal communication challenges you want to overcome.
At a granular level, your strategy outlines what communications you send, when you send them, and how you measure their effectiveness. This data helps you understand how your internal communications are received by your employees and whether they're having their desired effect.
This information also helps you regulate the density of your internal emails to help you avoid restrictions like Outlook and Gmail email limits.
Why have an internal communications strategy?
The value of internal communication goes beyond informing employees about team absences and software upgrades. Your communications are designed to be driving workforce engagement.
Measuring any qualitative aspect of human behaviour is tricky, and your internal communications are no different. How can you know that your internal emails are increasing employee engagement? How can you quantify the benefits of your strategy so it's immediately clear at a glance?
An internal communications strategy helps you take a quantitative approach to your internal emails. You can look at what communications you sent when, and then correlate that with the emails analytics and employee feedback you gather afterwards.
Not only does this help you demonstrate the value of your internal communications to management, but it also helps you pinpoint the communications that had the biggest impact on your employees.
What does an internal communications strategy look like?
Your internal communications strategy will vary depending on numerous factors; employee preferences, workplace culture, CEO and leadership expectations, and more all play a role in shaping your strategy. But whether your business has 300 or 30,000 employees, your internal communications strategy will contain similar properties.
Your should be a detailed but concise document that answers these important questions:
What goals do you wish to achieve with your internal communications?
How will you achieve those internal communication goals?
How can you measure those achievements?
This can be a simple document or spreadsheet where you can plan your internal communications and record their performance.  The level of detail is up to you. You may opt for a general strategy that simply outlines what kind of internal communications you'll send and how you'll measure their success.
You can also choose a more granular approach where you map out every internal communication you'll send and when. This often requires using an internal communications planning calendar to carefully plan out your future communications. This approach is more in the realm of an internal communications plan, which includes more tactical steps to take to improve your employee communications.
Think about the questions listed above and how they pertain to your business. This will give you a good idea of what your strategy should cover.
How to Write an Internal Communication Strategy
With your internal communications strategy, it's useful to start with high-level goals and then describe the steps you'll take to achieve them.
Use the questions in the previous section to inform your approach to the finer points of your internal communications strategy. If your goal is to improve employee engagement, how will you use your internal communications to do this? How will you know if you've achieved your goals?
How to track, measure, and optimize your internal communications strategy
Two important aspects of your strategy are key performance indicators (KPIs) and employee feedback. These help measure the success of your strategy, and also provide important insights into how you can improve your approach in the future.
Key Performance Indicators
KPIs should outline measurable outcomes for your internal communications. If your goal is to generate more email engagement, metrics like open rate and click-through rate can help you determine if your employees are engaging with your emails more or less than before.
Not only do KPIs quantify your internal communications with hard data, but they can also be used in conjunction with your planned internal communications. For example, if you notice a spike in open rate, check your planning calendar to see what communications you sent out around that time—so you can provide your employees with content that engages them.
The more email metrics you have access to, the more detailed and comprehensive you can make your KPIs. ContactMonkey's email tracking features lets you track open rate, click-through rate, read time, opens by device and location, individual recipient behaviour, and more using your employee email analytics dashboard: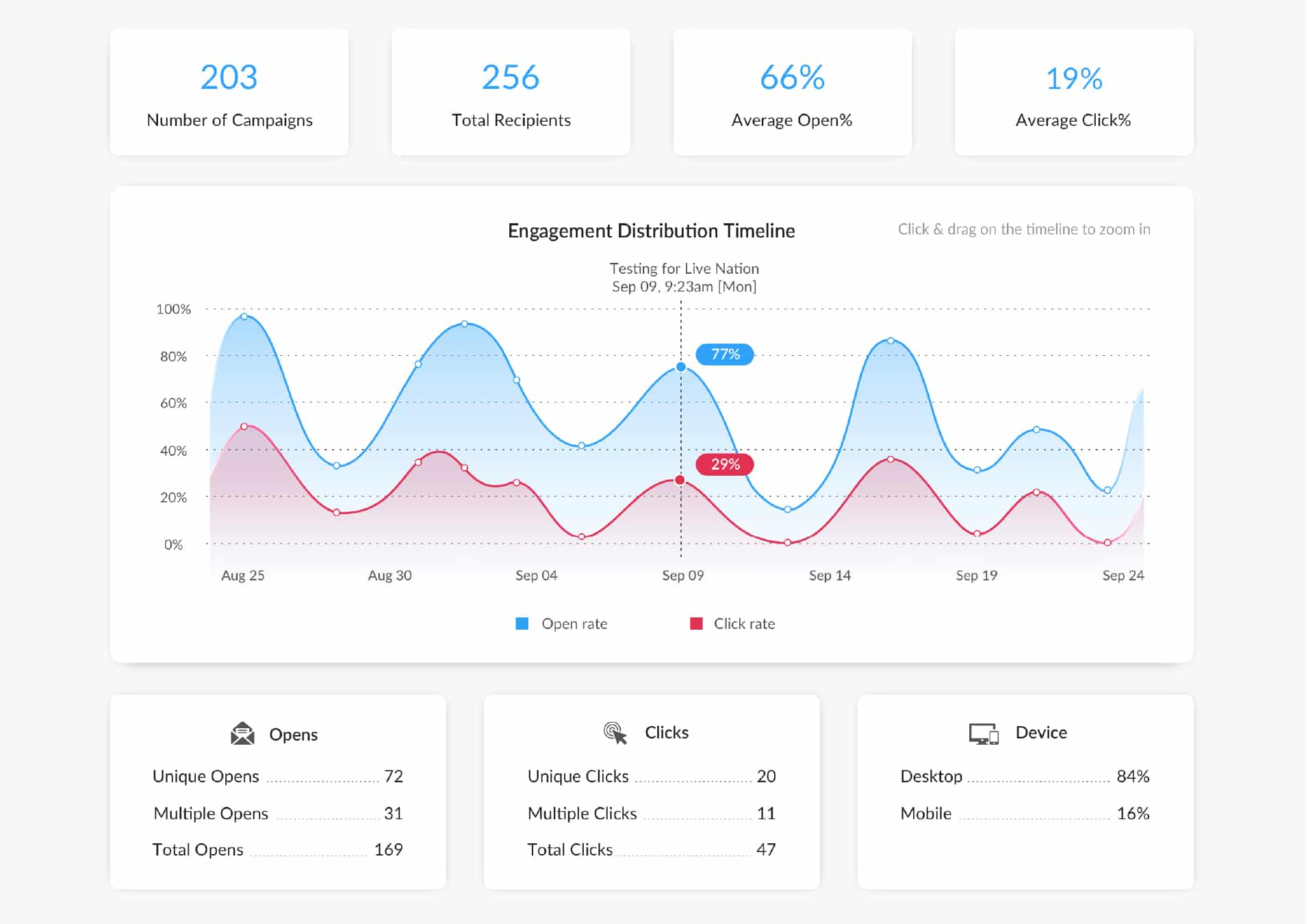 In addition to collecting and displaying this data, ContactMonkey has advanced email tracking features to help you analyze your internal communication performance. Segmented reporting lets you sort your email metrics by department, job title, and location to see how engagement differs across your employees. This is super useful to find the most engaged sections of your business—or more importantly, the least engaged: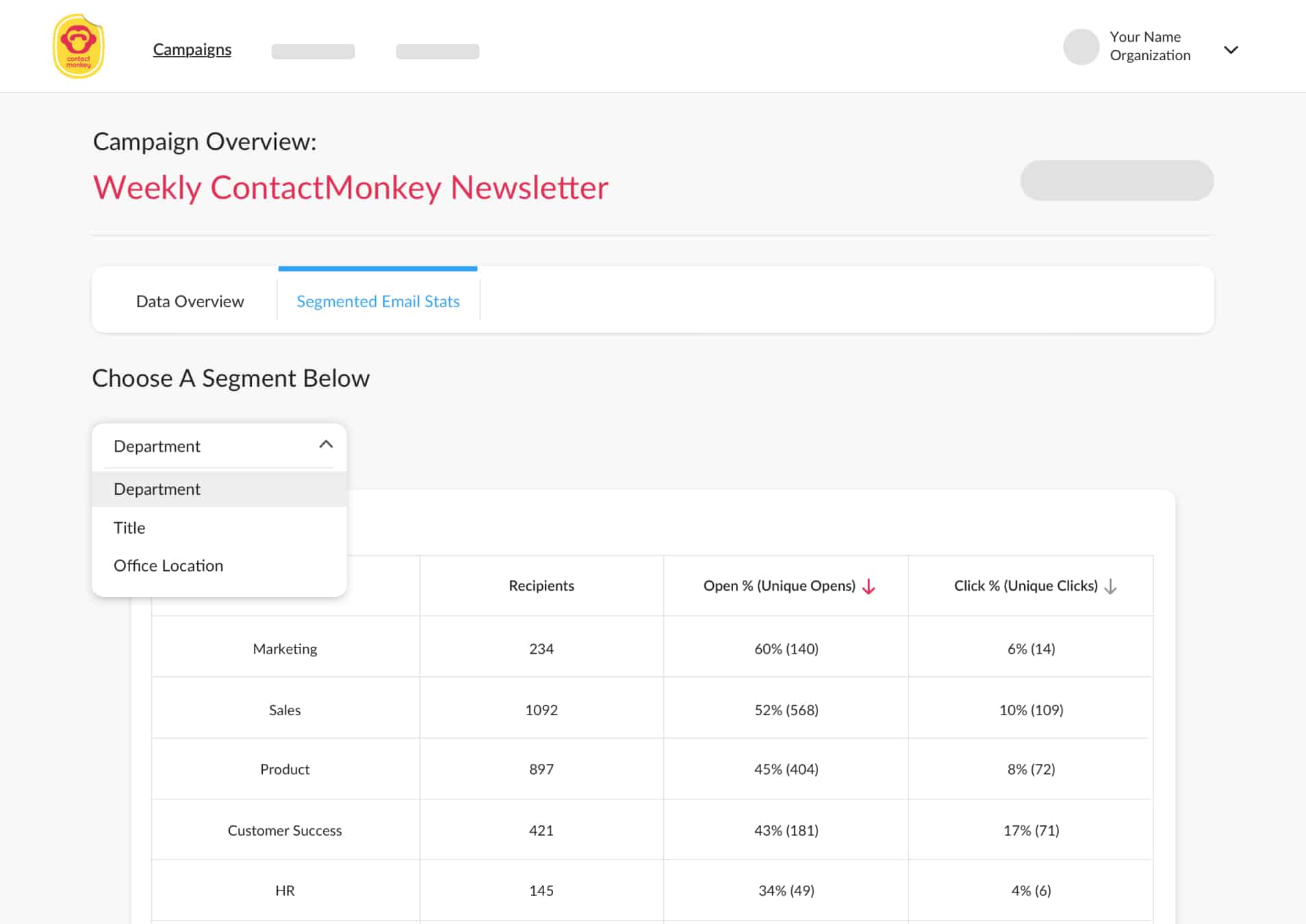 The compare campaigns feature lets you compare the email metrics from multiple email sends. This is super useful for finding what kind of communications resonate the most with your recipients so you can give them more of what they want. This data is great for mapping out your future internal communications.
Outline the email metrics you'll use as KPIs in your strategy. Set incremental goals over time and try different approaches to see which positive affects your email engagement the most. In your strategy, schedule the interval when you'll measure your internal email metrics, so you can compare your internal communications performance over time.
Not sure how to refine your internal communications KPIs? Use ContactMonkey's free downloadable Internal Communications Benchmark Report for 2022 to see how other companies in your industry perform on their employee communications. This will give you a good idea of what to expect and aim for.
Employee Feedback
But not all internal communication goals or outcomes can be measured with hard data. It's important to complement your KPIs with employee feedback, which can help contextualize the email metrics you collect.
Employees can give their opinion on what kind of communications and initiatives engage them the most, and what their preferred email send times are.
Employee feedback also helps directly boost employee engagement. Letting your employees share their opinions helps them feel like their input is valued by your organization. It also gives you a glimpse into what really matters to them, which can guide your employee engagement ideas.
Outline your employee feedback approach in your internal communications strategy. Describe when you'll collect employee feedback and how your plan on collecting it.
Emoji reactions, star ratings, yes/no, and thumbs up/down can be featured as KPIs within your internal communications strategy, and can be embedded directly in your internal communications using ContactMonkey's email template builder: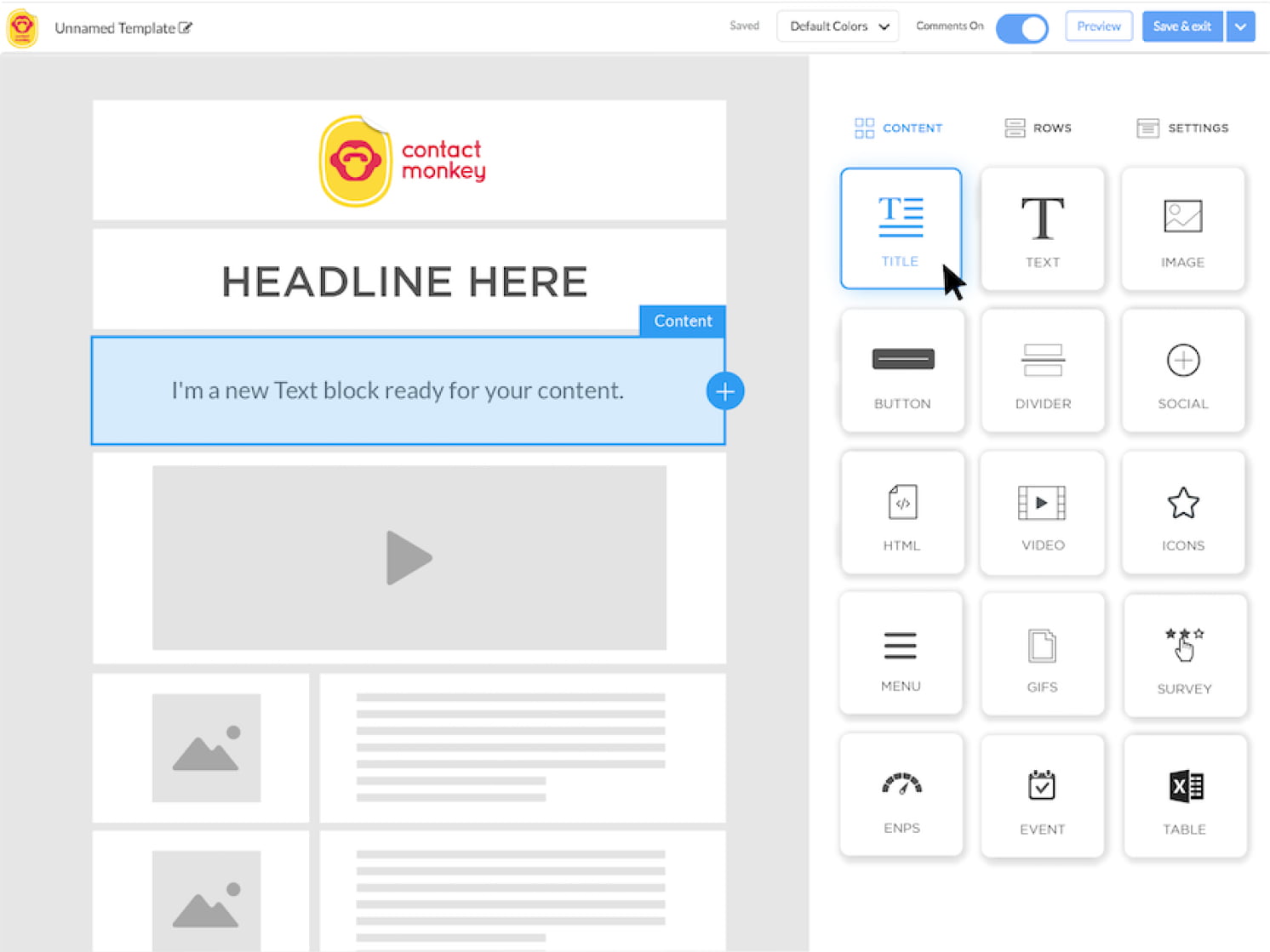 But you can also gather qualitative employee feedback in the form of anonymous feedback. Using ContactMonkey you can let employees share their opinions right from their email inboxes. While it's a bit trickier to use comments as KPIs, they are invaluable for contextualizing the email metrics and employee feedback you collect: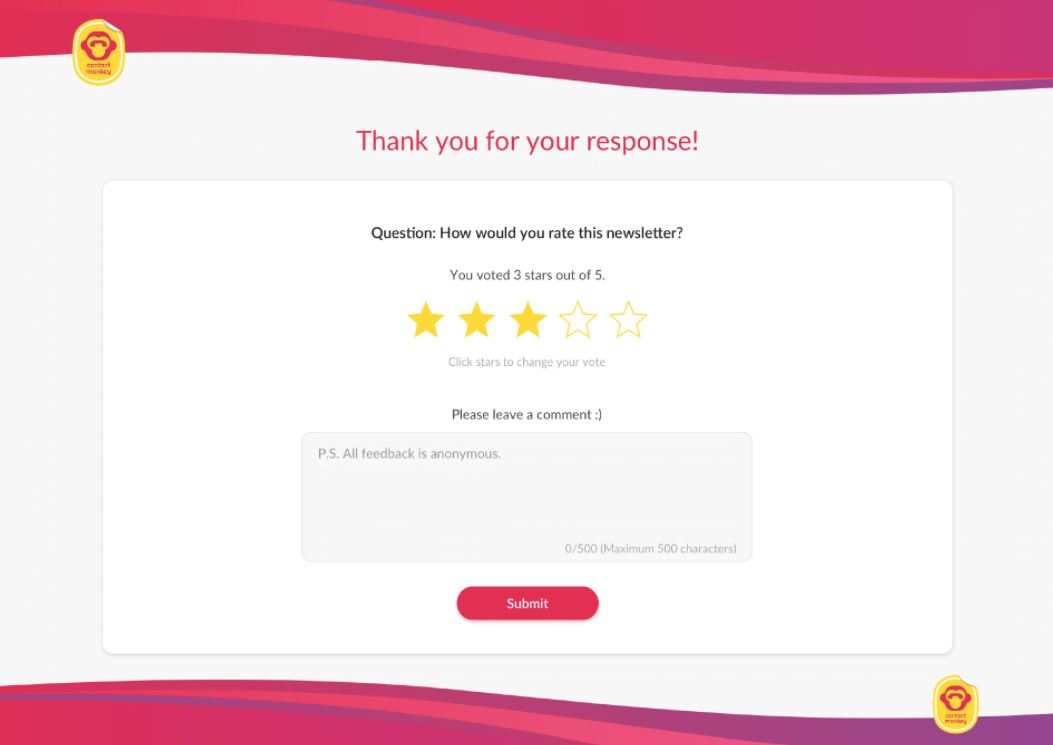 Ultimately, your internal communications strategy should focus on showing how your internal emails are improving productivity and engagement at your business. By incorporating employee feedback and KPIs into your strategy, you can easily show how your internal communications contribute to the success of your business.
How to implement an internal communication strategy
Unless you're just starting your business, it's likely that you've already established a general approach to your internal communications. Your strategy shouldn't completely upset your existing approach; rather it should shed light on areas where you can optimize and improve.
You can learn how other companies approach their internal communications using ContactMonkey by checking out our internal communication case studies.
Top channels for a modern internal communication strategy
Take an inventory of your various internal communications channels and how you use them. If your company is reliant on email to connect employees to your business and to each other, then be sure to describe how emails fit into your strategy. Mapping out your various internal communications channels can help you draft an effective strategy.
Some other popular internal communications channels include:
Your internal communications strategy should poultice how these channels can work together to achieve your overall goal. After all, overwhelming your employees with various disconnected communications can cause them to tune out, which negatively affects employee engagement.
Measure your success
After you've outlined what channels you need to account for in your strategy, determine how you can measure their success. Think about your employee engagement goals and what KPIs and feedback would best show that you've achieved them.
Next, determine the timeframe for your strategy. Will you examine your KPIs on a monthly, quarterly, or yearly interval? Outlining the specific dates when you collect your KPIs will help you keep consistent data that you can compare to past successes.
What is an Employee Communication Strategy Template?
It's likely that your internal communications strategy will change over time. Using an internal communications strategy template will help you save time when you make changes in the future. Here is an example of a simple internal communication strategy example: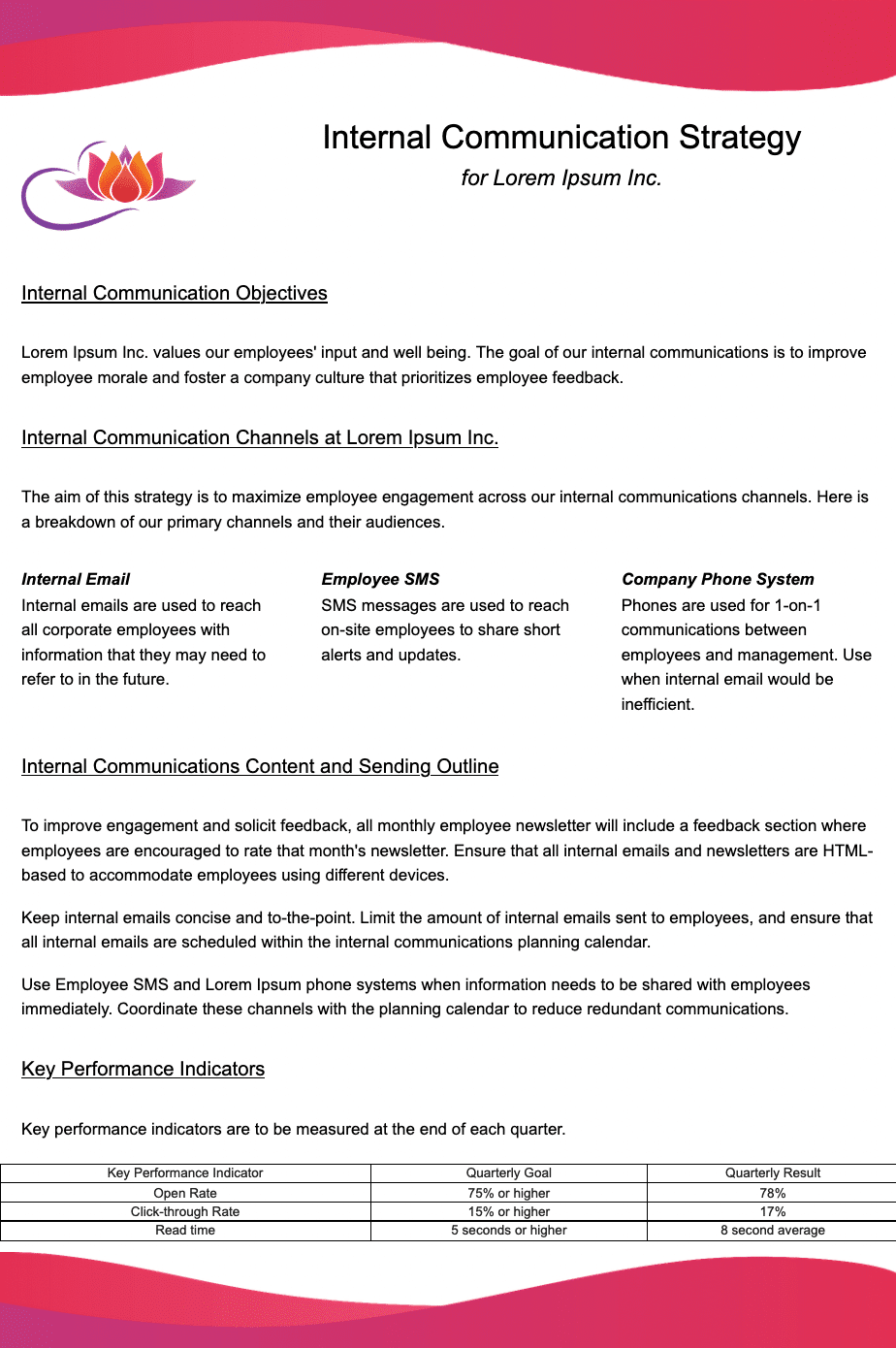 Curious to see how industry leaders build out their internal communications strategy? Check out our list of the best internal communications books by the biggest names in IC. 
Types of Internal Communications Projects
We used "improving employee engagement" as an example goal for your internal communications strategy. After all, the aim of internal communications is to connect your employees to your business and their coworkers, and how engaged they are generally reflects whether this connection is strong or not.
But you can have other goals for your internal communications that can be outlined in your strategy. If your goal is to simply provide information to your employees, then you can structure your strategy in order to maximize the reach of your internal communications.
An approach like this will likely utilize data-based KPIs like open rate and click-through rate, but not care as much for employee feedback or other information beyond that.
Another example of an internal communications strategy goal is to improve your internal communications content. This is recommended for new businesses keen to establish their internal communications with their employees.
In this case, your KPIs will be geared toward how your employees feel about your internal email content. Having feedback-based KPIs around whether your employees liked your content or not is a good approach to learn what to include in future emails.
Take Control of Your Internal Communications Strategy
We hope that you now have a good idea of how to create an internal communications strategy. Ultimately, the best strategies will be those that contend with your communications landscape and set realistic goals for improving engagement over time.
Using a dedicated internal communications tool like ContactMonkey provides you with crucial insights into your existing internal communications situation. It also helps you measure KPIs and collect employee feedback, which will help you create innovative internal communication tactics. Learn how to prove the value of a software solution to your business by checking out our internal communications software buyer's guide.
After you've determined what kind of communications work best at your organization, you can use ContactMonkey to easily craft engaging internal emails and newsletters according to what information your strategy determines.
Want to see how ContactMonkey can help you capitalize on your internal communications strategy? Book a free demo to our internal comms tool in action and how to use it at your business: