Internal communications goals help Internal Communicators focus their efforts and optimize the way they allocate resources. We break down five easy steps to set meaningful internal communications objectives and maximize their results.
Internal communications can facilitate dialogue across your teams and drive employee engagement. But to unlock this potential, you have to create meaningful and measurable internal communications goals that set you on a path to success.
In this post, we'll look at internal communications goals examples as well as tips and tricks for attaining your internal comms objectives.
Learn how to use internal communications software to set data-driven goals for internal communications and improve employee engagement.
Set new internal comms goals and objectives.
Track success and performance with ContactMonkey.
Why Set Internal Communication Goals?
As an internal communicator, you're floating between many different tasks and assisting multiple stakeholders. But how do you know what to prioritize and where to invest manpower? The answer lies in your internal communications goals.
By defining what you want to achieve with your employee messages, internal communications objectives are a starting point for your internal communications plan. They enable you to measure employee engagement and internal communications success using the goals as benchmarks.
With the help of internal communications plan objectives, you can make informed decisions about where to focus your efforts and allocate your internal communciations resources.
Featured Resource: Internal Email Benchmark Report 2023
How do your internal email performance metrics compare to 20 key industries?
SMART Internal Communications Goals
The importance of internal communication goes beyond informing employees about team absences and software upgrades. A key goal of your communications is to drive employee engagement.
To optimize the outcomes of your internal communications goals, industry professionals have long recommended using the SMART model. SMART stands for 'specific,' 'measurable,' 'achievable,' 'relevant,' and 'time-bound.'
This one acronym summarizes a range of best practices for internal communications goal-setting.
Imagine you want to apply the SMART model to a change management communications campaign. The model provides criteria to help guide you through the process—similar to a checklist.
You'll want to ask yourself questions to verify that you've met each of the SMART criteria:
Specific:

What is the end goal of my campaign?

Measurable:

How will I measure the success of this internal communications campaign?

Achievable:

Are my goals realistic?

Relevant:

Does this campaign support our overall brand mission?

Time-bound:

What is the timeframe for achieving my communications goals?
This is just one of many internal communications smart goals examples. But you'll need to customize this approach to your specific internal communications goals and objectives.
With ContactMonkey's internal communications tool, it's easy to implement the SMART model into your internal communications planning. We automate key components of your internal communications strategy through in-depth analytics, email scheduling, campaign comparison, and responsive email templates.
You can even select from a range of pre-made internal communications message templates to further accelerate your internal email workflow.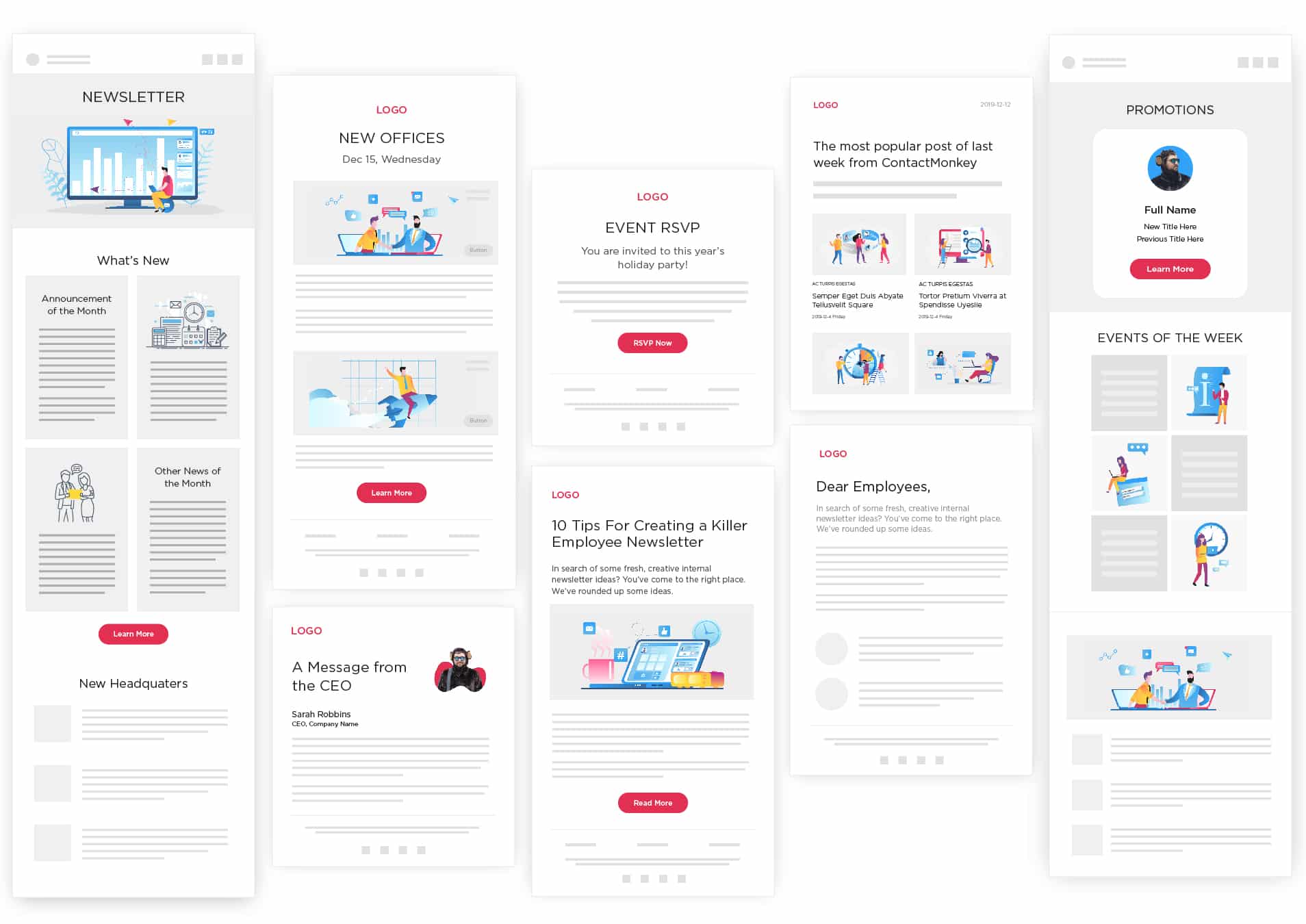 What are you waiting for? Start your free trial to see ContactMonkey in action today.
Track and measure IC goals with ContactMonkey.
In just 15 minutes we can show you how.
5 Steps for Setting Effective Internal Communication Goals
What is the broad goal of internal communications? To keep employees engaged. But to reach this large-scale objective, you'll first have to break it down into smaller, manageable internal communications goals.
Here are 5 essential steps for setting your internal communications goals and optimizing their outcomes:
1. Conduct research and understand industry standards
To begin setting your internal communications goals, you need to have a clear idea of what successful internal communications look like.
Ask yourself specific questions like, "What are the criteria for effective employee communication in my industry?", and "What internal communications KPIs will indicate our success?"
ContactMonkey's internal email benchmarks report is a good place to start your research. It breaks down a number of vital internal email metrics and average internal communications performance across 18 industries.
These insights will be handy reference points to begin planning your internal communications goals.
2. Conduct an audit to understand the current state of your internal communications
Successful internal communications goals are informed by data. The best way to obtain it is through an internal communications audit.
First, you'll want to survey your employees. See how they feel about the quality of information they receive from your internal communications team. Is there content they want to see more of? What about less?
ContactMonkey's employee surveys help you collect this data easily by gathering employee feedback straight from your Outlook or Gmail newsletters. You can learn how to create an effective pulse survey with our step-by-step guide.
You'll also want to support these insights with email engagement data like email open rates, click-through rates (CTR), and read times. Then, cross-reference feedback data with internal communications analytics.
With ContactMonkey's internal email tracking tool, you can easily access all of your workforce analytics in one place.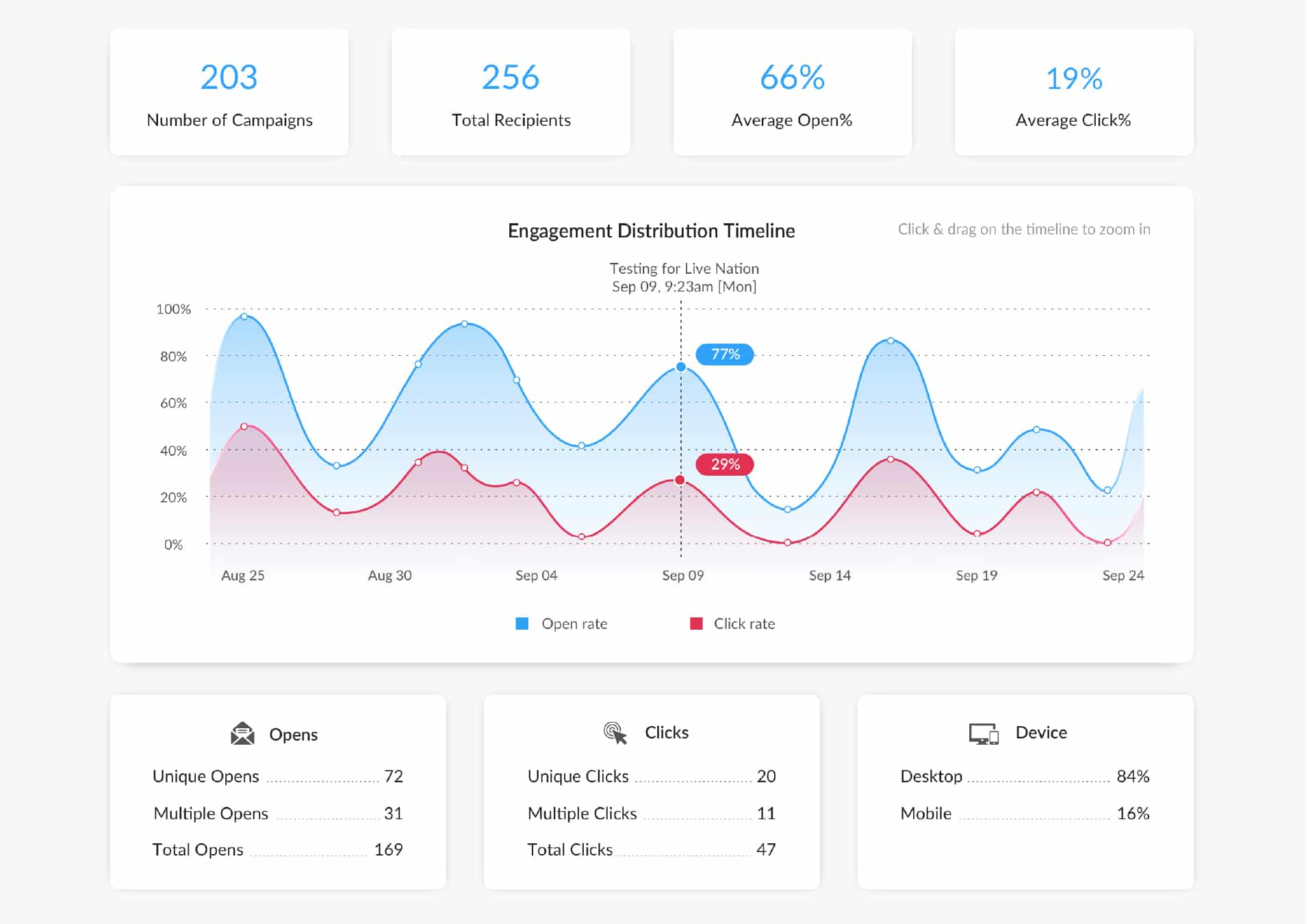 3. Identify your company's goals to ensure alignment
Ask yourself, "What are the organization's overarching objectives and values?" If transparency is a key principle in your company, promoting it across employee messages should be a leading internal communications goal.
The deliverables for this can include implementing more frequent leadership communications and adding more effective internal communications channels for rapid updates.
A short-term company objective may be to promote a new product. In this case, your internal communications goals should include maximizing awareness about the product internally.
Meet with your executive team to record key business strategies, revenue targets, and upcoming launches. Then use this information to inform your own communications goals.
4. Assess your internal communications channels and establish KPIs
The final step before establishing your internal communications goals, is deciding on your KPIs. These will depend on the internal communications channels you use and the metrics available.
While email performance can be tracked through open rates and click-through rate improvements, employee social media apps will measure engagement using likes, shares, and comments.
Given that employees check their email on average 11 times per hour, internal newsletters are a good starting point for determining your internal communications KPIs.
With ContactMonkey's email analytics, you'll be able to get a breakdown of your most successful newsletters to date, and use this data to choose your KPIs and create new company newsletter ideas.
And there's no need to limit yourself to email open rates and CTR. With ContactMonkey, you'll be able to find out your most popular clicks, event RSVPs, survey responses, and even Employee Net Promoter Score: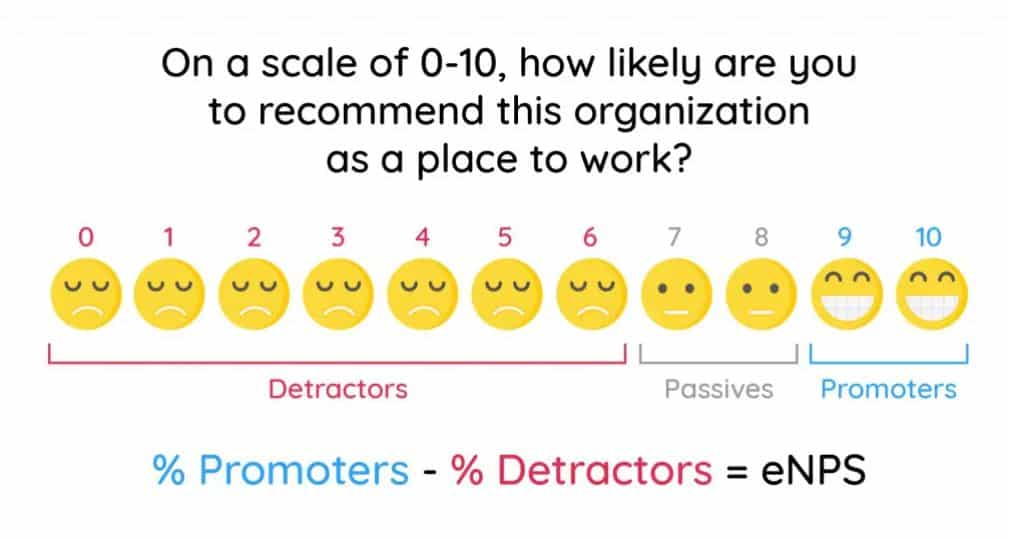 5. Start setting your internal communications goals
Now that you've done the research and gathered the necessary data, it's time to put your learnings into action. With the internal communications insights you have in tow, start answering some of the following questions:
Based on my

employee engagement data

, how many internal communications should I send weekly?

What internal campaigns or initiatives should I be running based on company goals?

Who are the key stakeholders?

What groups of employees/departments will I need to reach?

Which channels and tools do I have available for distributing my internal communications?
With these questions answered, you can begin outlining your objectives. Some examples of internal communications goals include:
Increasing email open rates.

Growing awareness about a new company service or product.

Improving employee feedback rate.

Increasing participation in company events.

Reducing organizational silos.

Improving interdepartmental collaboration.
When adapting these examples of internal communications objectives, don't forget to use the SMART method.
Say your goal is to increase email open rates. You'll want to specify the percentage increase and what metrics you'll use to track performance. Additionally, you'll need to state how this goal pertains to your overall business objectives, and your timeframe is to achieve results. You might even consider creating specific distribution lists to further target and segment your messaging for even better results. ContactMonkey's list management features can help you do that without the help of your IT department.
At the end of this analysis, your goal statement should look a bit like this:
Our objective is to increase email open rates by 25% by the end of Q4. This supports our business goal of improving interdepartmental alignment and collaboration. We will use email open rate analytics to track our progress towards this goal.
How to Measure Internal Communications Goals
Once you've determined your internal communications plan objectives and launched your strategy, you can begin tracking results.
Keeping in mind your KPIs, you'll want to monitor performance in a visual format. You can do this with the help of an Excel Sheet, or automate the process with ContactMonkey's dynamic analytics dashboard.
After a few months, you'll be able to benchmark your data and determine if progress has been made. In the process, you'll see your best-performing channels, campaigns, and even specific content. Not only will this help you find your most engaging content, but it will also help you regulate your email density to avoid running into problems with Outlook and Gmail email limits.
With ContactMonkey, you'll also be able to share your internal communications analytics with your whole team.
With the option to export as a PDF or PowerPoint, you can share the outcomes of your internal communications plan goals, show the ROI on employee engagement efforts, or build a business case for internal communications software.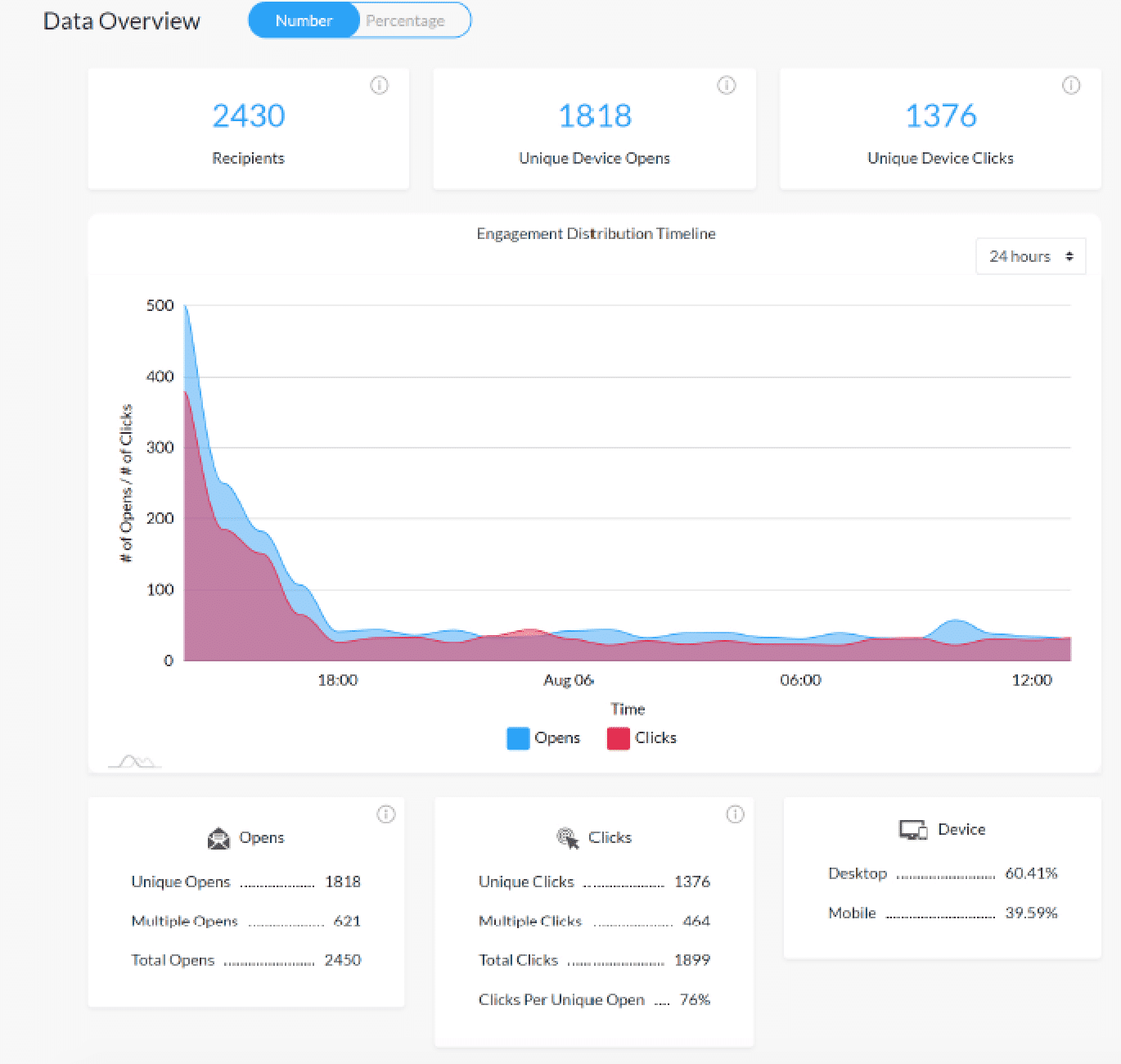 Reach Your Internal Communications Goals With ContactMonkey
Clear, measurable internal communications goals are a key ingredient to any successful internal communications strategy. And with the latest internal communications automation, setting and measuring your internal communications goals is easier than ever.
Create data-based internal communications goals with the help of ContactMonkey's powerful email analytics. Book your free ContactMonkey demo today.
Track and optimize internal communications.
Why wait? Get started with ContactMonkey today!