While new players have come and gone, email still remains the most trusted tool in the game. Learn what makes internal email outstand the test of time and how to make the most of it in 2023.
Email remains the most reliable mode of internal communication. It's easy to use, can be accessed from almost anywhere, and with the latest tech, can incorporate everything from videos and GIFs, to surveys and comment boxes.
In this post, we'll explore how to tap into the full potential of internal emails and ensure they're driving engagement across your organization.
Create internal emails today with ContactMonkey.
Start your 14-day free trial. No credit card necessary.
What is Internal Email?
Internal business emails are long-form messages sent strictly to employees within the organization.
Monthly employee newsletters, event invites, change management communications, leadership messages and appreciation emails to your team are just a few common types of internal emails.
These communications are designed to keep employees in the loop about vital updates but also inform them about opportunities for engagement and community-building. By integrating event management with your internal emails, you can even leverage this channel to oversee event registration and promotion.
Not to mention, you can transform your internal emails into two-way communication channels through embedded pulse surveys, comment boxes, and other interactive elements. 
Now that we've answered "what is an internal email," it's important to answer why they matter.
Why Internal Emails are Important
Internal emails are the most trusted, accessible, and reliable form of internal communication. Email provides a structured platform for sharing formal announcements at scale and offers a sense of permanence and organized collaboration.
With a modern internal email platform, you can tap into a range of employee engagement metrics, from open rates, to click rates, read times, and survey responses.
Internal email tools like ContactMonkey also offers email creators powerful design capabilities. You can create interactive newsletters, gather employee feedback, and manage events, all from one email platform.
Not to mention, you can level up collaboration and streamline email workflows with powerful email integrations.
Here are a few added benefits of internal emails compared to other employee engagement apps and intranet communications. 
More trusted and reliable

No learning curve

Easy to track engagement

Can be tailored to target specific audiences with email segmentation

Easily accessible from anywhere and on any device
Internal Emails Vs. Other Internal Communications Tools
Let's face it, employees won't stop checking their emails any time soon, so why opt for another gadget instead of making the most of this resource?
When it comes to intranets, only 13% of employees use them on a daily basis. Meanwhile, the general consensus on employee engagement apps is that they quickly become overwhelming.
When done right, internal emails can actually prevent the information overload that happens when tons of new tech enters the playing field. Not to mention, email is a a trusted and reliable tool for a multigenerational workforce.
Internal Email Software Features Your Company Needs
While email is just as important today as it was 10, 20 years ago, the demands are different and the bar is set higher. Effective internal communication relies on email software that offers specific features tailored to the needs of internal communicators. Here are a few key features to consider.
Internal Email Tracking, Analytics, and Reporting
Robust reporting features provide insights into email open rates, click-through rates, engagement, and other metrics to gauge the effectiveness of your communications.
AI Integration
Today, there's no getting around it. If you want to streamline and accelerate your internal communication email workflow, you need to use AI. ContactMonkey's OpenAI integration, for instance, lets you generate tailored email messages straight from your newsletter builder.
Email at Scale
Reach thousands of employees through a single email and never feel constrained by email sending limits. This internal email feature lets you send employee emails to over 10,000 recipients using CSVs, Distribution lists, Contact Groups, O365 Dynamic Groups, and everything in between.
Internal Email Collaboration
This feature lets multiple internal communicators collaborate on an email at the same time and see changes in real-time, just like with Google docs.
Integrations
Seamlessly navigate between multiple internal tools while storing all employee contacts in a single directory instead of relying on manual CSV lists.
Surveys
Gather invaluable employee feedback straight from your internal newsletters for higher response rates and more quality feedback.
Anonymous Comments
Double down on what employees truly think about everything in your newsletter. Collect anonymous feedback to get more authentic insights and improve employee experience across the board.
Event Management
This email feature lets you build events from your Outlook inbox. Easily set up, manage, and monitor multiple event RSVPs, with all relevant details and visuals for added hype.
Internal Email Campaigns
Certain types of internal updates will require more than one email to convey all the details and nuances of a given topic.
Think about the way you might plan a surprise party with your friends over group chat. It might take days of coordinating, making sure all the supplies are bought, and then getting everyone to come.
Internal email campaigns work similarly. Policy changes, organizational restructuring, or the launch of a new company product require a continuous series of communications.
Employees can gradually become familiar with the subject at hand and ask questions. Meanwhile, internal communicators can prepare, or build excitement, around the topic or change in question.
How to Create an Internal Email Campaign
Creating an internal communications campaign is all about outlining your goals, having the right tools, and consistently measuring success.
Here are the main things to keep in mind when developing your internal email campaign:
Map out the goal of your internal communications campaign (e.g. ensuring that everyone understands the rules and expectations of a new hybrid workplace policy).
Use strong visuals and media to captivate your audience's attention (e.g. embedding GIFs into Outlook emails).

Create a consistent design across internal emails geared around a single campaign (e.g., using a consistent set of colours or images).

Always conduct pulse surveys as part of your campaign to see whether employees are on the same page.

Measure the success of your internal email campaign to make improvements that are informed by data.
Wondering how to create an internal email system that ensures every element of your campaign is in-sync?
ContactMonkey's internal communications calendar makes coordinating and rolling out an internal email campaign as easy as scheduling social media content.
Not to mention, with pre-set internal communications message templates and default graphics, you can ensure that your campaigns stand out with eye-catching design.
Take a look at some of these internal communications campaign examples for extra inspiration.
Internal Email Marketing
Internal email campaigns should be part of an overarching internal marketing strategy.
And internal marketing is all about selling the brand from the inside.
The goal is to grow employee awareness and interest in new company initiatives, products, and services—much like you would publicize your brand to an external clientele.
With this objective in mind, you want to apply external marketing techniques to an internal strategy.
Just as marketers might create an email cadence to generate leads, and measure email opens or clicks to determine audience interests, you should measure internal engagement in the same way.
With ContactMonkey's internal communications tool, you can continuously track and measure the success of your internal emails over time. A simple internal email analytics dashboard allows you to compare campaigns and determine exactly what sort of content employees enjoy the most. 
In turn, you're able to create data-driven content that empowers your team to improve internal engagement as strategically as your company pursues its external marketing goals.
Types of Internal Emails
There are dozens of different types of internal emails. The ones you'll encounter most frequently include:
Peer-to-peer messages

Change management communications

Culture communication

Bottom-up conversations

New hire communication

Company updates

Campaign communication

Employee recognition communication

Health and safety communication

Holiday communication

Diversity and inclusion communication

Event management communication

Wellness communication
Read our guide to understand the goal of different types of internal communications and create designs tailored to each category. 
Internal Email Examples
Providing employees with well-crafted emails helps ensure that communication is clear, concise, and consistent across the organization. But each type of internal email requires a different approach, structure, and technique. Below, we've listed some common internal email examples. Click to explore each type of internal email.
How to Create and Write an Internal Email
There are 5 basic steps to writing an internal email. Let's break them down:
1. Choose your email client and internal email software
An internal communication email can be written from any standard email inbox, such as Outlook or Gmail. But if you want your message to truly stand out, adding HTML elements like images, buttons, and surveys is a must.
To do this, you'll need an internal email tool that integrates seamlessly with your email provider. Learn how to present a compelling case for adopting a software solution by using our internal communications buyer's guide.
With Outlook and Gmail integration, ContactMonkey lets you turn any plain text email into a scroll-stopping interactive message. Fit with branded layouts, embedded comment boxes, buttons, videos, and much more: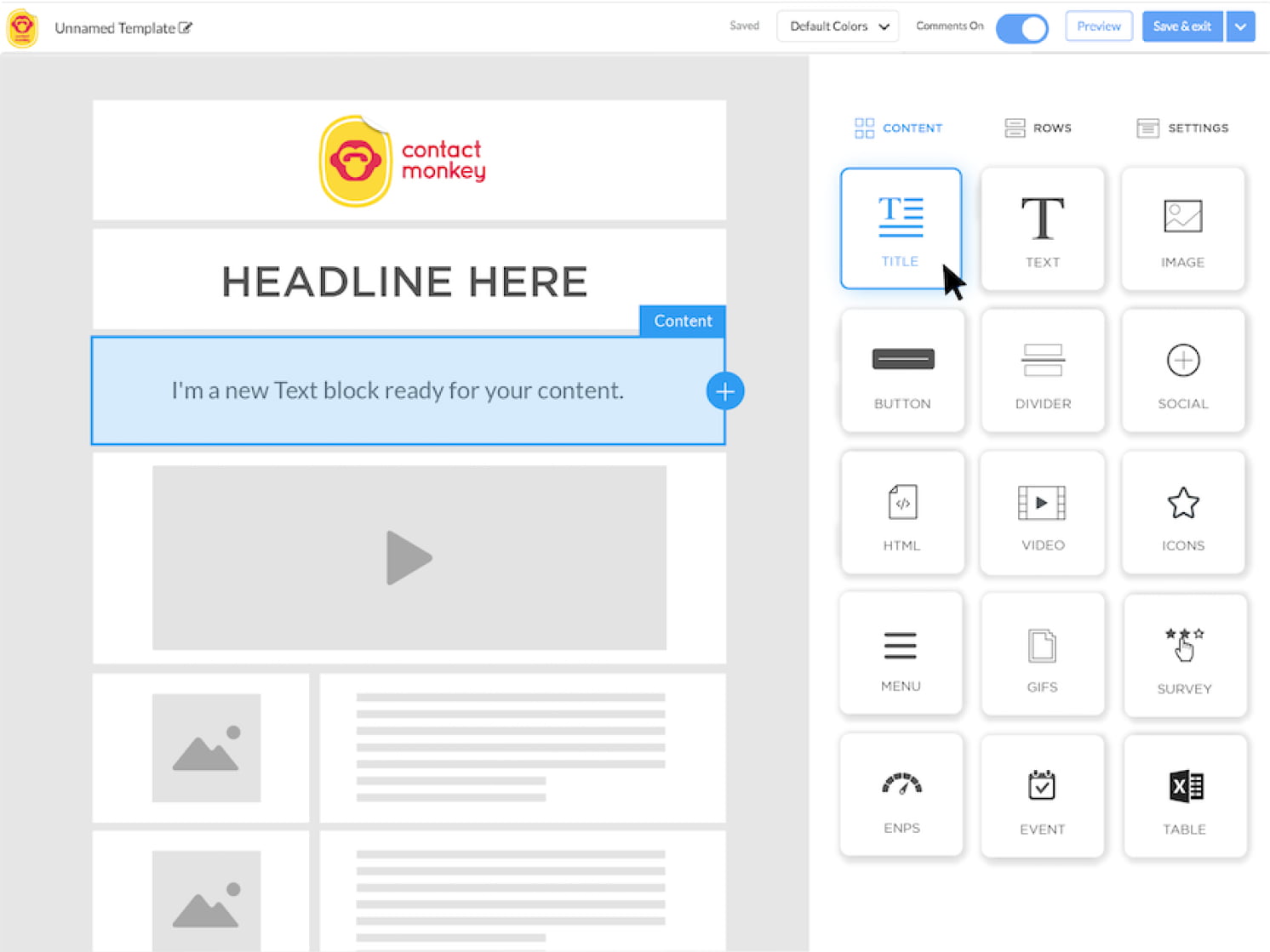 2. Compile and import a distribution list/CSV of your employee email addresses
In order to send your internal email, you'll need a contact list that includes all of your employee email addresses.
To stay in line with internal email best practices, you'll also want all your email recipients to receive a personalized email where they're addressed by their names.
If you have dozens, or even thousands, of employees, you'll need a distribution list or CSV to do the job.
An Outlook distribution list aggregates the email contacts that you communicate with on a regular basis into a single group. This group is addressed as one recipient, so sending a mass internal email is as easy as sending it to one person.
In Gmail, you can use Google Groups or ContactMonkey to create a CSV link using Mail Mege. You'll be able to insert the fields from your CSV directly into your email and turn any email field into a personalized text.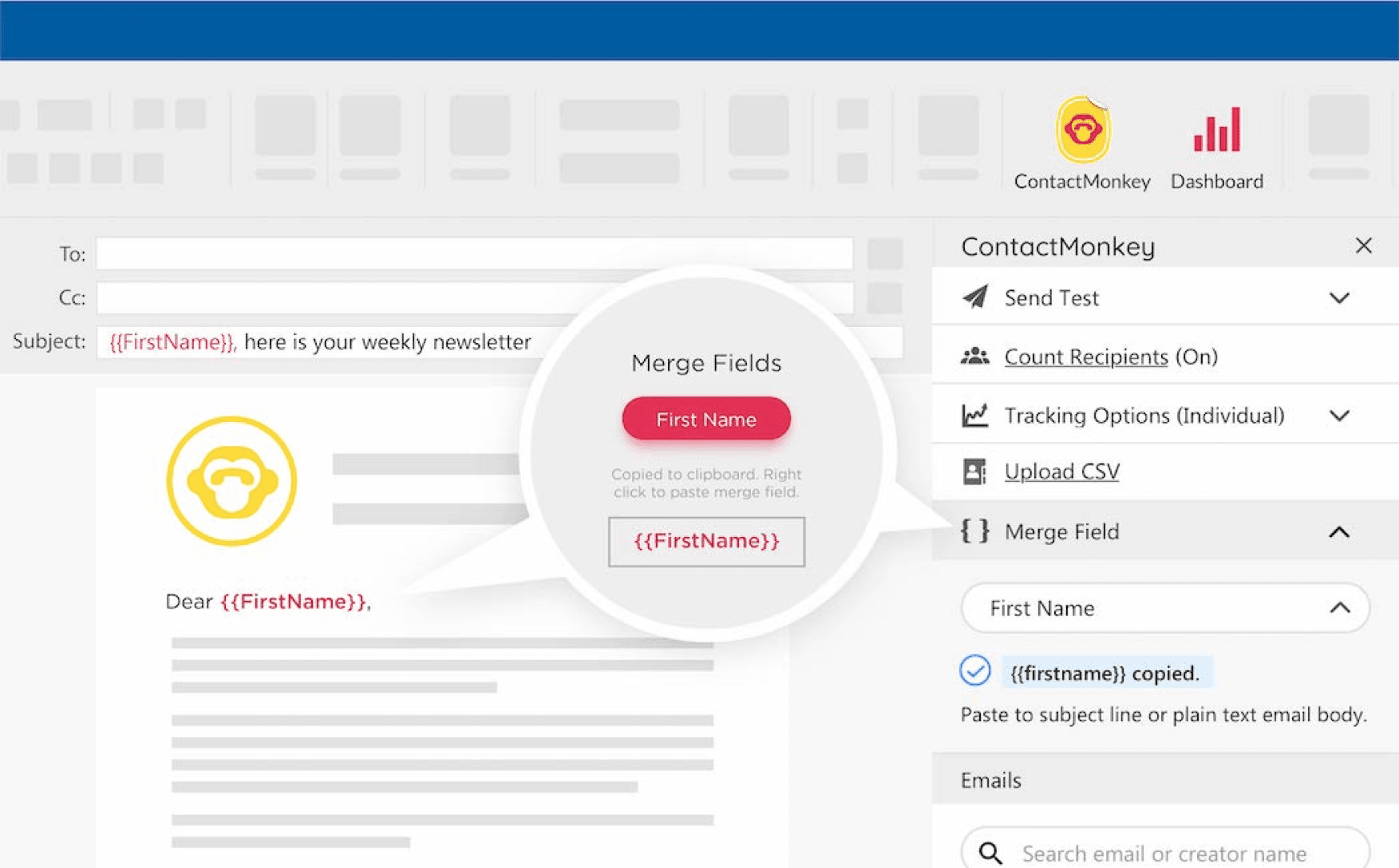 Whether you're using Outlook or Gmail, ContactMonkey lets you personalize mass internal emails using both CSV and distribution lists. Not to mention, you can add individual touches to your subject line, headers, and even the body copy of your internal emails.
Tired of waiting for IT to update or create your email lists? With ContactMonkey's List Management feature, you can easily create your own distribution lists and CSVs for custom email lists. With your custom email lists, you can keep email engagement high by sending emails only to those for whom it is relevant.
3. Develop your body copy
There's a lot of different content you can include in an internal email—from departmental updates and company milestones to employee recognition profiles and suggestion boxes.
If you're in a large company, you'll need to gather updates from different departments individually.
Ahead of creating your company-wide internal newsletter, send out a request for updates to the different teams in your company and incorporate this into your main newsletter.
Whatever information you choose to add, make sure your internal newsletter includes these essential ingredients:
An eye-catching subject line

A friendly greeting

A header/title

Introduction

Body sections

Closing message

Signature
Not sure how to start creating your email copy? ContactMonkey's OpenAI ChatGPT integration can generate example email copy based on prompts you provide. Simply describe the type of email you want to send, and then customize and edit the text create by our OpenAI integration.
4. Preview and send
The final – but perhaps most important – step before sending off your email, is double checking that everything is in order. This means scanning for spelling and grammar mistakes, information accuracy, and design consistency.
With ContactMonkey's email preview feature, you'll be able to double check that all of your email elements are in order.
In fact, you'll see your message exactly as your employees will see it—whether they're opening it on desktop or mobile browsers.
Check out our email newsletter checklist to learn exactly what to watch out for before hitting "Send!" on that employee email.
Create Captivating Internal Email Subject Lines
You probably already know that your subject line is one of the most important features of your business email message.
But so many internal communicators still forget to follow best practices when it comes to creating subject lines. Let's break down the essentials:
Your email subject line should accurately represent the contents of your message

.

Ensure that your subject line is short and does not exceed 9 words or 60 characters. 

That's one of the most important internal email subject line best practices

If it's appropriate and in tune with your internal brand voice, try to use an emoji in your subject line for higher

email open rates

.

Convey urgency in your subject line.

Pique your reader's curiosity.

Be specific when addressing particular teams or departments.

Aim to use verbs and attention-grabbing adjectives
Here are some internal email subject line examples that incorporate these best practices:
"Our sing-up deadline is approaching!"
"New Policy That Impacts You"
"Developers: A New Policy For You"
"Important Update: Respond by EOD Friday"
"Attend Coaching Session to Grow Your Career!"
Internal Email Tracking, Analytics, and Reporting
The only way to track internal emails is by using an email tracking software. These types of tools integrate with your email server to monitor a variety of statistics on employee engagement every time you send out an email.
The most common email metrics you'll be able to access with an internal email tracking software include:
Email open rates

Click-through-rates (CTR)

Read times
That being said, a quality internal communications email tracking tool can take you well beyond these metrics. ContactMonkey integrates with Outlook and Gmail to bring you precision data on:
Email open rates

CTR

Read times

Most popular clicks

Survey responses

Anonymous comments

Employee Net Promoter Score (eNPS)

Best sending times

Engagement by office location and job title

Campaign comparisons
Being able to measure your internal email performance is vital because it helps guide you towards improvement.
Once you gather actionable data, you can make informed decisions, such as when to send employee emails, how often, and even what type of content to include.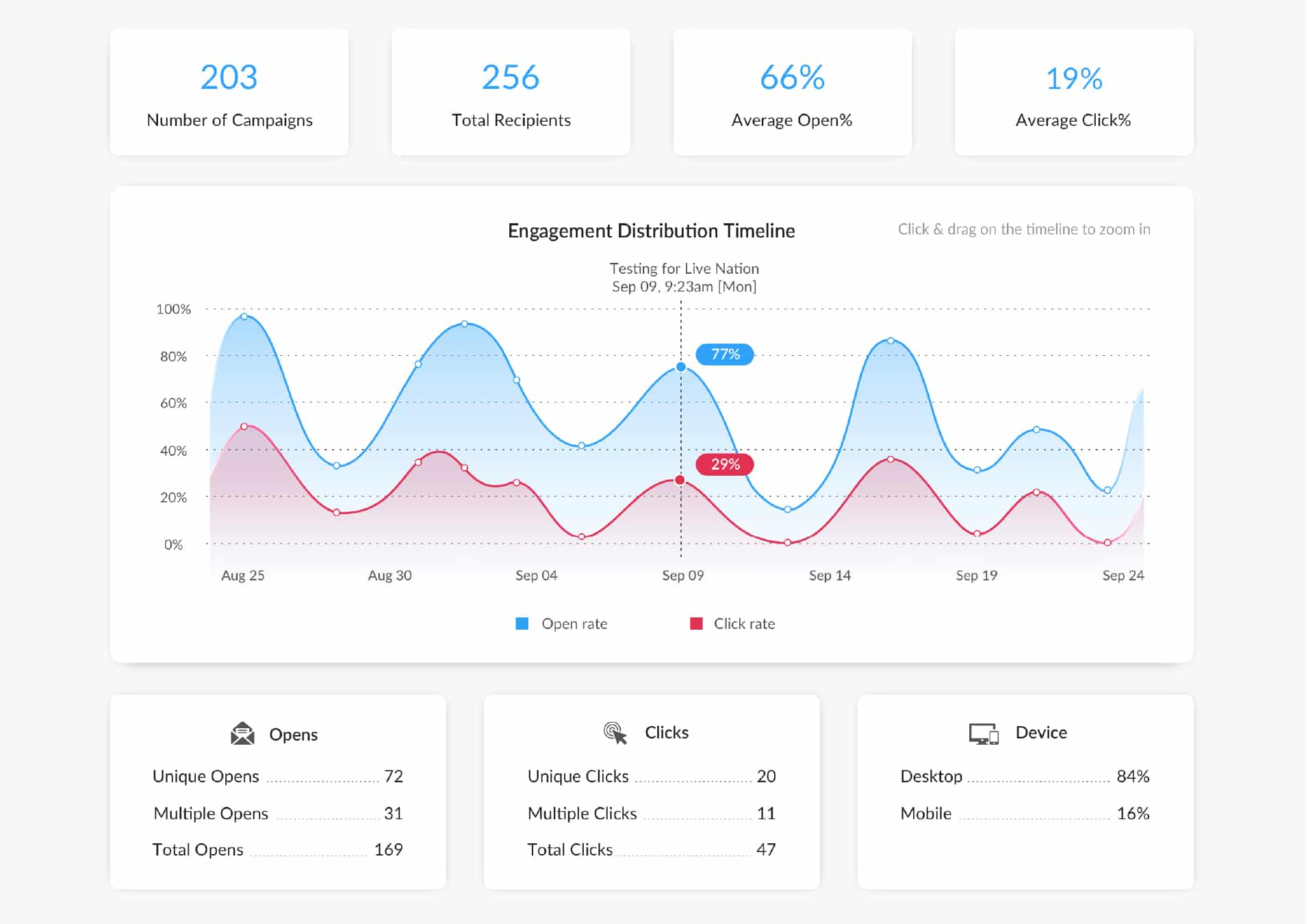 Beyond email metrics, ContactMonkey allows you to analyze your email performance and compare it against past campaigns. Using our Reporting feature, you can create side-by-side comparisons of your emails to find your best (and worst) performing email content.
Read our internal email tracking guide for a full breakdown of tips, tricks, and best practices.
What is the Best Internal Email Software?
Sending plain text emails directly through Gmail or Outlook doesn't leave much room for compelling design. Plus you get zero insight into the performance of your internal emails. And personalization? You can forget about it.
Internal communications email management software is designed to mitigate these obstacles. It's dedicated to improving the efficiency of your email workflow while increasing engagement with your internal communications.
Popular email software tools include:
ContactMonkey

Campaign Monitor

Mailchimp

PoliteMail

Constant Contact
While there are a number of email software options on the market, ContactMonkey's all-in-one tool is the best alternative to Constant Contact, Mailchimp, and others. Why? Because it's the only software that's able to combine advanced design capabilities with precision internal email analytics. 
Here are just some of the things that ContactMonkey's email builder lets you do:
Internal Email Templates
Using email templates for internal communication gives you the best of both worlds: quality design and an efficient design process.
Not to mention, the replicable nature of email templates makes them ideal for ensuring quality control across your communications.
No matter who's designing your internal emails, you can have peace of mind knowing that they'll be able to maintain an on-brand look and feel by using one of your saved templates.
With ContactMonkey's internal email template builder, you can create, save, and share internal email templates in minutes. Bring to life your own creative vision with simple drag-and-drop design tools, or customize one of dozens of presets in our template library.
Here are just a few of the internal email communication templates you can design with ContactMonkey:
Employee welcome email

Weekly internal email newsletter template 

Workplace survey email (with embedded survey questions)

Event announcement or reminder

Health and safety guidelines
Prefer to leave your internal comms email template design to the experts? You can do so with our Outlook email design service.
Internal Email Best Practices
If you want to truly inform and engage your employees, it's not enough to send out a humdrum list of updates. Your internal communications need to grab the reader's attention—and motivate them to keep on reading.
To accomplish this, keep in mind these 8 internal email best practices:
Eye-catching subject lines:

short, snappy, to-the-point.

Personalized email copy:

address employees by name.

Clear, compelling design:

vivid colours and graphics as well as buttons and dividers.

Consistency:

brand colours, logos, and other elements that speak to your

employer brand

.

Relatable content:

personal anecdotes, employee wins, and empathetic language.

Email segmentation:

target specific employees by job title, department, and other attributes to make emails more relevant.

Links to key resources:

direct employees to guidebooks, training materials, and other shareable content.

Encourage employee feedback:

add employee pulse surveys and

anonymous feedback

options.
Check out our blog for a complete list of internal email best practices and engaging hacks.
Internal Email Benchmarks
By summarizing a range of data points, email benchmarks indicate how other industries are performing in terms of email engagement.
Internal email benchmarks are designed to help you set strategic, industry-specific KPIs for your internal communications. That includes average email open rates, click-through rates, and read times by industry.
In ContactMonkey's 2023 internal email benchmark report, you'll learn:
Key email performance metrics and benchmarks for 2023.

Internal email performance across 18 different industries.

Tips for improving internal email performance.
Employee Email Newsletter Examples
There are many different types of internal emails you can create. From career development-focused internal email newsletters, to new employee emails and internal contests. 
But with newsletters being a recurring feature of your internal communications, there might come a time when you run out of content ideas. But don't sweat it. Here are just a few examples of internal email newsletter content that you can create:
Workplace hacks

Employee coaching and mentorship

Guess the desk and other virtual team-building games

Case studies and customer success stories
Read our blog on employee newsletter ideas for more email design and content examples.
Build a professional employee newsletter right now.
Start your free 14-day trial. No credit card is necessary.
Step Up Your Internal Email Engagement with ContactMonkey
Internal emails remain one of the most significant parts of any organization's daily workflow. But you need to make sure your internal emails aren't simply adding to the workplace chatter. You want them to actually make an impact. To succeed in this, it's important to understand internal email best practices, and consistently measure email performance to ensure that your content resonates with employees. And with today's tools, this goal is well within reach.
With ContactMonkey's all-in-one internal email builder and tracking tool, you can send personalized HTML emails directly from Outlook or Gmail. Boost email engagement with GIFs, videos, and clickable content, and track content performance. See ContactMonkey with our 3-minute demo.