With so many tools out there, choosing just one internal email tool can be tricky. In this post we'll explore how ContactMonkey compares to MailChimp and how the right choice will depend on what you and your team are looking for.
Whether you have a newly approved budget or just started a new position, selecting an internal email tracking tool that allows you to measure employee engagement can be a daunting task.
Maybe you need internal email tracking, or want to send an employee newsletter?
The good news and the bad news is the same: there's an endless amount of tools that promise to take your email communications to the next level (hooray!).
However, that range of selection can be overwhelming. From tools built for marketers (like MailChimp) to tools designed for internal communications pros (ContactMonkey, for example), choosing one is almost impossible.
What does help when choosing internal email tools is to think about these two categories:
1) Who will be using the tool (marketers vs. internal communicators)
2) What your main priority is (opens vs. engagement)
Below we'll explore how MailChimp compares to ContactMonkey in those 3 categories to help you make a decision and finally reach your employee engagement goals.
Disclaimer: Obviously, we're a little biased. After all, we're all about embracing monkey business. But, as lovers of excellent email communications, we also love MailChimp. 
However, based on interactions with clients and other internal communicators we've found that what Mailchimp offers is better suited for marketers trying to convert prospects into qualified leads. One of their slogans is, "build your brand, sell more stuff," after all.
For internal comms pros with the goal of increasing employee engagement, different tools are probably better.
Choosing an Internal Email Tool
Criteria #1: Who's going to be using the internal email tool?
As the self-proclaimed "world's largest marketing automation tool", if your end users are going to be marketers or business owners, you can't beat MailChimp. With beautiful templates, drag and drop tools and e-commerce integration, MailChimp allows you to send mass emails that will help you bring business in.
However, if the end users will be internal communicators, a tool designed specifically for them will probably be of better use.
Internal communicators have a very specific workflow and a finite amount of time to get stuff done. In a recent #CommsChat that we hosted, communicators identified not having enough time as one of their main challenges.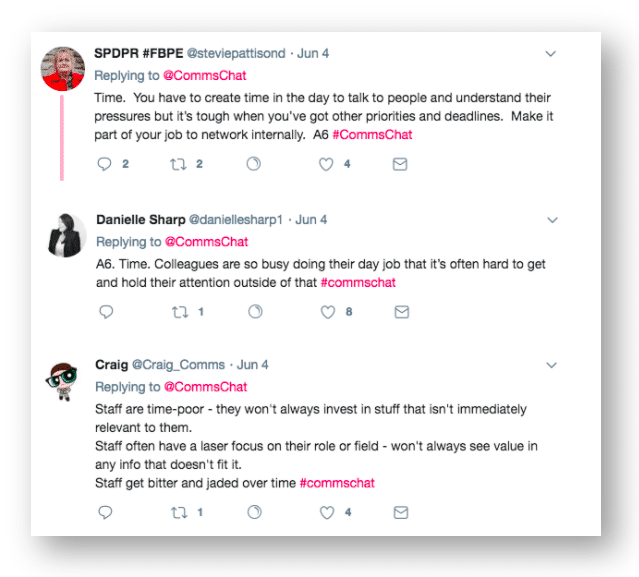 When it comes to saving time, here at ContactMonkey we take pride in helping internal communicators send internal emails from the comfort of the email tool they're familiar with.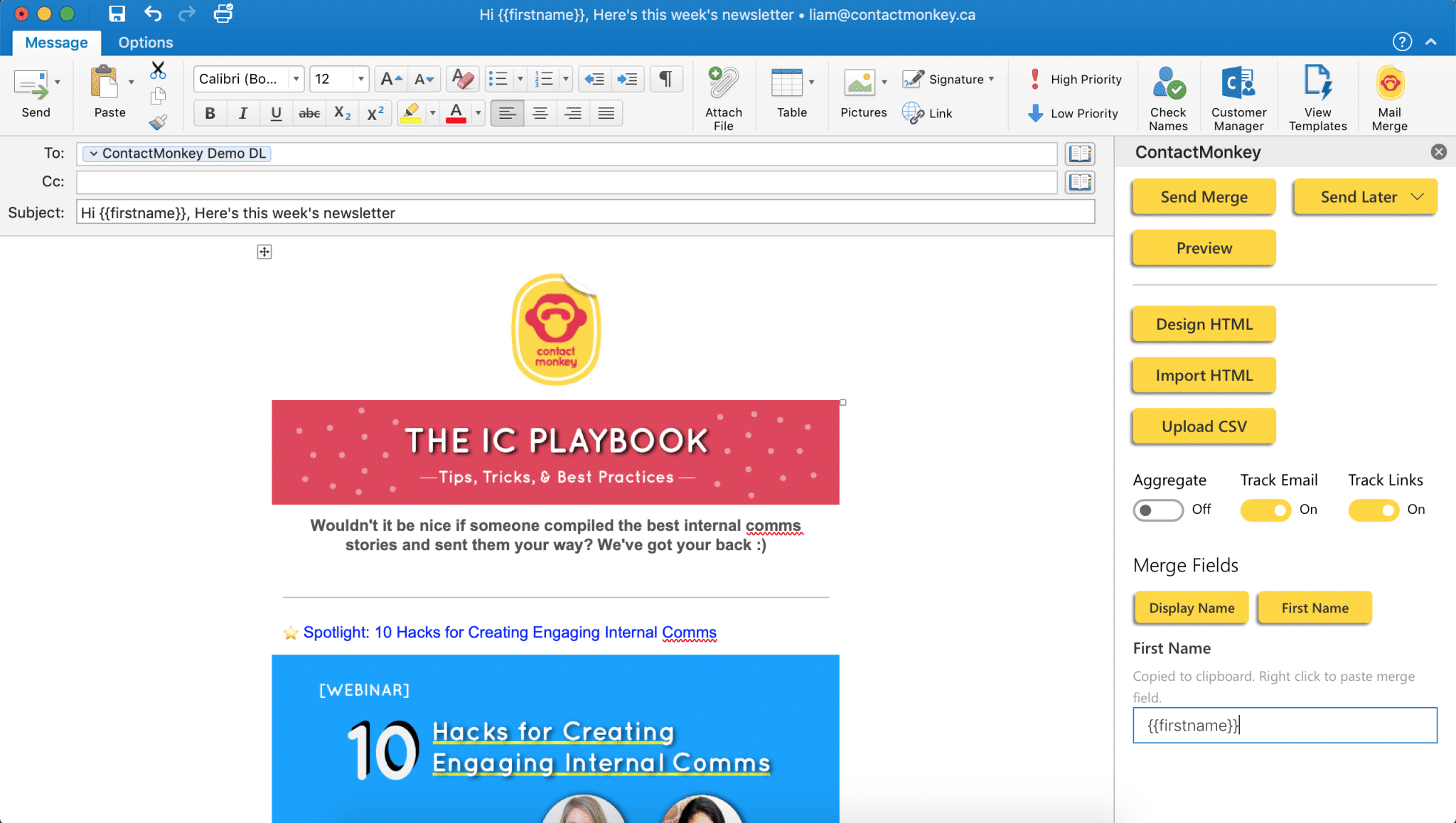 For many of them that tool is Outlook and our plugin allows internal communicators to send internal emails in 3 easy steps while staying in Outlook:
Stop opening Word (or Excel) or multiple 3rd party tools (sorry MailChimp) to send a simple mail merge or responsive HTML emails and newsletters.

With ContactMonkey you're able to do all of that right from Outlook, meaning that you don't have to leave the email client you're used to in order to communicate and connect with your employees. That sounds like a lot of time saved if you ask me.

Seamless Internal Email Tool  vs. Proudly Unique Email Tool
Personally, I love the MailChimp brand. It's loud, confident and very creative. However, as ShivarWeb puts it, "MailChimp's brand is not only cosmetic – it's ingrained throughout the product. For better & for worse, MailChimp has a unique language for its features & processes."
This translates in users having to switch brains/ languages when it comes to sending mass internal emails or employee newsletters. If you're looking to use Mailchimp for your internal communications, you'll have to take into account the learning curve of a new software. 
Although our brand is also confident, when it's time to work ContactMonkey makes everything seamless.
Since our tool is an Outlook plug-in, you're able to do everything from your Outlook window: build your responsive email newsletter with our drag and drop Email Template Builder, select recipients (CSVs, Outlook Distribution Lists and Dynamic Distribution Groups are all supported), personalize subject line and body, collect employee feedback in one click with our emoji reactions, pulse surveys and ratings feature and send via the cloud in Office 365.
Unlike ContactMonkey, MailChimp doesn't integrate with Outlook or Gmail so anything that you send doesn't live in your email, only in their web application.
This lack of integration also makes it impossible to send mass emails to your Outlook distribution lists because in MailChimp, you can only send emails to "subscribers" you add to their platform, which you will have to update each time a new employee joins or leaves your company, a job in itself if you work at a large organization with thousands of employees!
With Mailchimp, you'll also have to consider privacy when it comes to your internal communications emails. When you use Mailchimp, by default the system creates a web version of your all email campaigns.
You'll need to consider how sensitive the messages you're sending are and if you want them available for the web after you send them!
Mailchimp also lacks the ability to gather employee feedback within their email templates. If you want to use include an employee engagement survey within Mailchimp you will need to use another external tool.
Using ContactMonkey's pulse survey tool you can add pulse survey questions, employee comments or emoji reactions and have employees directly give you feedback from within that email. No extra steps, no extra tools.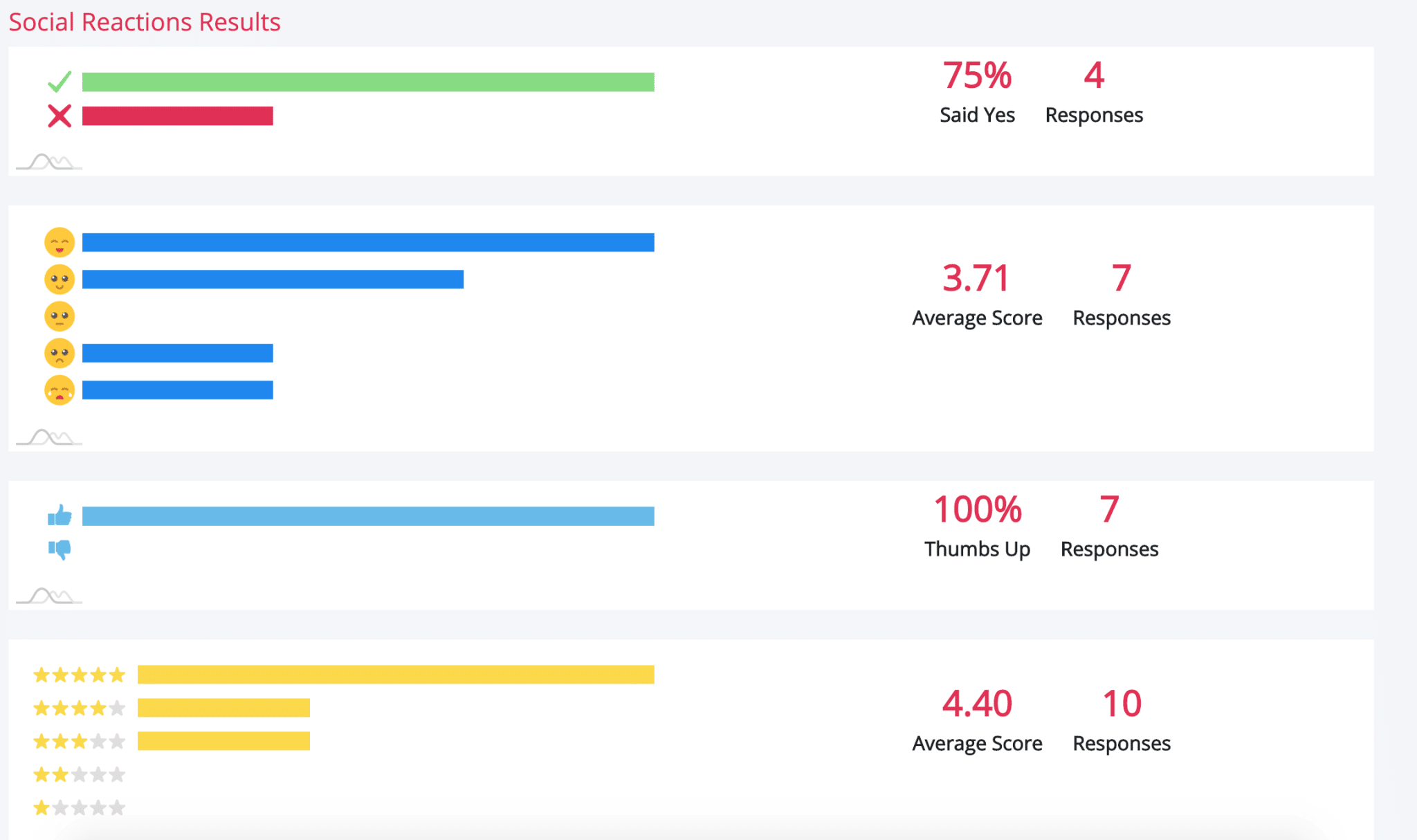 Undoubtedly your internal emails are the best, most entertaining pieces of content in the world BUT isn't it great that people can't unsubscribe from them? How are you supposed to measure employee engagement if half of your employees unsubscribe? 
With ContactMonkey employees can't unsubscribe from your important updates, whereas in Mailchimp (or any other web based platform that's built for extenral communications) it is mandatory that you include an unsubscribe link in every email. 
Criteria #2  What's Your Priority – Opens or Engagement?
"Always some 'campaign' about work culture, employee life/work balance, diversity but often doesn't reflect the reality of the workplace. I essentially am tired of communication 'campaigns' that seem out of touch – therefore I skim or barely read"
–  A Gen X'er in government with more than 2,000 employees
As you could infer from the marketing vs. internal comms divide running through this post, your priorities should also help you decide which tool to choose.
For marketers, their main priority is converting prospects into leads, and getting audiences to give something away: give money and purchase a product, or give their information and get information. MailChimp is great at doing this, with templates specifically designed to drive conversions, landing page builders and web form integrations.

For internal communicators, their number one priority is to increase employee engagement through any means necessary, and internal email campaigns are the number one weapon in their arsenal. However, internal comms emails are very different from marketing ones because the end goal is for employees to receive something.
Whether it's important information for them to internalize, or get employees to engage in a fun activity, the end goal of internal comms is for employees to receive and get something valuable.
So, again, it all comes back to the age-old question: what do employees want in their internal emails?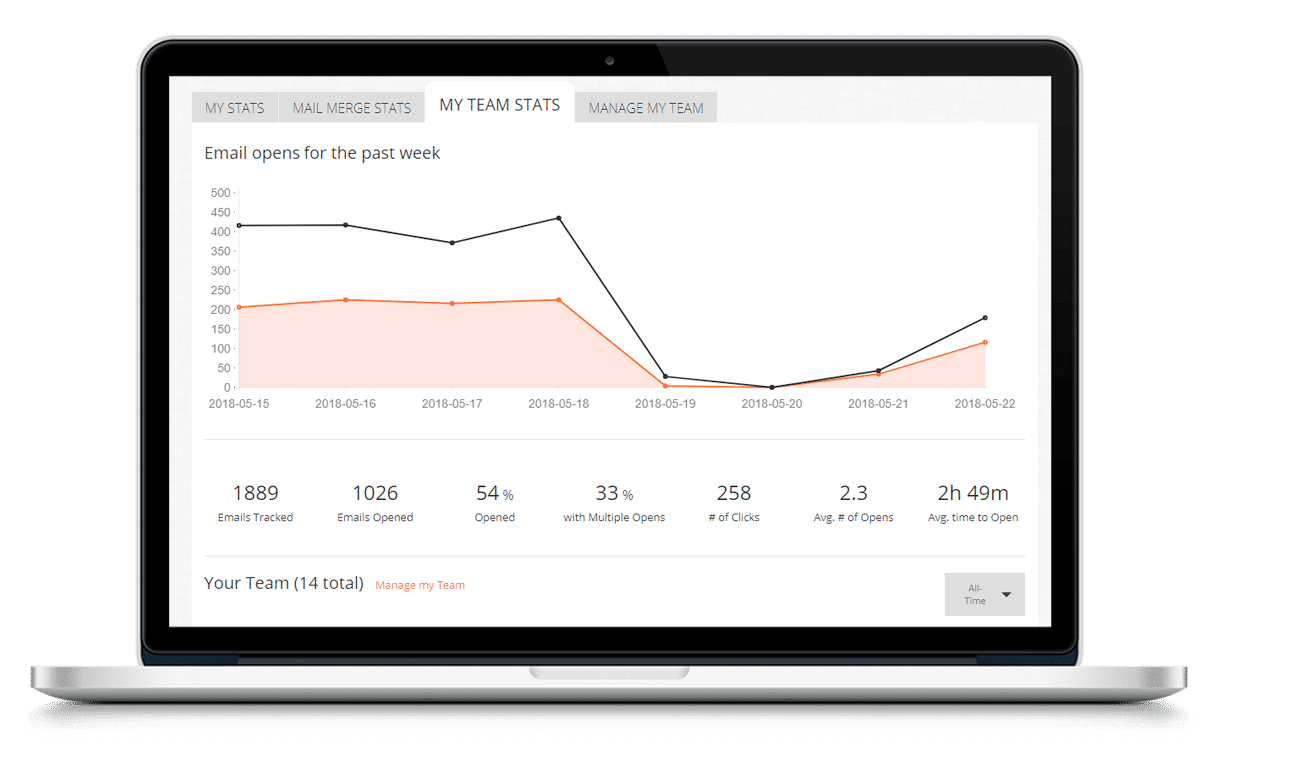 To answer that you need to look at industry best practices and at your own data, given that no matter how much you've done your research, every company is different so keeping an eye on your metrics is paramount.
In terms of industry best practices, we recently published an ebook where we surveyed hundreds of communicators — download here.
Included with the ability to send responsive emails to your employees, you can use Outlook email tracking to track the message and see who has opened it or clicked any link within the email in real-time. All without leaving Outlook!
Since you're also able to track opens, link clicks at a personal and aggregate level using your ContactMonkey analytics dashboard, you'll be constantly learning what's needed to keep optimizing your internal emails every time you hit send.
Two-Communication is the Only Real Employee Engagement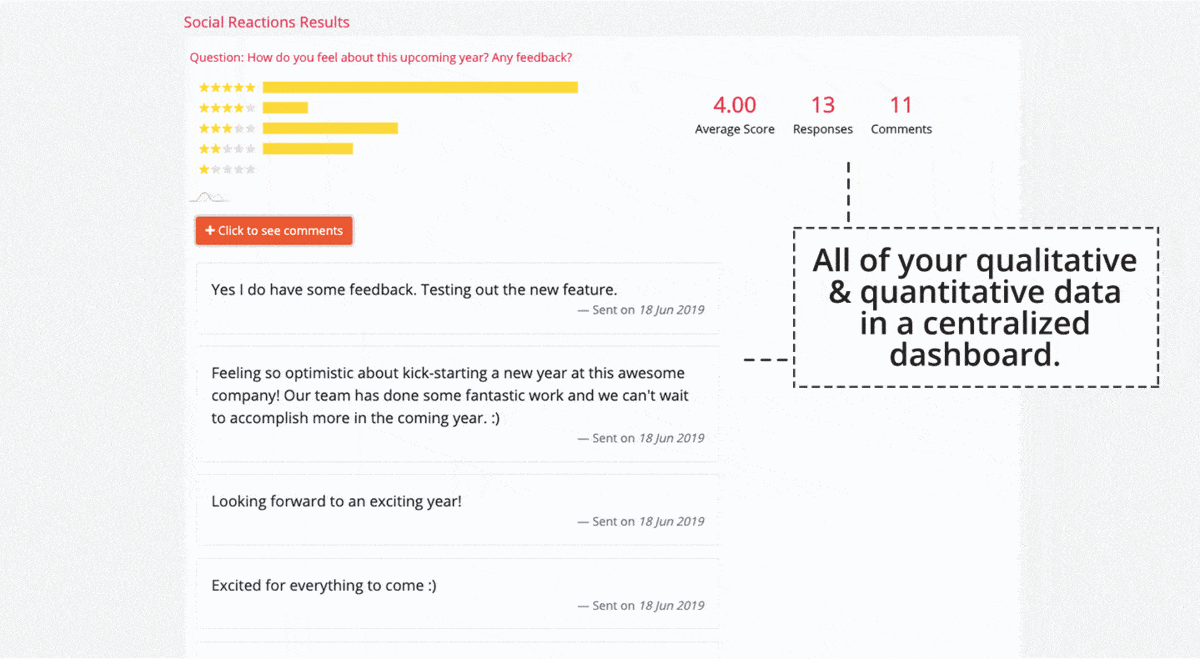 If you're only hearing back from your employees through an annual survey, your employee engagement levels are probably low.
According to one study, 70 percent of employees don't respond to annual surveys, and 29 percent think these surveys are pointless. Why? Because 80 percent of employees believe managers would not act on survey results.
A better way is to continually get feedback from your employees. With ContactMonkey you can add employee feedback tools into any email or newsletter that you send.
By adding emoji reactions, pulse surveys, employee comments or star ratings to your newsletter, you'll be able to get live-feedback all the time and use that information to improve your internal comms strategy.
Seeing how your employees interact with your emails in real-time allows you to get inside their head and finally understand the type of content they want to get from you. It's almost like a mind-reading superpower.
Summary – The Best of Both Worlds
For any marketing purposes, MailChimp is, hands down the go-to tool. With beautiful templates and great e-commerce integration, it gives marketers and small business owners the tools they need to convert more and grow their business.
However, for internal communications, ContactMonkey is the better tool (and understandably so, since it was designed for that). Our Outlook plugin provides internal communicators with email tracking, analyzing, and the ability to send beautiful responsive HTML emails — all without leaving Outlook.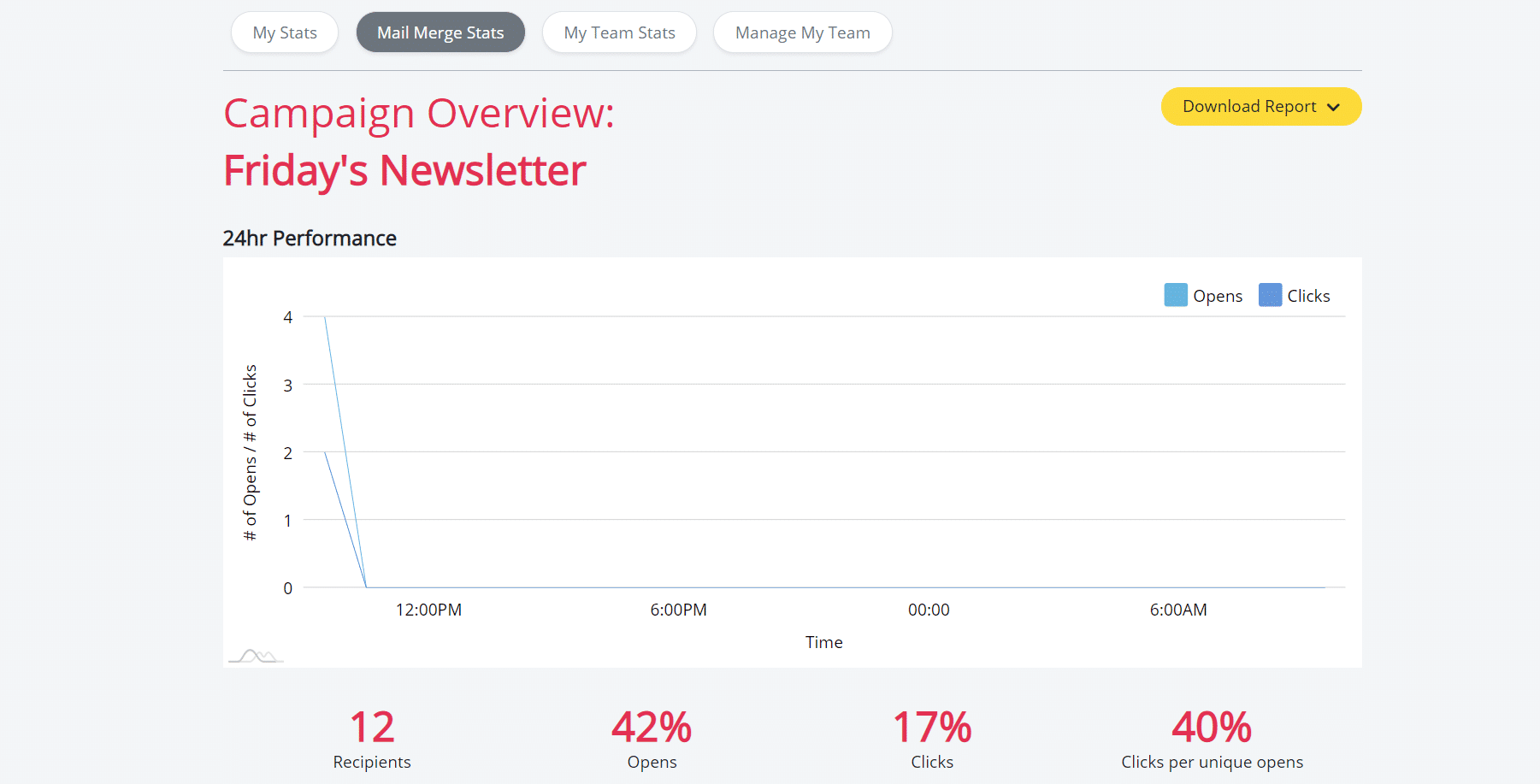 Since ContactMonkey also allows you to send to your own Outlook distribution lists or upload any CSV recipient list, it is the seamless internal email tool communicators love to use. The best of both worlds.
Let us know in the comments below your experience with either of the tools! We'd love to hear your thoughts.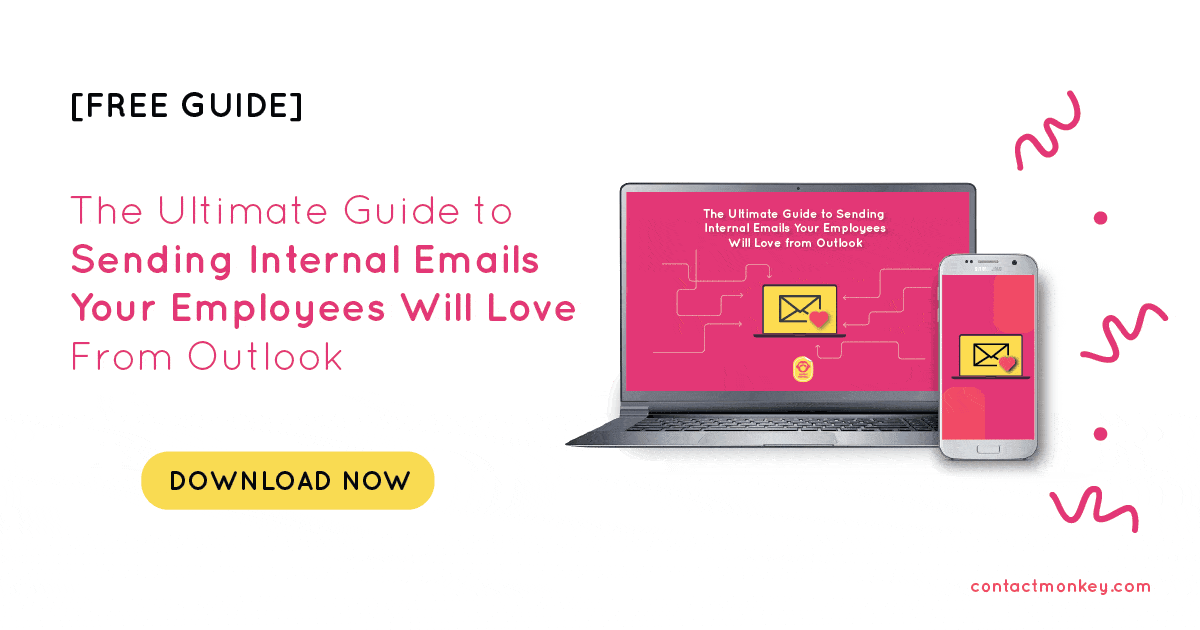 If you found this article interesting, you can complement it with our analysis of how HubSpot compares to ContactMonkey, whether you should consider Slack for internal comms, or our article about internal comms lessons to learn from Spotify.