Explore how ContactMonkey compares to Mailchimp for internal communications and learn how the right choice for internal email is clear.
Not everyone uses dedicated internal communications tools, often opting to use an external marketing tool like Mailchimp for internal communications. While this may not seem like a huge conflict, it will lead to issues with your internal communications which lead to wasted time and money.
Learn how Mailchimp compares to ContactMonkey for creating internal communications and tracking employee engagement, and why you should not use Mailchimp for your internal communications. We'll break down the most important features of each tool so you can make the best decision for your business.
Why You Need A Dedicated Internal Communications Software
Internal communications enable your employees connect with your company and to one another; they drive employee engagement and measure how your employees feel about their jobs.
A dedicated internal communications software—like ContactMonkey—will allow you to optimize your employee emails, measure their success. Create, send, and track your internal emails from a single tool so you can create better employee email content in less time.
Why you shouldn't use an external email tool for internal communications
While you can build emails using a tool like Mailchimp, you'll encounter a number of issues sending them internally.
External marketing tools are legally required to include unsubscribe buttons on emails created with them. This can lead to your employees opting out of your distribution lists, leading to missed information and extra work for you to maintain your lists.
When you send an email with Mailchimp, it goes through Mailchimp's external servers—rather than only your company's email server. Internal emails sent with external marketing tools can get flagged as spam and end up in your employees' junk email folders.
When you use an internal email tool like ContactMonkey, you are not required to include unsubscribe buttons on your emails. As well, your emails always remain on your own email servers so they'll never end up in a junk email folder.
How to Choose an Internal Email Tool
When choosing an internal email design tool it's useful to think about the following criteria:
Who is the email software designed for?
How efficient is the email platform for your email workflow?
What is the interface like?
What metrics are collected by email software?
How does this email platform handle privacy and security?
Who's going to be using the internal email tool?
If your end users are internal communicators, a tool designed specifically for them will be more suitable. While Mailchimp is good for external emails, using Mailchimp for internal communications has some issues with desktop versions of Outlook and works only within a browser.
ContactMonkey integrates right where internal communicators work, right inside Gmail and Outlook on both desktop and browser
How efficient is the tool for your workflow?
When using Mailchimp for internal communications, you end up wasting a lot of time importing things back and forth from Outlook or Gmail. You have to update your distribution lists in Outlook as well as Mailchimp, which might as well be a full time job if you work at a company with over 1000 employees (being careful not to exceed the Outlook email limits). Mailchimp and Outlook just don't play nicely with each other.
With ContactMonkey's email collaboration capabilities, you're about to have multiple team members working on the same email template. This feature is a terrific communication tool for remote workers.
See every user editing the email and watch their changes in real time:
Say goodbye to long email chains about changes for the next email newsletter. With a Mailchimp alternative like ContactMonkey, you can leave comments for your team members right on the email template. And they'll be automatically informed of the comment via email—just like in Google Docs.
What is the interface like?
As ShivarWeb puts it, "Mailchimp's brand is not only cosmetic—it's ingrained throughout the product. For better or for worse, Mailchimp has a unique language for its features & processes."
This translates to users having to switch brains when it comes to sending mass internal emails or employee newsletters. If you're looking to use Mailchimp for your internal communications, you'll have to take into account the learning curve of a new software.
When it's time to work, ContactMonkey makes everything seamless; our internal newsletter software works right in your Outlook or Gmail inboxes.
Here are just a few things you can do with ContactMonkey:
Build responsive email newsletters with our drag-and-drop email template builder.

Collaborate with your team while building emails.
Create and manage employee distribution lists and integrate with Azure Active directory or your HRIS.

Personalize

subject line

and body copy.

Feature surveys using emoji reactions, eNPS, thumbs up/down, yes/no, and more.

Schedule emails to maximize your open rate.
Collect employee feedback using anonymous comments.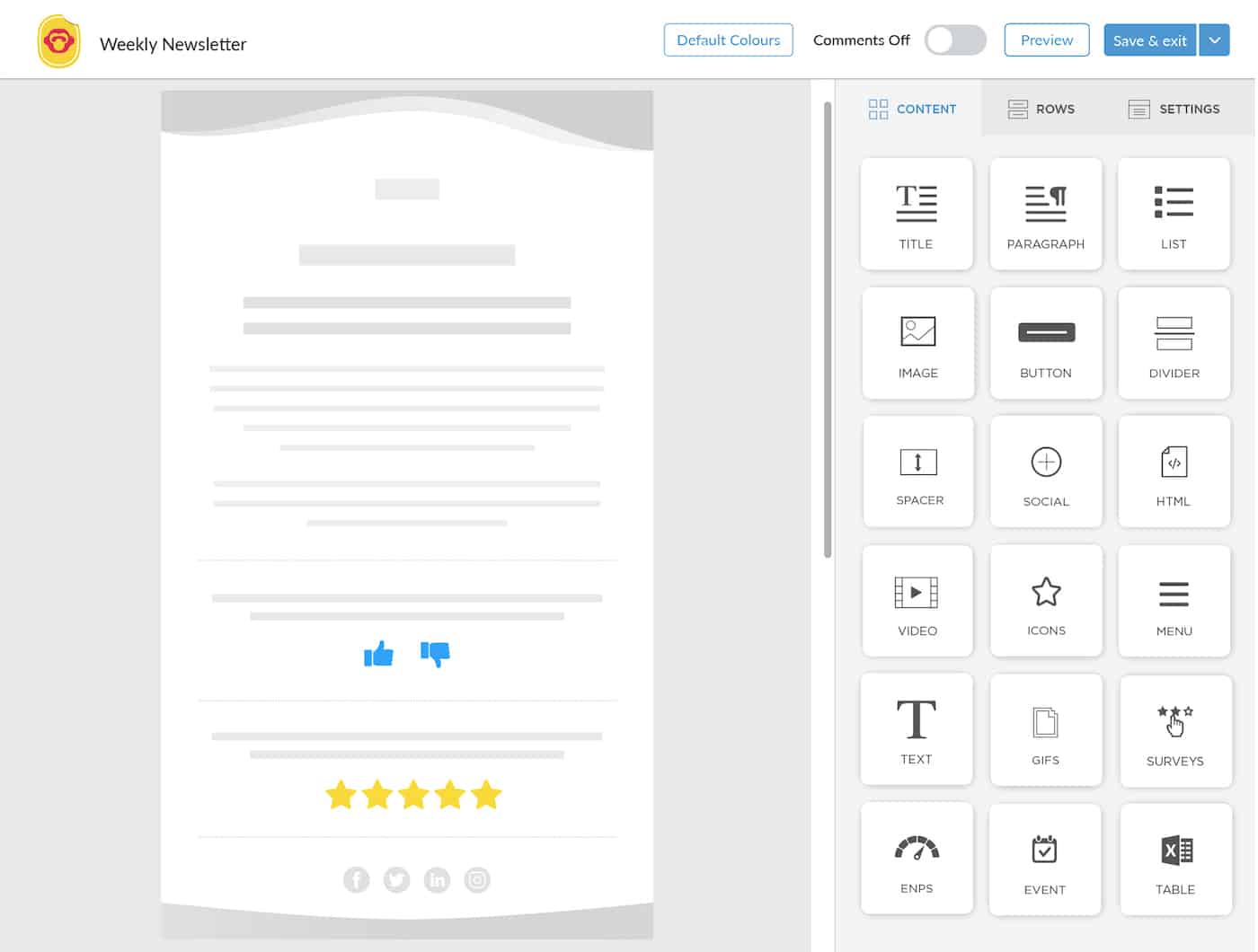 Unlike ContactMonkey, Mailchimp doesn't integrate with Outlook or Gmail. That means that anything you send doesn't live in your email, only in their web application.
This lack of integration also makes it impossible to send mass emails to your Outlook distribution lists. In Mailchimp, you can only send emails to "subscribers" you add to their platform. You will have to update your subscribers each time an employee joins or leaves your company. That's a full-time job in itself if you work at a large organization with thousands of employees!
What metrics are collected?
For internal communicators, the number one priority is to increase employee engagement through any means necessary. For that, internal email campaigns are the number one weapon in their arsenal. However, internal communications emails are very different from marketing ones because the end goal is for employees to receive something.
ContactMonkey tracks numerous email metrics such as: open rate, click-through rate, read time, opens by device and location, individual email opens and link clicks, and more: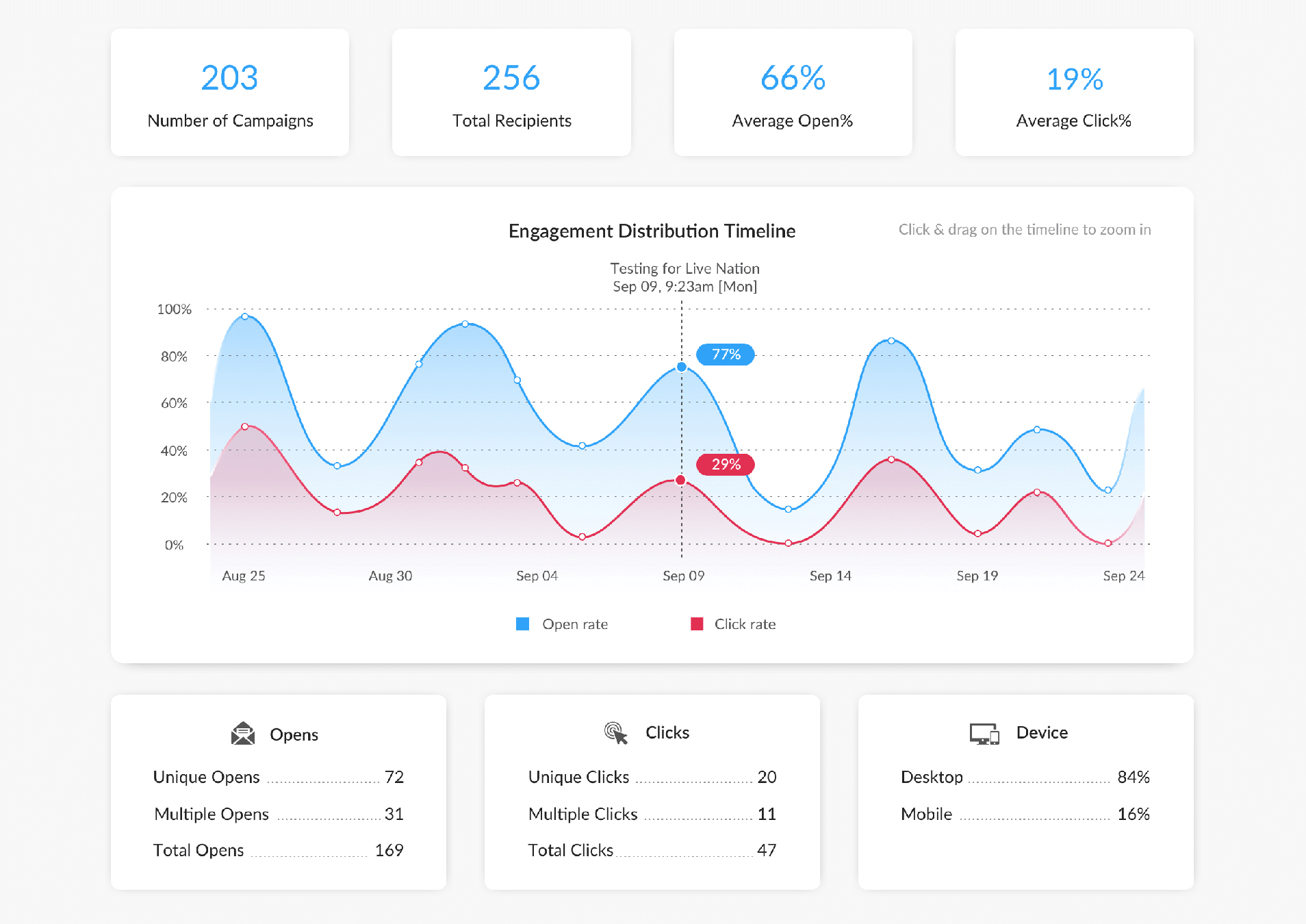 In additional to tracking email metrics, ContactMonkey features in-depth internal email analytics that allow you compare metrics across various email campaigns and segment your audience to understand who is engaging with your emails. You can use these tools to pinpoint your best performing email content and drive engagement.
In Mailchimp, you can collect mass email metrics for open rate, clicks, location, device, click maps, conversion rates, revenue, unsubscribes, and bounces.
Some of these are entirely irrelevant when measuring your internal communications strategy. Internal communications isn't a direct revenue function such as sales. Instead, the value of internal communication is linked back to productivity, employee engagement, and staff retention.
ContactMonkey exclusive features:
Employee

surveys

Outlook/Gmail integration
Email collaboration
Reporting and segmented email statistics
Send to distribution lists or CSVs
Azure Active directory and HRIS Integration

Emoji Reactions / Reaction Symbols

Anonymous

comments

Read time
List Management
Features shared by Mailchimp and ContactMonkey:
Open Rate

Link Clicks

Device Type

Location

Click Maps
OpenAI ChatGPT
Mailchimp exclusive features:
Conversion Rate

Revenue

Unsubscribe

Bounce Rate
When you solicit actual sentiments through surveys and emoji polls you actually get to see what your employees feel strongly about. What do people react positively to? If you enable comments, what are people actually saying about your news?
These types of two-way communication can add more depth to your metrics and reporting because they create qualitative data. And unfortunately, there is no Mailchimp survey.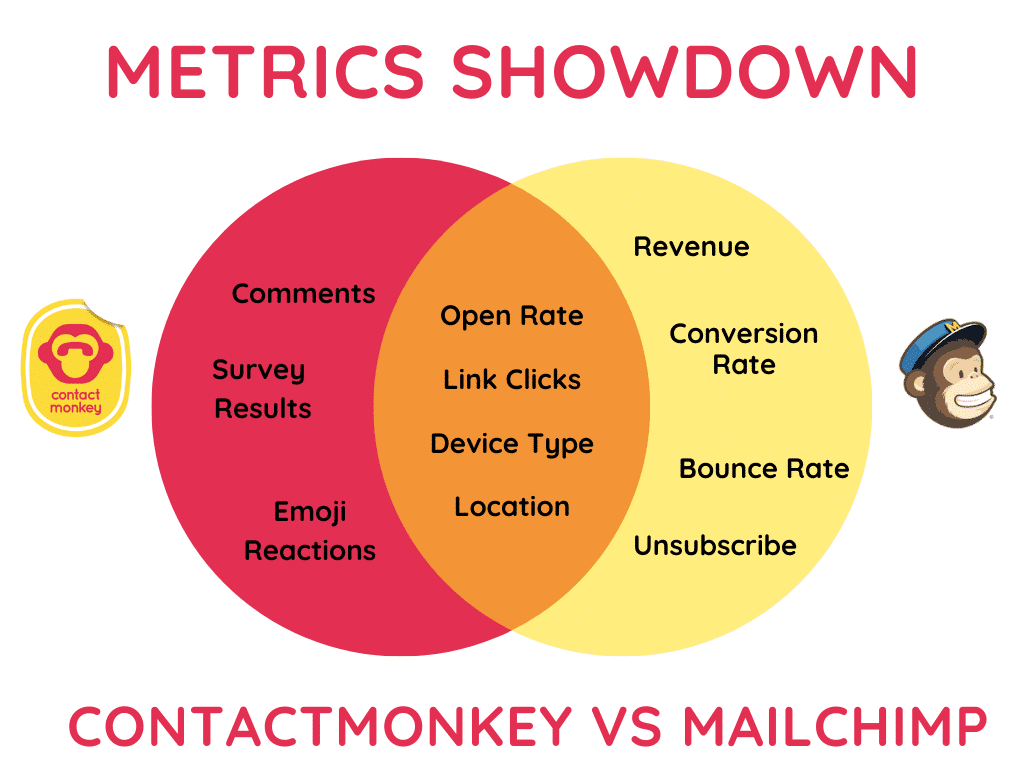 Mailchimp lacks the ability to collect employee feedback within their email templates. If you want to use include an employee engagement survey within Mailchimp for your internal communications, you will need to use another external tool.
Using ContactMonkey's template builder you can add pulse survey questions, employee comments or emoji reactions to have employees directly give you feedback from within that email. No extra steps, no extra tools.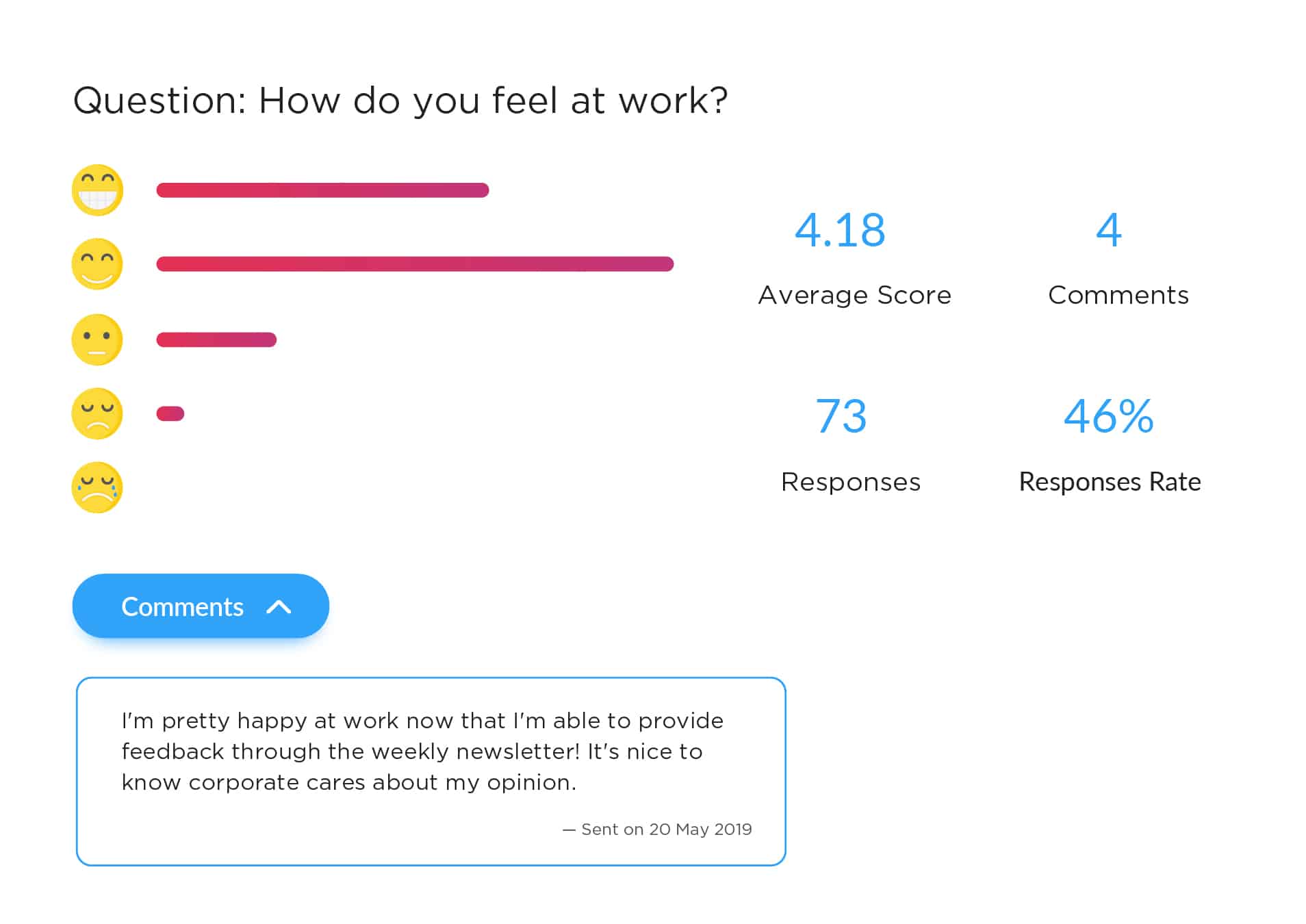 By adding emoji reactions, pulse surveys, employee comments or star ratings to your newsletter, you'll be able to get employee opinions in real time using ContactMonkey's internal email software. Plus you can use that information to improve your internal comms strategy.
Seeing how your employees interact with your emails in real-time allows you to get inside their head. You will finally understand the type of content they want to get from you. It's almost like a mind-reading superpower.
Undoubtedly your internal emails are the best, most entertaining pieces of content in the world BUT isn't it great that people can't unsubscribe from them? How are you supposed to measure employee engagement if half of your employees unsubscribe?
With ContactMonkey's internal newsletter tool, employees can't unsubscribe from your important updates. Conversely, Mailchimp (and every other web-based platform that's built for external communications) it is mandatory that you include an unsubscribe link in every email.
Your newsletters are too valuable to be treated as disposable marketing material. This is what makes ContactMonkey a top Mailchimp and Hubspot alternative.
Bypass email-sending limits of Outlook and Gmail.
Send all of your internal emails within ContactMonkey.
How do they handle privacy and security?
As you could infer from the marketing vs. internal communications divide running through this post, your priorities should also help you decide which tool to choose. For internal communications, the privacy and security of your organization should be a top concern.
Using Mailchimp for internal communications, everything is run through Mailchimp servers. That means your employee's personal information, and your company's internal newsletters are hosted in third party servers.
Not only should that be alarming from a cybersecurity perspective, you need to think about what that means when an employee is opening a Mailchimp newsletter.
Outlook is notorious for blocking images and assets from external senders – especially if your IT department enables this by default. By using Mailchimp and sending a newsletter from their servers, you're opening up the risk that your email won't render properly, or worse, will be flagged as spam. It is much more reliable to send internal newsletters through an email address from your own organization using your own servers.
With Mailchimp, you'll also have to consider privacy when it comes to your internal email software. When you use Mailchimp, by default the system creates a web version of all your internal communications campaigns with an email campaign url.
You'll need to consider how sensitive the messages you're sending are and if you want them available for the web after you send them!
On the other hand, ContactMonkey's internal communications email software sends emails from your own email servers, which means they are not uploaded to the web. Our newsletter templates are responsive, and look great in Outlook for phones, tablets, and computers.
If your organization has internal or external regulations around email privacy, you can use ContactMonkey's anonymous email tracking to gather email metrics while maintaining your employees' privacy.
How Does ContactMonkey Make Sending Internal Newsletters Easier?
At ContactMonkey we take pride in helping internal communicators save time on internal emails. We do that by helping them work from the comfort of the email client they're familiar with.
For many corporate communicators that tool is Outlook. That's why our internal communications email platform allows internal communicators to send responsive HTML internal emails and newsletters in three easy steps while staying in Outlook:
Build a template using our drag-and-drop email template builder.
Select your distribution lists, dynamic distribution groups or upload CSV file.
Personalize, send, and track internal emails.
With ContactMonkey's mail merge tool, you can stop opening Microsoft Word (or Excel) or multiple 3rd party tools (sorry Mailchimp) to send a simple mail merge or responsive employee newsletter.
With ContactMonkey's internal email platform you're able to do all of that right from Outlook, meaning that you don't have to leave the email client you're used to in order to communicate and connect with your employees.
You won't have to deal with importing Outlook contacts to Mailchimp since you can use your regular distribution list.
You won't have to export your Mailchimp template to Outlook, because your template will already be there. Common Mailchimp formatting issues and Outlook not rendering HTML will be a thing of the past.
Need a custom email list quickly? Using ContactMonkey's List Management feature, you can create your own custom email lists—without needing IT—to improve email engagement and reduce irrelevant emails. Email lists created with ContactMonkey integrate with your Human Resource Information System (HRIS) like Workday and ADP, as well as Azure Active Directory, so they'll update automatically as employees join and leave your organization.
One of our customers, Mettler Toledo found that when they used Mailchimp for their internal communications that: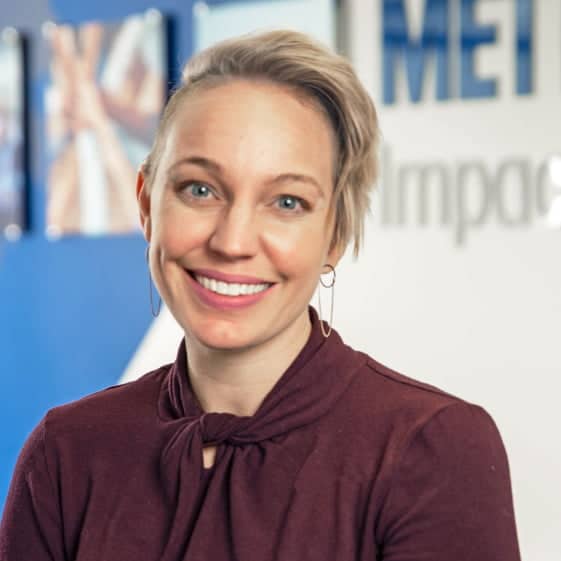 "We faced challenges with Mailchimp. We found it was double the work to maintain distribution lists in both Outlook and Mailchimp"
Kate Kraley
Marketing Communications Specialist at Mettler Toledo
You can check out the complete case study to help build your case for switching from Mailchimp or choosing ContactMonkey as a top Poppulo alternative. Kate managed to save 4 hours a week; imagine how much time you'll save!
Here are some recent ratings we got on the crowdsourcing review site, G2, where we currently enjoy a 4.4 star rating from nearly 50 reviews.
Users enjoy the visuals:

The ease of use:

And the speed and customization:

Summary — Should You Use Mailchimp for Internal Communications?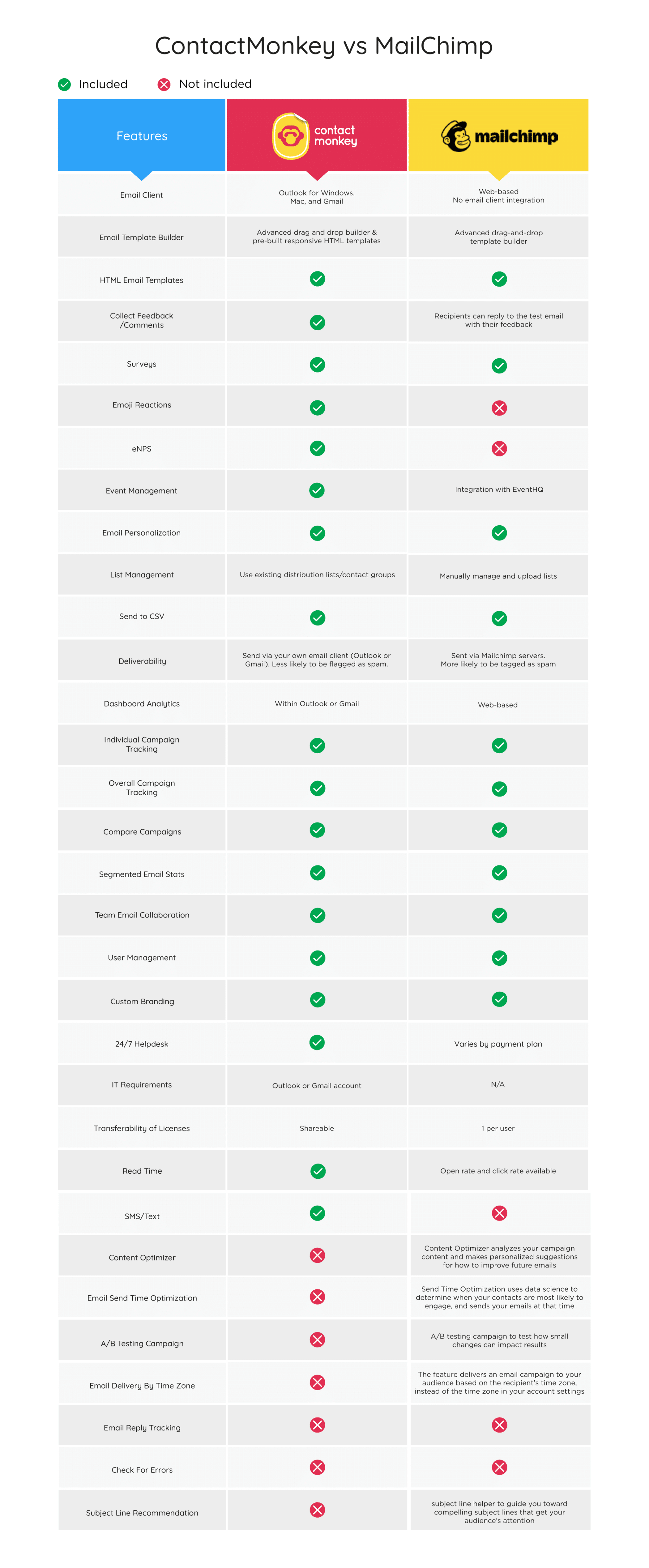 Get custom pricing tailored to your business.
We'll help you find a pricing plan that works for you.
Why Internal Communicators Should Use ContactMonkey for Employee Newsletters
For internal communications or internal email marketing, ContactMonkey is the better tool (and understandably so, since it was designed for that). With our internal communications platform, you can create and send beautiful responsive HTML emails, and track their performance—all without leaving Outlook.
ContactMonkey's tool was designed specifically with internal communication best practices in mind. We surveyed hundreds of communicators on their best practices and strategies for internal communications. And the results were staggering…
We found that 95% of communicators use email as their primary communication channel. This further underscored the importance of taking your email newsletters seriously. We also found that only 27% of our survey respondents claimed they experience healthy levels of employee engagement in their workplace.
We believe that countless business can boost their employee engagement levels simply by improving their email communications. It's a small change that can make a big difference for internal communications for small business and large corporations alike.
The Verdict
Since ContactMonkey also allows you to send to your own Outlook distribution lists or upload any CSV recipient list, it is the seamless internal email software communicators love to use. From employee newsletters to leadership communications, our dedicated internal communications software helps you save time and effort on all your internal emails.
On the topic of ContactMonkey vs. Mailchimp, we'd love to hear your thoughts on who is the top email monkey! And be sure to check out our internal communications case studies to see how other companies use ContactMonkey to improve employee engagement and productivity.
Ready to say goodbye to Mailchimp for internal newsletters? Learn how to use internal communications software to improve your Outlook newsletter! Book a free demo to see our email tracking tool, and take your company newsletters to the next level.