Looking for inspiration to launch a stellar internal communication campaign? In this blog, we're examining 3 unique internal communication campaigns so that you're able to re-energize your employees and shine as an internal comms pro! 
Are you thinking of creating a new internal communication campaign to boost employee engagement?
Or perhaps your marketing department is launching an external program and you're wondering if you need to create an internal campaign as well.
When we think of marketing campaigns, we usually keep in mind how the campaign will impact an organization externally.
But because your employees are often your biggest brand advocates, you really need to think of how your campaign will affect them.
Are they on board with the idea? Have you involved them from the get-go?
If you're thinking of coming up with a new internal communication campaign idea, we've got your back.
Here are three internal communication campaigns that can really inspire you to up your internal comms game and refresh your employee engagement strategy.
Re-Energize Your Employee Engagement Strategy: Examining 3 Internal Communication Campaigns to Inspire You
1) H & H's Milli Initiative
We all know phrases such as "change management" and "organizational restructure" can throw employees into a panic.
Most people are not necessarily receptive to change. In most people's minds, change can often denote that something negative is about to happen.
This was exactly the challenge faced by Millicom, a telecommunications company that wanted to introduce new codes of conduct to employees without making this sound boring or overwhelming.
The company approached UK's internal communications agency, H & H, and asked them to come up with an innovative internal communication campaign.
One of the objectives of this campaign was to re-energize employee engagement within their organization.
H & H decided the best approach would be to develop a campaign-specific avatar and add a human face to this internal communication campaign.
They didn't actually get a human on board to act as the face of the campaign but decided to create a character who would appeal to employees.
If the idea of a fictional character communicating messages to employees sounds a bit absurd, think of which cartoons you loved as a kid.
Are you thinking of your favourite Disney movies? Feeling a bit emotional and nostalgic, aren't we? 😉
As you know,  Disney has a pretty successful brand avatar known as the Mickey Mouse, which has grown to become a cultural icon.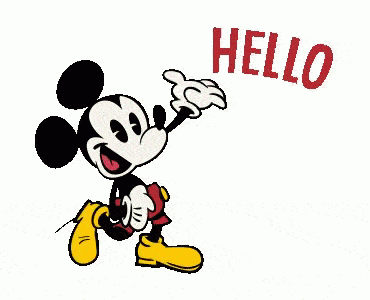 H & H decided to use an avatar for this very specific purpose: to ignite human emotions and connections within their intended audience.
The agency developed a character, named Millie, to communicate Millicom's new rules and regulations.
They also wanted to position the internal communications department as a helpful division of the organization.
As H & H mention on their Millicom employee engagement campaign page, "the ambition was that employees would actively engage with the IC team, building dialogue, conversation and productive feedback around ethical behaviours."
The purpose of Millie was to become the internal face of the company and share information with employees on the upcoming changes. Employees could talk to her, ask her questions and feel at ease.

(H & H's employee engagement campaign for Millicom)
The results of the campaign were promising as well.
The internal comms team at Millicom was able to successfully communicate the necessary changes to their employees without sounding dictatorial.
They were further able to position themselves as helpers and listeners, rather than as corporate policy changers.
So, the next time you're looking for internal communication ideas to re-energize employees, think of creating a fictional brand avatar and create a stellar internal communication campaign around it.

2) Asendia's Internal Communication Campaign
Want to boost employee engagement by inspiring employees to become a part of the decision making process?  
You may want to take inspiration from the global mail and shipping company, Asendia.
Asendia wanted to come up with an internal communication campaign to boost employee engagement.
They also wanted employees within their organization to become experts on their business strategy and play an active role in shaping ideas and innovation within the organization.
They hired a B2B marketing agency, The Think Tank, to create an epic internal communication campaign that would revitalize employee engagement.
The Think Tank was asked to create an internal communication campaign designed to communicate new corporate values across the entire company, from the U.S. to Singapore.
The agency decided to craft an employee engagement campaign by drawing upon ideas and values embedded within another famous brand – LEGO!
They positioned LEGO within the company's imagery to communicate the organization's new core values effectively, highlighting trust, friendliness and ease of use.
Through this powerful imagery. Asendia was able to effectively demonstrate what each value would mean for each department within their entire organization.
Several different mediums were deployed to communicate the message internally.
Aside from an animated video, leaflets, pamphlets, posters and a set of LEGO for each team, were also distributed as part of the internal communication campaign.
The first part of the campaign also involved educating employees about Asendia's business strategy through a fun quiz.
The quiz, titled "SuperAsendian," asked employees multiple choice questions around the company's strategy.
This was followed by another employee engagement activity, titled the "SuperAsendian Challenge."
Employees were grouped into teams for this challenge and asked to pitch new and innovative ideas that were in line with Asendia's business strategy.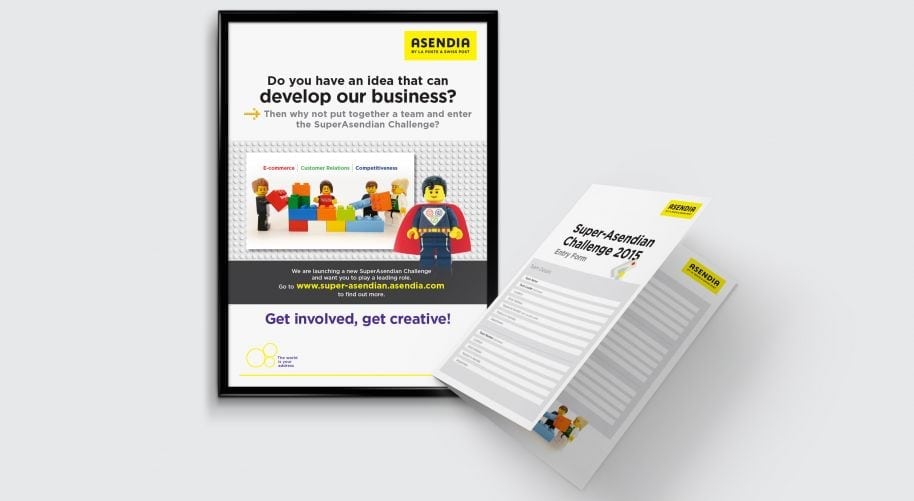 The results were highly positive and managers from each department praised the initiative.
Awards were given to those employees who were able to showcase these core values within their daily work.
This campaign also won the Best Employee Engagement Campaign award at the Corporate Communications Awards in 2014. Pretty inspiring, isn't it?
3) HSBC's Employee Engagement Campaign
Remember the global financial crisis of 2008? In case you didn't know, it left many employees working within financial institutions completely disillusioned. HSBC was one such financial institution.
Most HSBC employees felt completely disengaged and a 2011 survey showed that only 50% of employees trusted decisions made by the upper management.
Executive leadership realized they needed to act fast to rebuild trust, restore pride and create a culture of good within their organization.

They decided to launch a video platform, known as HSBC NOW. The platform was dedicated to showcasing the struggles of HSBC employees, making them the heroes of the organization.
Common video themes revolved around the topics of friendship, sacrifice and triumph. 
According to the article published by Simply-Communicate, an average episode gets around 42,000 views internally and these can often go as high as 80,000!
So, the next time you're stumped about how to create an invigorating internal communication campaign, think of making your employees the stars of your story.
And if you're specifically looking for video ideas, do check out this inspirational piece highlighting video examples to bolster employee satisfaction.
Are you feeling inspired to take action and launch a brand new internal communication campaign? We hope the above examples helped you craft some new ideas that you can execute.
If you want to up your internal comms game, you may want to consider tracking your employee emails with our handy tool. Just click on the button below to book your demo!