HubSpot provides solid tools for external marketing. But for internal communications, you'll be best suited using a dedicated internal communications tool from our list of top HubSpot alternatives.

You're already familiar with email marketing software from HubSpot. They're a leading marketing platform that enables businesses to create and manage email campaigns.
But is HubSpot a good choice for creating employee newsletters? How about measuring internal email metrics?
You'll find that software designed specifically for internal communications just works better than HubSpot's external marketing tool.
Create internal emails with ContactMonkey today.
Start a 14-day trial. No credit card is necessary. Zero risk.
We'll take an in-depth look at the leading HubSpot alternatives for internal communications, including what each offers and more. These HubSpot alternatives include:
Should I Use HubSpot for Internal Communications?
If you're in marketing or sales, you've likely heard of HubSpot. You may have even taken one of their inbound marketing courses to develop your skills.
HubSpot is an excellent platform for marketing your products and managing campaigns. But it falls short when it comes to internal communications.
Let's take a closer look at why.
Why HubSpot is a great platform for external marketing
HubSpot offers a robust marketing automation solution that combines marketing, sales, and customer service in one platform.
You can use their marketing automation tool to create landing pages, nurture leads, and manage customers relationships. We won't cover all the features that HubSpot offers with its platform.
Instead, let's take a closer look at their email marketing software, which is part of HubSpot Marketing Hub.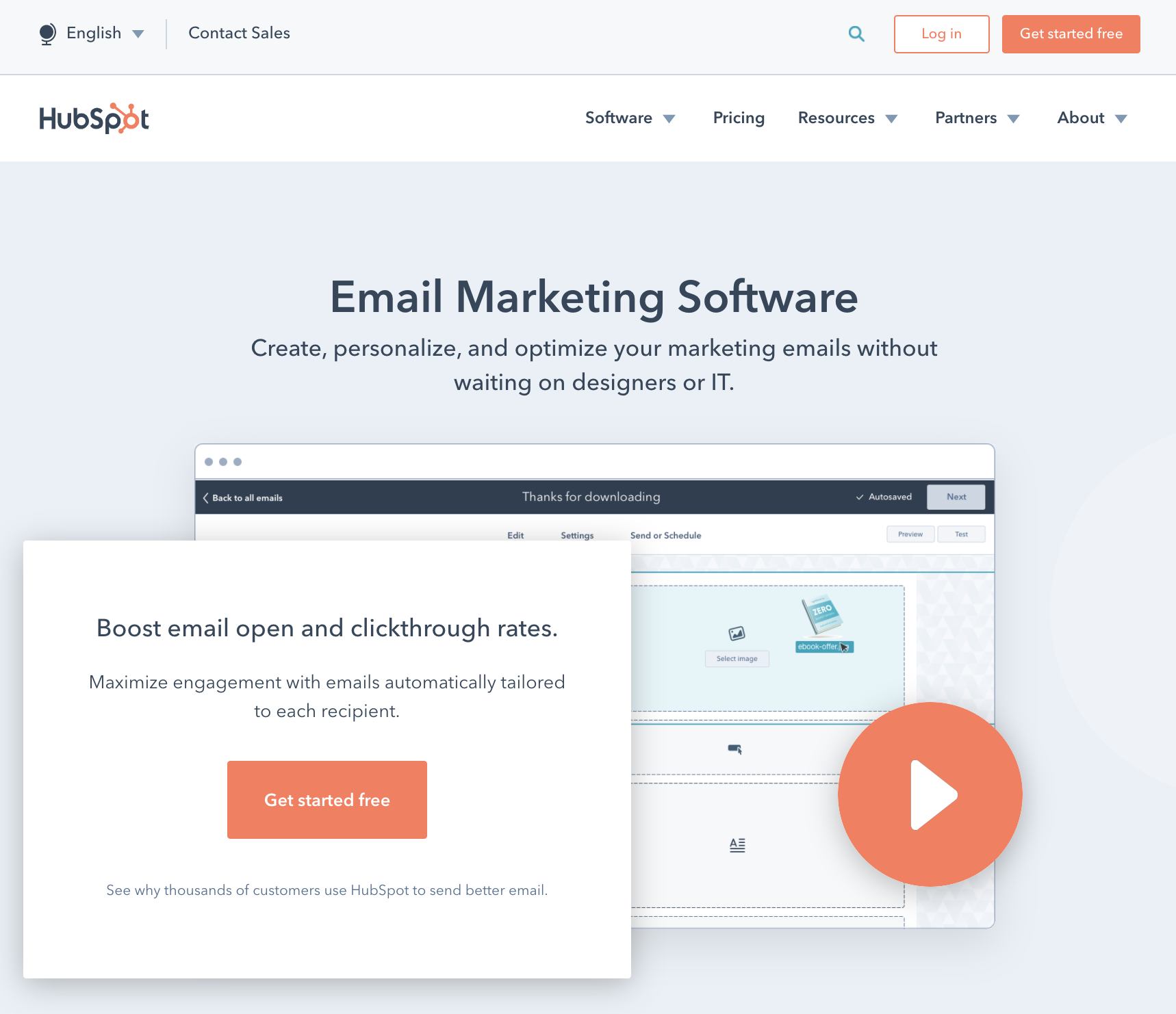 Here's why you should choose HubSpot to send sales emails to your list:
Drag-and-drop builder: Design professional emails that are responsive on all devices without having to code anything. Customize the layouts, add call-to-action buttons, and more. You can also choose one of their goal-based email templates.
Email personalization: Personalizing your emails can increase open rates by 26%. You can personalize emails to each subscriber by using smart rules.
A/B testing: Test subject lines and offers in your email with A/B testing. Analytics shows you how many people are engaging with your emails. You can use these insights to design new tests and drive more traffic to a landing page.
Automation: Create an email sequence that lets you nurture leads and automatically follow up with prospects.
Form builder: HubSpot also offers a free online form builder that you can use with its marketing automation platform to build your email list.
You can even use the lead management features to assign lead scores to prospects on your list and close more deals.
For example, your sales team can prioritize their efforts on leads who open and click links in your emails over those who barely engage with your brand.
The clean interface makes it easy to create and manage your email marketing campaigns.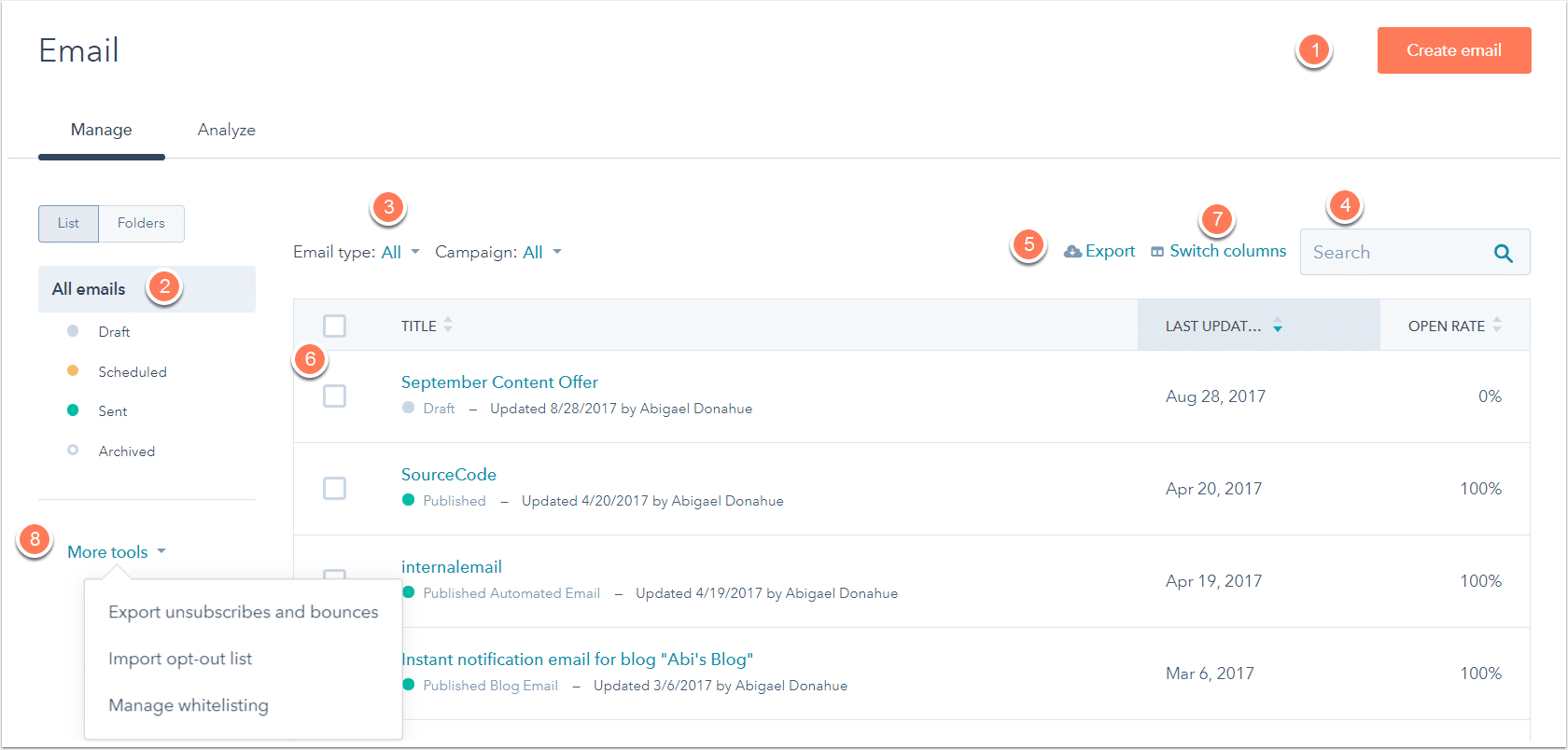 HubSpot even has a sales hub and service hub available, allowing you to automate sales tasks and deliver better customer support. You can also use their CRM platform to manage customer data.
These are just a handful of the features that HubSpot offers. But the gist is that you can do some impressive stuff with their marketing automation software even with their free plan.
Why HubSpot isn't a good option for internal communications
HubSpot is an excellent marketing automation platform. But you won't get the full value of the software unless you use and pay for all of its features.
HubSpot's email marketing software is built primarily to send transactional emails. This means their marketing solution mandates an unsubscribe button to comply with CAN-SPAM laws. To comply with GDPR regulations, you also need to inform subscribers that they can opt-out at any time.
Why does that matter? Because when you're sending internal newsletters, the last thing you want is for employees to opt-out of them.
When using a marketing tool HubSpot for internal communications, you're sending emails through their servers. Sensitive information about your employees and the contents of your emails reside on external servers you have no control over.
Hubspot is built primarily as a digital marketing tool, and it does that well. But it's not a great option for internal communications. You have to include an unsubscribe button and your emails are sent through external servers.
A few things to keep in mind when looking at HubSpot alternatives
There's no shortage of HubSpot alternatives on the market. To help you find the right platform for your needs, here are some questions you should ask:
What features does the software offer?
Can it track internal communications?
Does it integrate with Outlook or Gmail?
Can you collect responses or feedback from employees?
What metrics are collected?
Now let's look at our top HubSpot alternatives for creating and distributing internal newsletters.
HubSpot Alternatives for Internal Communications
For internal communications, you need an email platform that enables you to connect with your team and measure employee engagement.
Let's take a look at some of the leading HubSpot alternatives, including what each platform offers and more.
HubSpot Alternative #1: ContactMonkey
ContactMonkey is an email tool built specifically for internal communications.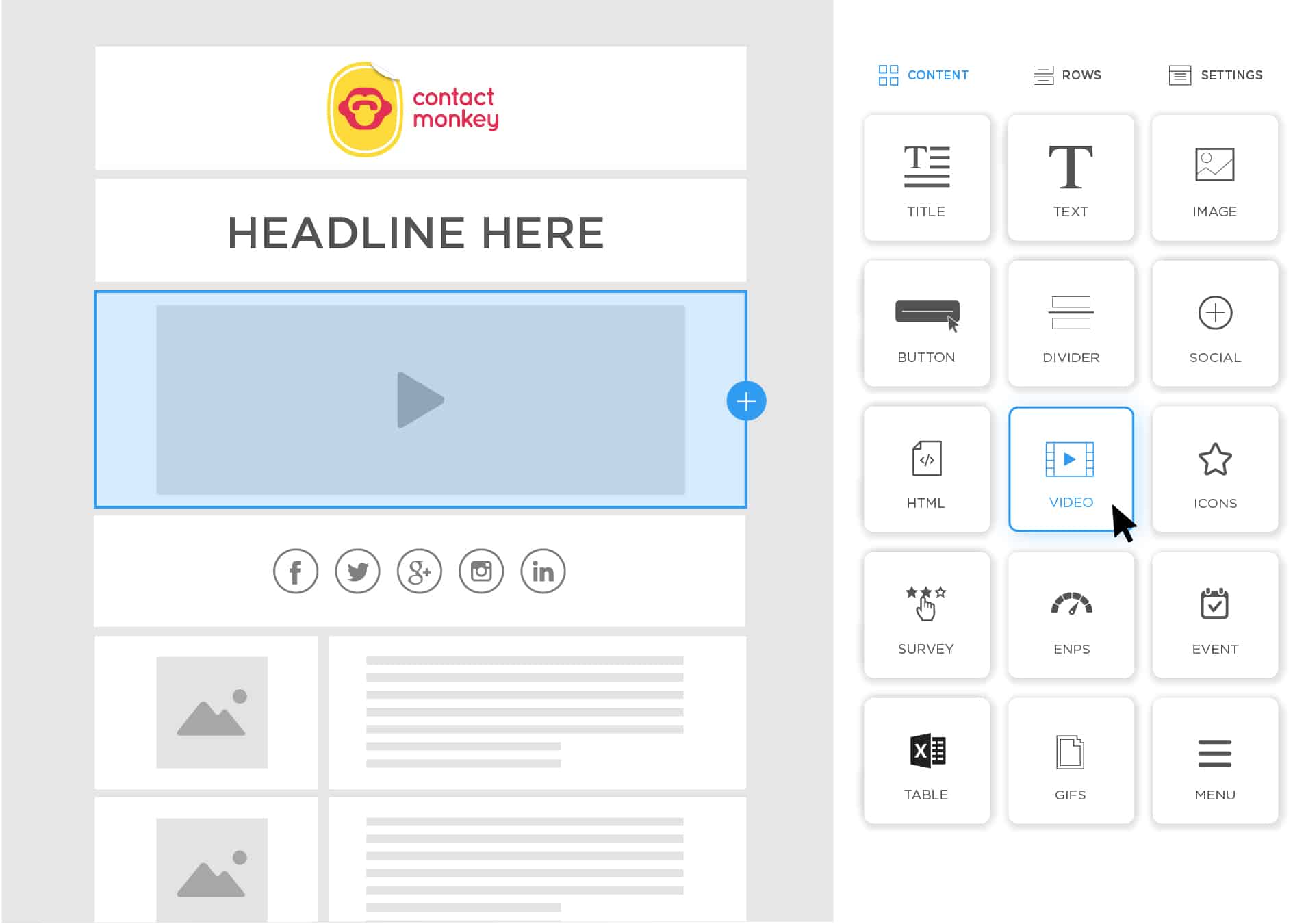 Within Outlook and Gmail, you can easily send engaging emails and employee opinion surveys to your teams. Then, measure the success of those newsletters without having to leave your preferred inbox.
Why ContactMonkey is a great HubSpot alternative for sending internal newsletters
ContactMonkey lets you create beautiful newsletters, gather employee feedback, apply email newsletter best practices, and gather key insights—all from one place.
Use the drag-and-drop email template builder to design responsive emails that look great on any device and in any inbox. No coding necessary.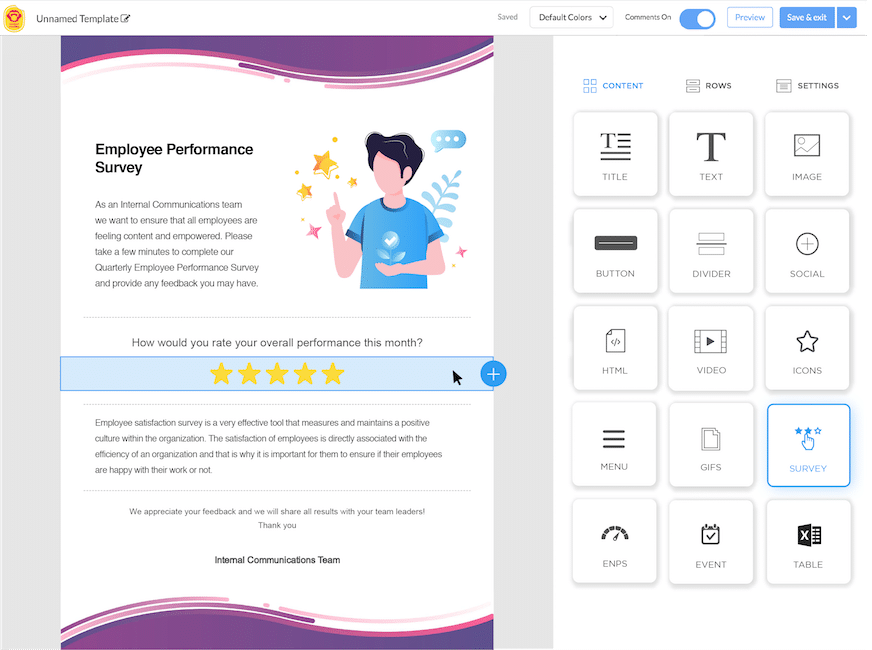 Or you can also choose from our stunning employee newsletter templates to jump-start your next campaign: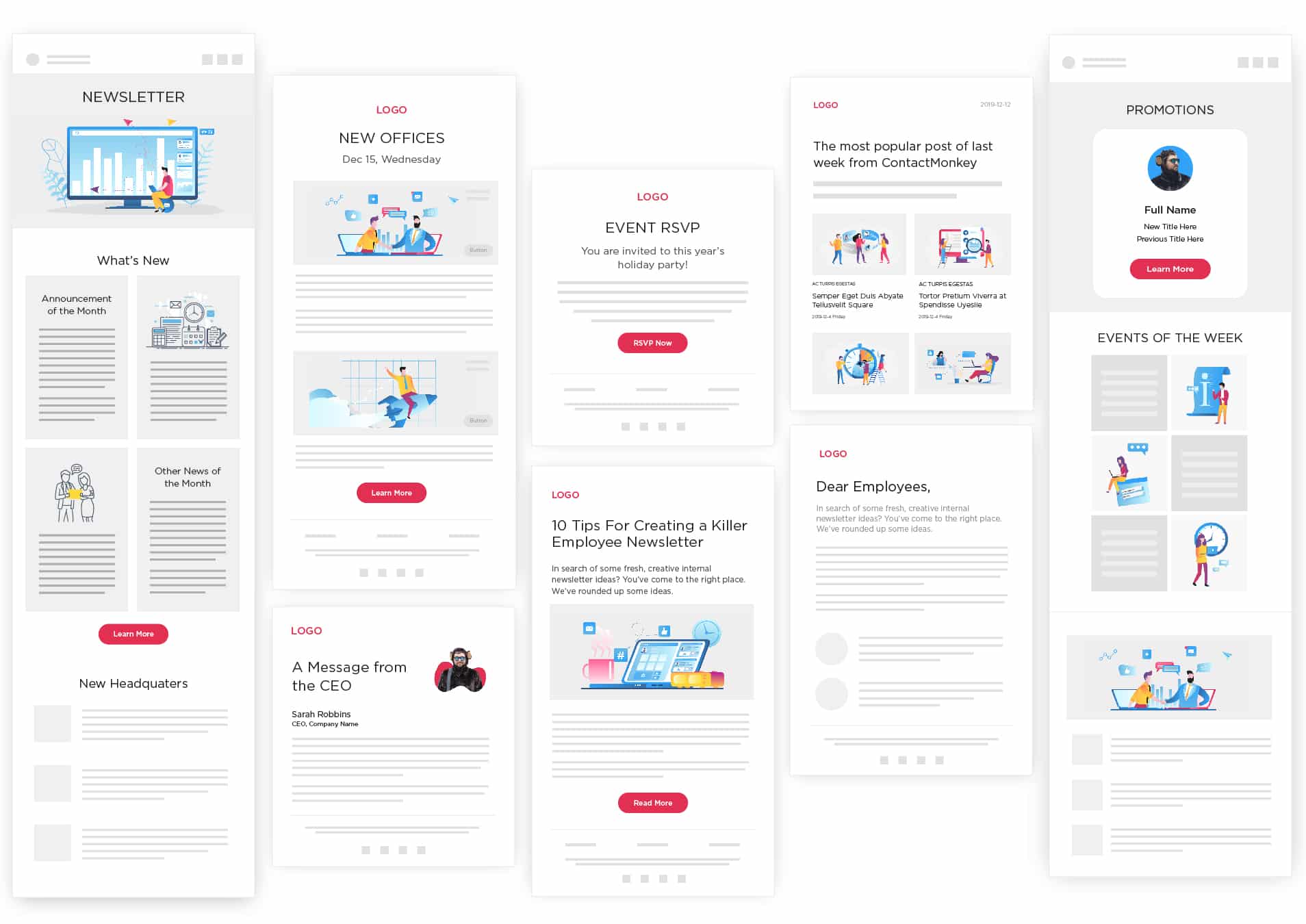 Responsive email templates are highly customizable. Add videos, social share icons, or even customized HTML code to get the exact look you're going for.
Not sure what to include in your internal communications? Get fresh ideas using our OpenAI ChatGPT integration by describing what kind of content you need and customizing the generated text for your audience.
Our email template builder also supports team collaboration. Have numerous employees working on a single email template and watch their changes in real time. You can also leave them comments and they'll be alerted via email—just like in Google Docs:
Event Management
Hosting an in-person or virtual event for your employees? Easily create, send, and track event invitations with ContactMonkey's event management feature:
After you've sent your invitation, you can track RSVPs from your analytics dashboard. You can even collect comments with your RSVPs to gather employee feedback about your upcoming event.
Get more RSVPs by sending invitations to only relevant employees by using custom email lists. With ContactMonkey's List Management feature, you can create email lists without needing IT approval and update them automatically by integrating with your Human Resource Information System (HRIS) like Workday and ADP, as well as Azure Active Directory.
Here's why ContactMonkey is the best HubSpot alternative:
Employee engagement surveys: Turn your newsletters into two-way communication channels and gather feedback through a variety of pulse survey options. Add star ratings, emoji reactions, like buttons, and employee Net Promoter Score (eNPS) to your emails to meet your pulse survey objectives.
Outlook and Gmail integration: Create, send, and track internal newsletters to your distribution lists from Outlook or Gmail.
Newsletter personalization: Increase employee engagement by personalizing the subject lines and body copy of your newsletters.
Real-time tracking: Track open rates, link clicks, read time, and more across individual or overall campaigns to identify your best performing content. Use the insights to refine your internal communication strategy.
We may be biased here, but we believe that ContactMonkey is the best HubSpot alternative for sending quality content to everyone on your distribution lists. Don't use distribution lists? See how to easily create and update a distribution list in Outlook with our handy guide.
But don't just take our word for it. Here's what Corey Kachigan, Engagement and Communications Lead for Exemplis, has to say about ContactMonkey:
"Right now, we're averaging a 70% open rate on our weekly communication to the team with click rates hovering between 20 – 30%. For a manufacturing environment, we are proud of that. Before using ContactMonkey I wouldn't have had any of that data."
Check out the case study to learn how Exemplis uses ContactMonkey to improve its internal communications and increase employee engagement.
HubSpot Alternative #2: Mailchimp

Mailchimp is a popular marketing automation solution. It offers an intuitive user interface as well as a range of features that make it easy for any marketing team to build highly targeted email campaigns.
Here are some features you may find useful:
Drag-and-drop builder: Use the drag-and-drop builder to create emails or choose from a number of pre-designed templates.
List segmentation: Segment your list based on certain criteria and deliver more personalized emails.
CRM solution: Mailchimp offers a HubSpot CRM alternative that allows you to manage customer data and personalize your lead generation efforts. Their CRM system lets you gain a more holistic view of your customers.
Real-time analytics: See how your campaigns are performing in real-time statistics like open and click-through rates.
Mailchimp comes packed with powerful email marketing automation features. But it doesn't offer Outlook or Gmail integration, so you'll need to switch between applications to send internal newsletters.
Here's a breakdown of how Mailchimp compares to ContactMonkey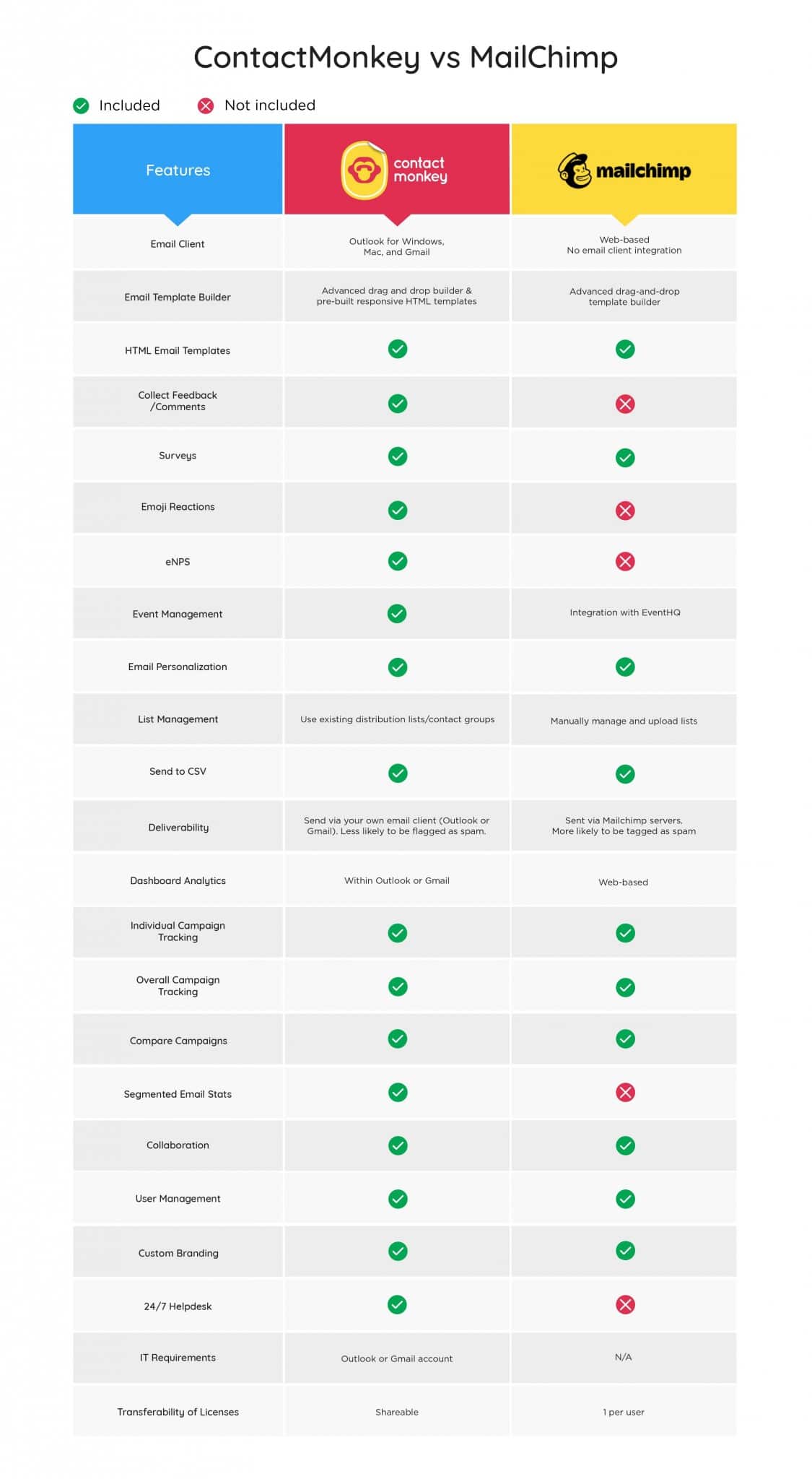 Mettler Toledo, a global manufacturer of precision instruments, saw a 33% increase in open rates and was able to save 4 hours of work each week after switching to ContactMonkey from Mailchimp.
HubSpot Alternative #3: Campaign Monitor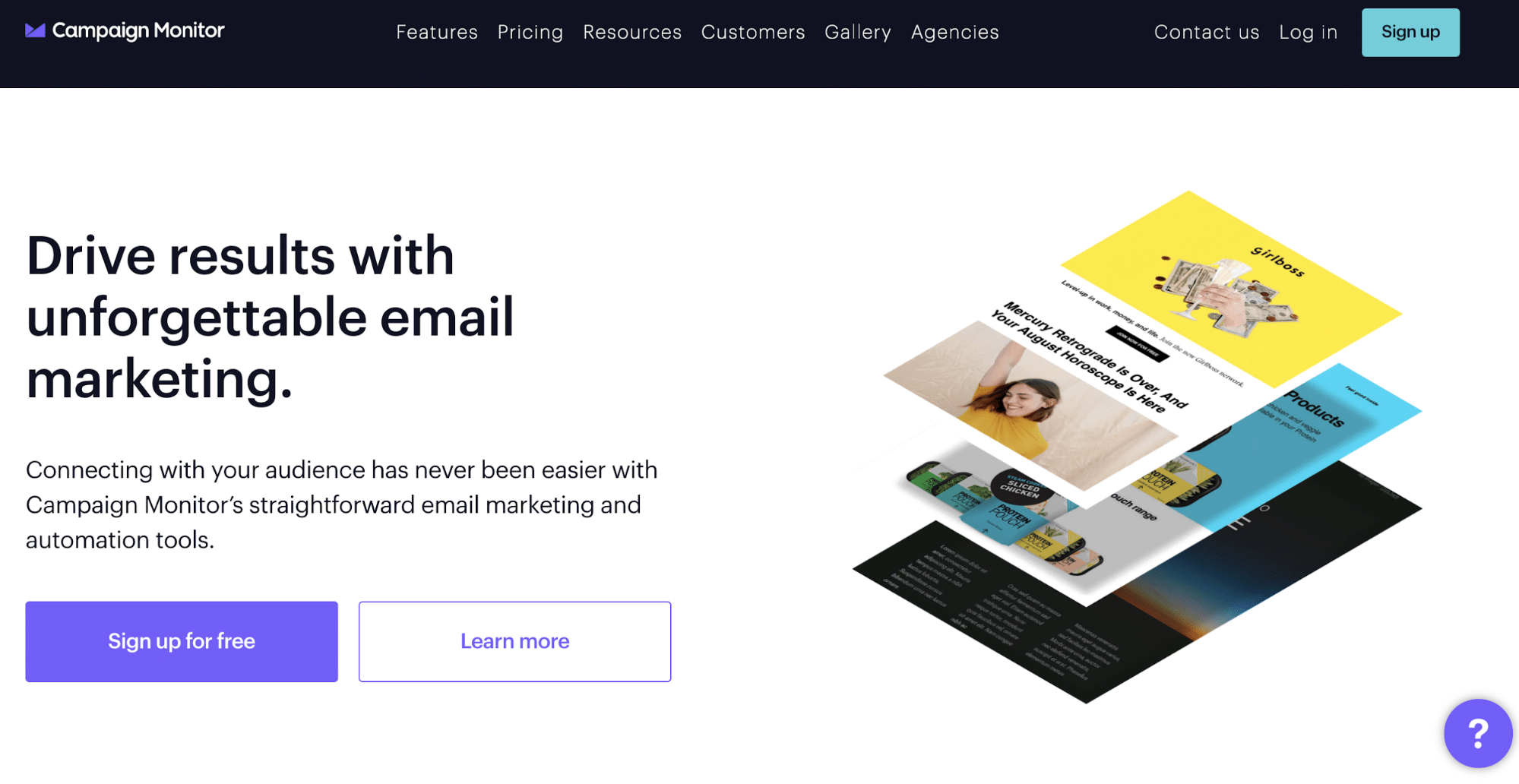 Campaign Monitor is a robust email marketing solution that allows businesses to create and automate email campaigns.
Here are some features you may find useful:
Signup forms: Use the form builder to create signup forms. Add these to a specific landing page or embed them on your homepage to build your email list.
Visual journey designer: Use the visual journey designer to automatically send a series of emails based on actions that subscribers take.
App integrations: Browse Campaign Monitor's App Store and connect to your CRM software or even live chat tool with hundreds of third-party integrations.
Even with all these marketing features, Campaign Monitor falls short when it comes to internal communications.
Being able to gather employee feedback is especially invaluable. But you can't add survey options or receive anonymous comments from your emails like you can with ContactMonkey.
Here's a snapshot of how Campaign Monitor compares to ContactMonkey: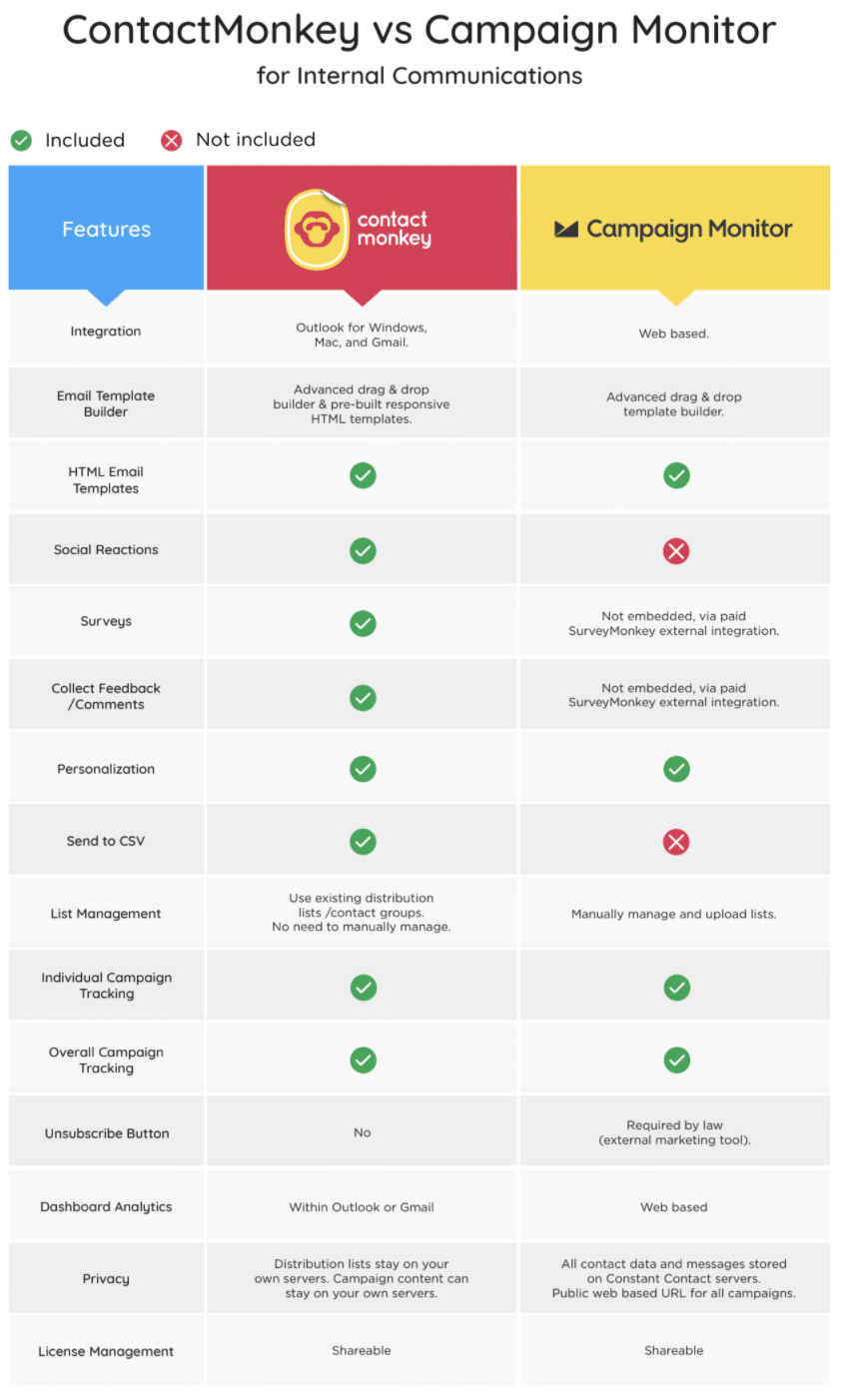 Campaign Monitor is a strong email marketing platform, but it's more ideal for sending transactional emails.
HubSpot Alternative #4: Constant Contact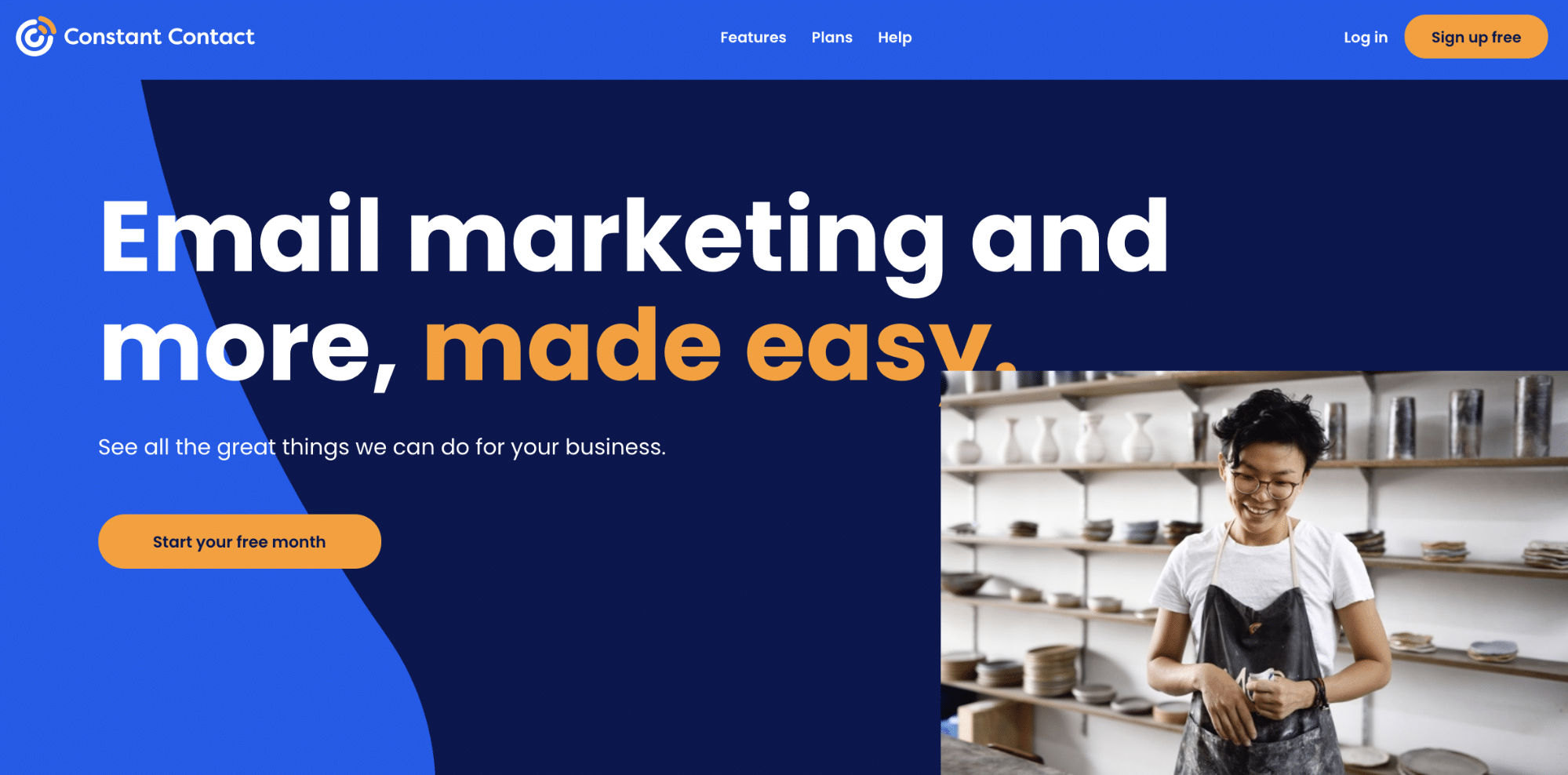 Constant Contact offers a great solution for small businesses with simple email marketing needs.
Here are some features that are worth a closer look:
Contact management: Use the basic CRM tool to enter information about your contacts and view who interacted with your campaigns.
Marketing automation: The marketing automation tool allows you to segment your list and increase engagement.
Social marketing: Monitor how your campaigns on social media networks like Facebook and Instagram are performing.
Constant Contact also offers real-time email tracking tools, so you can see who is opening and interacting with your emails.
One thing to note is that Constant Contact has a strict anti-spam policy meaning you can't add any contacts to your list unless you have their permission.
This can be a problem for internal communications as some employees may be kept out of the loop if they forget to confirm their subscription.
Here are some of the features that are included with ContactMonkey and Constant Contact: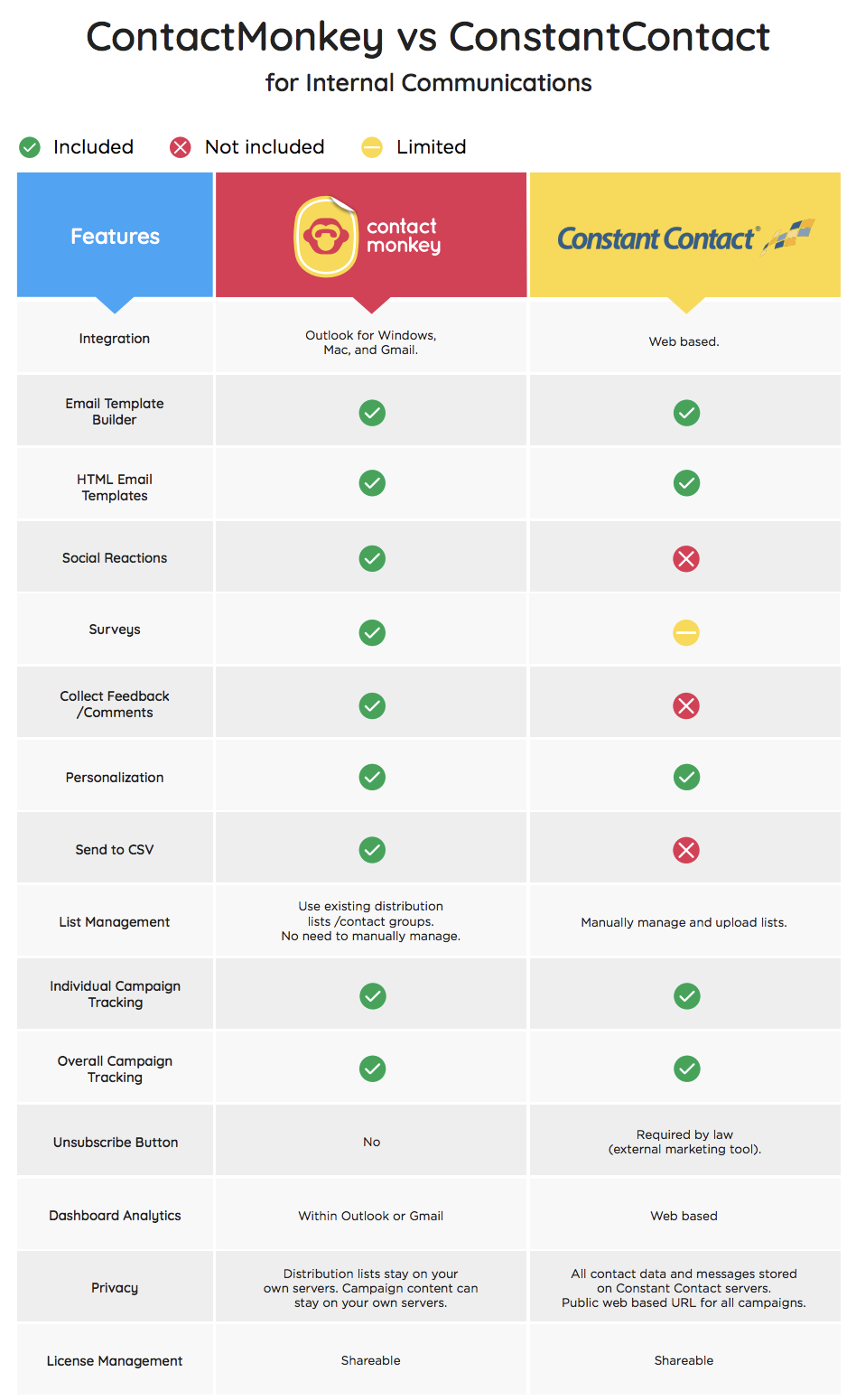 Constant Contact is also entirely web-based, so all newsletters you send are delivered through their servers.
HubSpot Alternative #5: Emma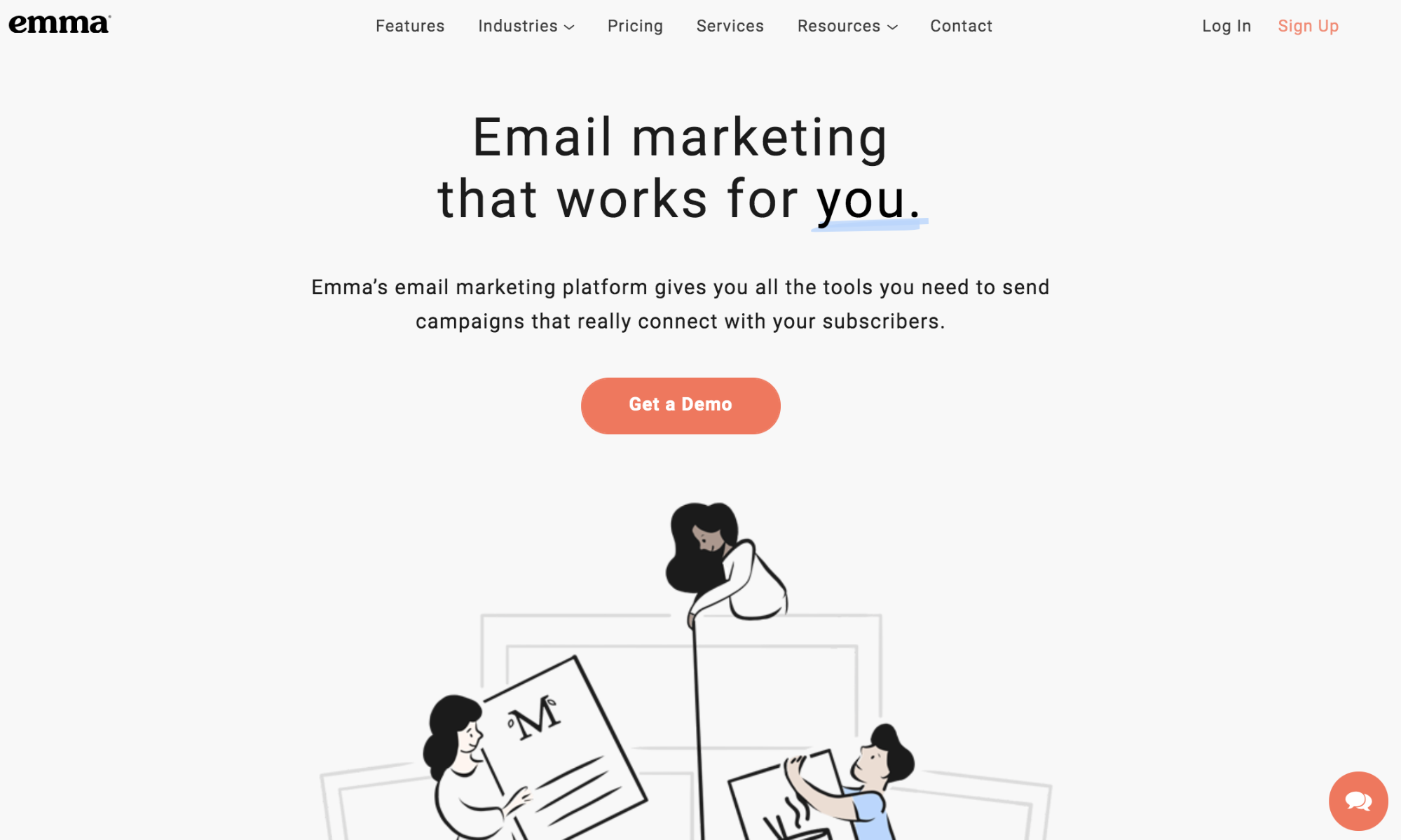 Emma is an accessible email marketing platform that makes it easy for marketing teams of all sizes to create personalized campaigns and track their results.
Here are some of the features that Emma offers:
Marketing automation: Create targeted workflows based on actions that subscribers take to increase engagement. You can also personalize follow-up messages.
List segmentation: Segment your list based on specific criteria like demographics and purchase history to send highly targeted emails.
Landing page builder: Use the drag-and-drop editor to build a great looking landing page and connect to your Google Analytics to track conversions.
Emma also offers robust integrations with popular applications. For example, you can sync your customer data with Salesforce and more.
However, Emma doesn't offer Outlook or Gmail integration and there are no survey options you can include to collect employee feedback. You also have to include an unsubscribe button in your emails.
Here's how Emma compares to ContactMonkey: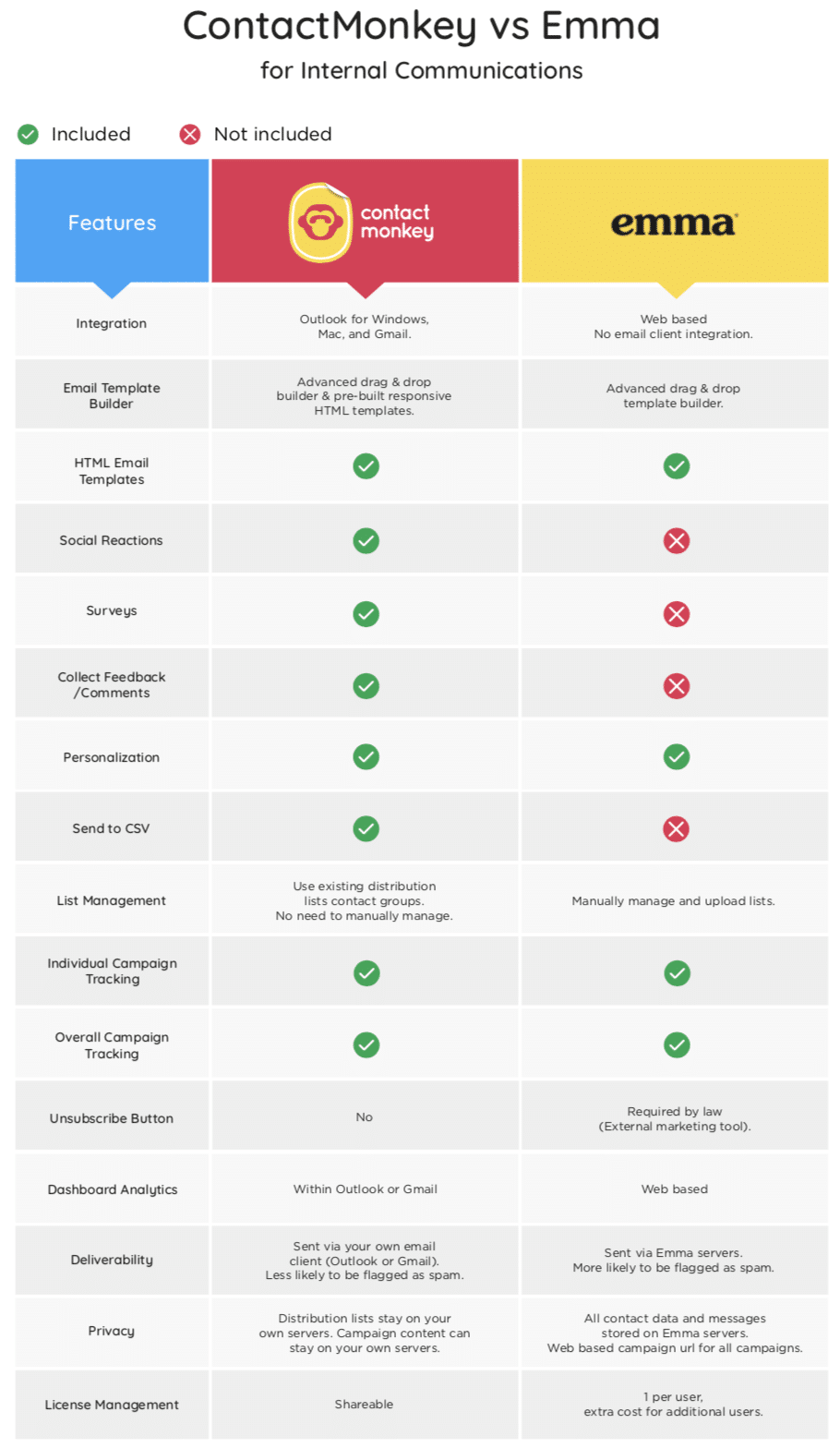 Emma offers an easy way to send personalized marketing emails. But it's not a great choice for internal communications.
What's the Best HubSpot Alternative for Internal Communications?
How do you choose the right email platform for internal communications? Here's our quick breakdown:

You need a tool that lets you collect employee feedback with options like star ratings, emoji reactions, and eNPS. Surveying employees lets you gather valuable insights that you can use to inform your internal communication strategy.
Tracking metrics like open rates, clicks, and read time is another must-have when considering an internal email tracking tool. You can see how you stack up to other companies in your sector with our Internal Benchmarks 2021 Report. Use ContactMonkey's compare campaigns feature to see multiple email campaigns stats side-by-side.
If you're looking for the best HubSpot alternative that offers all these features and more, then the choice is obvious: ContactMonkey.
Be sure to check out our internal communications case studies to see how other companies use ContactMonkey to improve employee engagement and productivity at their remote or hybrid workplaces.
Top Internal Communications Resources:
Are you ready to send employee internal newsletters with ContactMonkey? Get in touch today for a personalized demo and we'll walk you through how our tool works.