Building great-looking, responsive emails can be a pain. But with the right responsive email template builder, you can easily save time and effort on your email design process!
With a variety of email clients using a diverse range of email providers with different rendering engines, coding responsive emails that will render properly across all devices and email clients is hard.
But with almost 50% of emails being opened on a mobile device, using responsive email campaign templates and remote teams communication tools has become increasingly important.
We have compiled a list of some of the best resources out there to help you create and send flawless newsletters with engaging and fun company newsletter ideas.
Want to ensure your emails look perfect every time, on every device? With ContactMonkey's responsive email templates is you can preview how your emails will appear on desktop and mobile so you can be rest assured knowing your recipient will see what you see. Book a free demo to learn how to create stunning HTML email templates and track in-depth email metrics with ContactMonkey.
10 Must-Have Responsive Email Template Builders
Looking to impress your recipients with stunning email content and avoid the problems that come along with email templates? These are the best resources to build and send responsive email templates in Outlook and Gmail.
1. ContactMonkey
Looking to send responsive internal emails?
Want to send a newsletter through Outlook without leaving Outlook? Searching for a drag-and-drop email template builder for internal newsletters?
ContactMonkey is the best option on this list because we offer internal email tracking from Outlook and are considered a great alternative to MailChimp for internal communications.
The ContactMonkey Email Template Builder coupled with your Outlook Mail Merge tool truly gives you the best of both worlds: the power of the cloud without having to leave Outlook to send and track beautiful, responsive internal emails.
Responsive Email Templates
Our new email template builder enables you to choose from and edit dozens of responsive newsletter templates.
From basic to more advanced templates, you can access pre-built templates and customize them as you like. No more boring plain text emails!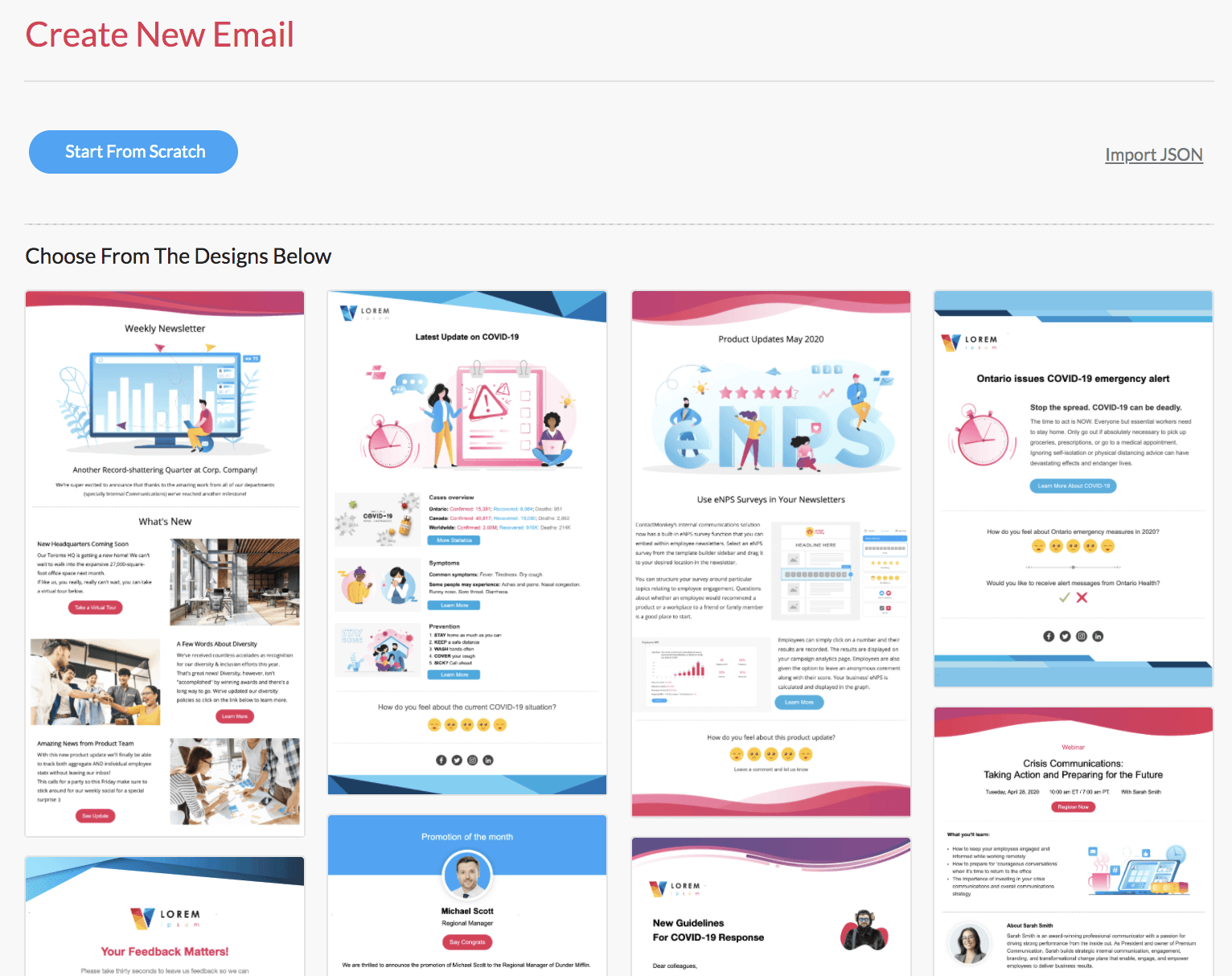 Import Your Newsletter Template
Couldn't decide from the dozens of newsletter templates we provide? No problem, you can still import your favorite HTML templates. Win-win.
Drag-and-drop Tools
Quickly add files to your email by dragging and dropping files from your computer. They'll also be copied into a " uploads" folder in your tool for safekeeping.
If you're looking to create the best company newsletters from Outlook, then we're the right tool for you!
In-depth Email Tracking
Measure open rate, click-through rate, opens by device and location, and individual email metrics using ContactMonkey's campaign dashboard. All of the email campaigns you create with ContactMonkey can be tracked and compared against one another to help you find your best performing content.
Employee Feedback Surveys

Give your employees the ability to love, like, and laugh at any content you send them via email. Emoji reactions are an email newsletter best practice that allows your internal comms team to constantly gather employee feedback and fulfill your pulse survey objectives.
By adding like buttons to your own internal emails, you'll be able to engage your employees with your content and actually learn what they like.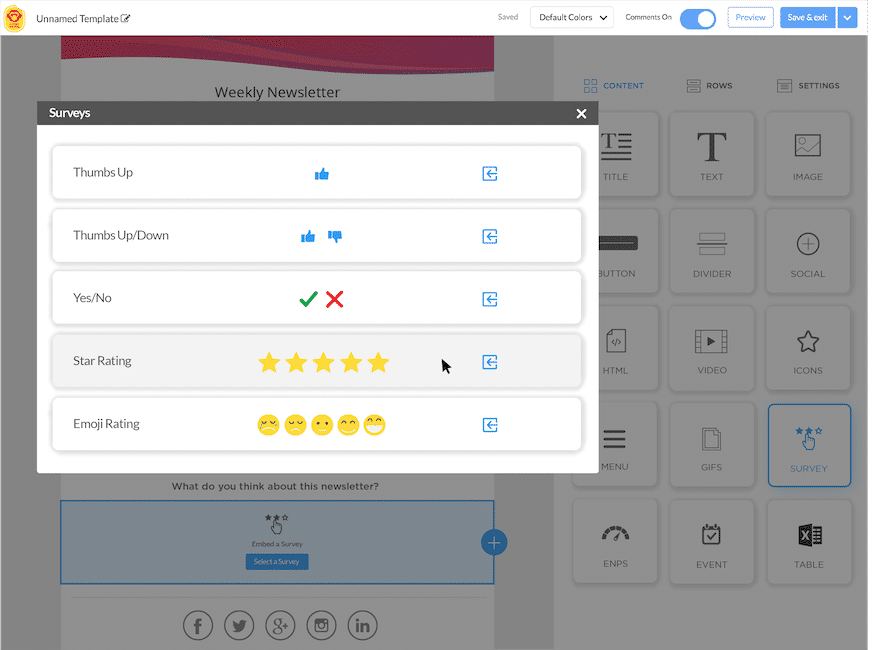 eNPS Surveys and Employee Comments
Employee Net Promoter Score (eNPS) surveys let you collect actionable data on your email communications in seconds. You'll be able to see all of the responses live in real time on your ContactMonkey dashboard.
With employee comments, you can get in-depth feedback from every internal email or newsletter you send. Simply turn "Comments" on from your email template builder, and employees will be prompted to comment after responding to your eNPS survey:
ContactMonkey is an all-in-one internal communication software that lets you create, send, and track stunning HTML emails in Outlook and Gmail. Book a free demo to see how ContactMonkey can streamline your internal comms and boost employee engagement.
2. SendWithUs
You may have heard of SendWithUs, a popular email marketing platform that offers marketers and bloggers the opportunity to build and market their responsive email templates.
They carry a library of ten free unique and responsive emails you can use.
The templates are provided as HTML files which you can import into Outlook 365 using ContactMonkey or you can use them with any email software.
They have an open source template library that contains 12 themes including welcome emails, surveys, notifications, onboarding emails etc. You can add, edit and share the templates with friends or colleagues or download them later.
If you use these templates in conjunction with ContactMonkey, you'll be able to send and create internal newsletters in Outlook without rendering issues.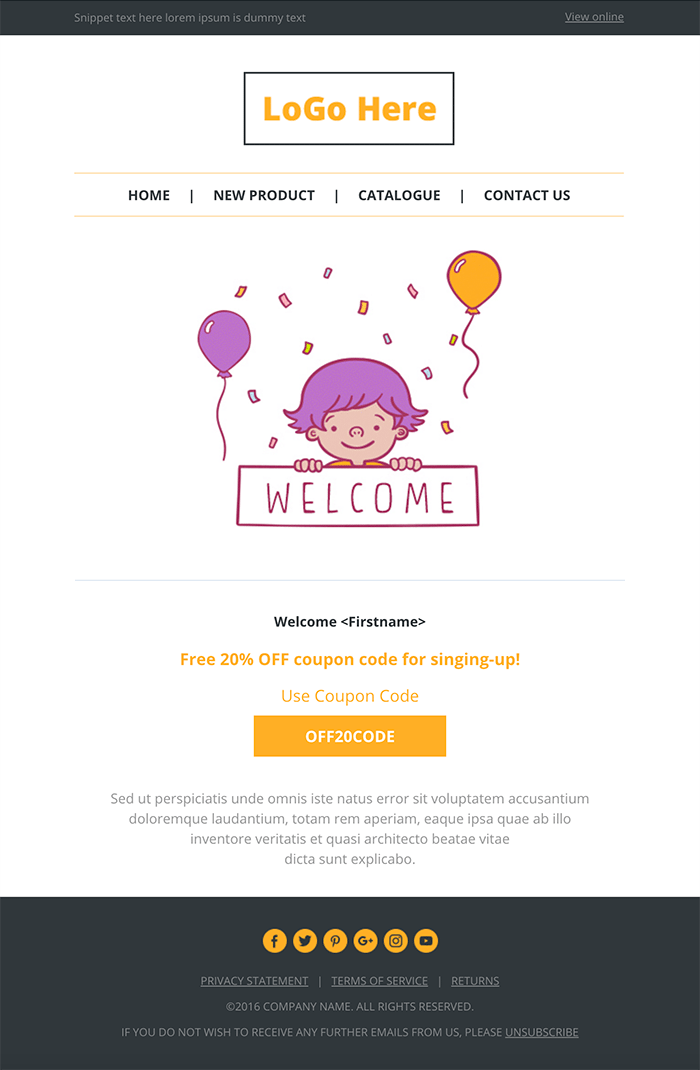 Image source: SendWithUs
3. Campaign Monitor
As a marketer or designer, you must have obviously heard of Campaign Monitor, an email marketing service that contains visually appealing newsletters.
Campaign Monitor templates are a great option for your employee newsletters as well.
Their public domain database is packed with more than 20 unique responsive email templates.
With Campaign Monitor email templates ranging from partnerships, business talks, event newsletters, and traditional newsletter templates, they've got you covered.
They also have tons of resources on content ideas, which can inspire you to create epic internal newsletter content for your weekly or monthly employee newsletters. For a detailed breakdown, check out our Campaign Monitor comparison.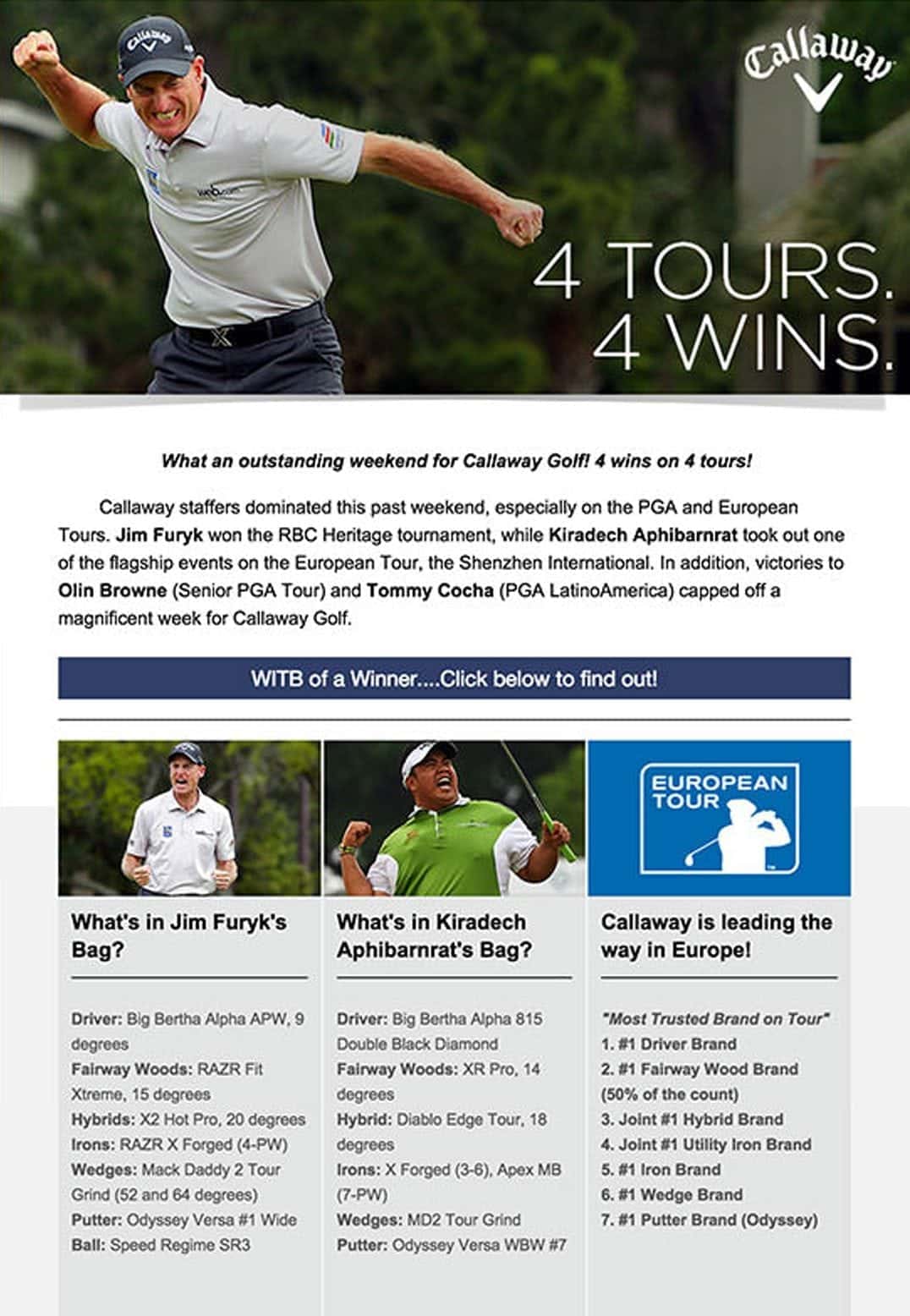 Image Source: Campaign Monitor
4. Chamaileon
Chamaileon is a great tool for those who love to collaborate and work within teams.
Chamaileon is essentially a collaborative email builder that is great for businesses, enterprises and agencies.
You can access and utilize hundreds of free email templates from their website or design your own building blocks if you wish. As an internal communicator, you can invite other design-savvy colleagues to review and help with your work.
You can use Chamaileon email templates with any email service provider and add your own images or text.
Simply import your existing HTML code to Chamaileon and allow the software to turn it into a responsive email template.
Check out their email template collection page to find responsive email templates for any email campaign, from newsletters to transactional emails.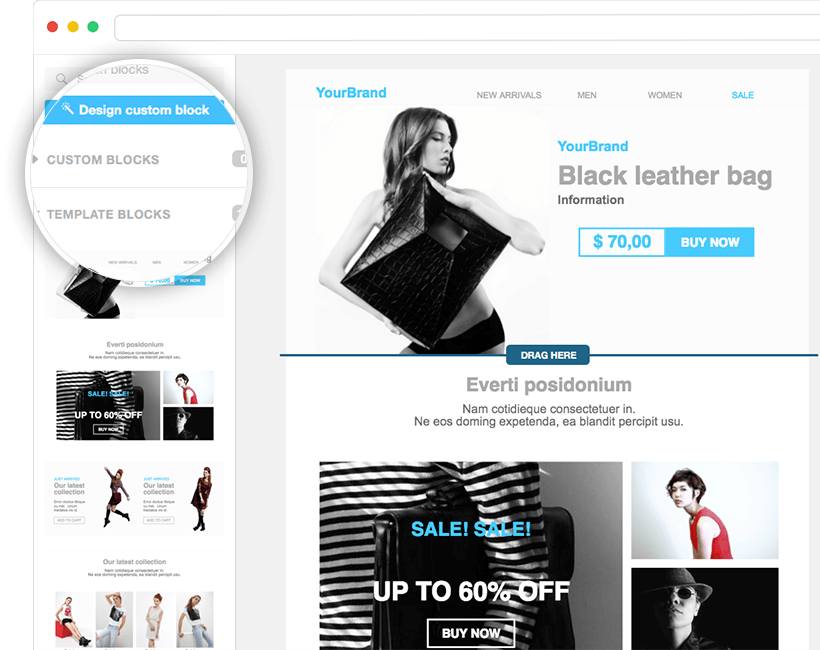 Image Source: Chamaileon
5. BEE Free
BEE is a free version of MailUp, an email marketing platform for sending, automating and tracking emails.
Their drag and drop tool enables you to create beautiful responsive emails that you can use for your employee newsletters.
If you want to play around with design, you can start with a blank canvas to build your email from scratch.
If you're pressed for time, you can use one of their ready-made email templates.
They offer awesome newsletter templates, announcement email templates as well as some great templates for transactional emails.
You can preview and test emails to see how they will look on your smartphones, desktops etc.
You can easily pick from hundreds of professional responsive email design templates and customize it to your liking.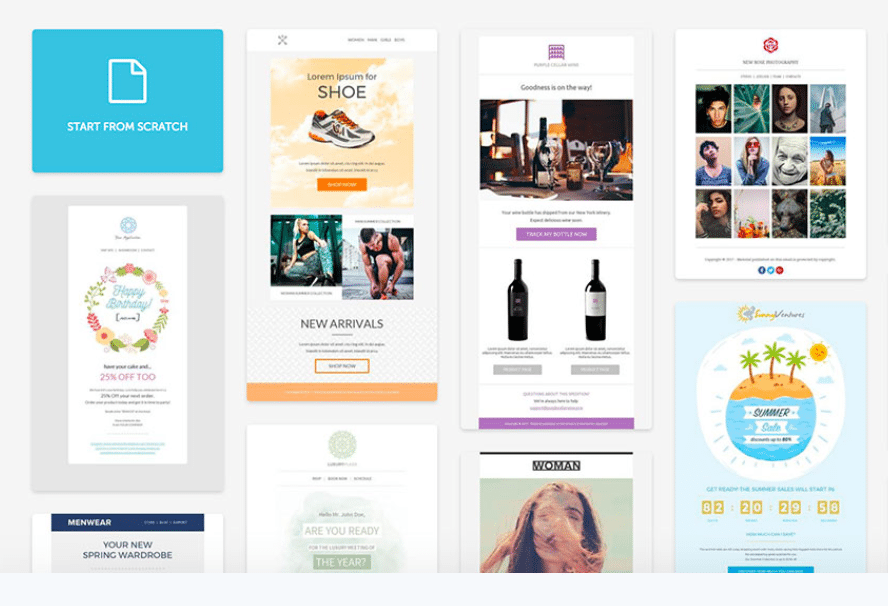 Image Source: BEE Free
6. MailStyler
MailStyler markets itself as the only drag-and-drop editor that enables you to create an interactive newsletter quickly.
You can choose between default items or custom items and drop them into your work area.
The tool allows you to customize and change colours, images as well as the layout.
You are able to easily resize your photos or images inside your newsletter.
Any change you make will be generated in HTML code with inline CSS style.
You can export your newsletter (after saving it) to Outlook using ContactMonkey or to any email service provider
You are also able to put customizable social icons into your employee newsletter. You can download their demo for free or purchase their basic plan for $99.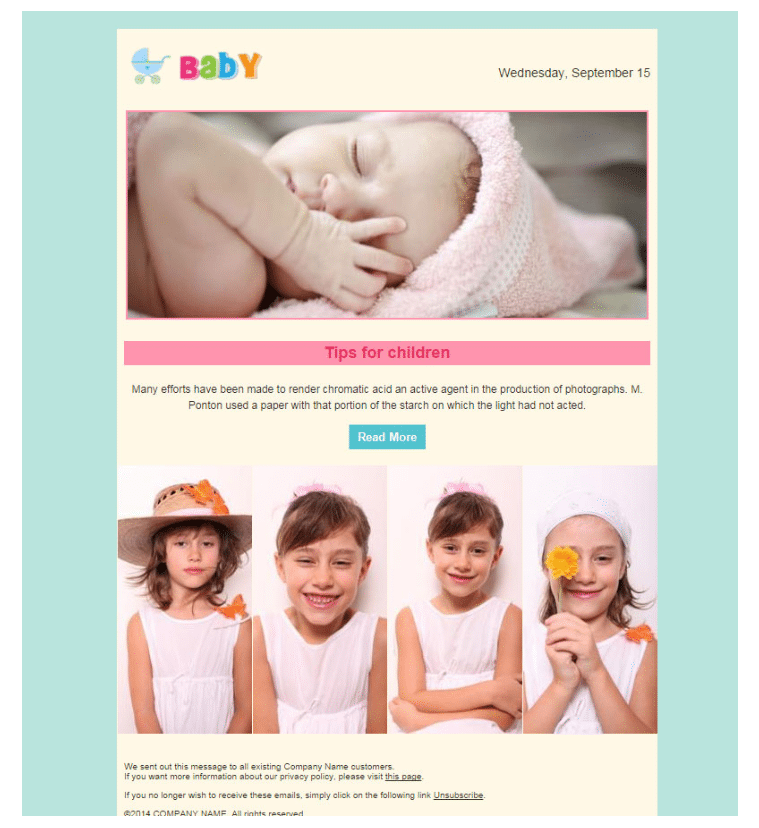 Image source: MailStyler
7. HTML Email Designs
If you're looking for epic design inspiration for your next employee newsletter, look no further than HTML Email Designs.
This is an excellent resource showcasing newsletter design templates from some of the biggest companies in the world such as Spotify, Chanel, Udemy, Gucci and Dell.
You can gain so many fun employee newsletter ideas by browsing through some of these innovative and responsive newsletter designs.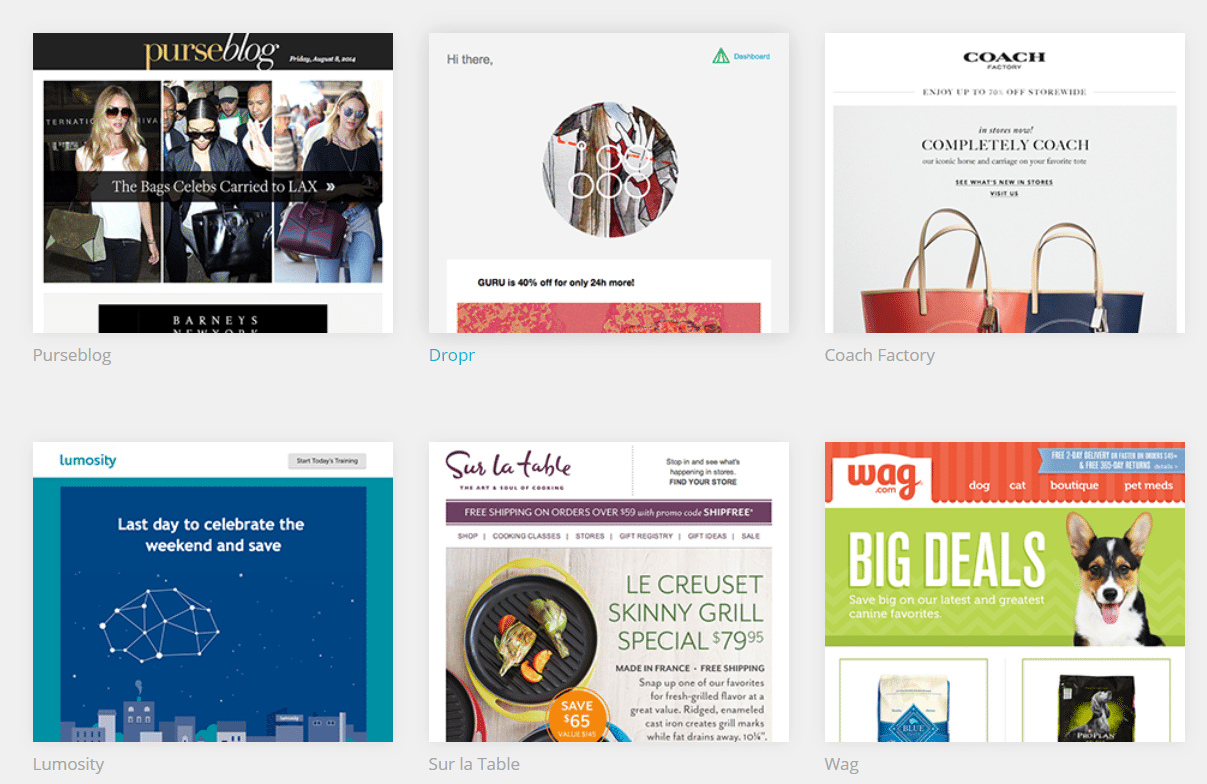 Source: HTML Email Designs
8. Cakemail
Cakemail is a great marketing platform for small businesses.
They offer 39 email templates for free that are divided into numerous categories.
You can browse through their popular templates, business templates, special events templates, seasonal and holiday templates, transactional templates or educational templates.
You can try Cakemail on a trial basis for free for one month.
Learn more about their pricing plan on their website and choose the one that suits your needs.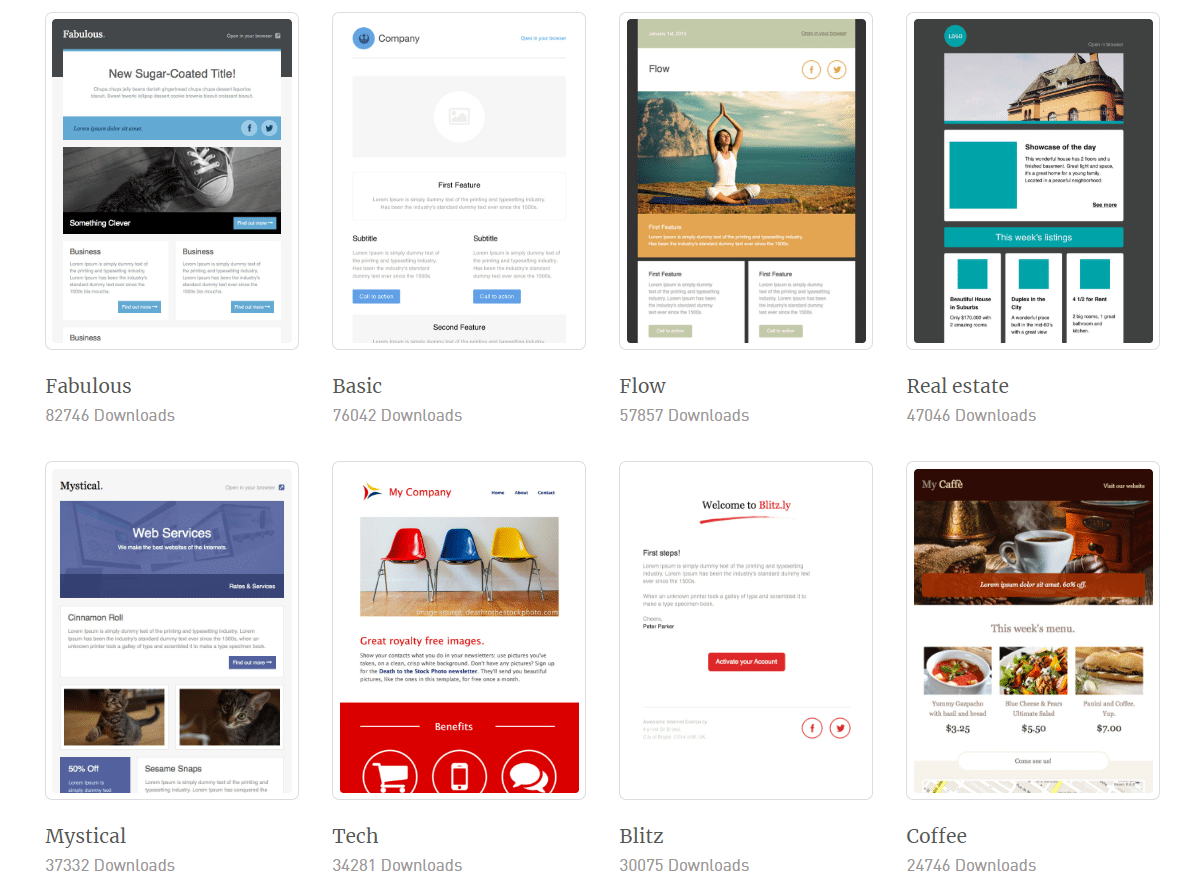 Image Source: Cakemail
9. Stripo
Do you feel you still have limited HTML knowledge?
If that's the case, you can try Stripo and create professional and responsive email templates with ease even with limited HTML skills.
They have an open library of blocks and ready-made online email templates in a variety of styles.
They market their templates to beginners, professionals, agencies and designers.
And these templates work great for your employee newsletters as well!
They offer more than 220 free HTML email templates that you can customize and export (to Outlook 365 using ContactMonkey) or to more than 30 types of email service providers.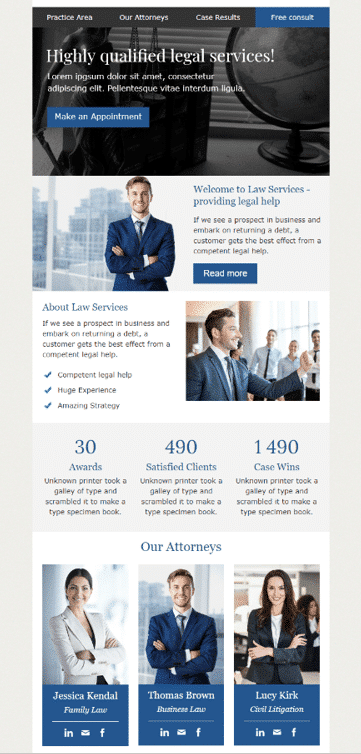 Image Source: Stripo
10. Cerberus
If you're looking to quickly put together HTML email patterns, Cerberus is a great resource.
You will have to play around a bit with the HTML code but the website is a great space for designers and developers looking to create responsive emails on the go.
According to the introduction on the website, "The code blocks are compartmentalized so they may be used, removed, combined, and nested to build an email. Each template contains code comments and has good support among popular email clients."
This is definitely a great resource for those looking to create responsive HTML emails from Outlook.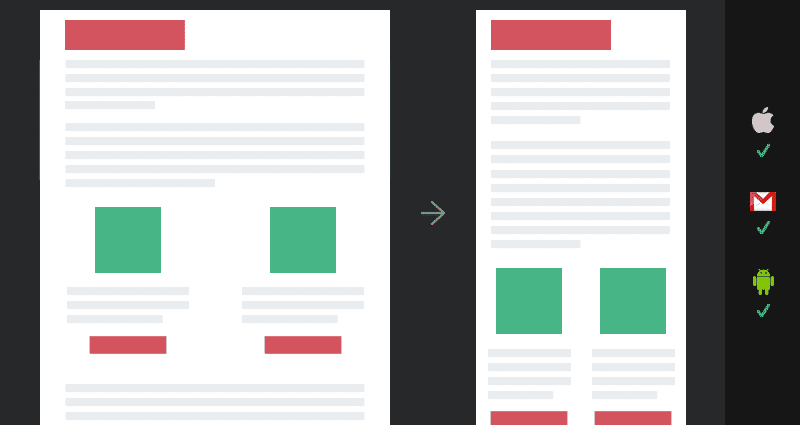 Image Source: Cerberus
Bonus: Email on Acid
Although not on the list, we would also like to give a shout out to our friends at Email on Acid.
Email on Acid is an awesome resource to check out as they offer more than 600 free responsive email templates that would be great for your employee newsletters.
We also recommend testing all templates using Email on Acid
Always Use A Responsive Email Template Builder
There are countless tools and resources when sending emails, but you should always ensure your responsive email template builder helps you provide value to your recipients.
When your emails display perfectly on any email client and on any device, you can be sure that your content is being used to its maximum effectiveness. ContactMonkey's email template builder and template library makes it easier than ever to send
Want to learn more about how ContactMonkey streamlines your internal communications? Book free demo with one of our experts to see all ContactMonkey offers.