Using an external communications tool for internal communications can lead to reduced productivity and have a negative impact on your business. Our Campaign Monitor alternatives can help you find the right internal newsletter software.
What is the key to increasing employee engagement? Proper internal communications help build a relationship with your employees in which they (and you) feel heard.
But to make internal communications work, you need the right software to track and monitor your efforts. Campaign Monitor's email software is used by thousands of businesses to create emails and automate marketing campaigns. But is Campaign Monitor the best internal email tracking software for your business?
Does it offer the features you need to implement your employee newsletter ideas? Let's dive into the leading Campaign Monitor alternatives, so you can make an informed decision for your business.
Campaign Monitor alternatives:
ContactMonkey
AWeber
Mailchimp
Constant Contact
GetResponse
Keap
Moosend
What is Campaign Monitor?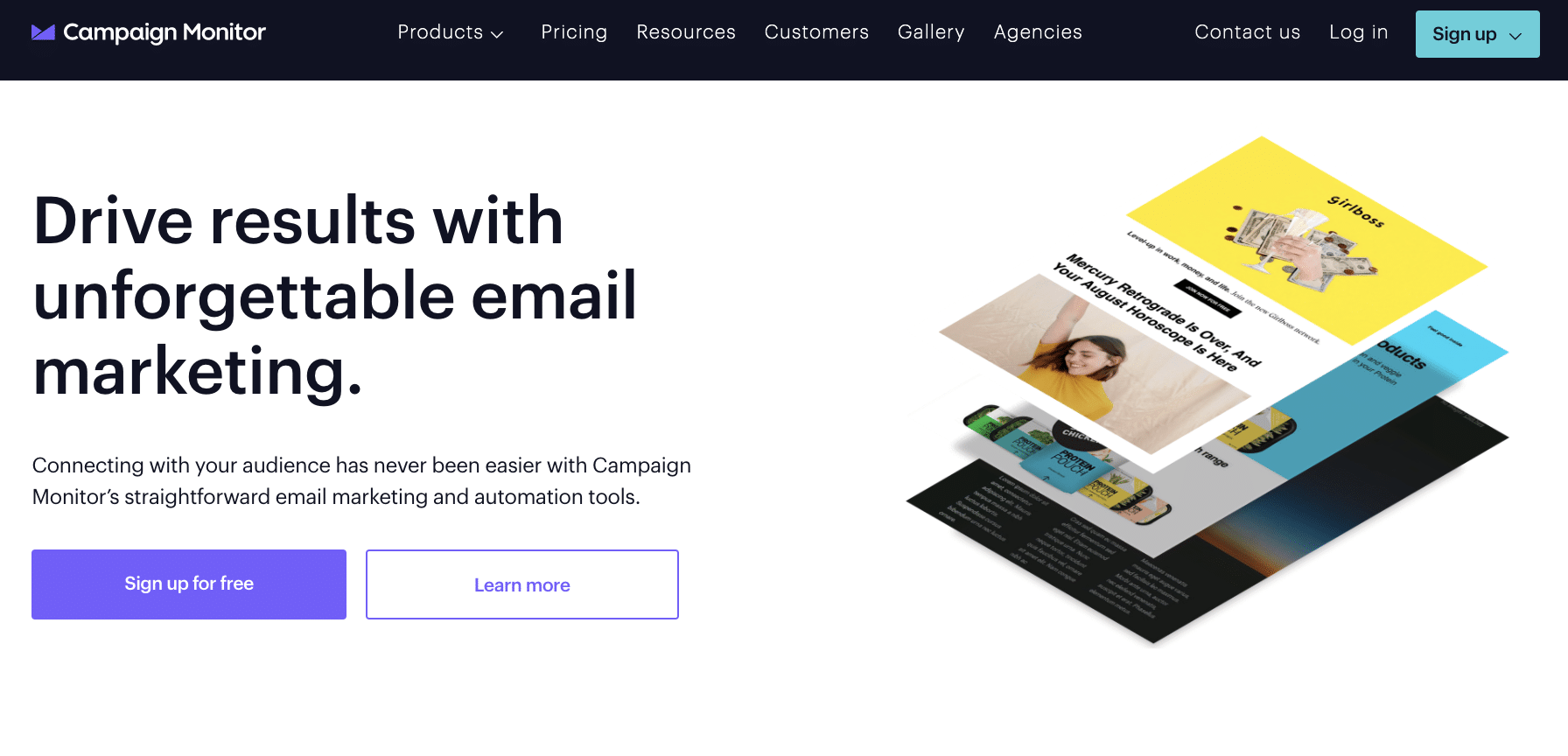 Campaign Monitor is an intuitive email marketing solution for small to midsize businesses. The platform is simple to use even for those with little technical experience. It includes various tools to track the customer journey and automate marketing campaigns.
Here are a few features that email marketers may find useful:
Drag-and-drop builder: Fine tune individual aspects of your emails—no coding experience necessary. You can also choose from a range of mobile-friendly employee newsletter templates to enhance your remote teams communication tools.
Personalization: Segment lists and use data to personalize email campaigns for specific subscribers.
Analytics: A full analytics suite displays real-time information about delivery rates, open rates, shares, and more.
Campaign Monitor is an excellent tool for email marketing, but not so much for internal communications. Here's why:
It doesn't integrate with Outlook or Gmail, meaning you have to build your campaigns through their web application.
Emails are sent directly through their servers, which means you're relying on a third-party to store your sensitive data.
You're required to include an "Unsubscribe" button with all of your emails.
Employees can't leave comments or rate internal emails they receive.
7 Best Campaign Monitor Alternatives
All of the above reasons mean that Campaign Monitor may not be the best choice for your business if you're looking for an internal email tracking software. Let's look at some of the top internal newsletter alternatives for Campaign Monitor.
ContactMonkey
ContactMonkey is a robust internal email tool that makes it easy to measure internal communications from Outlook and Gmail.
Don't have any design experience? Use the intuitive drag-and-drop builder to create stunning corporate newsletters. Or choose a template from our email template builder to jump start your next campaign.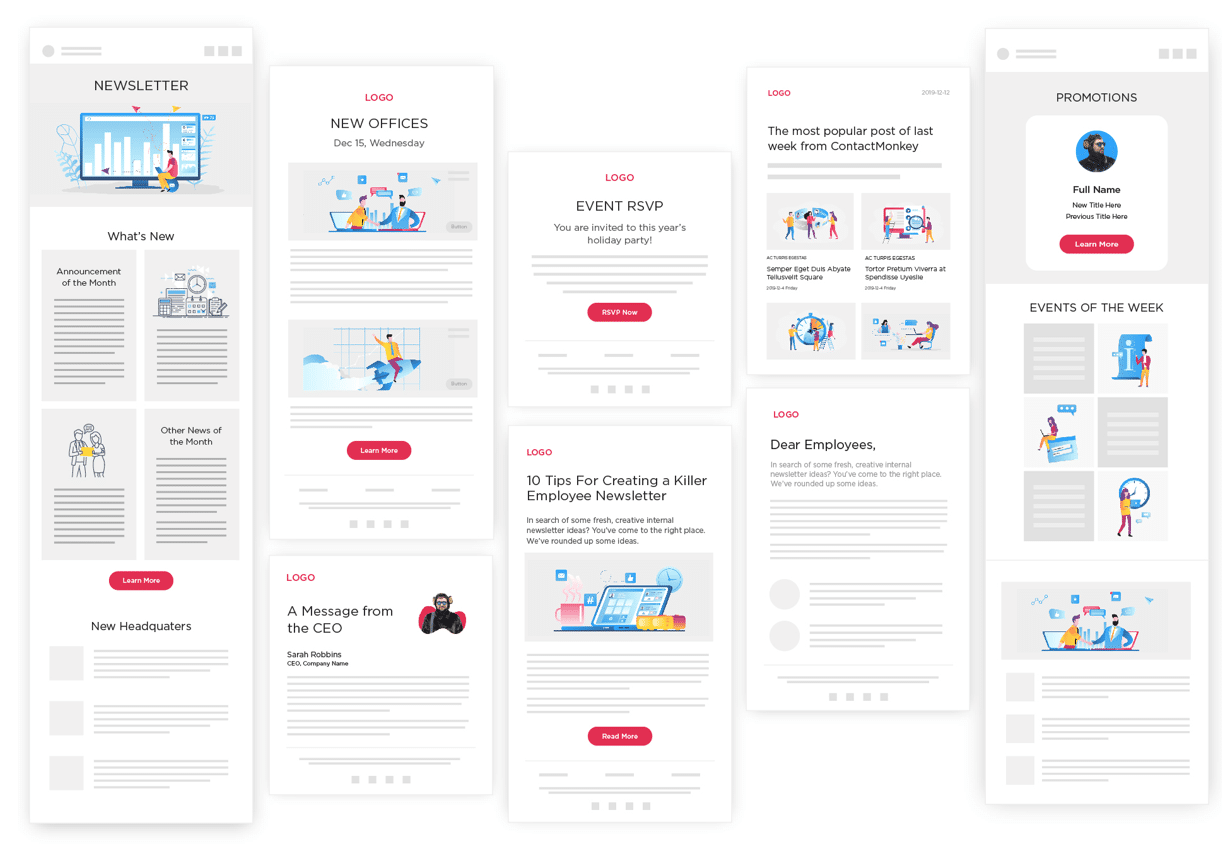 Not sure what content to include in your internal emails? ContactMonkey's OpenAI ChatGPT integration has you covered. Simply provide a prompt describing what you'd like your email to say, and then edit the output text according to your audience.
Here's how ContactMonkey can improve your internal communications:
Personalized communications: Just including a person's name in the subject line can improve open rates by 10-14%. With ContactMonkey, you can personalize all aspects of your emails, including the subject line and body copy.
Employee surveys: Want to know what your employees think of your emails? Ask them! Collect feedback with anonymous comments, pulse surveys, star ratings, and emoji reactions. Easily meet your pulse survey objectives and hone your internal communications content.
Email analytics: Track key email metrics on an individual or campaign level. Measure open rates, link clicks, devices, and more in real-time. Know how your emails are actually performing instead of guessing.
List management: Create custom email lists without needing IT approval using ContactMonkey's List Management feature. Custom lists help you engage your audience and reduce the number of irrelevant emails your employees receive. ContactMonkey integrates with your Human Resources Information System (HRIS) like Workday and ADP, as well as Azure Active Directory, so your custom email lists will automatically update as employees join and leave your organization.
Click maps: Want to know what parts of your internal communications grab your employees' attention. ContactMonkey's click maps feature shows you what parts of your emails your employees are looking at. Use this information to optimize your email design to make sure your employees are seeing the information they need to see.
ContactMonkey is the only solution that can track individual and overall email analytics from your existing Outlook distribution lists or Google Groups.
Does your organization have internal or external privacy regulations for email? You can still gather email metrics while maintaining your employees' privacy. with ContactMonkey's anonymous email tracking.
AWeber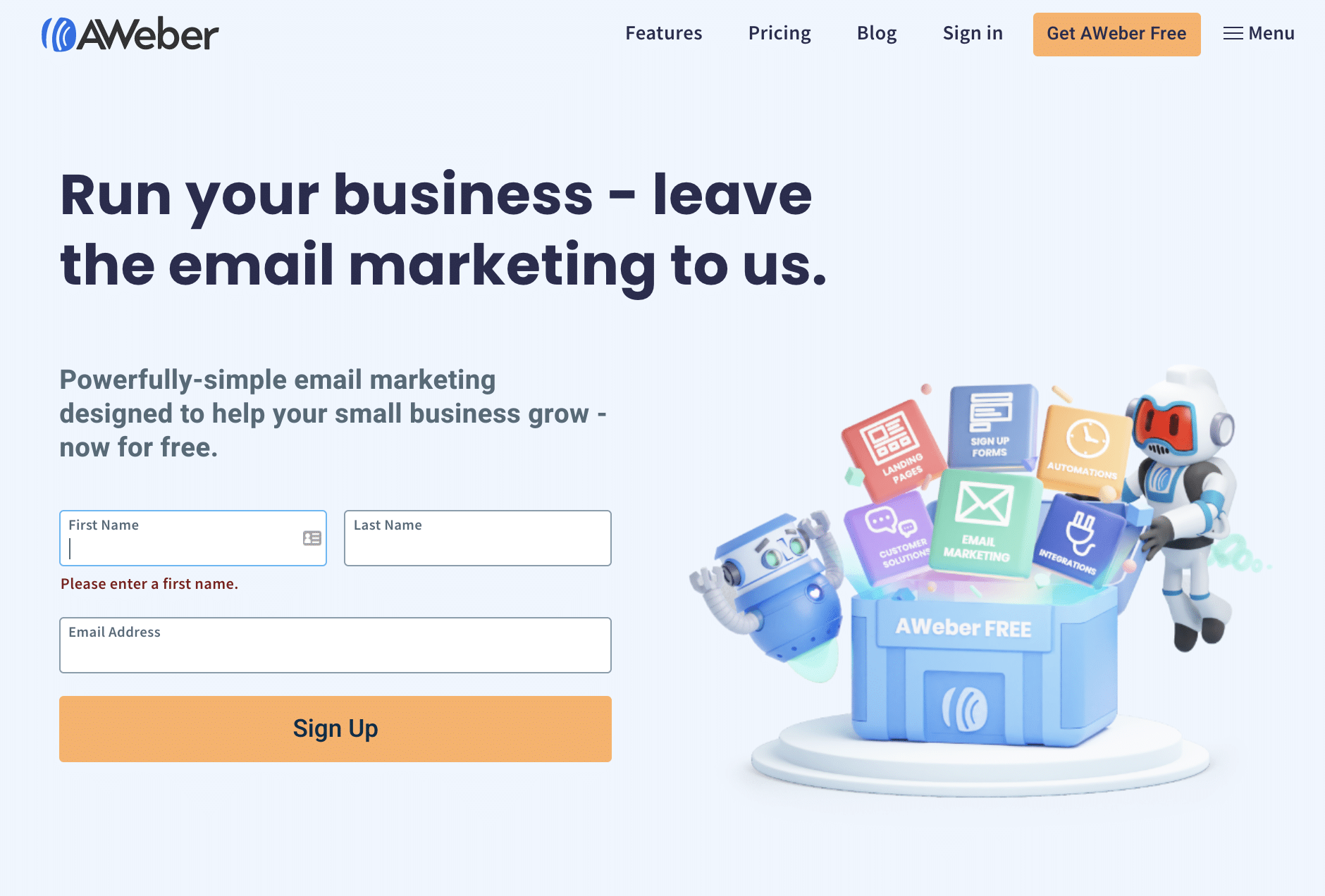 AWeber is a popular Campaign Monitor alternative. The platform provides businesses with all the tools they need to create professional emails and automate campaigns.
A selling point of AWeber is its ease of use. It includes a drag-and-drop email designer as well as a template library and automation tools.
Here are a few other noteworthy features of AWeber:
Pre-built reports: Reports display key performance indicators (KPIs) like open rates and clicks. You can also split test different aspects of an email and measure the results.
Subscriber management: Segment your list and categorize people based on certain criteria. This can allow you to manage communications between different teams.
Third-party integrations: AWeber integrations with popular platforms like WordPress, Shopify, PayPal, and more.
Aweber is a powerful email marketing platform, but it doesn't integrate with Outlook. They also have a strict anti-spam policy as you can't import contacts without first sending a subscription confirmation.
This isn't ideal when you're trying to communicate with thousands of employees. Employees that forget to confirm their subscription are likely to miss important internal communications like policy changes and company updates.
Get powerful email analytics with ContactMonkey.
Know exactly what content resonates with employees.
Mailchimp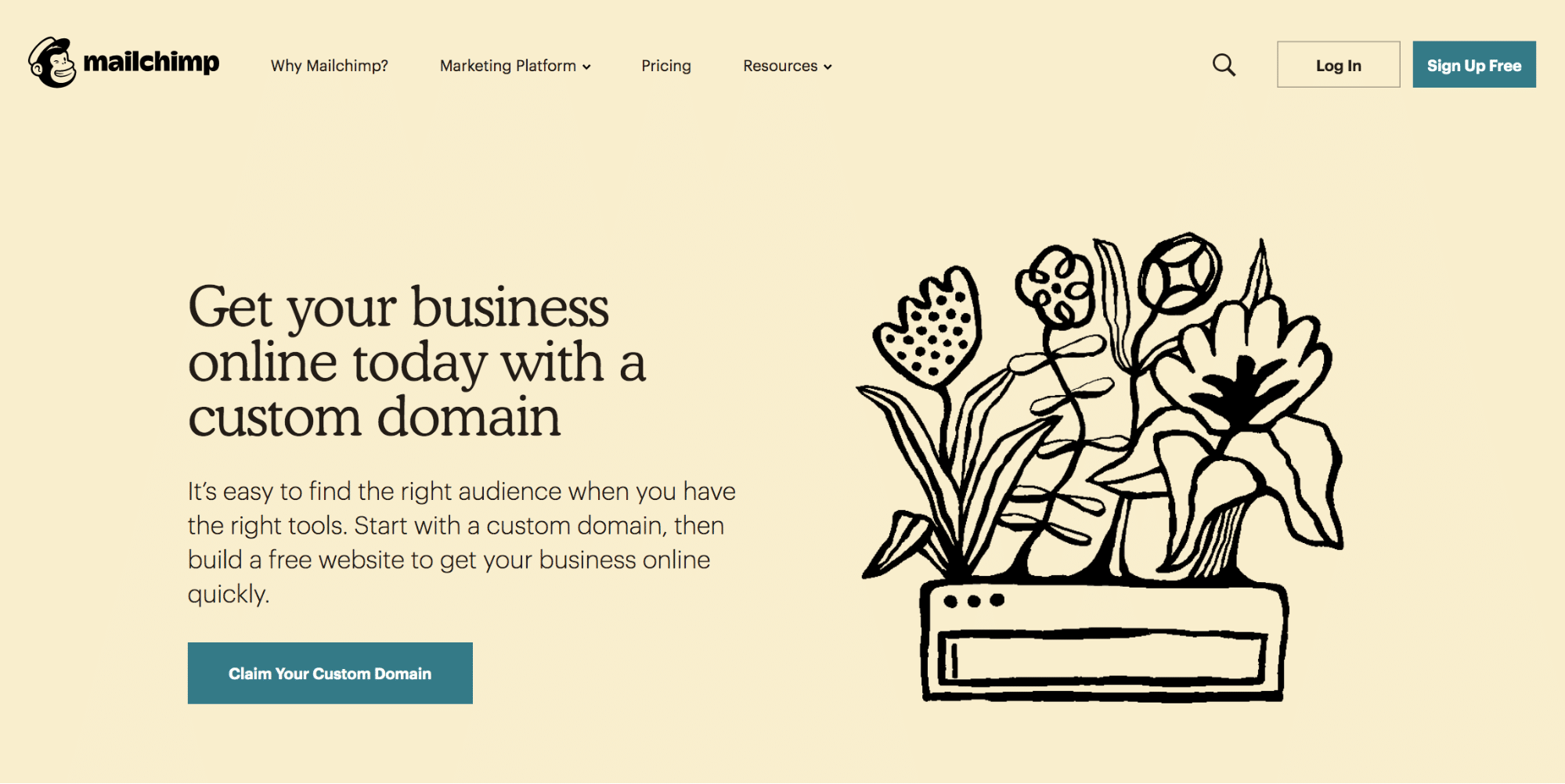 Mailchimp is one of the most powerful email marketing platforms on the market. Its robust set of features positions the tool as a reasonable Campaign Monitor alternative.
Mailchimp offers an all-in-one marketing platform that businesses can use to build and launch campaigns across multiple channels including social media.
Here are additional features that MailChimp offers:
Email automation: You can use the customer journey builder to create automated emails that trigger based on certain user actions.
Landing page creator: Use the drag-and-drop builder to quickly create responsive landing pages and get reports on how they're performing.
Lookalike audience finder: Mailchimp uses your CRM data to build a similar audience that you can use to reach even more people.
Mailchimp is a great platform to build and automate email campaigns. But it falls short when it comes to internal communications.
Internal emails you send come from Mailchimp's servers, which means your emails may end up in the spam folder. You also can't create employee newsletters in Outlook or Gmail.
Here's how ContactMonkey compares to Mailchimp: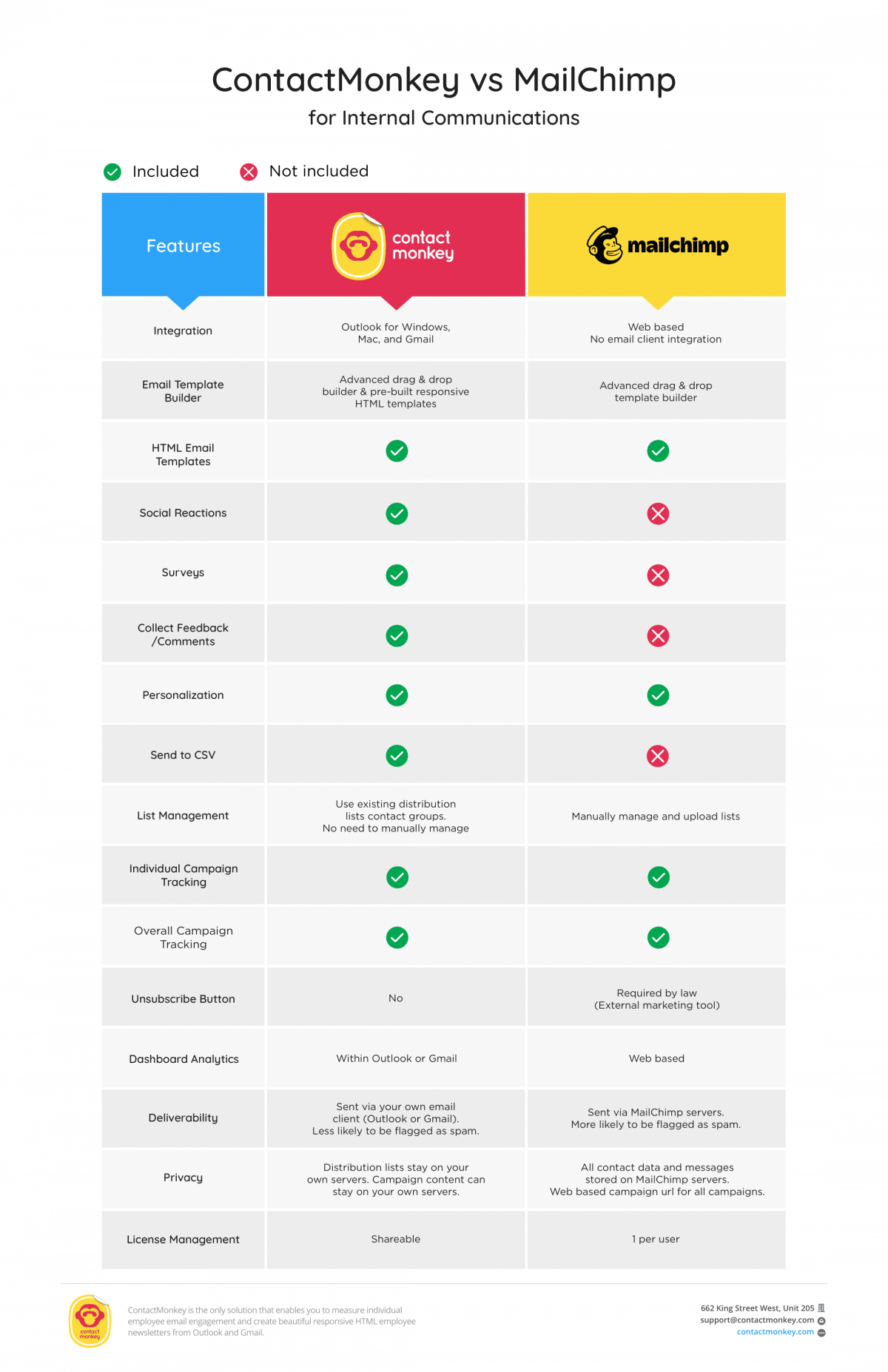 Mailchimps' shortcomings in internal communications are exactly why Mettler Toledo, a global manufacturer of analytical equipment, switched to ContactMonkey.
As a result, they were able to increase their internal email's open rates by 33% and save 4 hours of work each week or 25 days a year!
To learn more about how they do it, check out this in-depth look.
Constant Contact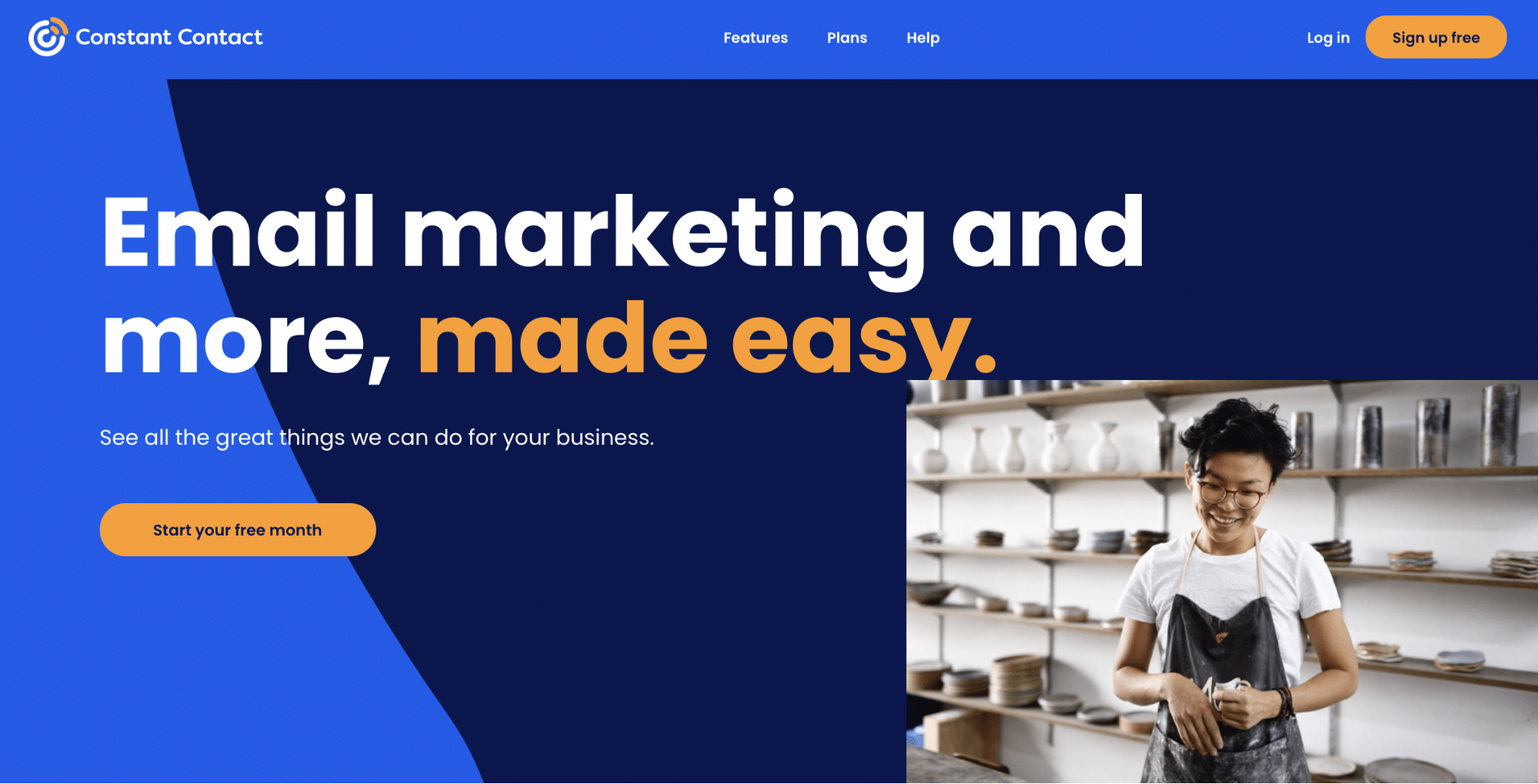 Constant Contact is an email marketing platform that provides smaller organizations the tools they need to build their brand and generate more leads.
The software provider offers a drag-and-drop builder that makes it easy to create and customize emails. Communicators can also segment their lists and automate email campaigns.
Here are additional helpful features that Constant Contact offers:
Contact list management: This feature is particularly handy as you can upload contacts from different sources like Excel and Salesforce.
Ecommerce tools: Constant Contact offers a website builder that enables you to build an e-commerce website and sell your products online.
Social marketing: You can use Constant Contact's platform to create social ads on Facebook and Instagram to drive traffic to your site.
Constant Contact is a great alternative to Campaign Monitor when it comes to helping organizations set up email campaigns. But this platform isn't ideal for internal communicators.
Here's how ContactMonkey compares to Constant Contact: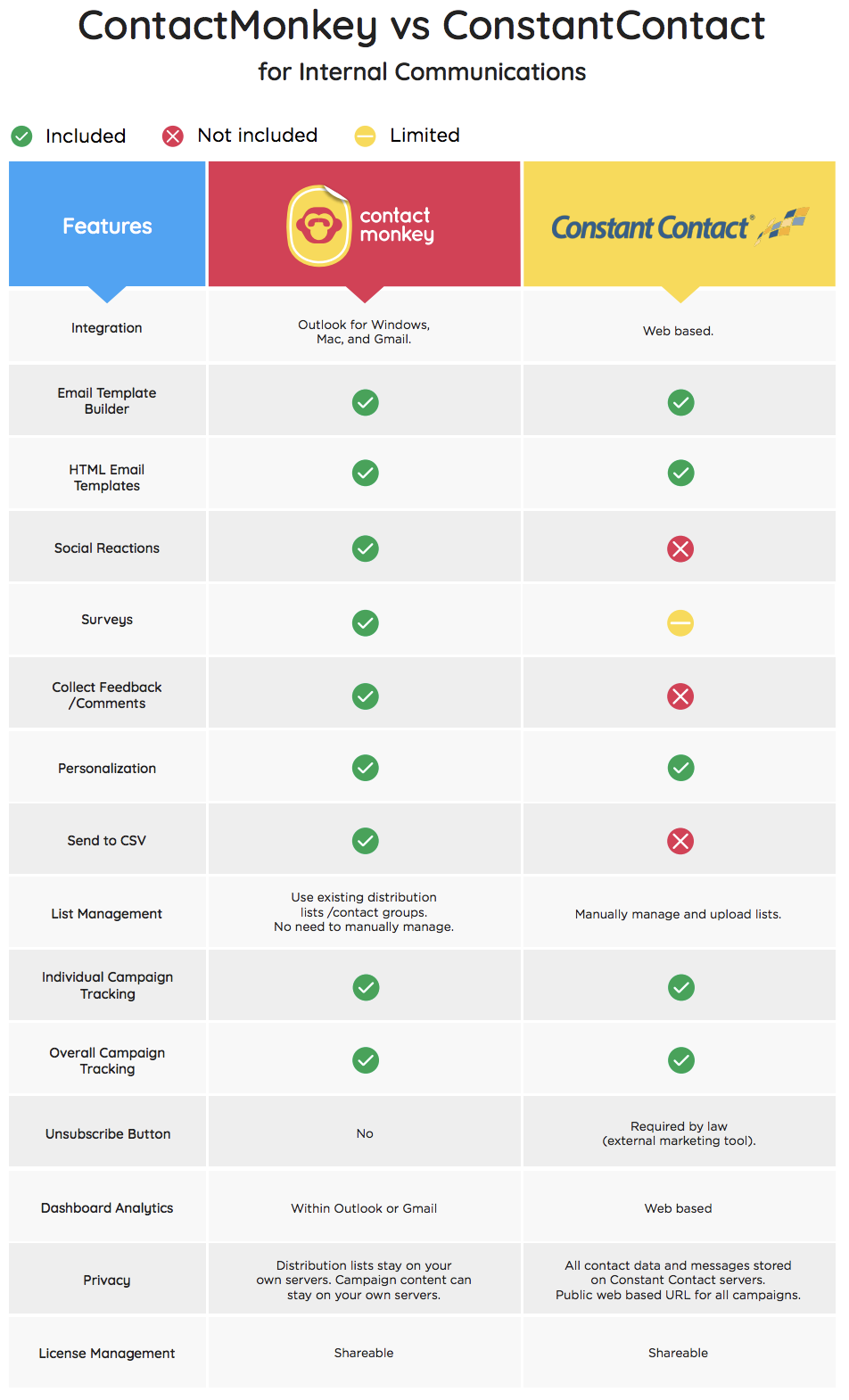 You can't use Constant Contact to send internal newsletters in Outlook or Gmail and you can't gather employee feedback—features that are a must for effective internal communication that adhere to internal newsletter best practices.
ContactMonkey's tool is the perfect alternative to Constant Contact. You can use our tool to create responsive newsletters and view internal email track analytics within Outlook or Gmail.
GetResponse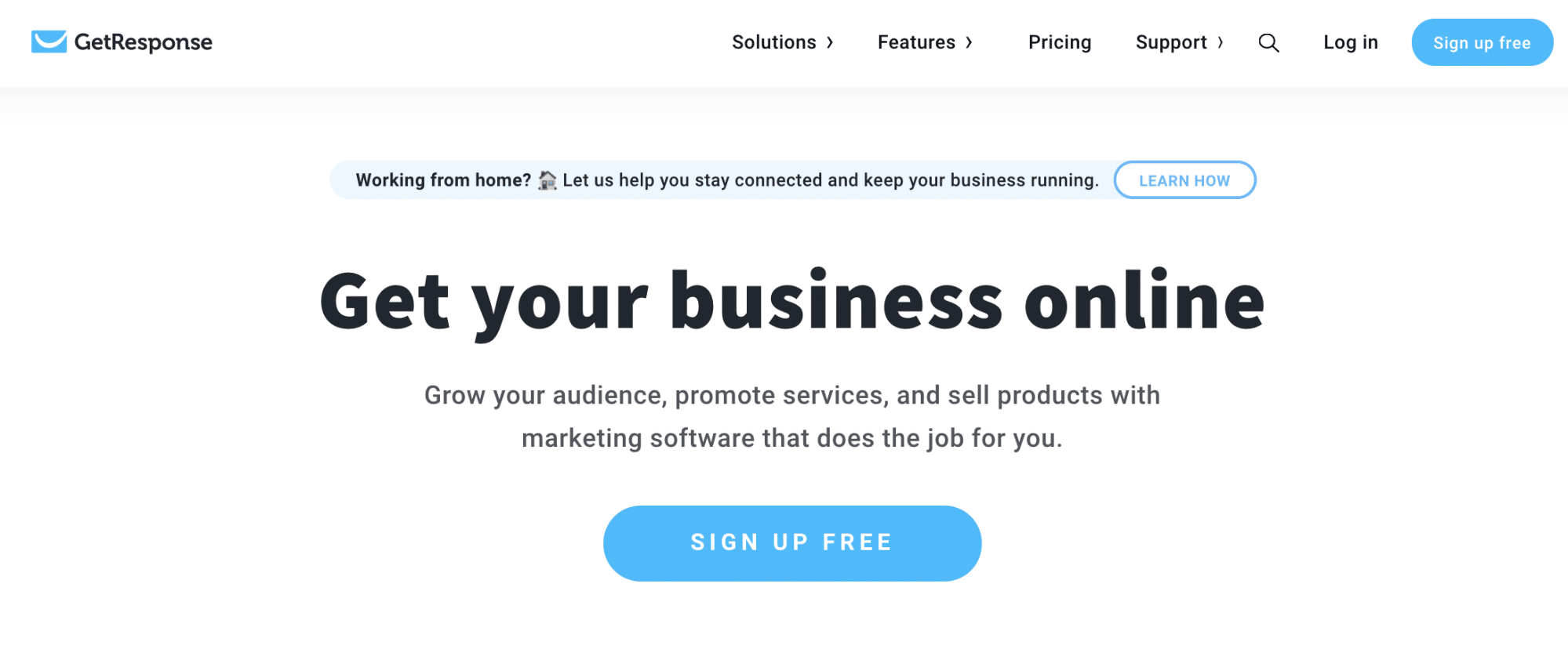 GetResponse is another popular campaign monitor alternative. The platform makes it simple to create professional emails and build landing pages with its drag-and-drop editor.
Here are some features that internal communicators may find useful:
Advanced segmentation: GetResponse offers advanced tools that enable you to organize your contacts and send personalized emails to your list.
Webinar software: The integrated webinar software allows you to create and host webinars, which are perfect for creating training videos for the organization.
Email analytics: With real-time activity-tracking, you can view and measure relevant email metrics such as open rates, click through rates, and more.
GetResponse is an excellent option if you're looking for marketing software to launch email campaigns and build webinars.
But if you're using GetResponse for internal communications, you'll need to create a new employee list instead of using your own Outlook distribution list.
Keap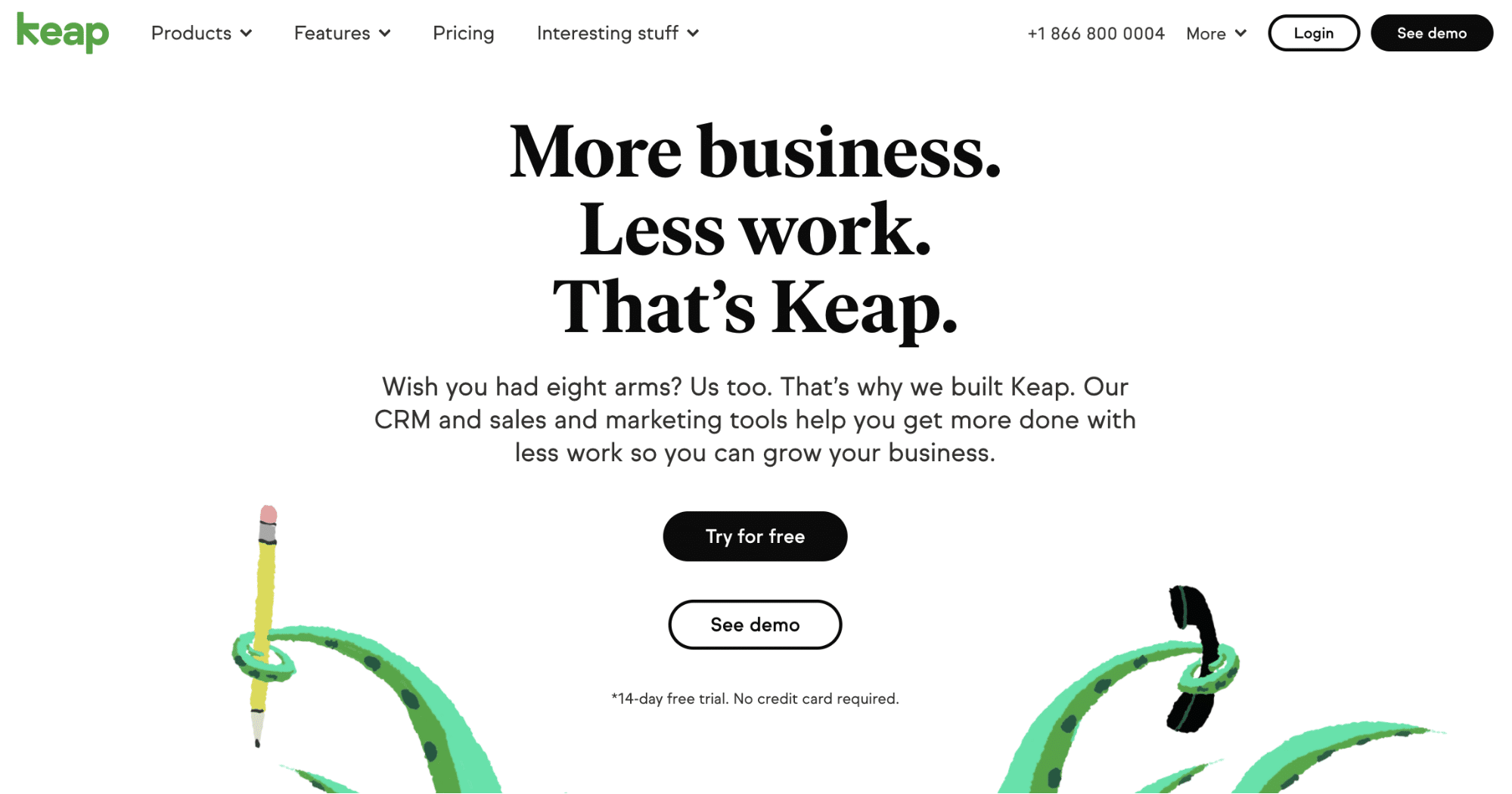 Keap is a user-friendly marketing software that's geared towards startups. The platform includes a CRM, allowing users to manage leads and follow up with personalized messages.
Keap offers a number of features that internal communicators may find useful, such as the following:
SMS messaging: Keap lets you send SMS messages to your team. You can also receive alerts when someone emails, texts or calls you.
Scheduling: If you need to set up an appointment with an employee, you can do so using Keap and ditch the back-and-forth.
Reporting: You can measure the impact of your emails using the analytics dashboard and gain valuable insights about your campaigns.
Keap is a strong email marketing platform and Campaign Monitor alternative. But its target audience is primarily service-based businesses and entrepreneurs.
You also need to use their web application to use their features, meaning it's not an ideal platform for internal communicators who rely on Outlook or Gmail.
Moosend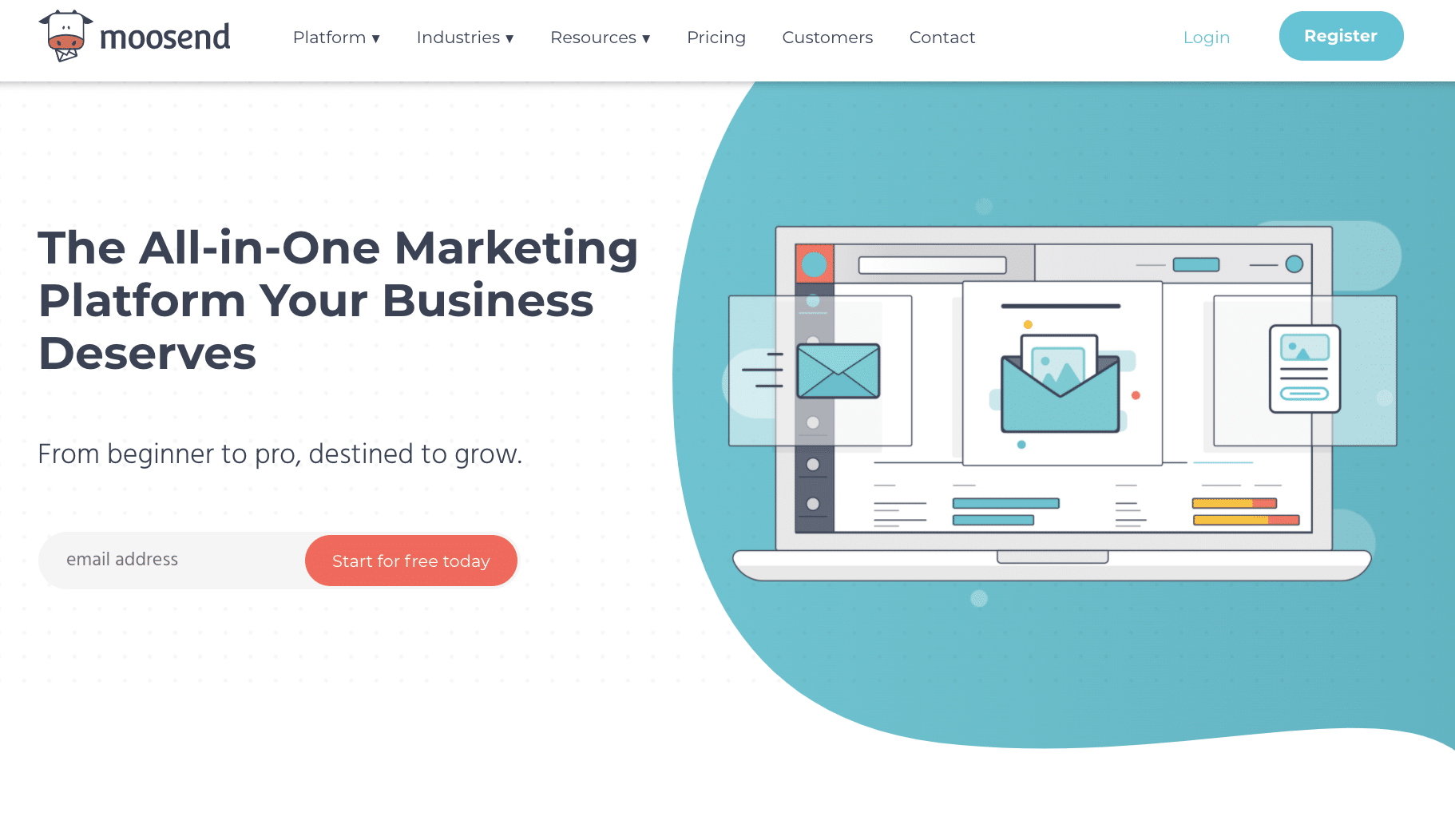 Moosend offers an intuitive user interface that makes creating and automating email marketing campaigns extremely straightforward.
Here's why Moosend is one of the better Campaign Monitor alternatives for sending employee newsletters:
Newsletter editor: Moosend offers a drag-and-drop email editor that lets you insert images, videos, and other interactive elements without needing to code anything.
Email personalization: You can personalize the subject line and body of your email newsletters to increase engagement.
Real-time analytics: Track every email you send and measure how recipients interact with your internal newsletters.
Moosend offers an adequate solution for sending employee newsletters. But keen internal communicators may notice that this platform is missing several key features.
The first is you can't use Moosend to gather employee feedback with surveys or comments. And the second is you have to leave Outlook or Gmail to send out internal newsletters.
ContactMonkey offers a better alternative for internal communicators.
Our internal email tracking tool seamlessly integrates into Outlook or Gmail, so you won't have to build new distribution lists. And all employee newsletters are sent through your internal servers, which guarantees their deliverability.
Best Email Platform For Internal Newsletters
Let's look at how Campaign Monitor and its competitors work for internal communications:
| | | | | | |
| --- | --- | --- | --- | --- | --- |
| Email Platform | Drag-and-Drop Builder | Recipient Surveying | Email Analytics | Outlook or Gmail Integration | Individual and Overall Tracking |
| Campaign Monitor | ✔ | X | ✔ | X | X |
| ContactMonkey | ✔ | ✔ | ✔ | ✔ | ✔ |
| AWeber | ✔ | X | ✔ | X | X |
| Mailchimp | ✔ | X | ✔ | X | X |
| Constant Contact | ✔ | X | ✔ | X | X |
| GetResponse | ✔ | X | ✔ | X | X |
| Keap | ✔ | X | ✔ | X | X |
| Moosend | ✔ | X | ✔ | X | X |
Strong internal communications are critical for a company's growth. They create a sense of transparency and provide updates on new developments.
But the majority of marketing tools fail at internal communications because they're dedicated exclusively to external email. They don't offer features that internal communicators need to facilitate collaboration.
ContactMonkey addresses the needs of businesses for internal communications. Our tool lets you easily send to your distribution lists and measure two-way communications.
The Best Campaign Monitor Alternative
ContactMonkey is the best Campaign Monitor alternative for internal communications. Our internal email tracking software integrates with your Outlook or Gmail inbox.
All emails are sent internally to your distribution lists. This adds an extra layer of security as your data is never sent through a different server. You also won't have to worry about employees opting out of your newsletters simply because they won't have that option.
The Campaign Monitor alternatives on this list require that your emails include an unsubscribe button. Employees risk missing important information if they unsubscribe from your newsletters.
If you're looking for the best Campaign Monitor alternative, ContactMonkey is a clear choice.
Are you ready to start tracking internal emails with ContactMonkey? Then book a personalized demo today: