We see this all the time: internal communicators using marketing tools for their internal communications needs. But time and time again, we learn that without a dedicated internal marketing tool, your employee communications fall flat.
It sounds harmless right?
Using external email marketing platforms like Mailchimp, Constant Contact, Campaign Monitor, Hubspot and others seems like a good idea for sending internal newsletters.
That's half true. They are good for sending newsletters. We like them and we use them in our own marketing. But time after time, internal communications professionals are getting burned by using marketing tools like Mailchimp for internal communications.
ContactMonkey was designed for internal comms.
Start a 14-day trial. No credit card necessary. Zero risk.
Why? Because external marketing tools were never designed for the complexity of internal communications.
The main objective of internal marketing programs is to promote awareness of company objectives, create employee engagement, and foster brand advocacy. These objectives are difficult to meet without dedicated internal communication tools.
Here's everything you need to know about why marketing tools fail internal communicators.
7 Reasons Why You Need a Dedicated Internal Marketing Tool for Internal Communications
We've broken down 7 simple reasons why marketing tools aren't serving internal communications professionals. These keys to effective internal marketing will help you identify problems so you can improve your internal communications.
Distribution List Management
Employees Unsubscribe
Third Party Bounce Rates
Irrelevant Metrics
Security Concerns
Formatting Disasters
Lack of Dedicated Onboarding and Support
Let's take a look at each reason and see how internal communications can drive employee engagement and transform your internal marketing strategy for the better.
1. Distribution list management stays internal
When you send a newsletter, naturally you have some group of contacts or a distribution list in mind. For instance, if you're sending out university email marketing, you may have different lists for various university departments, faculties, and so on.
Some communication professionals prefer to send one mass newsletter to everyone, while others are savvy about segmenting their employees to create more personalized communications.
Regardless of how you send internal newsletters uploading your distribution list to a marketing platform every week is a massive pain. This is especially the case in large organizations where several new hires, promotions, and resignations/terminations could all happen in a week. Maintaining a large distribution list becomes time consuming.
It is doubly time consuming if you have to maintain an internal distribution list, and then manage one on a third party marketing platform. Plus, errors are more likely to occur as a result of keeping your distribution list in multiple places.
How do you make distribution list management more efficient?
Make your life simple; use an internal communication tool for this.
Instead of manually curating your distribution lists, or chasing down HR or IT for a new list each time, just use an internal communications tool that is already integrated with Outlook or Gmail .
For example, ContactMonkey sends newsletters directly from your Outlook or Gmail inbox, which means you can just use your existing distribution lists or upload a CSV list.
If you're using Azure Active Directory or an HRIS, ContactMonkey can easily integrate. This will allow you to build your own employee lists right within the tool. This is great for teams who rely on IT to update their distribution lists. ContactMonkey's HRIS integration takes out the middle man, so that you can control and segment your employee lists.
We also encourage you to plan your email communications ahead of time to ensure maximum engagement while avoiding overwhelming your employees. Use ContactMonkey's communications calendar to plan your yearly, monthly, and weekly emails for your various distribution lists.
2. Prevent unsubscribes
Visually appealing HTML newsletters make internal materials much more palatable, creating a demand for newsletter tools.
Unfortunately, marketing newsletter tools do not play nice with corporate email clients.
According to CAN-SPAM, the United States spam governance act, corporate marketing tools must allow people to unsubscribe from unwanted communications. 
Marketing companies don't want to be held liable for failing to enforce CAN-SPAM guidelines. Nor do they want their customers to churn if served with an anti-spam lawsuit.
To keep things simple, marketing platforms include an unsubscribe button on every email sent through their platform, regardless of the intention of the message.
The downside for internal communicators?
Well, the CAN-SPAM act doesn't actually consider internal communications as spam. Instead, they're considered "Transactional or Relationship content," which doesn't require an unsubscribe option.
But marketing companies don't care that you're using their corporate communications marketing tool for internal email analytics.
To them, an email is an email. So internal communicators using marketing platforms will still get an unsubscribe button alongside their message.
One employee may notice the unsubscribe button, leading to an entire offices or department learning that they can unsubscribe en masse. That ends with internal communicators having serious gaps in their newsletter's reach.
How do I prevent employees from unsubscribing from internal emails?
By using a tool designed for internal communications, you never have to worry about employees unsubscribing from important communications. Internal communication tools are designed for "Transactional and Relationship" messages. They're pertinent to employees and won't be blocked as the Federal Trade Commission doesn't consider them as spam.
By using a dedicated internal email tracking tool like ContactMonkey, you can avoid the issue of spam laws and unsubscribing employees entirely. Maximize your newsletter opens every time by using an internal marketing analysis tool. If your organization has regulations around email privacy, you can use ContactMonkey's anonymous email tracking to gather email metrics while maintaining your employees' privacy.
3. Avoid blocked messages
Your IT team rightfully wants to protect your employees from security breaches and spam. But it also means when you send internal messages using a marketing tool, they'll be likely to bounce or appear as spam.
This is especially the case when it comes to HTML rich emails. In fact, anything with code can likely set off red flags.
Firewalls quickly identify emails with lots of HTML. They also check if a sender is associated with spam. Some places automatically send all emails from external senders to the spam folder!
The deliverability of newsletters sent through a marketing tool depends a lot on your IT department. Large companies may have extremely strict IT departments, aimed at reducing spam and distractions for employees.
It also depends on how your employees respond to newsletters. If many employees mark your newsletters as spam, you'll have a hard time passing through the spam-filter in the future. So many of your important communications will simply be blocked.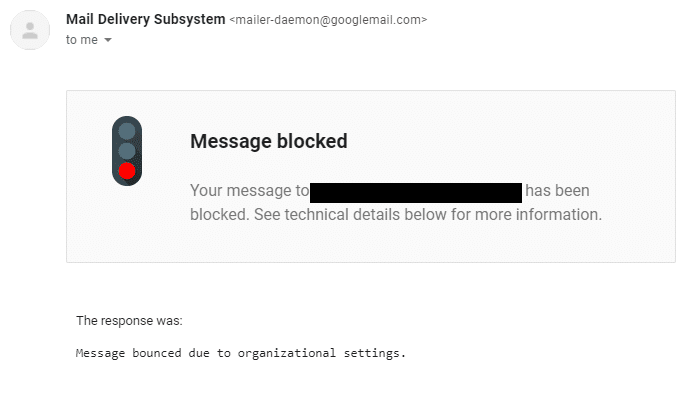 How do I prevent IT from blocking my newsletters?
The surest way to make sure your internal newsletters send properly?
Use an internal marketing tool that will send newsletters from your own email client and servers. ContactMonkey helps you accomplish this as we're built to fully integrate with your Outlook or Gmail client, which makes us a top Mailchimp alternative as well as Hubspot alternative.
When you use ContactMonkey paired with your existing Outlook or Gmail you can have the confidence that your internal newsletters will always get delivered. You can also make sure of it through ContactMonkey's in-depth email analytics: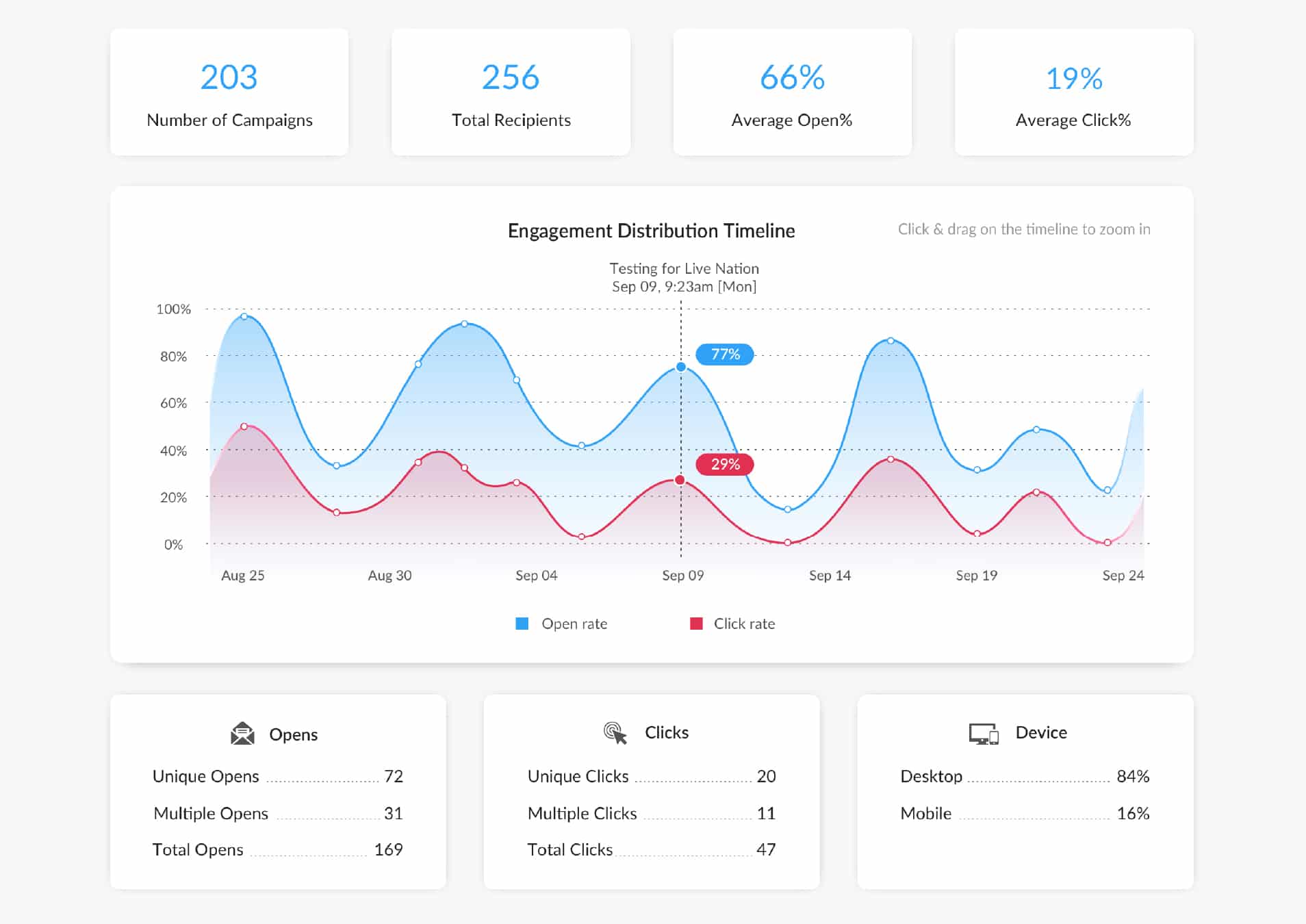 Your IT department may also be concerned with spam and phishing attacks. To protect your organization, ensure that your employees are up-to-date on their phishing awareness training, and keep sensitive employee emails on your own servers, which you can accomplish with ContactMonkey.
4. Avoid the clutter of irrelevant internal email analytics
Email metrics are everything these days.
Whether you're new to measuring the impact of your communications or you're a quants guru, you know that the last thing you need are distracting irrelevant metrics. Measuring your email analytics is an essential best practice for internal communications.
So when you're using an external marketing tool, you'll see your Conversion Rate, Revenue, Unsubscribe Rate, and Bounce Rate.
Those are all important metrics when you're trying to sell a product, or when you're sending other commercial emails where opt-outs and spam blockers are potential obstacles.
They help you optimize your sales and keep a non-captive audience engaged.
But with internal communications, you aren't going to need any of those marketing features.
You're not trying to earn new customers, so you won't need to measure conversion rate. You're not selling a product, so revenue really isn't important either.
Internal communications are not spam emails, so unsubscribe and bounce rates really shouldn't even be relevant.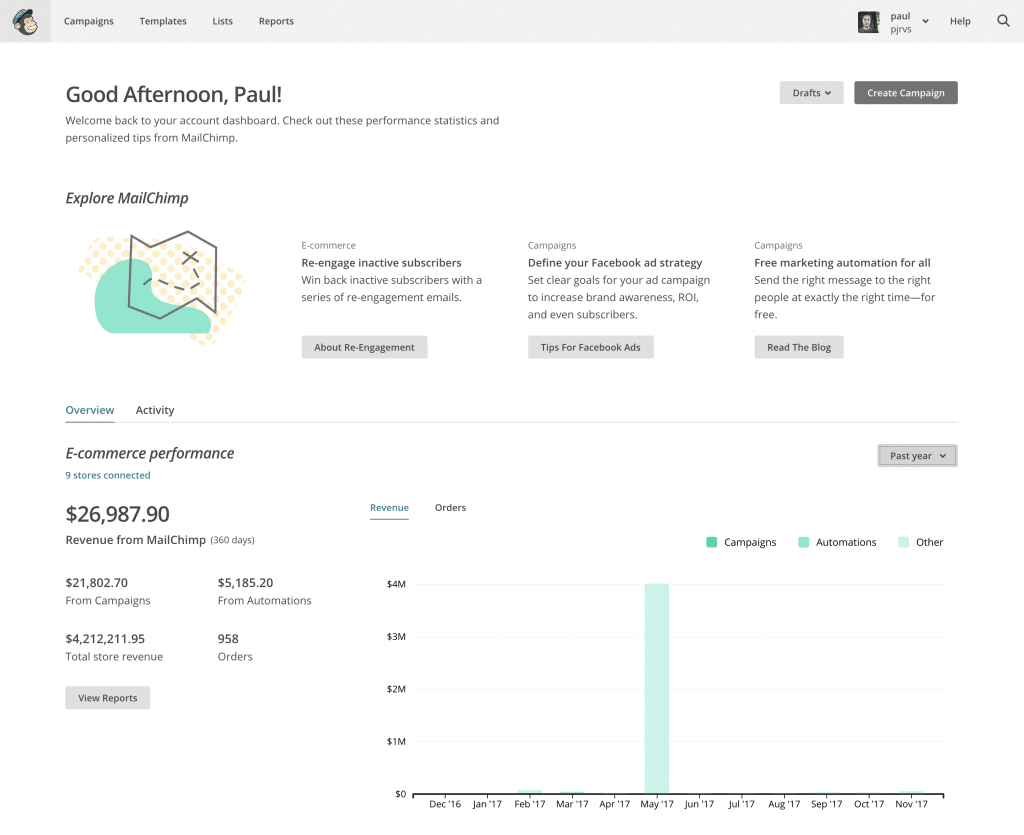 How do I focus on internal marketing KPIs?
You would be better off using an internal marketing tool that encourages and measures two-way communication with employees.
A tool dedicated to internal communications will be able to show you more targeted metrics. ContactMonkey also allows you to take pulse surveys, use emoji reaction icons, and solicit comments from employees—all from within your internal newsletter!
So you can conduct employee surveys – from job satisfaction questionnaires to employee exit surveys – in a simpler, more engaging fashion.
Don't let your metrics dashboard host marketing mumbo jumbo that doesn't serve you. Instead, use an internal newsletter tool that allows you to focus on what matters: employees.
Marketing tools are not for internal comms.
Try ContactMonkey for 14 days. No credit card necessary.
5. Mitigate security risks from marketing tools
When you use a marketing platform for internal communications, you're using a third party system to store and send confidential information.
Everything from your employee's full names and contact info to potentially sensitive internal news would reside within a marketing server or on the cloud.
To make matters worse, most marketing newsletter tools contain a link that allows users to view the HTML rich newsletter in a browser window.
While this may seem like a fairly benign accessibility tool, the last thing you want is your internal newsletter public on the internet for anyone with the URL.
Then you have to consider whether the corporate marketing tool you're using is trustworthy.
You don't want to use a marketing tool that was found leaking email addresses for your internal communications. Nor do you want any kind of tool that acts as a lucrative target for hackers, phishers, and scammers.
How can I reduce cybersecurity risks from marketing tools?
There are many internal communication tools that let you send emails right from your own email server. That means confidential contact information and internal news actually stays internal.
With ContactMonkey's internal marketing tool, you can send newsletters right from your own IT-approved email domain. Your content and your distribution lists stay on your own secure servers, reducing the risk of your employees being targeted for malicious cyber attacks.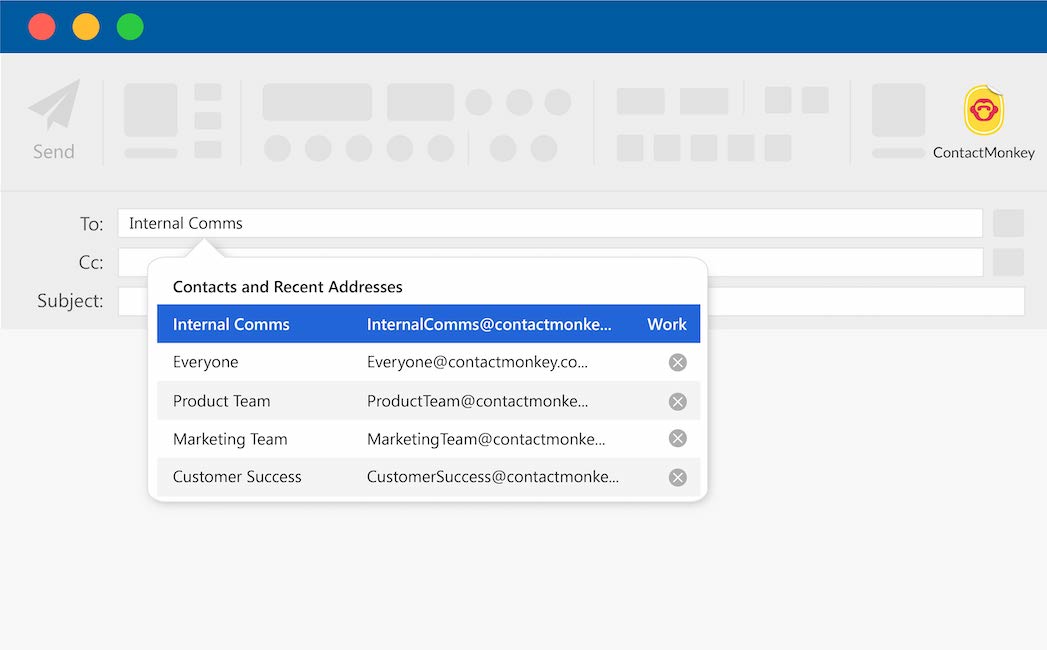 Using ContactMonkey's List Management feature, you can create custom email lists without needing approval from IT. Your custom lists can be integrated with your Human Resource Information System (HRIS) like Workday and ADP, as well as Azure Active Directory, so they'll automatically update when employees join and leave your organization.
6. Spend less time fixing Outlook formatting disasters
We see this time and time again: someone designs a beautiful newsletter using a marketing tool, uploads the most current distribution list, and sends their masterpiece to the company.
Then, when they see the newsletter in their own Outlook inbox, it looks like a disaster. It could be distorted, it could be missing images, or it might not display at all!
Since Outlook 2007, Microsoft Outlook has been using Microsoft Word to render HTML emails. Word documents render HTML differently than most other email clients, the usual result is image distortion. You may also notice:
Ignored image padding

Clipped images

Rescaled or improperly sized images

Images don't load at all

Background colours and images don't show

Animated gifs won't work

Inappropriate white spaces appear between lines
Although you can spend hours testing and reformatting your newsletters to make them work, you have to remember those are hours of your time you can't get back. Imagine how many other things you could do with all that time?
With a tool like ContactMonkey, you can gather real data on how your employees are engaging with your internal communications. Our click maps feature let's you see what parts of your email are grabbing your employees' attention: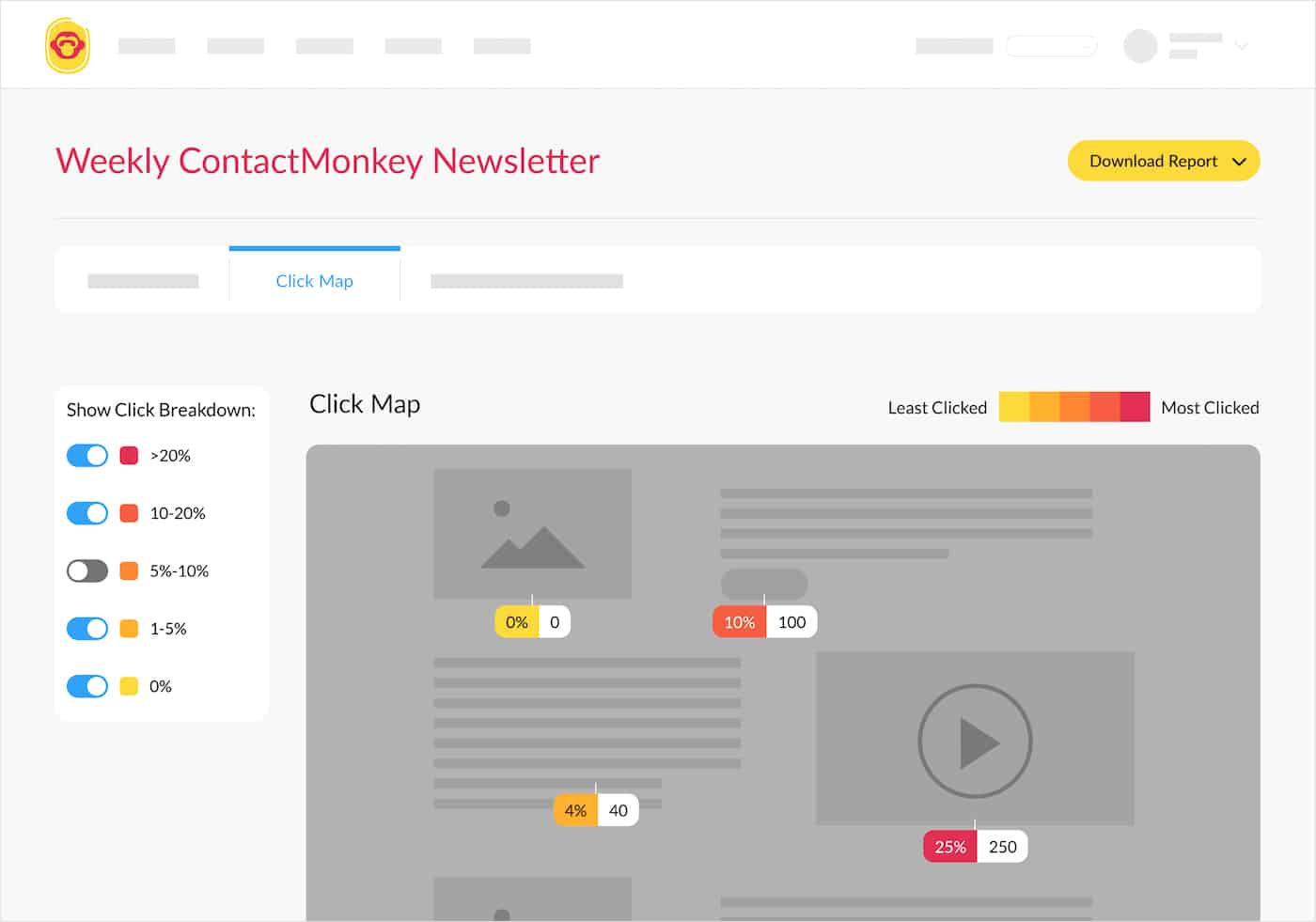 This information can help you optimize your email design to ensure your employees are seeing the information you need them to see.
When it comes to creating easy, engaging HTML newsletters, ContactMonkey is the best internal marketing tool for the task. Not to mention, it's proven to save Mailchimp users up to 4 hours a week. That's an entire afternoon per week. Or 25 whole days in a year. If you switch to an internal newsletter tool that actually works in Outlook, you could offer 5 extra weeks of vacation to your communications team.
Or realistically, spend that time on other unignorable tasks so you can finally get caught up with your workload.
Another way to save time is to generate new ideas for your emails using ContactMonkey's OpenAI ChatGPT integration. Simply provide a prompt and edit the generated text to fit your desired audience.
How can I simplify formatting HTML for Outlook?
With ContactMonkey, you get the same seamless drag and drop features of your favourite marketing tools. The added bonus: your newsletters always display correctly the first time. Plus there are also great ready-made internal communications email templates to choose from. Why waste time with tools you know aren't going to work?
7. Marketing companies don't onboard internal communicators
It's sad but true, marketing tools weren't really designed for you.
Mailchimp, ConstantContact, and other marketing tools were designed for small-businesses and solo entrepreneurs. In order to keep costs cheap for these audiences, they skimp on the type of support enterprise-level users need.
That means no onboarding or installation support.
You're going to need a premium plan just to get someone on the phone.
And support reps aren't always equipped to help internal communications professionals.
Your Internal Comms team and IT department are on their own when it comes to setting up the marketing tool. If they have any questions along the way, they'll have to figure it out alone.
Compare that to internal communication platforms that only work with enterprise clients. You'll be able to talk to someone who understands the unique challenges internal communication professionals face.
Get Started with an Internal Marketing Tool
Maybe you're already using a marketing tool for your internal communications and it's working fine for you. Or maybe you didn't even know there were email design tools designed specifically for internal communications. Trying different innovative internal communication ideas can require different software solutions to make sure you have the right fit.
At ContactMonkey, each client has a dedicated Account Manager who will help you implement our internal communications software and offer training to ensure you're successful with the platform. We'll even put in the training up front with a free trial!
Test out ContactMonkey for Free
Get the buy-in for an internal marketing tool