Your internal communications drive employee engagement and workplace productivity. Use our innovative internal communication ideas to enhance communication at your business.
Within employee newsletters there exists a conundrum: how do you create constantly-engaging content in emails that need to be sent on a monthly, weekly, and even daily interval?
It can be difficult coming up with creative internal communication ideas on a regular basis. That's why we've compiled a list of our best internal communication ideas that will give you new ways to approach employee emails and newsletters. Implement these internal communication tactics at your business to keep your emails fresh and your employees engaged.
What is Internal Communication?
Internal communication is how your employees communicate with each other and your business. Employee conversations, internal emails, meeting invitations, employee text alerts, Slack messages; these are all examples of internal communication.
Every company approaches internal communication differently. Companies with remote and hybrid workplaces rely on internal communications to address the challenges of remote teams. Companies with in-person employees may use internal communications more periodically, as employees can simply speak to one another.
When thinking about new ideas to improve internal communication, assess how your employees currently communicate and look for areas for improvement. Consider conducting an employee communication survey to gather employee feedback to pinpoint communication issues and areas to improve.
Improve your internal comms with ContactMonkey.
Start a free 14-day trial. No credit card is necessary.
Why your internal communications matter
Internal communication is a direct driver of employee engagement. Effective communication helps employees stay informed, submit feedback, and connect with their coworkers. Your employees produce better work when they care about what they're doing, and your internal communications are the key to nurturing their engagement.
Internal communications also help reify your workplace culture. If your organization prefers collecting employee input before making important decisions, your internal communications are crucial for collecting employee feedback and measuring your employees' feelings about the upcoming change.
Want to learn how to create innovative internal communications from IC industry leaders themselves? Check out our list of the best internal communications books.
Innovative Internal Communications Ideas to Try in 2023
However you approach your business's internal communications, it's important to keep things fresh with creative internal communication ideas. These can range from simple content tips to different ways to measure your internal email engagement.
We've collected our favourite internal communications ideas to help you improve how you connect with your employees. Be sure to also check out our internal communications case studies to see how other companies use ContactMonkey to improve engagement and productivity.
1. New content, familiar look
While a well-written email is certainly effective for conveying certain messages, there are numerous ways you can communicate information in your emails using other types of media. Use HTML emails for your internal communications to add various kinds of content while maintaining a consistent layout and branding.
Feature images, add GIFs to Outlook emails, insert email tables, and more by using HTML-based emails for your employee emails and newsletters. Using ContactMonkey's email template builder, you can combine different kinds of media with your email copy to create more engaging emails: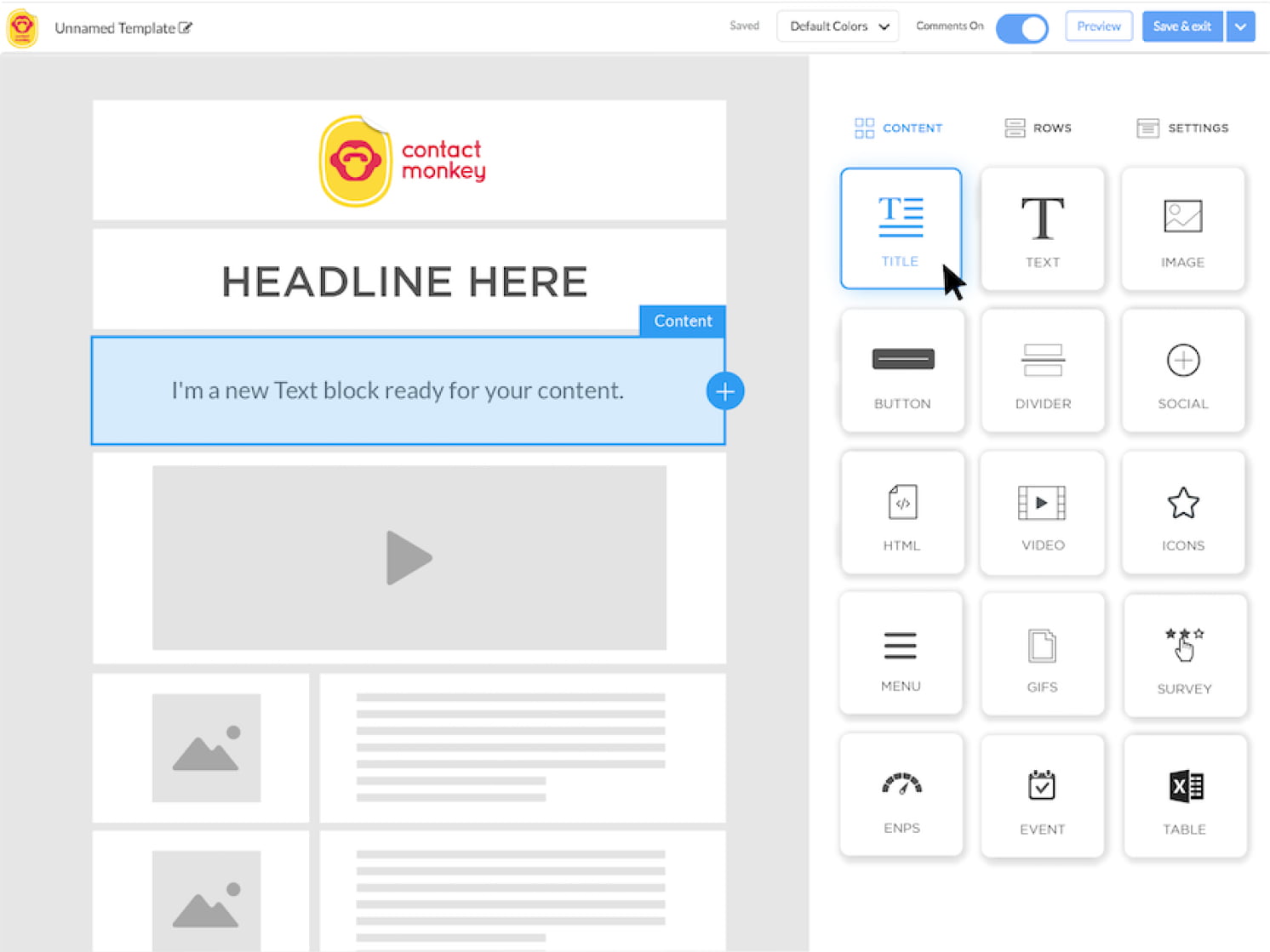 We recommend changing up the kind of content you use in your internal communications, but keeping the overall branding consistent. Consistent email branding helps your employees quickly recognize the purpose of your email, and contributes to your internal brand voice. ContactMonkey's HTML email templates make it easy to customize your email content while maintaining an efficient email workflow.
If you're struggling for internal email ideas, try using ContactMonkey's OpenAI ChatGPT integration to generate content based on prompts you provide. Simply describe what kind of content you'd like, and edit the output according to your audience.
2. Show, don't tell
Perhaps the most effective kind of media to include in your internal communications is video. Not only can videos communicate huge amounts of information in a short period of time, but they're also more accessible to employees who have trouble reading text on a computer screen.
Video internal communications can include videos produced by employees, or feature videos from external sources that you think your employees would value. One example of an effective internal communication video idea is to feature a yearly or quarterly update from the company's CEO or owner: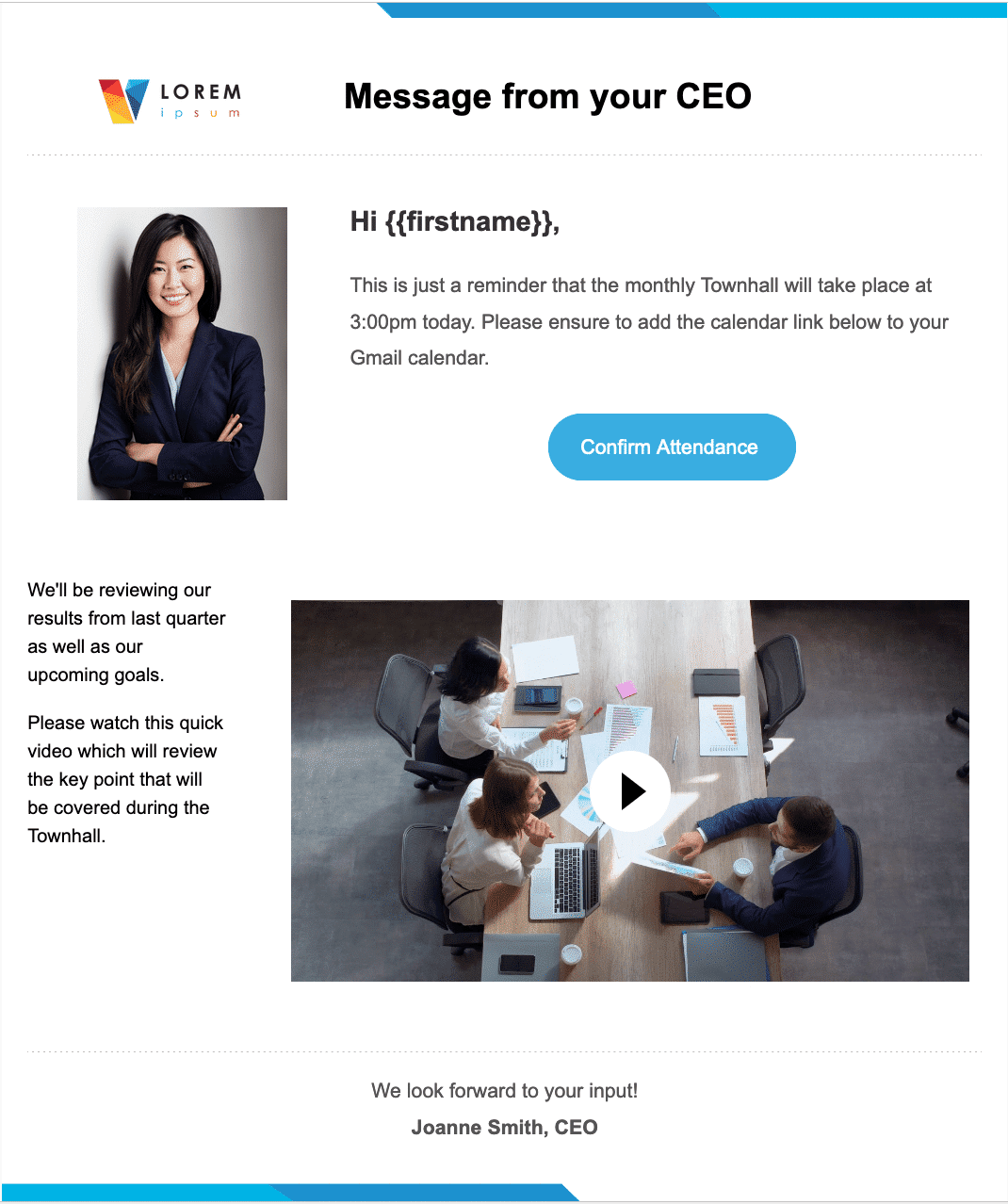 A video like this—which is an example of solid leadership communications—helps your employees connect with management and builds credibility for your internal emails.
3. Save time by using internal email templates
Whatever kind of media you use in your internal communications, email templates help you save time and effort when creating employee emails.
We mentioned how email templates allow you to get creative with your email content while maintaining consistent branding. Templates also allow you to retain a layout you used in the past so you only have to update the information with the email.
Once you've designed internal message templates for your various kinds of internal emails, you can essentially eliminate the design work from your email creation process. With ContactMonkey, all of your templates are saved within your template library, which you can easily search. You can also customize pre-made email templates created by our design team: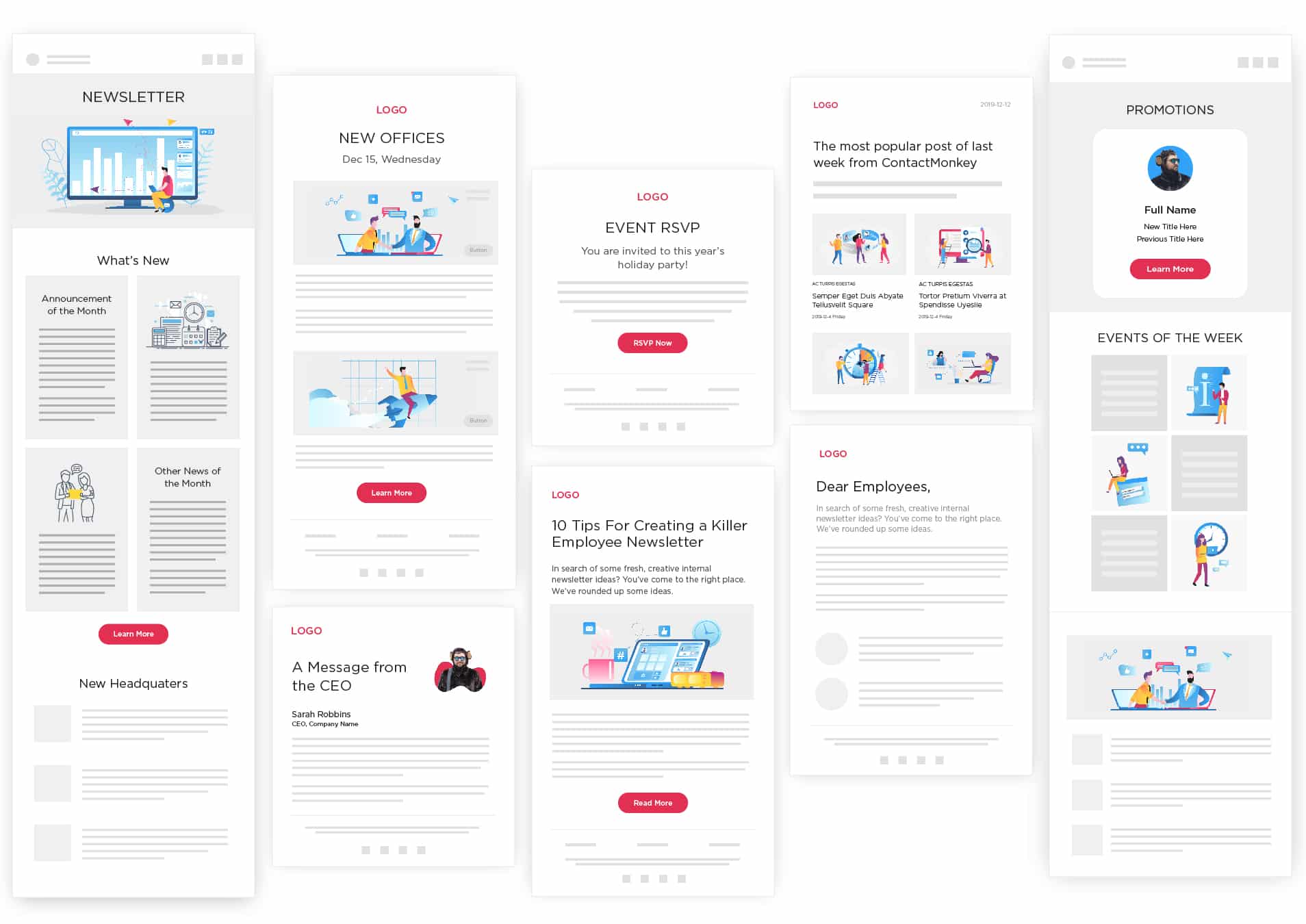 After using ContactMonkey to design their internal emails, Mettler Toledo saves a total of 25 days on their internal communications. Email templates are by far one of the most effective internal communication ideas you can try at your organization.
You can also drive email engagement on your internal emails by using custom email lists to reduce the amount of irrelevant emails your employees receive. Using ContactMonkey's List Management feature, you can create your own email lists—without IT—that integrate with your Human Resource Information System (HRIS) like Workday and ADP, well as Azure Active Directory, so your lists update automatically.
4. Go beyond email open rate
One of the most effective ways to measure internal communications is to look at email open rate. After all, if your employees aren't opening your emails then other metrics aren't of much use. But while open rate is a useful bellwether for overall email engagement, it can hide more sinister issues with how your employees treat your emails.
For a comprehensive picture of your employees' email engagement, supplement your open rate metrics with internal email tracking analytics. If the goal of your employee communications emails is to communicate information to your organization, click-through rate and read time help you measure how your employees engage with your emails beyond simply opening them.
Using our email analytics dashboard, you can analyze various email tracking metrics to inform your email content, layout, and more: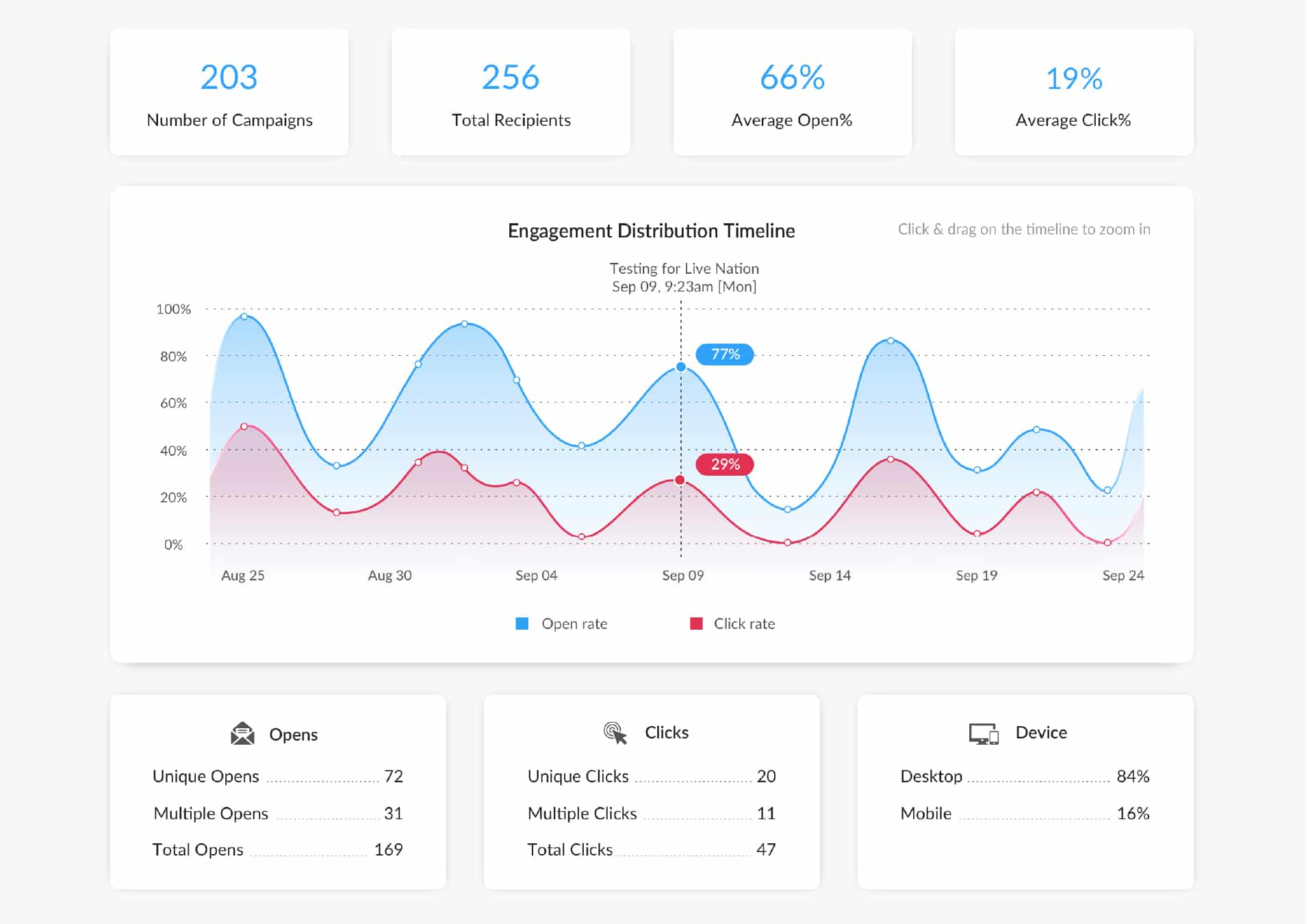 Using a suite of email tracking metrics is one of the best internal communication ideas to boost employee engagement at your business. Use these analytics to create internal email benchmarks you can use to show back up your internal communication successes with hard data.
5. Analyze your email tracking metrics in detail
Now that you know how to combine analytics to give you a complete picture of your email engagement, let's look at how you can use this data to improve your email content.
ContactMonkey's Reporting feature gives you a side-by-side comparison of up to 10 email campaigns. Easily pinpoint email content that resonated with your employees by comparing email metrics: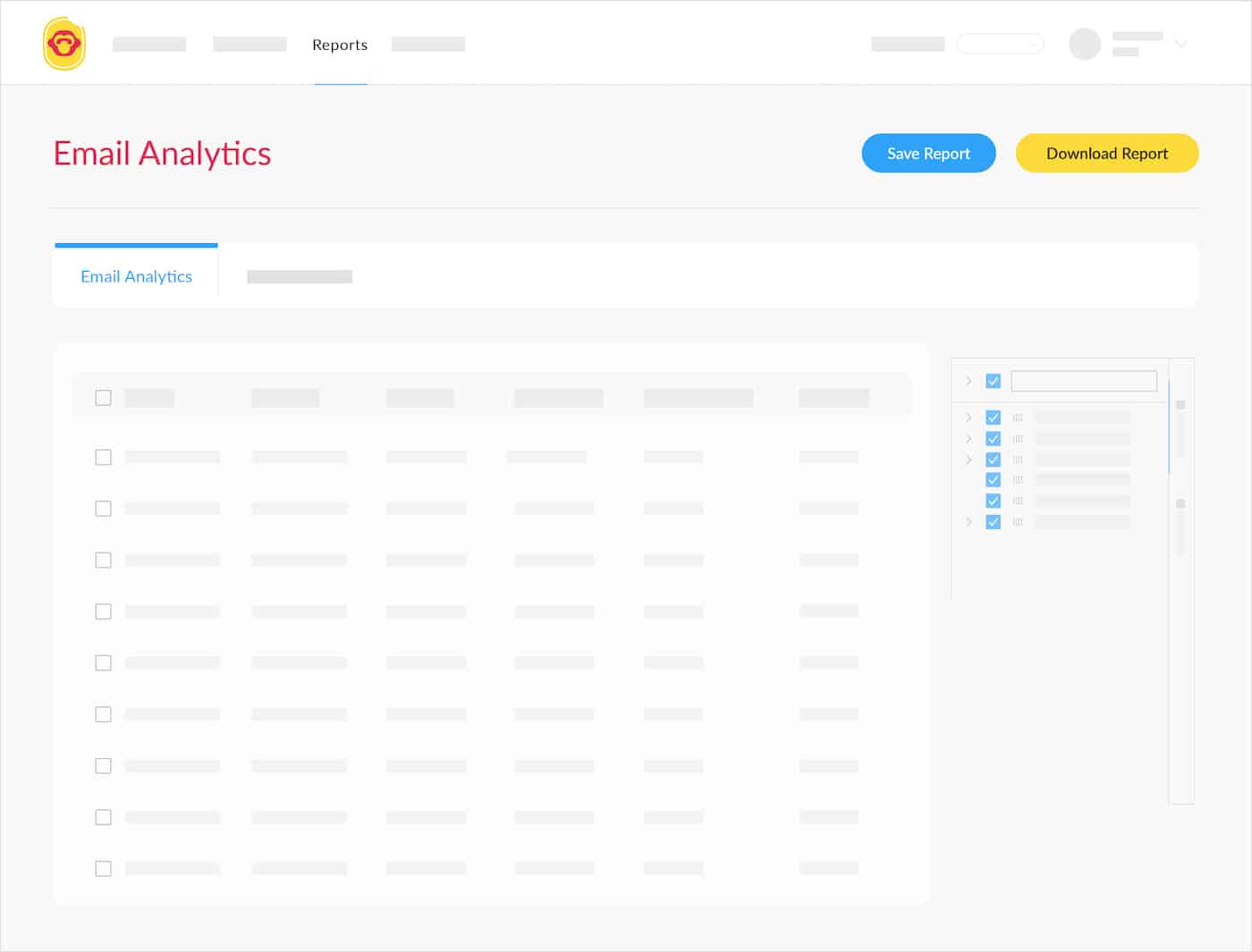 Combine the information from your campaign comparison with segmented email stats to see a breakdown of how different parts of your company engage with your internal communications. Segmented email stats let you break down your email tracking metrics by different departments, job titles, and office locations: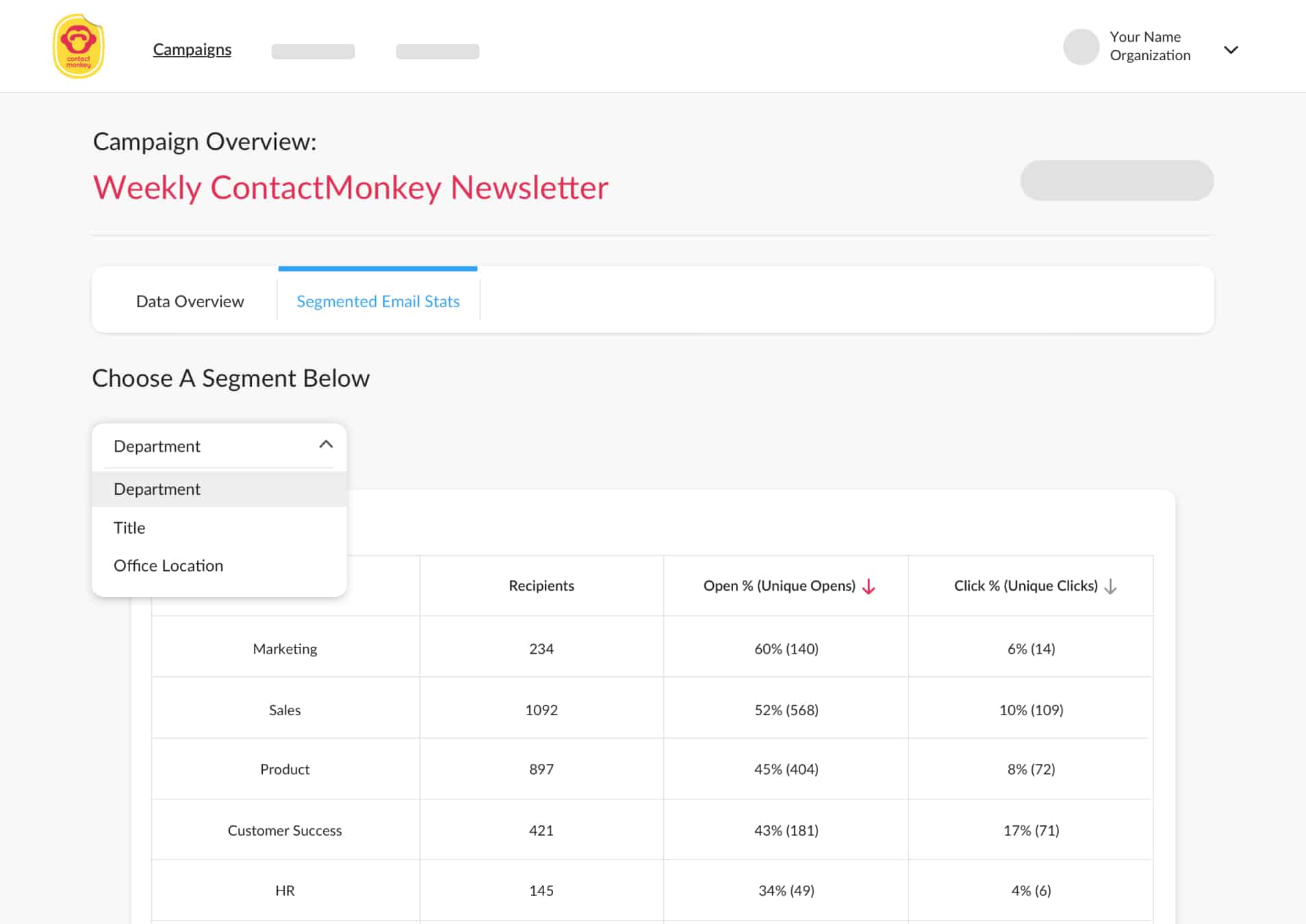 If an email campaign stands out in your comparison, go into segmented email stats to see if it resonated with a particular section of your business. This will help you tailor your future email content to be more effective with those employees.
6. Find the best time to send internal communications
One of the easiest ways to increase your internal email open rate and overcome internal communication challenges is to determine the best time to send internal emails. We've already talked about how you can use advanced email metrics to find out how your employees are engaging with your internal communications; improving open rates will give you a larger sample size for these advanced metrics. Whether you're sending a monthly email newsletter, higher education communications, or employee surveys, you can use send time to find when your recipients are most likely to engage with your email.
Within ContactMonkey's email analytics dashboard, your email open rates are visualized in a graph to show engagement over time. Once you've determined when your employees are most likely to open your emails, consider scheduling future emails to be sent at that time.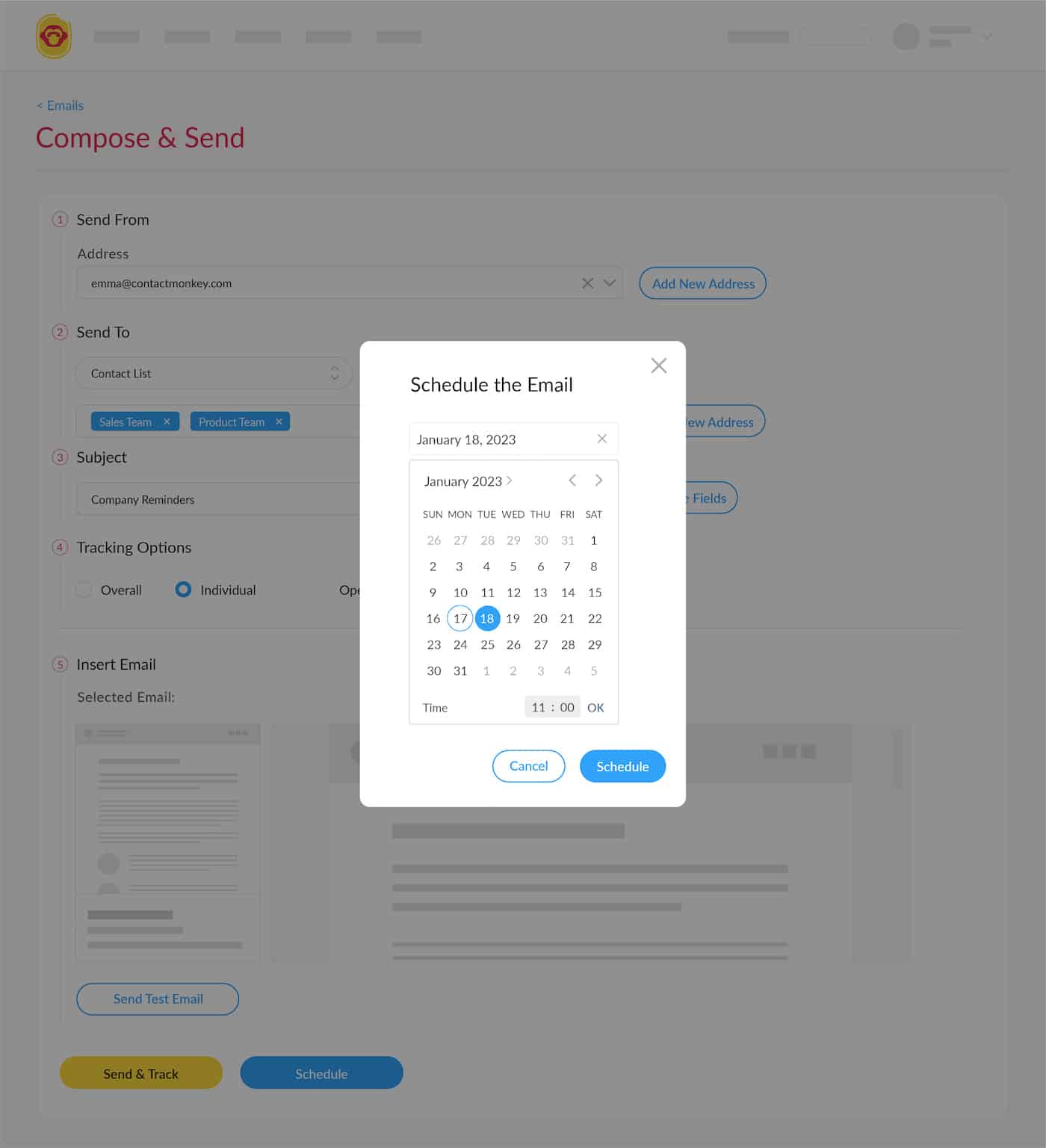 We recommend using email analytics to find your employees' preferred email sending times, and then planning your emails using an internal communications planning calendar. This way you can create and schedule your internal emails ahead of time. You can also use this approach to avoid overwhelming your employees with too many emails over a short period of time, which can cause them to tune out.
Not sure how to approach email scheduling? ContactMonkey offers a free Internal Email Benchmark Report for 2023 that breaks down internal email trends by industry, company size, and more. Gain insights and compare your email engagement results from other companies in your sector.
7. Communicate your company culture
As we mentioned earlier, consistent email branding strengthens your internal brand and helps employees navigate your internal communications more easily. But there is more that goes into your internal emails that help reify your company culture.
The language you use, the values you demonstrate, even the images you choose all communicate to your employees how your organization feels about them. While the first function of any internal communication is to transmit information, it's important to consider what kind of message the non-textual information in your emails conveys.
For example, if your company prides itself on nurturing an inclusive workplace culture, that should be reflected in your internal communications. Respecting your employees' pronouns, allowing them to share their thoughts and opinions, and seriously considering their feedback all contribute to how your employees feel about your organization.
If you do not have one already, develop a workplace charter or statement that outlines the principles and values important to your business. Use this document to inform your internal communications, and to ensure that you walk the walk in addition to talking the talk. This idea to improve internal communication may seem basic, but it's a cornerstone of any employee engagement strategy.
8. Utilize internal influencers
Another way to emphasize your company culture in your internal communications is to elect an internal influencer from your employees. An internal influencer is an employee who helps bridge the gap between management and employees. Their job is communicating information to employees, gathering their reactions and feedback, and sharing their thoughts with management.
Internal influencers are generally highly-engaged employees who have their finger on the pulse of what's happening at your organization. They can share their knowledge with their coworkers, and encourage them to get involved in company initiatives.
One of the best internal communication tactics is to combine an internal influencer with email metrics you've collected. Your email analytics can help you determine which of your employees would make a good candidate for internal influencer.
This data can also help you determine under-engaged sections of your company that could benefit from added attention. Try using ContactMonkey's segmented email statistics and individual tracking metrics to identify potential internal influencers among your employees.
9. Accommodate your employee's work preferences
We mentioned how your internal communications both directly and indirectly demonstrate your company culture to your employees. Take this one step further by collecting employee feedback to determine your employees' values and preferences.
The mass shift to remote and hybrid work has highlighted the fact that people work differently. Some employees may thrive working in an office while others excel on their own and are great with remote team communication.
Listening to your employees and giving them control over their work habits helps them be more engaged and productive.
Try conducting an employee satisfaction survey to gauge how your employees feel about your workplace culture. With ContactMonkey, you can easily embed surveys in your internal communications featuring emoji reactions, star ratings, thumbs up/down, yes/no, and more. You can even collect anonymous employee feedback so your employees feel comfortable sharing their suggestions: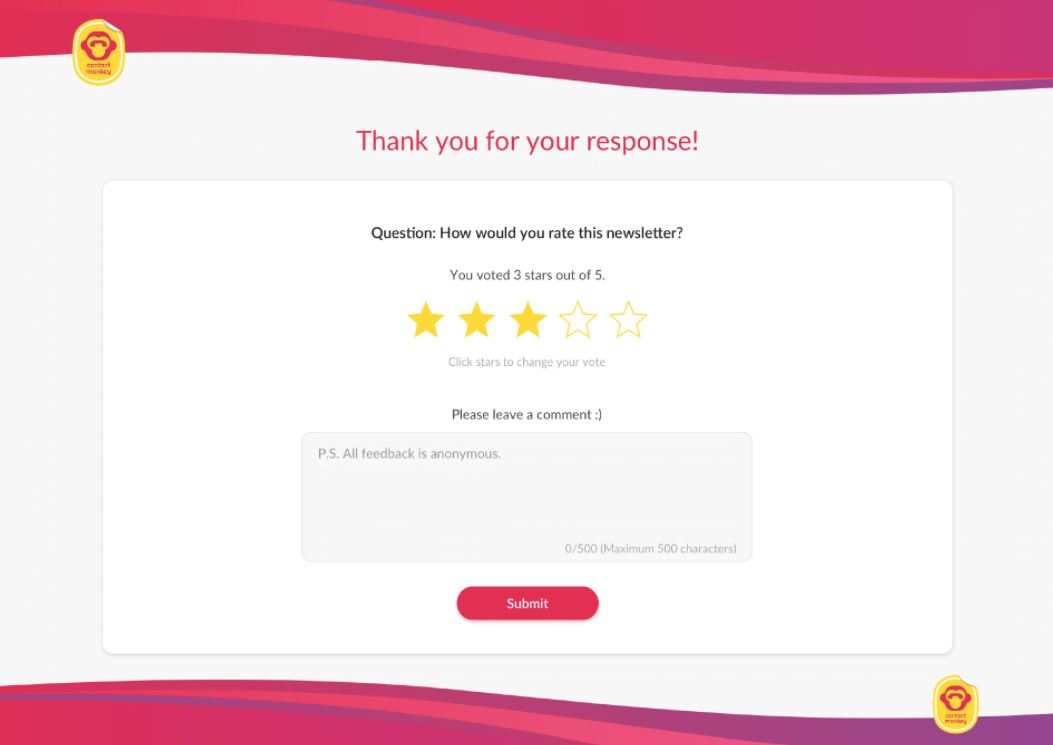 Seriously consider their feedback and act on their suggestions. Not only does collecting employee feedback give you great employee engagement ideas, but it also helps your employees feel heard and valued by your organization.
10. Translate emails for international employees
If your company has offices in different countries around the world, it's likely that you have employees whose first language isn't English. Your internal communications can lose much of their effectiveness if employees are forced to copy and paste text into a translator just to make sense of it.
Fortunately, there are several approaches you can take when translating your internal communications. Multilingual emails can help bridge the language barrier between your organization and your international employees. This is an easy and creative internal communication tactic that can make a huge difference for your overall employee engagement.
11. Keep your employees safe from scams
In addition to keeping your employee engagement and informed, your internal communications can also keep company information safe from malicious actors.
Phishing scams are more common than ever before, and your employees can be targeted by those who wish to steal their personal information to cause damage to your company. Keep your employees on the lookout for email phishing scams by frequently highlighting phishing email awareness strategies.
You can even use your internal communications to test your employees phishing email awareness. Using ContactMonkey, you can send a fake phishing email to your employees and measure how many employees open and click a link within your email: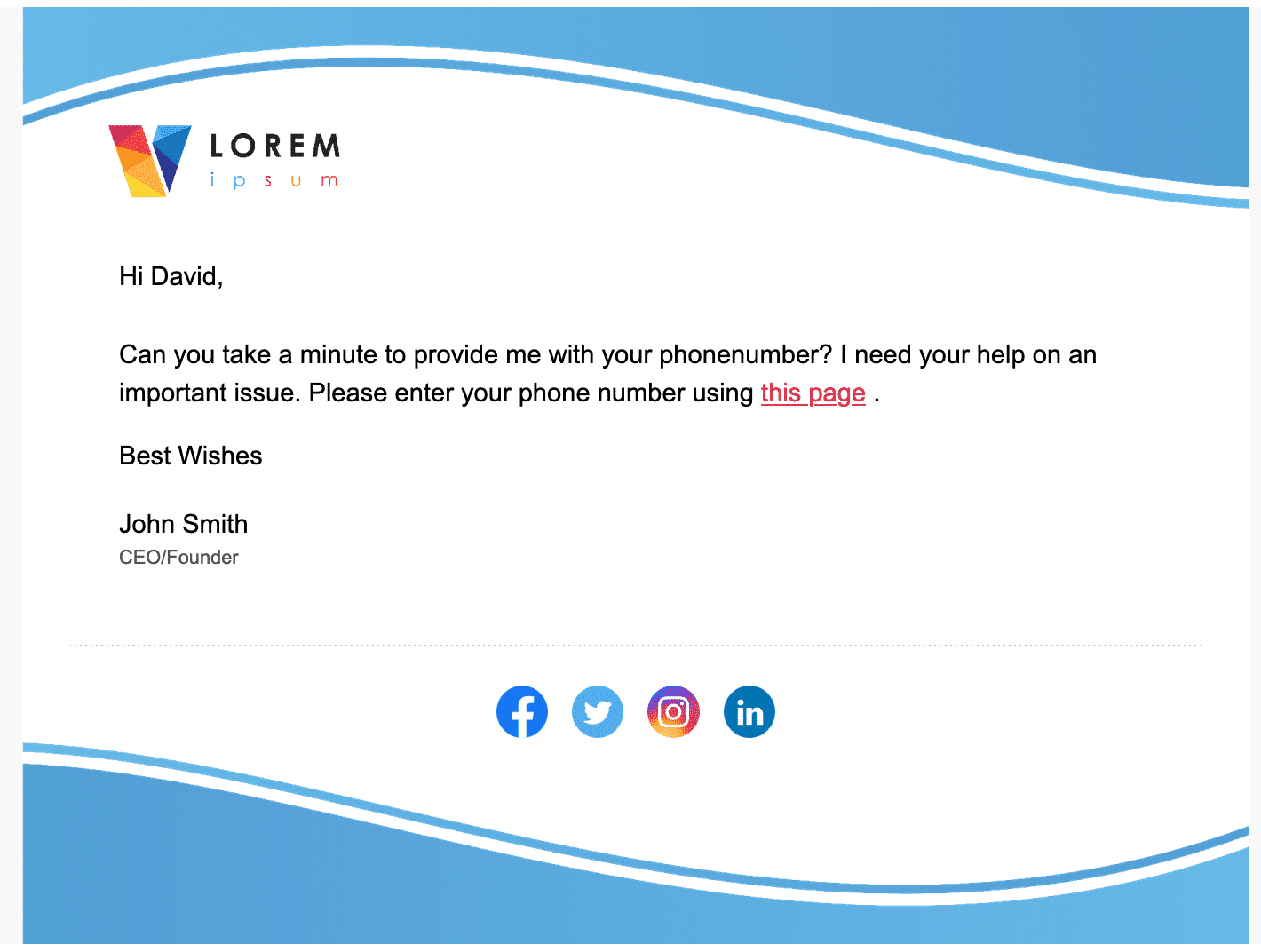 12. Start a company podcast
Make your internal communications as accessible as possible to maximize their reach. While employee emails can quickly be ignored and forgotten, other kinds of internal communications have better staying power.
One of the best examples of this are company podcasts. These are a great way to reach employees who may not be around their computer at all times. Podcasts allow your employees to take in important information while continuing their work or other activities.
Your internal podcast can cover the latest company news, interviews with employees, announcements about upcoming events, details of latest product releases, and more. For more internal communication podcast ideas, check out our blog on the best internal podcast ideas.
Don't Be Afraid to Innovate
Every company approaches internal communications differently. Ultimately the best internal communication tactics are the ones that resonate with your employees.
We encourage you to survey and collect feedback around your employees' communication preferences. You'll get a ton of great ideas for how to better reach your employees and keep them engaged, wherever they are.
ContactMonkey can make learning about and implementing new internal communications tactics easy. With our suite of dedicated internal communication tools, you can use your employee emails to drive engagement and productivity.
Want to see ContactMonkey in action? Book a free demo to see how to boost employee engagement with your emails: