Are you looking for the best email design tools and email template builders that will help you design beautiful visuals and better emails? Look no further.
We know internal communications pros are busy. Pleasing email design is crucial for keeping your employees' attention, but it can be difficult to spend as much time as you'd like designing employee emails.
Researching the best email design tools can be time-consuming as well. Which is a little ironic considering an important part of finding a good design tool is saving time!
Find the best email management tool for the job with our list of top 15 email design tools for internal comms pros. Whether you are looking to create responsive HTML email templates or build a multimedia-friendly newsletter, our list will make your search easier.
Start your 14-day trial of ContactMonkey today.
Design better emails. No credit card is necessary.
Email Design Software To Create Effective And Engaging Emails
Learning how to design an email isn't always easy. Depending on the type of email you're sending, you may need to include all kinds of multimedia that Outlook email design doesn't always offer! Our list of email design software makes achieving great email design super easy.
1. ContactMonkey Email Template Builder
ContactMonkey's drag-and-drop email template builder makes employee newsletters easier than ever. We may be a bit biased but we think it's definitely one of the best email design tools out there for non-designers. Test it out yourself with a free 14-day trial today!
Choose from a library for the best pre-made internal email template design—or create email designs using your own easy-to-use content blocks: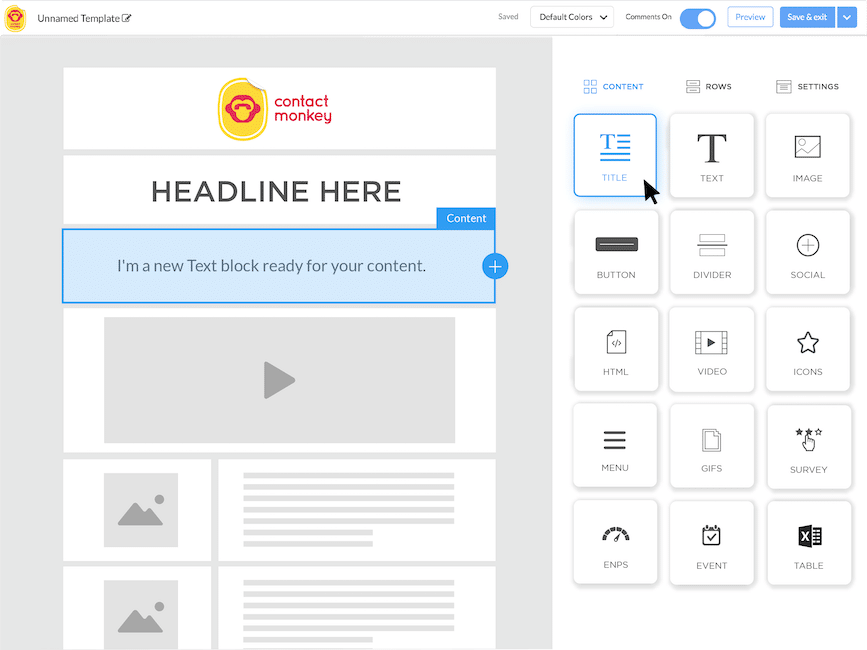 ContactMonkey gives you powerful tools for optimizing your email design. Using our click maps feature, you can see how your employees are interacting with your emails; this data can help you put important information where your employees are more likely to see it.
Rows make HTML email design a breeze
ContactMonkey's email template builder is built on rows. When you're laying out your email template, you use rows to decide where to place your content:
Easily add and remove content as you build using rows. You can even adjust how the individual rows are laid 0ut for precise control. Save your customized rows so you can use them again in the future.
Emoji reactions and employee comments
With emoji reactions, you can collect actionable data using your email campaigns in seconds. Employees are more engaged when they're able to interact with the content they're being shown. And even better, you get to collect employee opinions about whatever you ask.
Emoji reactions like yes/no can be combined with questions for great looking email campaign design and in-depth employee feedback:
If you're struggling to come up with effective employee survey questions, try using ContactMonkey's OpenAI ChatGPT integration to save time on your internal emails. Simply write a prompt describing what you'd like to learn with your email, and edit the suggested questions according to your audience.
GIFs, the easy way
ContantMonkey's email template builder features content from GIPHY's massive library of GIFs and memes. Convey emotion where words fall flat with animated GIFs in your emails:
Design according to your audience
Not every email needs to be sent to every employee at your organization. Designing emails to be relevant for specific crowds is a proven way to increase email engagement. Using ContactMonkey's List Management feature, you can easily create custom email lists—without needing IT—to target relevant groups of employees. These email lists integrate with your Human Resource Information System (HRIS) like Workday and ADP, as well as Azure Active Directory, so they'll update automatically as employees join and leave your organization.
Your emails built in ContactMonkey's HTML email design software will display perfectly across all devices and email clients. You'll never need to worry about broken images, random links, or messed-up formatting ever again.
Be sure to check out our internal communications case studies to see how other companies use ContactMonkey to drive employee engagement via internal communications.
Create and send emails that engage employees.
It's amazing what you can do with ContactMonkey!
2. Canva
Canva is one of the best email design tools for non-designers who don't have the time to play with Adobe Photoshop or InDesign.
The platform makes it easy to stay on top of email design trends by highlighting the latest styles and layouts in modern email design.
You can play around with Canva's pre-made email design templates or create your own template, using your company's colours, images, and branding. Canva's email design toolkit also includes quick video tutorials that teach you how to use this simple and efficient tool like a pro.
Why this is one of the best design tools for internal communications:
You can download your visuals in a variety of formats such as JPEG, PNG and PDF and create images in all sizes for social media or for print.

You can play around with a variety of fonts and colours to make your visuals more vibrant or simply use their colour picker tool to align everything with your company's branding.
3. Piktochart
When looking for stellar design tools, you must look for a tool that can enable you to create beautiful infographics, presentations and flyers? Look no further than Piktochart!
It's free and you need absolutely zero design experience to get started.
You can choose from Piktochart's pre-made custom templates and also edit various elements of these templates such as images, fonts and colours.
They also have a variety of text options with different font styles, sizes, colours and opacity settings. You can easily flip and rotate images as well or stretch them if you need to. This is one of the best email design tools you can use!
Why we love this corporate internal communications tool:
We love how you have the option to include charts within your infographic to represent any type of data. We know the C-Suite loves charts so this one's extremely useful for internal communications professionals.

You're also able to insert a map or include a YouTube or Vimeo video within your Piktochart to illustrate something further. Pretty neat, isn't it?
4. Venngage
If you're looking for an alternative to Piktochart, Venngage is a great design tool to have, enabling you to create beautiful infographics as well as other great visual content.
You can choose from a variety of different charts, themes, templates and icons. Upload your own photos and backdrops to align everything with your brand.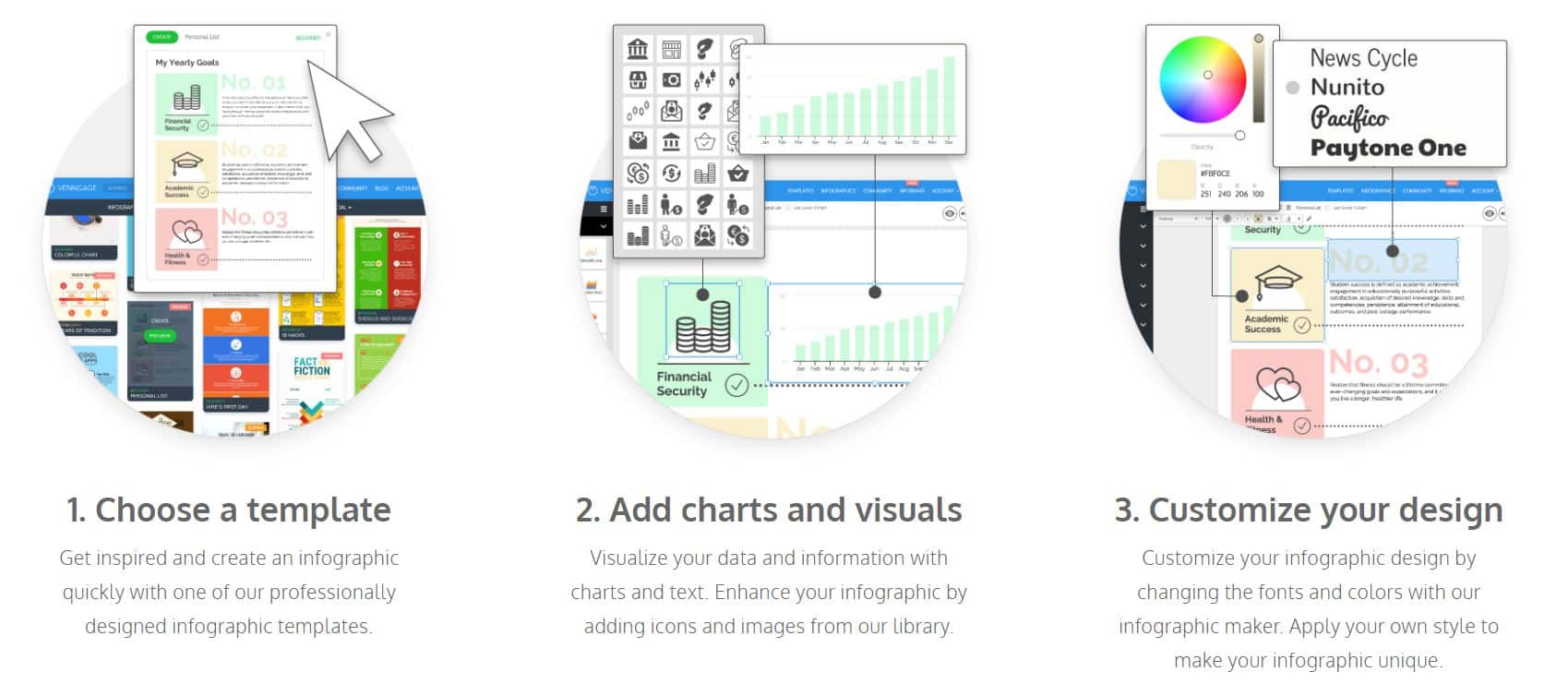 Why we love this design tool for internal communications:
You can track who is viewing your images through the social analytics feature so this is a great way to keep track of your employee engagement.

Venngage's templates are much simpler to use and play around with when compared to some of the other options out there so it's perfect for those who aren't too design savvy.
5. The Noun Project
When it comes to examining free designer tools, we must talk about some of the iconography websites.
Don't you just love icons? We sure do! Add an icon to your social media visual or use them to enhance your infographics, icons can really make your work stand out like a pro!
We recommend using The Noun Project to choose from dozens of amazing icons.
Internal communications pros can download previously created icons or add their own to their projects by signing up for a free account.
The only disadvantage with The Noun Project is that when you download an icon. You either must attribute it to the designer or pay a fee (usually $1.99) to buy it without attribution.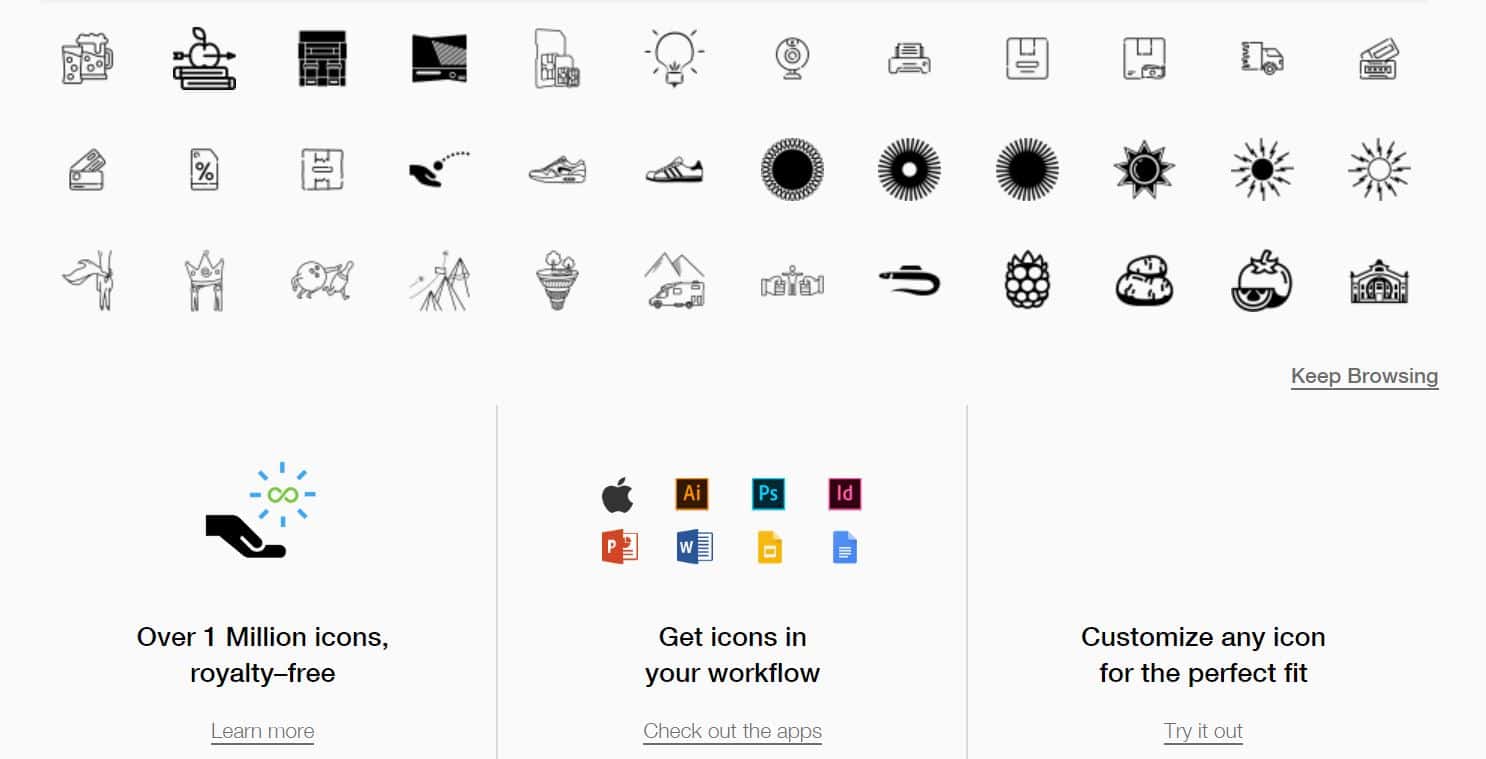 Why this is one of the best internal communications tools:
You can fully customize the icon colour, rotation and background by using their pro-download feature.

Choose from over a million curated icons and enhance any creative project you're working on! You can easily add icons to Google Docs, PowerPoint or Word without interrupting your email workflow.
6. Icon Finder
When researching email design software, a great option for icons is Icon Finder. You can search for icons on any given topic and find tons that are completely free to use.
You can also switch to the premium account if you want more access to various icons.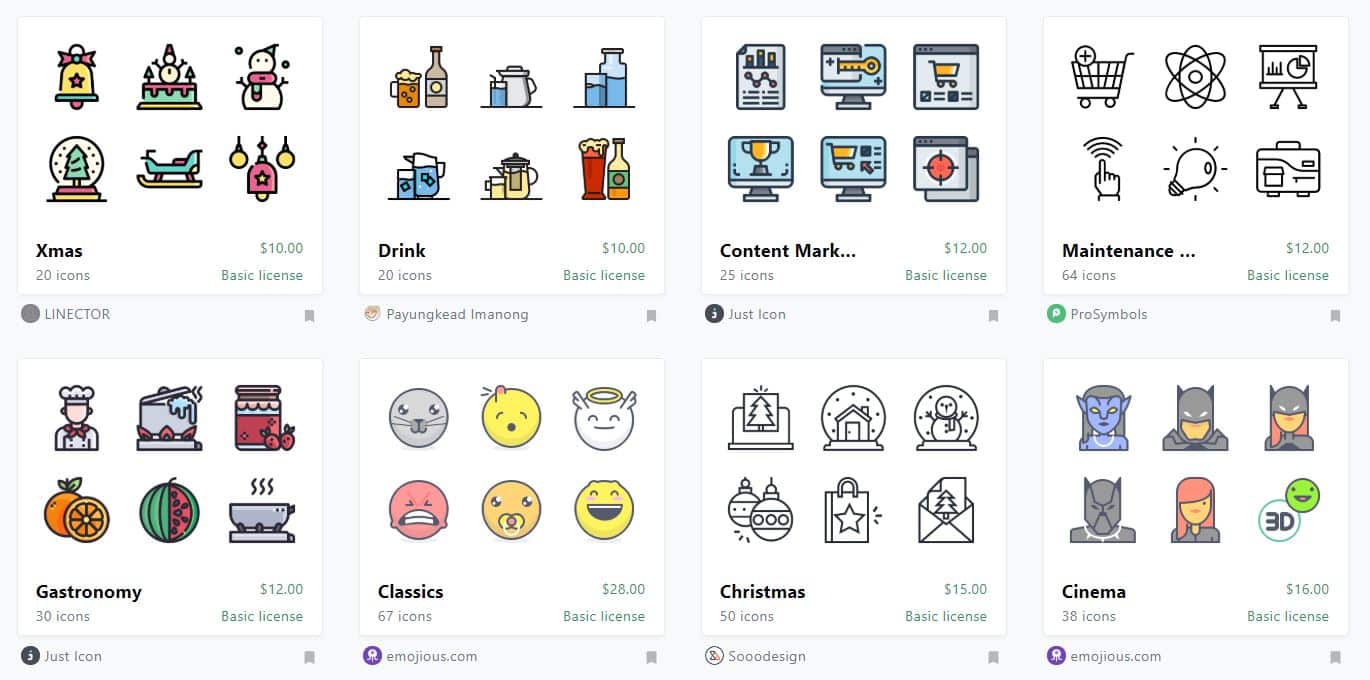 Why we love this free tool for internal communications:
You can change the colour of any icon you want to use before you download it.

You can use various backgrounds against any icon to see how it looks against a certain backdrop and download it with that same backdrop if you wish to do so.
7. Unsplash
Exploring tools with gorgeous photographs is a must when talking about great design tools.
Unsplash offers a large collection of free high-resolution photos and has become a great resource for those looking for free stock images.
You can choose photos from various categories such as "Animals," "Fashion," "Business," "Arts and Culture" and much more.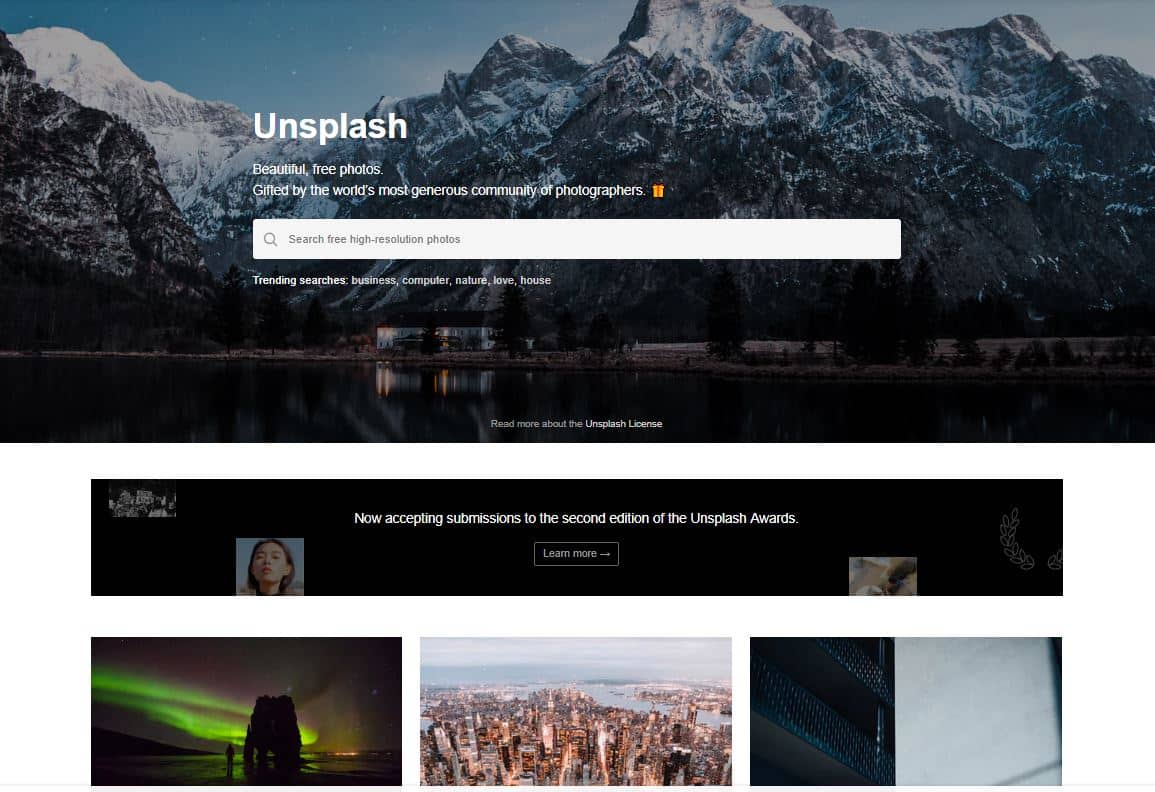 Why we think this is a great design tool for internal comms:
Unsplash photos are free to use for distribution purposes and you don't need to give attribution to the photographer.

You can find photos on almost any industry and add them to your presentations or social media to make your feed or presentation more professional.
ContactMonkey's responsive email template builder includes access to a 500,000+ free image library. No need to trawl the internet looking for the perfect royalty-free image, let ContactMonkey's internal communications app do the legwork!
8. Pexels
Another great stock photography website that has made it on this stellar design tools list is Pexels.
If you're looking for more than one website to get stock photos, you should definitely check out Pexels. They offer tons of gorgeous visuals that'll make your projects look spectacular!
Just like with Unsplash, Pexels offers free stock photos on almost any topic and from a variety of industries by professional photographers.

Why we love this company's internal communication tool:
All the photos are free for personal and commercial use so you can freely share these on social media without attribution.

You can even use animated visuals by choosing from Pexels' stunning videos to make your social media feed or presentation stand out even more!
9. Animoto
When talking about great design tools, we must also bring in some video tools. Video, after all, is quite key to boosting employee engagement and making your content stand out even more.
Unfortunately, most of us don't necessarily have the skills, equipment or expertise to churn out flawless videos.
This is where you could really benefit from a cloud-based video tool, such as Animoto, enabling you to create professional videos in minutes.
If you want to try out Animoto, watch this video to see how you can create great stuff as an internal comms pro.
Why we like this video tool:
You can create your own unique videos by adding different photos and visuals and choose from Animoto's music library to add sound to your video.

The finished video can be directly uploaded to your social media channels from Animoto and there's even an Animoto app so you can play around with video without ever having to leave your phone.
10. Magisto
Another great option for effective email design software is Magisto.
This is a web-based video tool for your PC, but you can also download the Magisto app and create great videos in minutes.
You can choose the videos or photos you want and decide which editing style suits your business's tone and style. You're also able to add music to your videos.
Why we like this communication tool:
Magisto will edit your raw video and make it look visually appealing.

You're able to keep track of video engagement through the analytics provided by Magisto, which are great for gauging

employee engagement levels

.
11. Ripl
If you're not really looking to create videos but are more into the idea of GIFs or quickly animating images, look no further than Ripl.
Ripl is an app for iPhone and is completely free to use if you don't have a problem with their watermark being displayed on your visuals.
But you can switch to the paid version and get rid of the watermark by paying $9.99 per month.
Why we love this design tool for internal communications:
You can easily turn quote images into animated quotes with Ripl to share on social media or within your employee newsletter.

If you use the pro version, you can use Ripl's music library and choose from dozens of fonts and designs and add your company logo to your visuals.
12. Adobe Photoshop Lightroom CC
Ever taken employee photos at a team event but they came out looking too dark to put on your social media channels or share within your employee newsletter?
You should download the Adobe Photoshop Lightroom CC app.
It doesn't matter if you've never used Photoshop before. This app is super easy to navigate and it'll literally take you seconds to adjust your photos and make them good enough to share on social media.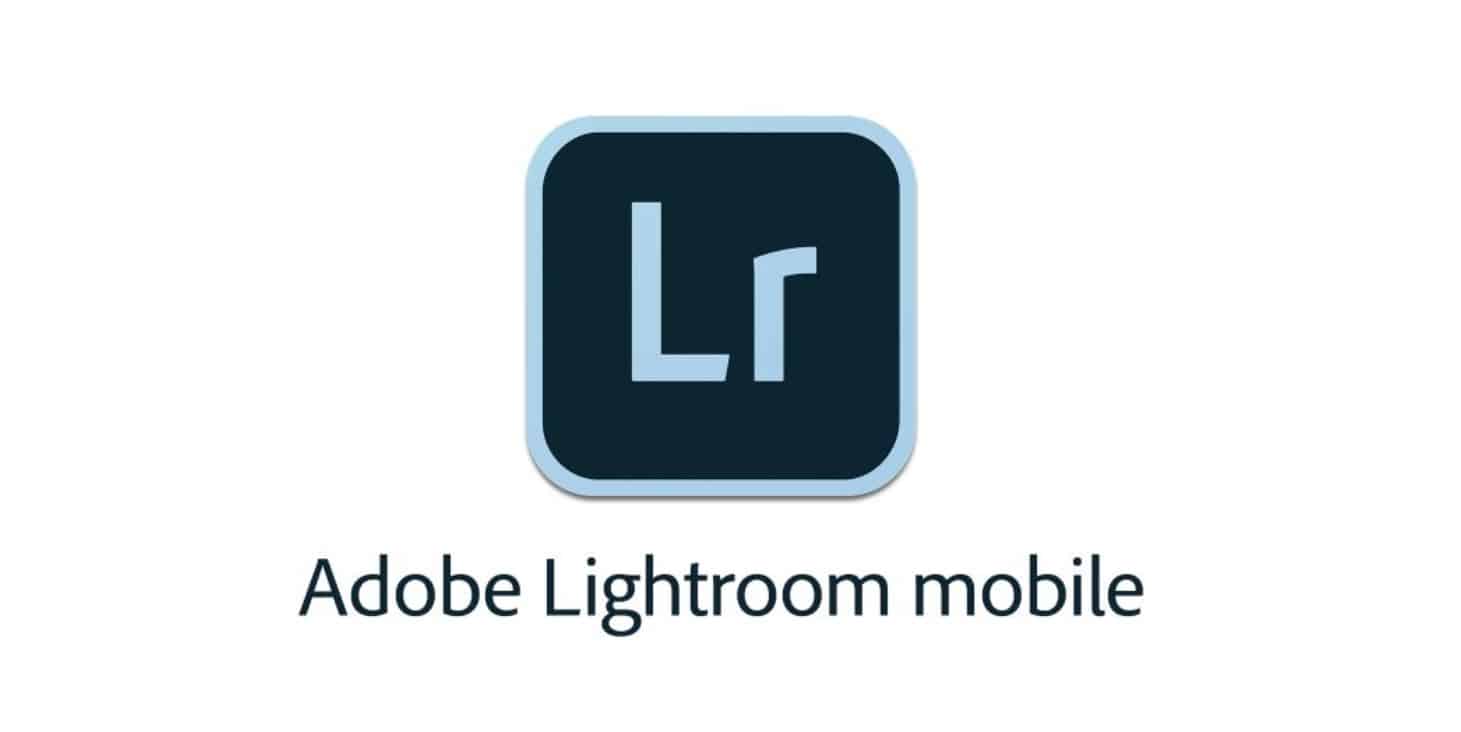 Why we love this free tool for internal communications:
The app is completely free to download, enabling you to easily crop photos, use the "light" feature to adjust the exposure, balance the vibration or saturation of your photos using the "colour" feature and much more!

If you're a budding or aspiring photographer, this is must-have tool that can enable you to totally improve your photography game!
13. VEED
VEED is an online video editing platform that allows you to reduce complex tasks to just a few clicks. With VEED, you can automatically add subtitles to the video, giving your employees the option to watch your internal comms video without sound.
Why we love this video editing tool for internal communicators:
You can keep all your content, fonts, logos, and colour palettes in one place! That way, you're always on-brand for your internal audience.
This platform is has a free plan so you can explore the easy-to-use video editing tool.
14. BEE Free
This email template builder offers more than 150 ready-made templates as well as the ability to create your own template using custom blocks. The company even offers a range of free design concepts and ideas on its blog, so you get a dose of email design inspiration as well.
Why we love this clean email design software:
More than 100 templates to choose from.
Compatible with many other apps/software.
Mobile-friendly design.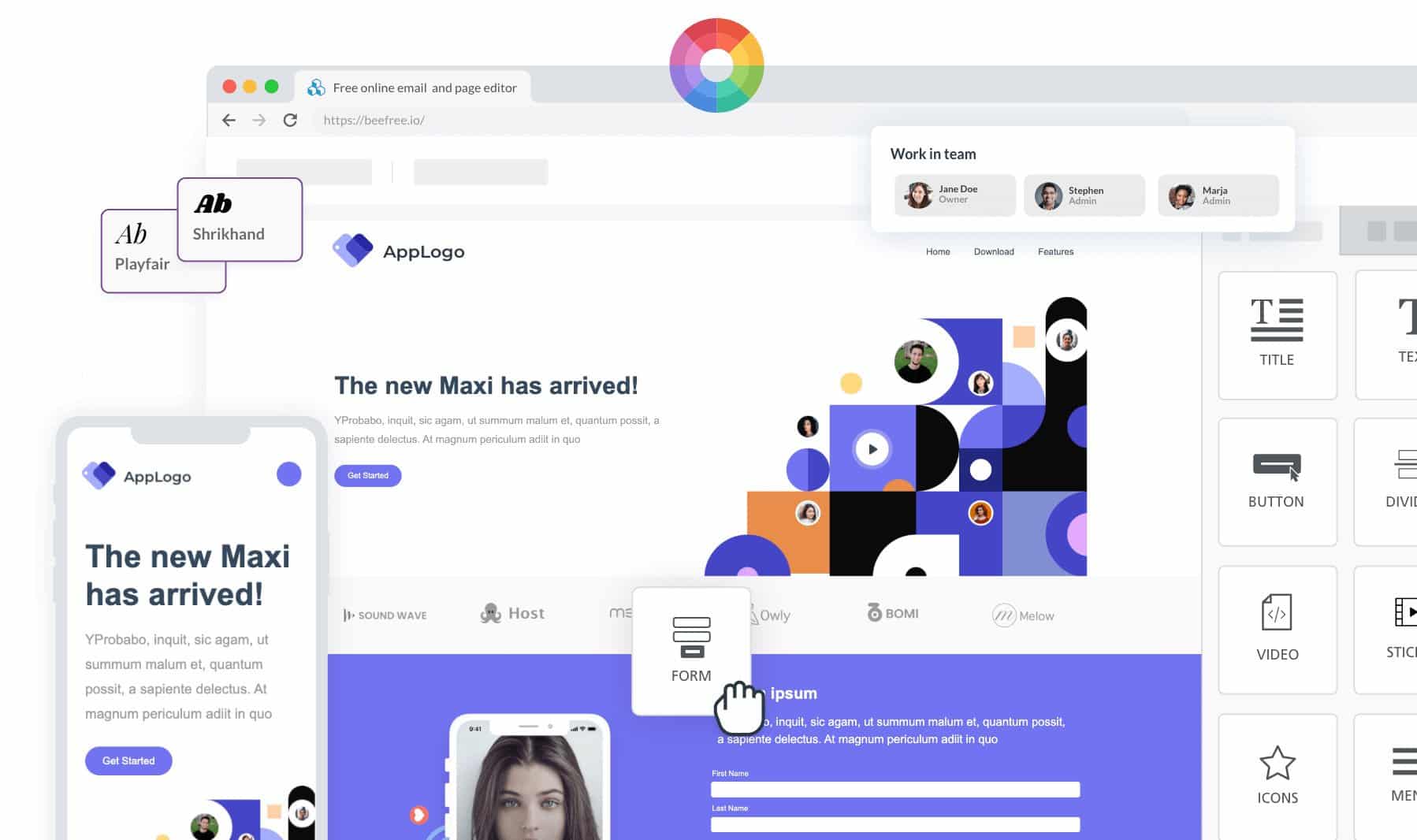 15. Stripo
With AMP support and the ability to preview emails across dozens of digital environments, Stripo helps users build HTML emails without any coding knowledge.
Why we like this email builder for internal communicators:
Ability to create image carousels and accordions within emails.
Wide range of testing and previewing options.
Available in a free version to explore different templates.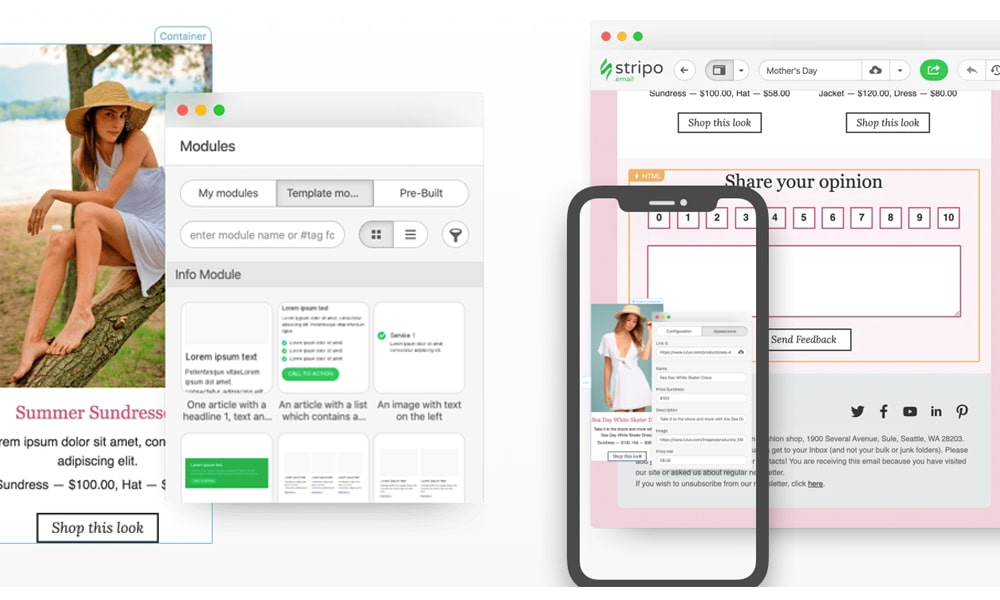 Best Practices for Email Design
No matter which email design ideas or email design software you choose to implement, there are a few email design best practices you'll want to follow no matter what. Below, we break down our top email design tips to ensure quality, professional email design across every device.
Eye-catching subject lines: keep it short (no more than 60 characters), use emojis (if appropriate), and convey urgency.
Follow a visual hierarchy: make sure priority information goes first and stands out the most.
Choose a reader-friendly layout pattern: the F-shape and Z-shape design are most appealing to readers' eyes.
Use brand colours: email backdrops, CTAs, graphics, and copy should all evoke your brand colors consistently.
Make your emails pop: keep copy short and add quality images, email tables, GIFs, memes, and other standout elements.
Leverage white space: breaking down paragraphs and leaving enough white space is absolutely essential for keeping your emails reader-friendly, especially when it comes to mobile first email design.
Make your CTA buttons stand out: these are your "learn more" or "subscribe now" options and should be highlighted in bold colours and unique fonts.
Still wondering how to create email designs that stand out? Check out our complete guide to email newsletter design and see a range of email design examples to get inspiration for your next internal newsletter.
Check out our blog to learn more about internal email trends and stay up to speed on the future of email.
See the power of ContactMonkey today.
Let us help you improve your internal communications!
Email Design Need Not Be Complex
So, there you have it. 15 amazing email design tools to help you up your design game without having to rely on a designer. These can help bolster your internal email strategy or provide useful insights for creating an internal communications software buyer's guide.
Have you used any other design tools that we could add to this list? Tell us in the comments below. We'd love to hear from you!
Want to start using our epic email template builder and create beautiful employee newsletters in minutes? You may be interested in learning about our email design software for internal comms. Book a free demo with one of our teams to see all that ContactMonkey can do!