Whether you're an email marketing professional or an internal communications pro in charge of sending your company's internal email newsletter, these 9 tips for the best email subject lines will increase engagement with your emails, plain and simple.
Your subject line is the face of your email. It's what people first notice. It's why top external email marketing companies like Mailchimp offer personalized subject lines for their emails.
A catchy email subject line is the first thing that gets the reader's attention. It is the one piece of your content that will be evaluated more than anything else and is what often determines if that person will read your email newsletter.
It has been found that 35% of readers open email entirely based on the subject line. That means a subject line can decide the fate of your email—whether your email will be opened or not.
Luckily for you, we've collected the best advice for catchy email subject lines we've ever come across. ContactMonkey's set of internal emails tools will help you drive and measure email engagement to your employees. Think Mailchimp but for your internal communications; that's ContactMonkey.
Try ContactMonkey today. Send better emails.
Start a 14-day trial for free. No credit card is necessary.
What are the Best Email Subjects to Increase Your Open Rate?
Every audience is different and will be affected by your content differently. However, there are some methods you can try that are proven to increase engagement with your emails.
Try these email subject line best practices out for yourself and see which works best for you!
1. Personalize your subject line
Adding a personal touch to your emails gives the recipient a sense of belonging. It's actually an internal email best practice. Whenever we see our name anywhere, it catches our eye immediately. To increase your email open rate, try personalization in the email. Personalization makes the recipient think that you have put in an effort to make them read your email.
Personalized subject lines increase the chances of the email getting opened. They increase the email open rates by 26%.
With ContactMonkey's email management tool, you're able to personalize your emails' body copy as well as the subject line: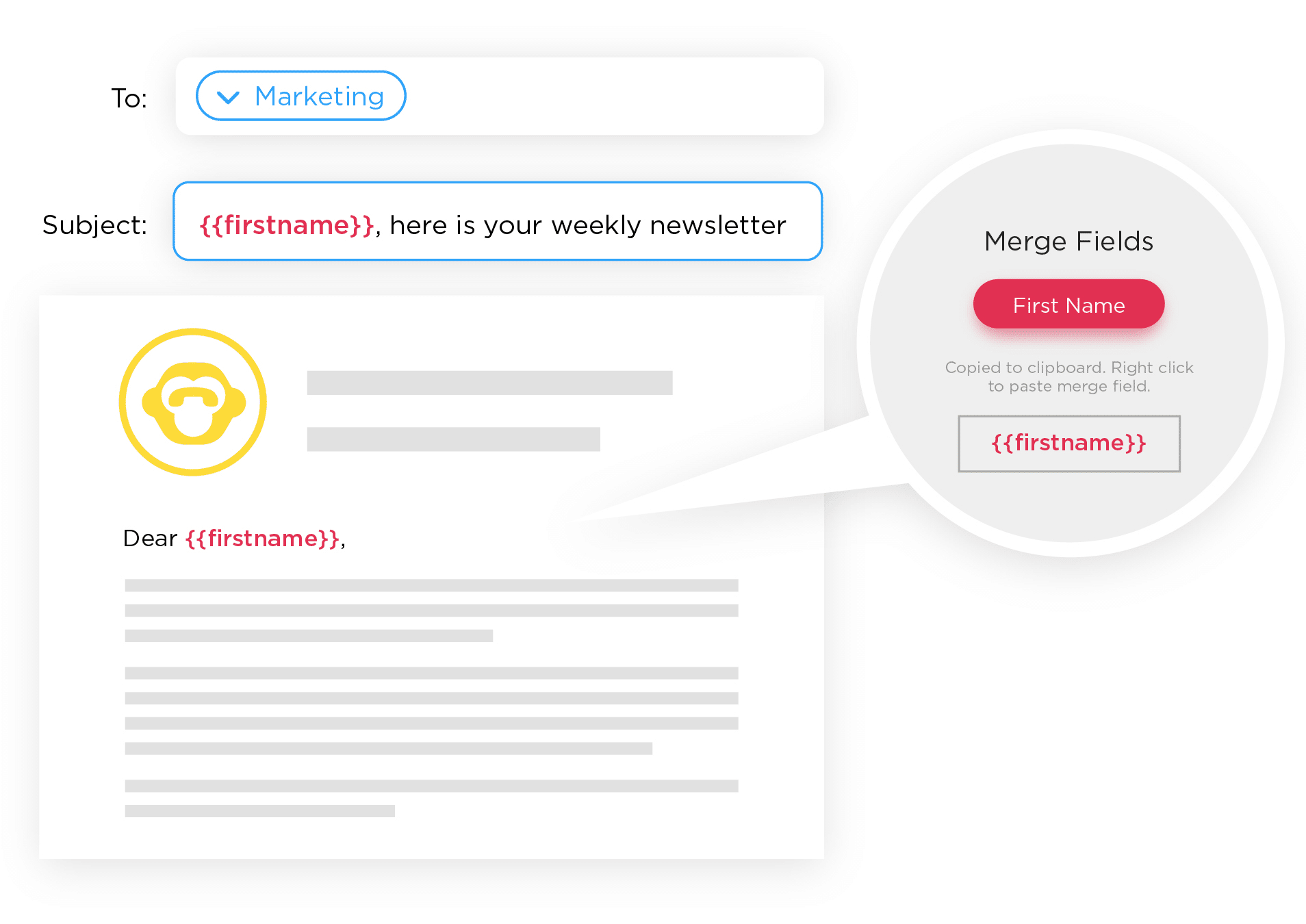 Nobody likes getting an internal newsletter obviously intended for thousands of other people. Merge fields solve this problem in a snap.
ContactMonkey's internal communication tool makes it super easy to create custom subject lines and even custom email copy. These details are what distinguish generic employee emails from those from companies on the cutting edge of internal comms.
2. Create urgency in your subject line
In our fast-paced life, things that happened yesterday seem like distant memories. Capitalize on your recipients effort to prolong each moment with your emails.
The best way to do this is by offering tempting offers with an expiration. You can check out some email marketing examples of tempting offers here.
Now, if they don't open the email, they know they would be missing out on a great deal. This essentially explains the concept of Fear Of Missing Out.
The best email subject lines reflect the purpose of the email so that readers get tempted to open your email even during their busy work schedules.
Example: "Our sign-up deadline is approaching fast!"
3. Pique your recipient's curiosity with subject lines
Inquisitiveness is human nature. Your email subject lines should be able to make the recipient curious. Create a sense of mystery.
For example, say you have changed your office policies. So, instead of directly saying "new office policies", you can create curiosity by writing, "Familiarize yourself with upcoming CHANGES,". Hinting at additional information will make your readers want to keep going.
Employees will want to open the email just out of curiosity on what kind of changes are coming their way and how these will impact them. This way, you can make even a mundane email about office policies sound intriguing and captivating.
Example: "New policy that impacts you"
You can also target employees with subject lines relevant to them by creating custom email lists. Using ContactMonkey's List Management feature, you can use email lists to create different groups of employees to email. This helps you avoid sending irrelevant emails and increases email engagement.
ContactMonkey integrates with your Human Resource Information System (HRIS) like Workday and ADP, as well as Azure Active Directory, so your lists automatically update as employees join and leave your organization.
4. Be specific in your email subject lines
No matter how creative your subject line is, all your efforts will be in vain if your subject line is not specific or relevant.
It is fruitful to think of multiple subject line options and optimize for best results. Your email message should be loud and clear through the subject line itself.
Think about our "new policy" example from the previous point. If the policy pertains to only a select group of employees, then make that obvious!
Example: "Developers: a new policy for you"
5. Add emojis for better email subject lines
Including emojis in your subject line is the new cool that is being extensively used in the email marketing world. Internal comms pros, you should definitely jump on this bandwagon to create catchy and enticing email subject lines!
Using emojis in your email subject line can increase your email open rate by 29%.
It's a great way to grab your audience's attention.
As compared to normal text-based subject lines, subject lines with emojis work better to entice your subscribers or employees. Go by the advice of our experienced industry experts: the best email subject lines are short and crisp… and emojis can help you with this.
Example: "New Webinar Sign-up✍️"

6. Test your best subject lines for high open rates
It is always good to be sure. Therefore, before sending emails, remember to test the emails.
For example, try using email subject line grader—a free-to-access tool that can check the overall effectiveness of the subject line for you. Testing your email subject lines is a crucial part of your email newsletter pre-send checklist—which itself is a best practice for email newsletters.
You should also be sure to test how your email will appear on various devices. When you build your email newsletter in ContactMonkey's drag-and-drop email template builder, your employee newsletter templates look great on any device.
You can test how your company newsletter ideas will look before sending using the preview function: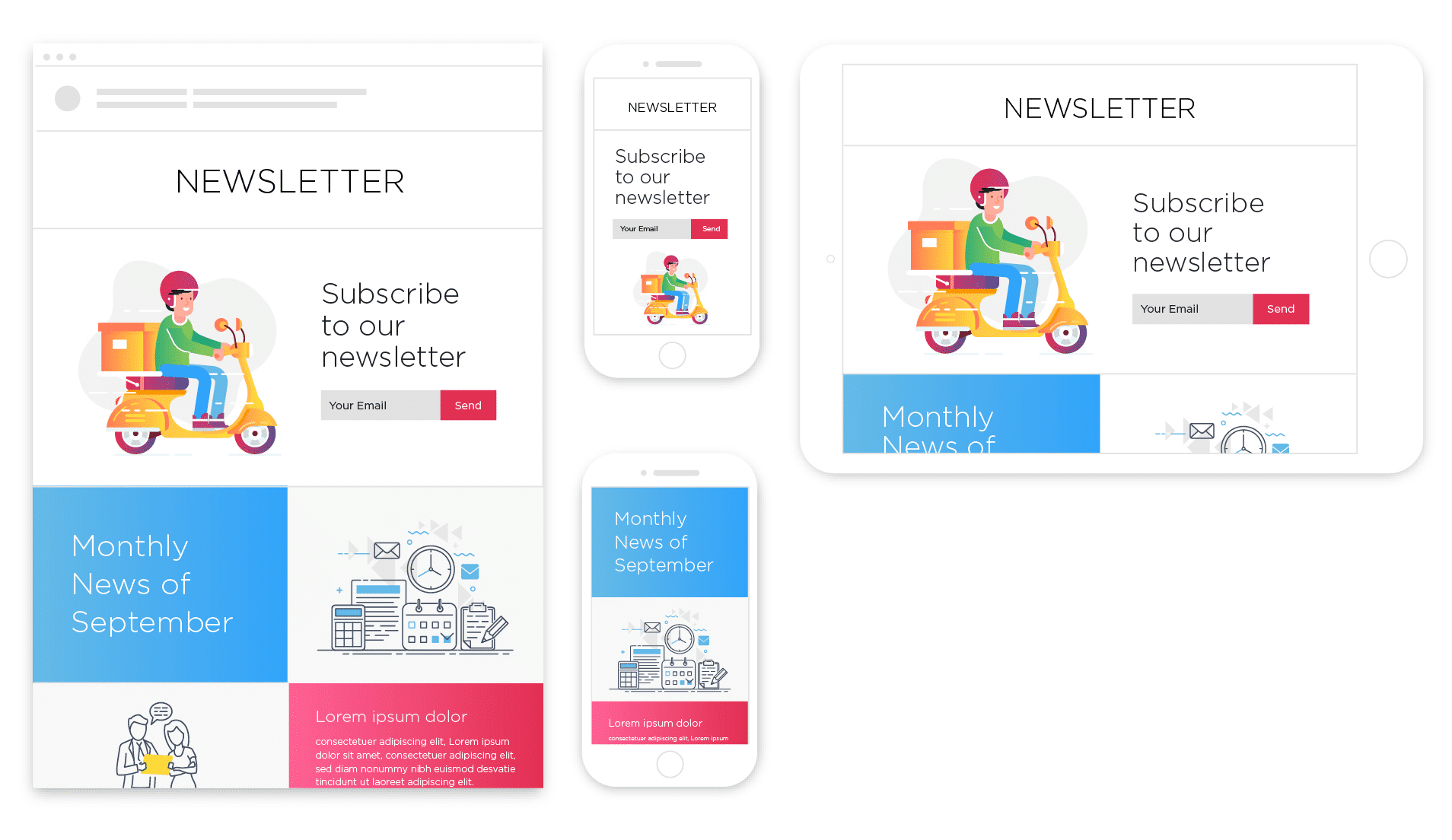 7. Try occasion-based subject lines
For occasion-based emails, you should draft a subject line that matches the mood of the special day. Take advantage of the right choice of words to impart a unique appeal to the subject line and enhance the open rate.
Whether people admit it or not, puns are great at grabbing your attention. For example, if you are sending a Halloween invite through email, write something like "A Spooktacular Event Awaits your Presence." Create fun newsletter subject lines just by adding a few letters!
Putting effort into your subject lines to make them fun and relevant is a no-brainer. Your recipients will appreciate reading something other than their regular recurring emails, resulting in better open rates.
Example: "A Very Merry Marketing Meeting"
8. Count your subject line characters
You should consider how many subject line characters various devices will display. With many people exclusively using email through mobile devices, your subject line real estate might be a bit tighter than you'd expect.
Crafting your subject lines so that they can be displayed in their entirety in the preview snippet is crucial for creating the best email subject lines for open rates. When you keep your subject lines short and sweet, you can entice your recipients to want to read more.
Our advice is to keep subject lines to no more than 42 characters. This ensures that your messages won't get cut off in mobile inboxes or other remote teams communication tools!
9. Use the word "Video" in your subject line
Videos are a powerful tool for boosting engagement with your internal emails. But did you know that simply using the word "video" in your subject line can boost email open rates by a whopping 6%.
Why are subject lines that promote videos so effective? There are two main reasons.
First, videos imply a faster and easier way to consume content. If employees know they'll be able to get key information in an easily accessible format, they're more likely to click open.
Secondly, employees already rely on videos for everything from entertainment to learning a new skill. So knowing that they'll be able to engage with their favourite medium in your email will encourage opens.
With ContactMonkey, it's easy to internal communications videos into your employee emails. Simply embed your YouTube or Vimeo URL into your responsive email template and a clickable 'Play' button will automatically generate.
This way you can always add fun videos or instructive tutorials into your employee emails. Then, promote them in your email subject lines to increase open rates.
With the opens you drive, you'll not only increase engagement with your embedded video but also drive traffic to the other key information in your email. You can even go one step further and implement virtual reality for your corporate communications.
10. Keep it consistent!
When you decide on a subject line format that works for your organization, own it! Keeping your grammar, capitalization, punctuation, emoji-use, and subject line length consistent strengthens your internal brand voice and gives your recipients something familiar to look for in their inboxes.
Create several different versions of your subject line and get feedback on what others think is most effective. Once you decide on your subject line format, create some key performance indicators (KPIs) for your email campaign. KPIs can include maintaining a certain open or click-through rate, or ensuring that employees confirm they understand the information they've read.
ContactMonkey's internal communications software is perfect for tracking your email campaign KPIs. Measure open rate, click-through rate, opens by device and location, and more with your campaign dashboard, and embed surveys and emoji reactions into your emails to collect feedback directly from your recipients. With our easy-to-you tool you'll learn how to create an effective pulse survey in no time.
With this analytical advantage, you can pinpoint your most effective subject lines so you can give your recipients what they want the most.
Make Your Subject Lines Count
Your employees are already overburdened with a lot of work so by incorporating catchy email subject lines, you'll be able to entice them to open and read your internal newsletters. A powerful subject line is the only way to get your target audience to notice your email in their cluttered inbox. Therefore, in order to get high open rates, using our tips for the best email subject lines is a must!
Have any more killer subject line ideas to wow your employees or email subscribers? See how ContactMonkey can let your creativity flourish by booking a free demo whenever you'd like: