As your business grows, so does the number of daily emails you have to send and receive. Our list of the best email management software tools will help you optimize every part of your email workflow.
Your business is built on communication. Whether you're communicating with executives, managers, employees, contractors, or your customers, an effective communication strategy saves time and increases engagement.
When your organization hits its email tipping point, you'll need a better solution than manually-managed emails. The right email management tools can optimize your email workflow and save you time spent on everything from internal communications to customer support, sales and marketing, and personal inbox management.
Need an internal email solution right away? Using ContactMonkey's easy-to-use email management software, you can create, send, and track HTML emails in Outlook and Gmail. Book a free demo to see how ContactMonkey can supercharge your internal communications.
What Is Email Management?
Email management refers to the systems and strategies surrounding the storage, organization, and sending and receiving of email. In the same way that organizations have file management solutions for dealing with physical paperwork, keeping up with important digital communication requires effective email management solutions.
What is Email Management Software?
Email management software is a category of software tools that help you receive and send high volumes of emails. When you have tens of thousands of emails to process, you can use email management software to organize your inbox, automate bulk email sending, and track email statistics to detect overall trends.
Email management tools usually fall into one of four categories:
Internal communications tools
Customer support tools
Sales and marketing tools
Inbox management tools
While there is some overlap in these tools, a good email management strategy requires multiple specialized solutions to cover every requirement. For example, the features required for an internal communications software product won't be the same ones you need for an external sales and marketing tool.
What Are the Benefits of Using Email Management Software Tools?
Email management programs save you time and make interacting with email smoother for both you and your employees. Some of the ways they do this are:
They increase efficiency: Templates, automation, and organization all speed up your email workflow so you can focus on other tasks.
They boost email engagement: Email template builders guide you through creating visually impactful emails that readers want to open.
They track reader interaction: Insights about how and when readers interact with your emails help you adjust your sending strategy to improve engagement.
They automate sending: Knowing the best time to send an email and automating send times ensures emails are actually opened and read.
They scale with your needs: Huge distribution lists, numerous complex customer service requests, and a rapidly-filling inbox are all concerns that can be solved with email management solutions.
How to Manage Emails in Outlook and Gmail
Both Microsoft Outlook and Gmail are email management platforms in their own right, but their functionality is limited when it comes to sending and receiving mass amounts of important emails. Outlook sending limits and Gmail sending limits can wreak havoc with a team's internal communications or marketing strategy, for example.
Because of this, plugins are an invaluable tool for getting the most out of your current email system. Gmail and Outlook add-ins map onto your current email and add much-needed functionality without requiring a switch to a brand-new system.
Internal communications platforms like ContactMonkey can integrate with your Outlook or Gmail to help you build out beautiful and responsive email templates quickly, then send them from your own server. They also allow you to scale your communications without running afoul of sending limits.
What Main Features Should You Look for in Email Management Software?
The best email management software improves on your existing processes. Look at features like automation, collaboration, available integrations, tracking and analytics capabilities, security, and scalability to determine the gaps in your current workflow and your software needs.
If sending highly-engaging, well-designed emails to your employees is a point of pride for your business, invest in an email design software to build better emails faster.
Consider your specific use case or cases. A tool that helps you send emails externally to customers or subscribers will need different features than one that helps with internal emails to leadership, employees, and contractors. This internal vs external communication tools distinction is important for picking the right software.
Once you audit your own processes, make a list of must-have features and use that to help you decide on an appropriate product or products. Remember, it might turn out that you need more than one solution to cover all your requirements!
Our List of the Top 10 Best Email Management Software Tools to Improve Your Email Workflow
There are innumerable email management tools available for businesses. We've narrowed these options down to a list of 10 useful tools based on usability and functionality, with options for each of the four categories of email management software.
1. ContactMonkey
ContactMonkey is an easy-to-use internal communications tool that integrates with your Outlook and Gmail inboxes. Create, send, and track employee emails without having to leave your email inbox.
Overview
With ContactMonkey's email template builder, you can choose pre-existing employee newsletter templates or create your own: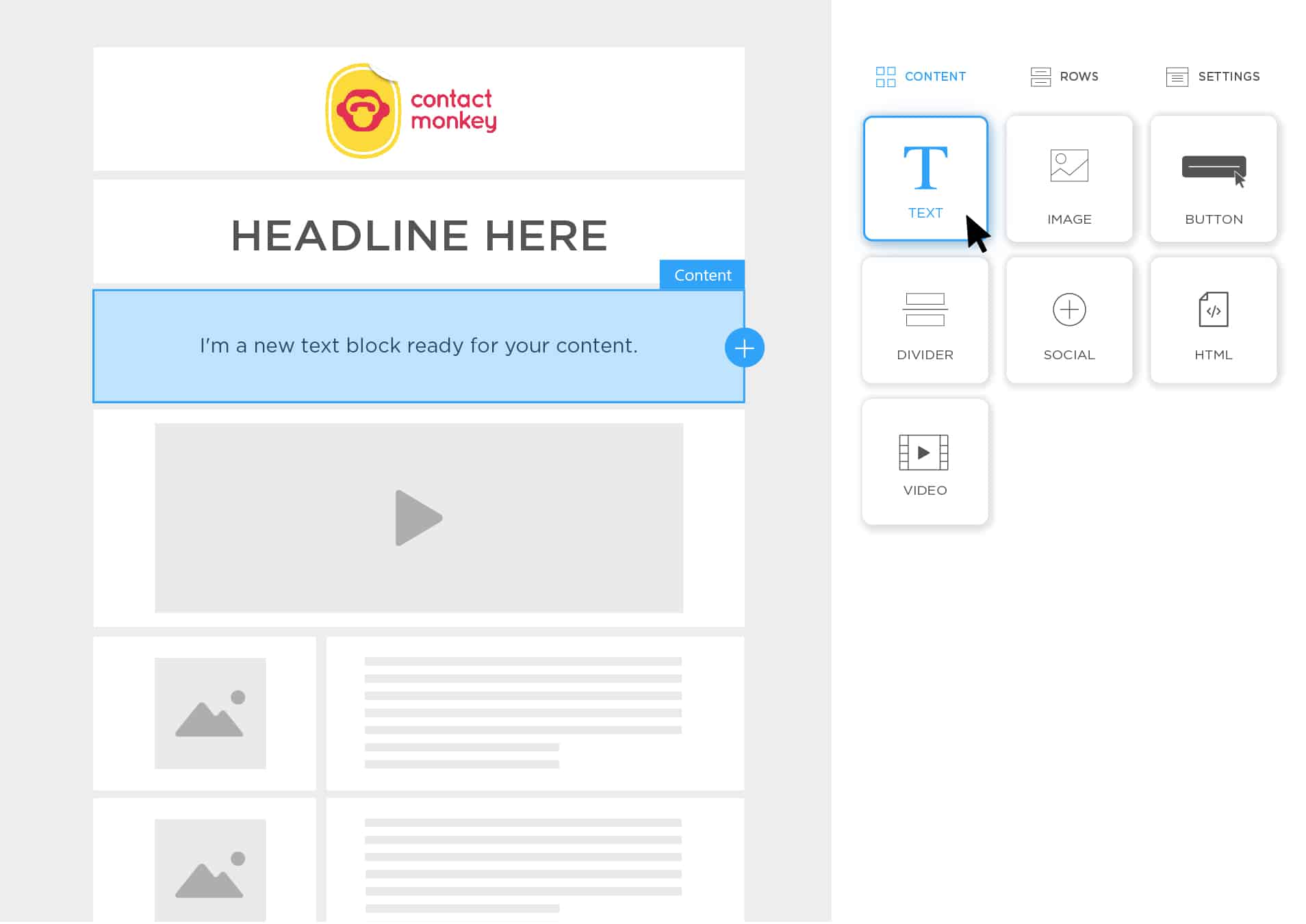 Using the drag-and-drop interface, you can add multimedia to your emails including video, GIFs, employee surveys, links, and more. You adhere to newsletter best practices by easily previewing the content on desktop and mobile to ensure it looks perfect on device; a powerful feature for any remote teams communication tool.
Working in a team? Create your email with multiple team members simultaneously with email collaboration.
Data is essential to every aspect of every business—without current, accurate data, you can't make informed decisions. That's why the best email management software allows you to track key results and analytics for all your emails: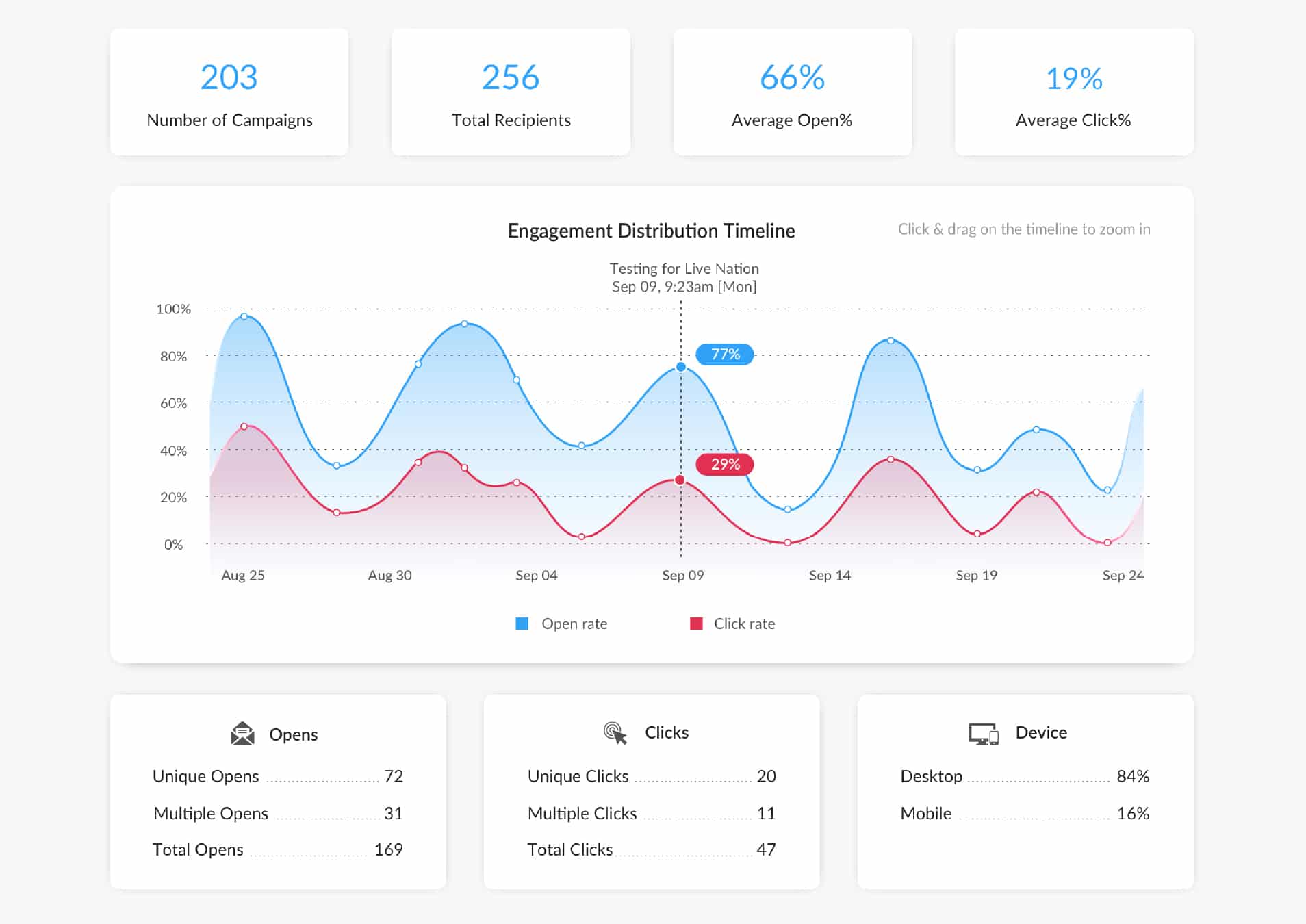 With ContactMonkey, you have access to a variety of important email analytics. You can track metrics by campaign or by individual employees. Using segmented email stats to identify your most engaged recipients, you can see where you're succeeding and where you may need to improve.
But you can do much more than just measure email performance—with ContactMonkey, you can also measure the health of your workplace through employee feedback.
Emoji reactions, pulse surveys, and employee comment fields can transform an internal newsletter into a two-way communication channel that meets all your pulse survey objectives: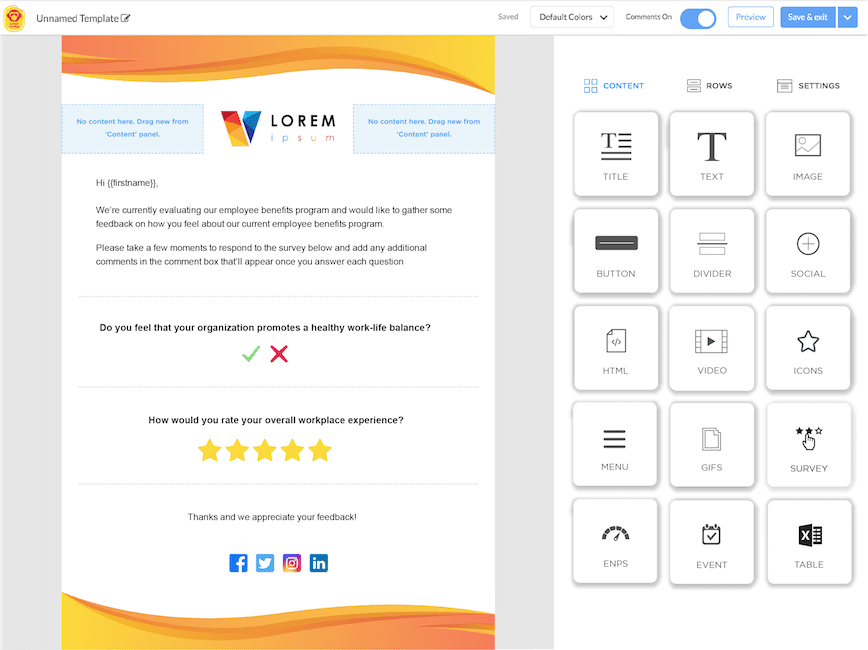 The benefit? In addition to giving you insight into the minds of your co-workers, providing regular feedback also creates happier, more productive employees—and it can improve your bottom line. A recent Gallup poll found that highly engaged teams have 21% greater profitability.
Key features
Create stunning responsive HTML emails and newsletters with a drag-and-drop email template builder.
Manage your distribution lists with Azure Active directory and HRIS integrations, then schedule personalized emails using merge tags.
Collect employee feedback via emoji reactions, eNPS surveys, thumbs up/down, anonymous employee comments, and more.
Organize in-person and remote events with event management.
Track individual and overall email statistics including open rates, link clicks, opens by device and location, read time, and more with your analytics dashboard.
Generate high quality, professional content in seconds with OpenAI integration.
Pros
Internal communications-specific tool with no unsubscribe button so employees don't miss important information.
Email template builder is user-friendly and allows for flexible design and branding customization.
Integrated survey tools provide an easy way for internal communicators to do ongoing pulse checks instead of relying on lengthy annual surveys for feedback.
Event management features allow you to send out invitations and track RSVPs all in one place.
Email templates can be seamlessly inserted into Outlook or Gmail.
Emails are sent via your internal email server through Outlook and Gmail integrations, so there's no whitelisting required.
Integrates with Azure Active Directory or your HRIS to keep your mailing lists up to date automatically.
Outlook and Gmail sending limits can be avoided with Email at Scale.
Cons
ContactMonkey was designed specifically for internal communications, so teams looking for a tool for external communications, marketing, or sales enablement should consider an alternative product.
Best for…
Large organizations looking for security-conscious Outlook email management tools to improve their internal communications and increase employee engagement.
Free trial?
Yes. ContactMonkey offers a 14-day free trial.
Conclusion
ContactMonkey is fast to set up and easy to use. It integrates with your existing systems such as Outlook, Azure Active Directory, and your HRIS, meaning there's no need to migrate data—you can start improving your internal communications right away. To see ContactMonkey in action, book a free demo to optimize your employee emails today.
2. Campaign Monitor
Campaign Monitor is an email management software tool used to send personalized emails and increase brand engagement via email communications. Their software is aimed at external marketers though is used for both internal and external communications.
Overview
Campaign Monitor allows users to build customized HTML emails using their drag-and-drop email builder. Email built with Campaign Monitor will look great across all platforms and devices, and you check for broken links using their link review tool: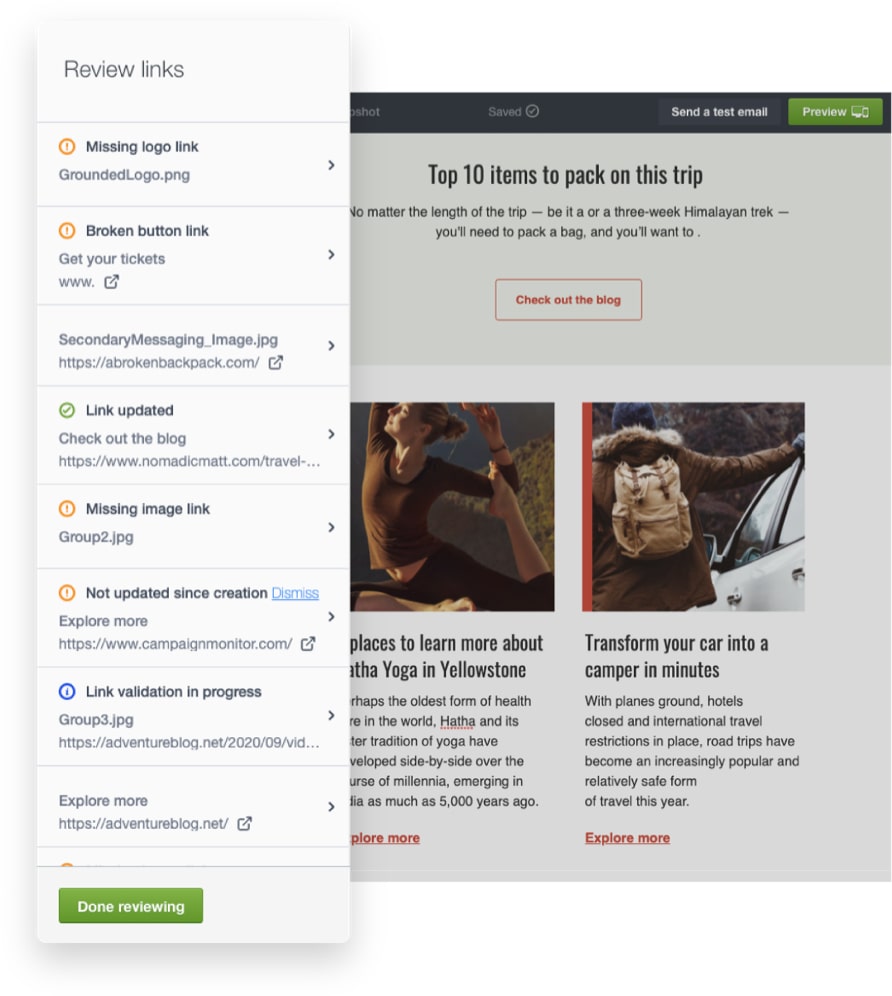 Once you've created your emails, you can automate your email sending so recipients automatically receive follow-up emails after completing certain tasks. This is especially useful for external marketers, and they can schedule emails for customers who have clicked on links within prior emails.
Campaign Monitor has a host of email tracking tools to provide you with metrics about your email campaigns. These can help you find the content that is most resonating with your customers and improve your email campaigns.
Key Features
Create customized email campaigns featuring a variety of different multimedia elements.
Schedule email cadences to guide recipients through a specific brand-journey.
Segmented email statistics can help you identify what content is most effective for your audience.
Ensure your emails work properly with a link review feature to check for broken links.
Pros
Template builder interface is straightforward and easy to learn.
Link review feature prevents accidental broken links.
Large template library helps users start building new emails quickly.
Cons
Limited integrations compared to some other email marketing platforms
Emails are sent from an external server and could end up being marked as spam.
Required to have an unsubscribe button, which can be a problem for internal communications uses.
Best for…
Medium to large organizations looking for email management tools for external marketing.
Free trial?
No. Campaign Monitor does not offer a free trial of their full product features, but it is possible to sign up for a free account with limited functionality.
Conclusion
Campaign Monitor is primarily used for external marketing, so you may want to search for possible Campaign Monitor alternatives if you're looking for dedicated internal marketing tools.
3. Zendesk
Zendesk is a customer service and ticketing platform for optimizing customer service workflow and boosting customer satisfaction.
Overview
Zendesk brings everything customer service agents need to engage with customers into a single platform.
The Zendesk customer support workspace is an omnichannel solution, bringing in email, web, mobile, and social customer interactions. Customer service agents can open a ticket and see all the customer information and previous interactions with that customer across all channels in a single place. They can respond to emails with the necessary context and without needing to ask repetitive questions the customer has already answered.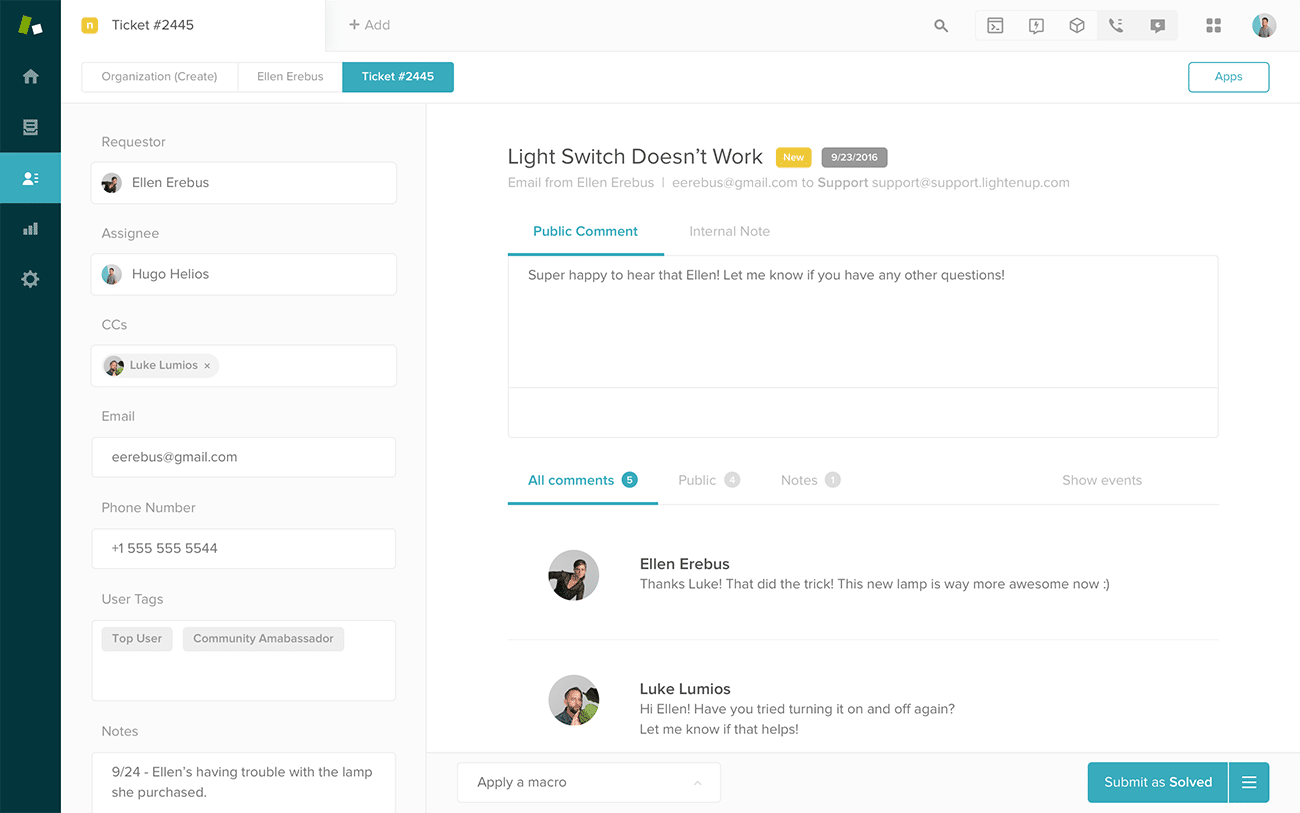 Collaboration tools allow multiple agents to track, comment, and consult on a customer ticket, no forwarding correspondence back and forth, all while maintaining a consistent experience on the customer's end. Agents can open a side conversation on any ticket, or add "Light Agents" who will be able to see the ticket and add private internal comments when needed.
Plus, Zendesk leverages the customer data it collects to show you analytics on your customer service and offers AI tools to triage customer issues, bring up relevant information, suggest agent responses, and more.
Key features
Keep track of customer communications across multiple channels with omnichannel support.
Assign cases, keep interested parties apprised, and hop into side conversations to consult on customer queries with helpful collaboration features.
Smooth out and speed up your customer interactions by gathering insights from the analytics dashboard.
Save time with advanced AI triage tools, macro suggestions, and other contextual AI insights.
Pros
Omnichannel support lets you switch easily between different methods of communication depending on customer preference or needs.
Integrated knowledge base capability lets customers find their own solutions without needing to open a ticket.
Over 1,000 integrations are available.
Cons
Setup and configuration processes can be time-consuming.
Potentially steep learning curve for agents learning the environment.
Extensive list of features also raises the price.
Best for…
Organizations with extensive customer service email management needs.
Free trial?
Yes. Zendesk offers a 14-day free trial.
Conclusion
If your team is being overwhelmed by customer service requests, Zendesk is a great option to help you organize and manage your customer interactions. However, Zendesk is a specialized tool, and you might have additional email management issues to address.
Consider looking into additional tools to help you with your external email marketing and your internal communications emails to round out your suite of email management solutions.
4. Mailchimp
Mailchimp is a powerful email marketing platform that can help grow your business. It's primarily used for email marketing and offers a range of tools to help increase email engagement by sending and tracking email campaigns.
Overview
Mailchimp lets users create in-depth email campaigns with customizable content. Using their portal, you can create email campaigns that feature your company's branding and links to your other products or services.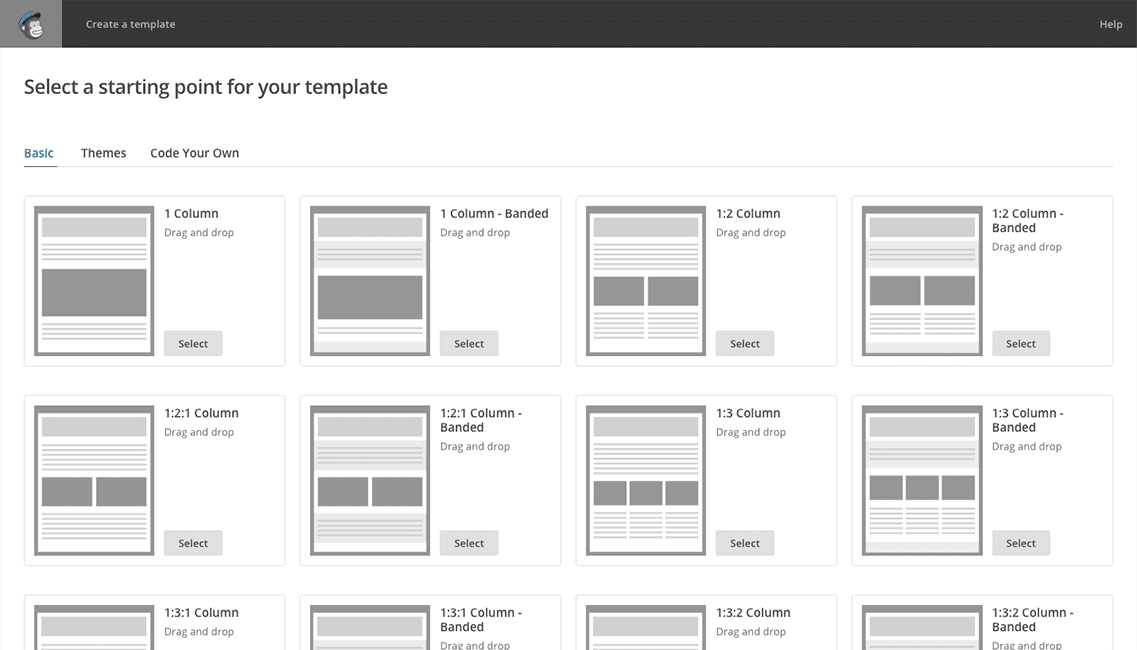 After you've sent your email, you can choose which recipients to send it to using their segmentation functions to ensure people receive relevant content. Track your email campaign performance using their audience dashboard to view various email metrics.
Key features
Create great-looking emails and personalize them based on your recipients.
Improve your email engagement by analyzing audience statistics and segmenting your email list.
Design customer email paths using marketing automation tools.
Track email metrics and campaign performance.
Pros
Expanded offering of marketing tools, including landing page builder and omnichannel marketing support.
Wide array of features and integrations available.
Users with less complex needs can sign up for the free plan that comes with a small amount of basic features.
Cons
Sending email with an external service always carries the risk of spam filtering.
Price quickly becomes expensive for large mailing lists.
External marketing tools are legally requirement for unsubscribe button, not suitable for internal communications
Best for…
Any size organization seeking a robust external email marketing tool with a lot of features.
Free trial?
Yes. In addition to a basic free plan, MailChimp offers a 30-day free trial of their Standard and Essentials plans.
Conclusion
There's a reason that Mailchimp is such a well-known tool. It's a great solution for creating beautiful external marketing emails quickly and with ease.They offer users a wide-range of tools, including solid email tracking functionality. That being said, their tools and even the tracking metrics they use are designed around external audiences rather than employee emails. A dedicated tool like ContactMonkey provides you with data that's relevant to your internal communications team. It's something to consider if you're looking into Mailchimp for internal marketing.
5. Hubspot
The Hubspot Sales Hub is a comprehensive email marketing tool and CRM to improve your business' marketing performance. You can centralize your marketing efforts including email management and tracking within Hubspot's all-in-one platform.
Overview
The main advantage of Hubspot is having all of your customer data in one place. With their suite of marketing tools, you can edit and customize every stage of your customers' journey.
Like Mailchimp, Hubspot lets you set up automated email replies for different stages of your customer journey. You can also build emails within Hubspot from scratch or by selecting one of their pre-made templates:
Hubspot lets you integrate other tools like Salesforce in their efforts to provide a one-stop shop for your email marketing. There is no doubt that Hubspot has a powerful interface, but it can take a while to migrate all your information into a new platform.
Key features
Email and lead tracking lets you know how your recipients engage with your emails.
Set up separate inboxes to improve efficiency, like sales inquiries or team collaboration.
Create responsive email templates with customizable content, or choose from their selection of pre-made templates.
Send automated emails once customers reach a certain point in your newsletter workflow.
Pros
Email workflows and automations prevent lost leads and keep you in touch with customers.
Integrated sales and marketing tools keep track of different channels and types of customer interaction in one place.
Cons
Migrating information into the platform can be time-consuming.
Steep learning curve for many of the features might require extensive employee training.
Best for…
Medium to large organizations that want a fully integrated email marketing and CRM platform with extensive features.
Free trial?
Yes. Hubspot offers a 14-day free trial.
Conclusion
Hubspot is an incredibly powerful tool for those looking for extensive marketing and CRM email solutions. However, it can be overkill if your needs are more simplistic or if you only need email management help specifically.
Plus, the setup can be extensive and like every external tool, it runs the risk of your emails being caught up in spam filters. With ContactMonkey, you can get set up the same day you trial the software. ContactMonkey works directly out of your existing Outlook or Gmail inboxes, making it a top Hubspot alternative to consider.
6. Brevo
Originally called Sendinblue, Brevo is an email marketing tool turned CRM platform that can be used for marketing campaigns, customer service, and transactional email management.
Overview
Brevo is an all-in-one tool that helps users design, send, and track marketing campaigns, automate their sales and transactional emails, and keep on top of customer service email interactions.
Brevo's marketing platform features a simple to use drag-and-drop email editor and template library. Users can quickly design or customize professional-looking emails, build campaigns, automate sending, and track email performance with their reporting dashboard.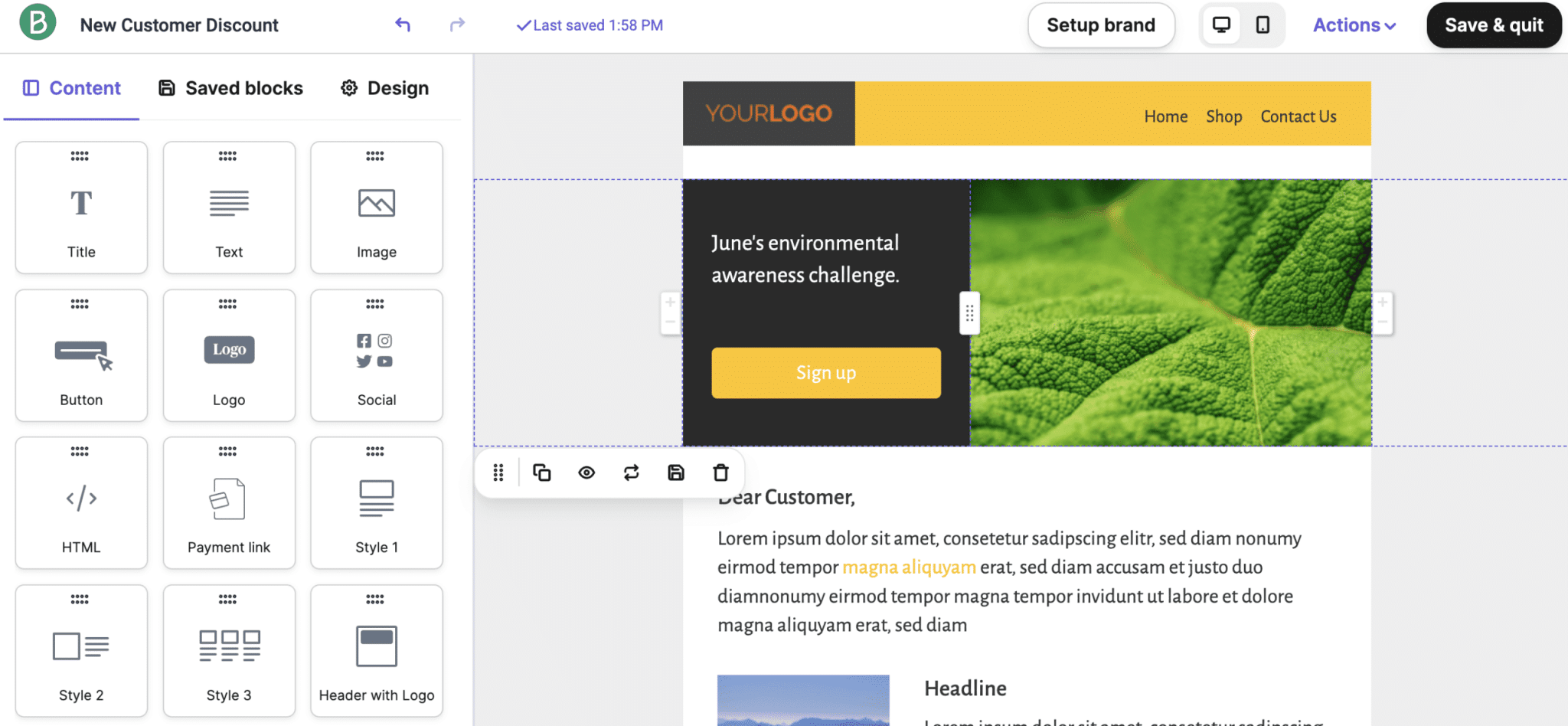 Their transactional platform allows users to design transactional emails and then automate sending with custom trigger conditions, such as customers making a purchase or filling out a form.
Brevo can also integrate with an existing email service such as Gmail or Outlook for increased customer service functionality. Their "universal inbox" feature creates a shared inbox where customer service and sales reps can see the customer history, make internal notes on customer interactions, and assign conversations so that customer emails don't get lost in the shuffle.
Key features
Access a broad range of sales and marketing email management solutions in one integrated marketing and CRM stack.
Design marketing emails and newsletters with the drag-and-drop email template editor.
Plan out and implement marketing campaigns with features like automation, A/B testing, and market segmentation.
Keep customers informed and engaged with automated transactional emails.
Keep track of customer communications with the universal inbox.
Pros
Email builder interface is intuitive and easy to navigate.
Integration of marketing, sales, and customer service features improves efficiency and solves multiple email management issues at once.
There is a broad range of pricing plans, including a free option for users who only need limited features.
Cons
Limited flexibility in the email builder makes it hard to create complex custom email layouts.
Less in-depth reporting than other platforms might make it a bad option for some use cases.
Occasional email deliverability issues may result in some emails being sent to spam.
Some customers have reported difficulties receiving responses from the support team.
Best for…
Small to medium businesses looking for budget-friendly email marketing, sales, and customer service email management solutions.
Free trial?
No. There's no free trial, but Brevo does have a free plan with limited features.
Conclusion
Brevo is a great option for smaller businesses who want an integrated sales and marketing solution without needing a lot of more complex features. For larger enterprises, we'd recommend a more robust tool such as Hubspot. Brevo also isn't designed to address internal communications needs, so larger companies looking to manage their internal emails should look at a dedicated IC tool like ContactMonkey.
7. Sanebox
Sanebox is an AI email management tool for inbox automation. The AI redirects unimportant emails away from your inbox so you can focus on the messages that actually matter.
Overview
Sanebox helps users who are overwhelmed by the amount of emails they receive by taking over sorting and prioritizing their email inbox. The AI tool sits on top of an existing email and learns from the user's behaviour– which emails they open and read, what goes straight into the trash, what the user saves for later. Unimportant emails are moved into a separate folder (called SaneLater) so that the only thing left in a user's inbox are things they actually want or need to read.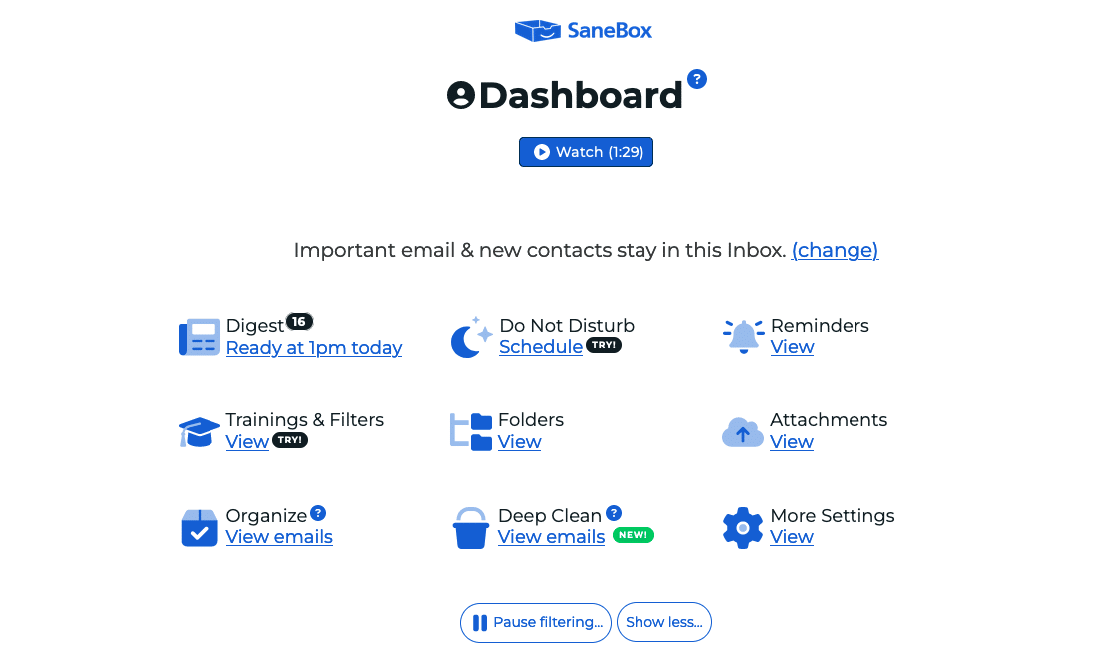 The user gets a daily digest summarizing everything that's been done so they can be confident they haven't missed anything. They can move items to their inbox directly from the digest, training the AI as they do so. Plus, they can set up custom filtering rules and folders for an inbox experience that makes sense to them.
Key features
AI identifies important emails and filters the rest into folders or deletes them depending on the content and user's behaviour and preferences.
Newsletters, CC'd emails, and unimportant emails are automatically filtered out of the inbox.
Persistent newsletters that ignore unsubscribe requests can be banished to the SaneBlackHole folder.
The Do Not Disturb feature filters emails away from the inbox and pauses notifications, then restores the emails to their rightful place when Do Not Disturb is turned off.
Daily update about sorting and filtering activity so that users can make sure they didn't miss anything.
Pros
Filtering out everything but the most important emails saves time and attention that can be put to better use elsewhere.
Software automates processes that would otherwise require time-consuming setup of custom filters.
Turnkey solution with no training required on the customer's part.
The AI learns directly from customer behaviour and adjusts filtering over time with no direct input needed.
Cons
Filters all unimportant emails to a single folder by default, so users looking for more organization will still need to do their own folder and filter creation.
Important emails can be misfiled, especially when being sent from a contact the AI hasn't encountered before.
The need to check the digest and SaneLater box means that email overwhelm can still occur.
Best for…
Individual users looking for basic, lightweight email management for their inbox.
Free trial?
Yes. SaneBox offers a 14-day free trial with no credit card required.
Conclusion
If you're an individual who's looking for a quick solution to your overflowing inbox, Sanebox could be it. However, organizational-level problems require organizational-level email management solutions. If employees are overwhelmed by vast amounts of internal comms emails that are all marked as urgent, an organized inbox won't help as much as improving internal communications. ContactMonkey helps internal communicators design beautiful company newsletters and digests that keep readers engaged and cut off the inbox avalanche at its source.
8. Microsoft Outlook
Microsoft 365 is a powerful suite of tools to improve your business. While Excel, Word, and Powerpoint are vital for any business, Outlook stands out as one of the most commonly used email management platforms on the market.
Overview
It's hard not to be familiar with Microsoft 365. Word, Powerpoint, OneDrive, Excel, and of course, Outlook are software staples for countless businesses. And with the development of Cloud technology, business documents and materials are more accessible than ever.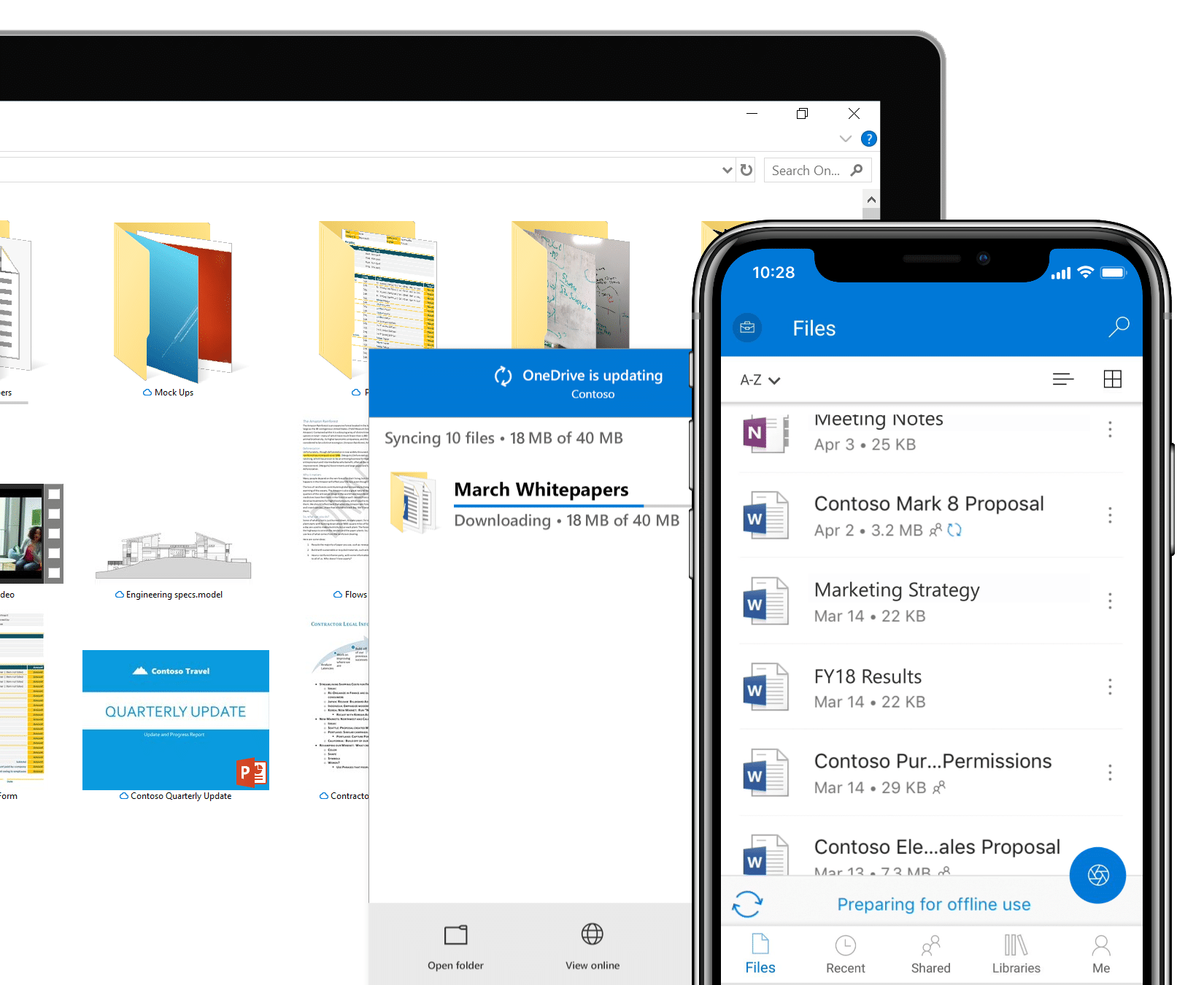 Outlook and the other 365 tools are key for companies serious about growth. Users can accomplish a wide range of tasks to build out their business. However, for strictly email management functionality, Outlook email management tools can be quite limiting.
Unlike the other email management tools we've mentioned, Outlook does not include an email template builder or feedback/tracking options. Outlook has basic email tracking functions, but they require your employees to opt in, which can defeat the purpose.
This is why ContactMonkey was designed to work within Outlook to maximize your email management capabilities. Create, send, and track emails from your existing Outlook inbox.
Key Features
Cloud support lets users access Microsoft 365 tools from anywhere on any device.
Collaborate on documents within your business' Cloud drive.
Centralize all your documents and files and easily access them throughout the Microsoft 365 suite.
Keep track and organize all your documents within their Cloud archive.
Pros
Available across mobile, browser, and desktop
Dedicated internal email servers prevent spam filters from blocking important messages.
Straightforward inbox management capability
Teams and coworkers can easily share calendar invites.
Plugin integrations can greatly increase functionality.
Cons
No email template builder means bare-bones emails with no responsive visual components.
No survey functionality or ability to solicit and track feedback
Even basic email tracking features require opt-in from recipients.
Daily sending limits can get in the way when dealing with large distribution lists.
Best for…
Organizations needing a flexible inbox management solution that can be customized for more email management functionality.
Free trial?
Yes. Some versions of Outlook are accessible for free, but there's also a free one-month trial available for the full Microsoft 365 suite.
Conclusion
Microsoft Outlook is a great basic email client for both internal and external communication, but for more complex email management, it can use a little help. Luckily, it's a very flexible tool that can be customized with add-ins for increased functionality.
With ContactMonkey's Outlook plugin, you can create beautiful, responsive email templates and then insert and send them directly from your Outlook inbox, so you get all the advantages of your native email client, plus the visual impact and tracking capabilities that ContactMonkey provides.
9. Constant Contact
Constant Contact is corporate email software aimed at helping smaller businesses with their email marketing. They offer a variety of features to help you build engaging emails and send them to your audience. Constant Contact boasts an impressive email template library where you can choose from numerous themed designs.
Overview
Constant Contact aims at improving email marketing for primarily small businesses and individuals. They offer a unique interface for building, sending, and tracking marketing emails, though some businesses have used Constant Contact for internal communications as well.
With a well-equipped email builder and numerous templates to choose from, you can create great-looking email campaigns with ease: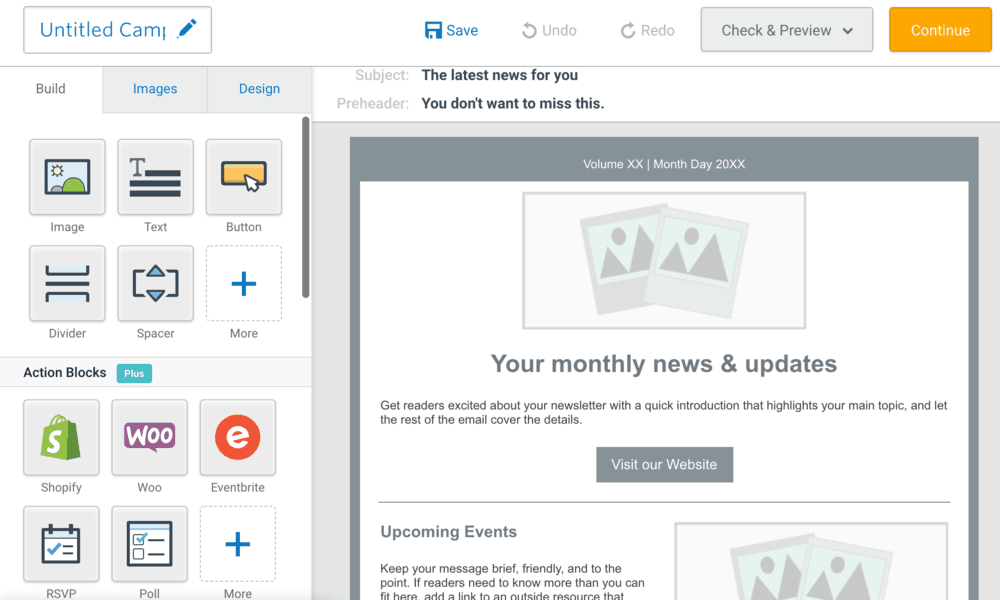 After you've built your email templates, you can customize them based on who you're sending them to. You can make sure you send the right content to the right people using their list segmentation tool.
Once you've sent your email campaign, track individual and overall email metrics using Constant Contact's email tracking functions.
Key features
Add multimedia content to your emails to display your business' products or services.
Design stunning emails or choose from a large library of templates.
Personalize your email based on your recipients.
Schedule and track your email campaigns to find your best content.
Pros
User-friendly way to design simple but effective email campaigns.
Includes landing page builder tools for additional marketing channels.
Cons
Templates are not very modern-looking and do not have a lot of customization options.
Additional features rarely added.
Emails from external servers are more likely to be flagged by spam filters.
Best for…
Small to medium businesses looking to boost their email marketing efforts.
Free Trial?
Yes. Constant Contact offers a 60-day free trial.
Conclusion
Constant Contact's suite of email management tools makes growing your business via email marketing easy—though if you're looking to improve engagement with your emails Constant Contact lacks the feedback and survey options of ContactMonkey's HTML email templates. Remember to consider your use case and whether you need an internal or an external product when comparing Constant Contact vs ContactMonkey.
10. Boomerang
Boomerang for Gmail is a lightweight Google extension for email productivity and scheduling.
Overview
Boomerang is a suite of lightweight productivity tools for Gmail that allows users to clear out their email backlog, keep on top of important correspondence, and decide where and when to engage with their inbox.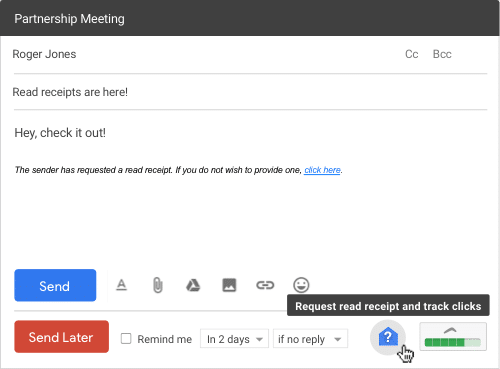 Boomerang stops users from being overwhelmed by new emails—they can simply hit snooze on emails or on the whole inbox when they don't have time and schedule a time for those emails to pop up again later. They can also keep on top of important conversations by scheduling reminders for themselves directly within an email. They can even set parameters for their reminders, like setting a reminder for a week's time if an important email doesn't get a response.
Boomerang also streamlines scheduling, allowing you to send a bookable schedule with calendar slots. Recipients just need to select a time slot, and in one click you'll both have the meeting on your calendars.
Key features
Pause all or some incoming emails until a specified time.
Set reminders for yourself to follow up on important emails.
Schedule emails to send out at the right time with Send Later.
Eliminate the back and forth of scheduling meetings with one-click bookable calendar invites.
Get AI suggestions for email content.
Pros
Quick and easy setup within Gmail
Control where and when you read emails and when your emails go out.
Keep on top of important conversations without having to continuously check back.
Cons
Boomerang's email management tools are better for individual conversations rather than bulk email sending.
Some of the features have been incorporated into Gmail and don't require a secondary tool.
Best for…
Individuals and small to medium businesses with a lot of one-on-one correspondence.
Free Trial?
Yes. Yes. In addition to a basic free plan, Boomerang for Gmail offers a 30-day free trial of Boomerang Professional.
Conclusion
If you're having a lot of difficulty staying on top of important conversations, Boomerang for Gmail is a great lightweight tool to help you with customer service workflow and inbox management. However, most larger enterprises are going to need different or additional team email management tools to meet the challenges of bulk sending, whether internally or to customers.
Choose the Email Management Solutions that Serve Your Needs
Whether it's a simple inbox management tool or a feature-heavy CRM, there is a solution out there for every email management problem. Sometimes, however, you're going to need more than one tool to cover all of your needs.
ContactMonkey helps internal communicators easily create beautiful responsive email templates that employees will want to open and schedule those emails to go out when they have the greatest chance of being read immediately. Important information gets shared quickly and emails don't sit unopened in employee mailboxes.
Want to see if ContactMonkey is the best email management software for your team? Book your personalized demo today: