Are you an Outlook user trying to optimize how you send out email communications? If so, have you thought about taking a look at some of the best Outlook add-ins to boost your productivity? 
As an internal communicator, you need to find quick and easy ways to bolster effective communication in the workplace. Hacks for increasing efficiency and productivity tools such as Outlook add-ins can make a huge difference in refining your workflow.
Sure, there are those who say Outlook isn't as "sexy" or as "cool" as its younger competitor Gmail – but with over 400 million users, Outlook is an undeniable juggernaut in the modern email landscape.
By that number, almost 20% of the world's population is regularly logging in to Microsoft's flagship email service and sending millions of messages every day.
And, it's no surprise that a program with 400 million users offers a stunning range of customization and add-ins.
There are Outlook add-ins, toolbars, search bars and sidebars. But, as the seasoned internet user knows, for every useful Outlook add-in, there are ten crappy ones that, at best, are barely functional. 
That doesn't scare us over here at ContactMonkey. We love all of the popular internal communications tools that help us, and our audience, to be successful at work.
And since we're big fans of Outlook add-ins, we decided to scour the web for the best Outlook add-ins and productivity tools that, if used wisely, will majorly boost your email performance.
Ready? Let's go🏃🏃‍♀️
Best Outlook Add-Ins: ContactMonkey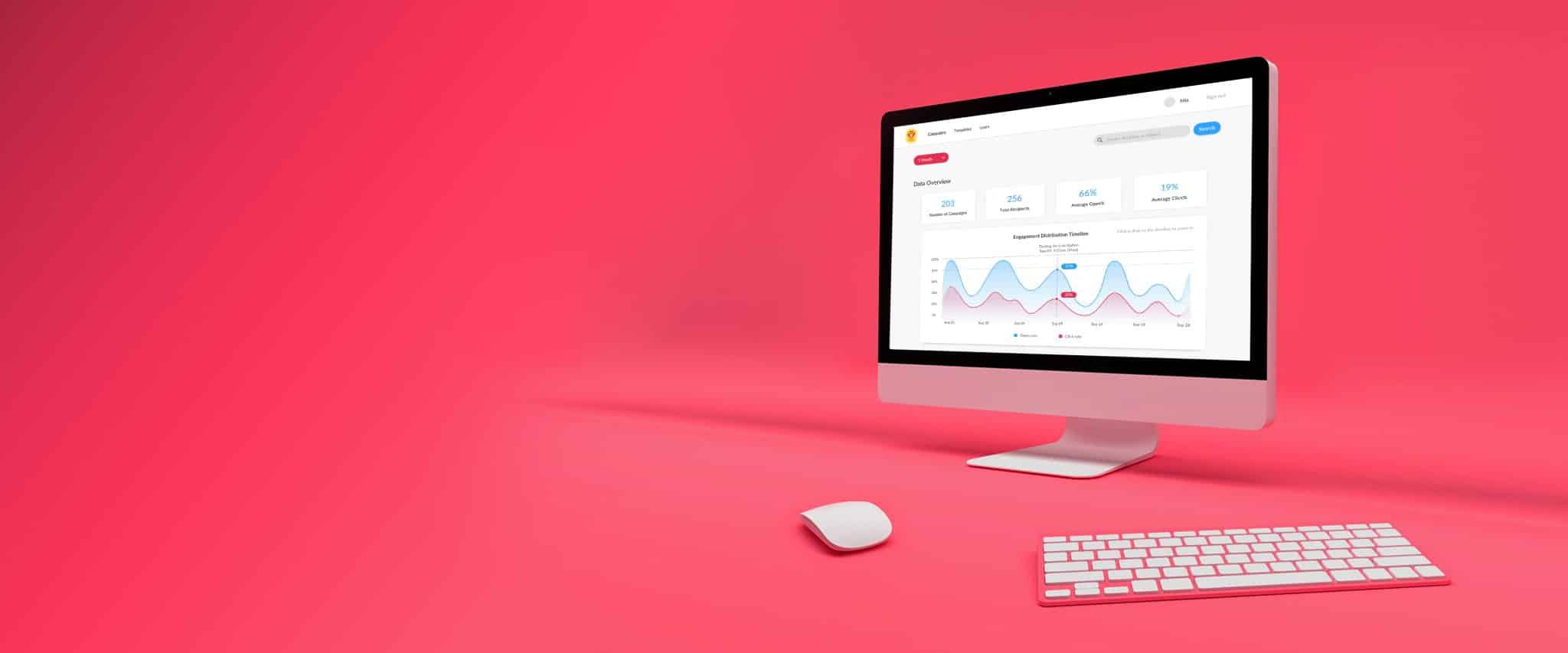 Alright, we couldn't start without a shameless plug(in). To put it plainly, ContactMonkey's internal communications tool lets you see what happens to your internal emails after you hit send 📧
ContactMonkey helps internal communicators send responsive HTML newsletters, gather employee feedback and measure the results all within Outlook.   
In ContactMonkey, you'll also be able to: 
With so many features contained in a single Outlook add-in, ContactMonkey is definitely one Outlook add-in you'll want to consider. Don't wait to start streamlining internal communications within your organization! 
Best Outlook Add-Ins: Outlook on the Desktop
While it's probably not the most creative name you've ever heard, Outlook on the Desktop is a great productivity tool and Outlook add-in that allows users to pin a fully functional Microsoft Outlook Calendar directly onto your desktop. 
The convenience of this Outlook add-in lives in its ability to retain all of its Outlook functionality – letting you edit directly and drag and drop files as you normally would, but outside of the usual walls of the program.
If you actively use your Outlook scheduler, this is one of the best Outlook add-ins for staying on top of your time without having to hang a physical calendar in your work space. 

Best Outlook Add-Ins: Clear Context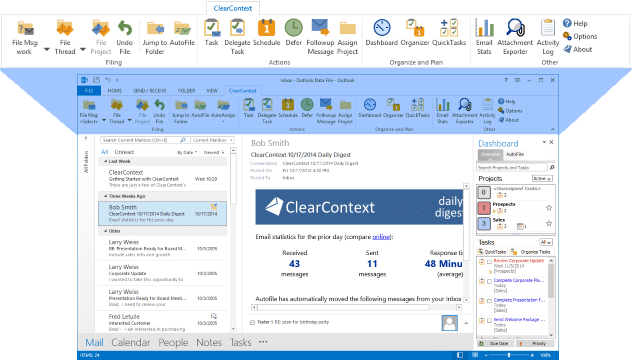 Clear Context is an Outlook add-in that works to reduce inbox clutter. If you're constantly striving for Inbox Zero, this tool will transform your Outlook inbox into a much cleaner, more organized place.
Clear Context works by: 
Organizing your emails in bulk 

Keeping track of appointments and email responses 

Sorting your tasks, appointments, and emails into "Projects" 

Showing you deadlines at a glance 
This Outlook add-in is ideal for anyone looking to be better organized throughout the workday. 
Best Outlook Add-Ins: Wunderlist for Outlook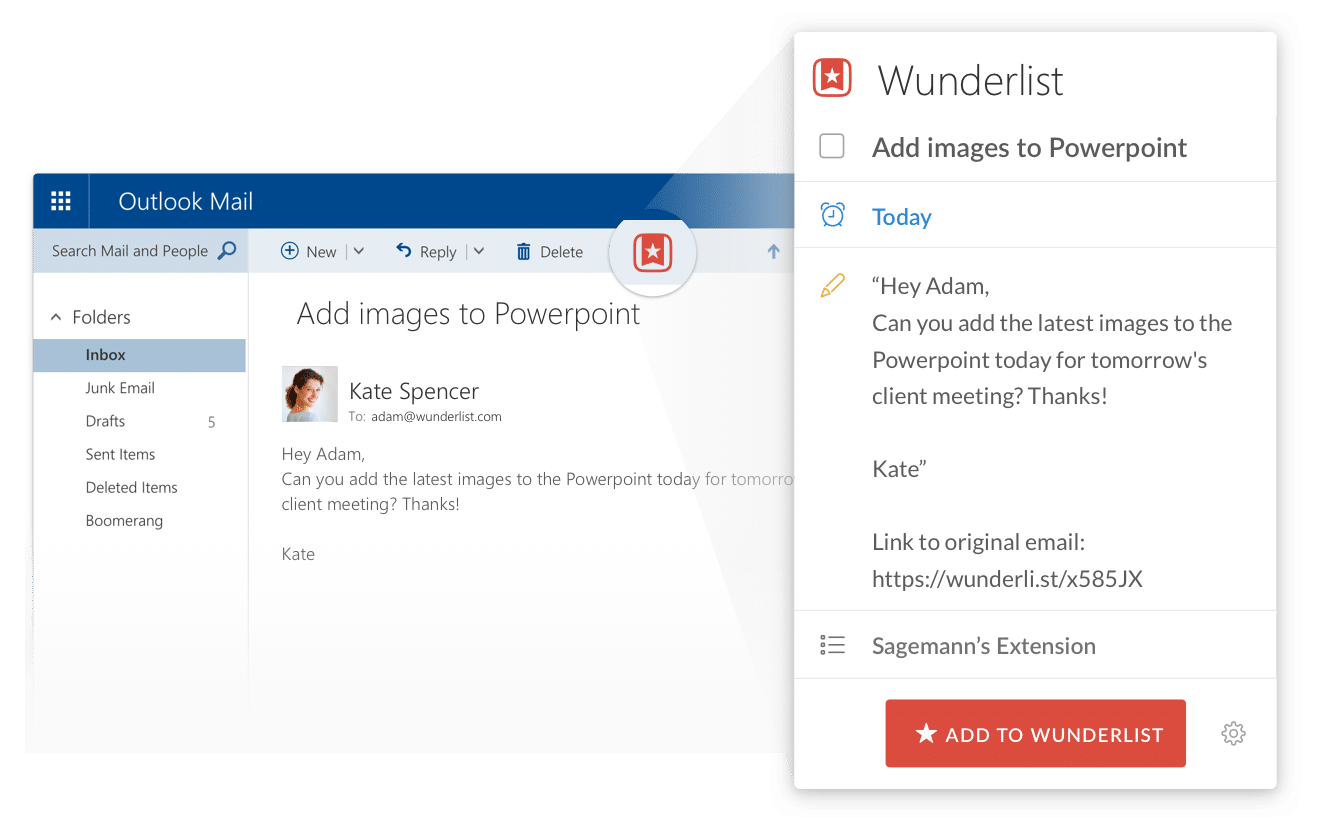 The good people at Wunderlist are obsessed with productivity, which makes their Outlook add-in a strong addition to our list. Their tool is targeted at Outlook users getting bombarded with a huge volume of daily emails. 
Wunderlist allows users to: 
Grab tasks from email and place them into manageable to-do lists 

Auto-create new tasks based on emails that require an action

Collaborate with colleagues through shared to-do lists
If you are someone that likes to work from a to-do list to gauge your accomplishments throughout the work week, you may want to consider this Outlook add-in as a digital alternative to a paper list. 
Best Outlook Add-Ins: Trello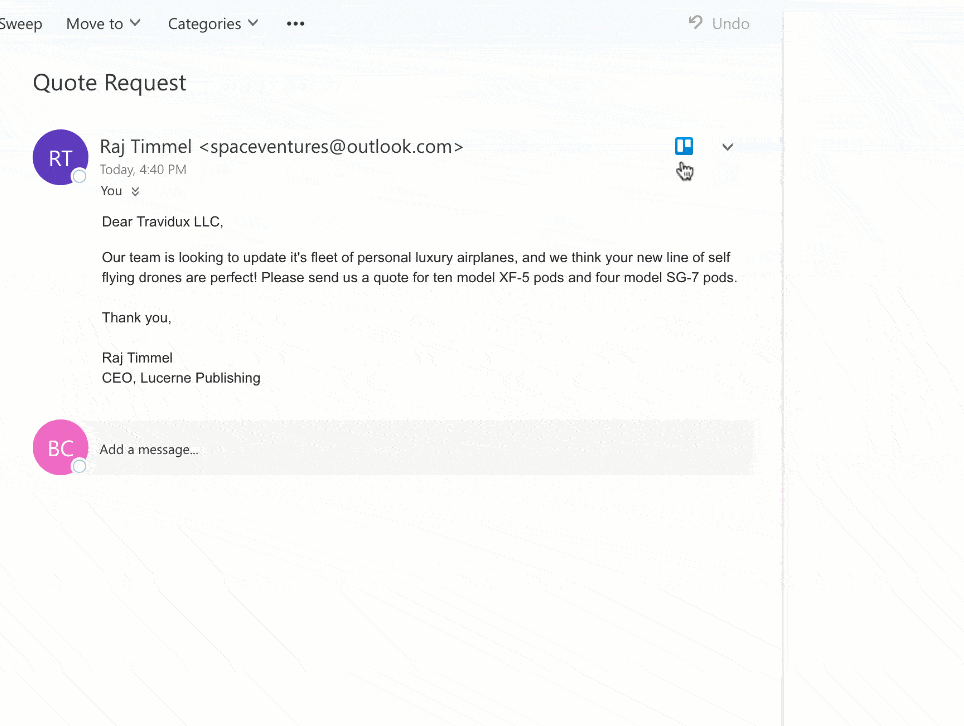 Trello is one of our in-house favourites for team communication and collaboration. We love being able to know who's working on what and where they are in the process at a glance. 
Trello displays information in the form of boards, known as a Trello board. These boards help streamline internal communications by helping you organize information and tasks. 
You can add cards to your Trello boards with descriptions, links, and attachments. On these cards, you can also add members and due dates so that only those who are in on the project receive email notifications as things progress. 
But Trello for Outlook is especially handy. You can easily integrate any of your Trello boards' calendars with Outlook. That way, you can skim tasks and due dates without having to access the app. 
Swiftly turn significant emails into actionable items that require immediate attention, and never have anything slip through the cracks again! 

Best Outlook Add-Ins: Skype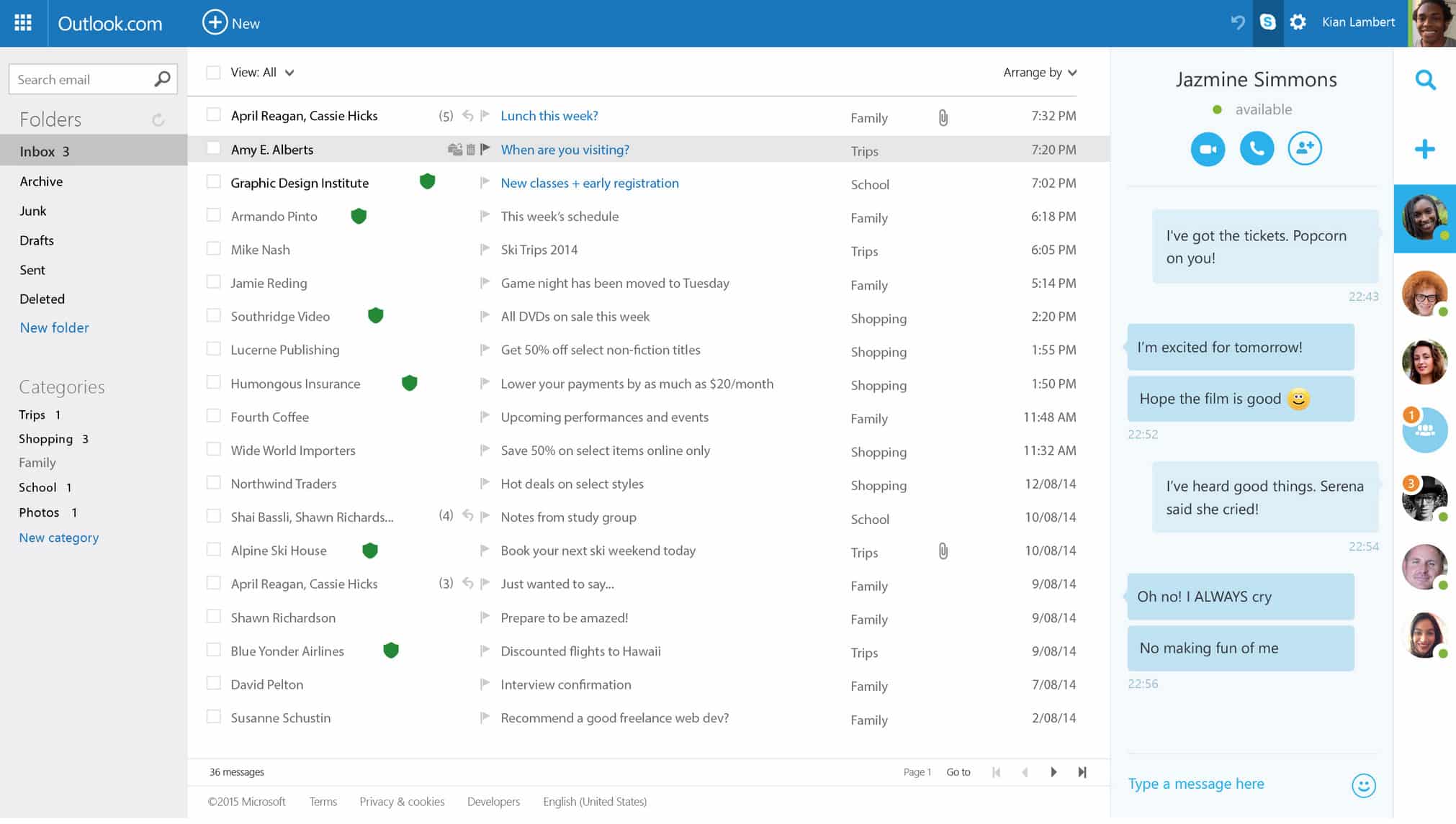 As an internal communications professional, you often have to engage with remote workers or dispersed employees all across the globe. Many large organizations utilize Skype for remote working opportunities. 
With the handy Skype Outlook add-in, you can start making video and voice calls without having to leave your inbox! If you have contacts outside of the organization that you're conducting interviews with. 
When it comes to recruiting, Skype for Outlook is an excellent way to initiate early conversations without having to dig through your inbox for their contact information. 
Best Outlook Add-Ins: Zoom

If Skype isn't your thing when it comes to video conferencing, you may want to look into Zoom for your internal communication needs. 
Zoom Video Communications is designed to improve communication in the workplace by enabling online collaboration. 
With the Zoom Outlook add-in, you'll have the ability to: 
Start meetings instantly

Invite participants to meetings 

Edit and start scheduled meetings 

Schedule a meeting on behalf of another Zoom host
If you're an internal communications professional looking to conduct webinars or host team meetings with remote workers, you'll definitely benefit from using Zoom Video Communications and its multifaceted features.
Best Outlook Add-Ins: Evernote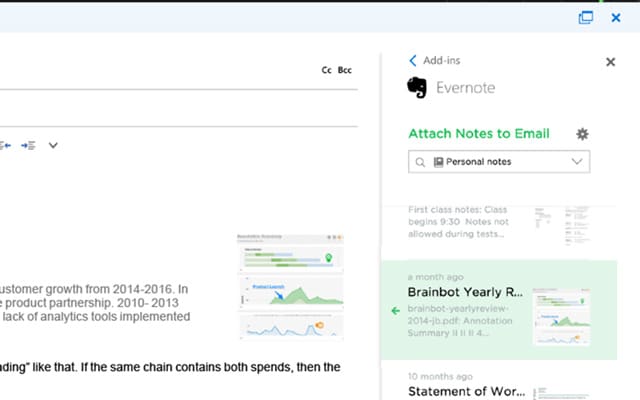 Are you a fan of sticky notes and to-do lists in any form? We definitely are. They help us to stay on track of our goals and manage our time effectively. 
As an internal communicator and productivity nerd, you may have come across Evernote or perhaps even used it. Many creative people refer to Evernote as an extension of their brain as it allows you to save every single idea anywhere, from your computer or your phone.
Evernote for Outlook allows user to: 
Convert emails into notes and move them into a project notebook 

Share Outlook emails into Evernote 

Attached notes to outgoing emails
With these sorts of capabilities, it's no surprise that Evernote for Outlook is included on our list of the best Outlook add-ins. Having a place to house both your creativity and organization is a dream for most – us included.
Best Outlook Add-Ins: Wrike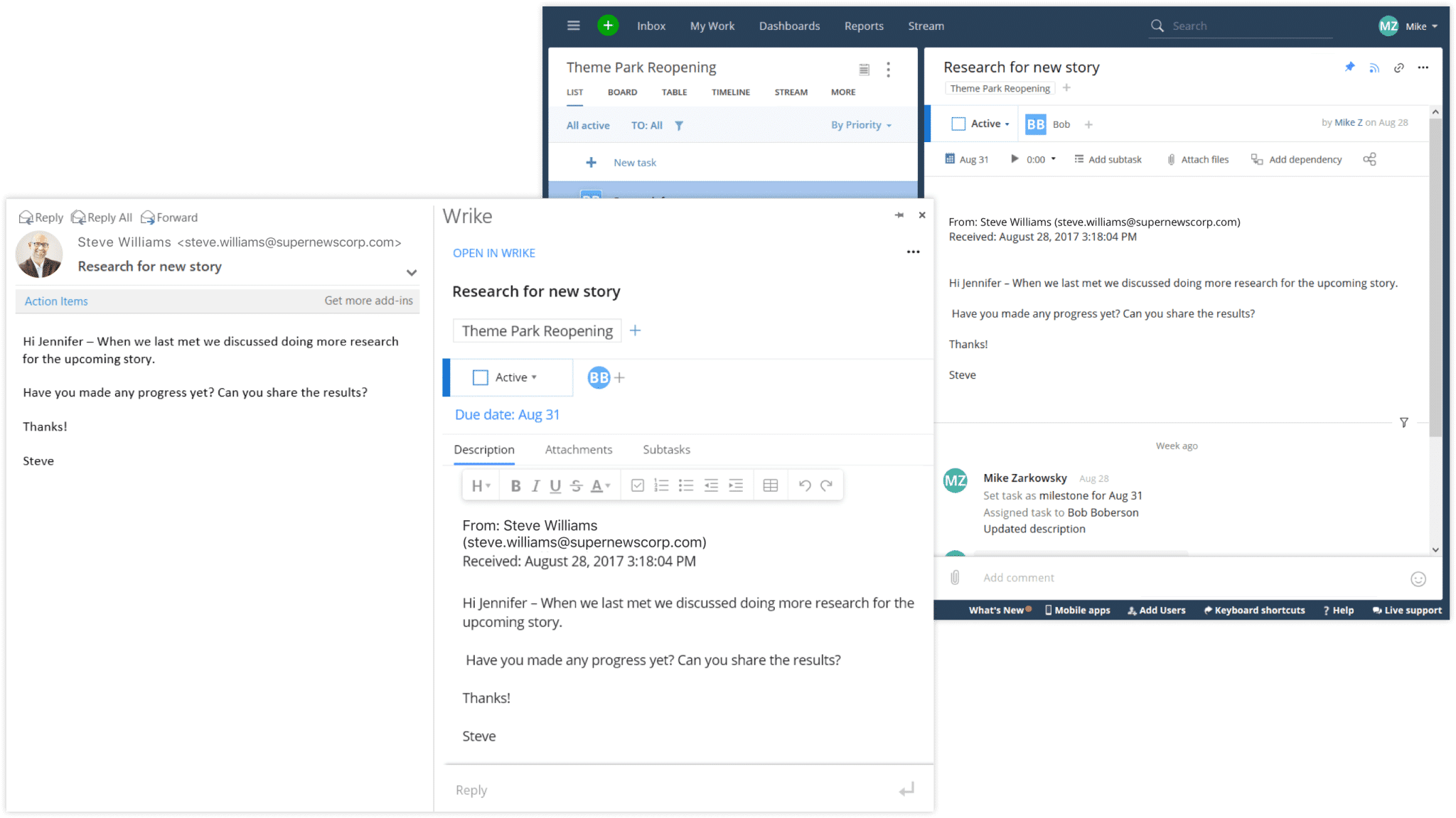 If you're an internal communications professional that loves using project management tools to enhance team communication, you may want to look into Wrike.
Wrike is available as an Outlook add-in, and overall useful for tracking the number of projects your team is working on. You can also: 
View new project requests that come in

Assess the workload of each team member 

Assign a new project to a team member with a reduced workload  
Essentially, Wrike gives you full visibility and control over your tasks as well as your team's tasks. It's also great for internal communicators struggling to manage internal communications between brick-and-mortar office employees and remote workers.
With the Wrike for Outlook add-in, you can turn an email into a task, add it as a comment, add tasks to existing Wrike projects, and edit task details from within Outlook itself. Say hello to simple project management ⚒️
Best Outlook Add-Ins: Grammarly
As an internal communications professional, we're certain that you work tirelessly to ensure your publications contain proper spelling and grammar (as you should). 
However, if this is taking away from how productive you are overall, you may want to start using Grammarly on a regular basis to ensure everything you write is flawless. 
If you want your internal email communications to be seamless, succinct, and typo-free, install Grammarly for Outlook today! 
Best Outlook Add-Ins: DocuSign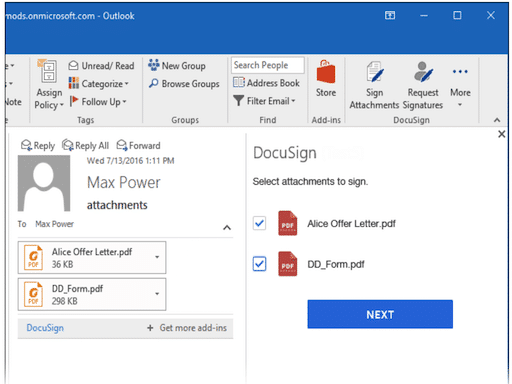 As an internal communications professional, you probably receive tons of documents via email that you have to sign and return quickly. With the creation of DocuSign, this process has been expedited. 
Gone are the days of having to print out lengthy documents, like contracts, and having to physically sign the paperwork and return it via email. All you have to do is open the email and draw your signature with your cursor 🖱️
Installing DocuSign for Outlook allows you to reduce costs (and waste) while streamlining your internal communications. In a matter of seconds – depending on how good you are at signing digitally – you can legally and securely sign and return documents. 
Best Outlook Add-Ins: Dropbox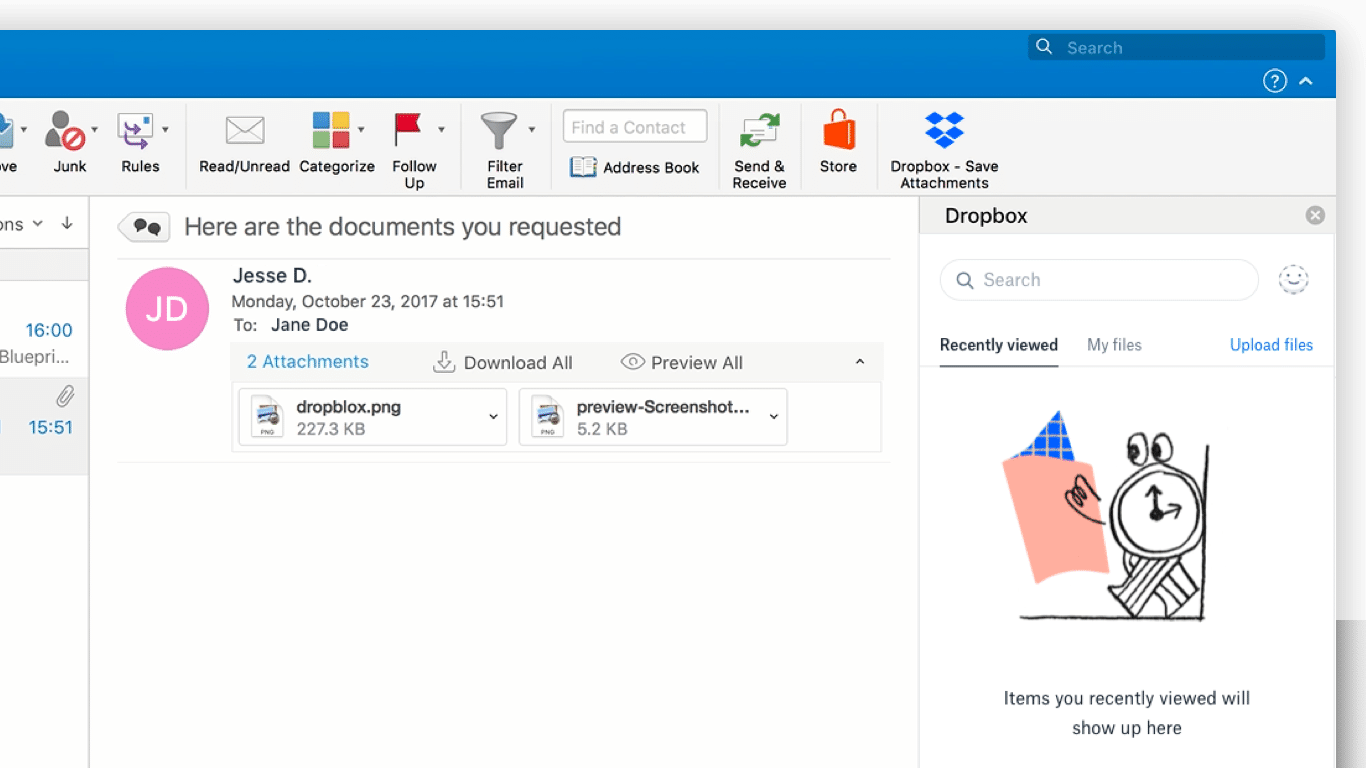 "Living in the cloud" is a normal part of life in our increasingly digital world. With Dropbox, you can share large files from your cloud account rather than dealing with the disappointment of not being able to attach it to an email. 
Although Outlook has a pretty smooth relationship with OneDrive, the biggest differentiator is that Dropbox for Outlook allows files of any size to be shared and attached to emails; no limitations. 
Best Outlook Add-Ins: Translator for Outlook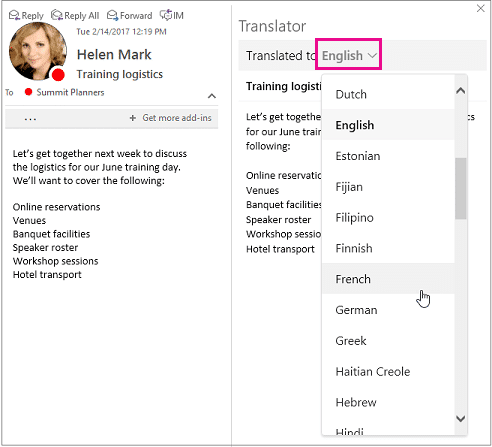 Receive an email that isn't in a language you understand? Did you automatically dismiss it as spam simply because you couldn't understand? With the Translator for Outlook add-in, you'll be able to decode emails in foreign languages. 
There's no extra step for getting your emails translated. Whatever language the majority of your communications come through in, Translator will automatically put foreign-language emails into the language you best understand.
The Translator for Outlook add-in only has to be installed once, but it functions across all of your Outlook client software. All data transmitted through the Microsoft Translator service is secured, and never stored, sampled, or shared.

Best Outlook Add-Ins: Giphy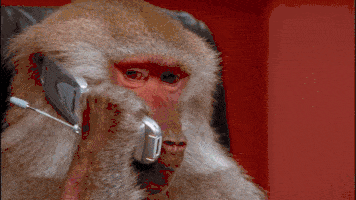 Spice things up and express your feelings and emotions with animated GIFs. Just be careful that they are well-timed, as you still want to come across as a professional. 
GIPHY animations can be great when you're using this Outlook add-in to design promotional newsletters and other internal communications. 
To find GIF images to include in your emails, perform a search (like "monkey") and drop the image you like best right into your email with a single click. If you're using it at work, you'll want to make use of the GIPHY search setting to filter out images that aren't safe for use at work. 
So, there you have it. 14 awesome Outlook add-ins to streamline your internal communications and make yourself more productive during the day 📈
Are you currently using any Outlook add-ins that you've found super useful that aren't on our list? If you're in the market for internal communications tools outside of Outlook, we've got a list of those, too! Either way, don't be shy – leave us a comment below! 
Convinced of the power of Outlook add-ins for streamlining your internal communications? Want to learn how to track your internal emails using ContactMonkey? We can set up a personalized demo for you and your team.
You may also like:
How to Create an Internal Communications Plan
7 Best Practices for Engaging Internal Emails in 2020
How to Use Internal Communications Software in 2020
Why You Need a Dedicated Internal Communications Tool for Internal Marketing