Have you been looking for the best Outlook add-ins to boost your productivity? Hacks for increasing efficiency and productivity tools such as Outlook add-ins can make a huge difference in refining your workflow.
Sure, there are those who say it's not as sexy or as cool as its younger competitor Gmail – but with 400 million users, Outlook is an undeniable juggernaut of the modern email landscape. In fact, with 400 million active users, almost 20% of the world's entire population is regularly logging in to Microsoft's flagship email service, sending millions of messages every day.
And, it's no surprise that a program with 400 million users offers a stunning range of customizations and add-ins.
There are Outlook add-ins, Outlook plug-ins, tool bars, search bars and sidebars – there's a gazillion of such productivity tools out there. But, as the seasoned internet user knows, for every legitimately useful Outlook add-ins, there are ten crappy ones that are barely functional at best and highly suspicious at worst.
But that doesn't scare us. As you know, we're obsessed with efficiency here at ContactMonkey. And since we're big fans of Outlook plugins, we've decided to scour the web for 5 Outlook add-ins and productivity tools that, if used wisely, will majorly boost your email performance.
Ready? Let's go.
5 Outlook Add-Ins to Boost Productivity
1. ContactMonkey
Alright, we couldn't start without a shameless plug. To put it bluntly, ContactMonkey's Outlook Email Tracking lets you see what happens to your sales and internal emails after you hit send.  All you have to do is click the "track emails" and "track links" buttons in your compose window in Outlook and you'll know everything about your email opens: who, where, when, and on what device.
You can also track all emails by default, and get live updates – featuring desktop alerts – telling you whenever an email's been opened or a link's been clicked.
Moreover, you can send personalized emails, straight to your Outlook distribution lists. Easily create personalized employee emails within the subject line or body copy no matter if you're sending to 20,200 or 100s of employees.
Furthermore, Internal Communicators looking to boost employee engagement can now use our simple drag and drop Email Template Builder to create responsive HTML employee newsletters that can be sent straight from Outlook to your Outlook distributions lists using Outlook for Windows and Outlook for Mac.
Yes, so many amazing Outlook add-ins and plugins all in one! ContactMonkey is definitely a productivity tool you need!
Sounds like a dream come true to me.?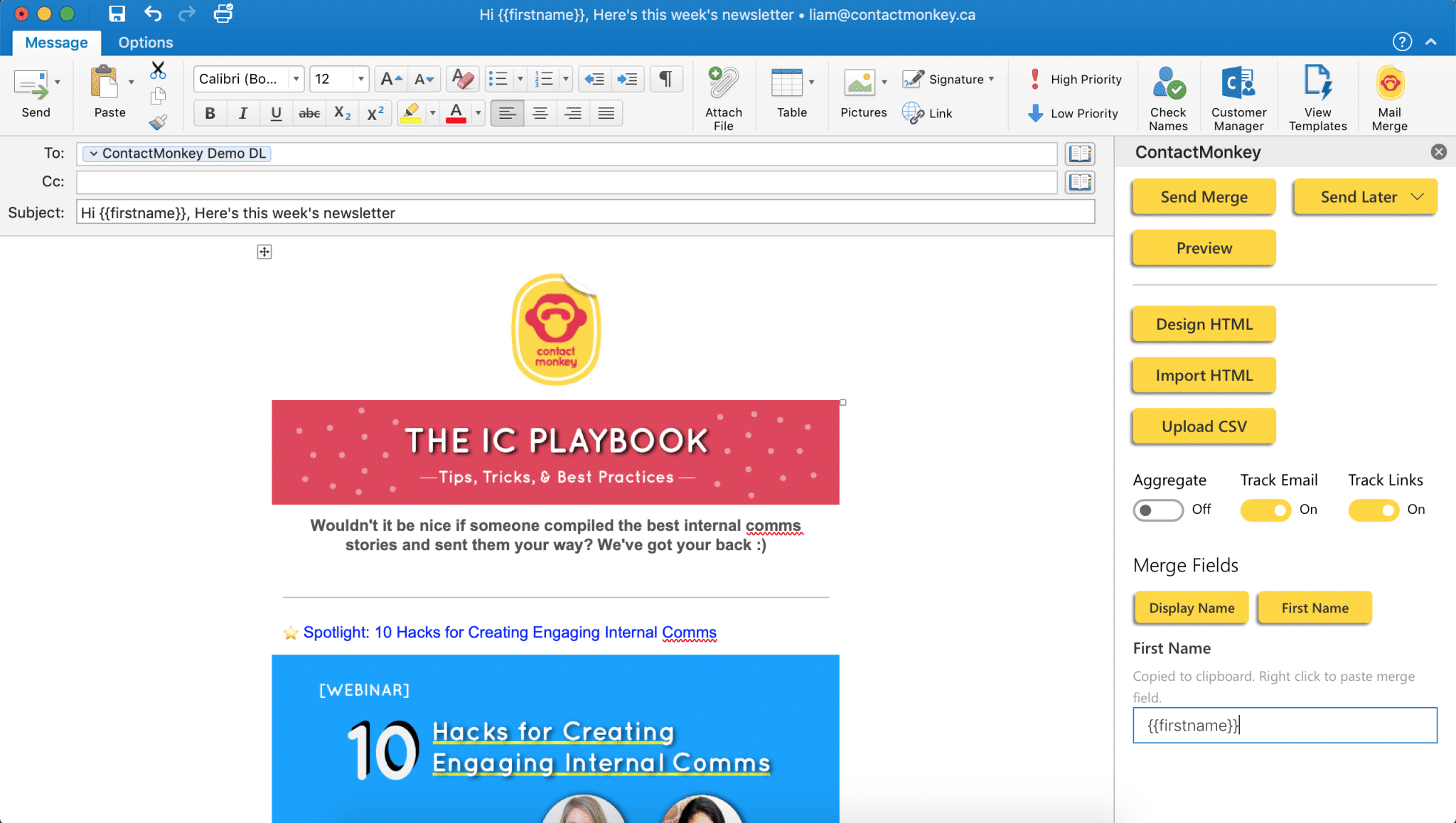 2. Outlook on the Desktop
While it's not the most creative name you've ever heard, Outlook on the Desktop  is a great productivity tool and Outlook plugin that does exactly what it says on the tin by pinning a fully functional Microsoft Outlook Calendar directly onto your desktop. What makes this Outlook add-in really convenient, though, is that the calendar retains all of its Outlook functionality – letting you edit directly and drag and drop files as you normally would, but outside of the usual walls of the program.
If you actually use your Outlook scheduler, this is a fantastic Outlook plugin and a great productivity tool to help you stay on top of your time without pinning one of those giant plastic calendars above your work space.
[/fusion_text]
3. Skype for Outlook
Skype for Outlook is a great productivity tool to have. With this Outlook add-in, all you have to do is plug in the Skype details of your existing Outlook contacts to merge these two powerful services. Video chats are becoming more common in the world of business – and that can certainly be a welcome thing. Just imagine if that seemingly never-ending back-and-forth on a Friday evening could be solved with a two minute video call – all done from your Outlook inbox? This is definitely an Outlook plugin you need to look into!
4. Clear Context
Clear Context is an Outlook add-in that's a great productivity tool as it easily plugs into your inbox and automatically reduces clutter, changing your inbox into a much cleaner and much more organized place.
With an emphasis on cleanliness, Clear Context organizes your emails in bulk, helps you keep track of appointments and email responses, and lets you organize your tasks, appointments and emails into "Projects" – letting you see "what's due at a glance". A must-have for those who could use some help on the organizational front! This is definitely one of the Outlook plugins you need to look into.
5. Wunderlist for Outlook
The good people at Wunderlist are obsessed with productivity, which makes this a great productivity tool to add to this list. This Outlook add-in is consistent with that obsession. Designed to let the average Outlook user stay on top of their huge volume of daily emails, this add-in lets you easily move tasks from your emails into small, manageable to-do lists.
The Outlook add-in's Wunderlist button lets you auto-create new tasks based on emails that require an action. Interestingly, the add-in also has collaborative features, letting you share your to-do lists with your colleagues. If used correctly, this is a killer Outlook add-in or Outlook plugin.
So, while there may be 400 million Outlook users, it's highly doubtful that all of them will be as productive as you can be if you use the add-ins above. Take a chance, give some of these Outlook add-ins a shot, and your email experience is likely to be more dynamic than ever before.
What are your go-to Outlook add-ins? What did we miss? Join the conversation below or let us know on Twitter!
For more information on Outlook tips and tricks, productivity tools and Outlook plugins, get in touch today or try out our Outlook add in for yourself for free.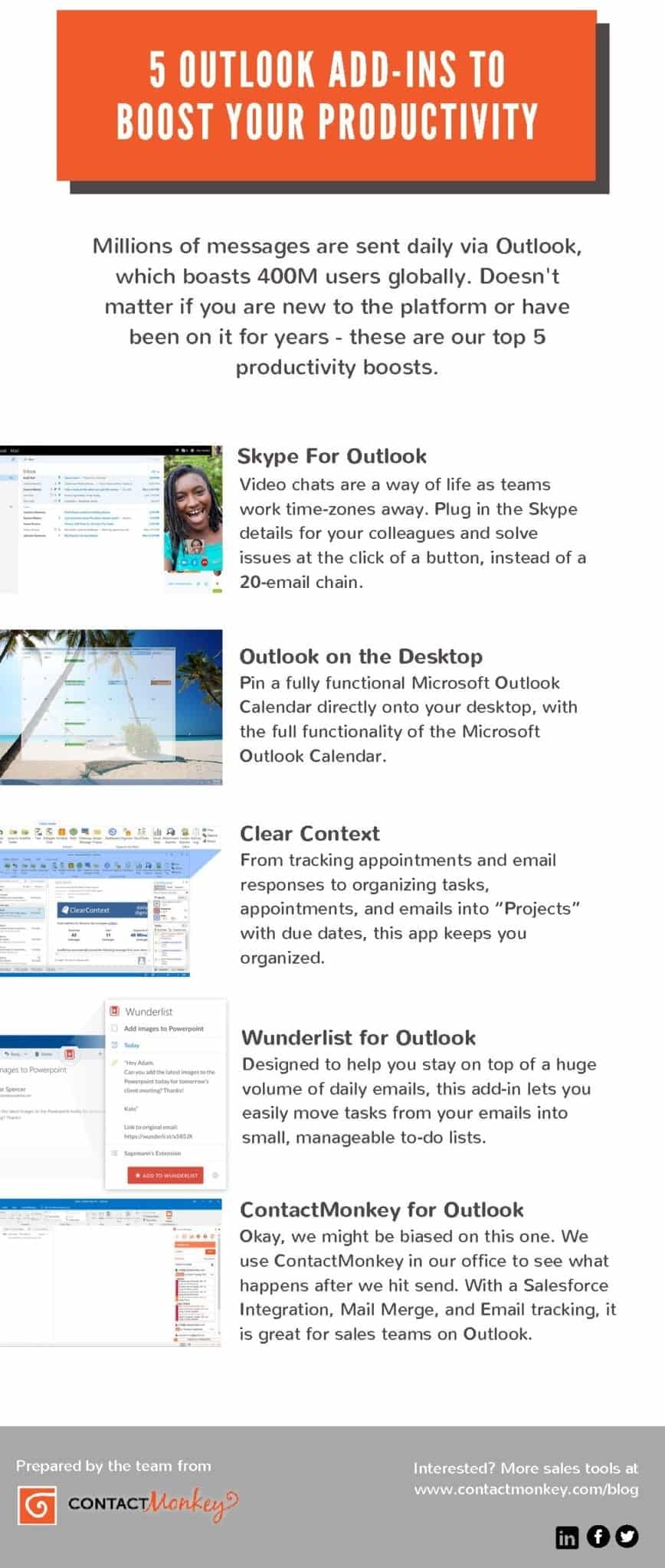 Convinced of the power of Outlook add-ins and plugins? Want to learn how to track your emails from Outlook using ContactMonkey? Just click on the button below to start tracking emails on Outlook. Do little, achieve greatness!