At its essence, internal communication is the way people within an organization interact with each other. Everyone communicates; it's not really optional.
Internal communication professionals are responsible for facilitating better communication at all levels. That could mean email information to employees, facilitating two-way communication, and creating an internal communication plan.
Our ultimate guide to internal communications can help you build a robust, scalable, data-based internal communications strategy.
Instead of guessing at what might engage your employees, you will be able to look at hard data and determine your best performing content and more.
You'll also be able to select the best internal communications tool for reaching your engagement goals.
Track and improve your internal comms strategy.
Start a free 14-day trial. No credit card is necessary.
What is Internal Communications?
According to Study.com, internal communication is:
"…the transmission of information between organizational members or parts of the organization. It takes place across all levels and organizational units of an organization."
In short, it is contact or conversation that happens within a company's walls between employees at all levels. Sometimes it involves all employees or can be separated between different teams in the organization.
The difference between internal communication and external communications comes down to the audience and stakeholders. While advances in one field may be relevant to the other, they are separate entities with separate goals.
Internal communication
This concerns internal entities within a business. These include employees, management, leadership, and sometimes investors and the board of directors. Internal communication is meant to cover details that aren't pertinent to the general public, like onboarding, scheduling, policies and procedures, staff changes, and office-wide initiatives.
Internal communication is designed to streamline the flow of information within a workforce, and to achieve internal business objectives such as improved productivity, high employee engagement, and lower employee turnover.
External communication
These communications cover all other entities. These external entities include but are not limited to: investors, clients, prospects, regulators, governing bodies, and the media. Any department in a business may engage in external communication, although it is traditionally associated with Marketing and PR.
Internal communication is designed to streamline the flow of information within a workforce. It's also geared towards achieving internal business objectives such as improved productivity, high employee engagement, and lower employee turnover.
For example, if FastFood Company (FFC) is launching a new vegetarian menu, internal communicators might prepare operational guidelines for FFC franchisee operators. These would inform them about changes they will need to make to serve the new menu. Meanwhile, the Public Relations department might prepare a list of Frequently Asked Questions they expect from customers. The Internal Communications team will distribute that information to all front line employees. Both internal and external communication help the FFC franchise operators in different ways.
Why is Internal Communication Important?
Effective internal communication means employees are in the know about important company news. They also keep employees in touch with resources that can boost their engagement.
When information is delivered effectively across an organization, employees have everything they need to do their job well.
If employees have the necessary information and materials within reach, it leads to better products, greater customer loyalty, and improved employee engagement.
Benefits of Effective Internal Communication
With the right internal communications strategy, your team's ability to gauge problems and address concerns improves dramatically.
When employees are aware and engaged they're simply better prepared to excel in their tasks. The result: countless benefits for overall employee experience alongside added gains for your business performance.
Not convinced? Here are just a few of the added benefits of effective internal communication:
Employees feel more valued: Effective internal communication fosters a safe, inclusive, and supportive work environment where staff feel free to share their ideas.
Increased employee engagement: Workers who feel informed and valued at work are more likely to have the confidence to get engaged and contribute substantially to the team.
Reduce employee retention: When companies with high employee turnover took steps to improve their internal communication, turnover has dropped by as much as 25%.
Improved goal-setting and achievement: One of the key purposes of your internal communication is to identify and promote team goals. By keeping your employees aligned, and celebrating team wins, your communications will play a big part in helping your company reach its business goals.
Types of Internal Communications
We often think of internal communication as a catch-all term for exchanging information in the workplace. But it's a bit more complicated than that.
There are many different types of internal communications. By recognizing the type of internal communication you're dealing with, you can develop tailored content, set the right tone, and use appropriate visuals and graphics.
A few types of internal communication to consider include:
Employee-generated communication

Peer-to-peer

Information delivery

Culture communications
What Does Internal Communications Do?
Internal communications bridge the gaps within an organization. It helps foster relationships between upper management and individual contributors, between departments, between department heads and their team members, and between the company and external stakeholders.
When it comes to internal communications reaching external stakeholders, we're speaking about it in the context of giving employees the tools necessary to discuss issues that may partially live outside of the company with tact. This way, employees feel trusted, respected, and the chances of miscommunication in the workplace are lessened.
One way internal communicators could do this is through a company newsletter updating employees on key information or events. When you're trying to create company newsletter ideas, there are several approaches you can take. You may want to consider:
Sharing company achievements and positive press

Profiling new hires

Featuring employee birthdays or other life milestones

Having a team spotlight section

Individual awards or recognition pieces

Surveys and polls

Messages from the C-Suite

Reminders and announcements

Internal job postings

Nearby food spots to encourage socializing

Company policies delivered through internal influencers
Effective internal communications engage employees and capture their interest. Using ContactMonkey, you can easily conduct employee surveys to learn what your employees like to see, and track engagement using in-depth analytics. You can learn more about how ContactMonkey makes employee communication simple by booking a free 15-miunte demo:
Why Does My Company Need Internal Communications?
Internal communications have a direct effect on company culture. The more employees are informed, the more engaged they are.
According to Ragan, 74% of employees expect to be kept in the loop. This fosters a culture around trust, respect, and transparency, especially when the communications are perceived to come from senior leadership. Employees that feel like they know what's happening are more likely to feel appreciated and more compelled to stay at their jobs.
Other key reasons for internal communications include:
Crisis communication

Change management

Employee engagement

Real-time employee feedback
Goals and Objectives of Internal Communications
Your sales and marketing team likely has clear, measurable goals to help guide them towards success. It shouldn't be any different when it comes to internal communications.
Specific, clearly-defined, and time-bound internal communications goals are at the heart of an effective IC strategy.
Here are some questions to ask yourself when developing your internal communication goals:
What are your company's business objectives? Do you want to improve brand awareness and team morale across your sales team in particular? Focus on creating tailored and targeted internal content for different employee groups using segmented email stats.
Are your employees engaged at work? Track, monitor, and improve employee engagement by conducting a quick, no-hassle, employee engagement pulse survey.
Which communication channels should I be using and when? Do you communicate with employees most frequently by email, intranet, newsletters, or social messaging? Conduct a quick pulse survey from your newsletter to gauge which devices your employees utilize the most and tailor your communications accordingly.
Once you narrow down what your internal communications goals are, it's time to start on your internal communications plan. We dive into the logistics below.
What is an Internal Communications Plan?
If crafted correctly, your internal communications plan will be a guide on how to communicate with employees—and be consistent about it.
A traditional internal communications plan usually includes seven components:
Analysis of the business at present:

Where things are and how that will affect future commitment to internal communications.

What the goal of the internal communications plan is:

Evaluating overall business goals and determining how the communications department aligns.

Who your target audience is:

How you will communicate with all employees versus how you will communicate with select teams.

What your message is:

What sorts of topics you will address, why you want to address them, and how (i.e. what media) you want to use for this.

How you'll spread the word:

What are your strategies, tactics, and channels of choice? Is it an email newsletter, instant message blast, internal blog post, or a video?

When you'll send internal communications:

Based on data, when are employees the most open to receiving internal collateral?

How you will measure your internal communications campaign's success:

Decide your key metrics and what tools you need to be able to analyze those metrics
After you go through the steps mentioned above, hold yourself accountable to a consistent schedule and ensure that no matter what media you decide to use, you make it easy for your employees to follow.
Think of employees the same way you think of your customers; they're just internal!
How to audit your internal communications plan
Auditing your internal communications plan helps you to understand the goals of your internal communications strategy and your employee engagement goals more broadly. It also helps you make adjustments going forward.
A SWOT analysis, where you evaluate the strengths, weaknesses, opportunities, and threats of internal communications within the organization, can be very helpful in your internal communications audit. Using an internal communications audit, you can achieve your goals by:
Understanding your internal communications data and creating a baseline for measurement.

Evaluating the state of the organization as a new internal communications hire.

Making more strategic decisions when crafting your internal communications strategy.
When gearing up to perform your internal communications audit, consider finding ways to hear from employees directly. For instance, focus groups can help you by getting a group of employees in the same room. You can study more than their responses. You also have the opportunity to look at their body language and better understand their thought processes.
Internal Communications Tools
With the rise of information technology, employees have more options than ever. It's vital for internal communicators to introduce innovative internal communications tools that strive to bolster employee engagement.
IC tools come in all shapes and sizes. A good way to sort internal communications tools is by the channels they optimize:
Email: The most well-established communication tool that provides the ideal space for tracking interactions between employees and content.
Intranet: This is a private hub for authorized users in a business with purpose around internal communication and collaboration.
Slack/other IM: An effective communication method that makes real-time updates easier.
Video: An engaging medium for distributing more detailed information.
Audio: Means of passively digesting important information without taking away time from the task at hand.
Forums: Safe space for managers and employees to openly discuss various topics.
Internal blogs: These are invisible to customers, and allow employees to share viewpoints and information quickly and informally.
With more remote workers than ever before, internal communicators need to create a multi-channel approach for engaging employees. Every employee consumes information differently, and finding the right communication balance for employees is one of the biggest challenges internal communicators face.
An all-in-one internal communications tool
Email remains the most popular internal communications channel and the key to engaging your employees. ContactMonkey is a comprehensive approach to email-based communications. With ContactMonkey you can create, send, and track stunning HTML emails within Outlook and Gmail. It's fast, easy to setup, and simple to use.
You need not be a professional graphic designer to send great-looking emails. Create beautiful, responsive HTML emails in minutes using a drag-and-drop email template builder like ContactMonkey: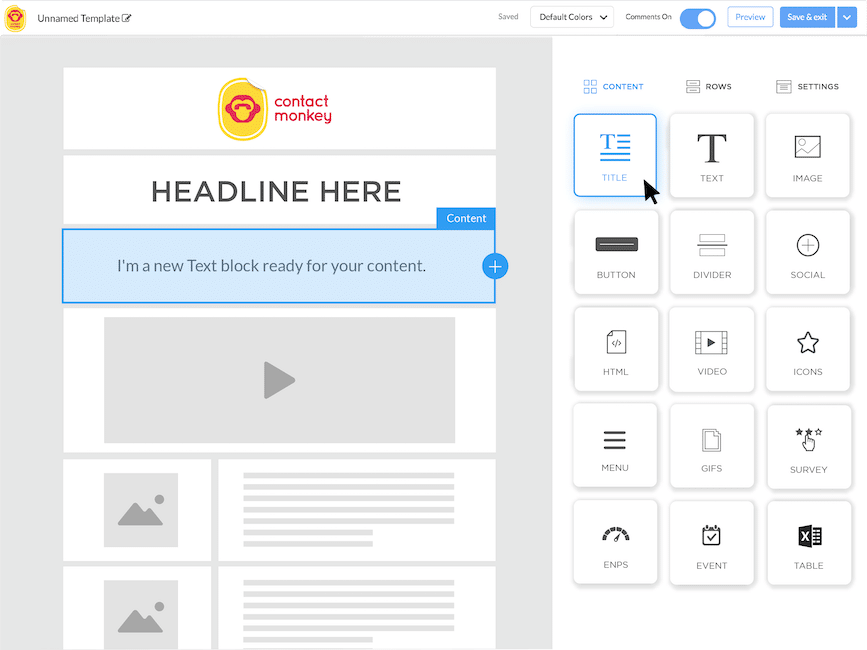 If you know that mobile devices are popular with your employees, make sure that the newsletters you send are mobile responsive! ContactMonkey's email templates work perfectly on all platforms and devices. You can even build your email in mobile view to see how it will look to your recipients: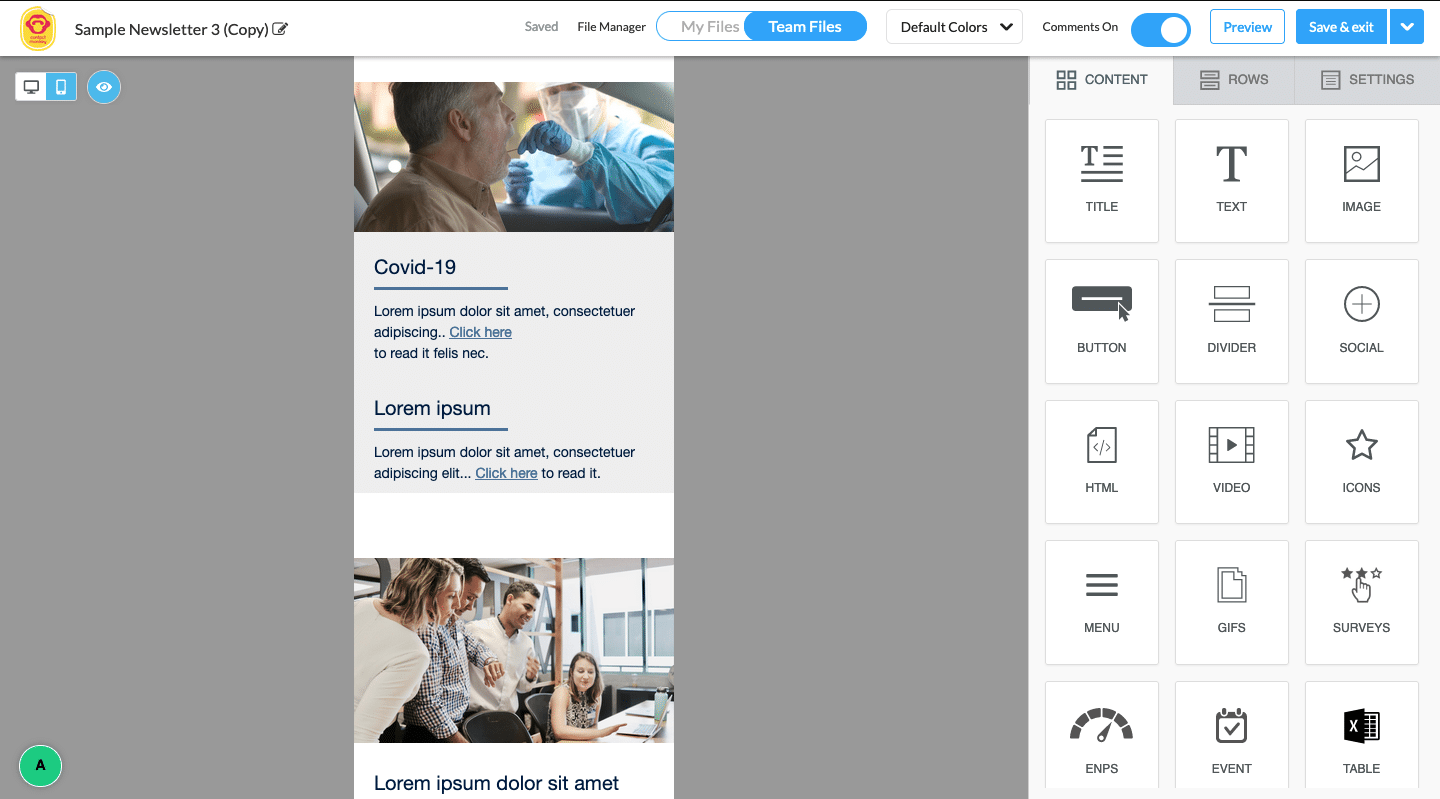 Once you're happy with your email design, you can import your HTML email template directly into your Outlook or Gmail inbox. Edit your emails settings like tracking preferences and schedule a send time: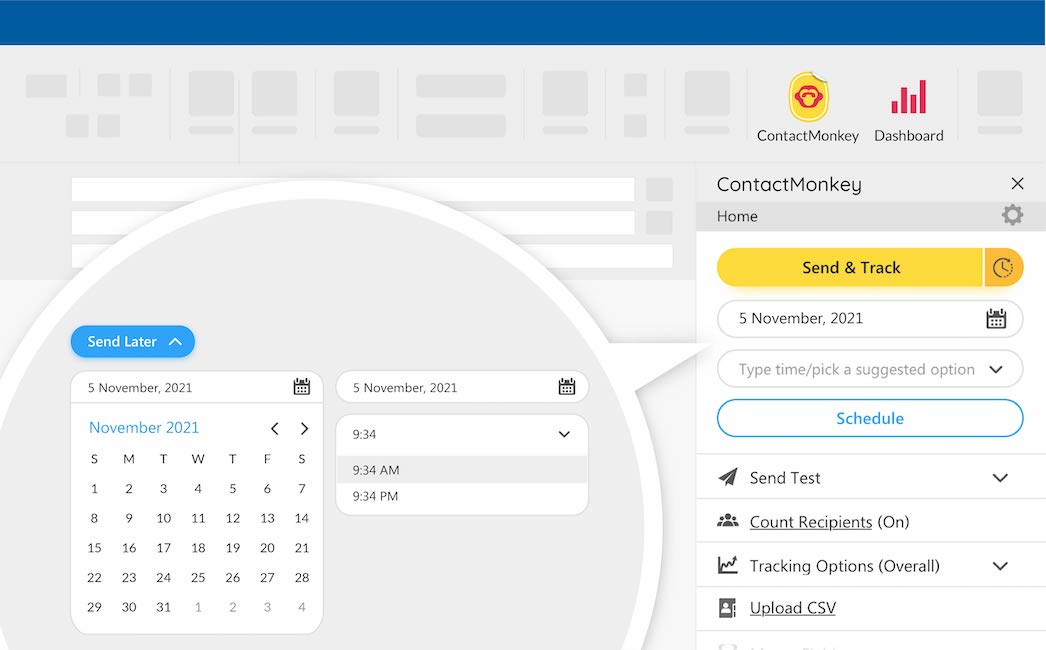 Scheduled email sending lets you send emails so they arrive in your employees' inboxes when they're most likely see it. How can you determine your employees' peak open times? Using ContactMonkey for measuring your emails can reveal a wealth of information about your employees so you can make your emails more effective.
Internal Communications Best Practices
Whether you're a seasoned pro or just a beginner in internal comms, it's vital to stay up-to-date on the latest internal communications best practices.
Here are just a few key best practices to keep in mind when rolling out your employee communications strategy:
Track your internal emails
Make your messaging personal
Show integrity in your communications
Prioritize effective communications before content
Listen to your employees and ensure two-way communication
Celebrate team successes and recognize employees
Check out our blog post on internal communication best practices for a full rundown.
How to Measure Internal Communications
Not only is tracking internal emails useful for engaging your employees, but when you measure your internal communications you can take that data and show it to the executive team. This double value of email tracking—gaining insights and proving value—is why an internal communication tool is so necessary.

Despite the value of email tracking, many internal communicators don't know how to start measuring their employee communications. Luckily, there are a few different approaches you can take to measure your internal communication efforts.
Employee engagement
Companies with strong employee experience are likely to attract and retain talented staff, all the while avoiding costs associated with a disengaged workforce.
Although there are dozens of different factors impacting engagement, strong internal communications can make or break your engagement campaign.
Looking for a holistic picture of your company's employee engagement? With the Employee Net Promoter Score (eNPS) you can find your most engaged employees, which is important for electing internal influencers and spokespeople.
On a scale of 1 – 10, an eNPS survey asks "How likely are you to recommend this organization as a place to work". Based on the ratings, your score equals the percent of your Promoters (scored 9-10) minus the percent of Detractors (scored 1-6). The best possible score one can score on eNPS is +100, with the worst being -100.
Most companies tend to start off with negative scores. However, a score greater than 50 shows that you are doing well! You can see how your employees responded to your eNPS survey within ContactMonkey's email analytics dashboard: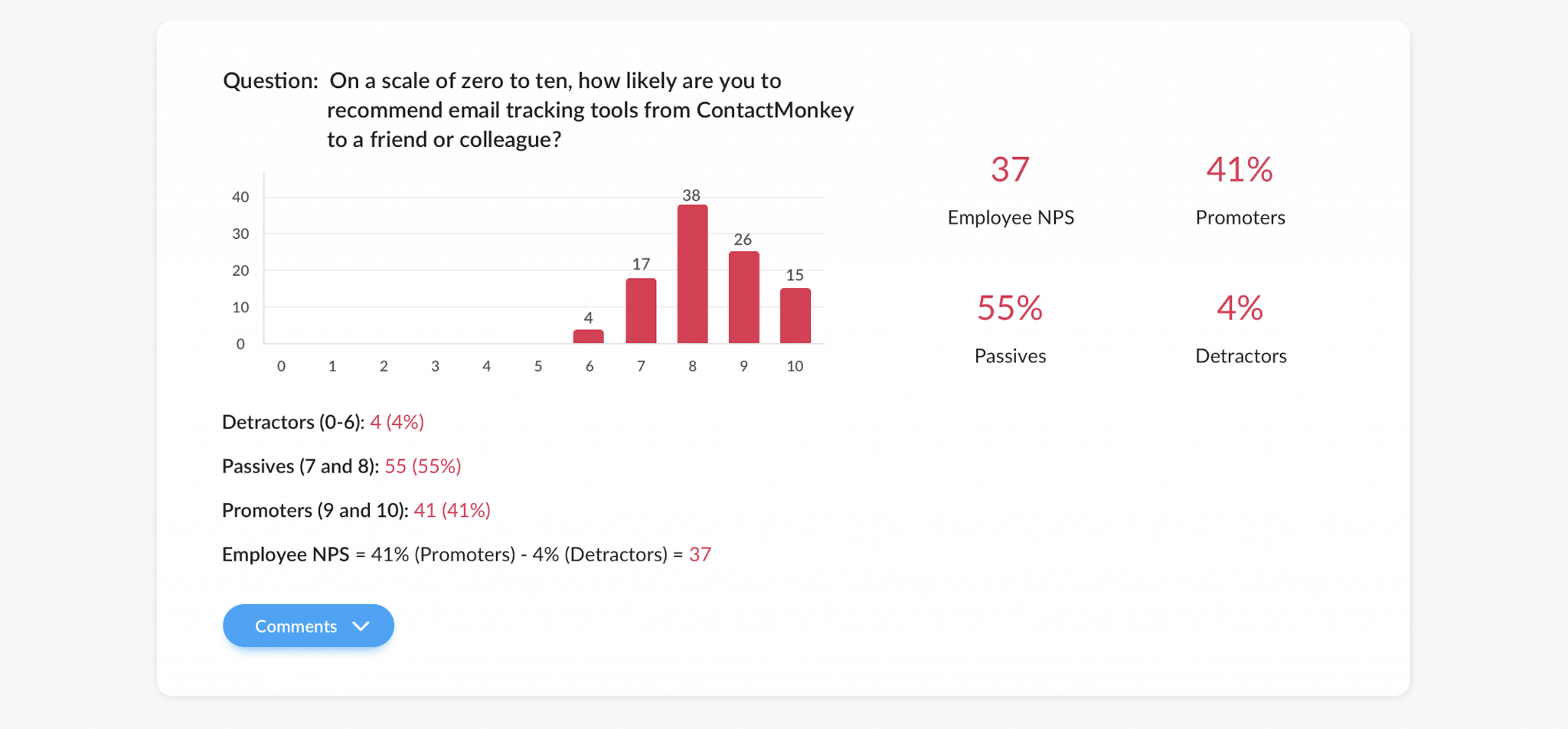 Based on this standard scoring system, you can track the effectiveness of your communications with real employee engagement rates, and demonstrate the employee engagement ROI as you improve.
Email open and click-through rates
Internal communicators are tasked with a huge responsibility – getting important company information out to every employee.
You spend hours crafting the perfect email and use the best platform to reach out to everyone. But do you know if the emails are actually being opened and read?
With ContactMonkey, you can set email tracking on your employee emails. This way, you can collect open rate, click-through rate, opens by device and location, and more: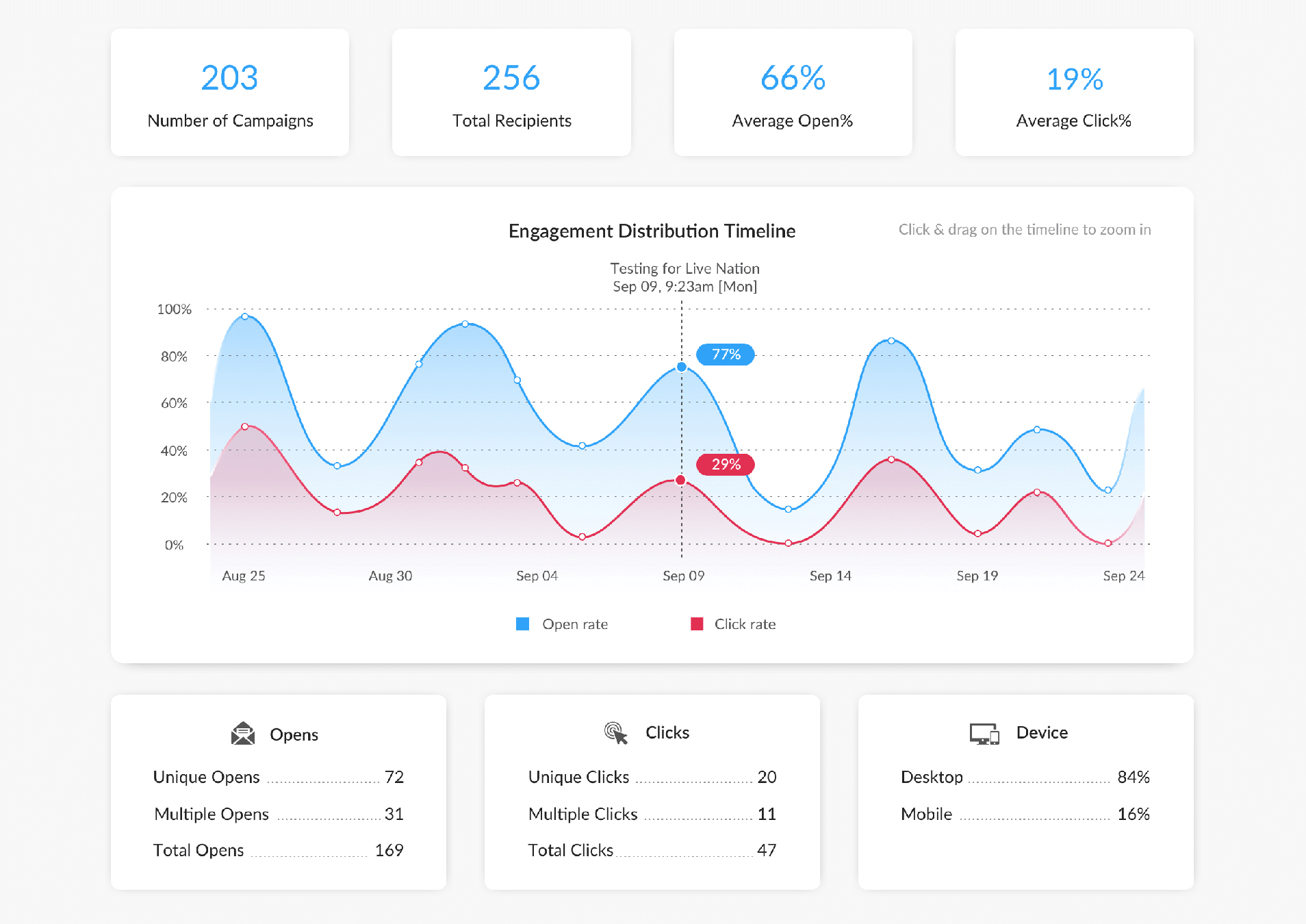 One of the biggest challenges for a communicator is to measure their reach. They're often left wondering if their strategy is actually making a difference because they can't track metrics such as open and click-through rates.
By using digital tools for communication, you're able to monitor data such as email open or click-through rates. This way, you can use the information to assess overall reach.
Turnover rate
Employees leave their jobs because their relationship with their boss or immediate supervisor is lacking.
Employees crave a good relationship with their boss and that has a huge impact on employee engagement and voluntary turnover. And turnover can cost businesses between 50-200% of the leaving employee's annual salary, depending on their seniority.
As an internal communicator, your job is to facilitate communications from the top down. Your internal communications strategy should make employees feel valued, informed, and well connected with leadership and managers. This can ultimately help reduce turnover.
Make sure you are tracking turnover and integrating it with your overall communication efforts. You can also review feedback from past employees on sites such as Glassdoor to gauge what employees think about the company.
It's also a great way to address areas for improvement that can be communicated through internal communications. If you can prove your efforts are helping reduce turnover, you're proving that your communications have a demonstrable ROI attached.
No matter which metrics are most important to your business, always ensure that your tools are helping you collect measurable feedback on your internal communications.
How to Create a Diversity and Inclusion Communication Plan
We live in a world where your average office is a melting pot of people from different cultures and backgrounds. Not only are we experiencing a greater diversity of ethnic backgrounds, but a growing number of organizations are also seeing more women in the workplace rising to positions of authority.
In spite of the diversity present in the workforce, it can be challenging to incorporate diversity and inclusion into an existing internal communication strategy.
In order to create a robust diversity and inclusion strategy, it's important to start from the ground up.
Laying the groundwork for your diversity and inclusion strategy
As with everything internal communications professionals have to do, it's important to get executive buy-in for a diversity and inclusion strategy. Once you show management the benefits and importance of having a more inclusive workforce, you will be better equipped to enact a diversity and inclusion plan.
As studies from McKinsey have shown, diversity in the workforce leads to greater profitability. At its surface, having people with different perspectives on a project creates added value when compared to homogenous teams. The same holds true at the executive level, as McKinsey found a statistically significant correlation between diverse leadership and better financial performance.
Set realistic goals
Once you begin a diversity and inclusion strategy, it's important to set clear employee engagement goals and objectives to benchmark the improvement of your internal communications.
Here are some examples of some diversity goals from our friends at Lever.Co:
Percentage of employees to submit responses in an initial benchmark survey

Number of internal events/training with a target number of attendees

Amount of diverse candidates in your pipeline, or interviewed for a role

Number of

blog posts

about your culture written by current employees

Quantity of job descriptions overhauled to include

inclusive language
Take action
Your initiative will lose all credibility if you do not take actions to back up fluffy pro-diversity statements. It's important for communicators to keep their workplace informed of all the actions they have already taken or going to take in the near future.
A good way to do this is to use internal communications software to send and track a diversity & inclusion newsletter with news about new initiatives and milestones.
Enact a multi-channel diversity and inclusion communication plan
Social media and digital tools play a role in everyone's daily routine. Communicators should use tools such as internal newsletters, pulse surveys, intranets, social apps, and internal blogs to communicate the Diversity & Inclusion initiatives with all employees.
A diverse workplace can be challenging to reach. Internal communicators should try to adopt a multi-channel approach to better engage with all of their employees.
Internal Communications Email Templates
Responsive email templates take the hassle out of HTML email design. They allow you to create professional and dynamic content while ensuring that your messages always display properly, no matter on which device you reach your employees. You'll save tons of time by no longer needing to troubleshoot your email.
The best part: there are tons of free responsive HTML templates out there. Here are just some of our favourites:
Check out our full breakdown of the best free responsive email templates for more details.
How to Create an Internal Communications Content Calendar
A content calendar allows you to prepare what sort of messaging you're going to send out months in advance.
The benefit: you can avoid any last-minute scrambling and never forget important recurring communications such as performance review reminders or holiday party invites.
If you're using an email analytics tool alongside your content calendar, you get dual advantages.
Schedule your communications to match the times and days of the week when employees tend to open your emails the most. This increases overall open rates on your emails and ensures that vital communications always reach employees.
For a full list of tips and templates for scheduling your IC content, check out our blog post on how to create an internal communications content calendar.
Best Internal Communications Podcasts
Podcasts are a great way to catch up on the latest IC trends and get real-world tips from industry experts. The best part: most podcasts are free and allow you to learn on-the-go.
Here are just a few of our favourite IC podcasts:
Internal Comms Procast
The Internal Communication Podcast
The Circle of Fellows – An Internal Communication Podcast
Redesigning Wellness Podcast
HR Works Podcast
Marketing School
Read our blog on the best internal communication podcasts for a full list of amazing IC content creators.
Looking for more industry insights? Attend one of the dozens of virtual internal communications conferences happening this year!
Future of Work: Where are Internal Communicators Heading?
With the introduction of new technological tools and the growing importance of measuring an organization's internal communications, internal communications professionals are starting to see their roles increase in importance.
Staying on top of trends and best practices by tuning in to industry leaders is one way to keep up with change. You can check out some of our favourite internal communications blogs and internal communications books to help you find valuable resources.
But most importantly, the future of internal comms is all about adopting the right tools and technologies to help you create value in your workplace. Even if you work with a mixed workforce, chances are the majority of your employees use email as their primary communication channel. Using an all-in-one internal communications email management software like ContactMonkey makes your internal email process easier, faster, and better.
Looking for an internal communications tool to improve productivity and boost employee engagement? With ContactMonkey, you can create, send, and track beautiful HTML emails right from your Outlook or Gmail inbox. Learn more by booking a free demo with one of our friendly experts.