When it comes to external communication, segmenting audiences, and creating tailored content is the norm. So why should it be any different with internal communications? By recognizing different types of internal communication, you can create employee messages that drive engagement.
We tend to consider internal communication as a catch-all phrase for all the information exchanged in the workplace. But seeing things this way may do a disservice to your internal communications strategy.
In reality, there are many different types of internal communications.
When we identify the type of internal communication we're dealing with, we can develop more tailored content, establish the right tone, and use optimal visuals and graphics.
The result: greater and more meaningful engagement with your employee messages. Read on to learn more about each type of internal communication.
Try a modern internal communications tool.
Start a 14-day trial. No credit card is necessary. Zero risk.
What is Internal Communication?
Internal communication is the process of conveying key company updates, news, and resources to employees while encouraging them to share in return.
From change management communications to crisis communications, there are many different types of internal communications.
Each type serves a slightly different purpose and has a different set of employee engagement goals.
Nonetheless, what all of your internal communications should share in common is a mission to connect workers with your company's vision and values.
ContactMonkey helps streamline internal communications by allowing you to create, send, and track internal emails and events from a single platform.
Why is Internal Communication Important?
Internal communication is at the heart of employee engagement. Effective communications keep employees continuously in the loop about what's happening in the company, give them access to key resources to do their work, and alert them to issues when they arise.
Since employee engagement is the driving force of a company's wellbeing, internal communications play a huge role in business success. Not to mention, when it comes to university email marketing, effective internal communications keep faculty and staff aligned on key deadlines, events, and crises.
Some core functions of internal business communication include:
Making employees aware about key updates such as management changes

Facilitating team-building across the workplace

Fostering stronger relationships between employees and leadership

Boosting staff morale and employee engagement

Allowing managers to send effective leadership communications

Taking stock of employee opinions and making staff feel heard and valued
15 Types of Internal Communication
We've compiled a list of different kinds of internal communication examples most commonly used across today's organizations:
Leadership communication

Peer-to-peer communication

Change management communication

Culture communication

Bottom-up conversations

New hire communication

Company updates

Campaign communication

Employee recognition communication

Crisis communication

Health and safety communication

Holiday communication

Diversity and inclusion communication

Event management communication

Wellness communication
Do you recognize any of the communication types you use in your business?
If so, take stock of the best practices for internal communications and make sure you're using the proper channels for your messaging.
1. Leadership Communication
Companies with strong leadership are more resilient to adversity and have stronger organizational culture. Effective leadership communication means strategically planning and delivering messages that inspire, guide, and engage employees.
This is especially vital at a time when remote and hybrid work are the norm and there are new communications challenges facing dispersed employees.
Leadership communications should incorporate:
Townhall announcements

Employee newsletters sent on behalf of leadership

Progress reports

KPI overviews

Company-wide message over intranet
No matter your company size, scope, or the communications channels your leaders like to use, there are some best practices that should always be kept in mind:
Communicating with honesty and authenticity

Implementing transparency

Having a leadership communications plan prepared in advance

Aligning employees with strategic goals

Showing empathy

Promoting dialogue and avoiding monologue by adding surveys to communications

Creating more tailored and personalized content using merge mail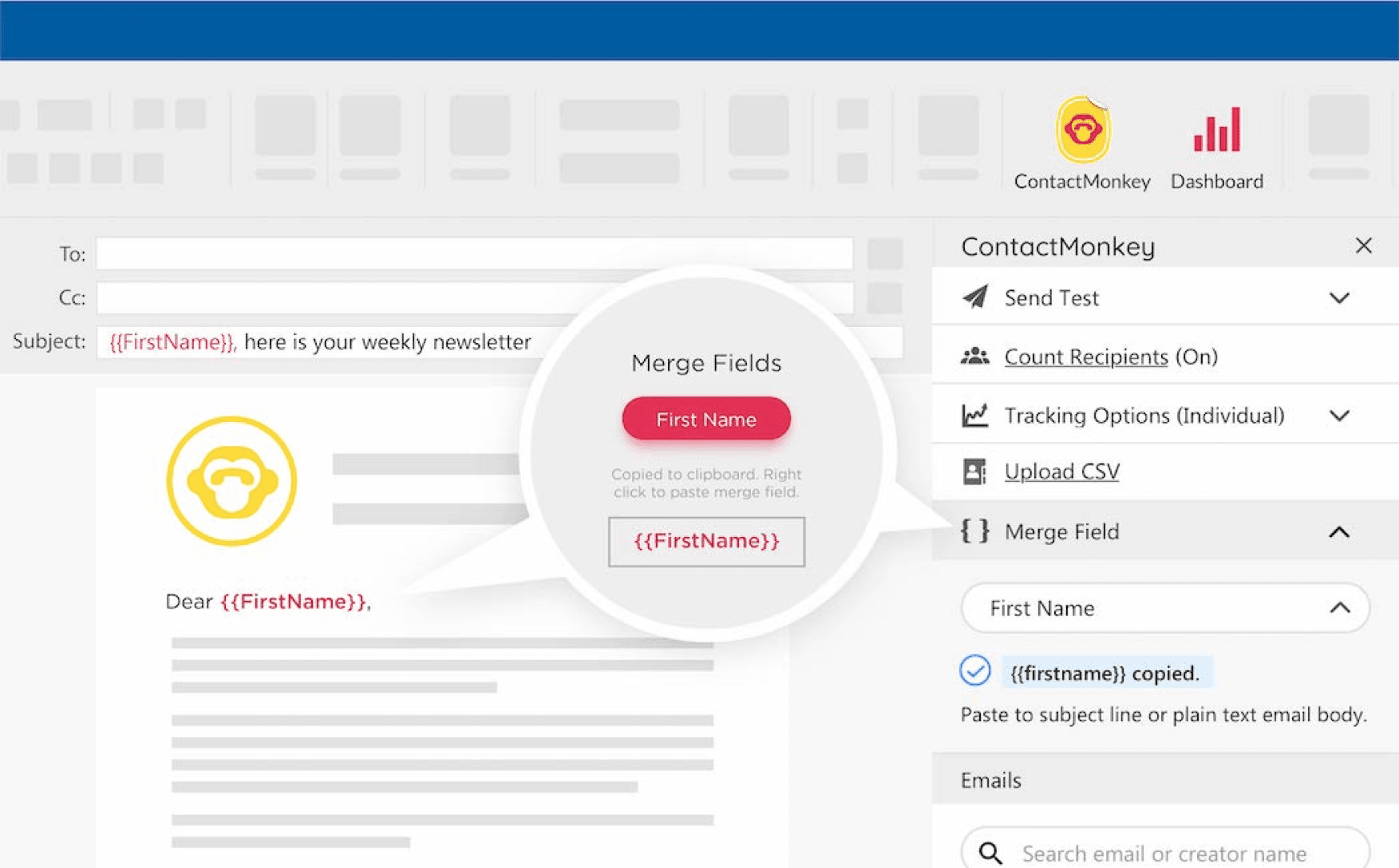 2. Peer-to-peer communication
In the past, employees may have bonded naturally while bumping into each other across the office. But things are different post-lockdown.
Your peer-to-peer communications are vital for maintaining comradery and collaboration between employees who may not see each other face-to-face.
These types of internal communication, also known as 'lateral communication,' need to be facilitated by both your internal communications team and leadership staff. The best channels for fostering peer-to-peer communication include:
Staff social media spaces and slack

Virtual town halls

Interactive employee newsletters

Virtual weekly standup meetings
Some ways to go about encouraging peer-to peer communication include:
Promoting the use of individual team slack groups

Using feedback and comment features in your

email newsletters

Sending out employee recognition emails with feedback options that let staff congratulate each other

Encouraging colleague 'shout outs' during your

virtual town halls

where employees thank particular coworkers
3. Change management communication
When your company is undergoing a big transformation—whether it's adopting new software or going through a decisive merger—effective communication is critical.
Your change management communications are designed to capture staff concerns and suggestions and address them in a timely manner.
Communicating change effectively demands meticulous planning and a good grasp on employee needs. That's why continuous dialogue is a key component of this type of communication.
The communication channels you pick to distribute your change management communications are vital. Here are some outlets to consider:
Employee newsletters with feedback features

Face-to-face virtual meetings with Q&A sessions

Your virtual town hall
Remember, company changes may not affect your employees equally. Consider tailoring any change management communication to distinct teams and staff groups. With ContactMonkey, you can send customized employee emails to different distribution lists right from your Outlook or Gmail.
Other best practices for change management communications include:
Proper planning and scheduling

—

don't catch employees off guard

Empathize with employees

—

don't simply tell them the facts

Give tips on how to navigate change

Continuously ask for employee feedback using

change management pulse surveys

Most importantly: follow through on staff feedback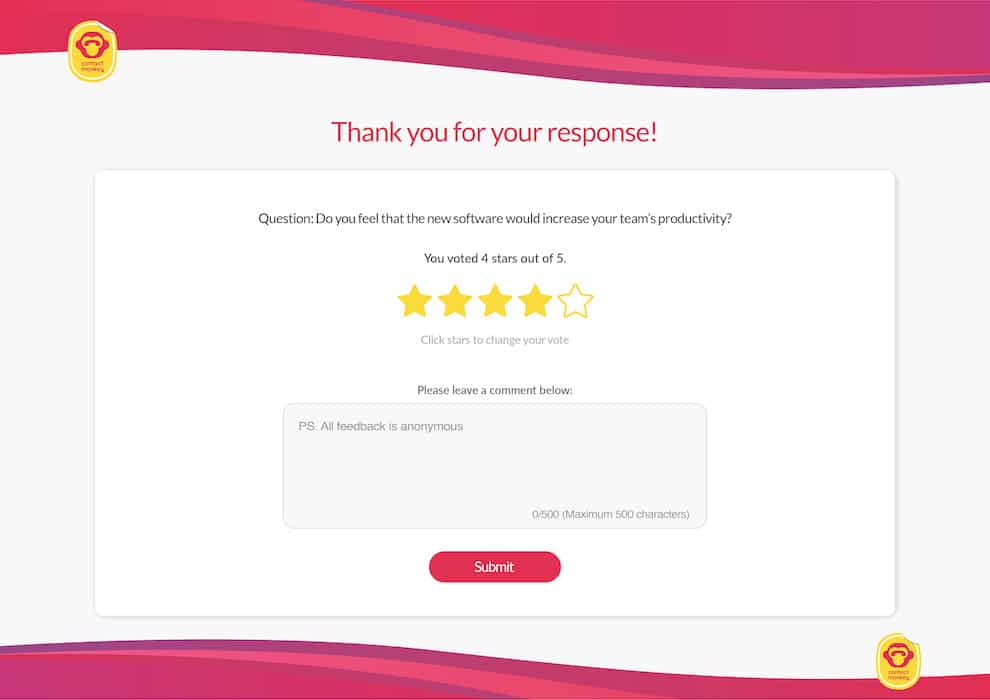 4. Culture communication
Company culture is often hard to pinpoint but it's an immensely influential part of your organization. Strong company culture is tied to employee retention and talent attraction as well as higher company profitability plus customer loyalty down the road.
So what is organizational culture exactly?
Look at it as the collection of shared values, habits, and beliefs held by employees in your company. When these are aligned, your employees are better at collaborating and become purpose-driven.
Where should you showcase your culture communication?
How can you communicate your company culture?
Ensure your internal messaging has a distinct tone, design, and graphics that reflect your company identity

Ensure that onboarding communications clearly explain your company mission and principles

Create

brand guidelines

so everyone in your organization knows how to communicate your unique company culture

Celebrate team wins and employee accomplishments across your internal comms
With ContactMonkey's email template builder, you can set default brand guidelines so that anyone delivering internal communications across your company always conveys your company culture and brand identity.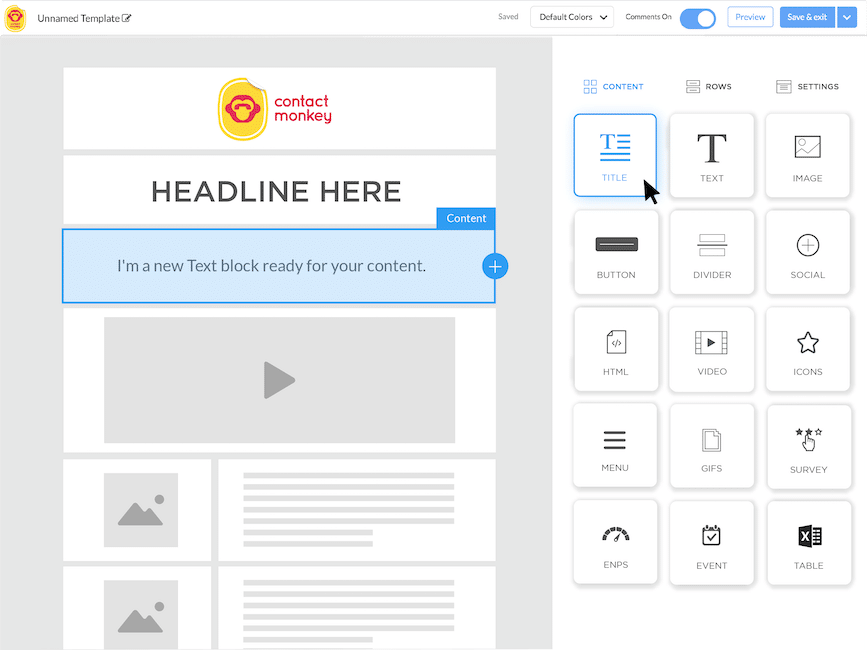 Not sure how to start your culture communication email? With ContactMonkey's OpenAI ChatGPT integration, you can simply provide a prompt describing the kind of email you'd like to send. Our AI integration will generate text for you to edit and use within your culture email.
5. Bottom-up conversations
The flow of information across your company shouldn't simply be top-down. As employees become engaged in the workplace, they'll increasingly want to offer suggestions and initiate conversations with management.
It's the job of internal communicators to help employees have access to the necessary tools, support, and opportunities to have their input heard.
Effective sources of bottom-up communication include:
Discussion forums such as slack channels and Microsoft Teams groups

Staff blogs and social media tools

Suggestion boxes and pulse surveys

Virtual focus groups
Best practices for bottom-up conversations should incorporate:
Adding feedback options to all your internal communications

Making e

mployee feedbac

k quick, simple, and streamlined using embedded pulse surveys

Offering options for anonymous comments

Creating sessions for employee questions during your town halls and standups

Conducting staff polls and surveys in your employee newsletter
6. New hire communication
First impressions count. The communications you send to your new hire will set the tone for your relationship going forward.
When your new employee joins the team, it's vital to make sure they feel welcomed and have all the resources necessary to do their job well.
But constantly conducting surveys and asking new employees how they're doing can make them feel overwhelmed. For successful employee onboarding communications, you have to find a balance.
Here are some channels to prioritize when delivering your onboarding communications:
Personalized employee onboarding newsletters

One-on-one biweekly meetings

Employee pulse surveys
Some best practices for onboarding communications to remember:
Keep it short, simple, and sweet

Add the onboarding agenda and attach smart links to key onboarding documents directly into your new hire email

Incorporate a short pulse survey (one question) into each onboarding email, and ask new hires to rate their onboarding experience using

emojis or star ratings
Use ContactMonkey's Employee Onboarding template to welcome new employees. You can even personalize each email using mail merge tags directly from outlook and gmail.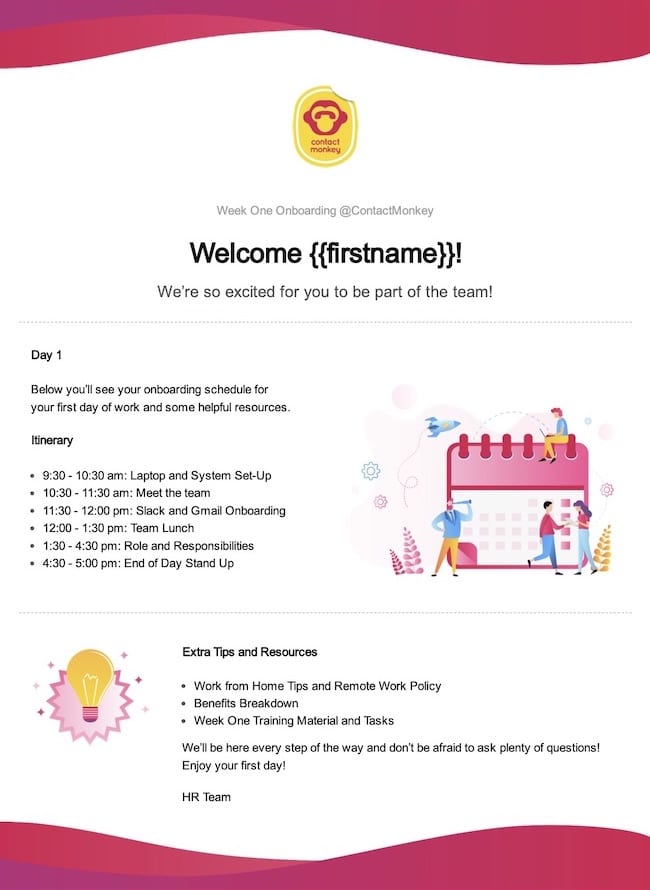 7. Company updates
Transparency is an essential part of effective internal communication. When employees feel informed and engaged with company updates and insights, they can do their job with confidence.
Organizations that withhold vital information are hurting themselves even more than their employees because staff who don't have the facts aren't able to convey confidence or trust to customers.
Employees need to have access to key company updates around the clock. We recommend utilizing:
Employee newsletters with scheduling features so you can prepare content in advance

Set up weekly one-on-one virtual meetings where each employee can ask questions individually

Use

anonymous feedback

and question tools so employees can voice concerns or ask questions they may feel embarrassed discussing publicly
Best practices for more transparent internal communication include:
Make sure updates are timely so employees don't feel like they're the last to know about important news

Pre-scheduling updates that you foresee coming in over the weekend

Adding pulse surveys to all of your communications so employees can ask questions
With an email scheduling system like ContactMonkey, you can prepare and schedule your communications in advance. This way, you'll ensure that employees receive key internal communications even when your internal communications team is away from the office.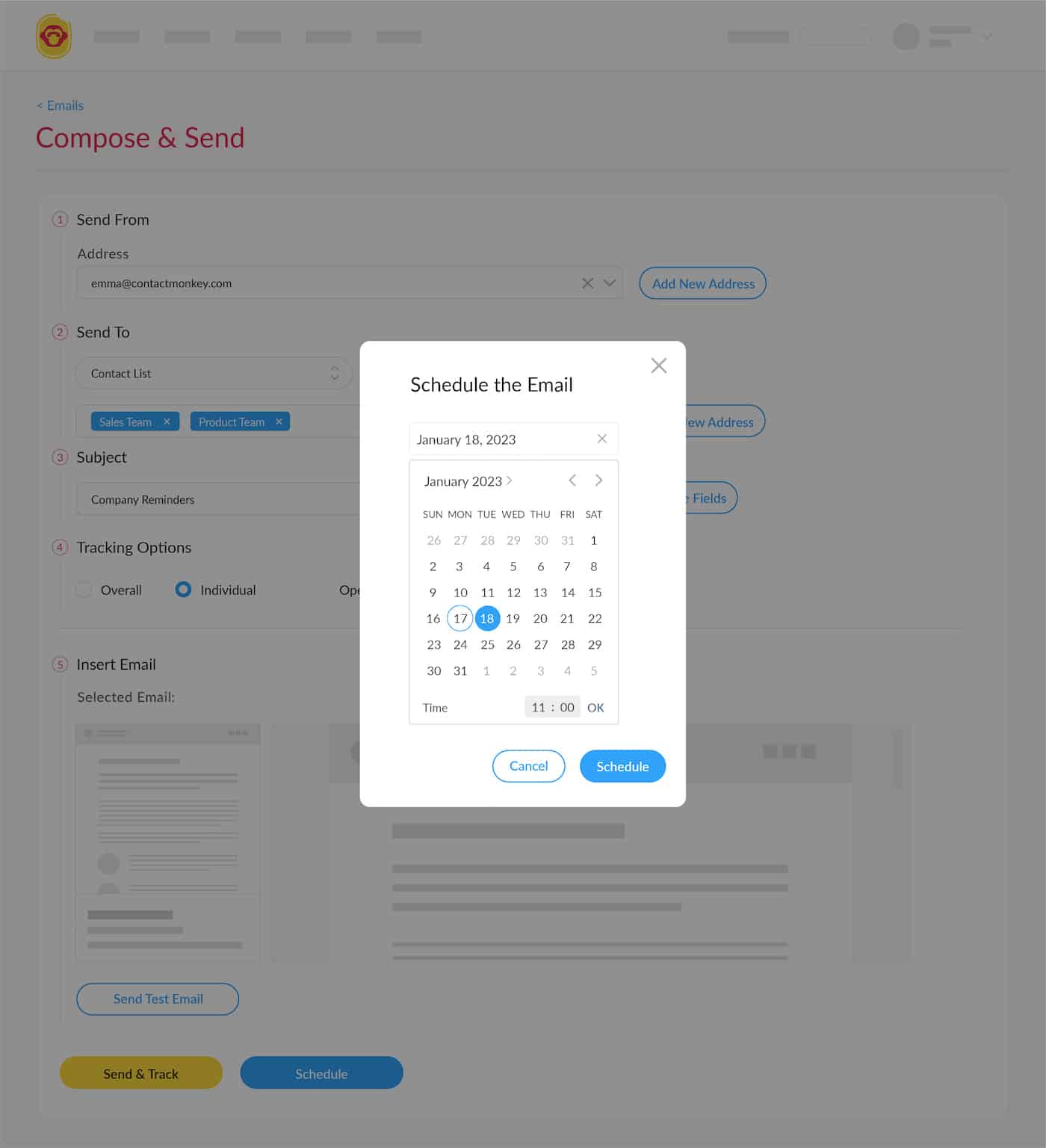 8. Campaign communication
Campaign communication is when your internal messaging revolves around a specific outcome you're trying to achieve. Think of it as a CTA (call to action) but for your employees.
Say you want more engagement between employees. A solid employee newsletter idea is to spotlight a new slack group or social committee they should join.
Campaign communications also entail multiple messages about a given topic. So there's more guarantee that an important message reaches all your coworkers at some point in time.
When it comes to campaign communication, you should be exhausting most of your internal comms channels, including:
Internal emails

Slack and other team messaging groups

Your intranet

Virtual meetings and events
Campaign communications are geared towards a specific goal. When implementing best practices for your campaign communications, remember the following
Use bold visuals and graphics to make your campaign stand out

.

Use a newsletter tool that enables smart links so employees can easily navigate to your campaign directly from their emai

l.

Align your campaign design—e.g., slogans and graphics—across all of your communication channels so the campaign is easily recognizable

.
Embed videos in your internal communications to add detail while avoiding chunks of text.
If certain campaign communications are only relevant for certain portions of your workforce, consider using custom email lists to reduce the number of unnecessary emails you send. Using ContactMonkey's List Management feature, you can create custom email lists—without IT—that integrate with your Human Resource Information System (HRIS) like Workday and ADP, as well as Azure Active Directory, so they'll update automatically.
9. Employee recognition communication
If you want to ensure that employees continue putting their best foot forward, you need to amp up your employee recognition communications.
Employee recognition can be delivered individually by management, or conveyed by an entire team. A bit of both will have the biggest impact.
Your employee newsletter should be at the centre of your appreciation efforts. It gives you space to create features spotlighting employee accomplishments to the entire team and making them feel proud of their work.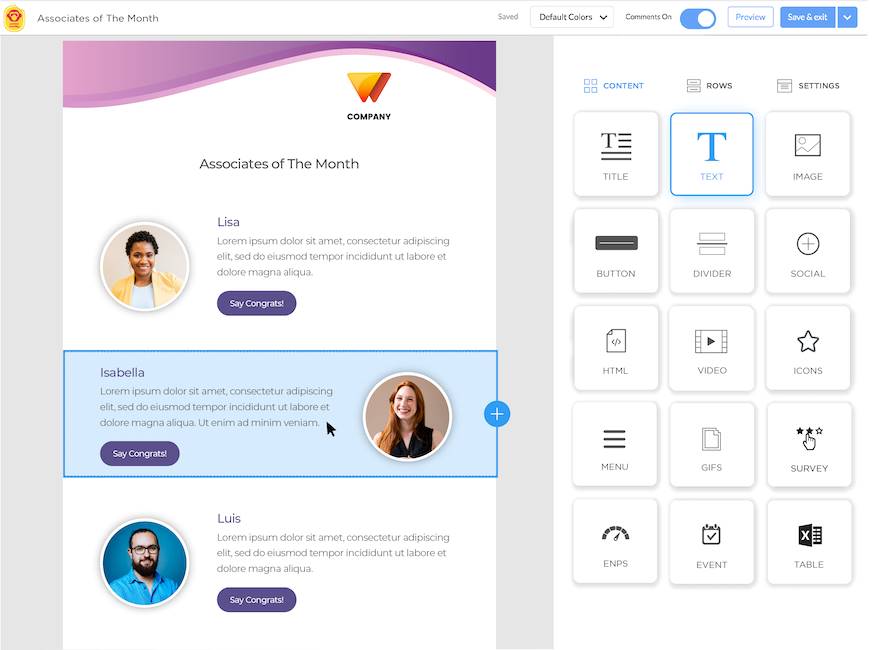 Other ways to showcase employee recognition include:
Digital thank you notes

—

personalized emails to employees expressing gratitude for specific accomplishments

A virtual town hall segment dedicated to leaders recognizing standout employees

An employee appreciation video embedded into your internal newsletter
Best practices for employee recognition communication include:
Being detail-oriented and specific when it comes to praise

—let employees know exactly what they did well to help steer them forward in the right direction

Personalize your messages and avoid using generic statements or omitting the employee's name

Incorporate virtual gift cards or prizes into your employee appreciation communications for an added touch
10. Crisis communication
We all hope that crises can be averted, But as the COVID-19 pandemic has taught us, it's important to be prepared when emergencies strike.
A crisis communications strategy will ensure that your internal communications team is quick on their feet in an emergency.
Depending on the scenario, the effectiveness of these types of internal communication can help keep staff safe, avoid employee resignations, and help keep your brand reputation strong.
Your channels for distributing crisis communication should be large-scale broadcast tools that can reach all departments and company locations. You should also exhaust multiple channels, including:
Pre-planned and easily accessible crisis handbook or guide for health and safety-related emergencies

External and internal social media channels such as Twitter and any staff blogs or forums

Company newsletter designated for crisis discussion and feedback

Pulse surveys and anonymous comments in employee emails so they can express individual concerns

Company intranet
Best practices to remember for your crisis communication include:
Having a designated plan for different emergency scenarios such as, safety, financial, or reputational crises.

Pre-drafting email templates for different crisis communications.

Tracking and measuring email opens and clicks on your crisis comms to ensure they reached as many people as possible.

11. Health and safety communication
We already know that employee health and safety needs to be a priority in your organization. In addition to the physical harm that can come to your employees, failing to adhere to proper safety protocols in your workplace can also lead to legal issues and reputational damage for your company.
Communicating safety standards needs to happen from your employee's first day on the job. And they need to be easily accessible throughout the duration of your staff's employment.
Bypass email-sending limits of Outlook and Gmail.
Send all of your internal emails within ContactMonkey.
Channels for communicating health and safety include:
Your onboarding communications

Health and safety policy employee handbook promoted and attached via employee newsletters

Safety training videos on your company's YouTube or embedded in internal emails
Best practices for health and safety communication should involve:
Making sure all the communications that fall into this category are easily available via company intranet or in a company google drive file

Holding mandatory meetings dedicated to health and safety discussions (e.g., Toolbox Talks)

Don't just say what—say why. Knowing the purpose and value behind health and safety protocols will increase the chances that your employees adhere

to them

Tracking and monitoring how many people opened and clicked on health and safety emails
12. Diversity and inclusion communication
Seeing the modern workplace experience a greater diversity of ethnic backgrounds, genders, and sexual orientations is a testament to the advocacy efforts of multiple generations.
However, diversity doesn't always equal inclusion. For true workplace diversity to happen, the two phenomena have to function together.
People of diverse backgrounds need to be able to have a voice in the workplace. They need to have opportunities to reach senior level roles and have a say in decision-making within the company. This is where diversity and inclusion (D&I) communication comes in.
Some channels to leverage for these types of internal communication include:
Newsletters promoting D&I initiatives and mentorship groups

Internal email dedicated to outlining your diversity and inclusion policies

Diversity and inclusion pulse surveys

Meetings designated for D&I training
Best practices for D&I communication include:
Being transparent about your workplace D&I efforts

—where you may be lacking and what steps the company will take to promote greater diversity and inclusion

Having leadership speak about your D&I efforts to show the example being set

Continuously asking for employee feedback on your diversity and inclusion efforts and measure your progress over time
13. Holiday communication
Engaging holiday communication can promote employee engagement and virtual team building. But first, you have to plan out unique and inclusive virtual engagement activities for the holidays.
For virtual holiday events, some ideas to consider include trivia night, virtual charades, wine n' dine sessions, and more.
Consider sending out an employee survey to get staff voting on their preferred holiday activities and give suggestions and recommendations.
Once you have a list of ideas, focus these types of internal communication on creating anticipation around the holiday activities. Channels to utilize include:
Holiday-themed employee newsletters

A holiday video featuring a thoughtful message from your leadership team

Holiday segment in your virtual town hall
Best practices to incorporate into your holiday communications include:
Personalization, addressing each employee by their first name within the subject line and body of the email. You can easily personalize emails using

ContactMonkey

's merge tags

Sending out holiday care packages and gift-sets to employees along with your virtual Christmas cards

Tracking and measuring event registrations to improve your internal communications in the long run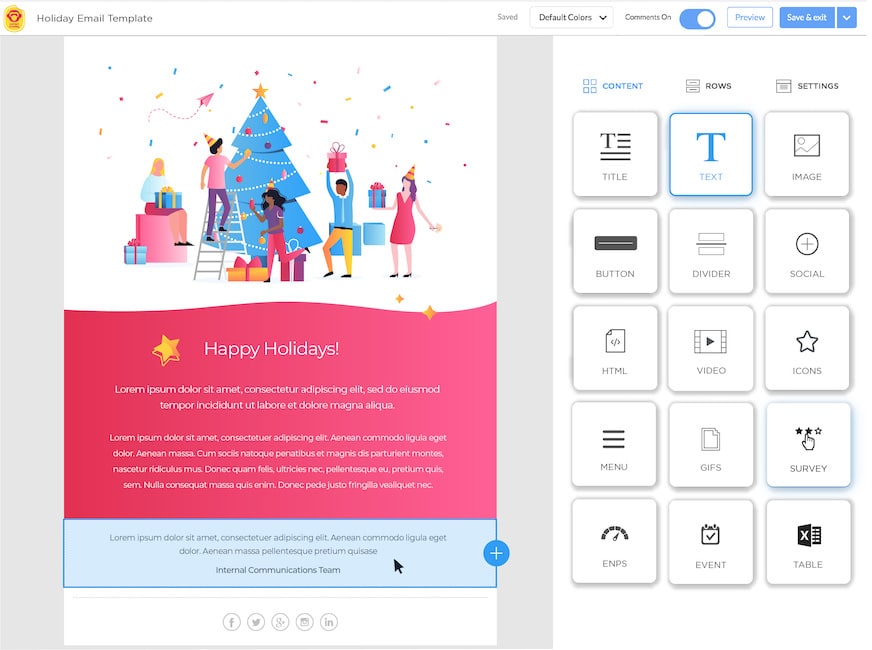 14. Event management communication
Event management communication is all about how you communicate key company events (before and after they happen) and motivate employees to attend.
Whether it's your holiday party, a company town hall, or diversity and inclusion training, employees need to know the when, where, and why of your event.
If you want employees to attend, start by emphasizing the value of an event within your internal communications. Say it's a training session—what will they learn? If it's a holiday party—what sort of engaging activities will compel employees to attend a non-mandatory event?
Make sure to leverage:
Best practices for event management communication include:
Streamlining event management with the rest of your internal communications so employees can find event information in one place.

Incorporating fun visuals and graphics such as interactive media, memes, and videos.

Start sending out event management communications well in advance (one month to three weeks) in order to build anticipation and awareness around an event.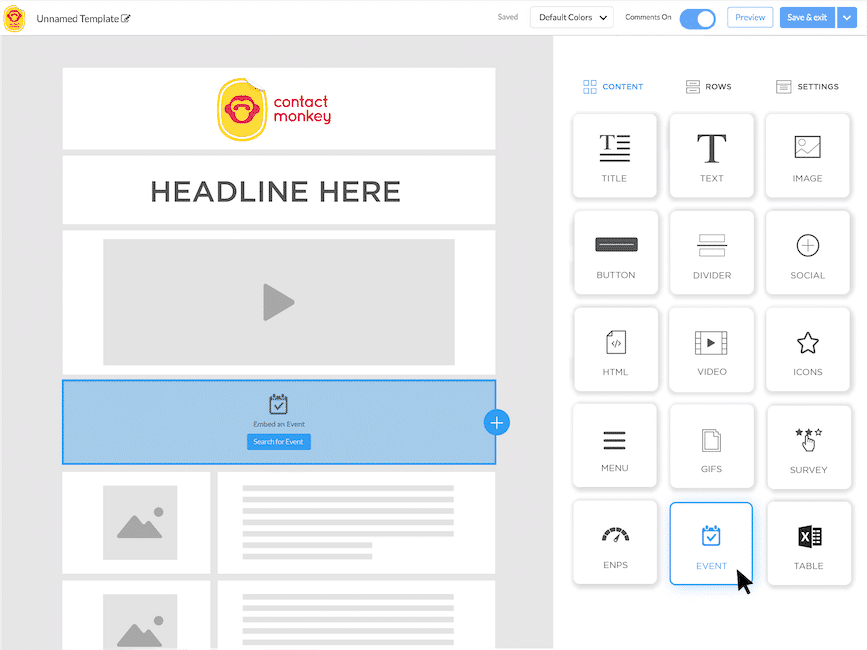 15. Employee wellness communication
Businesses that offer health and wellness programs for employees are proven to experience greater employee satisfaction and engagement.
The first step is to normalize conversations about mental health and wellness at your company.
Try adding mental health and wellness tips as part of a regular segment in your employee newsletter. Or, send links to available resources within your weekly communications.
Equally important is to simply check in with employees and see how they're feeling—especially if there's an especially large product that month or a generally busy season for your company.
For your employee wellness communication, it's important to rely on channels like:
Employee newsletters

Pulse surveys on employee wellness

Virtual focus groups on employee health and wellness
Best practices for your wellness communication include:
Creating easily discernible headlines and CTAs for links to important wellness resources so employees are not scanning your whole document to find what they need

Using empathetic language and anecdotes so employees don't feel guilty for feeling burnt out or stressed

Asking for employee feedback and suggestions on the health and wellness initiatives they're looking to see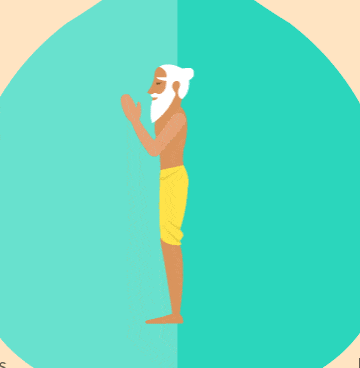 Create Tailored Content For All Types of Internal Communication With ContactMonkey
Now that we've explored the different types of internal business communication, it will be easier to implement the designated best practices for each kind and take advantage of the right channels.
But what each of the types of internal communication we've covered have in common is the need to plan ahead and synchronize your internal communications across different channels. Combined with internal email benchmarks, you can hone your internal communications to maximize engagement and be an industry leader.
Learn how to use an internal communications software scheduling to improve your internal emails and boost email engagement. Book a free demo to see how ContactMonkey can elevate your internal communications: