During COVID-19, the virtual town hall has become an essential part of keeping staff connected and informed. But there's a learning curve to these digital events.
A company town hall is the best channel for strengthening workplace relationships and keeping staff informed on key company news. But with more employees working remotely, a new virtual town hall has taken centre stage. And it has some important challenges to tackle.
For a successful virtual town hall, organizers have to ensure employee engagement and fend off Zoom fatigue. And if you've ever found yourself face to face with rows of muted mics and darkened screens, you know how much of a challenge that can be. In this guide, we'll show you how to sidestep the hurdles of the virtual town hall and the internal communications tools that can help.
What is a Virtual Town Hall?
A virtual town hall meeting is a live stream event where company leaders provide employees with key updates. It's a time to review company-wide performance metrics and check progress on key goals.
At the same time, a virtual town hall is also an opportunity to build a sense of community among colleagues. Departments that may not interact in their day-to-day roles, have a chance to engage with one another and learn what the other is doing.
By helping to get the whole organization on the same page, virtual town halls build confidence in the company. They can also be powerful tools for improving employee engagement—if done right.
What are The Benefits of Conducting a Virtual Town Hall?
The main goal behind a virtual town hall is to keep employees in-the-know about key company news and align organizational priorities. And yes, they're great for this job. But beyond keeping your teams aligned, virtual town halls have countless hidden benefits:
Promoting company values:

town halls are a great opportunity to speak to your organization's mission and values. These are reflected in the tone you set for the meeting, the topics you choose to discuss, and how you include others in the conversation.

Strengthening company culture:

town halls are a great chance for team leaders to foster a sense of community by promoting shared values and dialogue between all levels of your organization.

Making employees feel valued and heard:

if done right, town halls foster an inclusive environment where employees are welcomed to provide suggestions or voice concerns.

Increasing employee engagement: your town hall is a chance to feature inspiring speakers and promote a compelling vision that gets employees motivated and engaged. Measure employee engagement before an after your town hall to see the impact it made.

Virtual Town Hall FAQ
Before we get started on planning your virtual town hall, let's cover the basics. Here are some of the most commonly asked questions when it comes to virtual town hall planning:
Q: How often should a company host a virtual town hall?
When deciding on the frequency of your virtual town hall meeting, consider the following:
Organization size: If you're a larger company, having more virtual town halls may be necessary. That's because aligning 1000s of workers can be a challenge. At the same time, it may be tough to get so many workers diverted from their tasks. The best way to decide is by asking your employees.
You can use ContactMonkey's employee pulse surveys to conduct company-wide polls right from your employee newsletter. ContactMonkey's pulse surveys are easy to embed into your company emails and send to your desired distribution list in Outlook or Gmail.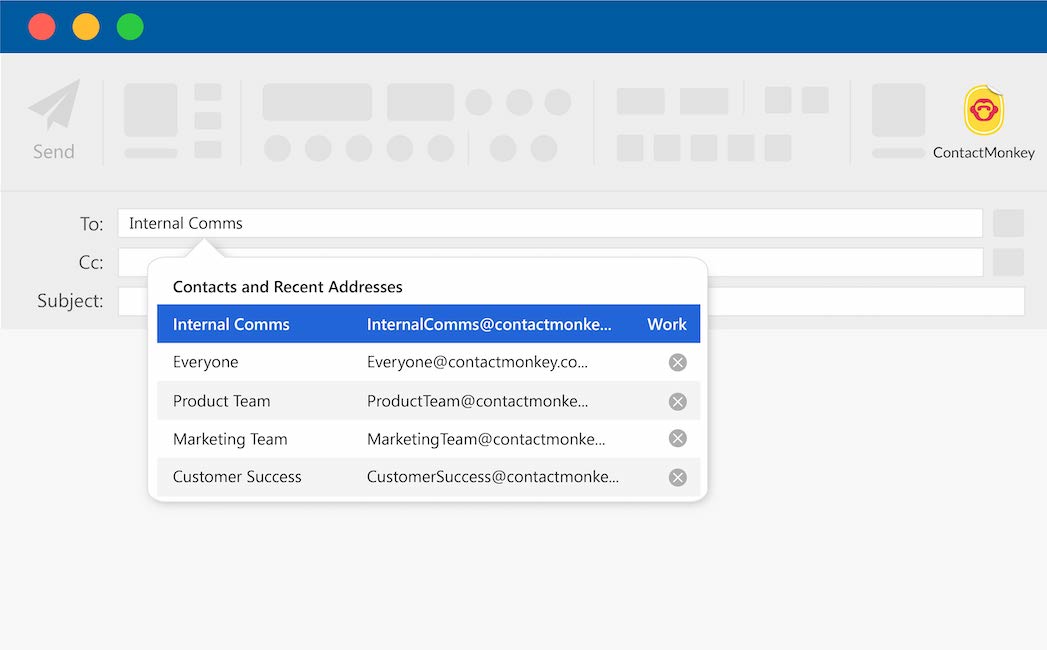 Company updates: If your company is going through a period of rapid change, such as a merger or acquisition, more virtual town halls may be in order. You'll need to walk employees through important updates in the change management process and gauge concerns fast.
How busy your company is: If this is a very hectic quarter or season for your teams, taking employees away from their tasks with multiple town halls may not be productive. That being said, you'll still have to fill everyone in on vital updates and keep your teams aligned. That's when you'll need to step up your email newsletters.
With ContactMonkey, you can be certain that your employees are getting key internal communications between town halls. ContactMonkey can help you create more engaging employee newsletters by featuring branded content, adding videos, embedding GIFs in Outlook emails, and customizing dynamic graphics.
You'll also be able to check if, when, and even where your employees are receiving updates through powerful email analytics. That way, when you need to put a pause on your virtual events, you'll still be able to keep employees engaged and aligned, whilst also measuring results.
Engage staff with a modern internal comms tool.
Start a 14-day trial. No credit card is necessary. Zero risk.
Q: What day and time is best for a virtual town hall?
As a rule of thumb, town halls are better kept for mid-week or for the end of the week, such as a Wednesday or Thursday. This way, employees are caught up on the essentials of their workweek and will likely have more updates ready to present.
The right time to host your virtual town hall is also when most of your employees are available. With ContactMonkey's email management software you can survey your employees on their preferred town hall meeting time right from your internal newsletter.
Simply provide 2 time slots for staff to choose from and build a pulse survey using easy drag and drop features in your email template builder.
Staff can rate which time they like best using the thumbs up/down option. Once you've created your survey, embed it directly into your employee newsletter from Outlook or Gmail.
When responses are in, check which time slot received the most upvotes in your analytics dashboard.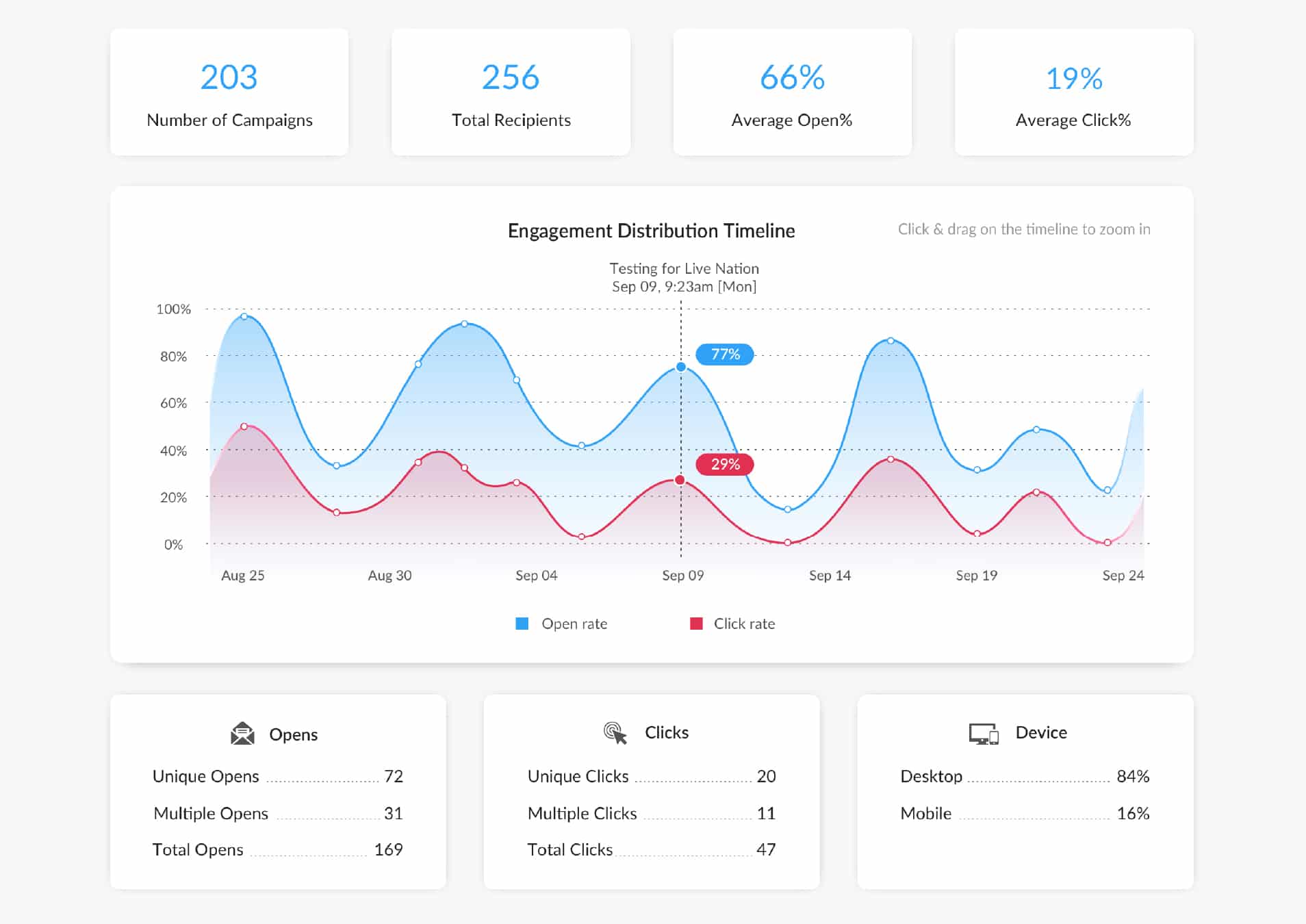 Q: What kind of content should be covered in a virtual town hall?
Your town hall should cover a mix of performance recaps, company updates, and individual-level highlights.
Here are some examples of key content to include:
Monthly goal progress reports:

this includes examining your key performance indicators (KPIs) and seeing how different departments have met their monthly targets.

Future benchmarks:

this is where you cover your upcoming goals and rally employees behind a compelling vision for the future.

Industry news

: any interesting facts, competitor insights, or trends you're seeing for your area of business.

Company updates: mention new tools or resources available to employees as well as structural changes, such as the introduction of hybrid work or working from home.
Individual milestones

: this includes employee achievements on the job as well as personal milestones such as birthdays or promotions.

Employee wellbeing:

expressing concerns about wellbeing can be tough for some staff. Your virtual town hall is a good time for management to express that employee wellbeing is a priority and foster an environment where staff can express concerns on the topic.

DEI Initiatives:

diversity, equity and inclusion (DEI) is a company-wide effort which makes the virtual town the best occasion to build dialogue on the topic.
10 Tips for Planning and Preparing for a Virtual Town Hall Meeting
Now it's time to break down the planning process behind an engaging virtual town hall. We'll take you through the first steps of town hall preparation—from setting your meeting objectives to promoting your event.
1. Establish your meeting objectives
The objectives behind your virtual town hall will guide all of your planning so it's important to narrow it down from the start. Ask yourself:
How have our teams been meeting their quarterly targets? Are there shortcomings we need to discuss?

Has our company experienced any big wins recently? How can we inspire employees to continue with the current progress trajectory?

What is important for our company to prioritize next quarter?

Will new software or technology be introduced into the office? Is there going to be a change management process underway?

Are new members joining the senior leadership team?
When you have the answers to these questions, you'll be able to choose which departments should present and prepare your agenda accordingly.
If your company is experiencing a dip in sales, for example, your director of sales is a good person to start the meeting.
At the same time, if you choose to speak about challenges first, make sure to finish on a positive note. List your quarterly wins and your next big goals. Always end on a note that inspires and motivates your teams.
2. Choose the right virtual town hall meeting software and technology
For your virtual town hall to go off without a hitch, great tech is vital. The good thing is, there's a lot of great employee engagement software to choose from these days. The key is narrowing it down to a list, and testing out any new tools ahead of your virtual town hall.
You'll need to consider what software you're using to stream the virtual conference itself. The best platforms will allow for screen sharing, social reactions like emojis and thumbs up, as well as Q and A streams. And there are a lot of options besides Zoom. Some virtual conferencing software to consider include:
3. Determine audience size
Getting an audience headcount early on is important because it lets you gauge how much time you'll need for certain sessions. This is especially important for participatory components like Q and A. It also lets you register employees for games, prizes, and trivia.
With ContactMonkey's event management tool, you can easily do this from your employee newsletter. Instead of jumping onto third-party registration portals, employees can sign up to your event right from their email. On your end, you'll be able to easily keep track of registrations from your ContactMonkey dashboard.
4. Designate a virtual town hall moderator or host
Having a designated host or moderators is key to the success of any virtual town hall. These individuals will set the tone of your event with their choice of language—formal vs. conversational—and even how they address questions—on the spot or by follow-up.
Your moderator or host will also need to be able to guide the meeting to make sure it stays on schedule. That means knowing how to tactfully nudge along a long-winded presentation or knowing who to direct a question to.
Your host can consist of one or two people but try not to get too many cooks in the kitchen. This can lead to confusion and awkward interruptions.
Alongside your host, pick a presenter for each item on the agenda, and make sure everyone knows exactly when they're up. If there's any confusion, you need to have an effective host to get everyone back on track.
5. Plan the agenda
Once all your organizers agree on the key themes and goals of your virtual town hall, it's time to start planning your agenda. A clear and focused agenda will be the difference between a meeting that succeeds in aligning your teams and boosting employee engagement and one that goes overtime and off-topic.
Narrow down your agenda to a few key topics and divide them by themes or departments. Every agenda item should include an approximate time-frame. This way, presenters will avoid going over time and employees with important client meetings can know which sessions they'll be able to make.
We recommend dividing your agenda in the following way: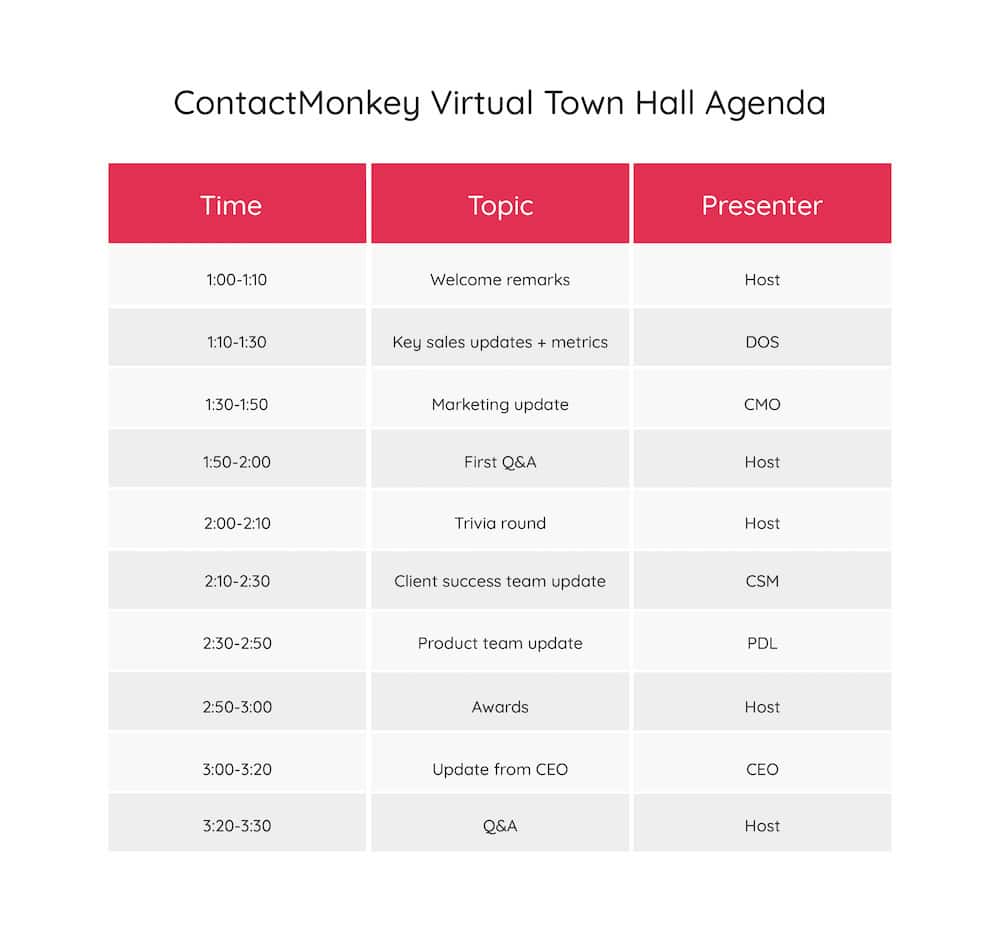 6. Prepare your content
Once you have your agenda prepped and ready, it's time for you and your presenters to develop your content. Ensure that presentations are insightful but simple and straightforward. Here are a few things to keep in mind:
Keep it fresh:

Don't talk about the things your employees already know

—

a town hall is about new information and ideas.

Cut the corporate jargon:

make your content accessible for everyone. Remember, the purpose of your virtual town hall is to unite your teams, not create division. So if you think your sales talk will not resonate with product developers or vice-versa, break it down and elaborate.

Introduce new employees:

if you know that there are many new people on your team – prepare a short sentence about each.

Keep powerpoints in the same format:

presenters should keep the same format for powerpoint slides as it reinforces your brand image and creates seamless transitions between speakers.

Encourage questions

: town hall meetings revolve around new information so it's normal to need clarification. With dozens or hundreds of people on the call, asking questions can feel intimidating. To overcome this, offer multiple ways to ask questions such as writing in via chat or sending a slack after the meeting.

Take advantage of videos, memes, gifs, and images:

use this content to make your presentations more engaging and visually dynamic.
7. Send meeting invites to employees
It's important to get this part right. A great meeting invite can help you get more employees on board and more turnout equals better team alignment.
Apart from the exact date and time, your meeting invite should include:
A link to your meeting agenda and a list of speakers:

With ContactMonkey, you can embed your agenda into your employee newsletter using smart links. No bulky attachments necessary. You can also copy your virtual town hall agenda directly into your newsletter and create a feature dedicated to the event.
Any rules or codes of conduct for the virtual meeting:

Ground rules can include no off-camera participation or making sure your mic is muted until Q and A.

Key contacts for the virtual town hall:

anyone with questions ahead of time can reach out. Make sure to also designate an IT contact who can help with technical issues.
Once you've got your invite content narrowed down, it's time to send and track. With ContactMonkey's event management software, you can send your invites along with all the details from a single place—your employee newsletter.
You can also organize and segment employee sending lists to target the right employees with the right information using list ContactMonkey's list management tool.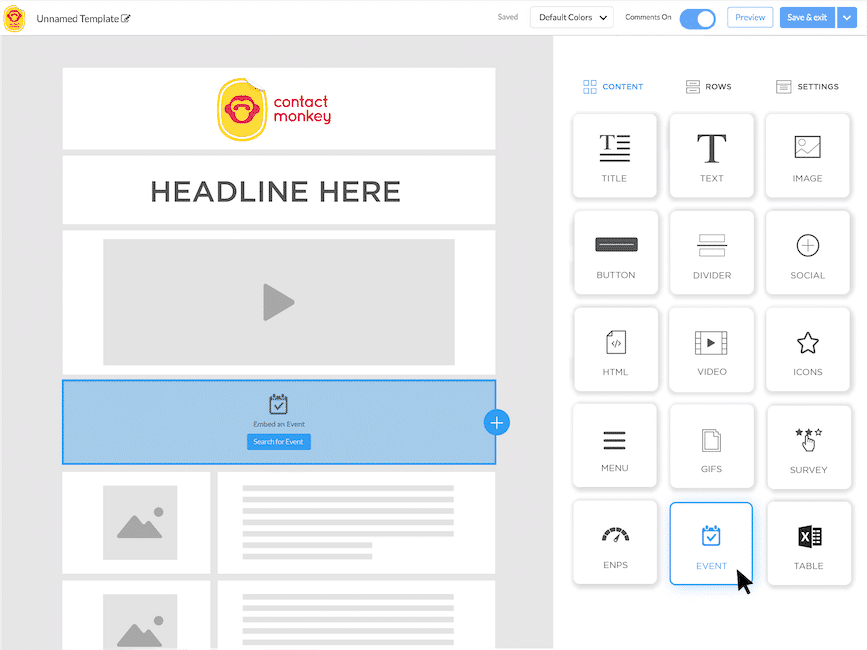 Creating an event in ContactMonkey is incredibly easy. Simply enter the event details like date and time, your organizer(s), and an event description.
Once your invite is sent out, you'll be able to easily track registrations. See who's opened your invite and who's RSVP'd using your analytics dashboard.
8. Promote your town hall
With ContactMonkey, you can promote your event from the same place you send out your invites—your internal newsletter. Using our email template builder, you can create engaging newsletter features that build anticipation around your event with images, graphics, and pulse surveys highlighting your event features.
Try adding trivia questions or a 'two truths and a lie' feature where answers are only revealed during your virtual town hall. To raise the stakes, add prizes like UberEats gift cards.
With ContactMonkey's employee pulse surveys, you can add trivia questions right into your employee newsletter alongside your event invite. Simply choose your response style—emojis, star ratings, or comments—and drag and drop your survey into your desired spot in the newsletter.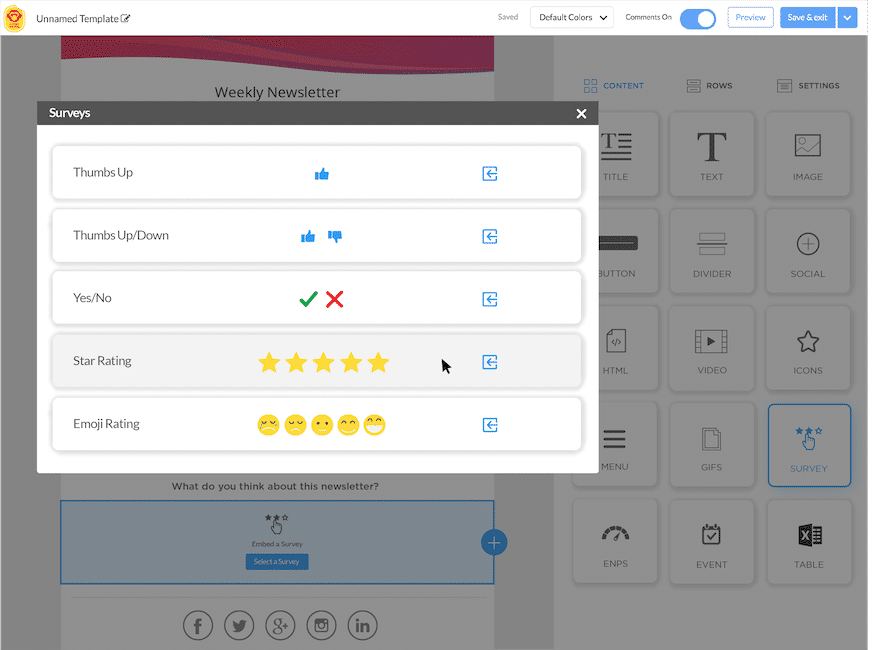 9. Appoint someone in charge of tech support
Let's face it – even in the most well thought-out virtual town hall, not everything will go according to plan. Your host's audio may shut off, a video won't load, and a presentation may keep buffering causing your turn to go overtime. And even if those all happen together, it's not a deal breaker.
The key is acknowledging the issue and having a plan of action to solve it fast. By appointing one or two people in charge of tech support, you can troubleshoot any technical issues fast.
If you know that tech help may not be available during the town hall meeting for any reason, prepare a backup strategy. Offer alternative options to hop back on the call, such as a dial-in number. This will be available on most Zoom and Skype video conferencing platforms.
10. Record the town hall meeting and make it accessible for all employees
Designating your notetaker and preparing to record your town hall is an important part of the virtual town hall planning process. It's essential to ensuring that all your teams receive the necessary information even if they can't attend. You also ensure that key takeaways from your discussions are remembered.
Following your virtual town hall meeting, you can share key notes as well as a video of the event using your employee newsletter. With ContactMonkey's internal communications software, you can easily embed videos into employee emails. Simply copy the link from your company's Vimeo or YouTube account and watch your video thumbnail generate automatically along with a playback icon.
10 Strategies to Keep Employees Engaged During Your Virtual Town Hall
Once you have all your prep out of the way, it's time to think about how you'll keep your audience engaged. Over the past year, we've been in and out of virtual meets all day, every day. So Zoom fatigue is a big challenge when it comes to virtual events.
You'll have to raise the bar to make your virtual town hall meetings more engaging for your employees and get them listening and participating.
Here are some of our top tips for keeping your audience engaged during your virtual town hall:
1.Choose an interactive meeting platform
There are many reasons why some people won't be able to speak up during your virtual town hall. They could be filing an urgent client request or simply feel intimidated in front of hundreds—albeit, virtual—faces. Still, this doesn't mean they don't have ideas or questions they'd like to share.
With an interactive meeting platform, employees have multiple ways to chat, react, and ask questions.
For instance with Remo's virtual event platform, your attendees can chat, send emojis, and even draw or invite speakers to the (virtual) speaker stage—all in a single virtual conference space. If you're using Slack or Microsoft teams, you'll automatically be added to a group chat designed exclusively for your town hall participants.
Bypass email-sending limits of Outlook and Gmail.
Send all of your internal emails within ContactMonkey.
2. Improve your icebreakers
It's easy to fall flat with your icebreakers. If your employees are having a stressful day or just aren't feeling it, the classic emoji mood barometers or 'share a fun fact' tactics will feel forced.
That being said, there are many ways you can step up your icebreakers. If you're using Zoom, start a screen background challenge. Ask everyone to pick a background that speaks to their mood the most. Once everyone joins, maximize your audience view and take a team photo that will catch at least a few laughs.
Another great icebreaker is simply announcing the winners of your pre-sent trivia challenge. This one is sure to get most people's attention as most participants will want to see if they won.
3. Make time for breaks
Having time to relax and unwind is just as important for town hall engagement levels as trivia and games. If your town hall is longer than 2 hours, offer a 10-15 minute break for employees to stretch their legs or make a coffee.
This will make it much more likely that employees give their 100% during the meeting itself. Not to mention, it will make it more likely that employees are actually listening to your speakers rather than thinking about sneaking away for a snack break.
4. Celebrate top performers
All modesty aside, if you've worked hard on a project, you want to be recognized. Rewarding top performers is a way to motivate and inspire employees to keep up the good work. During your town hall, employee recognition is also a way of strengthening your company culture and getting coworkers excited to celebrate each other's wins.
Take advantage of your virtual conference chat to encourage participants to congratulate one another. If your organizers get the ball rolling, others will quickly join and send their own words of encouragement. This helps build an inclusive and supportive work culture as well as to strengthen employee engagement.
5. Have trivia and games
Virtual team trivia is a fun way to balance out the reviews, reports, and graphs that can dominate a virtual Town hall. It also gets teams engaged and on their toes through healthy competition.
For virtual team trivia, employees are grouped together. Organizers can choose the themes or categories for the trivia. Music, TV, pop culture, or geography are some common options.
You can also present riddles and get teams working in breakout rooms to see who solves them first. Whichever games you prefer, there are dozens of online platforms and tools that can help you do it. Here are just a few examples of popular game and trivia add-ins that are compatible with video conferencing platforms like Zoom:
6. Invite performers
While this one may require a bigger internal communications budget, a live performance can take your meeting to a whole new level.
There are dozens of options to choose from—stand-up comedy, singers, magicians, or even a cameo from a celebrity. Local performers or talent agencies will do a lot of the heavy lifting for you and help set everything up. The result: a virtual town hall to remember and more registrations for your next event.
7.
Conduct polls
Did you know that our attention span is shorter when it comes to video-stream events? That's a problem considering your virtual town hall will likely be over two hours long. If you want employees to stick around for the whole thing, it's important to take steps to keep their attention.
Interactive activities throughout your town hall, such as live polls and quizzes, will keep your audience on their feet.
Tools like Zoom can enable simple polling on their own platforms. Others, like Facebook Live or Vimeo, allow for add-ins with more sophisticated polling options. Popular integration options include Slido and Pigeonhole Live.
Some easy and popular interactive features for virtual town halls include opinion polls. Questions can be specific to your workplace or industry, or entirely random. Some examples are: "Where should we host our next in-person team event?" You can also do true/false polls with statements such as "Germany is the most tagged location on Instagram" (make sure you know the answer as well).
8. Invite guest speakers
Inviting credible guest speakers can be a powerful way to boost employee engagement in your town hall. Not to mention, a good speaker can boost employee morale and inspire your teams in their work long term. Why? Guest speakers provide added credibility to your event and offer a fresh perspective to your team.
Your guest speaker can be a retired director or someone from an entirely different organization. The key is that the person has an inspiring story to tell and is an effective speaker.
You can build up excitement leading to your virtual town hall by publishing a feature on your guest speaker in your employee newsletter. With ContactMonkey, you can add your speaker bio, photos, or a video of them speaking at a prior event.
9. Leave surprise announcements to the end
Let's face it, after getting the key insights they're looking for, some employees may start to quietly exit the meeting. During a virtual town hall, this is even easier—no need to fear the creaking door or find elaborate excuses to sneak out. You need only turn off your camera.
One way to keep employees hooked till the end of your employee town hall is by leaving key announcements for last.
Whether it's announcing your upcoming work retreat, rolling out your return-to-work communications or introducing remote employee engagement initiatives—you'll always have some sort of update to make. All you have to do is save the best for last.
With ContactMonkey, you can start building anticipation for your announcement early on. If you have a big and exciting announcement such as a new surprise destination for your company event, drop hints in your employee newsletter. Then, using ContactMonkey's comments box, ask employees to give their guesses on what the news may be.
10. Give out prizes
Prizes are another easy way to get employees anticipating, rather than dreading, your next virtual town hall meeting. Something as simple as an UberEats or Amazon gift card can do the trick.
It's also a great way to reward participation. You can distribute prizes to your trivia winners or simply conduct a draw during the breaks. Whichever method you choose, giveaways are a great way to take a break from the business talk of your town hall and get everyone engaged.
How to Measure the Success of Your Virtual Town Hall
In order to improve your virtual town hall in the long run and reap its full benefits, it's important to measure its success. There are multiple ways to do this:
Registrations over time
This is the easiest and most straightforward way to check the success of your event. But it's important to check registration rates and trends over time rather than a one-off. With ContactMonkey's event management tool, you can easily assess registration rates over time from your workforce analytics dashboard.
Ratings
After your town hall, ask your employees to provide a star rating for your event. With ContactMonkey you can do this easily through your employee newsletter.
Simply select the survey option from the sidebar menu in your email template builder and select star ratings. Add your text as "Rate our [MONTH] virtual town hall" and upload your email template into Outlook or Gmail. Send it off and wait to see your survey response rates in your dashboard.
Employee pulse surveys
With ContactMonkey, you can ask your employees what they liked most about your virtual town hall, what they liked least, and what you could do better. Best of all: you can do it straight from your employee emails using embedded pulse surveys.
Additionally, comment boxes can also let your employees provide honest feedback and suggestions with guaranteed anonymity.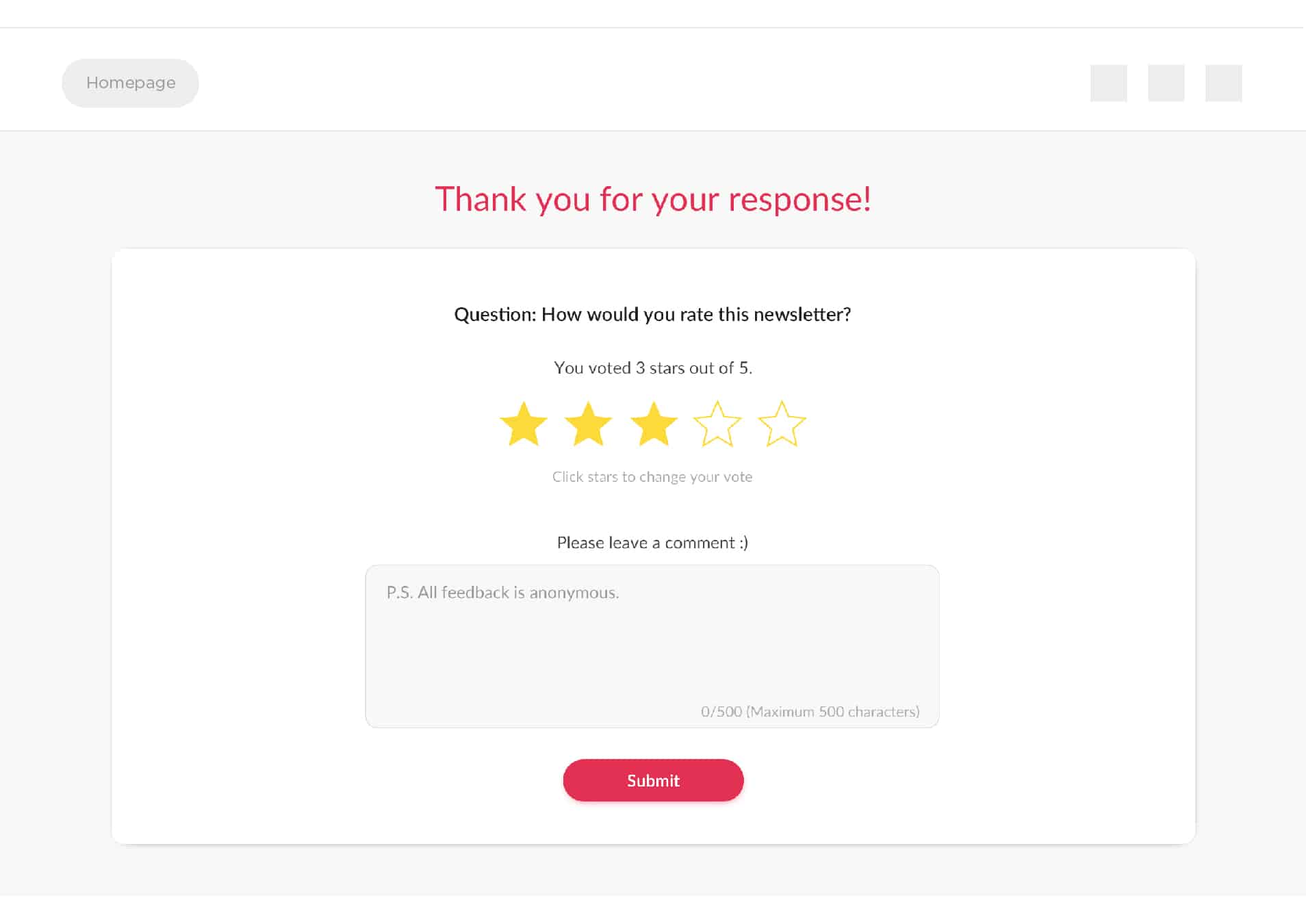 Click-through-rate on town hall materials
If your virtual town hall was engaging, employees will want to learn more. Add links to the industry news, new software, or any other content you discussed in town hall into your employee newsletter. Then, see how many people clicked.
With ContactMonkey's in-depth email analytics, you'll be able to see who's engaging with your content and how many employees are tuning in over time.
How We do Virtual Town Hall Meetings at ContactMonkey
At ContactMonkey, our virtual town hall is a highly anticipated event. Why? Because we don't simply focus on delivering the numbers. Instead, our town hall meeting is a company-wide conversation. Here are some of our top virtual town hall best practices:
Building dialogue: When we share updates, employees can raise their hand or send in feedback through a live chat. Comments and questions are addressed throughout the meeting as well as during a designated Q&A session.
Spin-the-wheel prizes: We have two spin-the-wheel prize draws throughout the meeting—one in the middle and one at the end of our town hall. Winners receive UberEats gift cards.
Team shoutouts: Another popular segment in our virtual town hall is our team shoutouts. Employees raise their hands (virtually) and share their gratitude for good deeds or outstanding support from colleagues throughout the month.
Thoughtful planning: The biggest secret to our successful town hall is a thorough planning and prep process. Employees know what will be on the agenda and what they can expect. That being said, we still keep an element of surprise with our monthly end-of-meeting announcement!
Improve Your Virtual Town Halls With ContactMonkey
We hope that this guide will help take your virtual town hall to the next level. If you're looking to start implementing some of the best practices we covered, we also have the tools that can help.
With ContactMonkey's newsletter template builder, you can create engaging and interactive employee emails that build anticipation for your event. Our smart links will let you embed town hall agendas and materials right into your newsletter. So there's no need for bulky attachments.