Whether you're unsure how to create an email newsletter or are looking for the best email newsletter templates and designs, after reading our Ultimate Guide you'll be an email newsletter expert.
Your email newsletter can be a powerful tool to drive productivity within your business. Imagine having your employees reading your employee newsletter with the same fervour with which they consume social media.
From knowing how to make an email newsletter to picking the best email newsletter designs, this guide will give you the confidence to create and send beautiful email newsletters.
Try the best email newsletter tool today!
Sign up for a free 2-week trial. No credit card necessary.
What is an Email Newsletter?
Email newsletters are electronic communications intended to inform recipients of information relevant to them. That last part is important.
The primary function of the email newsletter is to be read; what good is your carefully-crafted employee newsletter if your employees don't think it's worth reading?
When you're creating an email newsletter constantly ask yourself, "would my readers want to read this?" and let this be your guiding principle for your email newsletter format, visuals, copy, everything.
Instantly download and use our free employee newsletter templates!
Email Newsletter Ideas
Even the most creative communicators run out of email newsletter ideas at one time or another.
To serve up some inspiration, we've broken down some of our top engaging newsletter ideas:
Q&A
Cool quotes
Guess the desk
Employee profiles
Competitor news
Top ten roundups
Employee contests
Employee milestones
New employee welcome
Tips, tricks, and tutorials
Company data infographics
Case studies and success stories
New client or partnership spotlight
Recent employee vacations and adventures
Internal job postings and career development opportunities
Find more employee newsletter ideas on our blog!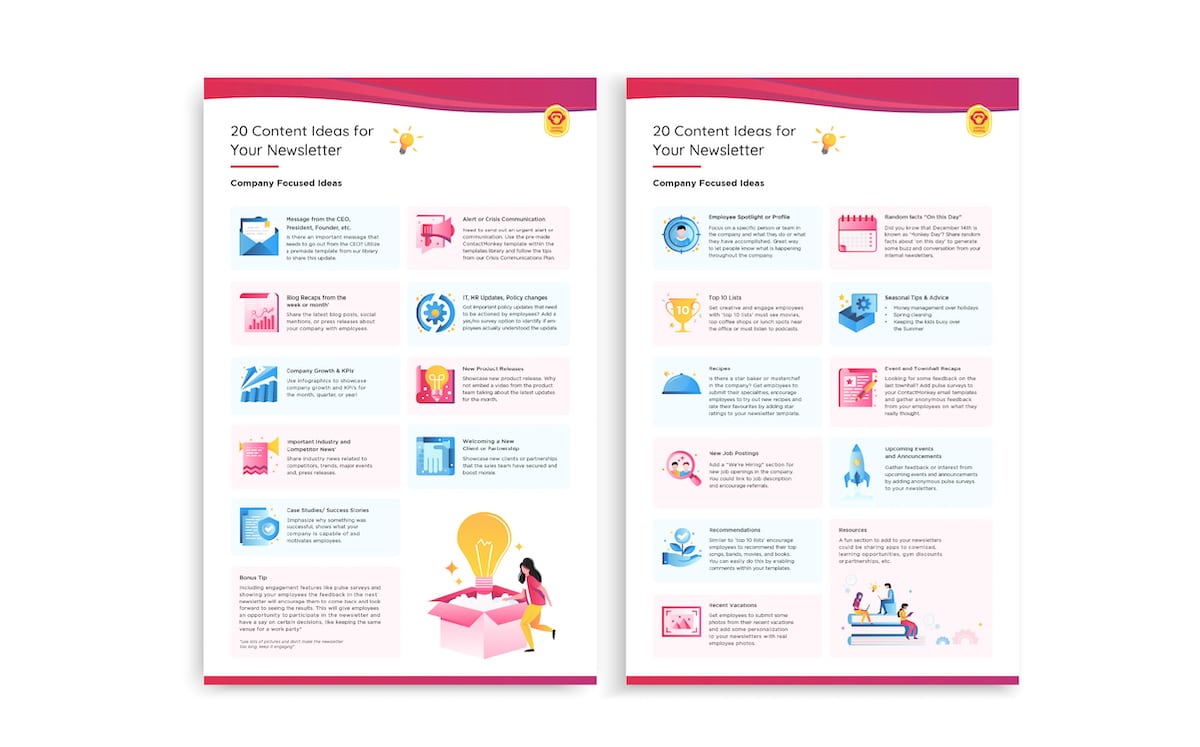 How To Create a Professional Email Newsletter
Now that you know the ins and outs of email newsletters, let's explore the process of putting one together. Below, we break down the step-by-step process for creating your email newsletter—from planning to execution.
Step 1: Plan out your email newsletter
Before you get started thinking about how to create a newsletter, it's important to ask yourself some preliminary questions:
What outcome am I trying to achieve with my newsletter?
Who is my primary audience? Secondary audience?
What kind of content will I feature?
How can I determine if I achieved my desired outcome?
We'll use an ongoing example to illustrate each point:
You are an internal communicator and many of your employees are now working remotely. You want to create an email newsletter that keeps them up-to-date on your organization's COVID-19 precautions.

Your goal is to inform employees about the latest health and safety news. You know you will be sending your newsletter all employees. You are getting your content from a memo sent to you from the Human Resources department.

You want to make sure that all recipients will read this information. And you will determine your success by monitoring the Open Rate and employee feedback of your email campaign.
What's the best approach for this newsletter?
Bypass email-sending limits of Outlook and Gmail.
Send all of your internal emails within ContactMonkey.
Step 2: Identify your audience
The best way to categorize your audience is to separate them into internal and external audiences. Understanding this important difference is crucial when thinking about how to write a newsletter.
External Audiences
An external audience is a group of recipients outside of an organization that have signed up for a mailing list—also known as a distribution list.
You can easily gauge the engagement of your external audience: if people don't like your content, they'll unsubscribe from your mailing list!
Internal Audiences
An internal audience consists of recipients within an organization that receive an email newsletter.
Employees who regularly consume company information will be better aligned with your business' objectives and ethos. This is why Gallup found an important relationship between employee engagement and growth.
Creating distribution lists
After you've identified the groups of employees you want to create links for, you'll need to create distribution lists for CSVs for them. However this is often easier said than done, as IT department usually control these lists and are not quick to update them.
Fortunately, you can use ContactMonkey's List Management feature to bypass IT and build your own distribution lists quickly and easily:
Create lists based on department, seniority, location, or even language with List Management.
Step 3: Design your email newsletter
You've identified the what, who, and why of your email newsletter; now it's time to determine the how.
You need to ensure the design of your email newsletter is on-brand, visually appealing, and follows the lastest email design trends.
Think about the best way to present information to your specific audience; using emojis and animated GIFs in emails to announce someone is taking a bereavement leave might not appear very sensitive.
In our example scenario, you know:
that the information you're tasked with communicating is important for employee well-being, but also likely fairly uninteresting; and
that your employees have been working remotely for sometime now, and may be slightly disinclined to pay extra close attention to another work email.
Try breaking this information down into the questions mentioned before, except this time think about it in relation to newsletter design.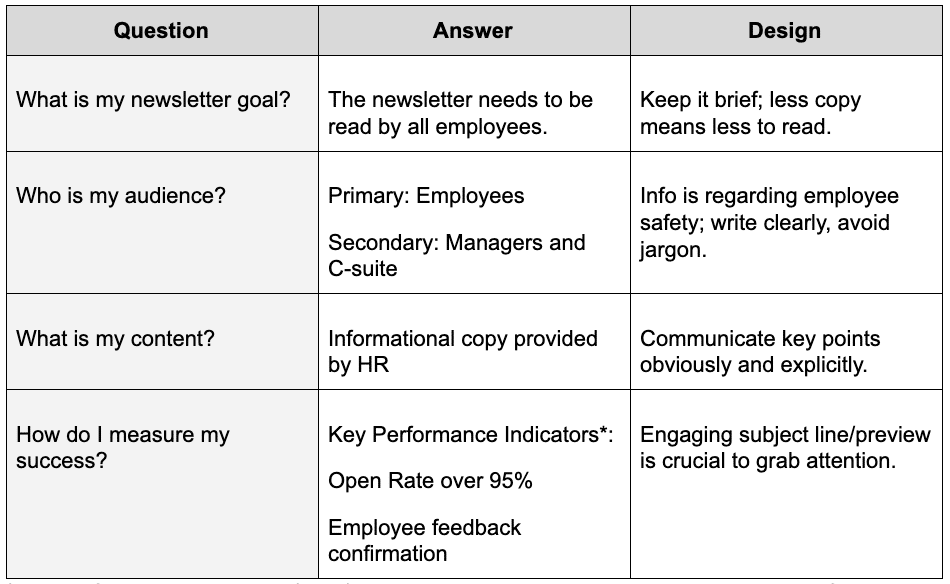 Doing the proper prep work can give you plenty of ideas for effective ways to engage your employees.
You can also collect data that will help improve your email design. Using ContactMonkey's click maps feature, you can see exactly how your recipients engage with your email content. This information can help you optimize your email design to ensure your employees see the information you need them to see.
Did you know: Creating an inventory of the content you use on your newsletter can save huge amounts of time. Have a piece of content that you use frequently? Make a dedicated folder on your workstation for all of your newsletter content!
Step 4: Gauge email newsletter issues
Email newsletters often rely on HTML code to format their content. With HTML you can send graphics, videos, charts, buttons, and more within Outlook or Gmail, which is why so many people opt for HTML-based email newsletters.
But HTML can have issues on different devices, which can mangle HTML and morph your great-looking content into a jumbled mess.
Missing subject lines and fonts, incorrect information, and broken images and tables are just some of the issues you can encounter with HTML email in Outlook.
Look at how different content gets displayed across varying devices: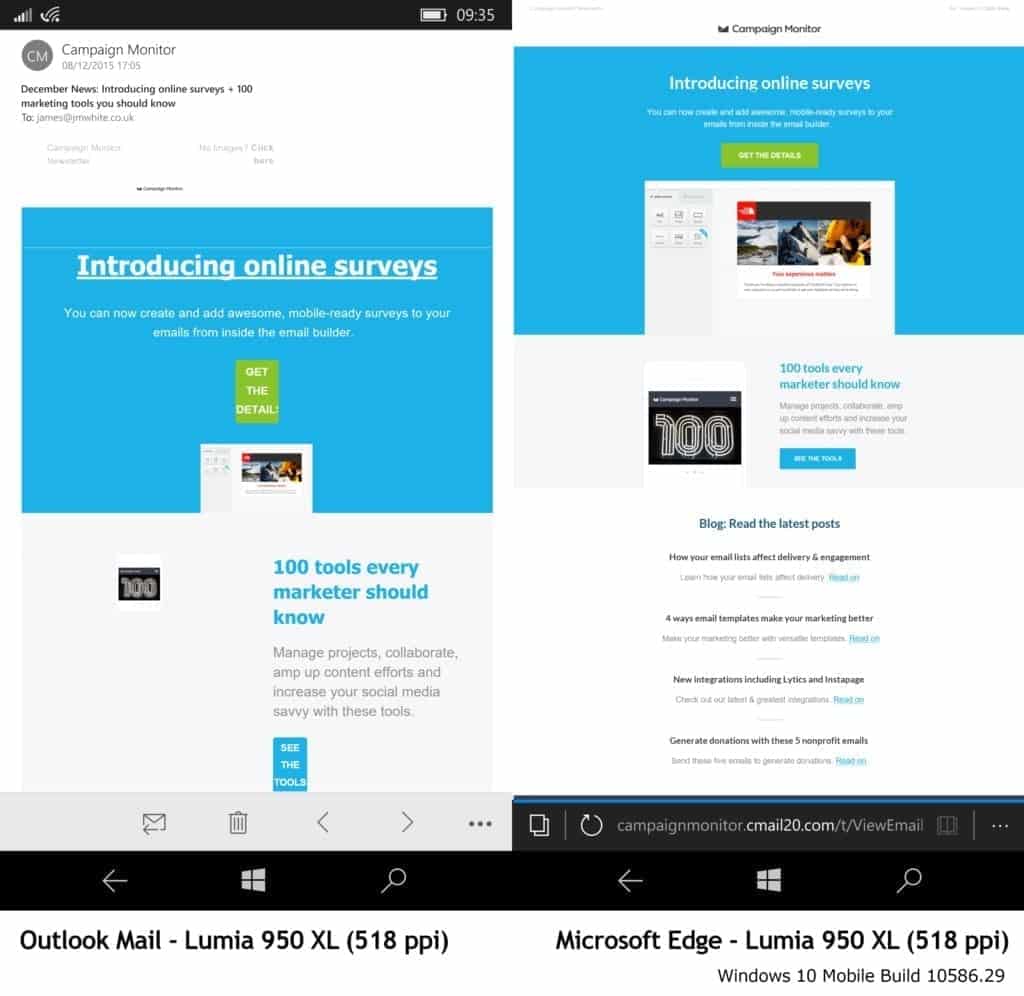 HTML emails aren't very useful if you have to constantly troubleshoot them just to make them display correctly! Ensuring your email content displays correctly on your employees' devices is an important aspect of your company newsletter pre-send checklist.
If you're experiencing HTML-related problems when sending your email newsletter in Outlook, then we have a surefire solution for you: email templates.
Step 5: Create email newsletter templates using an email builder
Creating a responsive newsletter template from scratch requires a great deal of HTML coding knowledge, and there are plenty of excellent resources for those interested in learning the practice.
But for the rest of us who don't feel like learning hypertext markup language, there is a way to avoid the headaches.
ContactMonkey's email template builder allows you to build beautiful, responsive email templates from an easy-to-use user interface. With ContactMonkey, you can build various employee newsletter templates such as an internal event invitation, a spring newsletter, or a message from the CEO.
With ContactMonkey, you have the option to build a template from the ground up or choose from a number of professionally designed email newsletter templates: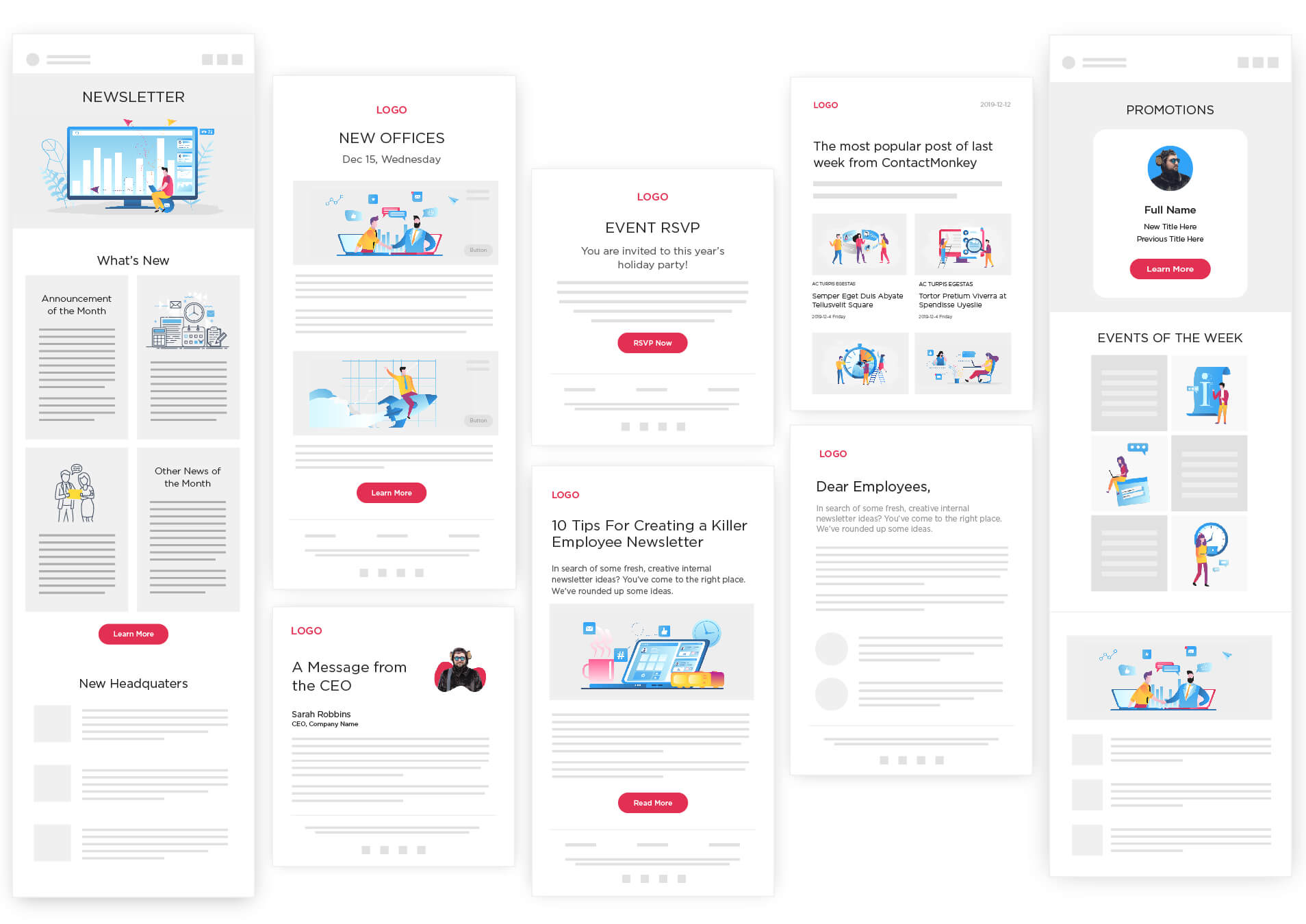 For our example newsletter, the "Crisis Communication" template would best suit our purposes. This email newsletter template clearly features the information that employees need to read, and it's free from unnecessary distractions.
Whatever your level of newsletter-building expertise, you can be sure that ContactMonkey has a solution to meet your needs.
An employee communications app like ContactMonkey can supercharge your email building process, and help you easily prove the value of internal communications. With ContactMonkey you can:
Save time building your email newsletters so you can focus on providing the best possible content for your employees.
Not sure how to write your email newsletter? With ContactMonkey's new OpenAI ChatGPT integration, you can describe what kind of content you need for your email and the OpenAI will produce copy for you that you can customize for your purposes.
How to Create an Email Newsletter Template with ContactMonkey
An email newsletter service ContactMonkey can expedite your newsletter building process and help you achieve repeatable success.
You could always just choose a pre-made template that best suits your purposes.
But to learn how to create an internal company newsletter you need to know what goes into one, top to bottom.
Step 1: Create an email template for the newsletter
After creating your email newsletter template, name it something descriptive so you can easily find it later. Is your template part of a series? Be sure to create a sequential label so you can sort and locate your templates.
Set the content area width of your email template to at least 800 pixels. This way you'll have plenty of space to work and your content won't be bunched together. Simply adjust the content area width slider in the Settings tab: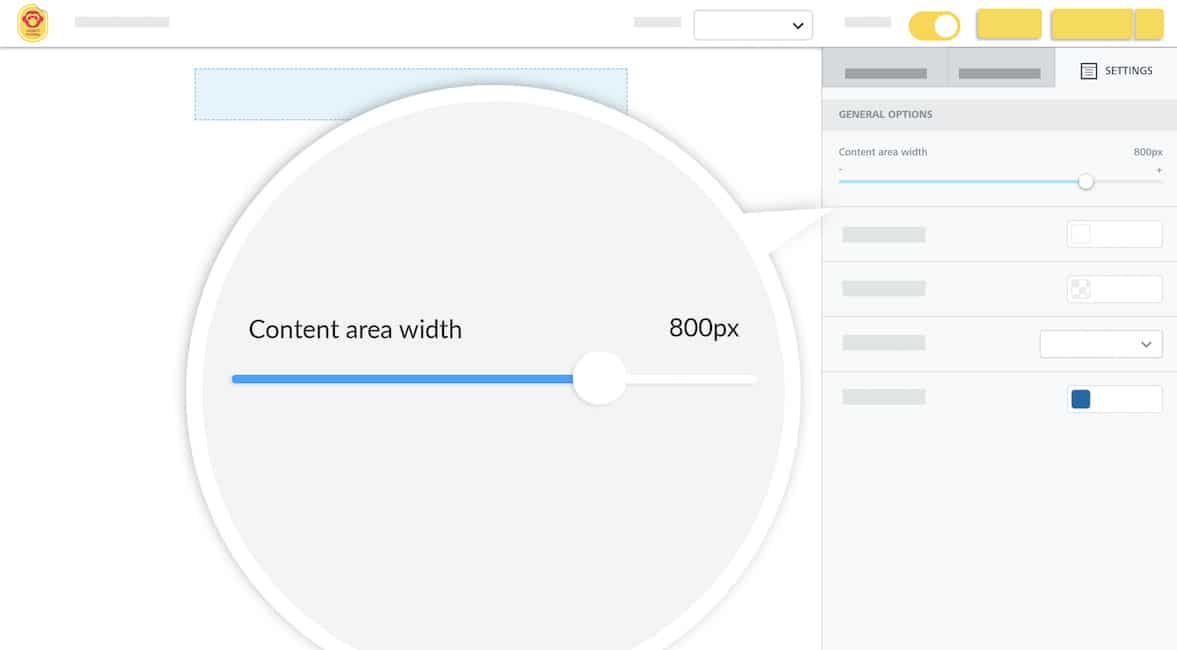 Default colours will appear in all colours menus, so you won't have to keep selecting your desired colours.
Does your business have brand guidelines? Set the default colours to match your brand. Consistent colours and style helps solidify your brand, and builds trust with your customers and employees.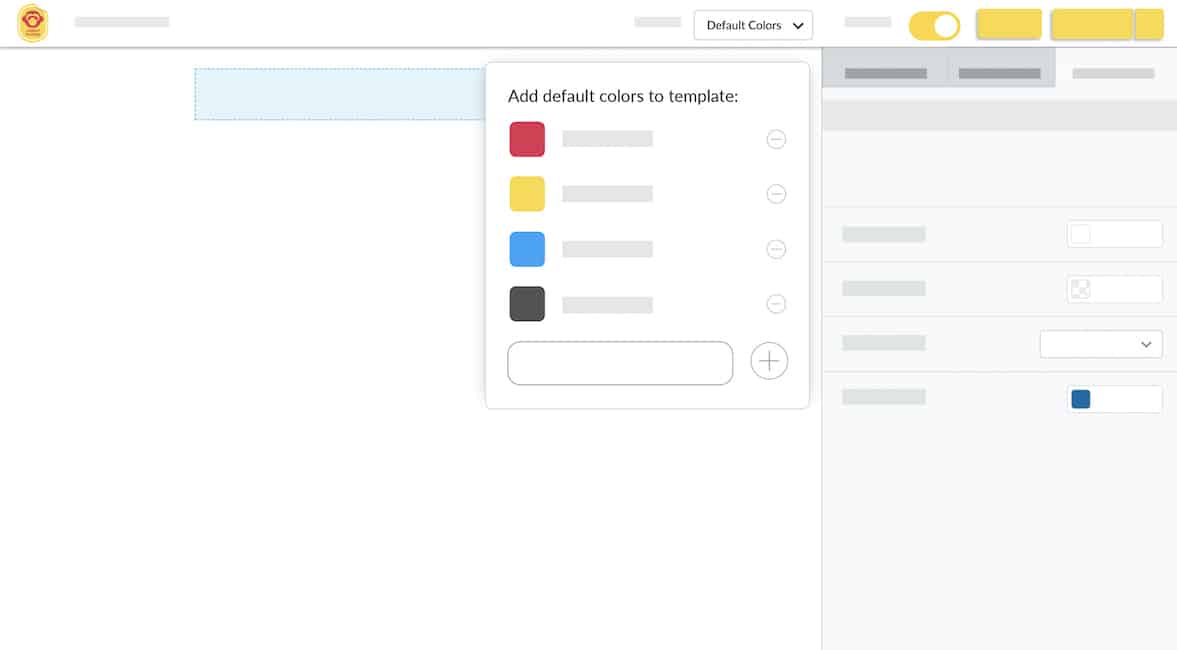 Just like consistent colours, your internal communications will benefit from clear and consistent fonts. We recommend using at least 14pt font for your email newsletters, and that you double space your lines of text. Your readers will appreciate these precautions!
To change your text settings, drag a text tile onto your document. A text editing ribbon will appear: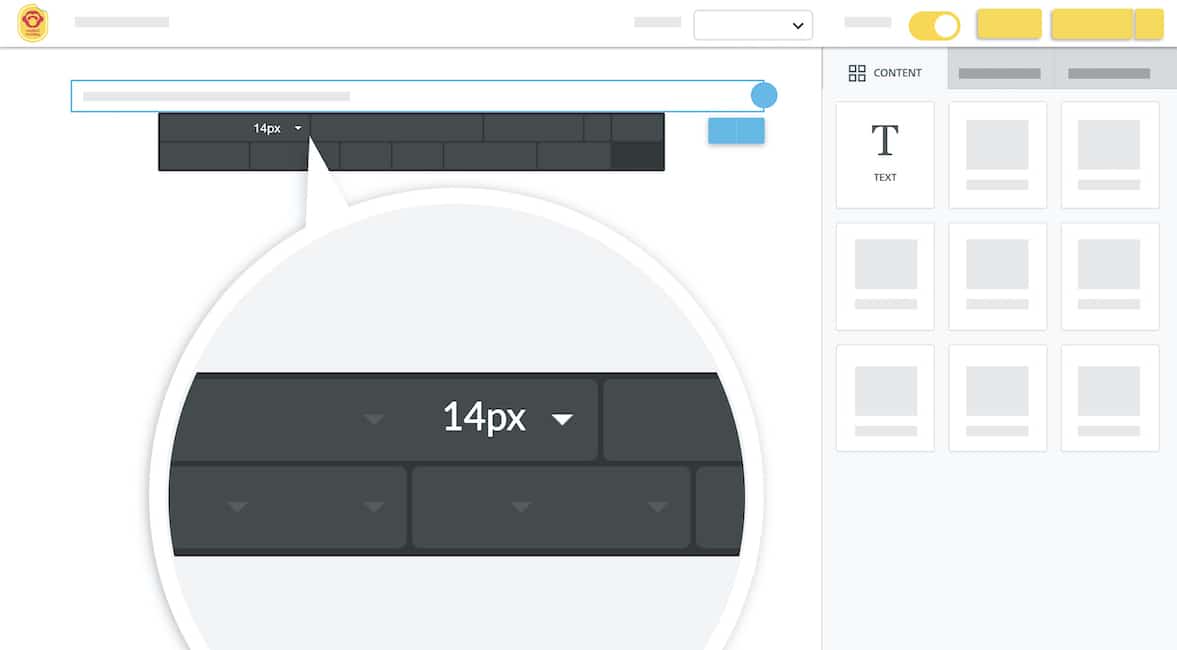 Now that you've set your email newsletter format, it's time to build out your content.
Step 2: Add your content
Because you're sending an announcement about COVID-19 precautions to employees—you should think about the best ways to achieve your goal of ensuring employees read this information:
Present relevant information in a clear way
Reduce distractions
Highlight key points
You can create the framework for your content using rows. Rows are template elements that organize your content into a vertically-oriented configuration. Rows can vary according to how you want to display your content:
Within these rows, you are able to place your content. ContactMonkey's responsive email template builder has numerous content tiles built-in, including text, images, GIFs, and videos.
Choose from ContactMonkey's free library of more than 500,000 images and select header and footer images to your email newsletter:
For the purposes of designing an employee newsletter that informs readers about important information, text-based content will be best:
Excessive amounts of content can dissuade readers from engaging.
Smaller chunks of information are easier for your readers to digest. Use dividers to break up your content into different sections:
If there are additional resources employees can consult, you can use buttons to create call-to-actions within your newsletter.
Alternatively, the Icons tile can be used to a similar effect, except you can use a custom image instead of a button:
Put the finishing touches on your email newsletter template.
Add social media links to your business' various pages to provide paths for employees to learn more. They also make your newsletter look more professional:
You can also add GIFs and videos to your email newsletter. Visual media can be useful for communicating certain kinds of information where words may fail.
ContactMonkey's email template builder comes equipped with a video tile in which you can embed online videos from Youtube, Vimeo, and elsewhere. It also features a GIFs tile powered by GIPHY's massive library of content:
In this case, however, excessive visual media can distract from the main message you're trying to communicate here: important safety information. If you produce an employee podcast, include a link in your newsletter so employees can learn more.
Unless there is a video accompanying your company announcement, it's best to forgo unnecessary distractions.
Step 3: Personalize your newsletter
Personalizing your email subject lines and copy is an easy best practice for internal newsletters that has huge benefits for engagement.
A merge field will identify who the email is being sent to, and grab that person's information from your .csv file or distribution list and insert it into the newsletter.
To insert a merge field into your email newsletter, click the text box you want the merge to appear in. Within the text editing ribbon, you will see a button that says Merge Tags.
Select what custom info you want to display within your email newsletter:
Step 4: Make it interactive
Wouldn't it be great if there was a way to ensure your employees not only open your email, but read and understand it?
Well, ContactMonkey has a solution: employee feedback tools.
HTML email newsletters can collect responses from your employees, which makes them perfect for surveys and pulse checks. Adding a question and response in ContactMonkey is super easy.
Add another row to your email newsletter. Select "Emoji Reactions" from the dropdown menu within the Rows tab.
Drag the Yes/No rating checkmarks onto your email template:
Next, go to the Content tab and drag the text tile on top of the Yes/No checkmarks:
Nice! You've just linked your emoji reactions to text.
Type in your yes/no question into the text box so your employees know what they're answering:
Do you like our new safety precautions?
This is a sensible yes/no question that can confirm whether or not your employees understand what they've read.
But you can go one step further with ContactMonkey.
Once they select yes/no, readers can add a comment to their response. Responses are anonymous, which will encourage employees to say how they really feel.
To enable employee comments, simply click the checkbox at the top of the email template builder: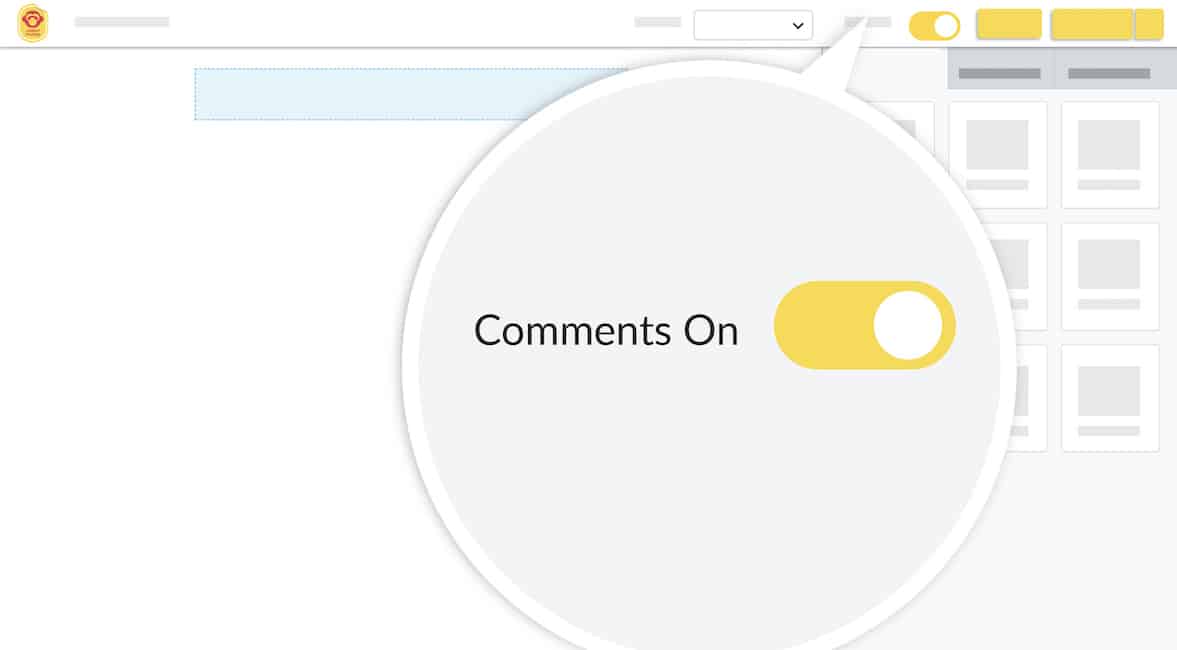 Employee responses, along with their choices of emoji reactions, will display on your campaign analytics dashboard: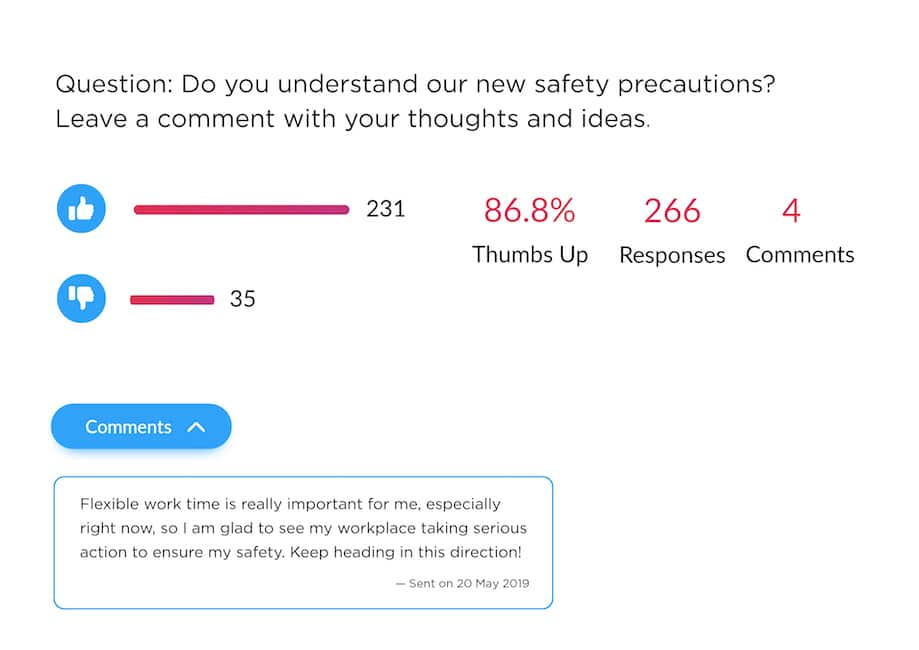 With this information, you can not only be sure that your employees understand the important information being communicated, but you can also gather feedback and use that to improve your process!
Step 5: Get input from your team
Creating an email newsletter need not be a solo endeavour. With ContactMonkey's email collaboration feature, you and your team can work on an email simultaneously. See which team members are working on the email and see their changes in real time:
You can also leave comments for your team members and they will be sent an email automatically.
How to Send an Email Newsletter
Now that you know how to create an email newsletter template and fill it with content, it's now time to send your email newsletter.
Your audience and your newsletter goals should inform your sending practices just like your design practices.
ContactMonkey works with both Outlook and Gmail, but we will show you how to send your email newsletter in Outlook.
1. Ensure your newsletter is responsive
Many people use their mobile devices to check their emails, rarely opting to use browser-based email clients for their daily updates.
You can ensure that your recipients don't receive broken and jumbled content by using responsive email templates combined with a remote team communication tool.
Within ContactMonkey's email template builder, select Preview mode in the top right corner of the screen. On this page, you can preview how your newsletter will appear on both desktop and mobile devices:
No more guessing how your newsletter will appear on mobile, no more worrying about broken content or skewed images.
2. Import your newsletter into Outlook or Gmail
Your newsletter looks perfect on both desktop and mobile; it's time to import your template into Outlook.
With ContactMonkey, email templates appear automatically within your email client, so you don't have to deal with pesky HTML files. Simply select which one you want to send and click Insert:
3. Send to a CSV
Since CSV files are basically simplified versions of spreadsheet files, they are easier to work with and have smaller file sizes, making them ideal for storing contact lists.
To create a CSV file, simply export your distribution list from your email client as a CSV file.
Sending your email newsletter to your CSV file is simple. In the ContactMonkey sidebar for Outlook, click Upload CSV and select your saved CSV file: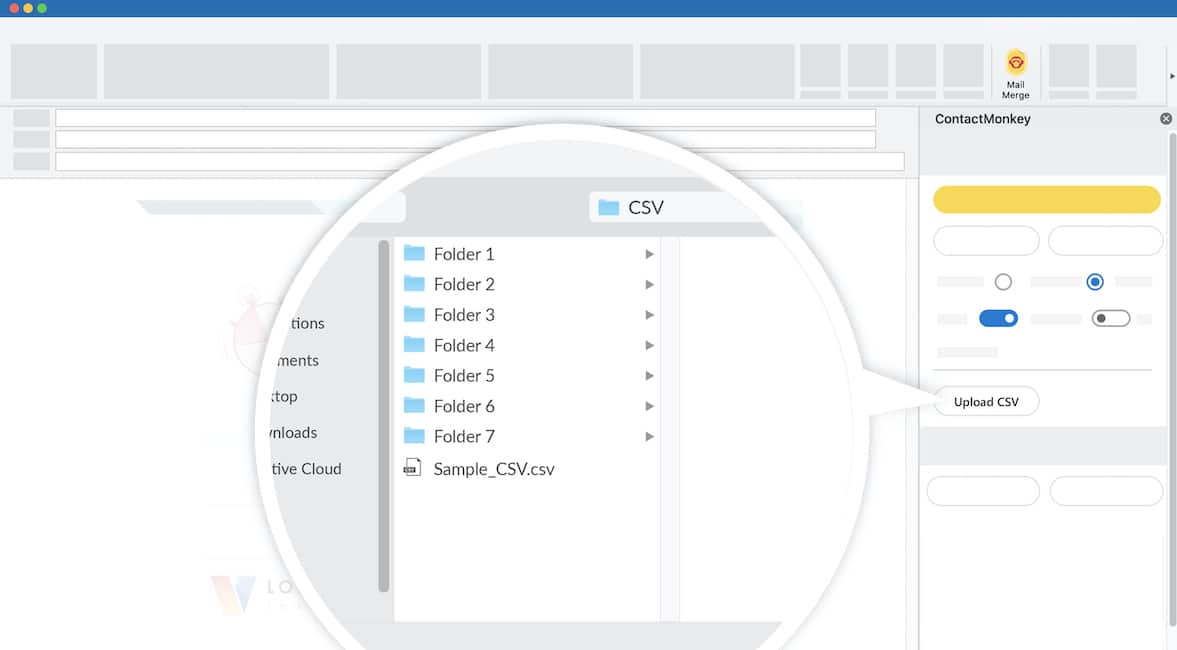 4. Personalize your subject
Want to add merge fields to your email newsletter in subject line Outlook? No problem.
To insert a merge field into your subject line, be sure to select Individual for the type of internal communications campaign you're sending.
This tells ContactMonkey to treat every recipient on your distribution list independently. Merge Fields option will appear in the sidebar within Outlook after selecting Individual tracking.
Click the drop-down list: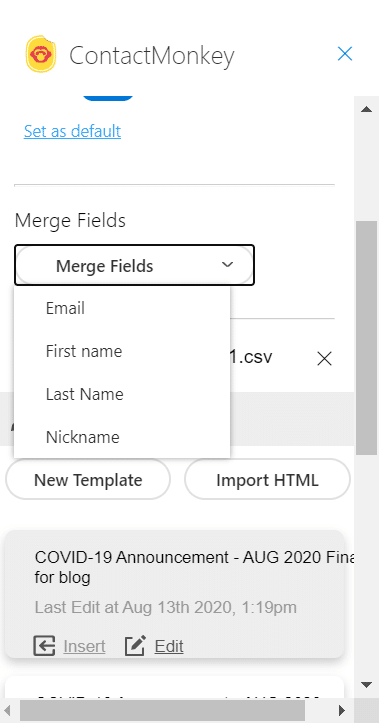 From this menu, you can select which kind of merge field you'd like to include—first name, last name, display name, or any combination of those.
Simply copy and paste the merge field text to the subject line.
Now every recipient you send to will see their first name, last name, username, or whatever you'd like appear in the subject line!
5. Schedule a delayed send
Knowing when your employees are most likely to engage with their emails is crucial to maximizing the effectiveness of your newsletter.
ContactMonkey provides plenty of ways of determining your employees' peak email engagement times using in-depth email tracking.
When you've found the best time to send your email newsletter, schedule a delayed send by clicking the Send Later button in your Outlook sidebar.
Enter the date and time you'd like your newsletter to be sent: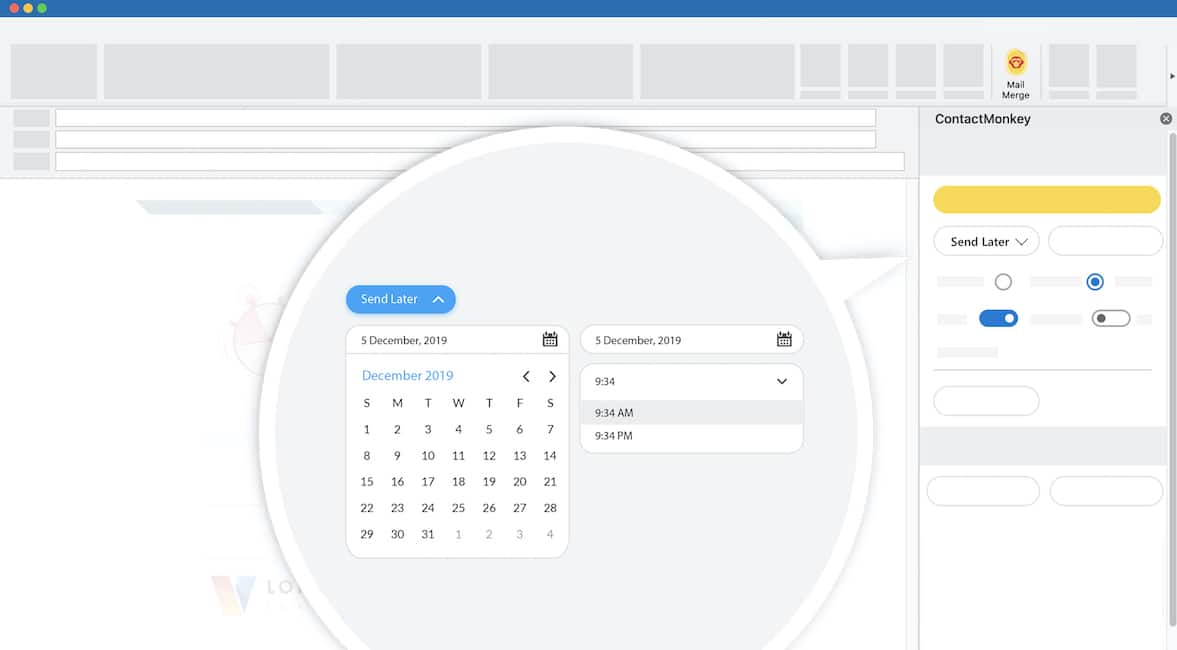 You've done it!
You've just learned how to create an email newsletter that is designed especially for your workforce. It communicates important information in a clear and concise way, is formatted effectively, and it provides ways for employees to express their thoughts and you gather useful information.
Talk about a win-win.
6. Track your email analytics
At ContactMonkey we believe that your email newsletters can provide their own value, and we make it easy for you to show exactly how effective your communications can be.
In addition to collecting employee feedback with anonymous comments and emoji reactions, you can use our Employee Net Promoter Score (eNPS) feature to get a pulse check of your workforce.
If your organization has internal or external regulations around email privacy, you can use ContactMonkey's anonymous email tracking to gather email metrics while maintaining your employees' privacy.
Imagine being able to know which employees are the best-suited to be brand representatives just from sending an email! You'll quickly learn how to create effective pulse surveys to measure employee engagement.
Read our email benchmark report to see how your metrics compare to others.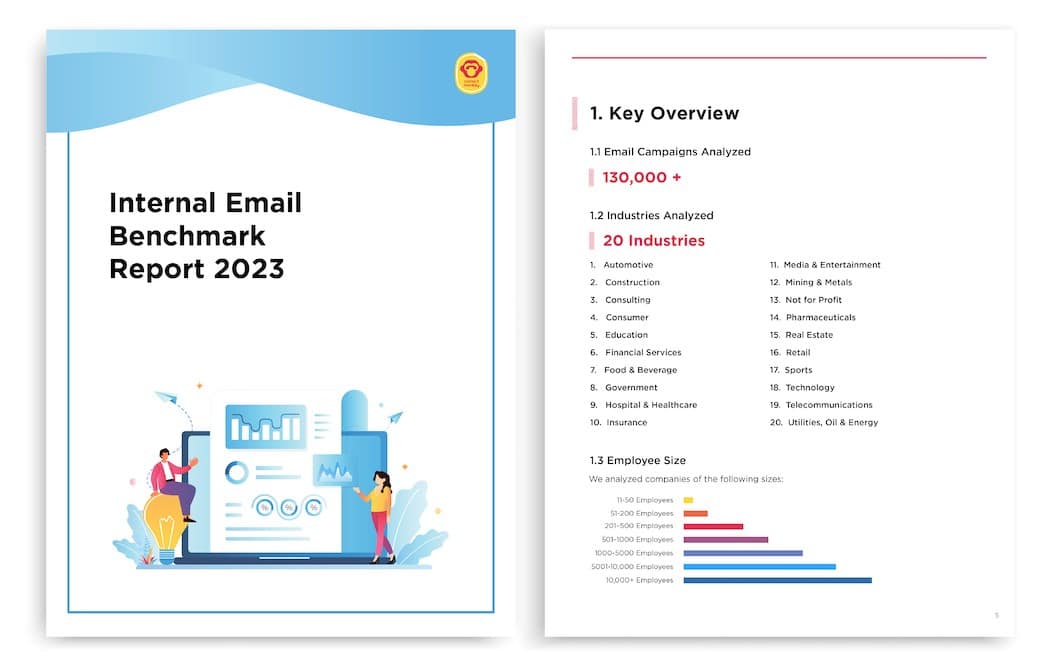 FAQs
How do you write a newsletter email?
To write an email newsletter, you need to determine what information you need to include and who you'll be sending it to. Map out your email newsletter content before writing so you don't forget anything.
How do you send an email newsletter?
To send an email newsletter, determine when you need to get the information to your employees and how they'll access your newsletter. Use an internal communications platform to schedule and send your newsletter to avoid sending and display errors.
How do you design an email newsletter?
To design an email newsletter, refer to your company's brand and voice guidelines and consider the purpose of your newsletter. Create an appropriate layout that allows readers to easily scan the information you include.
How often should you send email newsletters?
To determine how often you should send your email newsletters, collect employee feedback and measure email metrics to track how your employees are engaging with your internal communications. It should be frequent enough that your employees know when to expect it but not so frequent that they tune it out.
Optimize Your Email Newsletters with ContactMonkey
Most newsletters are recurring, which means you'll have plenty of opportunities to perfect your design and sending skills. Using ContactMonkey, you can apply data-driven approach to improve the performance of your email newsletters.
Now that you now know how to create an email newsletter, you can take the guesswork out of sending them by measuring exactly how your recipients engage with it.
Want to see ContactMonkey in action? Book a free demo with one of our internal communications experts to see all that our powerful software has to offer. Feel free to ask any and all questions you might have!