Getting critical information to your employees promptly is essential for any company. And that's even more important as your company scales. An effective way to ensure that everyone is up-to-date and informed on important company news is with an internal newsletter.
But just sending out a weekly email blast without any thought or strategy behind it won't get the job done. In this blog, we'll review key tips on how to create a company newsletter for employees.
What Is an Internal Newsletter?
An internal company newsletter is a special communication tool that shares important company info, updates, and insights exclusively with employees. It's different from an external newsletter that targets clients or the public.
Rather than focusing on products or services, the main goal of an internal newsletter is to promote transparency, engagement, and a unified company culture among employees.
Create engaging internal newsletters
Try our simple drag-and-drop Email Template Builder
Why Your Company Needs an Internal Newsletter
There are several reasons why your company should have an internal newsletter for employees. The best newsletters can:
Reasons to Use Email for Internal Company Newsletters
Email provides widespread accessibility, convenience, and traceability, making it a highly effective platform for engaging employees and quantifying their involvement.
But to leverage the full power of email, you need the right tools. That's where ContactMonkey comes in. ContactMonkey offers a suite of features that can significantly enhance your email-based internal communication and any company newsletter:
Access professional email and newsletter templates
ContactMonkey's intuitive email template builder allows you to create professional-looking, responsive emails that look great on any device. This means your newsletter will always appear as intended, regardless of whether your employees read it on a desktop, tablet, or mobile phone. When it comes to how to design a company newsletter, this feature makes it the easiest method.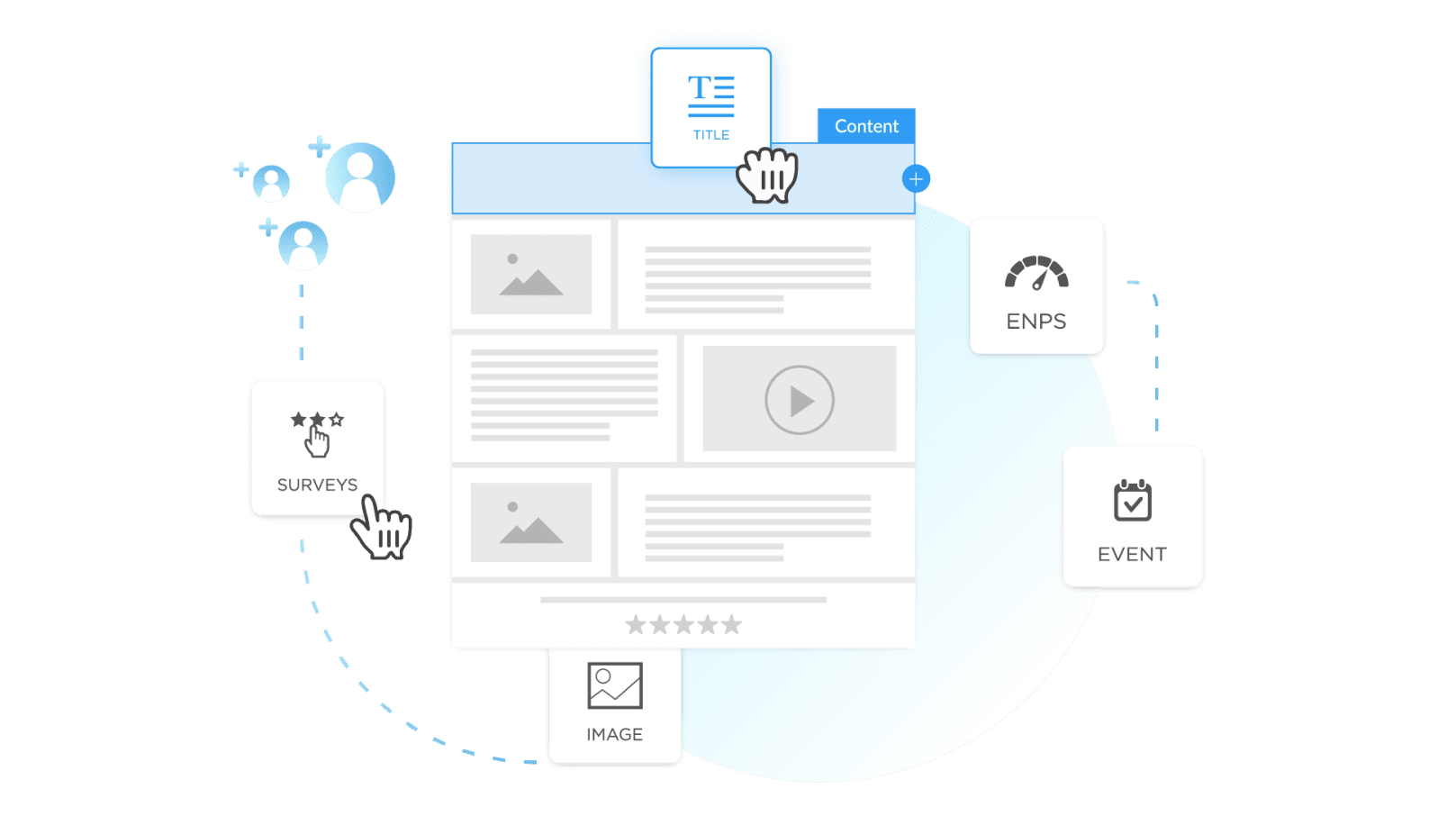 Create content with AI email writing assistant
With ContactMonkey, you have access to OpenAI's powerful GPT-3 technology. This AI-powered writing assistant can help you craft clear, engaging content for your newsletter, saving you time and ensuring your message resonates with your audience.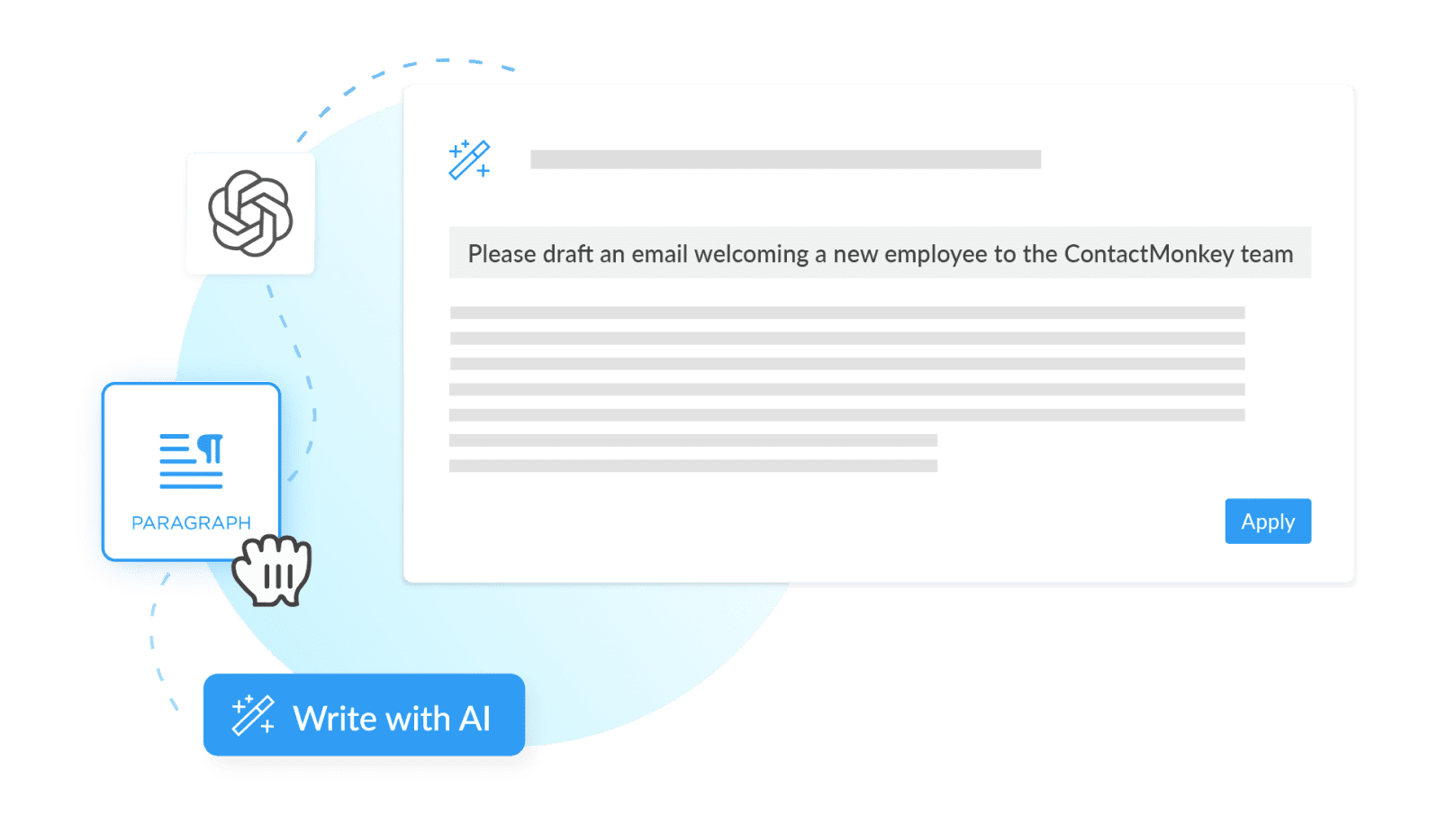 Collect employee feedback with pulse surveys
ContactMonkey's pulse surveys allow you to gather real-time feedback from your employees. You can include these surveys in your newsletter to gauge employee sentiment, gather ideas, or measure the effectiveness of specific initiatives.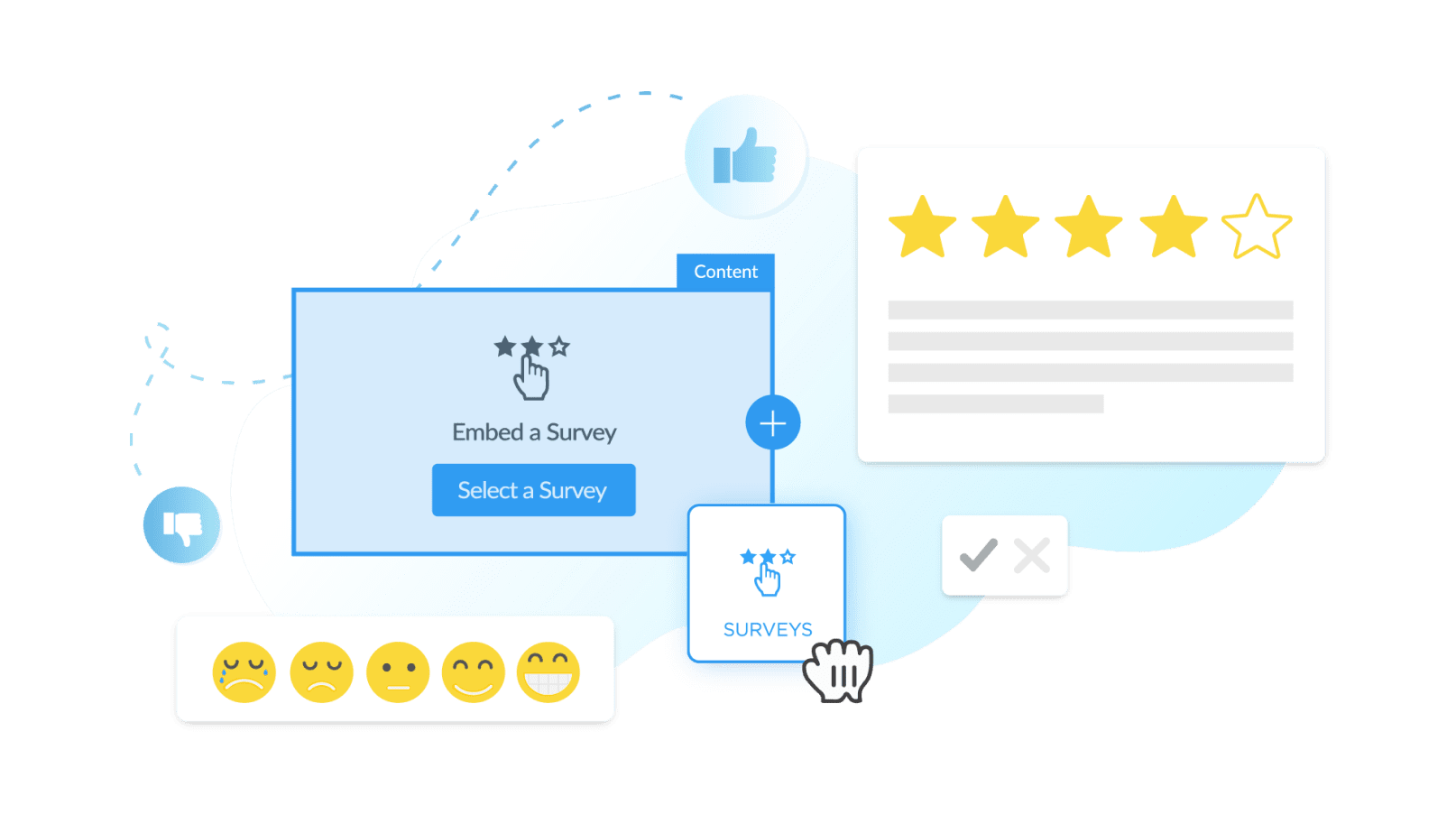 Create emails people want to read with video and interactive media
You can make your emails a bit more eye-catching by adding videos, social share icons, and customized HTML code. It gives your team more things to interact with and more chances for you to determine if your emails are resonating with your audience.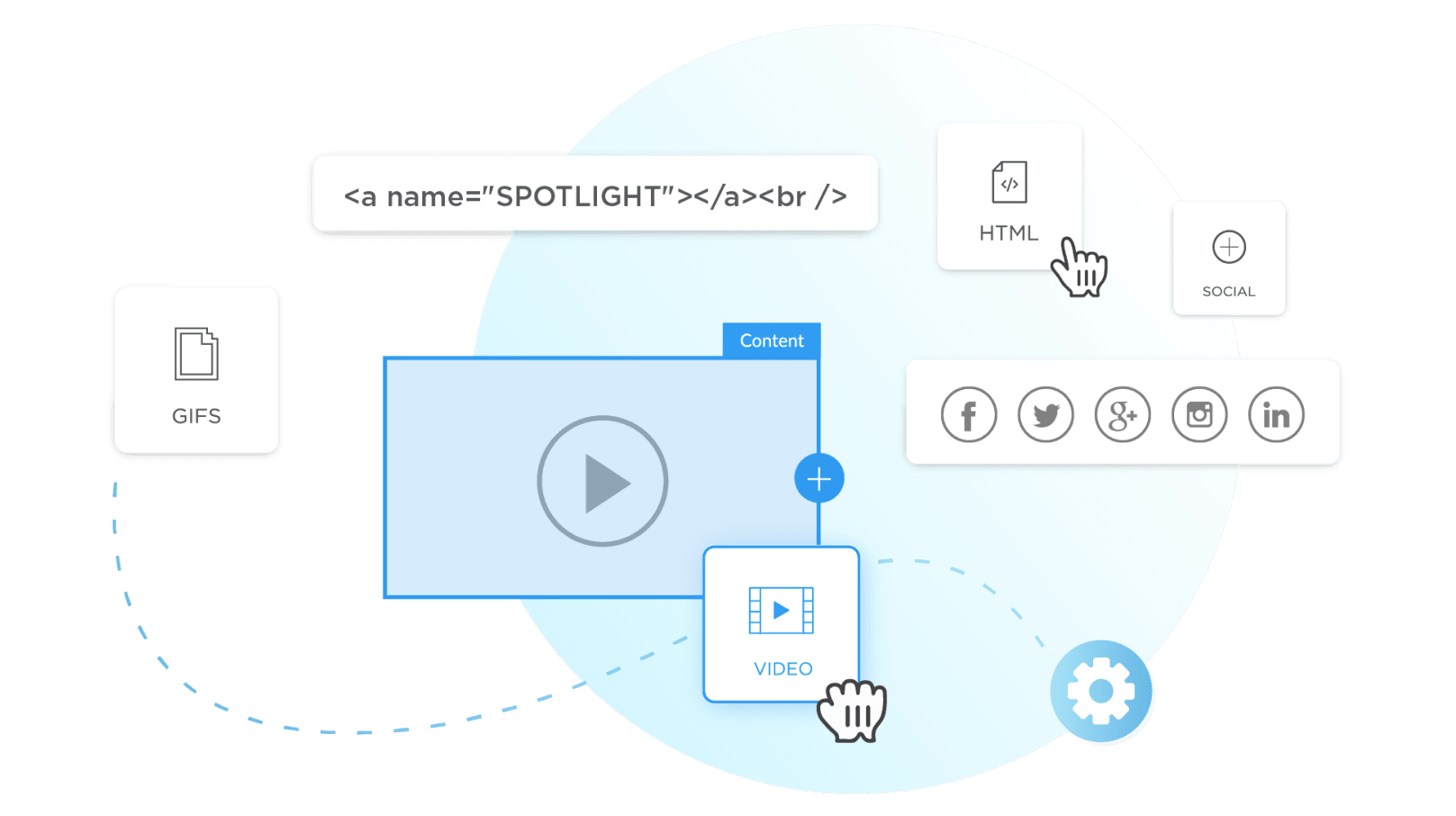 Target the right audience with list management
ContactMonkey helps you manage your distribution lists effortlessly. You can segment your lists based on departments, teams, or roles, enabling you to tailor your content to different groups within your organization.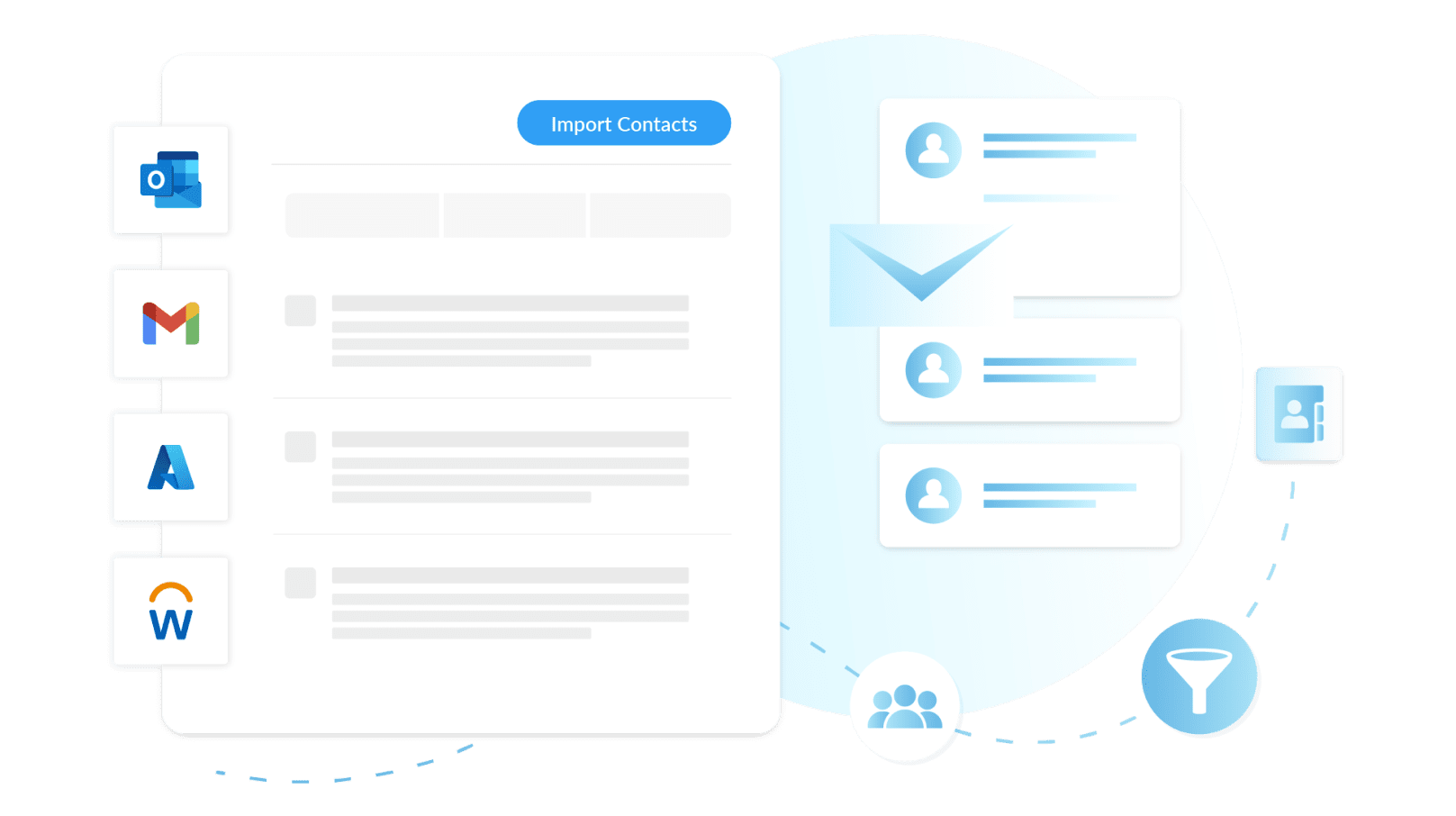 Optimize newsletter performance with email analytics
ContactMonkey provides internal email analytics that give you insights into how your newsletter is performing. You can track open and click-through rates, allowing you to refine your strategy based on data-driven insights continually.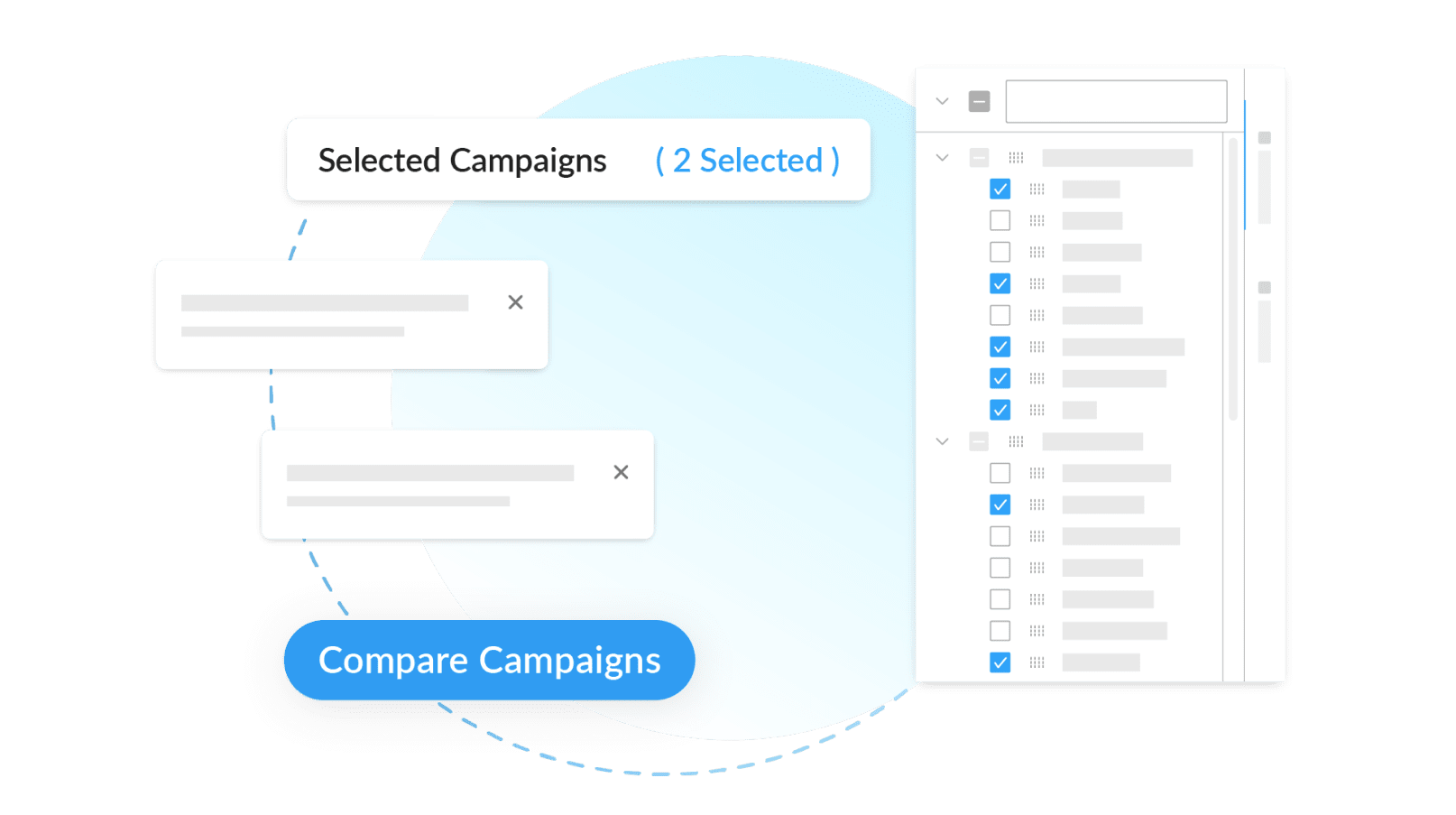 Understand engagement with click maps
With ContactMonkey's click maps, you can see exactly where your employees are clicking within your newsletter. This can help you understand what content is most engaging and how you might improve your layout for increased engagement.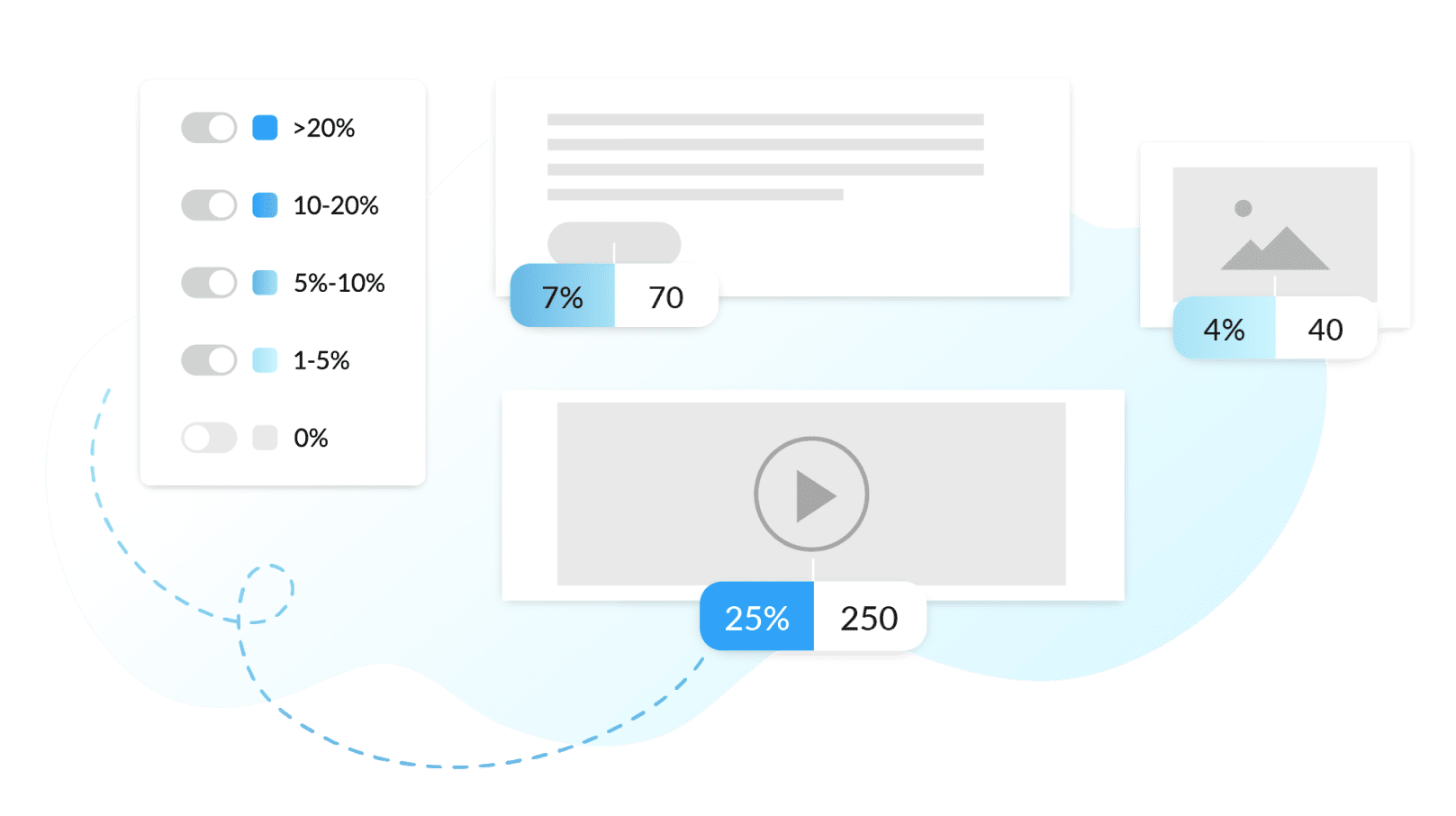 Improve company engagement with event management
With ContactMonkey's event management feature, you can add company events within your employee email templates and track registrations. Employees can RSVP to events with the click of a button and immediately add it to their calendars so they don't miss a single event.
Integrate with systems you already use
ContactMonkey seamlessly integrates with your Human Resource Information System (HRIS), such as Workday. It also integrates with Azure Active Directory. These integrations ensure that your lists are automatically updated when employees join or leave your company, eliminating the need to manually manage email lists.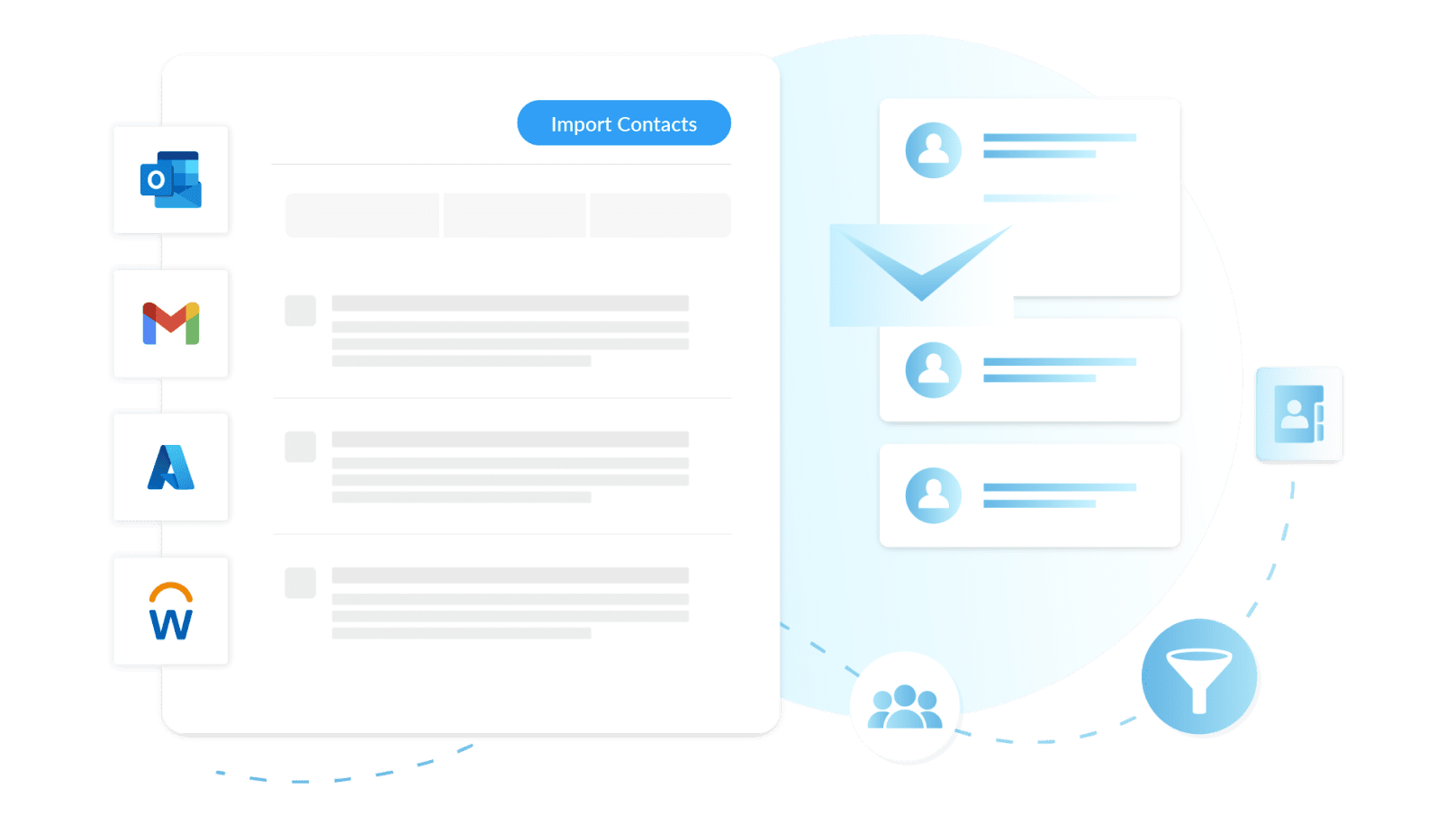 Send better internal newsletters
Send directly to distribution lists or Google Groups.
How to Write an Effective Employee Newsletter
A company newsletter is only effective when executed correctly. Here are a few things to remember when figuring out how to make your company newsletter engaging:
Content quality: Ensure your content is relevant, timely, and valuable.
Audience interest: Understand what your employees want to read about.
A place to collect feedback: This can provide valuable insights to improve future editions.
Interactive content: Interactive elements such as polls, quizzes, or Q&A sections.
Personalization: Tailor content to meet the interests and needs of your employees.
Visually appealing templates and designs: Newsletter templates can make your newsletter more readable and professional.
Attention-grabbing subject lines: Catchy and concise headlines can make for the best email subject lines.
Consider employee diversity: if you have employees across many different locations, try tailoring your communication by creating multi-language emails.
Effective newsletters disseminate information, foster a sense of community, encourage dialogue, and strengthen the company culture.
What to Include in an Internal Company Newsletter
Creating an engaging internal company newsletter involves curating informative and interesting content for your employees. Here is what should be included in a newsletter:
Company updates like company performance, policy changes, and strategic decisions.
Event updates to highlight upcoming initiatives, training sessions, or team-building activities.
Employee recognition sections where team members answer employee spotlight questions.
Learning resources to provide professional development such as tips, articles, webinars, or workshops.
Feedback and suggestion sections to encourage open communication and make employees feel heard.
But it doesn't have to stop there. For more content ideas, we've put together a list of 50+ employee newsletter ideas.
Top Writing Tips for Better Newsletters
Crafting a newsletter is an art that combines clear communication, engaging content, and a professional tone. Before we dive into how to create an employee newsletter, here are five employee newsletter writing tips and internal communications best practices to help you refine your newsletter:
Use a professional tone: Maintain a professional and authoritative tone throughout, ensuring your newsletter conveys credibility and respect.
Have a clear purpose: Every newsletter should have a clear purpose or goal. Whether it's to inform, inspire, or engage, ensure this purpose is evident in your content.
Write engaging headlines: An engaging headline can draw readers in. Make sure your headlines are catchy yet accurately represent the content.
Use active voice: Active voice makes your writing more direct, lively, and engaging. It instills a sense of immediacy and action.
Include a call-to-action (CTA): Encourage your readers to take action after reading your newsletter. This could mean clicking a link, providing feedback, or participating in an event.
Understanding how to create a company newsletter is an important skill. A well-crafted newsletter can inform, engage, and inspire your employees, fostering a strong organizational culture.
How to Create an Internal Newsletter
Creating an internal company newsletter is a strategic process that requires careful planning and execution. Here's a step-by-step guide on how to write an internal newsletter:
Determine your audience
Choose the right list of employees to send your newsletter to.
Is the content important to all employees or only to specific departments or teams? Knowing your audience will help you tailor your newsletter's content, tone, and style.
For example, a newsletter for your sales team might include sales performance updates, upcoming training sessions, and industry trends. At the same time, a newsletter for the whole company might include a broader range of content, such as employee spotlights and departmental news.
Your audience can include everything from new hires to executives, so ensure your content resonates with all organizational levels. This is where those distribution lists pulled from your HRIS come in handy.
Plan delivery frequency
Decide how often to send out the newsletter.
It's crucial to find a balance – too frequent, and you may overwhelm your employees; too infrequent, and you may fail to keep them adequately informed.
For example, a bi-weekly schedule might work well for company-wide newsletters, while weekly newsletters may suit specific departments or teams. You should also consider what other teams might be sending out and avoid sending too many emails simultaneously.
To help you plan things out, we've created an internal communications planning calendar that you can use today.
Create or pick a template
Use a consistent, visually appealing template for your newsletter. This promotes brand consistency and makes your newsletter easier to read. For instance, you might choose an employee newsletter template that includes sections for company updates, employee spotlights, and upcoming events.
Within ContactMonkey, you can create a library of employee newsletter templates to easily reuse and save time when crafting your newsletter. This time-saver is especially convenient if you have several different newsletters to create regularly. You'll even be able to choose from dozens of sample internal memos to employees with expertly crafted pre-written copy.
Let's say you have an employee recognition newsletter, a company-wide newsletter, and a leadership team newsletter. You can create and save each template in ContactMonkey and reuse them whenever you need to send out that particular type of newsletter. Just swap out the content, and you're good to go!
Create content
This includes copywriting, sourcing images, creating videos, developing surveys, and incorporating feedback elements. Ensure your content is relevant, engaging, and aligns with your company's voice and brand. You might include an article about a recent company achievement, a video message from the CEO, or a survey asking for employee feedback on a recent policy change.
The important thing to remember here is that your content should be informative, interesting, and valuable to your readers. Within ContactMonkey's platform, simply pull the various content blocks directly into your template and customize as needed. And if you're stuck with your content writing, you can use ContactMonkey's AI writing assistant to get the right message.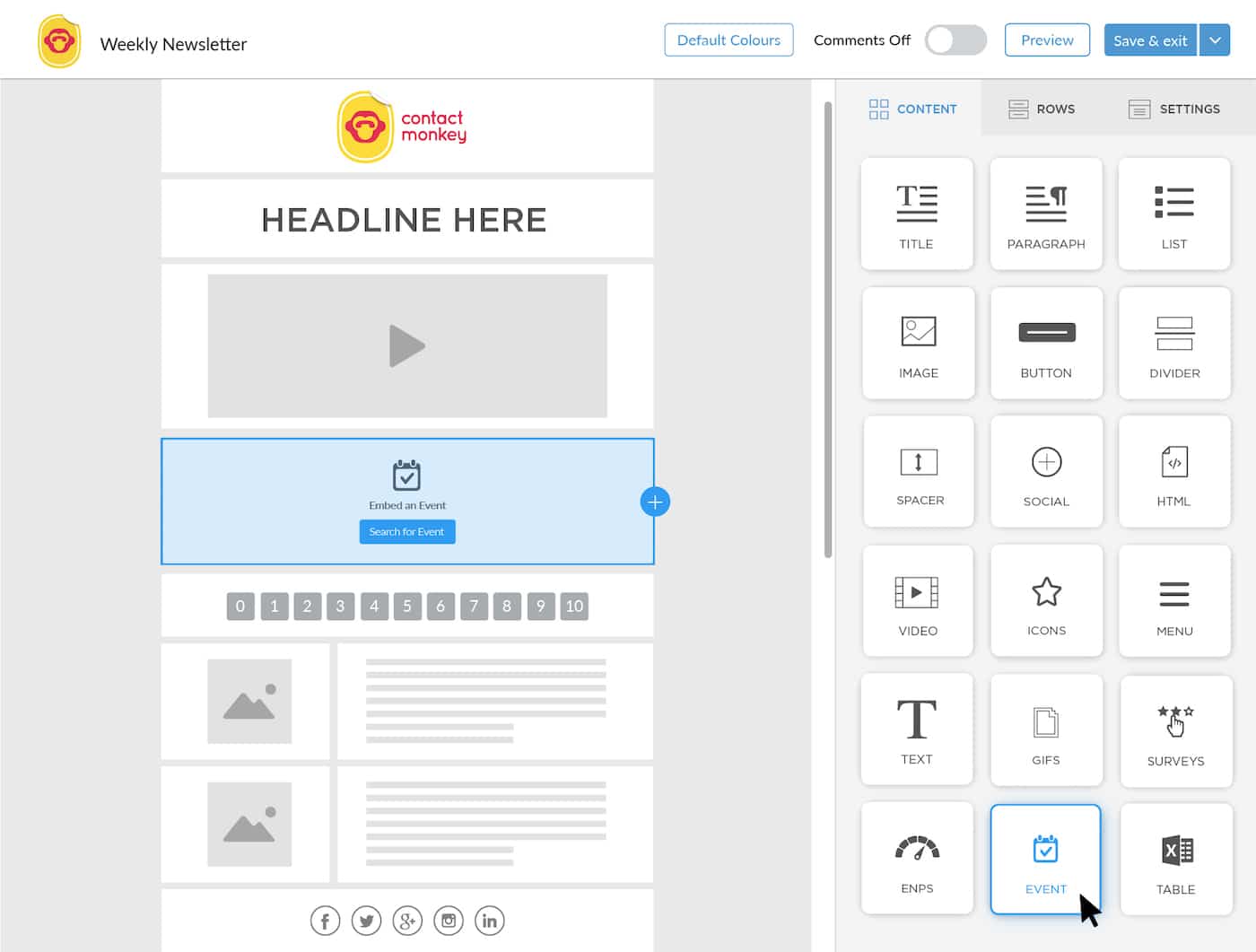 Assemble the newsletter
Arrange your content in a logical, easy-to-follow order. Make sure your most important information is at the top to grab attention immediately. For example, you might start with a brief introduction from the CEO, followed by company updates, then employee spotlights, and finally, upcoming events.
The order of your content should flow naturally and make sense to your readers. Take advantage of ContactMonkey's drag-and-drop feature to easily rearrange content blocks within your newsletter template. You can play around with the layout until it looks just right.
Manage your list and segment audiences
Ensure your distribution list is up-to-date and includes all intended recipients. Segmenting your list allows for more personalized content. For instance, you might send different versions of the newsletter to different departments, each focusing on news and updates relevant to that department. And when you integrate your HRIS with your email builder, you can move even quicker.
Since your HRIS already likely has these lists built out, you can send out targeted emails in just a few clicks. Got an HR announcement? Send it only to people in your Human Resources department. Have a sales update? It can go just to the sales team.
Schedule send or delivery
Decide on the best time to send employee newsletters. Consider your employees' work schedules and time zones to choose a delivery time that maximizes open rates.
For example, sending the newsletter on a Tuesday morning might yield better results than sending it on a Friday afternoon. This can vary depending on your company and employees, so experiment and see what works best for you. ContactMonkey also has an engagement distribution timeline to help you analyze the performance of past emails, which can help you point to the best send times.
With ContactMonkey's email tool, you can automatically schedule emails to send at your preferred time. You can also set up automated follow-up emails to ensure all recipients receive the newsletter and track open and click-through rates.
Simply choose the date and time you want the newsletter sent, and ContactMonkey does the rest for you.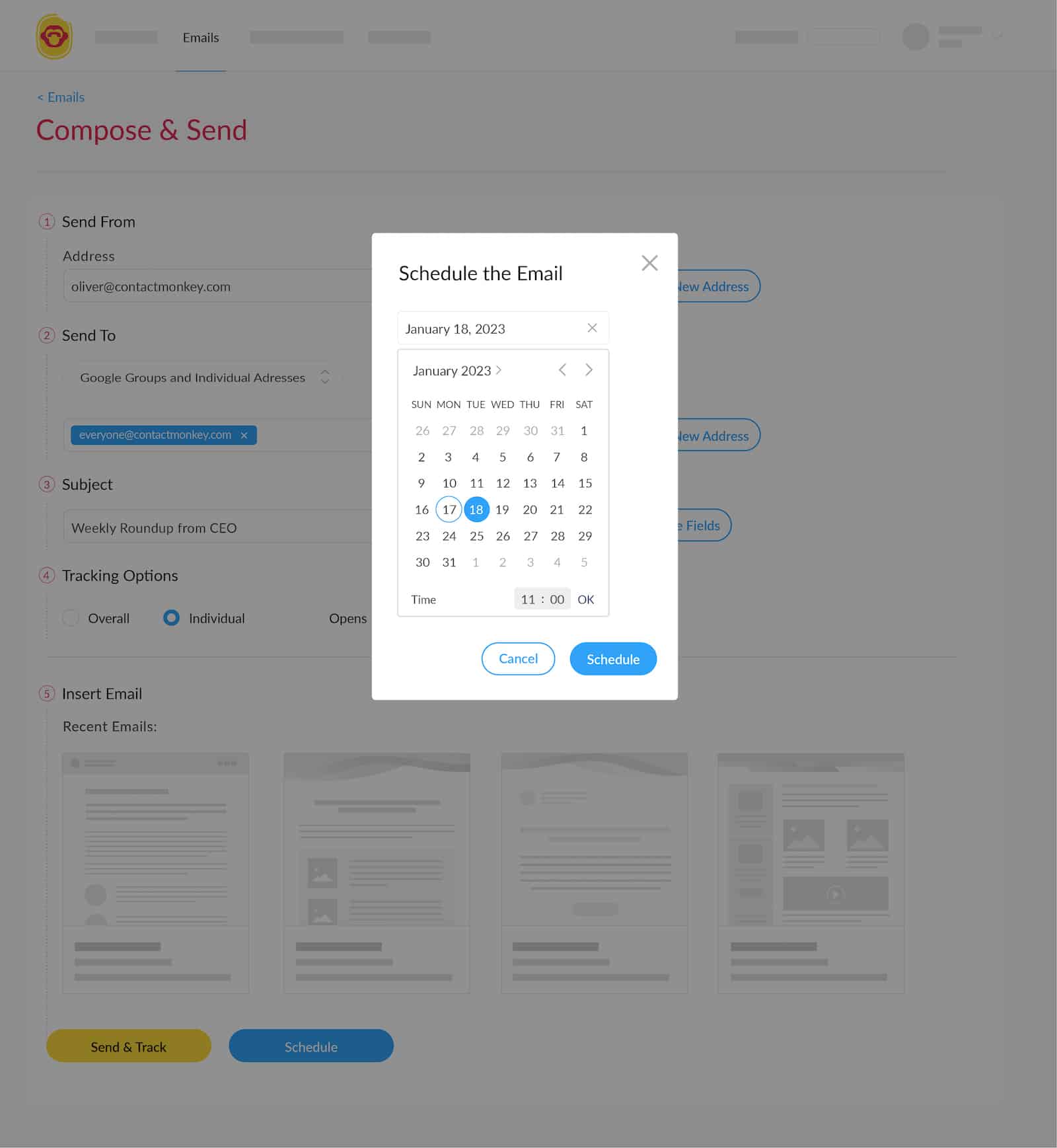 Measure the impact of the newsletter
Use internal email analytics to track key metrics like open rates, click-through rates, and feedback. This can help you understand what's working and what needs improvement.
If a particular article received a lot of clicks, for example, consider including similar content in future newsletters. If you notice a survey with low participation rates, it may indicate that employees don't find the content relevant or engaging. Use this knowledge to refine and improve your newsletter in the future. For example, if you have a low open rate for a particular email, consider experimenting with the subject line to make it more attention-grabbing.
With ContactMonkey's analytics, you can easily monitor and track the performance of your newsletter campaigns, giving you valuable insights for future newsletters.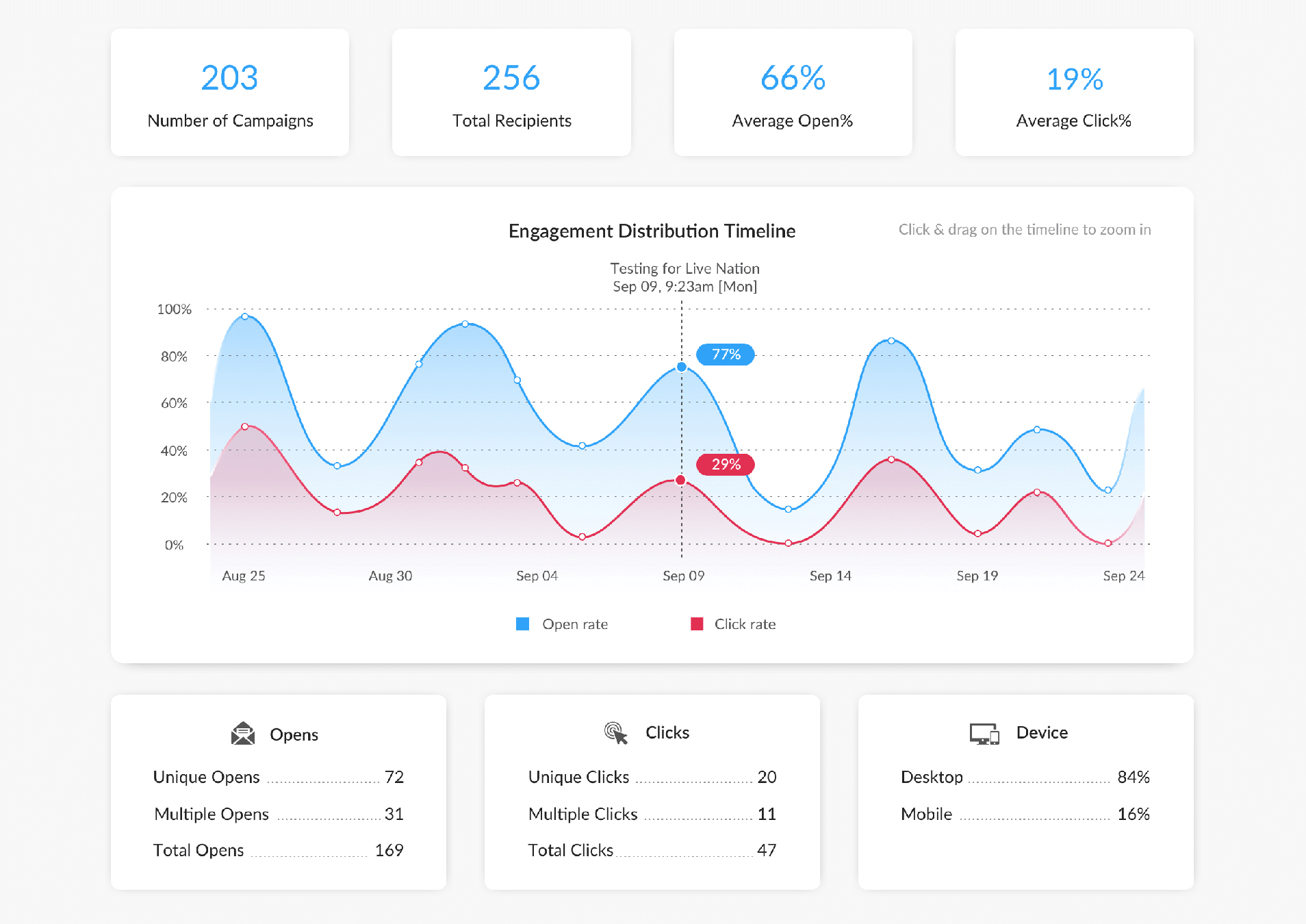 Build Better Internal Company Newsletters
Whether your company is just starting out or going through a period of growth and expansion, knowing how to write a company newsletter is essential to any well-crafted communication strategy. Creating better newsletters can help you inform, inspire, and engage your employees while strengthening company culture.
Leveraging advanced tools like ContactMonkey can further optimize your newsletter strategy. With features like a responsive email builder, AI-powered writing assistance, pulse surveys, list management, and comprehensive reporting and analytics, ContactMonkey enables you to deliver professional, personalized newsletters that resonate with your employees and drive engagement.
Embrace the power of effective internal communication. Start building better company newsletters today.
Create a better internal company newsletter
Try ContactMonkey today.