In this post, I'm going to share 12 amazing employee newsletter templates for internal comms pros.
And trust me — as someone whose professional life involves analyzing and creating hundreds of employee newsletter templates, I've learned a lot about what makes or breaks a good internal comms email.
By the end of this post, you'll: a) learn the basic skeleton of a great employee newsletter template and b) get direct inspiration for creating your own company newsletter template.
Use ContactMonkey's Newsletter Templates right now for free (no credit card is required).
What to Look For in a Newsletter Template?
The whole point of internal communications email templates is to augment and accelerate your existing internal comms processes. Think about your current email creation process, and where you encounter the most issues.
For example, use templates that are easy to edit so you don't have to spend unnecessary time updating the information on them. ContactMonkey's drag-and-drop email template builder makes editing templates fast and easy. Once you've chosen your design, all you have to do is paste in your updated info!
Another email newsletter best practice is using responsive templates. What's the point of designing a stellar-looking email if it doesn't display directly on your employees' devices? Every Outlook and Gmail email newsletter template built in ContactMonkey uses HTML. This allows your emails to display perfectly across every device and email service so you can avoid common Gmail and Outlook rendering issues.
Free Download: 20 Content Ideas for Your Employee Newsletter
Top 12 Employee Newsletter Templates
We've compiled a list of our 12 favourite employee email newsletter templates. Every template you see here is completely customizable and available within ContactMonkey's email template builder.
Need some help creating engaging email content? Try using ContactMonkey's OpenAI ChatGPT integration to save time on your email content. Simply write a prompt describing what kind of information you'd like to include, and edit the generated content according to your audience.
1. Weekly newsletter email
The most common email template is also the most useful; a weekly newsletter email template is a must-have for any business that uses a newsletter to connect with their employees.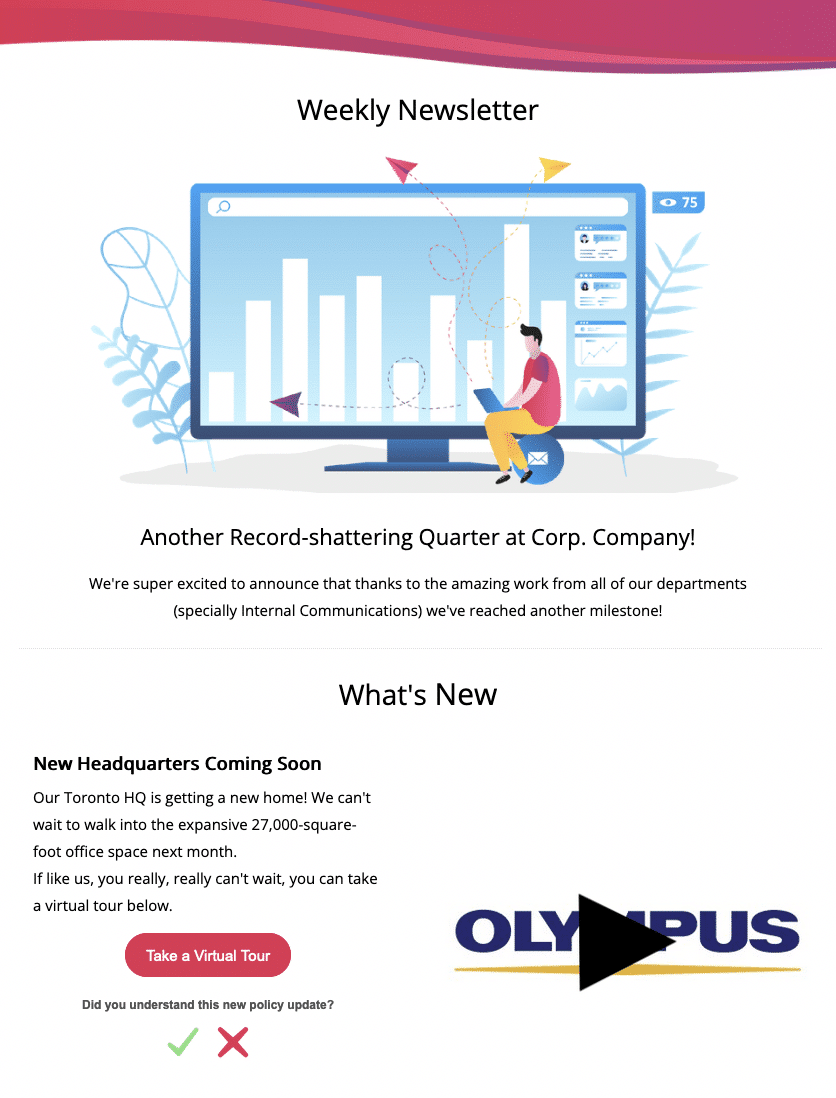 Why you should use this template: Consistency is key for your internal communications. A newsletter template maintains a consistent layout so all you need to do is update the information. When crafting a weekly newsletter the time you can save adds up quickly, and using a template removes unnecessary and repetitive design steps.
Main features: A weekly internal newsletter template features a clean layout with clearly-defined information boxes that you can quickly update. These templates can combine text, images, and videos to communicate a clear and concise message. We recommend using responsive email templates; this way your emails will display perfectly on all devices and remote team communication tools.
See how our surveys work today. Start a 14-day trial.
No credit card is necessary. Just create better emails.
2. Employee Survey
Like employee newsletters, employee surveys should be conducted on a regular basis. A consistent survey schedule not only encourages a culture of feedback at your business, but also helps you benchmark your employee feedback to track progress over time.
Using an employee engagement tool like ContactMonkey, it's super easy to create a range of employee surveys – from job satisfaction questionnaires to employee exit surveys – that your employees can respond to directly from their inboxes. Emoji reactions, star ratings, thumbs up/down, anonymous comments and more make it easy as possible for your employees to give their feedback: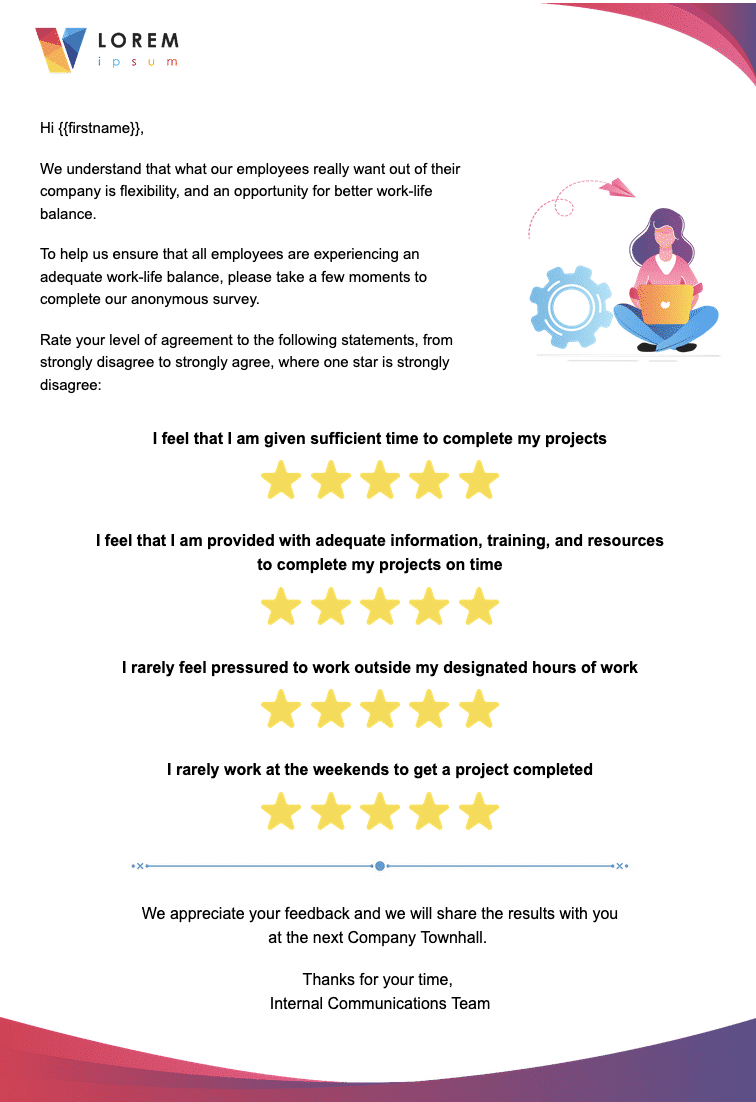 If you need to send your surveys to only a segment of your workforce, you can create custom email lists—without needing IT—using ContactMonkey's list management feature. Lists created with ContactMonkey integrate with your Human Resource Information System (HRIS) like Workday and ADP, as well as Azure Active Directory, so they'll update automatically as employees join and leave your organization.
Why you should use this template: An employee survey template allows you to focus on creating effective survey questions rather than spending time on layout and design. Try using an employee survey template to find the best time to send internal emails.
Recommended design: An employee survey template features your surveys questions prominently, with as little extemporaneous information as possible. A well-designed employee survey lets your employees respond quickly to your questions, so they can easily make it a habit.
3. Town hall announcement email
Does your business host a monthly or quarterly in-person or virtual town hall meeting? If not, you now have a great new employee engagement idea. If you do, a town hall announcement email template is an easy way to save time and increase engagement at your company meetings.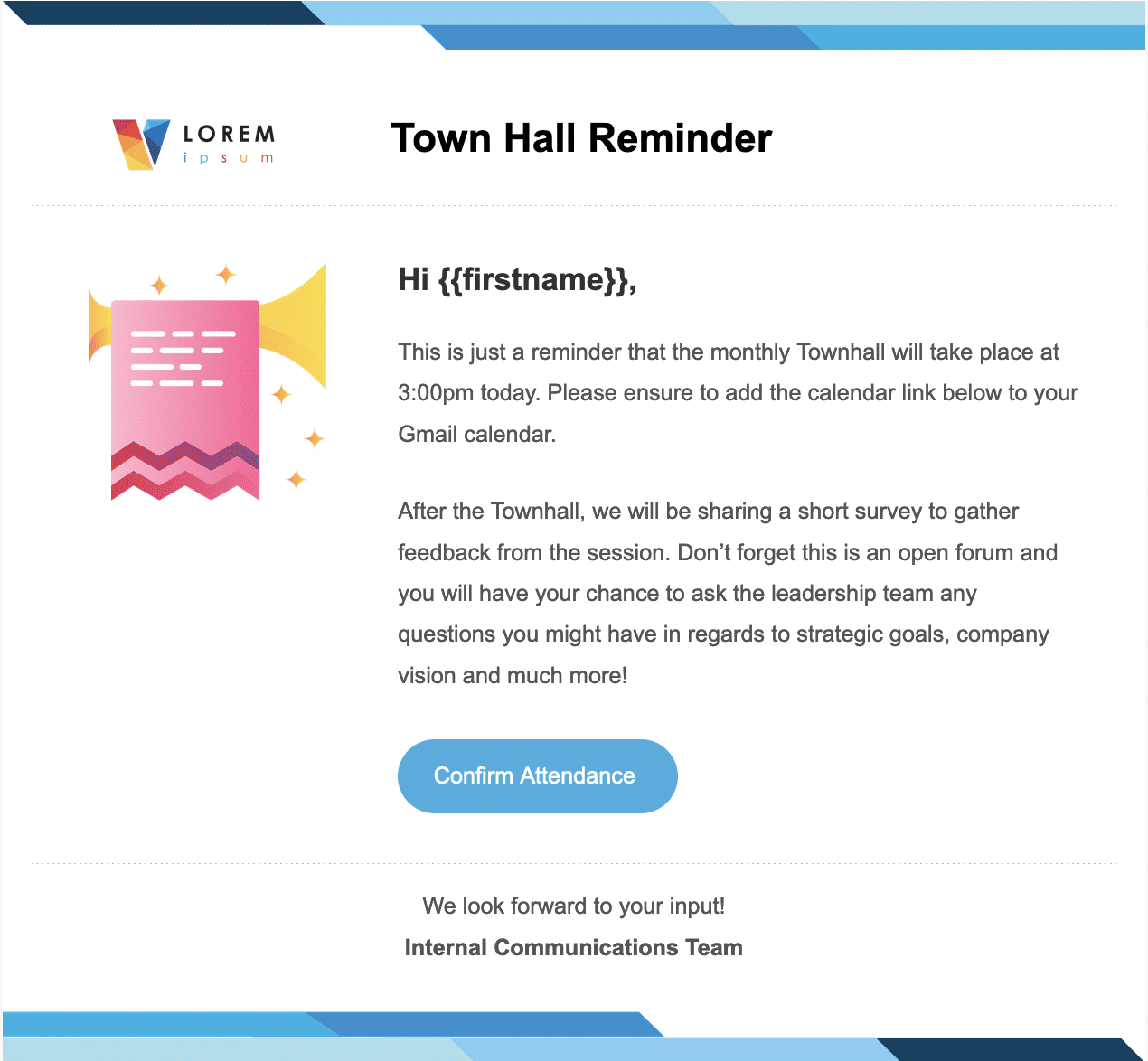 Why you should use this template: A consistent town hall announcement email helps get your employees excited to learn about new updates at your company. This town hall newsletter template features a snappy description of the next town hall, and even includes an RSVP button you can use to gauge attendance
Recommended design: Like your employee survey, a town hall newsletter template should feature a clean layout with concise and informative information. With ContactMonkey's event management features, you can use your internal emails to collect RSVPs and employee communication comments on your upcoming event.
4. Event announcement email
Similar to a town hall announcement email, and basic event announcement email is a terrific way to raise awareness about any of your upcoming company events. These templates can be particularly useful for yearly events like holidays, end of year parties, employee appreciation days, and more.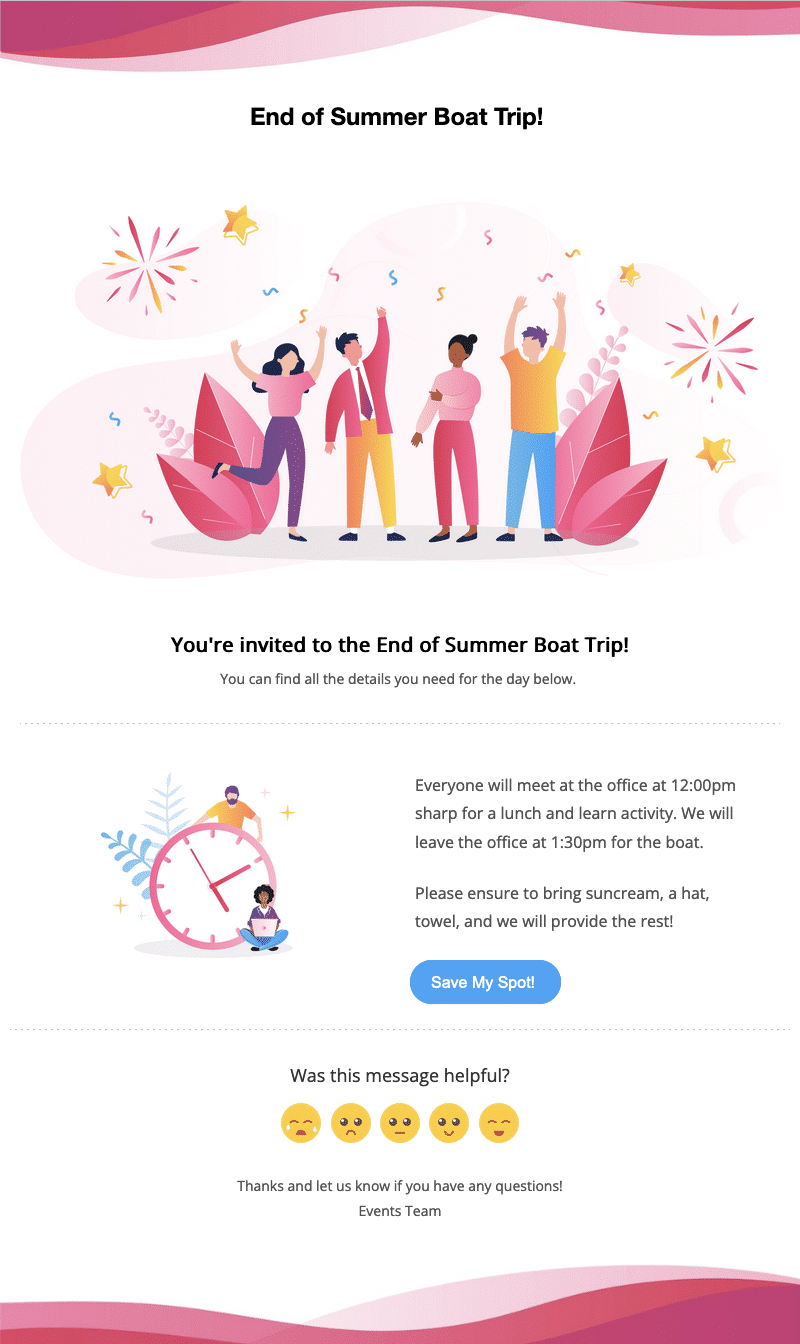 Why you should use this template: Because you know when yearly events like holidays occur well in advance, event announcement templates let you schedule your email announcements far before the event. Combined with employee feedback options like those mentioned above, you can collect input as part of your overall event management process..
Recommended design: When describing your event, whether it is in-person or a virtual event, we recommended using the 5 Ws (where, what, who, why, when) to let employees know about your event. This template features a prominent text box for you to share your information, and room at the bottom for any employee feedback tools you wish to include.
5. Pulse survey email
A pulse survey differs from an employee survey in its length: a pulse survey consists of just one question, with the goal of taking a "pulse check" of your employees about a certain topic or issue. These surveys are conducted on a regular basis—weekly or bi-weekly—which makes using a survey template essential: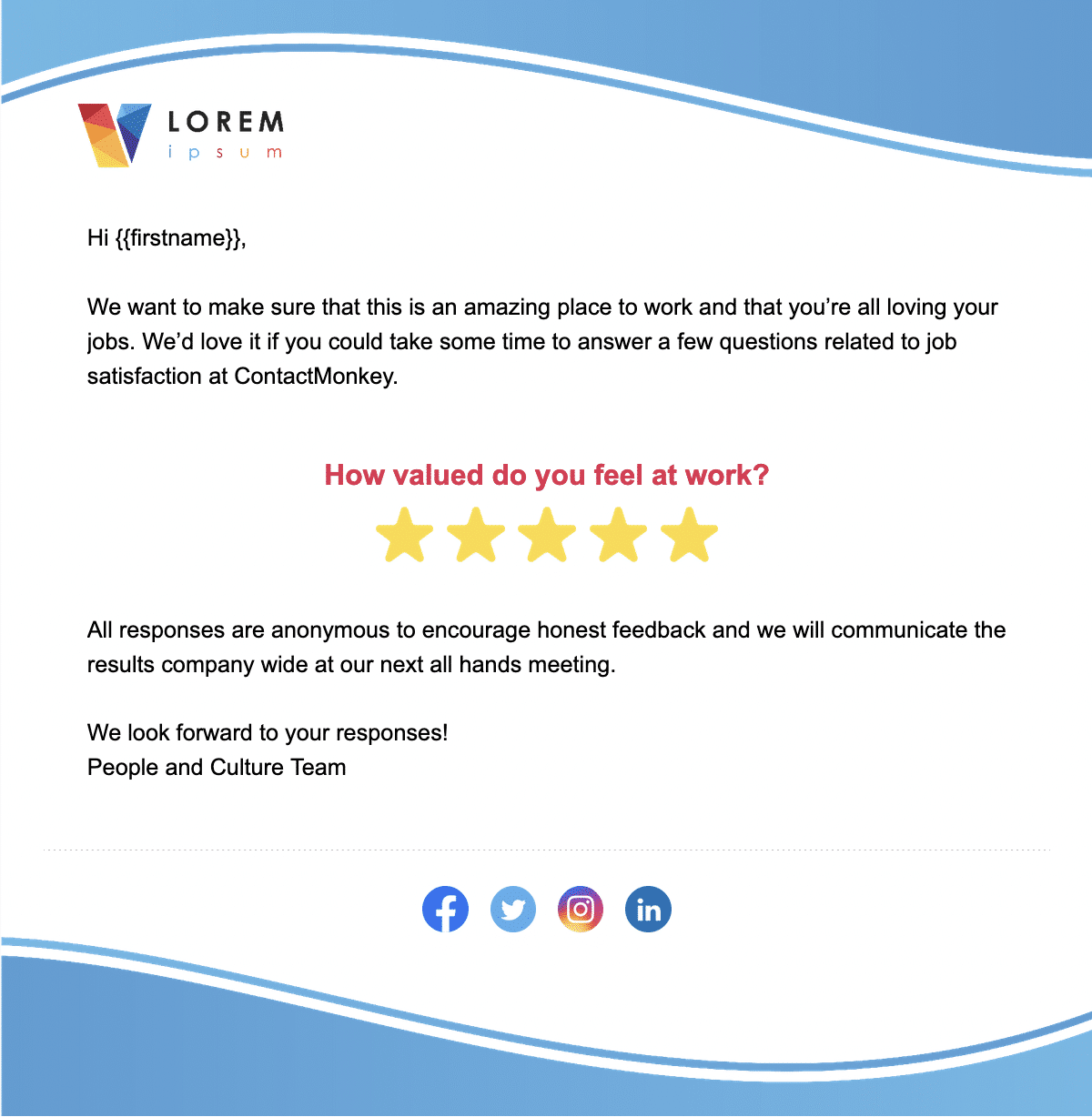 Why you should use this template: Pulse surveys questions can cover all kinds of topics, depending on what is currently important for your business. Your pulse survey template lets you quickly change your questions so you're always collecting up-to-date employee feedback. They can also be used to quickly measure feedback after company events, so your employees' feelings will be fresh in their minds.
Recommended design: Your pulse survey email template should be brief so employees can quickly reply. The survey question and reply method are featured prominently with optional contextualizing information if need be. Brevity and efficiency should always be your pulse surveys objectives.
6. New employee announcement email
Onboarding is an incredibly important process for any growing business. A solid employee onboarding process helps new employees understand their responsibilities and your company's culture—two steps crucial for future success.
Employee onboarding should also help existing employees learn about their new coworker while minimizing any interruption to their work. A new employee announcement email is a terrific way to make new employees feel welcome while introducing them to the rest of the team: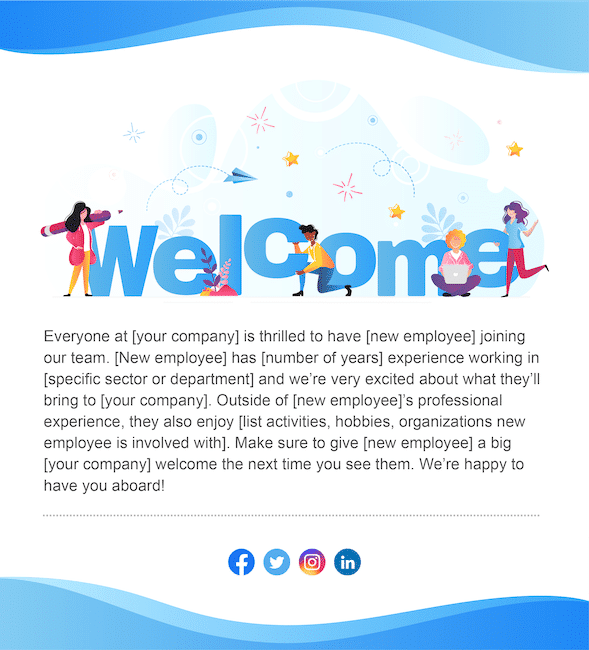 Why you should use this template: As your company grows, so will your workforce. A new employee announcement template can be used for every new employee hired, so you can let your employees know about their teammate immediately, rather than having to craft unique emails each time.
Recommended design: A new employee announcement email is a great way for new employees to introduce themselves. We recommend that your new employee describe themselves and their previous work experience, and provide a picture of themselves too. Let them have fun with it!
7. Employee departure email
Give your offboarding process the same attention as your onboarding process. Keeping your employees informed of how their workplace is changing is crucial for maintaining high engagement and low turnover.
An employee departure email should announce that an employee is moving on, while wishing them the best and recognizing their accomplishments with the company. This is a great way to maintain a good relationship with departing employees, and shows your current employees that they really matter to the business. If you want your departure announcement to encourage employees to bid farewell to their coworker, try posting your message on your company messaging software like Slack as well.
Use discretion when crafting your employee departure email; don't be overly flashy or include unnecessary extra detail. Here is a useful script for a tasteful employee departure email:

Subject: Employee Departure Announcement
Dear [department or organization] employees,
Your colleague [employee name] is leaving our organization on [date of departure]. [Employee name] has been an important part of our company's success over the past [years of employee], and we wish [him/her/them] well in their future opportunities.
Please send any questions you may have about this departure to [relevant personnel], as they will be handling [employee name]'s responsibilities until a replacement is found.
Thank you,
[your email signoff/signature]
Why you should use this template: Turnover is inevitable, so be prepared. Like a new employee announcement email, your employee departure email template can be used any time an employee moves on, saving you time and effort on your offboarding process.
Recommended design: This email template should prominently feature your company's chosen departure announcement. Use images conservatively and tastefully; let the design match the tone of the message itself.
8. eNPS survey
Employee Net Promoter Score (eNPS) measures how likely your employees are to recommend your product or company to their friends and family. This important metric helps you understand employee engagement at your business and identify potential candidates for being internal influencers.
eNPS surveys are conducted on a yearly or quarterly basis and results are compared over time. The feedback collected with these surveys is vital for informing your employee engagement strategy.
Using ContactMonkey's email template builder, you can easily create newsletter email templates featuring eNPS surveys: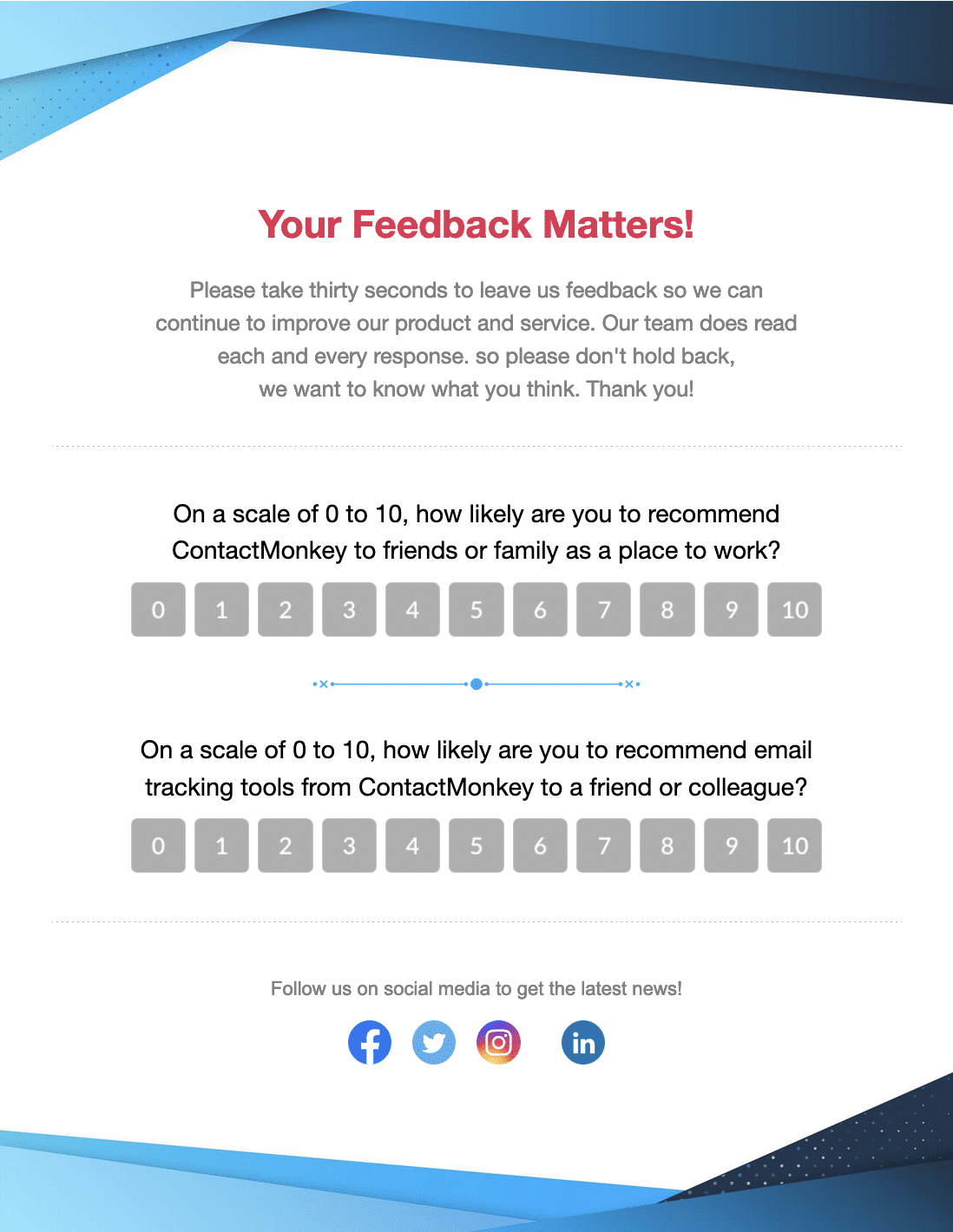 Why you should use this template: Because eNPS surveys measure a very specific aspect of employee engagement, their format rarely changes. eNPS survey templates can help you schedule these emails well in advance, so you can focus on more time-sensitive content.
Recommended design: Like pulse surveys, your eNPS survey template should be short and sweet. You want to maximize the response rates for your survey, so leave extra information to a minimum. With ContactMonkey, all your eNPS survey results are visualized within your analytics dashboard.
Pro Tip: Using ContactMonkey's anonymous email tracking, you can gather email metrics while maintaining your employees' privacy.
9. Health and safety guidelines
As workplaces evolve to meet employees' health and safety needs, you'll need to keep everyone at your company informed of your latest policies and guidelines. Create a health and safety guideline email template that you can easily update whenever there are new initiatives. Use information gathered from an employee safety survey to understand what's most important for your employees.
Does your company have new COVID protocols? Quickly let your employees know via an internal health and safety email: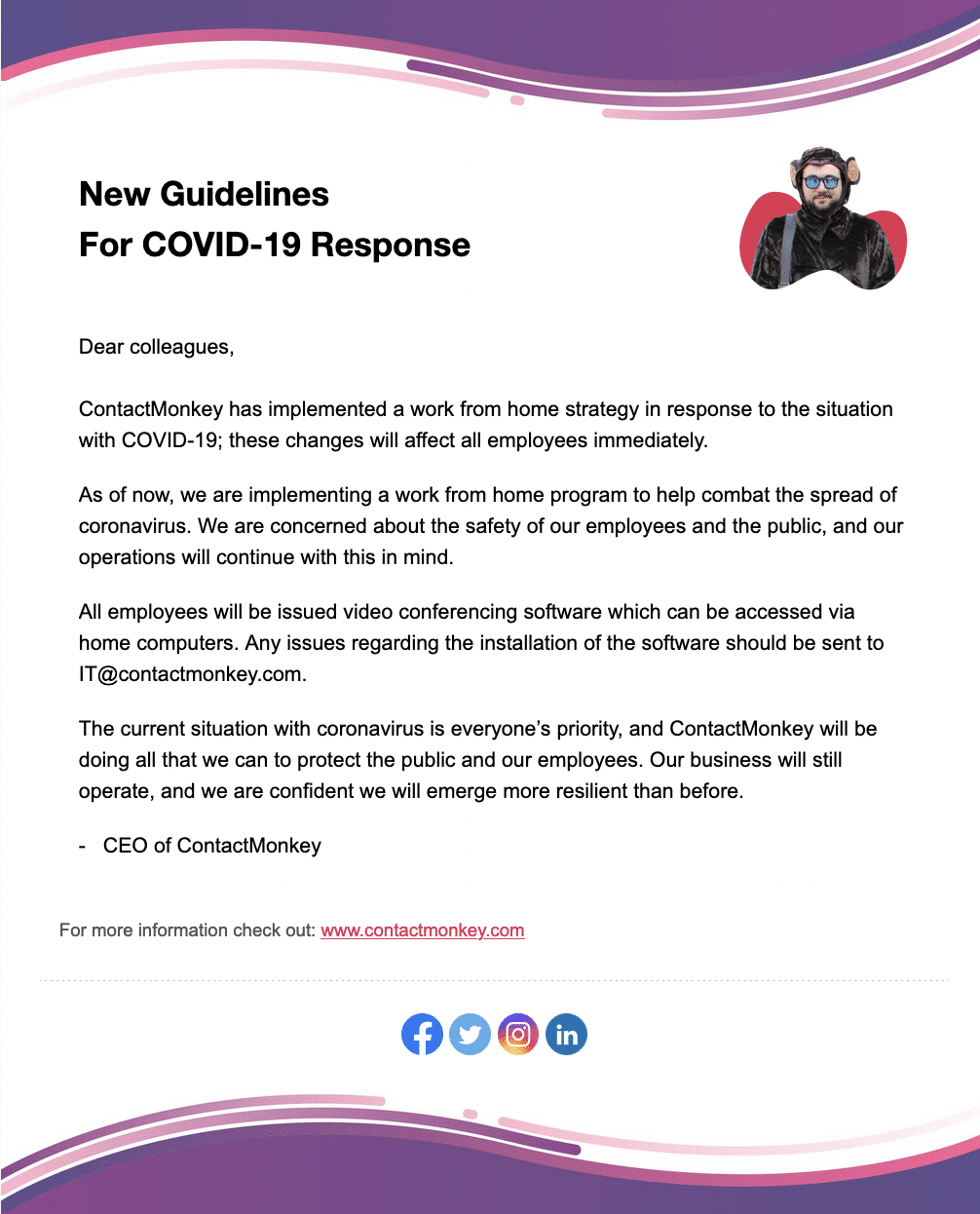 Why you should use this template: If a health and safety situation occurs at your business, this template can help your internal communications team get a message out to employees promptly. It's hard to predict when health safety needs will be foregrounded at your business, so a template like this can help you react as quickly as possible.
Recommended design: Be as direct and concise as possible. Use lists to condense the size of your email, and keep information as simple as possible.
10. Employee fundraiser emails
Employee fundraisers are a terrific way to build employee engagement and make your business attractive to potential talent. Establish a yearly fundraiser for your employees to take part in by surveying what causes matter to them the most.
Fundraising campaigns feature recurring communications that update employees about their fundraising successes. Use an employee fundraiser template for these email updates: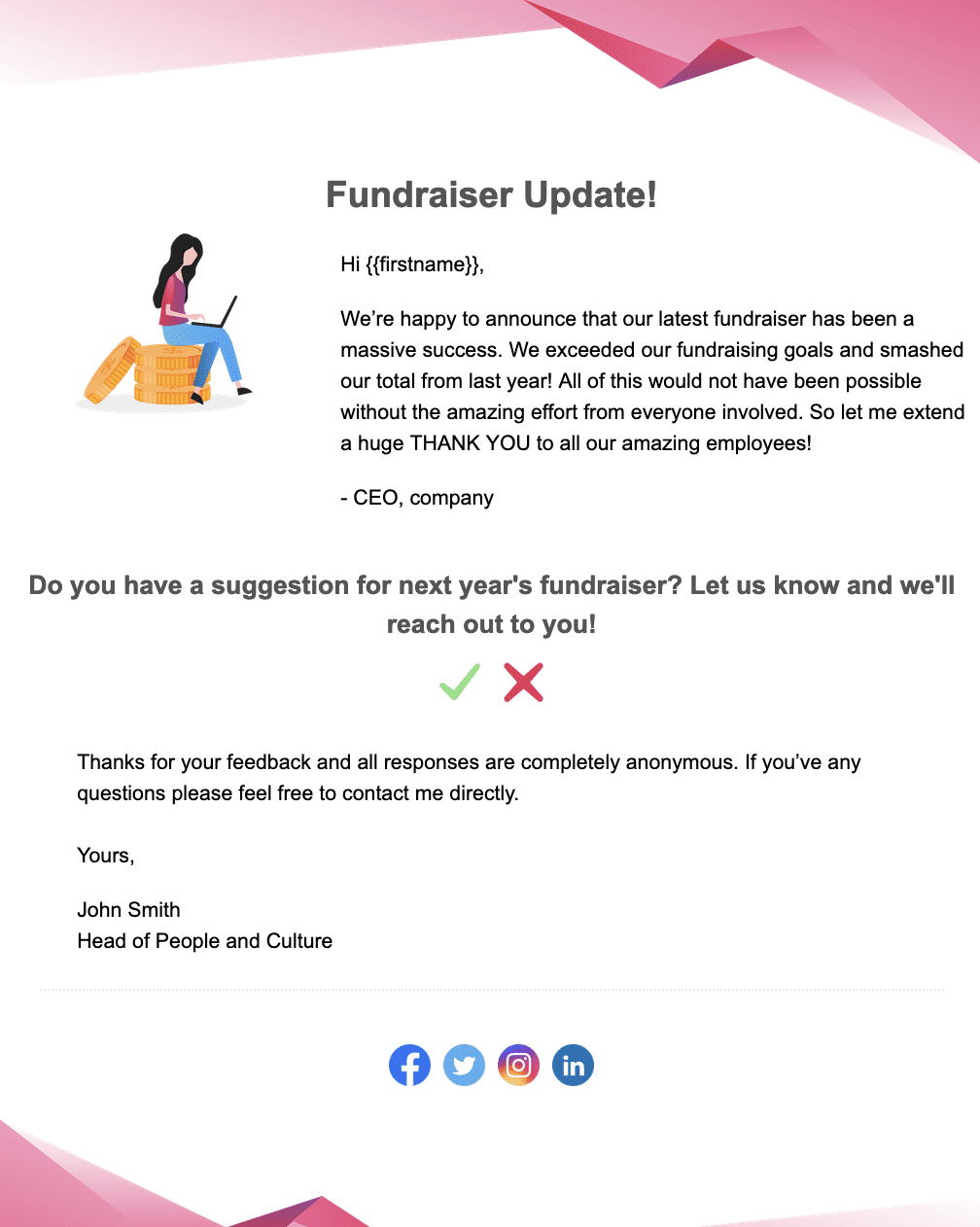 Why you should use this template: Put effort into designing an engaging fundraising announcement email, and then use it as your template for future updates. Save time on your email design process and easily update your fundraiser emails using employee newsletter templates.
Recommended design: Let your creativity shine to reflect the motivations around this fundraiser. Feature company branding, graphics, and videos to get employees excited about donating or volunteering.
11. Employee of the month
Another terrific employee recognition idea is an employee of the month program. Each month, recognize a different employee who went above and beyond for your organization. Create an employee an email template for employees of the month to save having to redesign your email layout.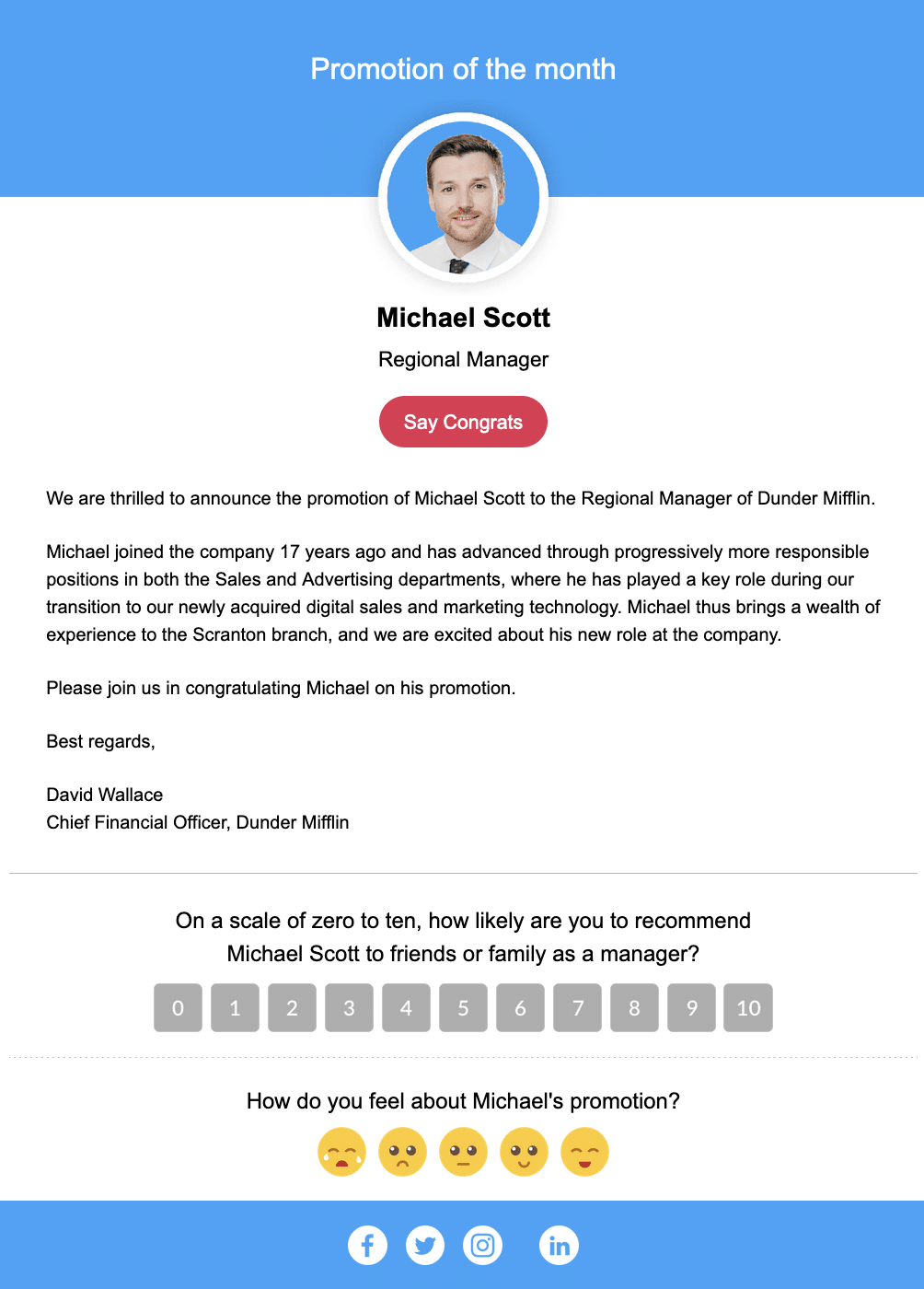 Why you should use this template: This is another weekly initiative, so the time you can save on design really adds up. Consistent email design for your employee of the month program also lends a sense of importance to it as well. After all, you're celebrating an employee who gave an extra effort for everyone's benefit, show them that their contribution was appreciated!
Recommended design: You can take two approaches for your employee of the month program. Surprise the employee by keeping the winner a secret until it's announced. Or coordinate with the employee of the month to collect some of their insight about how they succeeded in the previous month. Be sure to feature a great picture of them too!
12. Business updates
Your business is always growing, but sometimes employees aren't privy to what's happening in departments other than their own. A business update email gives employees a quick breakdown of what your various departments are working on, as well as their recent successes and struggles. For more effective updates, try featuring messages directly from C-suite or using other strategies for effective leadership communications.
Try sending out this email on a monthly or bi-monthly basis, depending on how quickly your company moves. You can also use this email to outline new product updates or initiatives: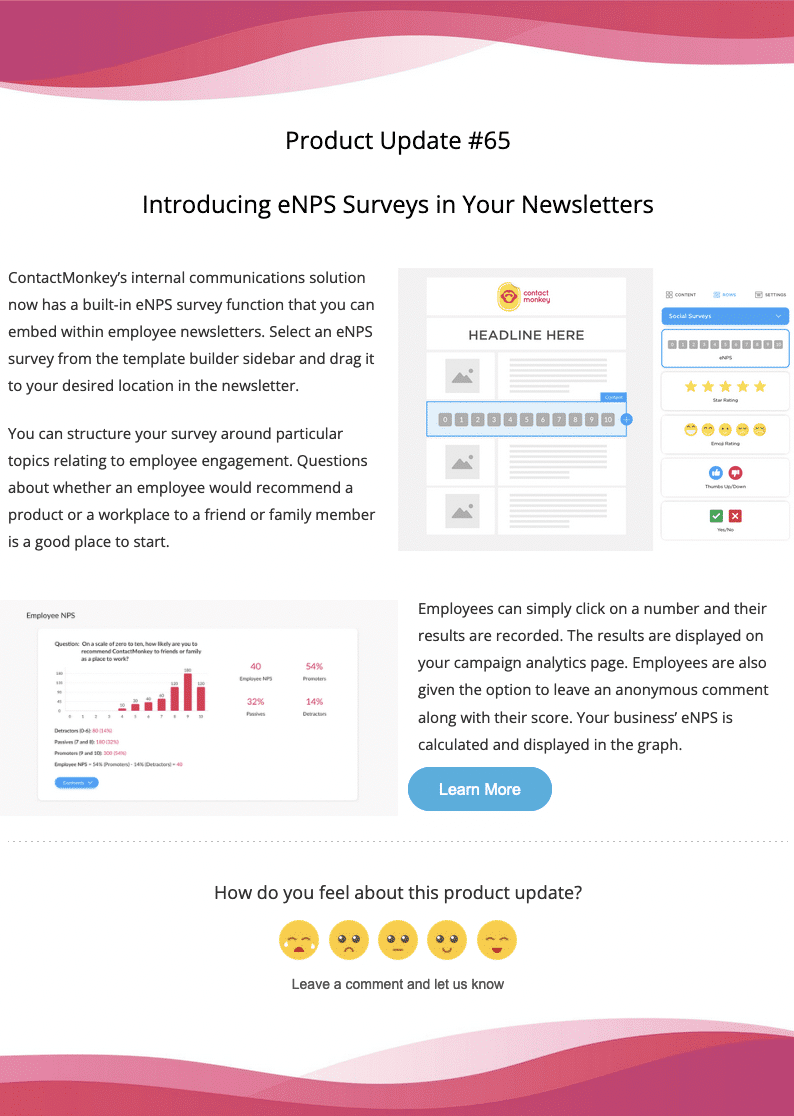 Why you should use this template: With all monthly emails, it's best to keep a consistent layout to help employees make checking it a habit. Coordinate all your monthly emails using an internal communications planning calendar. This way you can be sure not to overwhelm your employees with too many emails.
Recommended design: This email template can be similar to your employee newsletter, but focused more on business developments than general information. Use images and internal communications videos to communicate more information than words alone. Create different sections to organize your information so employees can easily refer to it later.
Bypass email-sending limits of Outlook and Gmail.
Send all of your internal emails within ContactMonkey.
13. Company anniversaries
Celebrate your company's milestones with an anniversary email. This is a great way to remind employees of the accomplishments they've achieved together and motivate them to continue striving for success.
Why you should use this template: Emails are one of the most cost effective ways to celebrate, so make sure yours looks great! Use an anniversary email template to quickly design a beautiful and engaging email that celebrates the momentous occasion.
Recommended design: Create a fun, celebratory atmosphere by adding company branding, banners, videos, and images. Feature stories from employees about how the company has grown since its founding date. Include messages from leadership to personalize the emails and make them feel special. End the email with a call to action that allows employees to celebrate in the office or at home!
14. Employee birthdays
Birthday emails are a great way to wish your employees well and make them feel appreciated on their special day. An employee birthday email template can be used as an easy way to send out personal messages to each employee without having to manually compose them.
Why you should use this template: Making sure your employees feel appreciated and celebrated is essential. An email template will save time while still allowing you to create personalized and thoughtful emails for each employee's special day.
Recommended design: Make the template fun and lively by adding in celebratory designs, such as balloons and presents. Include photos of the employee to personalize the email. You can also use GIFs or videos to make it more interactive. Be sure to include a heartfelt message from leadership wishing them well on their day!
15. CEO announcements
Announcements from the CEO are important for informing employees of company updates. A CEO announcement email template can be used to quickly and easily send out these messages.
Why you should use this template: By using an email template, you can ensure that all announcements are consistent and professional. This also makes it easier to keep employees informed in a timely manner.
Recommended design: Include relevant images or videos that reflect the content of the email and highlight key points. Be sure to keep the language concise and to-the-point while still conveying enthusiasm and excitement. End with a call-to-action encouraging employees to share the message with their colleagues!
Why Use Templates for Your Internal Email Newsletter?
Even the smallest bit of time saved on your email creation process results in drastic time saved over time. Mettler Toledo, after switching to ContactMonkey for their internal communications, saved 25 days a year on their internal communications.
Email templates help you save time while maintaining quality. They also help strengthen your internal brand voice via consistent and well-designed email content. Think about it: if your company does not take care in presenting quality content to its own employees, how does that reflect on their attention to detail regarding external stakeholders?
Finally, employee newsletter templates can help create a sense of consistency in your internal communications, which boosts employee engagement. Consistent employer branding increases the legitimacy of your internal communications, and consistent sending can help increase engagement.
Create Better Email Templates Using Email Analytics
After designing a great-looking email newsletter template for your employees, you want to make sure that it's getting the attention of your employees.
You can use employee surveys to directly ask your employees what they think of your newsletter, which can elicit ideas for improvements or new content.
But you can also measure your newsletters' effectiveness using email analytics. Metrics like open rate, click-through rate, and read time all help you understand how your employees engage with your internal communications: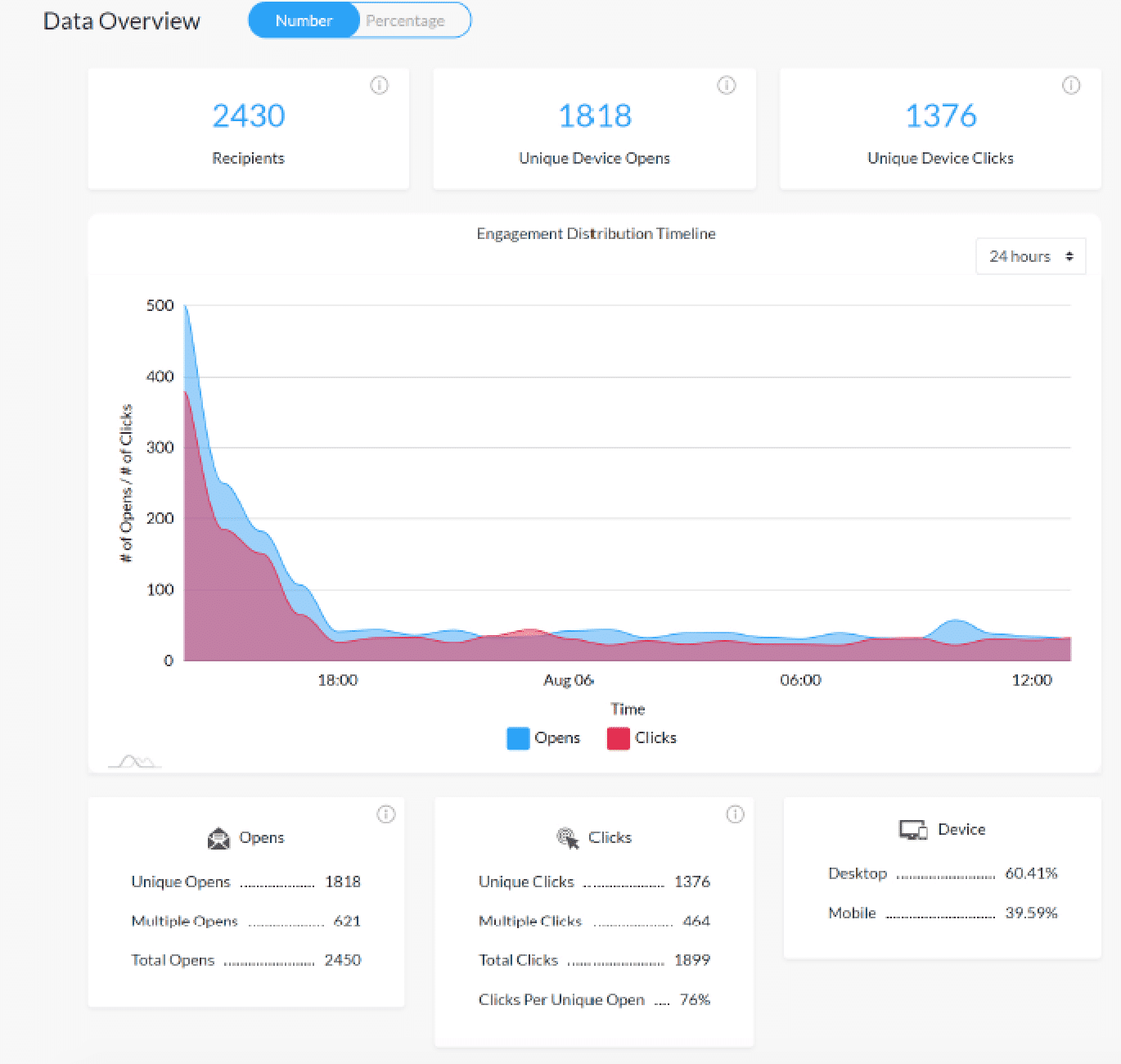 Using ContactMonkey's campaign overview dashboard, you can measure and compare the performance of your internal communication campaigns to see what resonates the most with your employees.
You can even get more granular feedback by using ContactMonkey's click maps feature: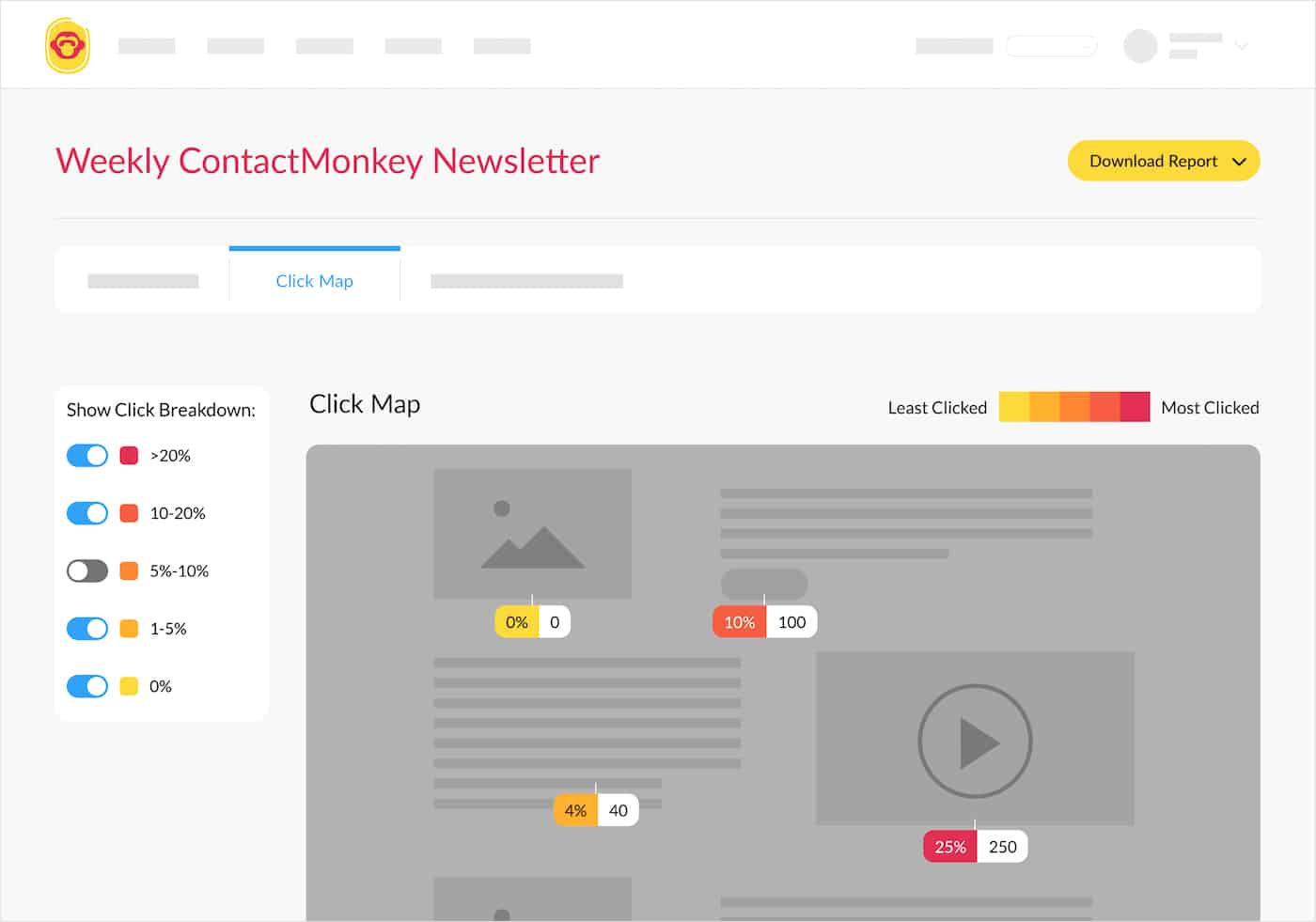 Click maps show you what parts of your emails get the most attention from your employees. This can help you optimize your email design to ensure your employees are seeing the information you need them to see.
Choose the Best Employee Newsletter Templates
Take our internal email communication template ideas and apply them to your own business. Identify recurring emails that you already send and create a plan to implement templates for them.
When creating a new initiative at your company, map out future communications associated with it and build your templates in advance. This way you can update information quickly if need be.
The time and effort saved by using internal communication email templates adds up, especially if you're sending a huge number of emails per year.
OK, let's say you've decided on your newsletter template. You still have to fill it with the right content – but that can be difficult, especially if you're starting from scratch.
That's why we've created a tip sheet of actionable employee newsletter content ideas as a free download. ☝️
Learn how to use internal communications software to build your own email templates for Outlook and Gmail. See ContactMonkey in action by booking a free demo.