Keeping all your internal communications sorted can be a big task. Use an internal communications content calendar to create and schedule amazing internal emails and newsletters.
Internal communicators have a lot to remember. They have to know when to send internal emails, which emails are weekly or monthly, or yearly. They even have to remember what holidays or special occasions to inform their employees about.
For those that lack a well-defined internal communications strategy, keeping track of every email and newsletter that needs creating and sending can be a near impossible task.
An internal communications content calendar can help you create, schedule, and send your internal emails so nothing gets lost or forgotten. We'll cover what goes into an internal communications content calendar. And we'll look at how you can use one to send more engaging emails to your organization.
Simplify your content planning process.
Get our internal comms content calendar template.
What is an Internal Communications Content Calendar?
Think of your internal communications content calendar as a road map for your recurring emails and company newsletter ideas. It charts out everything you create and send like:
Employee newsletters
Annual and monthly announcements
Event invitations
Employee surveys
Many of your internal communications are sent on regular intervals. Your content calendar helps you keep track of what you need to send and when to send it.
If you're part of an internal communications team, a content calendar can help allocate responsibility. ContactMonkey's internal communications calendar template includes a section for each month where you can record details on specific projects, including who owns each project.
You can also use colour coding to highlight which email is going to which department. Leave any notes about your monthly email sends:

Why is an Internal Communications Content Calendar Important?
A content calendar lets you know what you're going to send months in advance of the scheduled send date. You can easily get your campaigns created in time and avoid last-minute scrambling to create content due the next day.
Some email sends don't occur on weekly or monthly intervals. Rather, many internal communications need sending only once per year like performance reviews, company events, employee birthdays, and more. Your content calendar can make sure you don't forget any important dates or events, and ensure that you send the right email at the right time.
Planning your emails in advance can help you improve your internal communications. For example, you can decide to email your employees on a bi-weekly basis. You can plan around future emails so you're not sending weekly and monthly emails together on the same day.
20 content ideas for your employee newsletter.
Put these ideas right into your content calendar.
How To Create A Content Calendar For Internal Communications
Your internal communications content calendar can be designed in numerous ways to fit your business. The type of internal communications that you plan to send should inform how you create and fill out your calendar.
When building your content calendar, consider the different sending intervals for your content. You can save time with content creation by using ContactMonkey's OpenAI ChatGPT integration. Simply provide a prompt and edit the generated text to fit your desired audience. You can also try using these intervals to guide your content calendar:
Weekly sends
Monthly and bi-monthly sends
Quarterly sends
Annual sends
Yearly Internal Email Examples
Your yearly email sends are likely the easiest to anticipate and plan. Things like annual events, holidays, performance reviews, and other things that occur on a yearly basis can be listed months in advance. Here's what an event invitation built in ContactMonkey's email template builder looks like: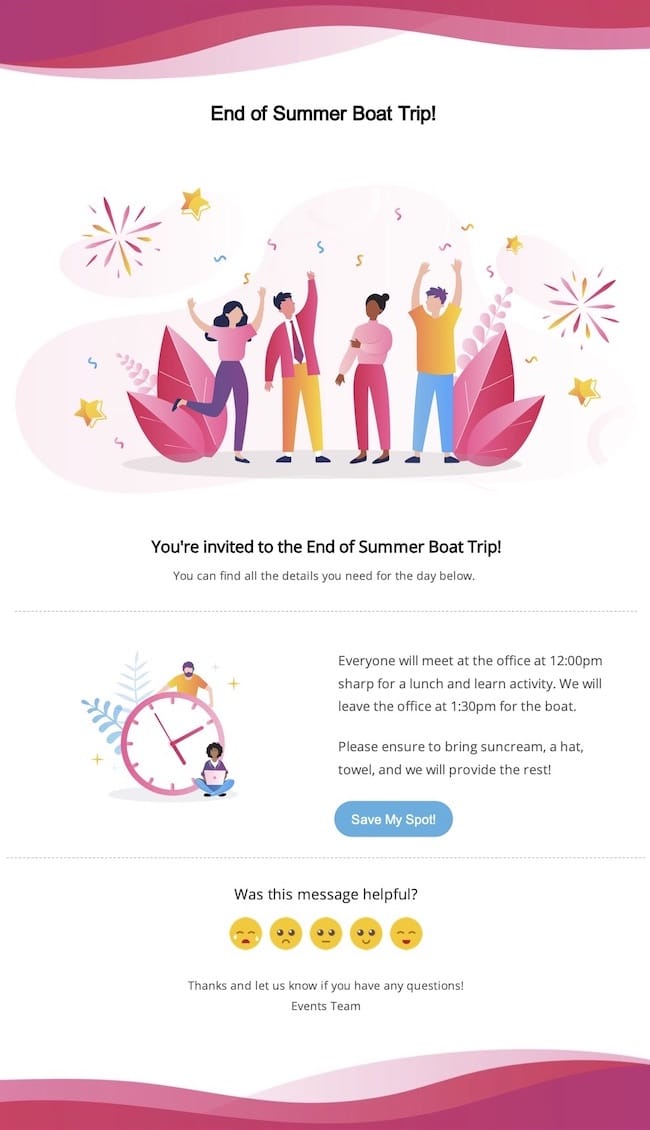 If any of your yearly events require additional information or updates, be sure to include reminders in the notes section for the given month. For example, you may know when your company's holiday party may happen, but the actual plans for it could depend on what your employees suggest or vote for.
Record notes for events that require additional information in ContactMonkey's content calendar template in the built-in notes section: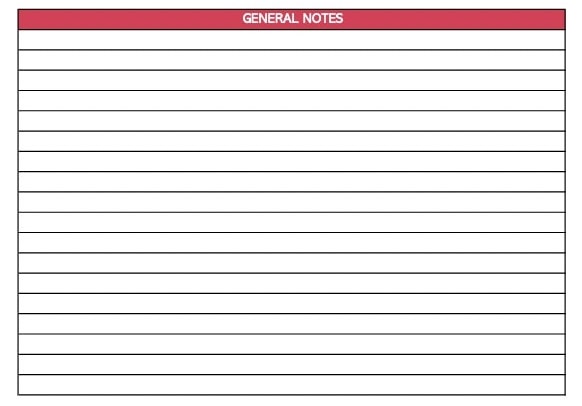 Monthly Internal Email Examples
The next step in creating your content calendar is to fill out your monthly events. These can be a bit trickier to forecast compared to yearly events, but many monthly email sends can be planned even if the content for them isn't ready yet. Let's look at some internal communications examples.
Employee pulse surveys, internal email campaigns, company town halls, and other recurring events can be included at this step. Again, be sure to make notes as to what content is already prepared versus what needs to be decided closer to the send date.
Need to differentiate between monthly events with pre-prepared content and those that need additional information? Use the Project Checklist table included in ContactMonkey's internal communications planning calendar to record which email sends need to be finished closer to the date.
This way you won't be scrambling to come up with content at the last minute, as you'll be able to proactively collect the relevant information.
Weekly Internal Email Examples
Your weekly email sends will be the trickiest content to plan far in advance. Things like project deadlines, weekly meetings, onboarding and offboarding announcements, and other email content can often come up without much warning: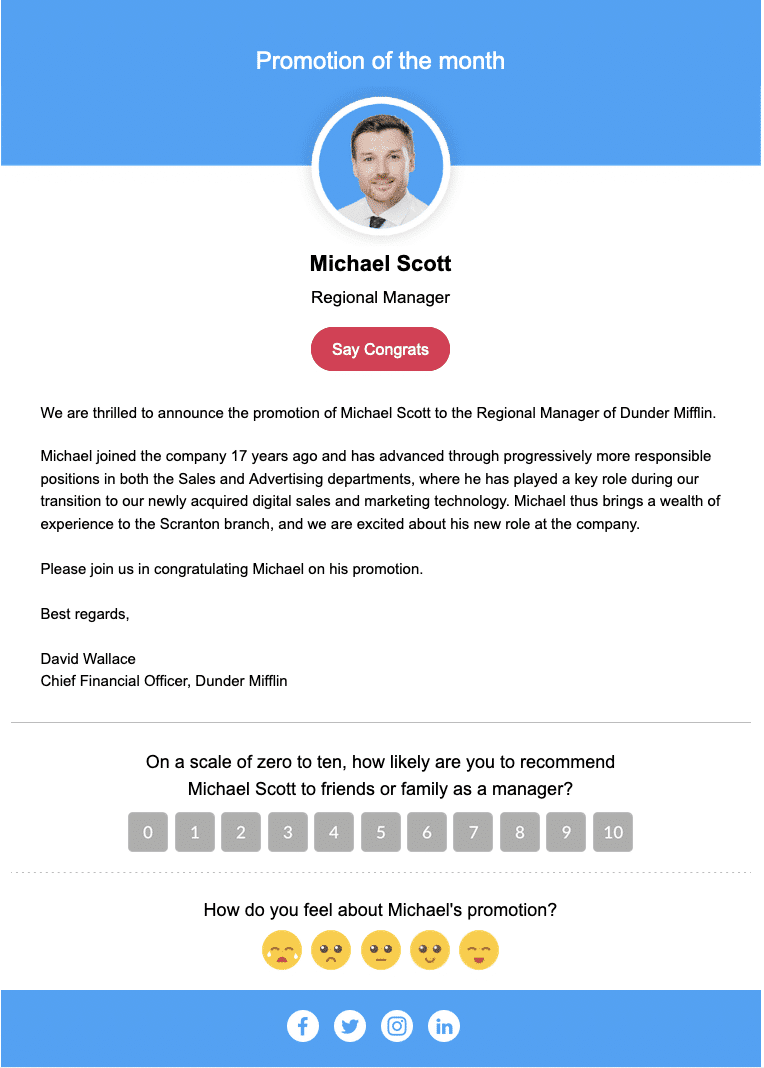 Try categorizing your weekly email sends based on who is in charge of them. Allocate the workload fairly so you and your team can keep a constant eye over the upcoming week's email sends.
Be sure to plan your weekly email sends around your planned monthly and yearly internal communications to avoid overloading your employees. Plan to send only a certain number of internal emails each week, and use this to inform your future planning.
Try Email Builder by ContactMonkey today.
2-week free trial. No credit card is necessary.
How To Deploy A Content Calendar?
After you've created and filled out your content calendar, you can now start planning your email content around it.
As we mentioned in the previous section you can create and schedule certain emails in advance of their send date, like yearly or monthly content. Make a list of the content you can create ahead of time and begin creating it at a manageable pace.
Once you've created your future email content, you can have it ready for sending when the time comes. Or if you're using an internal communications tool like ContactMonkey, you can use scheduled email sending to set your emails to send at a future date: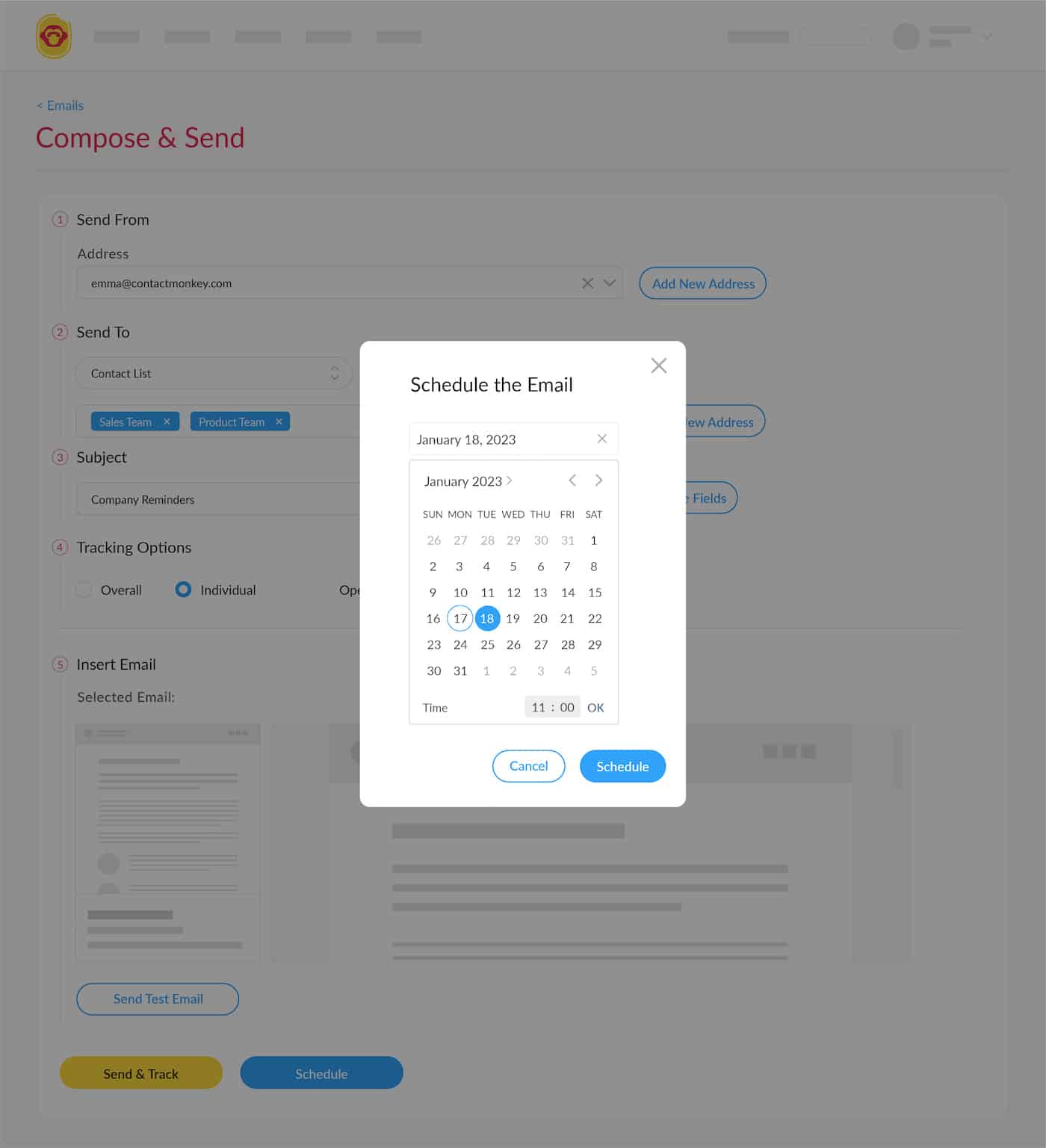 Once your scheduled emails are sent, you can monitor their performance to see whether your sending schedule works with your employees.
Using ContactMonkey's email tracking features you can measure open rate, click-through rate, opens by device and location, read time, and more to learn how your emails performed: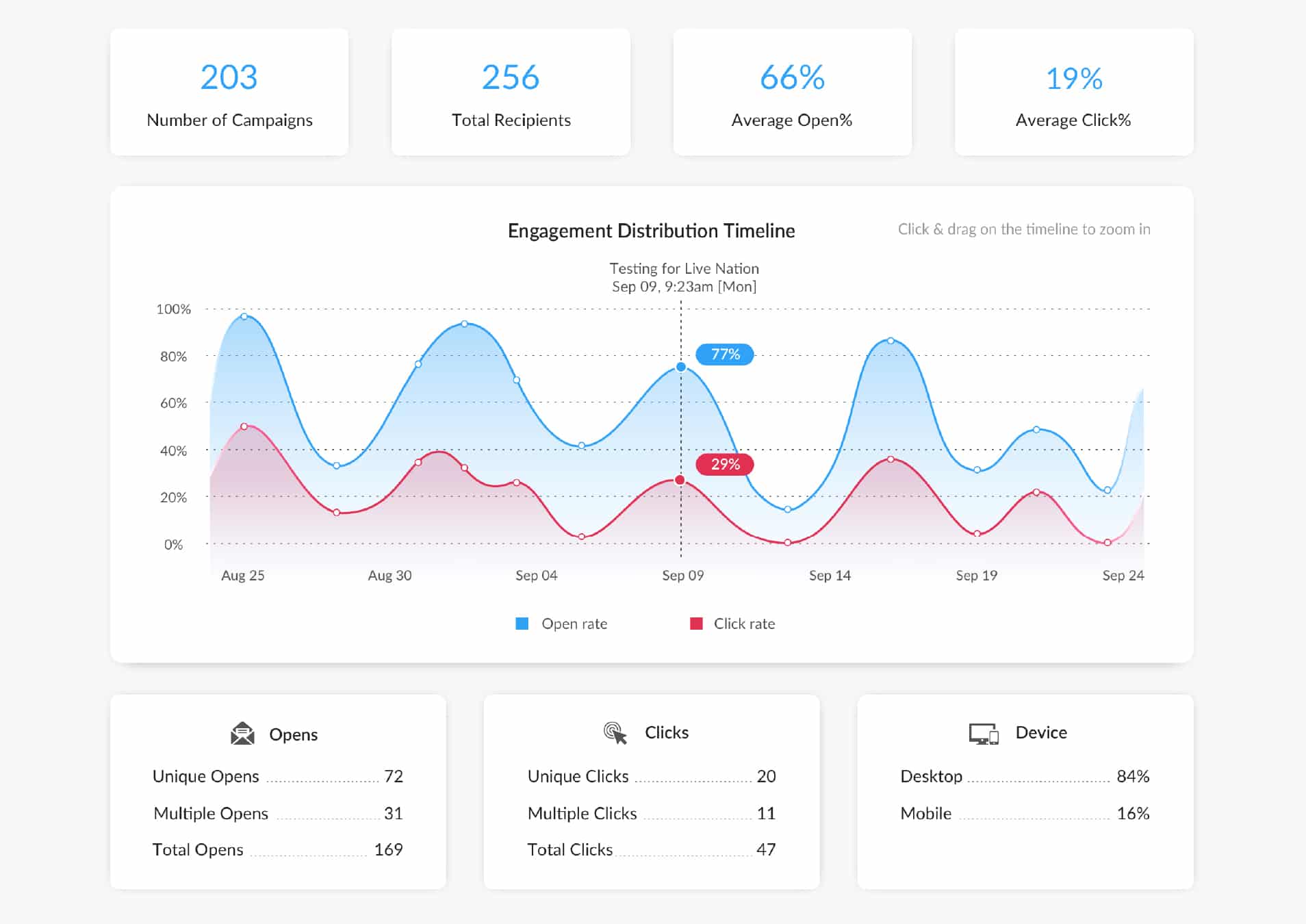 Are your employees overwhelmed with your scheduled emails? Collect employee feedback using emoji reactions, anonymous employee comments, thumbs up/down, yes/no, eNPS, and more when you send your internal emails with ContactMonkey: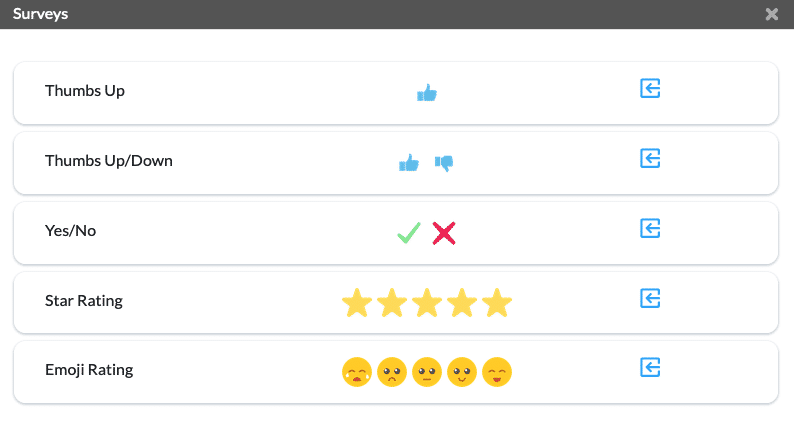 You can use employee feedback and email metrics to find your best-performing email content and optimal email frequency. Combined with ContactMonkey's internal email benchmarks, you can use this data to edit your content calendar to create a sending schedule that maximizes engagement with your internal communications.
You can also use distribution list management for a more efficient process. Instead of manually curating your distribution lists, or chasing down HR or IT for a new list each time, just use an internal communications tool that is already integrated with Outlook or Gmail.
ContactMonkey can seamlessly integrate with Azure Active Directory or HRIS, enabling you to conveniently construct employee lists from within the tool itself. This feature is particularly useful for teams that rely on IT to maintain their distribution lists. By integrating with HRIS, ContactMonkey eliminates the need for an intermediary, giving you complete autonomy to organize and segment your employee lists.
Start Your Content Calendar Today
Now you know how to create an effective internal communications content calendar that works with both your schedule and your employees' email preferences. A content calendar is an important part of your overall internal communications strategy. This can help reduce your workload and increase the effectiveness of your internal emails, from employee newsletters to leadership communications.
Combined with in-depth tracking and feedback data, your content calendar can be a tremendous resource for improving your internal communications and building employee engagement. Use ContactMonkey's pre-made internal communications editorial calendar or create your own. Combined with internal communications best practices, your internal emails will be more organized and you and your team will be less stressed about meeting deadlines.
Learn how to use an internal communications software to track email metrics and gather employee feedback. Book a free demo to see how ContactMonkey can take your internal communications to the next level: