Your internal communications team puts a lot of time and effort into creating engaging content for employees. But to find out if your communications are actually performing as they should be, conducting an internal communications audit is a must.
By providing a thorough analysis of your internal communications performance, audits help you build a roadmap for enhancing your internal communications strategy.
Moreover, a quality internal communications audit can help your team cut costs by pinpointing where it's worth investing your time and where it's not.
In order to maximize the benefits of your internal communications audit, you'll need to understand how to leverage data and employee feedback to create actionable recommendations.
Audit your current internal comms with ContactMonkey.
Start a 14-day trial. No credit card is necessary. Zero risk.
What is an Internal Communications Audit?
An internal communication audit is designed to assess how effectively your company engages and communicates with employees.
It's a core component of your overarching internal communications plan, and plays a key role in informing your internal communications strategy.
An audit aims to answer questions like: what percentage of your employees are actually reading your internal communications updates, such as internal emails? How many readers are interacting with content by opening embedded links and resources? How do employees rate the overall value of your internal communications?
By conducting internal communications audits on a regular basis, you'll ensure that your communications are performing the way they should be. Not to mention, you'll be able to pinpoint issues, and gauge problems while they're still manageable.
Why Conduct an Internal Communications Audit?
The main goal of your internal communication audit is to ensure that you're communicating with employees in a way that adds value to their workplace experience.
Why is internal communication important? It goes beyond informing employees about team absences and software upgrades. Your internal communications are designed to drive employee engagement.
In other words, employees should be able to access essential resources and tools that help them do their job well. In addition, your communications need to convey company values and goals to help employees across the organization stay aligned and feel part of a distinct company culture.
Track and optimize your internal comms success.
Get powerful analytics and reports with ContactMonkey.
Without an Internal Communications audit, your internal communications team has no idea if their efforts are actually making an impact. And this can feel like treading in the dark—you have no idea where you stand or how much closer you are to your goal.
ContactMonkey's software allows you to quickly conduct regular internal communications audits with an easy-to-use analytics dashboard. Get measurable data on a variety of engagement metrics such as:
Email open rates

Click-through-rates

Read times

Most popular clicks

Pulse survey

response rates

Company event registrations
How Can an Internal Communications Audit Help Your Company?
Your internal communications audit reveals whether your current strategy is doing a decent job, or if something is out of sync in your internal communications plan. In addition, your audit highlights opportunities to improve your internal communications.
Here are just a few ways an internal communications audit can help your team:
Gain a better understanding of your employee communications goals

See if employees are getting the information and messages you intended

Check what employees actually think about the quality of your internal content

Determine which past and present

internal communications strategies

have been most effective

See whether your content complements and supports your company's goals

Recognize how you can improve your content

See what employee communications opportunities you might be lagging behind on

Help your communications provide value and support where employees need it

Deliver timely updates in times of crisis

Manage email density to avoid running into Outlook and Gmail email limits
How Often Should You Conduct an Internal Communications Audit?
As an internal communications best practice, it's useful to plan your internal communications content in segments of 3, 6, and 12 months. Then, every 18 months, you want to conduct a new internal communications audit and implement it into future planning.
This ensures sufficient regularity for your audit while allowing your team enough time to gather meaningful insights.
What Questions Should Your Internal Communication Audit Ask?
An internal communications audit is essentially a process of self-reflection. Your internal communications team needs to ask itself questions and answer them in order to gauge their own performance.
Here are a few essential questions to ask your employees:
Do our internal communications convey the right messages?

Did we target the correct audiences with our internal messages?

Do our internal communications convey authenticity and transparency?

Did we make our communications employee-centric?

Do employees often express confusion about things covered in our internal messages?

Is there a clear outlet for employees to ask questions / clarify confusions?

Are the communications we create visually dynamic?

Is there clarity and consistency across our internal communications?

Do we utilize enough internal channels?

Do we ensure to make it easy for employees to access information overall?
If you're unsure what you'd like to learn from your internal communications audit, you can use ContactMonkey's OpenAI ChatGPT integration to generate ideas for your audit. Simply write a prompt describing what you'd to learn and scan the output for ideas that apply for your organization.
How to Plan an Internal Communication Audit
Before you get underway with your internal communications audit, it's important to have a plan in place. This lets you ensure that your analysis stays focused and doesn't go in a dozen different directions. It also ensures that you have all the tools and resources to get accurate data.
Below, we explore how to plan an internal communications audit and maximize the utility of your results.
1. Narrow down your scope and research methods
Is the key goal of your internal communications audit to see how many people from the Sales team open your emails? Are you trying to check whether your North America branch reads your newsletter less or more than employees in other locations?
Or, is your objective to check whether you've increased your overall engagement rates since last year?
Ask yourself these questions to determine the scope and research methods for your internal communications audit. For instance, say your goal is to compare and contrast yearly email open rates among employees.
Your research method should involve calculating the percentage of growth since the same time in the previous year. With ContactMonkey, you can make things even easier by getting a breakdown of your campaign performance over time through our Reporting feature: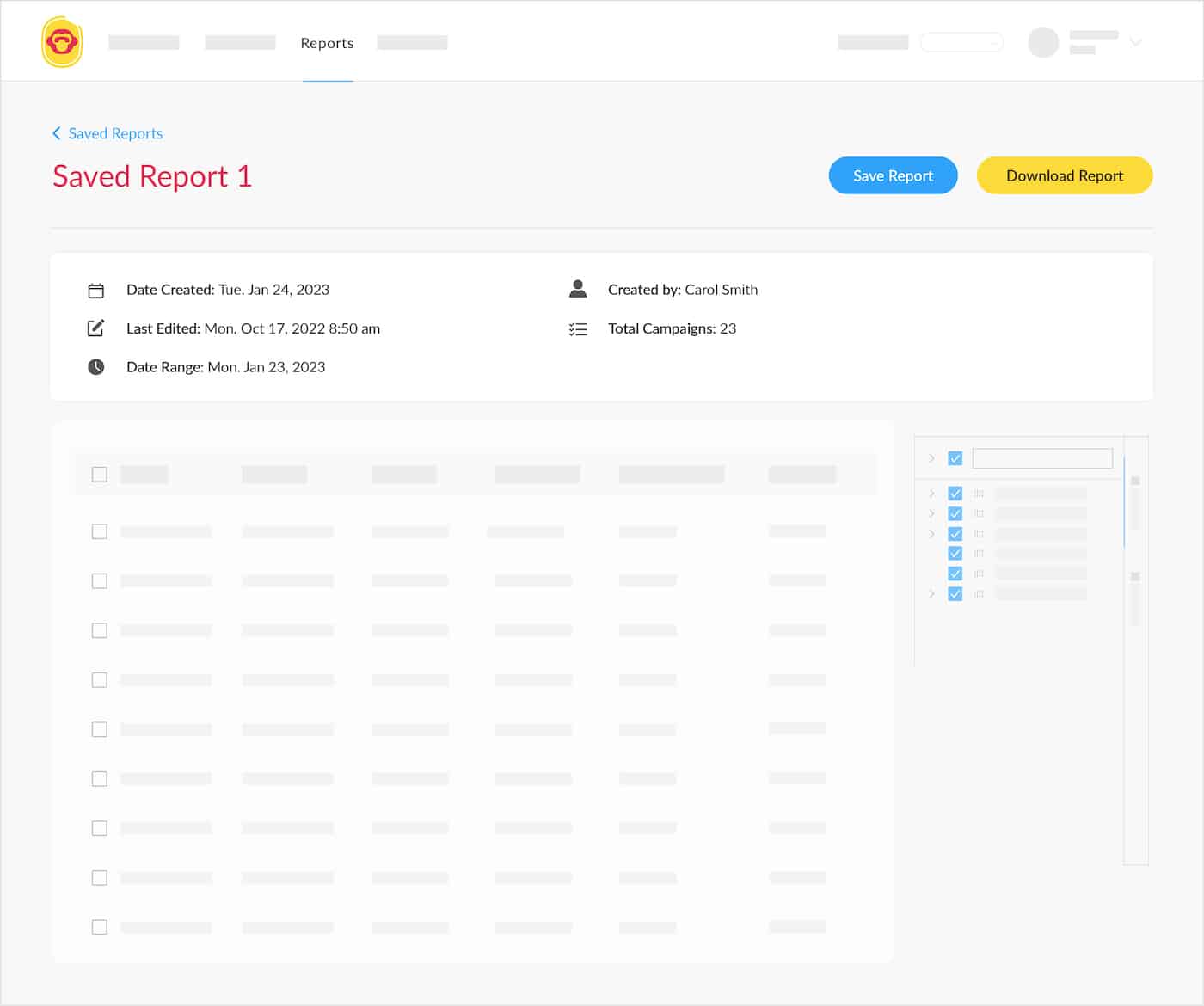 If your company has internal or external regulations around email privacy, you can use ContactMonkey's anonymous email tracking to gather email metrics while maintaining your employees' privacy.
2. Make sure you have all the essential tools and resources
Your internal communications audit will need to target various channels and stakeholders in your business. Once you determine what those are, you'll need to think about which tools and techniques are best in order to address them. Here are some common choices to consider:
One-on-one meetings with employees

Employee pulse s

urveys

, which are a quick and easy way to check employee engagement
An anonymous feedback tool embedded into your internal communications

Focus groups for team discussions
3. Choose who will conduct your audit
Choosing a designated team member, or small team, to conduct your internal communications audit helps keep things more organized and efficient. In addition, having someone dedicated to this task also ensures accountability.
At times, you may even want to consider whether it's worth recruiting an external agency or consultant to perform your audit.
This way, you get a more objective perspective and avoid the biases that can emerge when reviewing your own work.
Choosing who conducts your audit should take into account the size of your team and the manpower needed for a comprehensive assessment. You should also consider how good your team is at taking criticism and whether an objective source can add value.
4. Pick the right internal communications audit questions
A key component of your internal communications audit is going to be gathering in-depth feedback from employees. Their input will help you answer the most important unknowns while demonstrating that you value their perspective.
With ContactMonkey, you can easily conduct quick employee pulse surveys straight from your internal newsletter, keeping everything streamlined.
Here are some questions to consider:
Do you receive essential company information in an accessible and timely manner? [Yes / No]

How would you rate the content of the internal communications you currently receive? [ Star rating]

Is there any information/resources that you want to see more of? [Anonymous comments]

Through which channels do you prefer to receive most of your internal communications? [Anonymous comments box]

Is it fairly easy for you to find the resources you need across our internal communications channels? [Thumbs up / down]
If your questions are only relevant for a portion of your employees, you can use custom email lists to ensure only relevant employees receive your surveys. With ContactMonkey's List Management feature, you can create email lists—without IT—that integrate with your Human Resource Information System (HRIS) like Workday and ADP, as well as Azure Active Directory, so they update automatically.
8 Steps to a Successful Internal Communications Audit
If it's been a while since your last internal communications audit, it may be time to brush up on the essential steps needed for an effective assessment. We've highlighted the key stages, as well as useful tools and techniques to help you in the process.
1. Set goals and objectives
The key outcomes of your internal communications audit depend primarily on your goals. If your objective is to achieve a 90% open rate across your emails, but your audit reveals that you stand at 50%, it could be a sign of trouble.
That being said, not all industries and companies have the same consumption rates and practices when it comes to internal communications.
In fact, email open rates depend a lot on your industry and business size. For some, a 60-70% open rate suggests a positive outcome and may only require mild tweaks to your internal communications strategy.
The important part is setting your goals and understanding the reasoning behind them.
An internal email benchmark report can be handy in helping you figure out what results you want to see in your audit. Not to mention, it can help guide you in the right direction.
For all the details, download ContactMonkey's free internal email benchmarks report.
2. Collect and analyze data on the current state of your internal communications
The most important part of your internal communications audit is collecting a range of actionable data. You'll want to gather information like email open rates, click-through-rates, and how long employees actually spend reading your content.
It might also be helpful to see data broken down by department or company location in order to check if your communications are resonating more with certain audiences.
With these insights under your belt, you can start to build real recommendations, such as how to increase click-through-rates and boost read times.
Say your internal communications are developed by a team based in Toronto, Canada and don't receive as much engagement as your offices in Quebec, Canada. You may need help localizing content and tailoring it to regional audiences, either through your own research or with the help of a subject matter expert.
In order to gather useful communications analytics, you'll need to be using the right email tracking tools from the start. With ContactMonkey's internal communications software, you can measure employee engagement with proven accuracy and precision.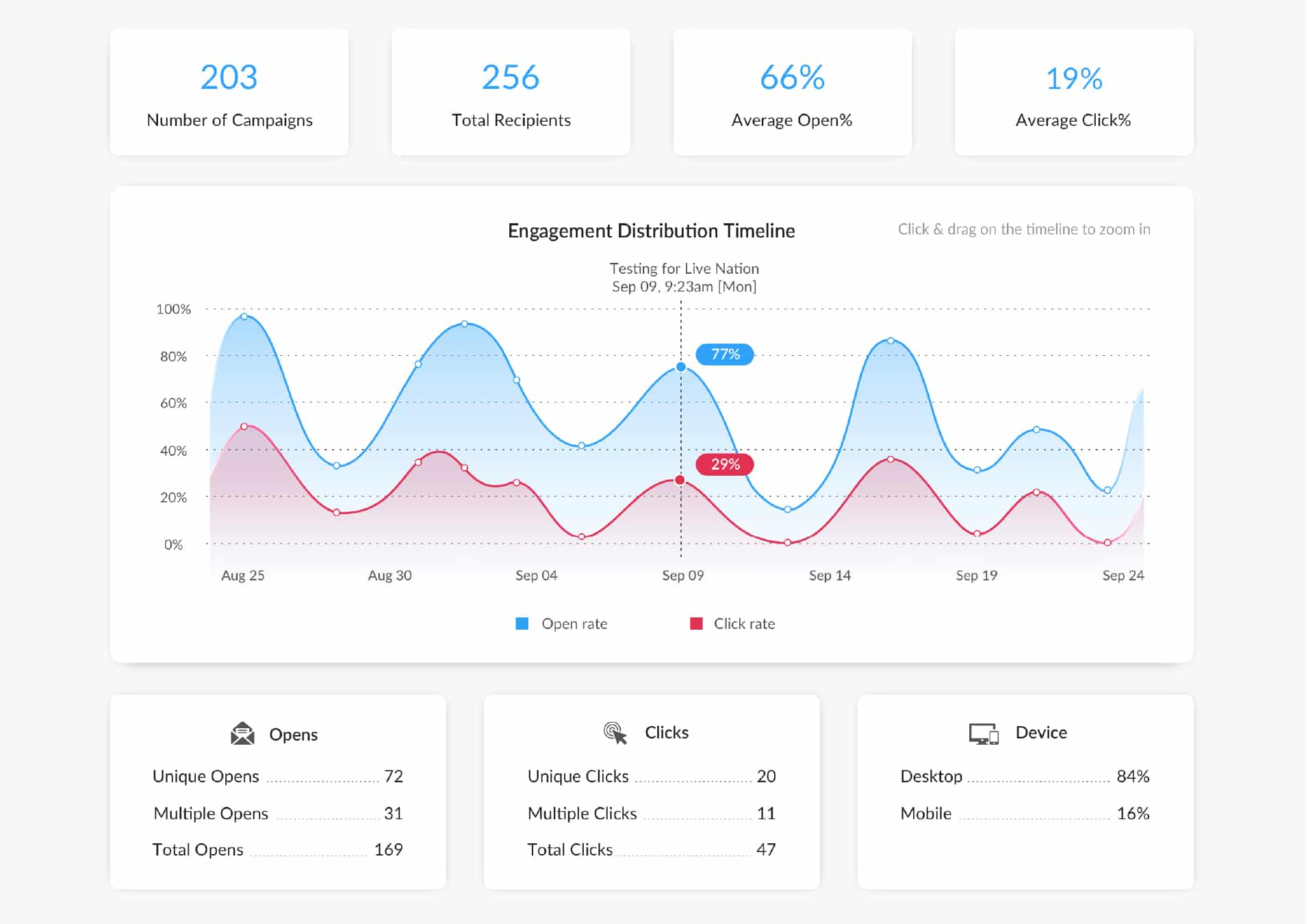 Not to mention, through embedded event management, you'll even be able to collect data on how many employees registered to events as a result of your internal communications efforts: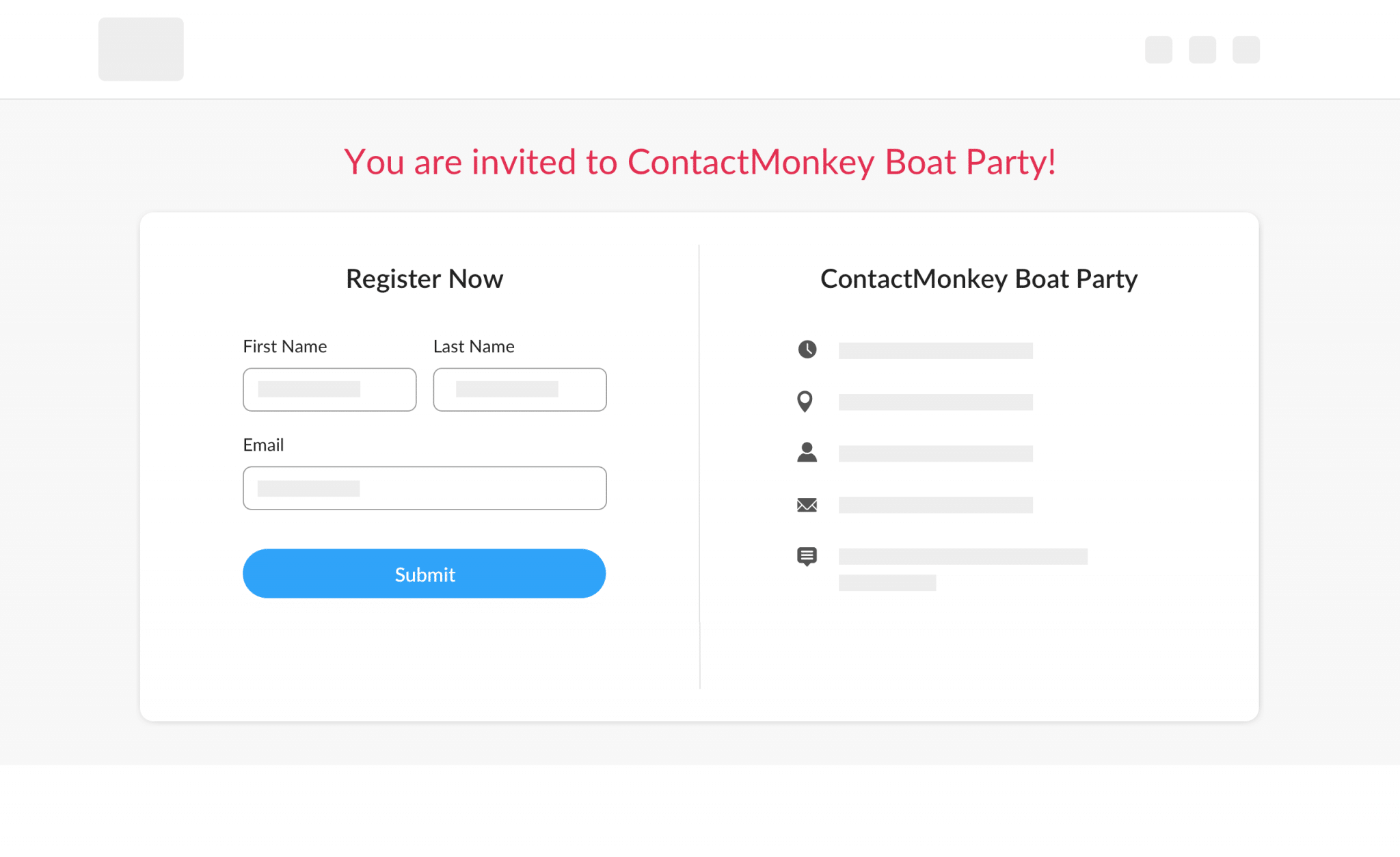 3. Check past campaigns and efforts
In order to see whether your most recent internal communications efforts are generating results, it's important to have something to compare them to.
By assessing past vs. present performance, you can get important insights on your growth trajectory. You may also notice past initiatives that resonated with employees and which you might consider bringing back.
With ContactMonkey's campaign comparison tool, you can easily see past and present email campaign analytics side by side. You'll be able to clearly see where your content resonated more vs. less and derive lessons from different campaigns.
The insights you gather can be easily embedded into your audit report by exporting and downloading your analytics into a PowerPoint or PDF.
Bypass email-sending limits of Outlook and Gmail.
Send all of your internal emails within ContactMonkey.
4. Consider all your internal communications channels
Before you start gathering data, it's important to determine which channels you'll be focusing on. We recommend putting together a list of the channels you aim to evaluate through your audit from the start. These include your intranet and employee newsletter, but also your company town halls, performance management software, and internal collaboration tools.
Equally important is listing the business areas you want to focus on. Do you want to include internal content generated by all of the departments, such as IT, human resources, and the like?
Or, do you want to push for a broader scope, and focus only on the overall results of your internal communications team?
By determining and isolating the internal communications channels and areas of business you want to focus on, your internal communications audit will be more focused and insightful.
5. Determine the audience for your audit
If you want to see how employees in a specific department or company location are consuming your content, you'll need to limit your focus and collect relevant data.
However, if you're conducting a company-wide internal communications audit, you need to ensure to include a broad range of perspectives. That means gathering engagement data and survey responses from employees who work in all areas and levels of the company.
ContactMonkey helps make your internal communications audit as broad or as focused as you need. With segmented reporting, you can get engagement data for specific job titles, company locations, and departments. This can help you target your internal communications—be they email newsletters, higher education communications, or employee surveys—to the correct portion of your recipients.
Meanwhile, the overall analytics display will give you the bigger picture and show you how a wide audience engages with your content.
6. Conduct employee surveys
Employee surveys provide you with much-needed details and qualitative data to build a well-rounded internal communications audit. You want to determine how employees actually feel about the content you send out, whether they find value in it, and what they think is missing.
The key is combining closed-ended and open-ended questions in order to gather a mix of quantitative and qualitative data.
Use short, specific, and concise survey questions (10-15 minutes), so that more employees take time to respond and you get a diverse data set.
With ContactMonkey's pulse survey tool, you can conduct your questionnaire directly from your employee emails, and use a range of response options such as star ratings and anonymous comments.
7. Communicate your internal audit findings
In order to incite change with your findings, you'll need to draw conclusions from your audit, develop recommendations and communicate them effectively to the rest of your team.
Combine all the data and metrics you've gathered from previous steps in your internal communications audit and reflect on the key themes and learnings they've provided. Then, think about what these insights reveal about your team's internal communications goals.
If your email open rates are lagging, or employees don't find value in some of your newsletter segments, develop recommendations targeted to these concerns.
Likewise, if your employee survey responses generate suggestions for future improvements, implement these into your recommendations.
Compile your recommendations into a report and show how each point is backed by data. Try to be objective and transparent about your team's successes and where you may still be lagging. In the long run, this will be to your benefit and allow you to make meaningful improvements.
8. Make a business case for internal communications improvement
Once you've completed your internal communications audit, it's normal for a team to recognize that they need additional resources in order to implement change.
Perhaps your internal communications audit shows that there's a need for added manpower in order to deliver more regular and thorough communications. Or on the other hand, you might see the benefit of investing in internal communications software to streamline messaging along with other outreach activities.
If you recognize the need to invest in additional resources, the next step is to get buy-in from senior leadership. You'll need to make a solid business case for internal communications software, or any change that requires financial input.
In your final internal communications audit report, make sure to highlight specific IC challenges or opportunities that a particular internal communications software will address. Especially try to underscore areas such as cost savings, time savings, and improved employee engagement.
How to Use an Internal Communications Audit to Take a New Direction in IC strategy
In many cases, your internal communications audit will indicate a need for changes across your overarching internal communications strategy. When this happens, it's always best to synchronize your auditing process with your internal communications plan and make sure there's a feedback loop between the two. Here are a few basic steps to get you started:
Choose a new internal communications tool:

If your audit reveals that your internal communications performance is lagging behind, it may be time for a new

internal comms tool

. With precision analytics and embedded employee feedback boxes,

ContactMonkey

allows you to collect much-needed metrics and act on them using a single software.

Create a new content communication calendar:

Once you identify your current metrics, determine what elements of your internal comms strategy you want to amplify, change, or discard. Then, a new internal comms content calendar and continue to track and measure your progress with the updates. With this approach, you can make consistent improvements.

Hire new staff if necessary:

Oftentimes, your internal communications are underperforming simply due to a lack of resources. This will become apparent in your internal communications audit. Staff may express that the volume of information is insufficient or inconsistent, despite your best efforts. In these cases, it may be a good idea to boost your manpower and add new employees to the team.
Act on Your Internal Communications Audit with ContactMonkey
By measuring the impact of your internal messages and initiatives, an audit allows your team to make informed upgrades to your internal communications plan. This way you can send more effective internal emails, from employee newsletters to leadership communications.
However, in order to act on your internal communications audit, you'll need a reliable and efficient internal communications tool. One that helps you continuously gather employee engagement analytics, while creating engaging content to act on them.
With ContactMonkey's internal email tracking software, you can see how employees are engaging with your email campaigns through open rates, CTR, read times, and more. Learn how to use an internal communications tool to act on your engagement data quickly and add a range of dynamic content to boost employee readership.