By embracing internal communications analytics, you can measure how well you're meeting your internal communications goal. We explore what metrics you can use to measure your internal communications and how using ContactMonkey can boost your key internal communications metrics.
It can be difficult to quantify the improvements internal communicators make for businesses. After all, "employee engagement" isn't as easy to measure as other business metrics, like customer acquisition or renewals.
This is what makes internal communication analytics so important. Analytics offer a measurable value with which you can show how you're improving your organization with internal communications.
We'll break down what metrics you can use to show your internal communications success, and how using ContactMonkey can help you grow and record those key metrics.
What Are Key Metrics for Internal Communications?
Internal communication analytics describes the practice of measuring how your employees are engaging with your internal communications. Metrics help you understand what content, design, sending methods, and other factors influence how your employees consume the information you're sending to them.
Analysis of IC metrics also help you prove the value of your internal communications. They give you concrete benchmarks upon which you can measure the impacts of your internal communications strategy and compare to other businesses in your industry.
What Are the Main Types of Internal Communications Metrics?
Internal communication analytics can involve measuring metrics around an email campaign. Here's a quick breakdown of the most common email metrics for your internal communications.
Key internal communications metrics
Open rate: Open rate is the percentage of an email's total recipients who have opened the email. Open rate is the main metric to use when measuring your internal communications' reach.
Click-through rate: Click-through rate is the percentage of recipients who clicked on links within an email message. This is a stronger indicator of email engagement than open rate, as an "open" doesn't necessarily mean a recipient has engaged with the information within the email.
Click-to-open rate: Click-to-open rate is the percentage of recipients who opened your email and clicked on a link within it. It is calculated by dividing the total number of opens by the total number of link clicks for a particular email, and then multiplying that number by 100.
Read time: Read time measures how long a recipient keeps an email open. It is divided into three tiers (Glanced, Skimmed, Read), and can be used to contextualize your open and click-through rate data.
Individual email stats: Individual email stats track how each recipient engages with your email. Individual email stats can measure how many times individual recipients open your email or click on a link within it.
CTA engagement: CTA engagement measures the number of link clicks that a single link or CTA receives in your email. This metric can help contextualize your click-through rate by showing which links are receiving the most attention.
Click maps: Click maps give you a visual representation of what links are generating the most clicks in any particular email campaign. This information can help you refine your email design to ensure your employees are seeing the information you need them to see.
These metrics help you measure the effectiveness of your internal communications—"effectiveness" meaning your internal communications' ability to transmit information to your recipients in an engaging way.
The aim of every internal communicator is to maximize these metrics, and to weigh them against other business goals and performance indicators to which internal communication contributes.
Other ways of measuring internal communication effectiveness
Beyond email metrics like open rate and others, there are other ways to measure the effectiveness of your internal communications in less quantitative ways. These methods help give you contextualizing information to help you understand why your email metrics are what they are:
Opens by device and location: Unlike the metrics mentioned above, opens by device and location doesn't record overall engagement. Rather, it records how your employees are engaging with your internal communications. This data can be used to refine your design, and re-target campaigns to more relevant audiences.
Employee surveys: Employee surveys can help you understand how your employees feel about your internal communications. They can collect information about various aspects of your communications like language, design, send times, and more.
Anonymous comments: Anonymous employee comment boxes let employees provide feedback about whatever is on their minds. Anonymous comments can be solicited alongside survey responses, and provide additional information, suggestions, or criticism about the selected topic. Anonymity is important for these comments as it allows employees to speak freely without fearing repercussions for their input.
While these methods are more difficult to form benchmarks around than internal communication metrics, they provide important information that give you a more complete picture of your internal communications engagement.
Overall benefits from adopting ContactMonkey for internal communications
The metrics and measuring tactics we spoke about in the previous sections are tangible ways of understanding how your internal communications contribute to your overall organizational goals and business performance. Let's break down how ContactMonkey helps you achieve the most important goals for internal communicators according to our Global State of Internal Communications Survey for 2023.
Drive higher employee satisfaction
Happy employees are productive employees, and your internal communications play a key role in letting employees know how their efforts contribute to organizational success. With ContactMonkey, you can implement countless employee newsletter ideas that emphasize the work your employees do and their importance to your organization.
Improve your leadership communications
Whether your organization has 500 or 50,000 employees, it's crucial that your employees feel that leadership cares about their work and listens to their feedback. From great-looking leadership communications to employee surveys and feedback, ContactMonkey has features to connect your employees to your high-level executives.
Communicate culture changes effectively
Change is inevitable in business—which is why change management communications are crucial for continued productivity. No matter what the nature of the changes facing your business, you can use ContactMonkey to easily and effectively communicate important information to your employees so they'll always be aware of the latest change updates.
Reduce your employee attrition rate
It's exponentially more expensive to hire a new employee than to retain an existing employee, which is why employee engagement is so important for keeping your top talent. With ContactMonkey, you can easily collect quantitative and qualitative data to inform and revise your employee engagement strategy.
How Adopting ContactMonkey Can Improve Your Business Performance
Conducting analytics is crucial for measuring the success of your internal communications; they clearly illustrate the before and after of your internal communications strategy. But actually gathering these metrics requires using the right internal communication tools, as standard email services don't offer the engagement and tracking features needed.
ContactMonkey is an all-in-one internal communications tool that integrates with your existing Outlook or Gmail inbox. With ContactMonkey, you can easily create and send your internal communications, as well as measure your key internal communications metrics and incorporate those insights into your strategy.
What follows is a brief overview of how to set up ContactMonkey at your organization and how you can use ContactMonkey to reach your internal communication goals.
How using ContactMonkey helps you optimize your internal communications
Getting set up with ContactMonkey is far more than simply learning how to use an internal communications software. We'll help you assess your current internal communication needs, create a specific plan for achieving them, and ensure that you're able to maintain your success in the long term.
Set your internal communications goals and benchmarks
After purchasing ContactMonkey, you'll get your very own Customer Success (CS) representative who will help you develop your success plan. Your ContactMonkey onboarding process will depend on how familiar you are with the software. If you're unfamiliar with ContactMonkey's features, your CS representative will show you everything that the software can do for your internal communications.
If you already know what features are important to you, we'll get straight into creating a personalized plan for achieving and maintaining your internal communication goals. This involves determining specific benchmarks and KPIs for your business' internal communications.
We'll analyze—via our Internal Communications Benchmark Report—how other businesses in your industry are performing on their internal communications: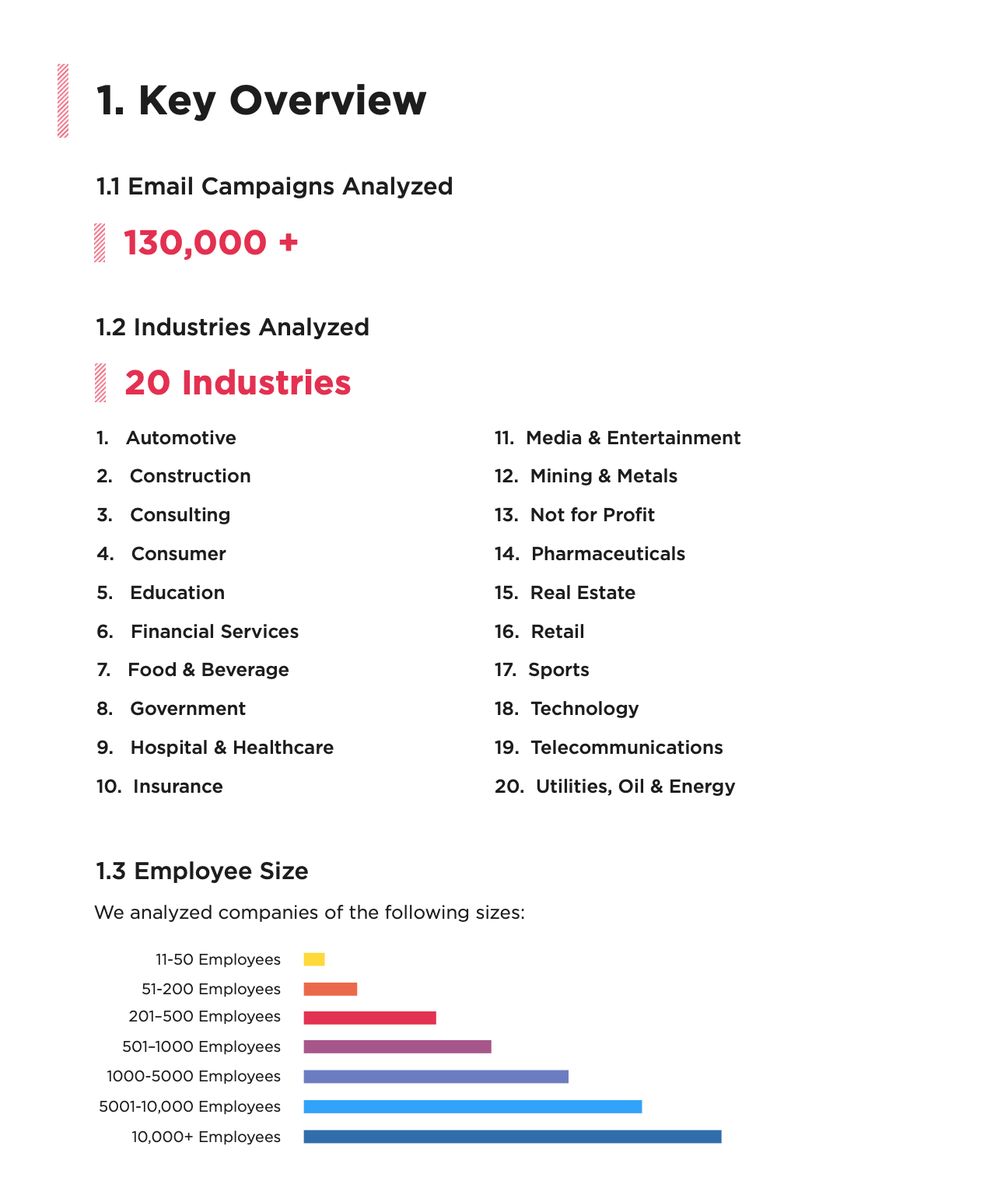 If you're at or above your industry average, your plan can focus on ensuring that you maintain that excellent standard. If you're below your industry average, your plan can outline how you'll be able to meet and exceed that average.
Ultimately, this first step involves:
Determining your key metrics
Comparing your current performance on these metrics with other organizations in your industry
Identifying the ContactMonkey features that will help you boost these metrics and measure how they change over time.
Ensure success on a recurring basis
After you've determined your key analytics, your CS representative will work with you to determine a quarterly check-in cadence. These check-ins let you share your success and challenges with your CS representative, and allow us to learn more about what we can do to help your efforts.
During the check-in, we'll go over the key metrics you selected, comparing your current metrics to the benchmarks you set during your initial onboarding. This data can include both your internal communication KPIs as well as your overall business performance metrics, like employee engagement and productivity.
You'll be encouraged to use ContactMonkey's advanced analytics reporting, through which you can create custom reports of your internal communications metrics based on campaigns you have sent: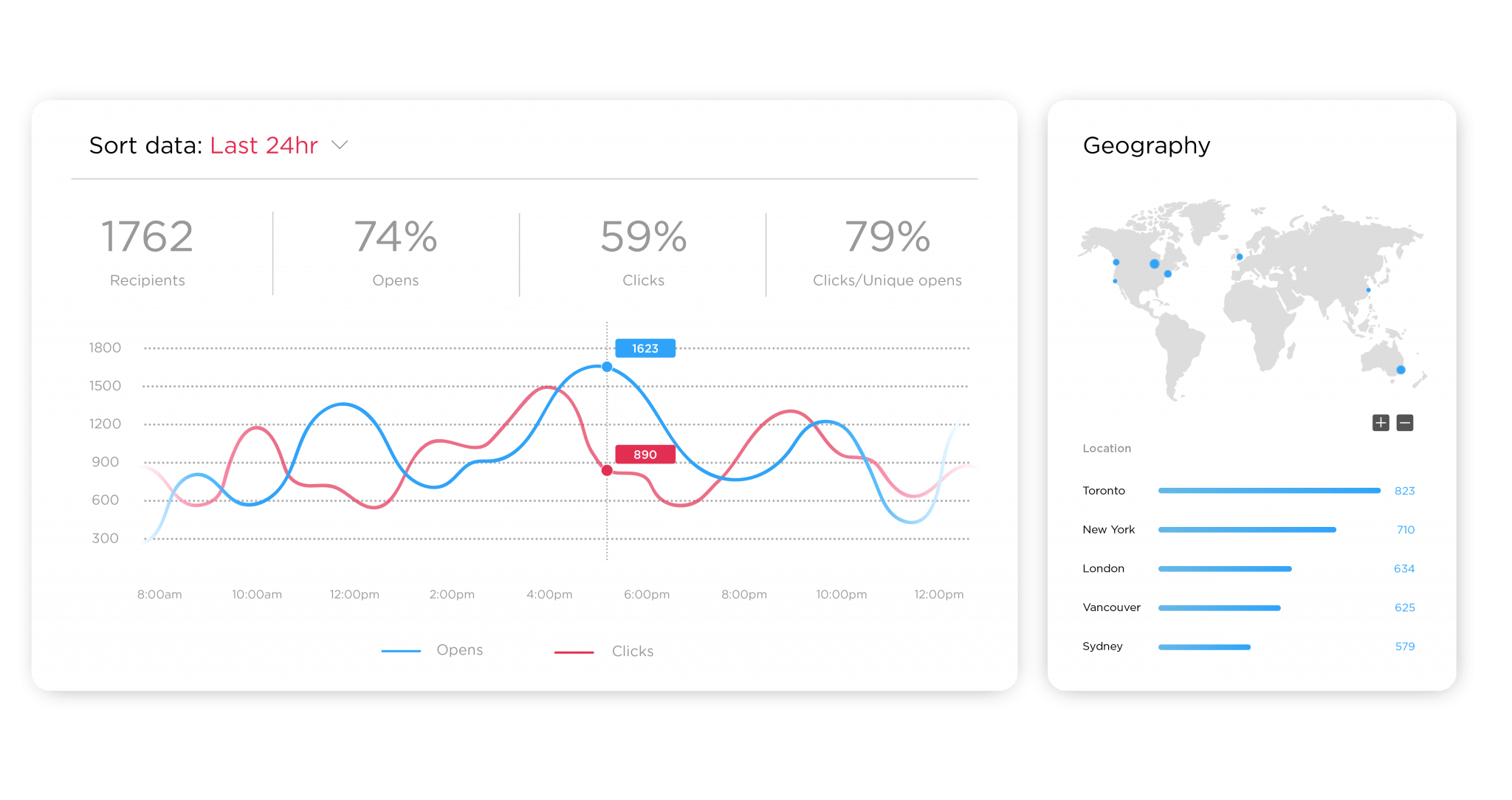 Directly compare the KPIs of past campaigns against current ones to understand the results of your efforts. You can gain even more insights using the segmented reporting feature, which allows you to analyze your campaigns based on how different groups of employees interact with them.
Your CS representative may suggest different strategies you can use to get the results you want.
Whatever course of action you need to take to meet your goals, your CS representative will help you get the most out of ContactMonkey to reach them. They'll also be available whenever you need help or guidance using ContactMonkey, and can share with you numerous resources to help guide your internal communications strategy.
Share your insights for personalized features
In addition to regular check-ins from your CS representative, you'll also have the chance to speak with ContactMonkey's product team. Your product interview will give you the chance to provide feedback on ContactMonkey's features and how/if they're helping you reach your KPIs.
ContactMonkey updates are directly informed by the needs of our customers. If there is a feature you'd like to improve or implement on our software, you're encouraged to reach out to your CS representative or mention it in your product interview.
ContactMonkey is committed to your ongoing success. That's why we're always eager to learn how we can improve ContactMonkey to meet our customers' evolving needs.
How ContactMonkey can improve your email performance
With ContactMonkey, you have a wide range of features you can integrate into your internal communications strategy. These features can help drive engagement, improve your email design, and save you time and effort on your internal communications.
Easily create stellar internal communications with an email template builder
ContactMonkey's drag-and-drop email template builder makes email design easy, quick, and intuitive. Whether you start from scratch or choose a template from our template library, you can easily add written and visual content like videos, images, GIFs, event invitations, surveys, and more: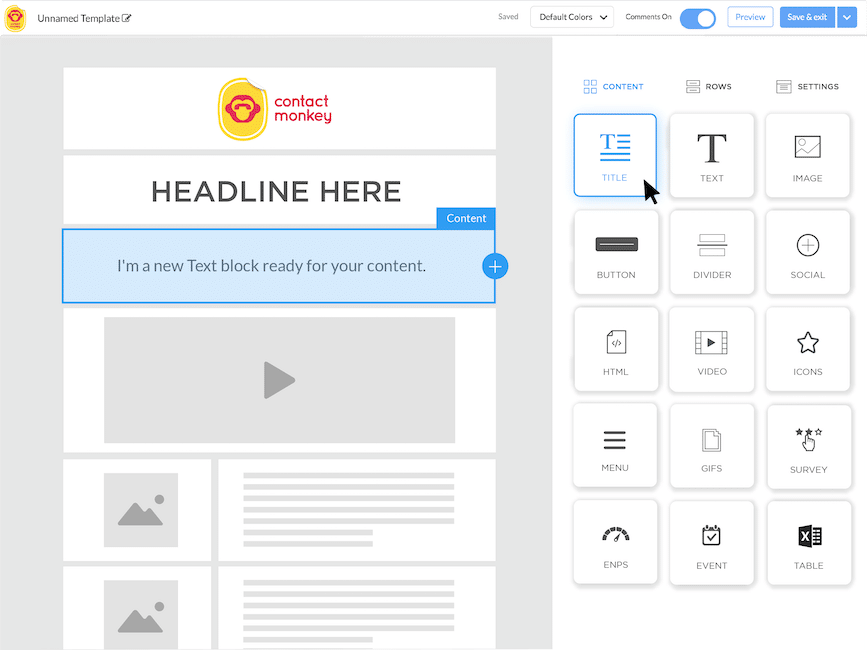 Email templates are reusable, so you can build out the designs you'll need to reuse and simply plug in updated information whenever you need to create a new email. ContactMonkey's email template builder saves the tediousness of email design, so you can focus on sending the right content to the right people.
Personalize your employee emails with merge tags
Studies have shown that emails with personalized subject lines have an almost 30% higher open rate than non-personalized emails. Your employees are bombarded with emails sent to thousands of other recipients every day; merge tags allow you to personalize your email subject lines and body copy according to who is receiving it.
Within ContactMonkey's email template builder, you can easily add merge tags to send personalized emails:
When you import your email template into your inbox, you'll have the option to add merge tags into your subject line as well. Merge tags are a simple yet powerful way to drive internal email engagement.
Avoid email display issues with responsive HTML and mobile design
More people—employees included—are using mobile devices and tablets to access their emails. For employees who work away from desks, mobile devices allow them to connect to their employer without the need of a computer.
Every email created with ContactMonkey has fully responsive HTML, which means your email designs and content will display perfectly no matter what device your employees are using. Our email template builder even allows you to view your email templates as they appear on mobile devices: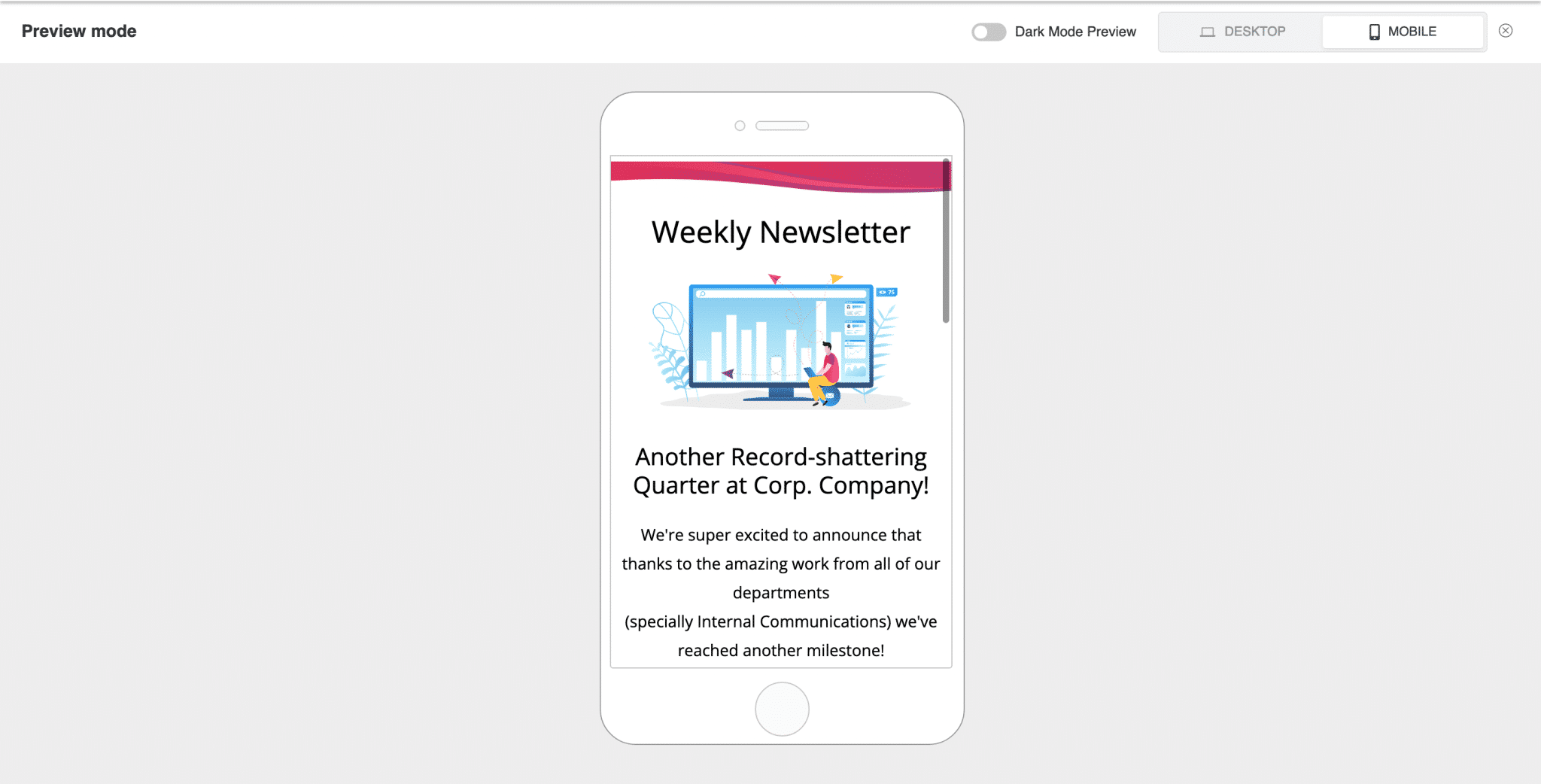 Reducing the number of display errors your employees experience with your emails is an easy way to increase email engagement and transmit information to them efficiently.
Reach your deskless employees with SMS messaging
While we're on the topic of mobile devices, there are other ways you can drive engagement with deskless employees. Using different internal communication channels like a SMS communication system is a great way to share important information directly with your employees: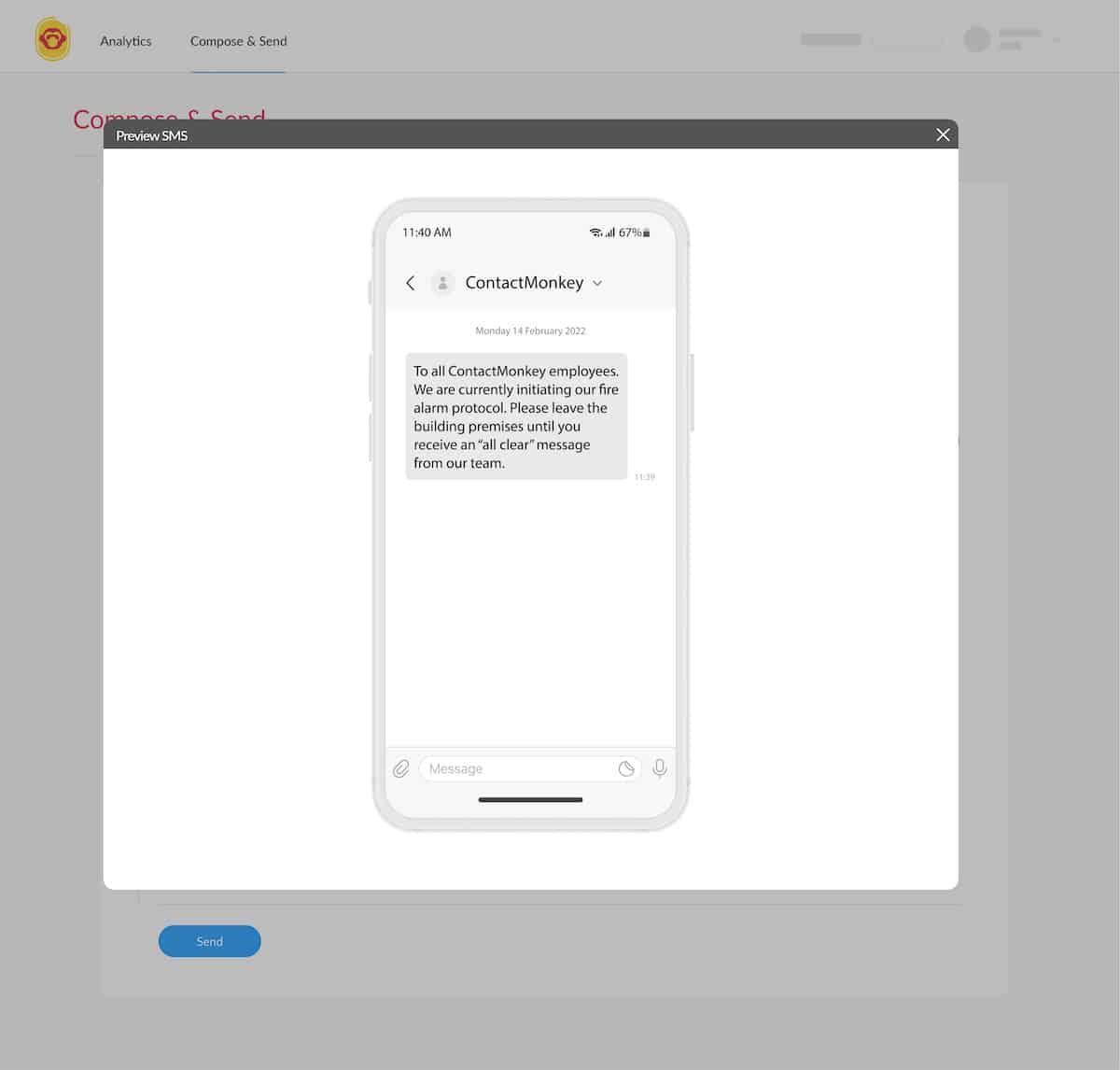 ContactMonkey's employee SMS feature allows you to draft and send text messages to your employees from the same platform as you create your emails. Use employee SMS to send immediate updates and alerts, or share links to your website or internal intranet.
Save time creating email content with OpenAI ChatGPT integration
The less time you spend creating content for your employee emails means more time for analyzing metrics in order to optimize your internal communications. If you're struggling to come up with unique copy for your emails, try using ContactMonkey's OpenAI ChatGPT integration to generate text for your emails.
Simply write a prompt describing what you'd like to include in your email, and then edit the generated text according to your needs. You can even use our ChatGPT integration to create survey questions or effective subject lines for your internal communications.
Maximize your open rates with scheduled sending
People are creatures of habit, including your employees. It's likely that the majority of your employees first check their email inbox at the same time every day, meaning the email at the top of their inbox at that time has the highest chance of grabbing their attention.
Using ContactMonkey's engagement distribution timeline, you can see what times your email campaigns are the most attention: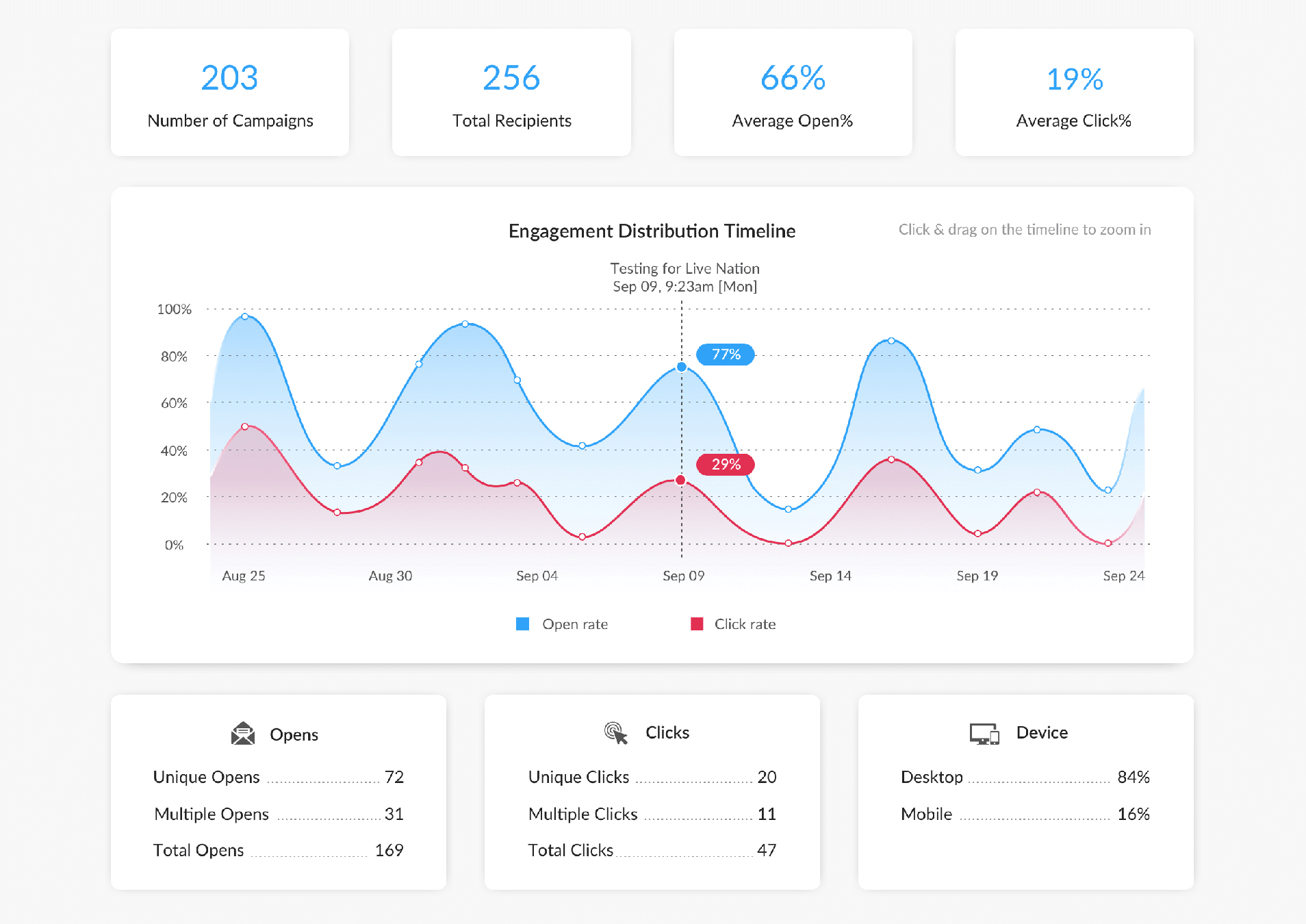 With this information, you can plan your future email sends so they hit your employees' inboxes when they're mostly likely to be seen. After you've found the best time to send your internal emails, you can schedule future email campaigns using ContactMonkey's scheduled sending feature:
This is one of the easiest ways to leverage your email metrics into higher engagement and get your emails to stand out among the hundreds of other emails your employees receive.
Send only relevant emails to your employees with list management
If your internal communications data is showing that a certain segment of your workforce is not engaging with particular campaigns, you can use features like list management to create new email lists to retarget your campaigns:
With custom email lists, you can ensure that you're only sending relevant information to your employees, increasing engagement and your key internal communication metrics. ContactMonkey integrates with your Human Resource Information System (HRIS) like Workday, ADP, as well as Azure Active Directory, so your created email lists will automatically update as employees join and leave your organization.
How ContactMonkey Customers Have Improved Their Key Metrics
ContactMonkey customers have had tremendous success using our internal communications software to increase their performance. Whether they're looking for higher open rates, more survey responses, or more efficient email design processes, our customers have used ContactMonkey to optimize their internal communications and reach their employees easier.
Joules uses ContactMonkey to boost internal email open rates
Joules is a fast-growing UK-based clothing and lifestyle brand that—in response to the COVID pandemic—began to rely heavily on emails to keep their employees connected to their employer. Being a fashion-forward company, they wanted their internal communications to reflect their brand values and style, while engaging their now-remote workforce.
Using ContactMonkey's email template builder, Joules Senior Manager of Communications Jessica Davies was able to easily create the email design she knew would engage her employees. Combined with powerful email analytics, she used ContactMonkey to maintain a 90%+ open rate on her internal emails so she knows her employees are up-to-date.
IDP leverages internal email analytics for more engaging internal communications
IDP is an international education service provider based in Australia and operates in 50+ countries. With such a dispersed workforce, IDP adoption team member Devi needed to know that the emails they were sending were actually being read.
Using ContactMonkey's email analytics, Devi was able to measure email engagement metrics that helped them refine their internal communications to be more relevant to IDP employees. Devi now sets KPIs for their internal communications based on the metrics they collect using ContactMonkey.
CNI drives employee engagement using ContactMonkey
Chickasaw Nation Industries, Inc. (CNI) is a federally contracted holdings company operating numerous LLCs across 40 states. In order to reach their widespread audience, CNI needed a solution that allowed them to know their internal communications were generating engagement.
CNI collects email metrics with ContactMonkey to inform their email content, and uses our email template builders' numerous features to add fun and engaging content into their emails. CNI also frequently consults their CS representatives for tips on generating internal email engagement, and is thrilled with the help they receive:
"I've been really just impressed. Shane, and Adrian before him, have been just lightning quick at getting back with us. They're kind of setting up a really hard expectation to maintain […] If I ask 'How do I do X?' Shane is all over it and helping me out."
Mettler Toledo saves 25 days a year on email creation with ContactMonkey
Mettler Toledo is a global manufacturer and marketer of precision instruments for laboratory, industrial, and food retailing uses. Katie Kraley—Mettler Toledo's Marketing Communications Specialist—was using external email tool Mailchimp for internal communications. She constantly ran into the limitations of using the wrong tool for the job.
When she switched to ContactMonkey, she immediately found her design process to be easier and faster:
"Once I started using ContactMonkey, I realized I was able to save 4 hours of work a week, which translated to 25 days saved per year! ContactMonkey has helped us understand what employees are interested in!"
Katie used ContactMonkey's engagement distribution timeline to find out when Mettler Toledo employees were most likely to see her emails, and adjusted her send times accordingly—and saw tremendous improvement with engagement.
Take Your Internal Communications to the Next Level With ContactMonkey
Now that you're familiar with the many ways ContactMonkey can integrate with and improve your existing internal communications practices, you're welcome to see ContactMonkey in action for yourself.
We encourage you to book a free demo where you can see the specific ways that ContactMonkey can improve the metrics that matter to your organization.