Although many internal communicators focus on internal email open rates, there are other metrics they need to watch out for as well.
A good average email open rate for an organizational internal email will vary depending on your industry, practices, company culture, and even geographical location. Needless to say, open rate is subject to plenty of variables.
Email open rates provide you valuable insight into how your email content performs. But gathering qualitative data in addition to quantitative data like open rates helps internal communicators understand their employees expectations.
We'll examine why email open rates are an important aspect of a data-based approach to internal communications, and what other email metrics you need to track to see your entire employee engagement picture.
Start tracking your internal email performance.
ContactMonkey has powerful analytics and reporting.
Looking for an easy-to-use email tracking software? ContactMonkey's all-in-one internal communications tool is perfect for gathering email metrics within Outlook and Gmail. Book a free demo with one of our friendly experts to see how ContactMonkey can optimize your internal communications.
Why Email Open Rates Should Matter To You
Creating great content is just half of a successful internal communications strategy. You need to measure your employee emails to ensure they're performing as you expect them to.
What is a good open rate for internal email? You can download at ContactMonkey's free industry benchmark report to see how other companies similar to yours stack up for email metrics. With internal communications benchmarks, you can get a clear picture of how to improve open rates and determine your best employee newsletter ideas.
Internal Email Open Rates Don't Show the Full Picture
To get a clear picture of how your employees are interacting with your communications, it's important to be meticulous about your metrics.
The first step is to get a tool that allows you to dig deeper than just open rates: ContactMonkey.
With ContactMonkey you can track email opens, link clicks, opens by device and location, and more. You can even gauge when your employees open your email to maximize your open rate: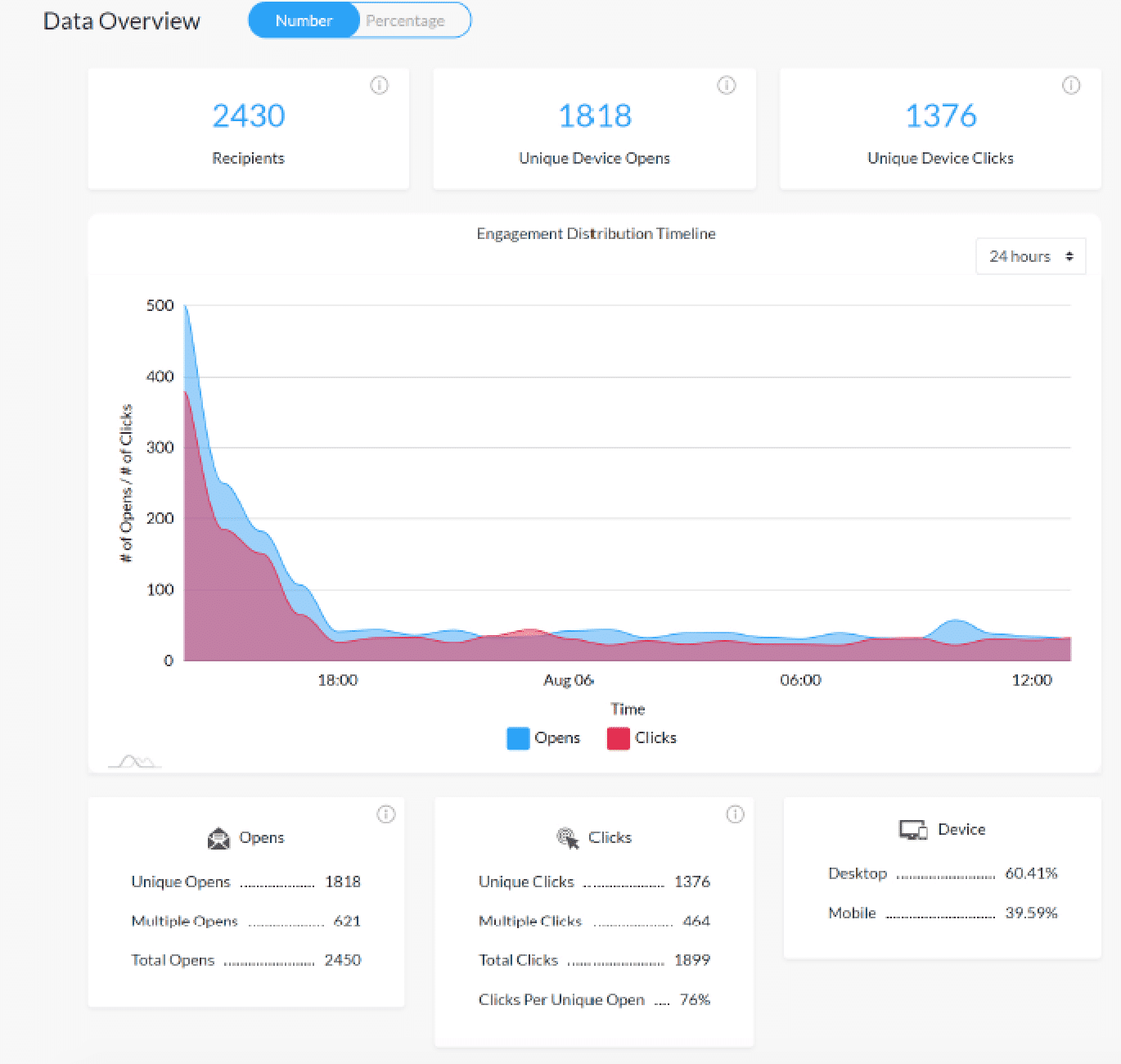 If your organization has internal or external regulations around email privacy, you an use ContactMonkey's anonymous email tracking to gather email metrics while maintaining your employees' privacy.
Read on to explore the other metrics in addition to open rate that will help you increase your email engagement.
The Real Internal Email Rates & Benchmarks You Gotta Watch
As an article by IABC puts it, email open rates are a good start but might not give you enough information:
"All open rate tells you is the percentage of recipients who received it and looked at it for at least a second. An email open does not tell you if your recipient actually read your message. That's why open rate is often a misleading metric. If you are taking the time to write, edit, and layout valuable or mission-critical content, you need to know if people are reading it".
Since open rates aren't enough information, internal communicators should stop searching for an end-all, be-all email open rate, and come up with their own internal benchmarks that will help them succeed.
Link clicks on your internal email
Link clicks allow you to see whether your employees are finding the content you create and send is relevant.
Some of your recipients will simply click on your email to remove its unread status. It may look like an "open" on your end, but the employee didn't actually engage with your email. This is where link clicks come it.
When you embed a link within an email, you can track how many recipients clicked on that link. This can help separate those who merely skimmed on the email or clicked on it to clear its unread status from those who really engaged with your email.
Not only can ContactMonkey tell you how many times a link was clicked with your email, but our internal communications tool can tell you how many times each employee clicked on links: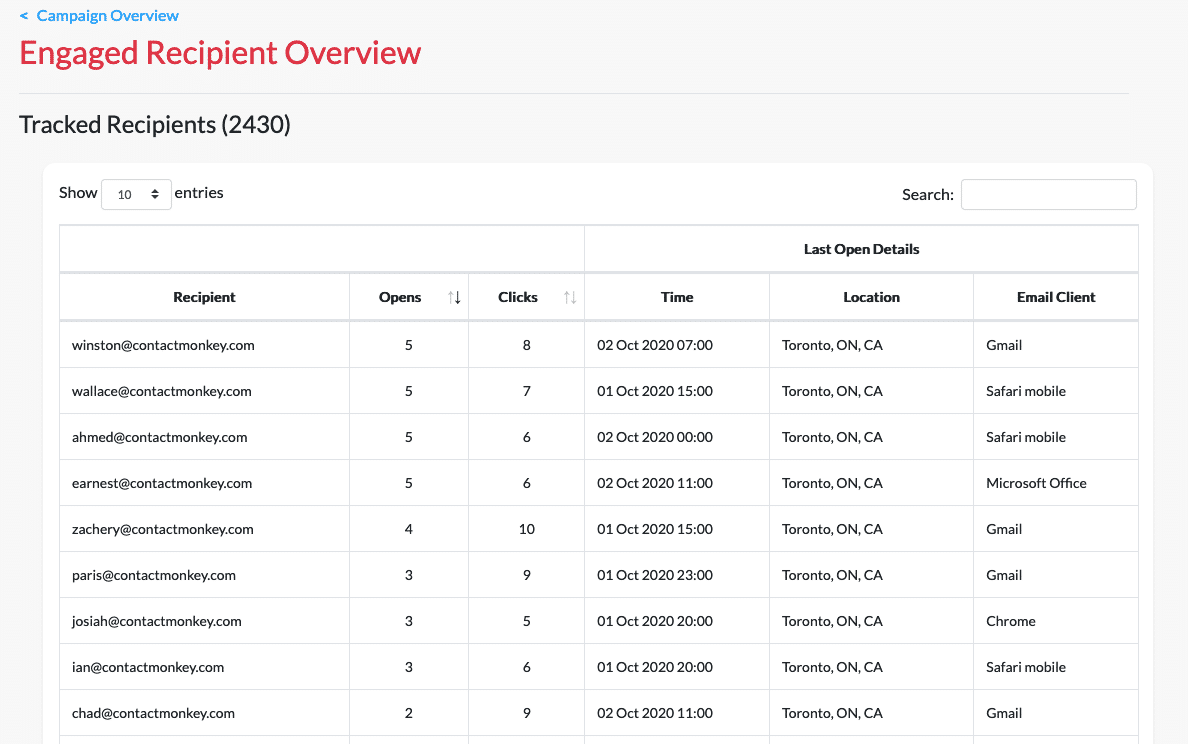 Get in-depth info on how each of your employees engaged with your email: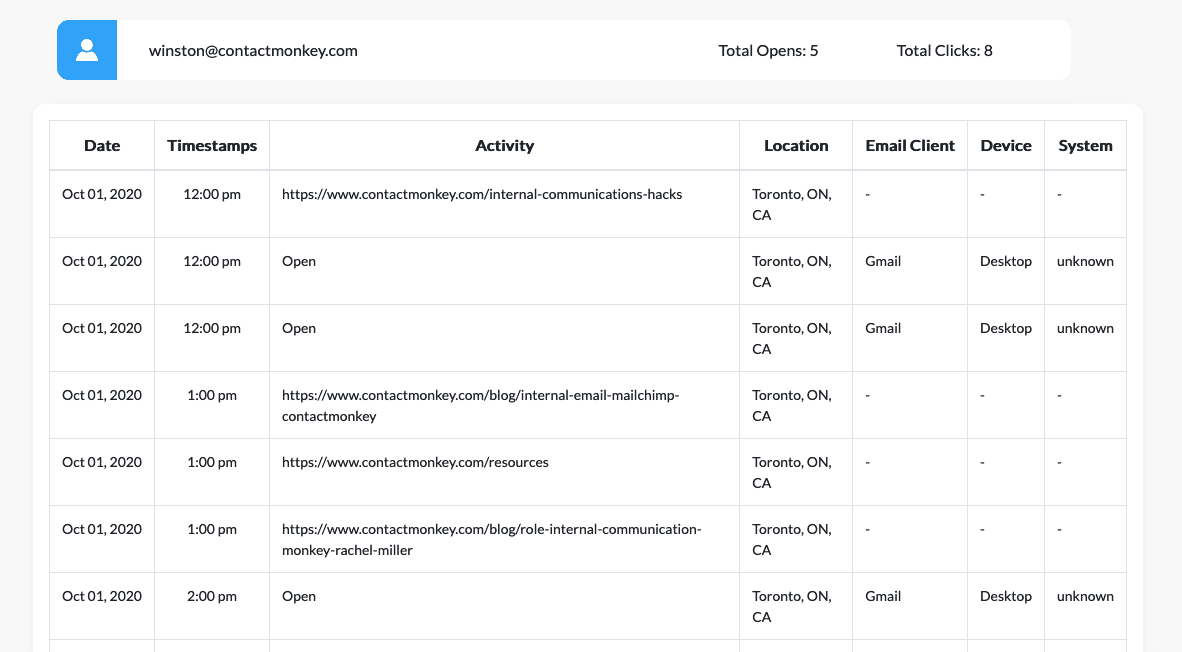 ContactMonkey gives you the power to analyze and act on your email tracking information. Book a free demo with one of our friendly experts to see how ContactMonkey can boost your email engagement.
Prove that value of your internal communications.
Get ContactMonkey email analytics and reporting.
Employee feedback from surveys within internal emails
Quantitative data can give you a broad understanding of the drivers of employee engagement in your organization. But to really understand how your employees feel about their workplace you need to gather qualitative data as well.
Collecting employee feedback from your internal comms has a two-pronged benefit:
You gain valuable insights into what your employees think about your internal communications, workplace culture, or any question you pose to them.

Your employees feel heard by getting to voice their individual opinions and seeing their suggestions get acted upon.

With ContactMonkey's email template builder, you can easily embed pulse surveys and eNPS questions right into your email templates: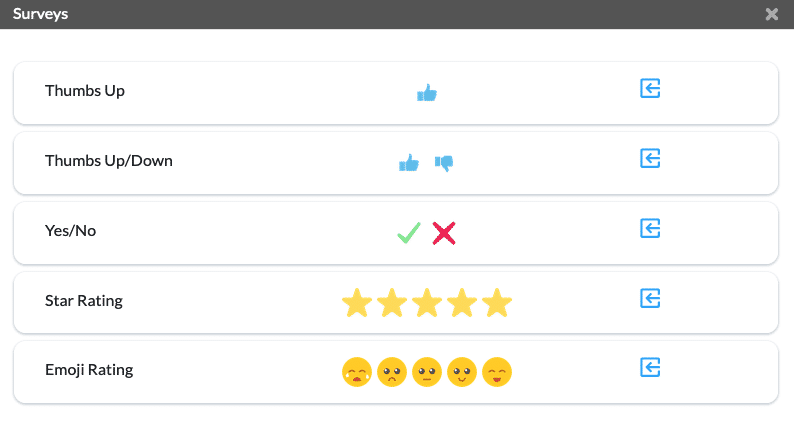 Use emoji reactions to collect feedback around specific questions, and gather anonymous comments from your employees too. With all this qualitative information at your disposal, you can easily refine and optimize your internal communications to be exactly employees what they want to see.
Struggling to think of effective email survey questions? Try using ContactMonkey's OpenAI ChatGPT feature to generate unique survey questions and save time on your email copy. Simply write a prompt describing what you'd like to learn through your survey, and edit the suggested questions according to your audience.
Open rates by device and location
Being able to see what device your employees use to read emails is a big advantage. For example, if you notice that almost 50% of your employees use their phones to engage with your newsletter, this means that you need to make mobile responsiveness a priority for your communications. This should also influence how long your emails are since mobile users expect concise copy.
Tracking locations will also allow you to see and improve employee engagement rates and how they differ from different locations or branches.
The whole point is to use the tools at your disposal to get to know your audience better and improve your emails (and increase email open rates) every time you hit send.
Improving Your Overall Internal Email Engagement Rates
Even though email open rates won't show you the full picture, embracing best practices that improve engagement rates for all aspects of email (including opens) is beneficial. Here are 4 tips to accomplish exactly that.
Write better subject lines
According to expert Ann Handley, emails with subject lines of 6-10 words have the highest open rates yet most people still send subject lines of 11-15 words!
She also suggests using the recipient's first name in the subject line to yield a higher open rate. A report from Adestra revealed that emails with personalized subject lines were 22.2% more likely to be opened.
ContactMonkey not only let's you customize subject lines according to the recipient using merge tags, but you can also customize body text throughout your email: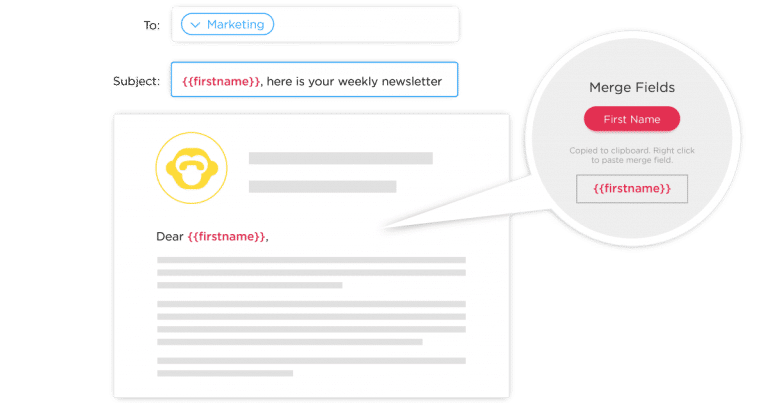 No one likes getting an email that's obviously been sent to thousands of other people. Adding a touch of personalization can make a big difference for getting your recipients' attention. That's what ContactMonkey customer EPS Water found out first hand: after implementing personalized subject lines, their internal communications team saw a boost in their average email open rate. This is a prime example of why email can be a powerful employee engagement tool.
Send HTML responsive email
HTML responsiveness is a must. Your employees decide whether to carry on reading in a nanosecond, so you need to make sure your email is visually appealing and entertaining from the get-go. The best way to accomplish that is to embrace good HTML design for beautiful, responsive emails.
We know that can be a pain from Outlook…but we've found a solution. Within ContactMonkey's email template builder, you can preview what your email will look like on desktop and mobile devices:
Our internal comms plugin ensures that everything looks as envisioned for every recipient on your distribution list. Don't use distribution lists? Learn how to easily make a distribution list in Outlook.
A/B test everything
As mentioned above, open rates are affected by almost any changeable factor: time sent, whether your employees are in-office or remote, the day of the week, seasonality, and many others. We recommend you test all of these in isolation to figure out the best combination of factors that work for your organization.
You can also A/B test different email designs to see which layout generates the most engagement. Using ContactMonkey's click maps feature, you can see exactly how your recipients are engaging with your email content. This information can help you optimize your email design to ensure your employees see the content you need them to see.
Target relevant internal audiences
Not every email needs to be sent to every one of your employees. Targeting employees with relevant email content helps drive email engagement and reduce the amount of unnecessary clutter in your employees' inboxes.
Custom email lists allow you to send email campaigns to specific segments of your workforce, and exclude those who do not need to see them. Using ContactMonkey's List Management feature, you can easily create custom email lists without needing IT support. Email lists created with ContactMonkey integrate with your Human Resource Information System (HRIS) like Workday and ADP, as well as Azure Active Directory, so they'll update automatically as employees join and leave your organization.
Don't sound like a robot
If you want to compete for your employees' attention with the likes of YouTube makeup tutorials and Slack memes, you need to avoid corporate speak and jargon whenever possible. Instead, try to sound human and conversational in your email communications. Here's an example from Buffer that nails down that human tone while keeping it professional.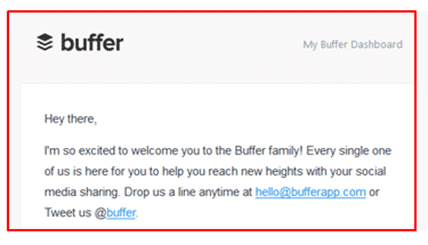 Look Beyond Open Rates
By following these tips you'll be able to increase the overall engagement from your internal emails and go beyond open rates. Ultimately, tracking email metrics will give you solid data to further improve your internal communications—like implementing multi-language emails if you are a company with offices around the world.
Employee engagement is about more than just numbers; it's about really understanding how your employee feel about your emails and content, and acting on their suggestions.
With ContactMonkey for internal comms you're able to see every email open, link click, location and device used at an individual and aggregate level–all within Outlook or Gmail. Book your free demo now below: