In this post, I'm going to outline 15 of the most important email metrics to track for your internal company newsletter (or any email for that matter).
Why should you trust me on internal newsletter metrics? Fair question. I'm actually a bit of an email metrics nerd: I even helped conduct a study of 43,000+ email campaigns in 18 industries to see what good "average" (or benchmark) email metrics actually are.
So keep reading. By the end of this post, you'll have a solid grasp of what email metrics to track as well as some important email newsletter best practices – and how to get started.
Prove internal communications ROI with Email Analytics by ContactMonkey
What Are Email Metrics?
Email metrics are measurements that help you track the performance of your email campaigns. These metrics can provide insight into the effectiveness of your emails and help you optimize your messaging and strategies to achieve your desired goals.
Tracking the email metrics that matter helps improve overall email performance. By measuring the success of your email campaigns, you can make data-driven decisions to improve your messaging and strategies, resulting in more effective communication with your audience. With a better understanding of what's working and what's not, you can optimize your email campaigns for maximum impact and engagement.
Internal Email Metrics to Track
Tracking one email metric on its own will only give you a partial idea of your overall email engagement. But using several email metrics in combination with each other can give you a detailed breakdown of where your email is succeeding and where you might need to improve.
Does your organization have internal or external regulations around email privacy? Use ContactMonkey's anonymous email tracking to gather email metrics while maintaining your employees' privacy.
1. Open rate
Open rate is the number of people who simply opened your email. You can create informative internal newsletter content, but if employees aren't even bothering to click the email, they're certainly not reading it. This is why it's so important to know exactly when emails have been opened, as well as who opened them.
The open rate for a company newsletter depends on several factors, including your industry and company culture, The average open rate for internal emails across multiple industries is 68%.
However, some employers are able to surpass this metric.
Seating manufacturer Exemplis increased its open rate to 70% by using ContactMonkey's analytics to assess its internal newsletter metrics and implement new strategies.
"We've started to use ContactMonkey for our manager workshops," says Exemplis's Engagement and Communications Lead, Corey Kachigan.
"It's a much smaller group, so we have 100% open rate, but the important part is seeing what links they click on. This helps our training manager know what material managers are searching for in between the workshops and shapes future training."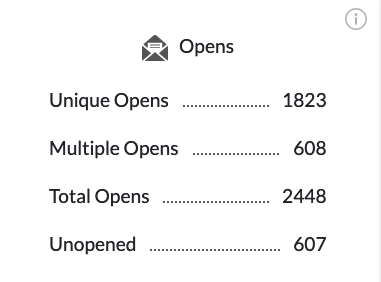 Opens can be affected by email subject lines, the type of content you're sending, and the number of emails you send, among other factors.
With ContactMonkey's internal newsletter analytics, users can view the number of unique opens, multiple opens, and total opens, as well as take steps to improve the overall open rate as the key email metrics to track. In a single view, you can have an email metrics dashboard with insights to help you make data-driven decisions.
Free Download: Email Metrics Benchmark Report
2. Click-through rate (CTR)
The number of clicks, or the click-through rate (CTR), for your company newsletter tells you the number of people who received your email and clicked on any included links.
Clicks are important to track because they indicate whether your newsletter content is relevant and useful to the reader. It can also reveal which elements of your newsletter are most engaging. Tracking clicks allows you to adjust your strategy and rearrange content, so you can increase your clickthrough rate.
For example, you might find that your event calendar gets more engagement when it's moved to the top of the newsletter. Or you could discover that more people register for employee-training sessions when it's promoted with video internal communications.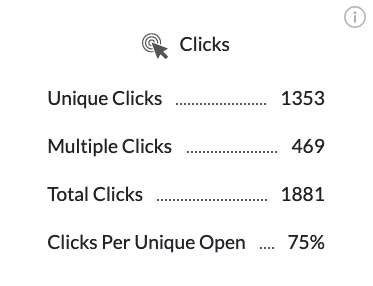 Across 18 industries analyzed in ContactMonkey's 2023 Internal Email Benchmark Report, the average CTR was 8%. However, Exemplis was able to attain a CTR as high as 30% because its communications team was better informed, thanks to ContactMonkey's employee email analytics. You can compare your company with others in your industry using ContactMonkey's internal email benchmarks.
Get better visibility into email performance
Track essential email metrics in one place
3. Segmented email stats by department, job title, and office location
Being able to see how many people are opening and clicking on your company newsletters across various locations, departments, and job titles is incredibly valuable. It gives you insight into how employees engage with your content worldwide, on different teams, and in various roles.
You can deep-dive into these internal newsletter metrics using ContactMonkey's Segmented Email Stats. With this feature, users can get more detailed engagement insights by department, location, and company role. Simply filter your campaigns by your desired segment and get a breakdown of your internal newsletter analytics.
Depending on the results, you can tailor your emails to different groups based on their likes and dislikes. This way, you can quickly and easily improve email engagement.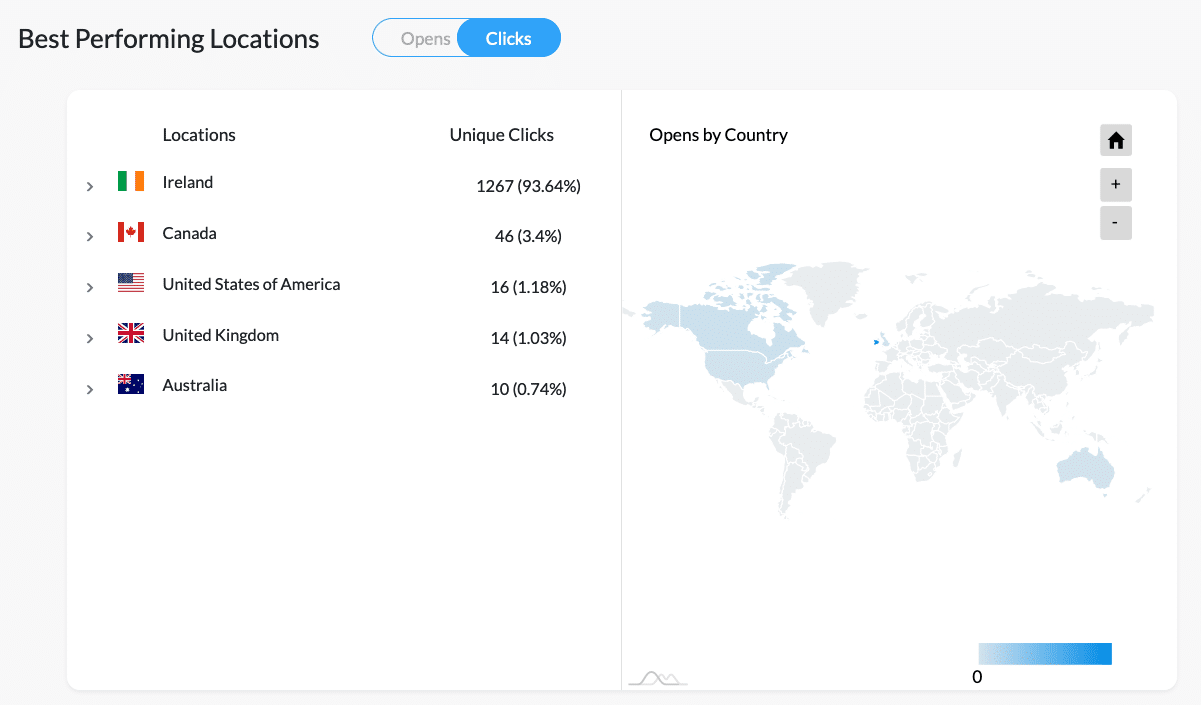 Let's say you discover that employees in America aren't opening the newsletter as often or clicking on much of its content. However, employees in other locations have a much higher open and click rate.
This indicates that the newsletter isn't engaging the American audience for some reason, so you can take steps to determine what the issue is and find ways to get this section of your audience to open and click.
ContactMonkey lets you track both opens and clicks by country and even drill down into particular cities.
4. Employee feedback
Embedding employee surveys into your emails not only turns your newsletter into a two-way communication channel, but it also allows you have visibility on one of the most important email metrics to track: employee feedback.
This type of tracking isn't possible with all internal communication and email management tools, but ContactMonkey makes it easy to gather employee feedback and track results.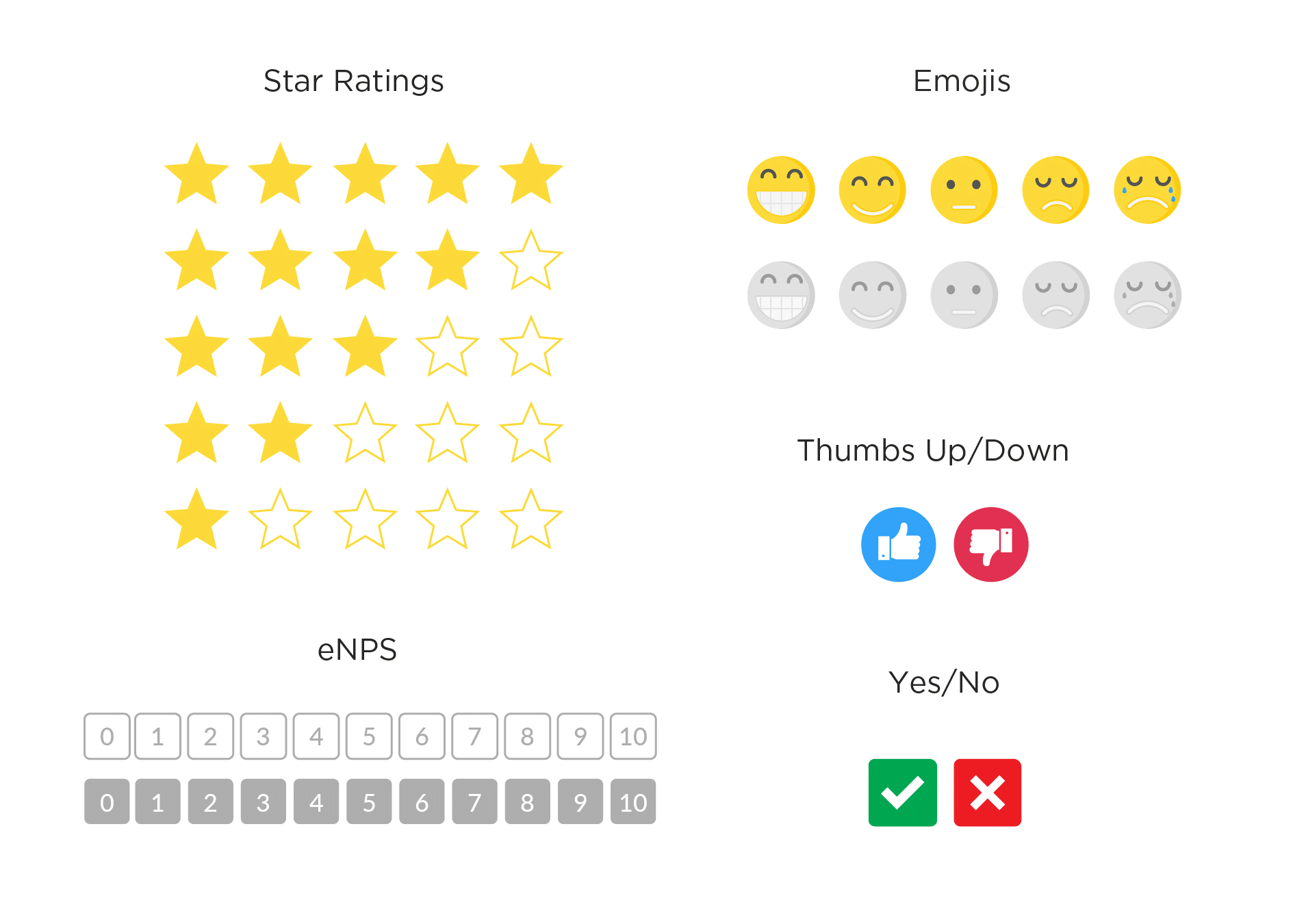 Users can easily embed pulse surveys in Outlook email or Gmail. They can also add emoji reactions, Employee Net Promoter Score, anonymous comments, and star ratings into company newsletters and invite workers to provide their thoughts, raise questions, and even give criticism.
Results are displayed in a user-friendly fashion that makes it easy to assess employee feedback at a glance.
Struggling to create effective survey questions? Try using ContactMonkey's OpenAI ChatGPT integration to inspire better survey questions. Simply describe what you'd like to accomplish with your survey, and edit the questions according to your audience.
5. Bounce rate
Bounced emails impact your sender reputation. If your bounce rate becomes too high, the emails that do reach your recipients' inbox will likely get caught in their spam folder.
This is a big deal for employee engagement levels across your workplace. High bounce rates will mean that important company information and engagement opportunities aren't reaching your employees.
When a bounce occurs, your server will usually send you an alert stating that your message couldn't be delivered and why.
You can use this information to see if your bounce was a hard or soft bounce. You'll also be able to check whether there is anything you can do to address the issue on your end.
Let's break down soft bounces vs. hard bounces:
Soft Bounces: these are usually the result of a temporary problem. These can include a full inbox on the recipient's end or an email size that is too large.
Hard Bounces: this type of bounce implies a permanent issue. It can include fake or non-existing email addresses.
Check your amount of email bounces often and look into the type of bounce that occurred. Depending on the sort of bounce, address the issue or update your email list to remove inactive email addresses.
Better understand your internal email metrics.
Get started with ContactMonkey today.
6. Open time or engagement distribution timeline
Knowing when your employees are opening your emails is one of the most valuable email metrics to track.
If your recipients aren't opening your email within an hour after you send it, chances are they're not opening it at all. That's because a heap of other emails will sink your message to the bottom of their inbox.
By seeing what times of the day your employees open your emails the most, you can adjust your sending times accordingly. This way, you can boost open rates and easily increase engagement with your email content.
Say your employee newsletter has a higher open rate on Tuesdays at 11:00am. Try sending out your emails around 10:50 to optimize open rates.
Using ContactMonkey's email analytics, you can track email open times with precision and make an informed decision about when to send your emails.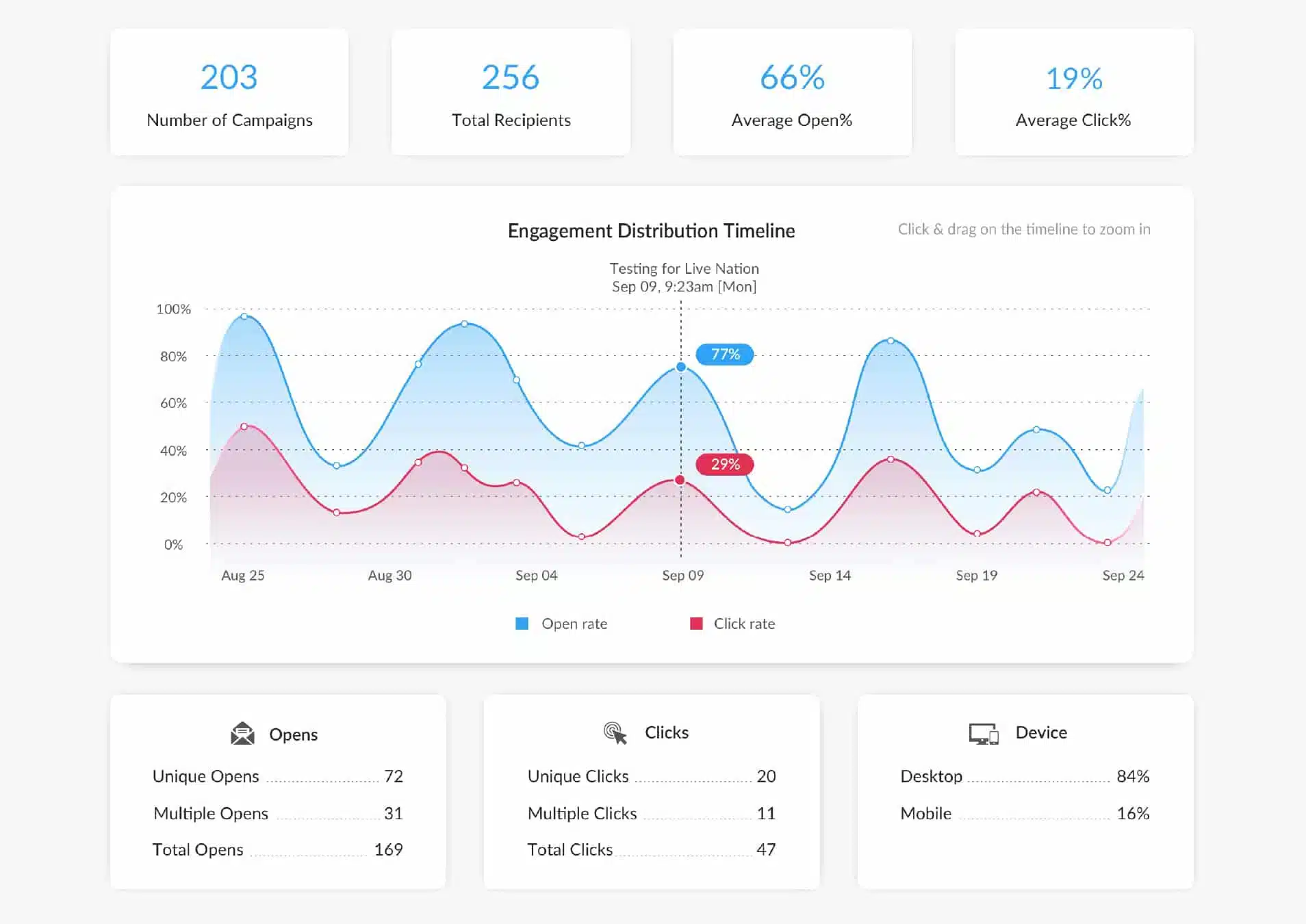 7. eNPS
eNPS or employee net promoter score is a powerful tool for calculating employee engagement. When it's embedded into your employee newsletter, it also becomes a powerful email metric.
eNPS calculates the percentage of brand promoters in your organization through a single scale rating question such as: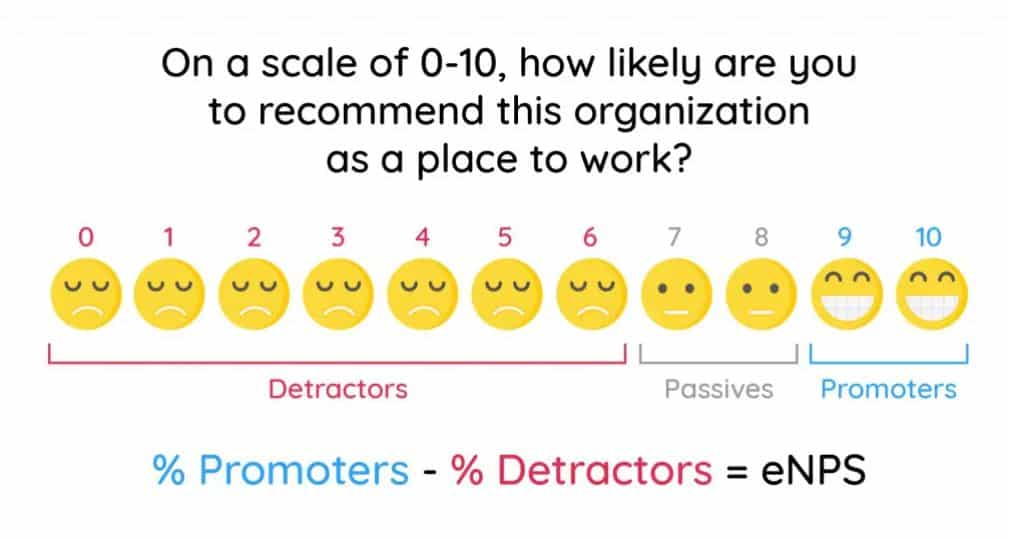 With ContactMonkey, internal communicators can include eNPS surveys right in their employee emails.
To embed an eNPS survey, simply select your survey from the template builder sidebar and drag it to your preferred location within the email.
Employees provide their answers on a scale from 1-10. After the results are in, this employee feedback to managers is easily accessible on ContactMonkey's Campaign Analytics page.
8. Multiple opens
Ever watched a movie over and over again? Is it because it always seems to put you in a good mood? Maybe it had informative content that you wanted to get expertise in.
Whatever the exact reason, we revisit content either because we enjoy it, or because it contains valuable information.
Multiple opens work similarly. They tell you that your reader found something interesting and/or important in your email.
This can be a very valuable metric to track because it suggests what sort of content resonates with your employees the most. So much so, that they reopen your email to read it over, get inspired, share it, or learn from it.
This information can guide you in tailoring future email content to reflect your most popular emails.
With ContactMonkey, you can also use individual email tracking to check which of your employees reopened your email the most and create segmented audience lists.
This enables you to create tailored email campaigns for different groups and boost overall engagement with your email campaigns.
9. Response rate
Your internal emails are designed to deliver engaging and informative content to your employees. They don't always necessitate a response.
But when your staff takes the time to respond to your weekly newsletter, it says a lot about their level of engagement.
Email response rates mean that employees want to start dialogue their questions or comments can do a lot to help inform and improve future emails. This makes it a valuable email metric.
If you want to get calculate your precise email response rate, divide the number of unique email responses by the number of successfully delivered emails. Then, multiply this number by 100.
Are your email engagement rates lower than you'd like? Try using custom email lists to target only relevant recipients and keep your employees' inboxes uncluttered. Using ContactMonkey's List Management feature, you can create your own email lists—without needing IT—that integrate with your Human Resource Information System (HRIS) like Workday and ADP, as well as Azure Active Directory, so your lists will update automatically as employees join and leave your organization.
Drive email engagement with custom email lists.
Create custom email lists that integrate with your HRIS.
10. Device
It's useful to know the device — desktop or mobile — that employees use to read your company newsletter because it'll give you the knowledge you need to optimize your messaging. This can often be one of the most overlooked email metrics to track.
Let's say you discover that more and more employees are viewing the newsletter on mobile devices; you can take steps to make the newsletter more mobile-friendly. For example, you may want to make your mailings less text-heavy, so they'll display better on a mobile phone and make it easier for employees to read.
11. Reporting
Comparing your emails is the best way to determine what content works best with your audience and make improvements.
That being said, this can often be a tedious task. You bounce from reviewing one email to the next while risking that you miss important differences or similarities.
With ContactMonkey's Reporting tool, you can easily see how your internal emails measure up to one another in engagement. You can compare multiple campaigns side by side and easily mark patterns, differences, and similarities. An email metrics report will give you a high-level overview of campaign performance.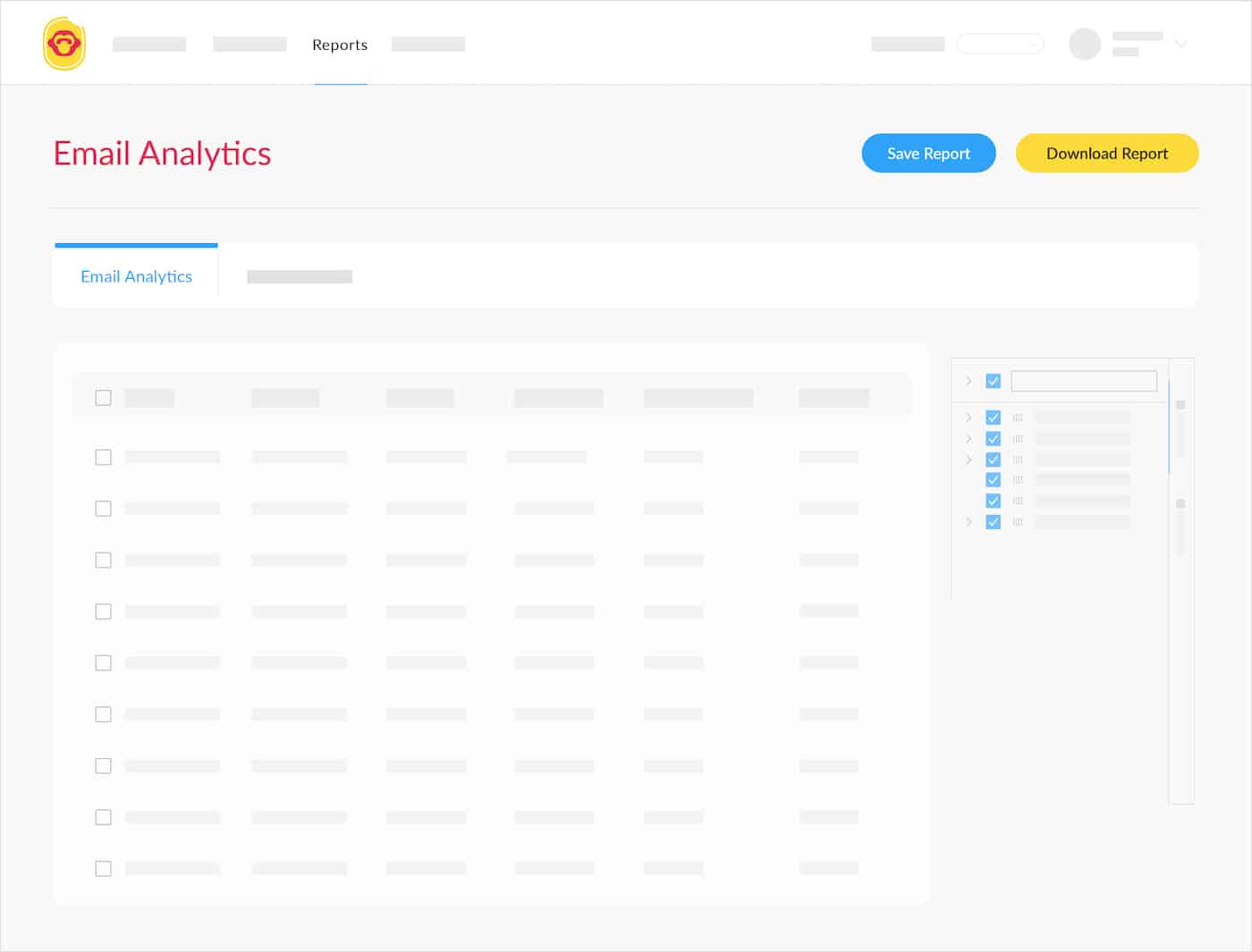 Use Reporting to benchmark your new employee emails against your other best performing HR email templates so you can check which content and design resonated best.
It'll also help you see which campaigns didn't perform that great so you can identify gaps and areas for improvement.
12. Best performing links
CTR is incredibly valuable in letting you see what leads your employees to access important links, course materials, industry news, and more. But to go beyond the numbers, you need to see your best performing links.
With ContactMonkey, you can check your best performing links right in your email analytics dashboard. Using these insights you can determine exactly what sort of information compelled your employees to click.
This way, you can use your knowledge about the type of information that interests them the most, to make more engaging links. You can also check the anchor text, presentation and layout of the most engaging links and display future links in a similar style.
Track the email metrics that matter.
Start using ContactMonkey's email analytics today.
13. Read time
If you've ever finished a Harry Potter book, you already know that readers will spend more time on the content they love.
While your weekly newsletter should avoid being too lengthy, seeing longer reading times shows that your audience is truly engaged with your content. That makes reading time one of the most important internal newsletter metrics.
If you're using ContactMonkey for your internal communications, you can easily view the reading times as one of your email metrics to track.
Once you check the numbers, think about what they're actually telling you. Are your readers glued to new customer stories or reposts of industry articles?
Your reading time will indicate where your employees' interests are focused and help you zero in on them in your next email.
14. Event tracking
Sharing events has always been a big purpose of internal newsletters. In the past, internal communications teams would have to create event invites on a third-party event registration website, embed a link to the site in their newsletter, and jump back and forth to check who RSVP'd.
These days, things can be much simpler. Not only can you manage events right within your employee newsletter, but your event registrations can serve as valuable email engagement metrics.
With ContactMonkey's all-in-one internal communications tool making, sending, and tracking events is easier than ever.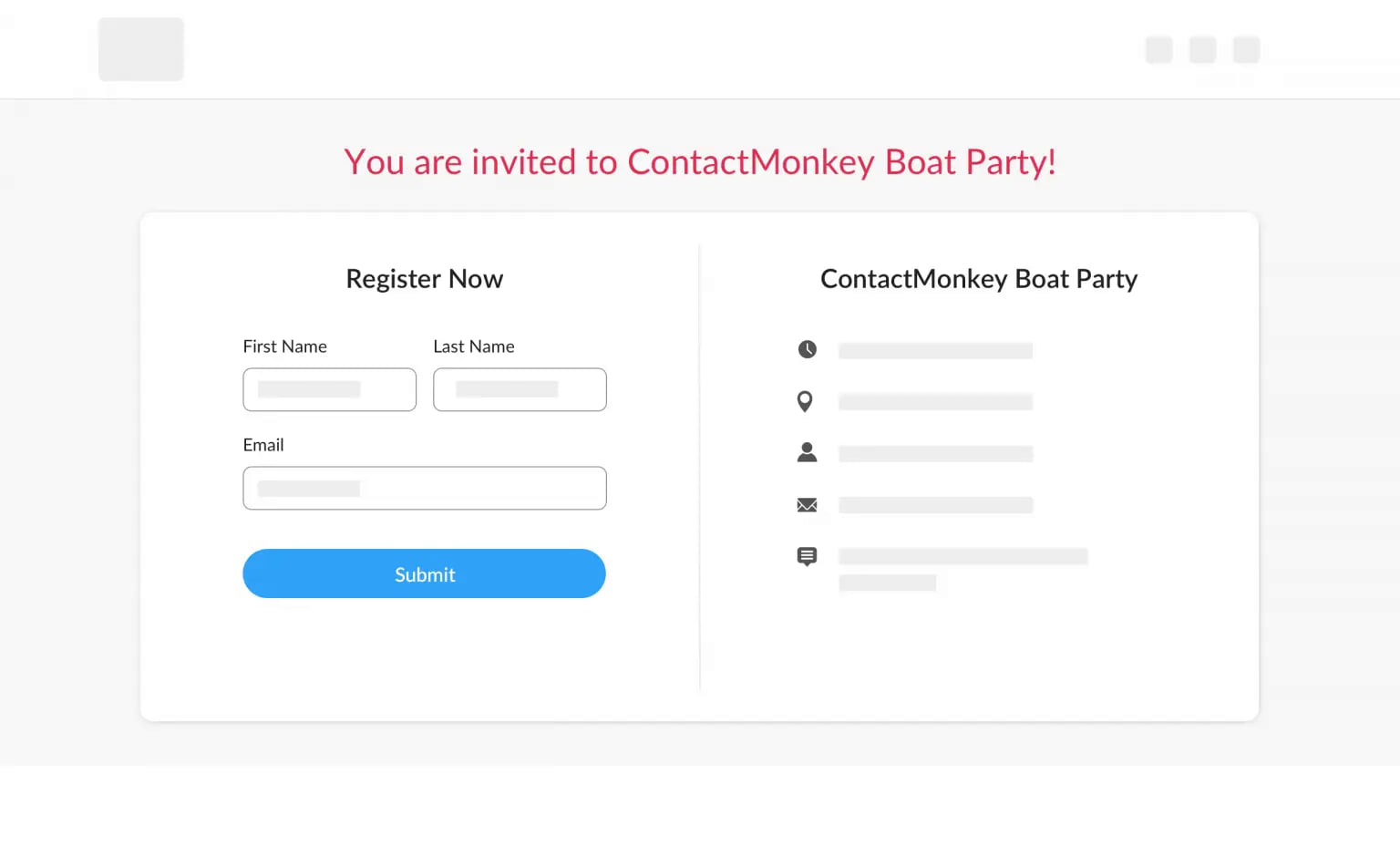 Using ContactMonkey's event management feature, you can create and send your event invitations right within your email template builder. Once you're done, track who's attending and who isn't to plan out your event accordingly.
Your staff can also attach messages to their RSVPs, so you can get feedback while learning who is and isn't coming.
15. Sharing or forwarding rate
Sharing content is an important way for employees to demonstrate the impact of your internal communications program.
When you encourage employees to share content with others, it not only shows that your message is resonating but can also open up new possibilities like increased reach and visibility across the organization.
Understanding this email metric will provide valuable insights into which topics resonate most with employees so that you can create more content like it. It'll also show which team members are highly engaged with the material and those who need a bit more encouragement.
By tracking the sharing rate, you'll be able to measure internal communications better understand how to get employees involved in the conversation.
16. Click maps
You can measure email metrics that can directly inform and improve your internal communication design. Open rate, click-through rate, and other metrics measure overall engagement, but not on-page engagement. This is where click maps come into play: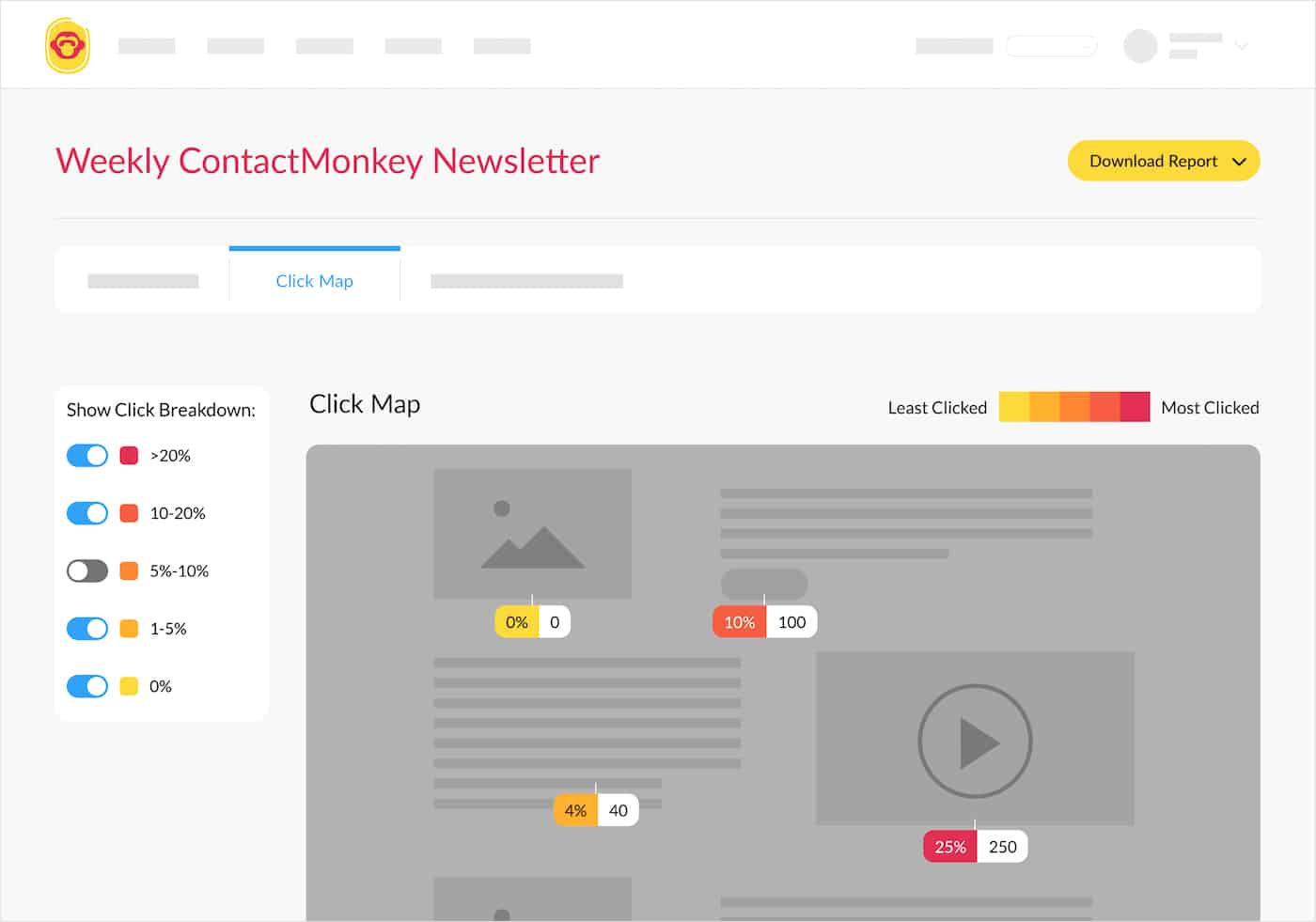 ContactMonkey's click maps feature let's you see exactly how your employees are engaging with your internal communications. This information can help you optimize your email design to ensure your employees are seeing the information you need them to.
Track important newsletter metrics.
Try ContactMonkey and improve internal emails today.
External Email Metrics To Track
While most internal newsletter metrics can be used for internal communications, there are some metrics that are exclusive to external communications. But having an understanding of those metrics is important as well. Here are a few to keep in mind.
1. Conversion rates
This metric measures the percentage of recipients who take a desired action, such as clicking on a link or completing a purchase, after receiving your email. By tracking conversion rates, you can determine the effectiveness of your email campaigns and make adjustments to improve results.
Tracking conversion rates can also help you identify which types of content, subject lines, and calls-to-action (CTAs) are most effective in driving conversions. For example, you might find that emails with a certain type of offer or discount tend to perform better than others. Use this information to optimize your future emails and improve your overall conversion rates.
2. List growth rate
This metric helps you understand how quickly your email list is growing over time. A healthy list growth rate means more potential customers are signing up to receive your emails, which can lead to increased engagement and conversions over time.
By tracking list growth rate, you can determine whether your email acquisition efforts are effective and make adjustments to improve results. For example, you might experiment with different types of lead magnets or opt-in forms to attract more subscribers and increase your list growth rate.
3. Unsubscribe rate
This is an important indicator for the overall health of your internal communications program and your relationship with employees.
When unchecked, high unsubscribe rates can be a sign that something's off in terms of content relevance or frequency.
Using ContactMonkey, you can monitor the number of unsubscribes for each email. And, you'll be able to identify the exact moment when the rate starts increasing and take swift action before things get worse.
You can also pay attention to your overall unsubscribe rate over time and compare it to industry benchmarks so you can analyze which of your emails may be having an undesired effect and quickly make changes accordingly.
By keeping an eye on unsubscribe rates, you can ensure your employees are engaged with the content you're sending. If a spike in unsubscribes occurs, it could be a sign that something needs to be adjusted or improved. With ContactMonkey, you can easily monitor and adjust as needed for maximum engagement.
4. SPAM complaints
Spam complaints are a measure of how many recipients reported your email as spam. These complaints can negatively impact your email deliverability, and may even result in your email being blocked by certain ISPs or email providers.
To minimize spam complaints, make sure you're sending relevant and valuable content to your subscribers. Avoid using misleading subject lines, sending too many emails, or including too many sales pitches. If someone does request to be removed from your list, honor their request promptly to avoid further complaints.
By tracking spam complaints, you can identify potential issues with your email content and take steps to improve your overall email deliverability.
OK, let's say you have a decent idea of what email metrics to track now. In addition to that, you should try to get a frame of reference for what a "good" or "normal" email open rate is, for example.
I highly recommend you check out this email metrics report we did of 8,400+ companies across 18 different industries. Make sure to check out if your industry is included, and you can take a look at how your own internal newsletter metrics stack up against your industry average.
Use ContactMonkey to Track Your Newsletter Email Metrics
These email metrics that matter are essential to track for your company newsletter, but they're certainly not the only ones to keep an eye on.
Luckily, ContactMonkey's email analytics gives you access to these and more. You can also view your best-performing links and even do detailed comparison reports among campaigns.
See how ContactMonkey can transform your organization's internal communications and help you craft more compelling company newsletters in popular email clients, like Gmail and Outlook.
Book your free personalized demo today!