Picture this: you're working hard on crafting your internal communications to round up important company news for employees. You gather all the pieces together and send out your employee email to the entire organization. Yet days go by without anyone saying anything about it…
Without feedback, you don't know whether or not employees have seen the important information included in your newsletter.
You send out a short reminder email about some of the things you mentioned in the employee newsletter, and get a bunch of Slack messages with questions like:
"What? I didn't know we could get the flu shot at the office!"
"Is office yoga still happening?"
"When are we being sent our tax information?"
It's not your fault, but it's not your employees' fault either. People just dread more clutter in their email inboxes, which means less time reading each email.
Your internal communications needs to hold your employees' attention.  Employee engagement is proven to drive the growth of your business, which means your ability to maintain employee engagement is crucial. With more businesses operating remotely,  your employee newsletter is a vital tool for keeping your employees connected while they're socially distant.
How to Write Engaging Employee Newsletters
These are our 7 tips and best practices for boosting engagement with your employee newsletters. Even if you just try one, we're certain that you'll end up creating more engaging internal corporate newsletters and emails.
1. Start with eye-catching subject lines
You might have the most beautiful, well-written employee newsletter on the face of the earth. But if there's no incentive for employees to open it—like a sweet subject line—your email might as well be empty.
To ensure your emails get opened, you have to:
Use short subject lines
Research from Retention Science has found that subject lines between 6-10 words have the highest open rates. Therefore, 8 words is the ideal.
As well, most people check their emails on mobile devices. It can't hurt to have a shorter subject line so that it displays fully and correctly on an interface like that.
Lead with desire
Put yourself in the shoes of your fellow employees. In order for them to open an email, the subject line needs to go beyond information to address their desires and needs.
For example, if your weekly pizza lunch is going to be replaced with something else, you have to find a way to catch their attention. Otherwise, they may just ignore the email and wait to see what happens when the provided lunch day rolls around. Consider the following subject lines:
"Information about weekly pizza lunch" or "We've got a delicious surprise for lunch [emoji]"
Ask yourself: Which of these two emails would I open?
Make it personal
No one likes receiving an email that has obviously been sent to thousands of other people. By featuring your recipient's name in the subject line, your email will appear to be personalized just for them.
With ContactMonkey's Merge Fields feature, you can create a personalized subject line for every employee on your contact list. You can insert anywhere in your email—subject line or body text—your recipients' real name or their display name.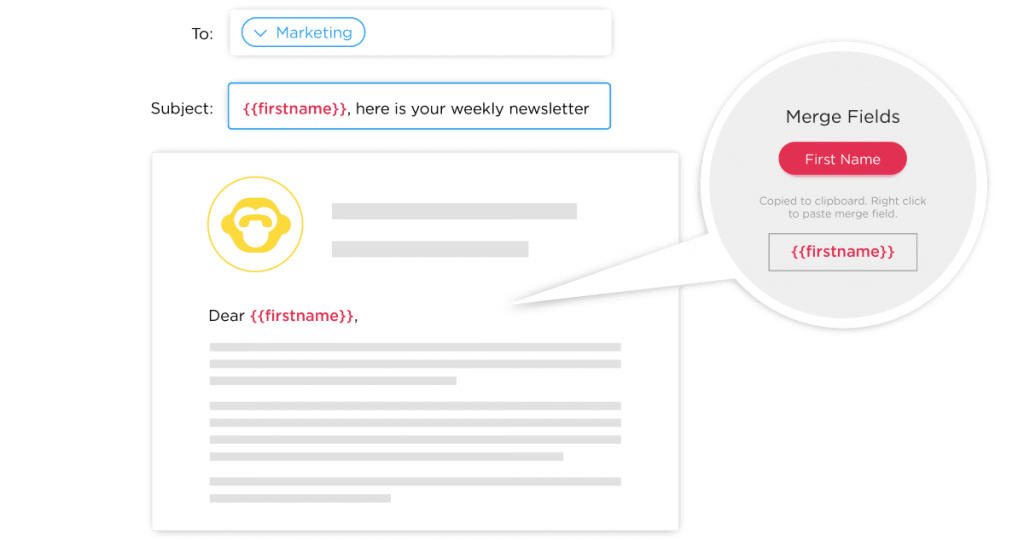 Good content keeps readers' attention until the very end, so be sure to apply these tips throughout your newsletter. Keep your sentences short, use fun graphics and emojis to break up text, and personalize your employee emails with custom text.
2. Design a top-notch newsletter
You need not be a graphic designer to create a newsletter your employees enjoy reading. With email template building tools like ContactMonkey, you can create professional-quality internal emails while saving time in the design process.
Layouts
The layout of your internal newsletter is the foundation for your content. Even if the information in your email is valuable to your employees, a jumbled or cluttered layout will turn them off from reading.
Using ContactMonkey's drag-and-drop template builder, you can easily customize the layout of your newsletter. Format your content using rows, dividers, buttons, pictures, videos, and more for endless design possibilities.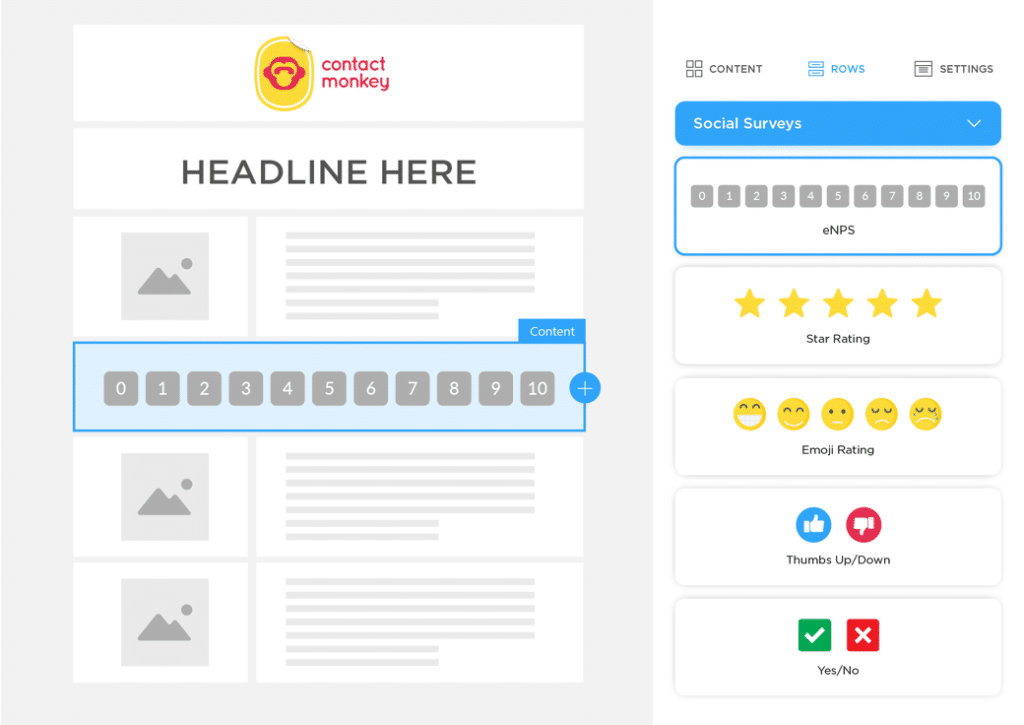 Not everyone has the time to create a new document from scratch. That's why ContactMonkey's template builder has numerous built-in layouts to choose from based on the type of internal communication you need to send.
But there's more…
Themes
Not only does ContactMonkey have pre-made layouts, but our template builder also includes numerous themes to choose from. An email template theme takes all the design work out of creating beautiful internal communications; all you need to do is plug in your information!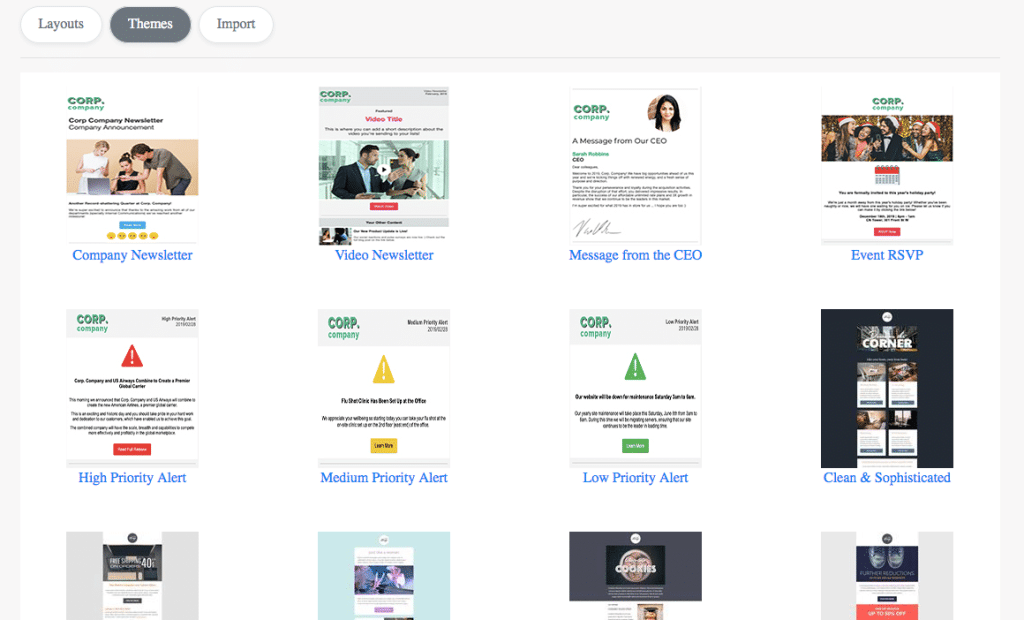 Choose from our constantly-updating selection of professionally-designed themes to grab your employees' attention. Want a custom-made theme for your internal communications? We can build personalized themes for our customers!
3. Make the employee newsletter content relatable
Employees like feeling that they work for a unique organization which doesn't have to be serious 100% of the time.
When sending internal emails, don't be afraid to reference moments in company-wide experiences that are known to be crowd-pleasers.
Did the CEO wear a funny t-shirt to the fiscal year kick-off, throw a picture of it in your next fiscal kick-off newsletter. Bottom line, inside jokes are welcome.
Write engaging internal emails as if you'd want to read them. Look at it like a note to a friend. Be a real, approachable person. Especially when the news is serious, you'll want to inject humanity.
Add visuals—like memes and GIFs—to break up email body 
Memes have permeated every corner of social media. You can't even scroll LinkedIn—which is supposed to be a strictly professional network—without coming across one (or five) memes about sales.
Giphy is a great tool that allows you to create and add GIFs to your internal communications. In Slack, you just have to type "/giphy" and then whatever you're looking for to add it into your chat. They've also created an add-on for your Outlook inbox.
ContactMonkey's template builder has built-in Giphy integration. Simply drag the Giphy content block onto your template and then search Giphy's library of hundreds of thousands of GIF images. Spicing up your internal communications has never been easier!
4. Link to relevant, shareable content
Since most people don't finish reading emails (and sometimes don't even open them), employees will undoubtedly miss some information.
That said, it can't hurt to reuse some content in employee newsletters, especially when you've been getting a better feel for what they're hoping to see.
Content worth sharing multiple times includes:
Company initiatives and announcements
Written content (blog posts, case studies)
Press coverage
Media (videos, podcasts, infographics)
Industry news
One of our customers, University of North Texas, uses ContactMonkey to better understand whether employees pay more attention to announcements sent via email versus in-house displays.
5. Encourage employee feedback and two-way internal communications
Struggling to understand what employees actually want to read? Including an employee feedback system in your internal newsletter—like emoji reactions, employee comments, or pulse surveys—can be a great way to start improving internal communications.
Emoji reactions
Give your employees the ability to love, like, and laugh at any content you send them via email. With emoji reactions, your internal communications team can gather feedback seamlessly. Here's an example of how ContactMonkey's built-in emoji reactions helps you gather valuable feedback using emoji reactions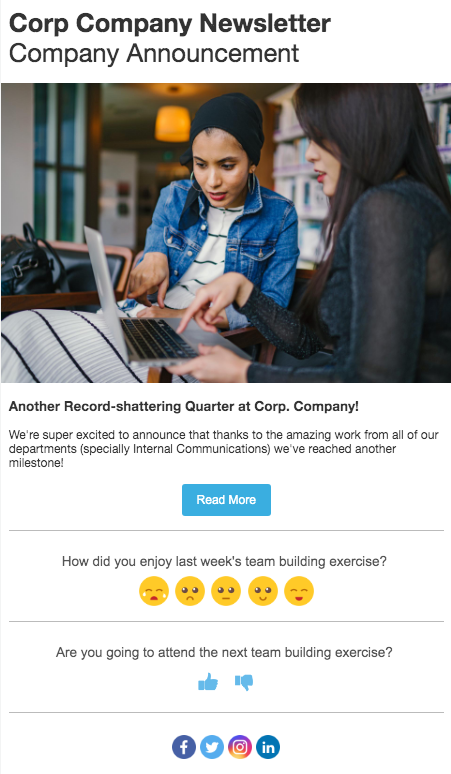 Employee feedback comments
The ways that internal communicators choose to engage with their employees should be reminiscent of technological experiences that they already enjoy. Basically, they should be:
Interactive
Social
Visually appealing
Mobile-friendly
Your employees are used to commenting on content they interact with; give them that ability by with employee newsletter coments. By turning comments on in, ContactMonkey gives your employees a platform to voice their feedback: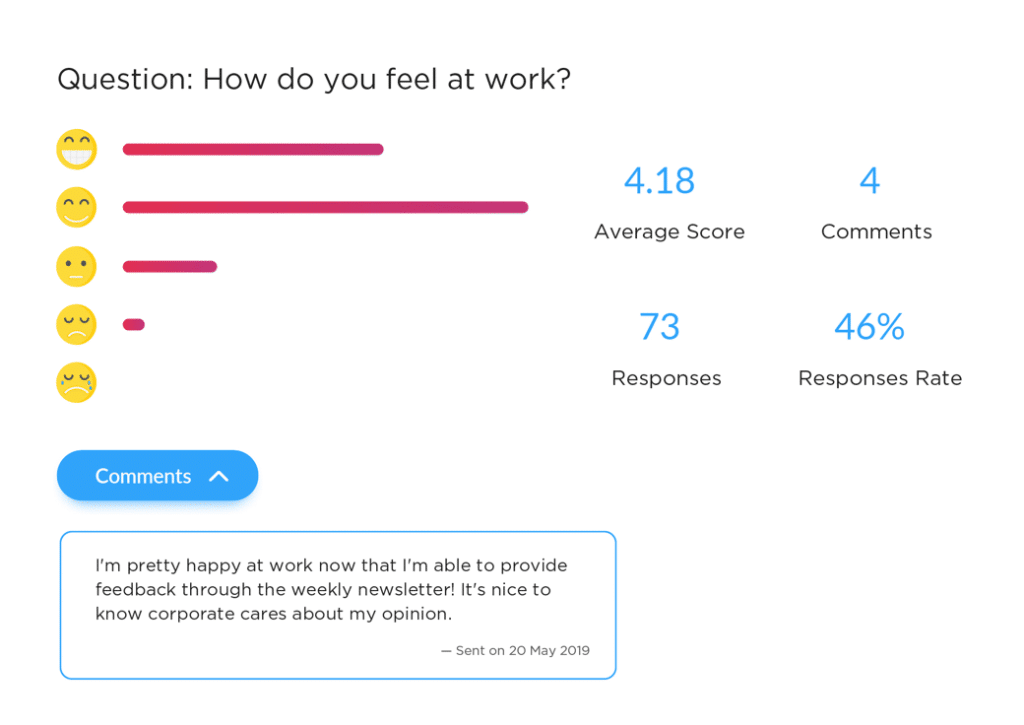 Combining comments with your emoji reactions is a win-win situation: your employees can look forward to giving their opinions on issues that matter to them, and you get to collect both qualitative and quantitative feedback from your internal newsletter. Not bad.
Employee pulse surveys
Employee pulse surveys are an effective way to combine emoji reactions and employee comments. With pulse surveys, you can gather actionable data on your email communications in seconds.
For instance, you might want to know how employees felt about the recent Town Hall meeting. You could ask them "On a scale of 0 to 10, how did you find this month's Town Hall?". Your employees can respond using emoji reactions, and add a comment if they'd like to add their two cents. The responses you receive will inform you of the success of the town hall, and might even give you specific points for improvement. With ContactMonkey, creating an employee pulse survey takes less than 1 minute.
6. Test out your newsletter content
Now that you've got your newsletter content together, it's time to send it out and see how it's received. Don't get disappointed if you don't strike newsletter gold with your first try; crafting an engaging internal email takes refinement!
Text links vs. buttons
From a user experience perspective, text links are used more than buttons. Why? Because buttons register as images and take time to make, while links in text only require the URL.
As a general rule of thumb, if you're planning to use both in your employee newsletter, you should use buttons sparingly. The most engaging internal emails use buttons to direct the reader's eyes to the most important actions, like filling out an employee pulse survey.
If the goal is to have employees interacting with the company website, then use text links to lead them. If you'd rather them stay within the internal newsletter, then opt for buttons.
Longer or shorter employee newsletter 
Lengthier employee newsletters are perceived to convey more information. However, if you're losing your audience shortly after they start reading, they're going to miss a lot. To avoid this, put the most important information at the very top of the newsletter to better your chances of it getting read.
If you're unsure about how to trim down a long newsletter—especially if you're in an industry that's information-heavy— take peace in knowing that there is a middleground. Write an excerpt of a longer piece of information and then link out to it. This will move you towards brevity and result in more engaging internal emails.
Statistically, 200 words (which equates to about 20 lines of text) have the highest click-through rates in the majority of industries. Overall, the best length for your employee newsletter depends on what your end goal is a.k.a. what action you're hoping for employees to take.
Alternatively, if there is a lot of information to include, don't be afraid to move away from text only. Instead, think about delivering the message through a video or an infographic. Employees will probably appreciate the variety in content.
Scheduled email releases
There's a lot of information out there about when to send out employee communications. Days, times, and formats are some of the many things discussed.
Two common myths about when to send internal emails are:
Mondays and Tuesdays are the best days of the week to send internal communications
It's better to send emails in the morning
Truthfully, the best time to send out engaging internal emails is going to vary between organizations and industries. As a result, you just need to look at where you work as a unique case. Be prepared to:
Gather employee data
Study the data and follow up where necessary
Run employee focus groups to dive deeper into trends in your data
Test out multiple options until you find a clear winner
With ContactMonkey's internal communications tool, you can easily schedule your newsletters to send when your employees are most likely to engage with them. Simple changes, like modifying the time you send out your emails, can have a big impact on overall engagement. You can measure the impact these scheduling changes have on your internal communications from within the campaign analytics dashboard:

7. Have fun creating engaging internal emails
If you want to create engaging internal emails, it's worth thinking about what makes the organization—and its people—so special. Embrace the unique characteristics of the people you'll be addressing with your internal newsletter, and present the information to them in a format that aligns with how they already consume content.
Remember, don't be afraid to experiment, because you can always ask for feedback later. If you're thinking about starting to send out an employee newsletter and have no clue where to start, keep some of these ideas in mind once you have your internal communications plan in place.
Making the Most of Your Internal Communications
Employee engagement strategies that work for one business may not work for the next. Trying different ideas and measuring their success is the best way to craft the most effective newsletter for your organization.
ContactMonkey's internal communications tool allows you to do both of those things and more:
Change up the content and layout of your employee newsletter with the drag-and-drop template builder to find the right design for your organization
Measure the success of your internal communications with email analytics within the campaign dashboard
Gather employee feedback about your newsletter, or any topic
Conduct Pulse and eNPS surveys with ease
Related Links:

Ultimate Guide to Internal Communications
Utilizing Storytelling for Employee Newsletters
12 Internal Communications Tools
15 Fantastic Ideas for a Better Newsletter
If what you just read has you curious about using software for internal communications, we'd encourage you to grab a free trial of ContactMonkey's internal email tracking tool for Outlook and Gmail. Let's chat about what you're hoping for in your personalized free demo!

href="https://cta-redirect.hubspot.com/cta/redirect/6282300/5bdfb1bf-4869-444c-9ccb-234e6d7a7d55″ >