Picture this. 
You've been working hard on crafting an internal newsletter or engaging internal emails to round up important company news for employees.
You've finally gotten all the pieces together, sent out an employee email to the entire organization, and days go by without anyone saying anything about it.
Since everyone's so quiet about it, you don't know whether or not employees have seen the important announcements that you included in the internal newsletter. 
Then, you send out a shorter reminder email about some of the things you mentioned in the employee newsletter, and get a bunch of Slack messages with questions like: 
"What? I didn't know we could get the flu shot at the office!"
"Is office yoga still happening?"
"When are we being sent our tax information?"
It's not your fault. At the same time, it's not their fault, either. People just… dread more clutter in their email inboxes. So instead, they choose to ignore it. 
Modern work life has become a battlefield for attention and the #pingpong channel on Slack, funny memes, and mobile-first apps like Instagram are some of your biggest competitors. 
What this means is that you need engaging internal emails that are concise and entertaining to have a fighting chance. Are you also communicating with a remote workforce? If so, be ready to double down. 
Let's go over 7 tips and best practices we've seen success with. Even if you just try one, we're certain that you'll end up creating more engaging internal corporate newsletters and emails 👇👇
How to Write Memorable Employee Newsletters
1. Start with an eye-catching subject line.
You might have the most beautiful, well written employee newsletter on the face of the earth. However, if there's no incentive for them to open it (in the form of a sweet subject line), your email might as well be empty. 
To ensure your emails get opened, you have to:
Use short subject lines
Research from Retention Science has found that subject lines between 6-10 words have the highest open rates. Therefore, 8 words is the ideal. 
As well, most people check their emails on mobile devices. It can't hurt to have a shorter subject line so that it displays fully and correctly on an interface like that. 
Lead with desire
Put yourself in the shoes of your fellow employees. In order for them to open an email, the subject line needs to go beyond information to address their desires and needs. 
For example, if your weekly pizza lunch is going to be replaced with something else, you have to find a way to catch their attention. 
Otherwise, they may just ignore the email and wait to see what happens when the provided lunch day rolls around. Consider the following subject lines:
"Information about weekly pizza lunch" or "We've got a delicious surprise for lunch 👀" ?
Ask yourself: Which of these two emails would I open? 
We'd choose the second one because: 
It's short and to the point 

It's a teaser that gets me intrigued

The emoji adds a bit of fun

2. Make the employee newsletter content relatable.

Employees like feeling that they work for an organization that is unique, and doesn't have to be serious 100% of the time. 
When sending out engaging internal emails, don't be afraid to reference moments in company-wide experiences that are known to be crowd-pleasers. 
For instance, if the CEO wore a funny t-shirt to the fiscal year kick-off, throw a picture in there. Bottom line, inside jokes are welcome. 
Don't think that just because these are business communications that they always have to be brimming with formality and information. 
However, internal communications should still be related to the specifics of your company, even if it's about something that isn't centered around revenue or other important company data. 
Write engaging internal emails like you'd want to be written to. Look at it like a note to a friend. Be a real, approachable person. Especially when the news is serious, you'll want to inject humanity. 
3. Make the employee newsletter aesthetically pleasing.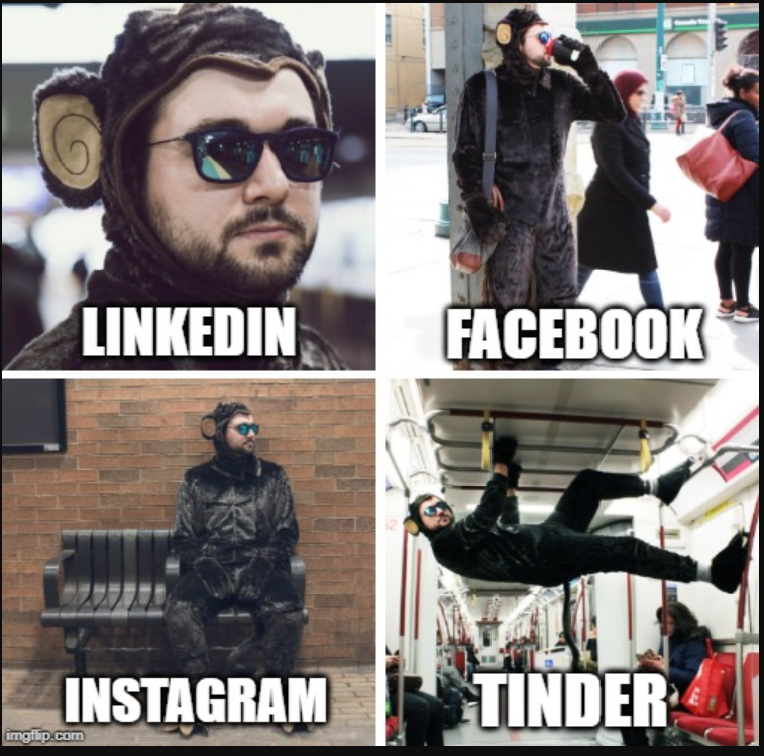 Add visuals – like memes and GIFs – to break up email body 
Memes have permeated every corner of social media. You can't even scroll LinkedIn, which is supposed to be a strictly professional network, without coming across one (or five) memes about sales.
Don't get us wrong, it's not a bad thing. Just be sure that you're ready to buck the trend. 
Giphy is a great tool that allows you to create and add GIFs to your internal communications. In Slack, you just have to type "/giphy" and then whatever you're looking for to add it into your chat. 
They've also created an add-on for your Outlook inbox, so you can drop them right into the employee newsletters you build in ContactMonkey, and your one-off emails.
Add emojis to your subject lines whenever possible 👀✔️
Keep your subject lines for engaging internal emails short and easy to digest. If the information in your email is more matter-of-fact, it can be harder to come up with a humorous subject line that allows for emojis. 
Try asking a question like, "Still haven't read the new benefits plan?🙈" Not only does this lighten up the mood for the recipient, but it still alludes to what your email is about. 
4. Link to relevant, shareable content. 
Since most people don't finish reading emails (and sometimes don't even open them), employees will undoubtedly miss some information. 
That said, it can't hurt to reuse some content in employee newsletters, especially when you've been getting a better feel for what they're hoping to see. 
Content worth sharing multiple times includes: 
Company initiatives and announcements

Written content (blog posts, case studies)

Press coverage

Media (videos, podcasts, infographics)

Industry news
Nervous that repeating content in the employee newsletter will get annoying?
Have no fear, as some modern internal communications tools allow you to track your emails to the link level right from Outlook or Gmail. 
This will give you insight into what's working well, what can be improved, and what can be left out entirely – all leading to better emails over time. 
One of our customers, University of North Texas, uses ContactMonkey to better understand whether employees pay more attention to announcements sent via email versus in-house displays.
5. Encourage employee feedback and two-way internal communications.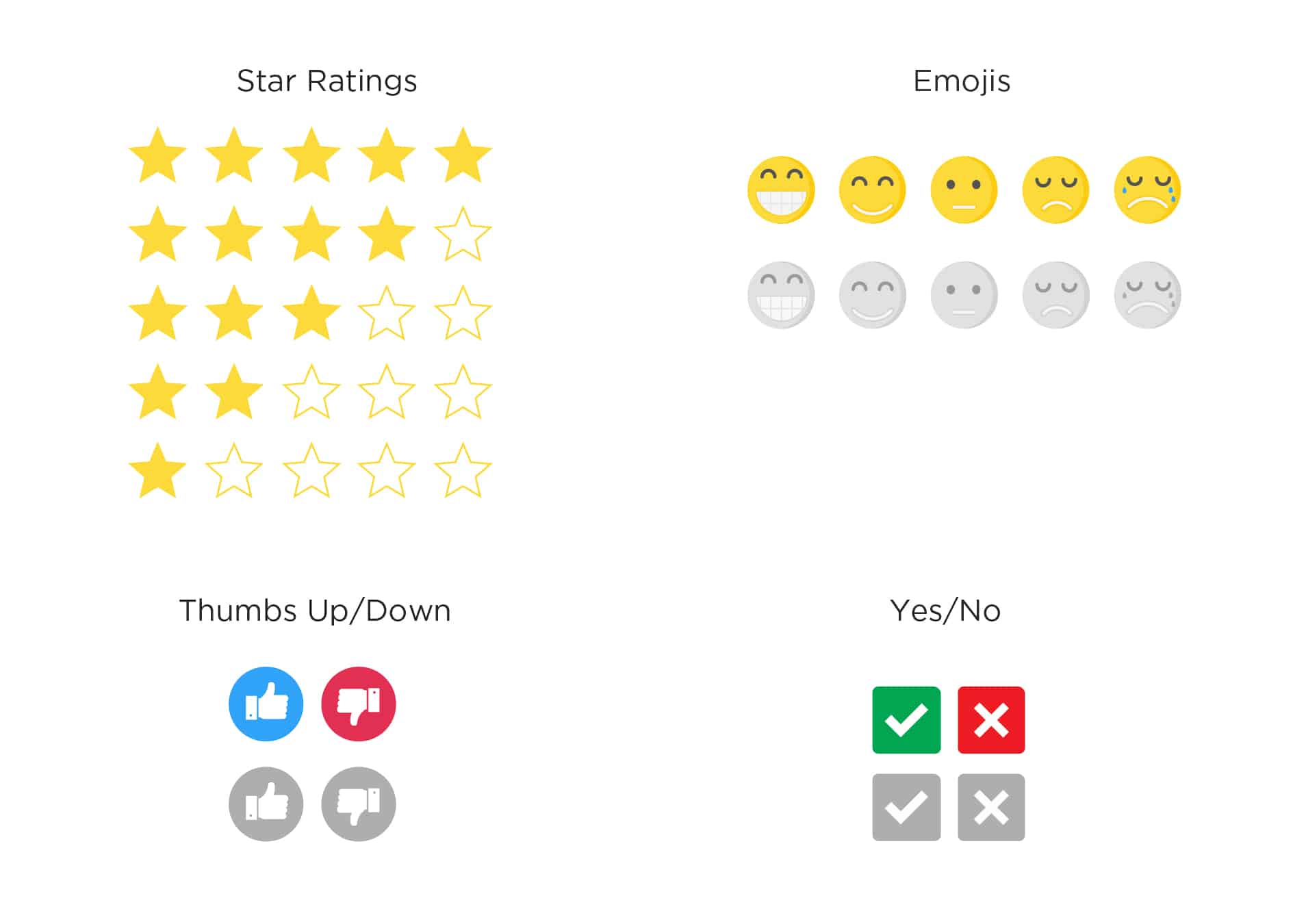 Struggling to understand what employees actually want to read? Including an employee feedback system in the internal newsletter – like employee comments, emoji reactions, or pulse surveys – can be a great way to start improving internal communications.
With ContactMonkey, you can track internal corporate newsletters on an overall campaign level or an individual employee level right within Outlook using your Outlook distribution list. 
Tracking email metrics like opens, link clicks, devices and location will help you to craft more engaging internal emails. You'll be armed to include the information that resonates with employees the most.
How to Gather Employee Feedback in ContactMonkey's Internal Email Tracking Tool
Think about the last time you found a conversation with someone to be really engaging. What made you feel drawn in?
One major factor that likely influenced this was that you felt heard. You felt like the other person cared about what you had to say and that they were actively listening.
There's no reason that truly engaging internal emails should be any different. If you're making a point of collecting feedback from employees on a regular basis, then you should be prepared to take action almost immediately. 
For your employees to care about what you have to say, they need evidence that you're actively listening to their feedback. This results in strong two-way communications going forward. 
With ContactMonkey's email template builder for Outlook and Gmail, you can actually embed feedback tools with a simple drag and drop. 
Emoji Reactions
Give your employees the ability to love, like and laugh at any content you send them via email. With social reactions, your internal communications team can gather feedback seamlessly. 
Perhaps you just changed over the snacks offered in the office. You might ask: "How do you feel about the new snack offerings?" 
If employees are leaning more towards a sad face 🙁 than a happy face 🙂, it could be a good opportunity to follow up with employees and learn what sorts of changes they'd like to see going forward.
Employee Pulse Surveys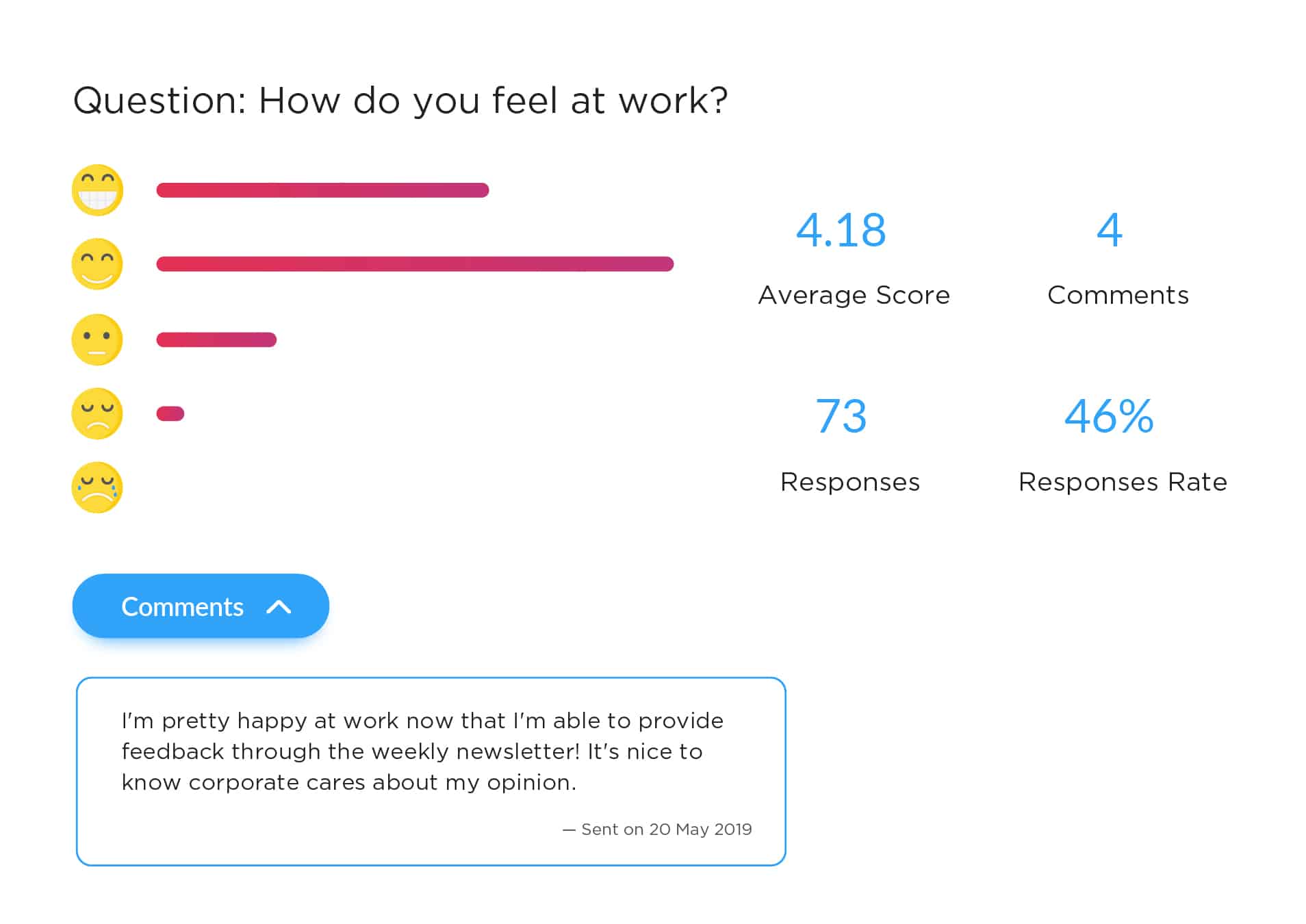 With pulse surveys, you'll also get actionable data on your email communications in seconds. You'll be able to see all of the responses live in real time on your ContactMonkey dashboard. 
For instance, you might want to know how employees felt about the recent Town Hall meeting. You could ask them: "On a scale of 1 to 10, how did you find this month's Town Hall?"
'Like' Buttons
By adding like buttons to internal emails, you'll make answering questions more interactive for employees. 
If you're implementing a new speaker series at work, and there have been two or three sessions, it could be the perfect time to check in. You could ask something like, "Are you enjoying the new chat series?" Then, employees can give you a thumbs up or thumbs down. 
Employee Feedback Comments
The ways that internal communicators choose to engage with their fellow employees should be reminiscent of technological experiences that they already enjoy. Basically, they should be: 
Interactive

Social 

Visually appealing

Mobile-friendly  
To really succeed with engaging internal emails, you might want to consider using an internal communications tool, like ours at ContactMonkey.
You'll be able to incorporate all of the feedback methods listed above and promote two-way communication within your organization. 
If all goes well, you'll be able to gather actionable employee feedback on a regular basis, rather than spending the time and money it takes to properly executive an annual employee survey. 
6. How to Use Employee Newsletter Analytics 
Now that you have software in place to track your internal emails, you need to do something with the information given. In the early stages of your employee newsletter cadence, you might not yet know what you're trying to understand. 
Here are a few things you can start with:  
Testing out text links vs. buttons 
From a user experience perspective, text links are used more than buttons. Why? Because buttons register as images and take time to make, while links in text only require the URL. 
As a general rule of thumb, if you're planning to use both in your employee newsletter, you should use buttons sparingly. The most engaging internal emails use buttons to direct the reader's eyes to the most important actions, like filling out an employee pulse survey. 
If the goal is to have employees interacting with the company website, then use text links to lead them. If you'd rather them stay within the internal newsletter, then opt for buttons.
Playing around with the length of the employee newsletter 
Lengthier employee newsletters are perceived to convey more information. However, if you're losing your audience shortly after they start reading, they're going to miss a lot. To avoid this, put the most important information at the very top of the newsletter to better your chances of it getting read. 
If you're unsure about how to part ways to with a longer newsletter, especially if you're in an industry that's information-heavy, note that there is a happy medium. Write an excerpt of a longer piece of information and then link out to it. This will move you towards brevity and result in more engaging internal emails. 
Statistically, 200 words (which equates to about 20 lines of text) have the highest click-through rates in the majority of industries. Overall, the best length for your employee newsletter depends on what your end goal is a.k.a. what action you're hoping for employees to take. 
Alternatively, if there is a lot of information to include, don't be afraid to move away from text only. Instead, think about delivering the message through a video or an infographic. Employees will probably appreciate the variety in content. 
Sending engaging internal emails when employees are ready for them
There's a lot of information out there about when to send out employee communications. Days, times, and formats are some of the many things discussed.
Two common myths about when to send internal emails are: 
Mondays and Tuesdays are the best days of the week to send internal communications 

It's better to send emails in the morning 
Truthfully, the best time to send out engaging internal emails is going to vary between organizations and industries. As a result, you just need to look at where you work as a unique case. Be prepared to: 
Gather employee data

Study the data and follow up where necessary 

Run employee focus groups to dive deeper into trends in your data 

Test out multiple options until you find a clear winner 
7. Have Fun Creating Engaging Internal Emails 
If you want to create engaging internal emails, it's worth it to think about what makes the organization – and its people – so special. Embrace the unique characteristics of the people you'll be addressing with your internal newsletter, and present the information to them in a format that aligns with how they already consume content. 
For example, if people like to put memes or GIFs in the various Slack channels, bring them into the mix. If you know that these things are already well-received, then there's no need to ignore that intel – it's right in front of you.
Remember, don't be afraid to experiment, because you can always ask for feedback later. If you're thinking about starting to send out an employee newsletter and have no clue where to start, keep some of these ideas in mind once you have your internal communications plan in place. 
If what you just read has you curious about using software for internal communications, we'd encourage you to grab a free trial of ContactMonkey's internal email tracking tool for Outlook and Gmail. Let's chat about what you're hoping for in your personalized demo! 
You may also enjoy:
Ultimate Guide to Internal Communications
Utilizing Storytelling for Employee Newsletters
12 Internal Communications Tools
32 Employee Newsletter Content Ideas to Boost Employee Engagement