Outlook read receipts set out to be a powerful asset for tracking email in Outlook. Unfortunately, how they turned out left much to be desired. An Outlook read receipt is Microsoft's way of telling you if someone opened your email.
However, it contains a fairly major flaw: recipients of your emails have to give permission to be tracked. When an Outlook read receipt is sent with an email the recipient gets the following popup: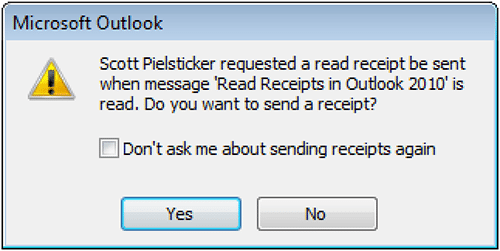 Tracking isn't very good if its opt-in only, is it? If you're looking for an Outlook email tracking software that goes well beyond the capabilities of mere read receipts, then ContactMonkey is your answer; we're like Mailchimp for internal communications.
Track all of your employees' emails anonymously and securely with ContactMonkey. Measure open rate, click-through rate, opens by device and location, and more, with your recipients none the wiser.
Get powerful internal email analytics and reporting.
Understand the impact of your internal communications.
Eliminate Outlook Read Receipts with Email Tracking for Outlook
Outlook email tracking is ridiculously simple to use. When you're sending an email from your Outlook inbox, navigate to the ContactMonkey sidebar.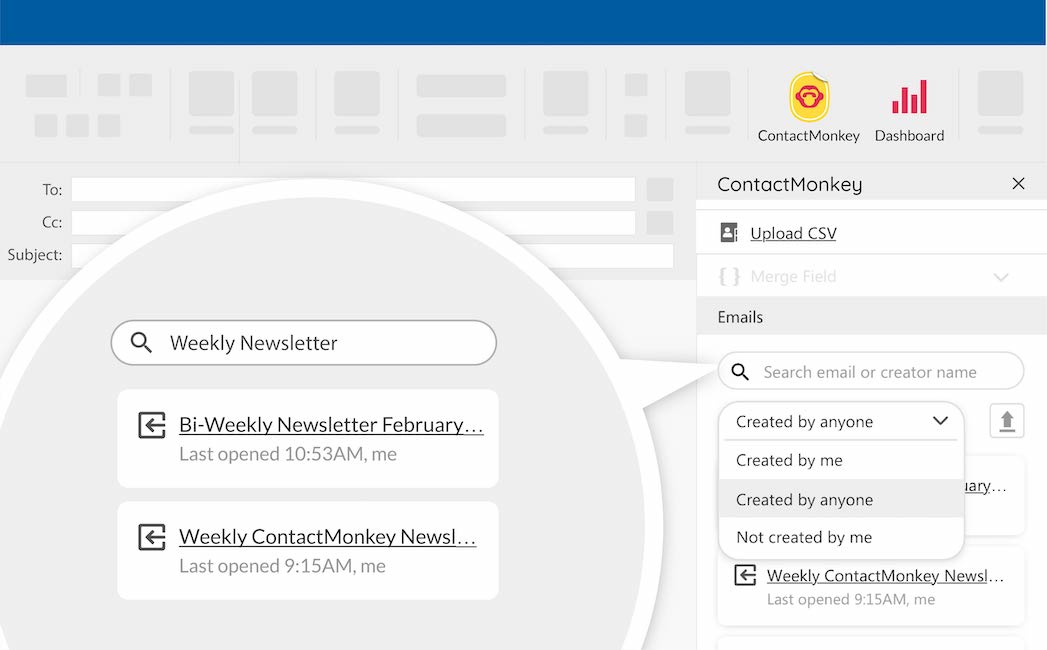 In order to track your emails, you first have to choose how you want to track them. The Type of tracking—individual or overall—determines whether you track emails metrics by the recipient (individual) or by the campaign (overall).
Individual Email Tracking
Individual email tracking gives you statistics about each of your recipients. See how to track email opens in Outlook, link clicks, and more with ContactMonkey's easy-to-read campaign dashboard: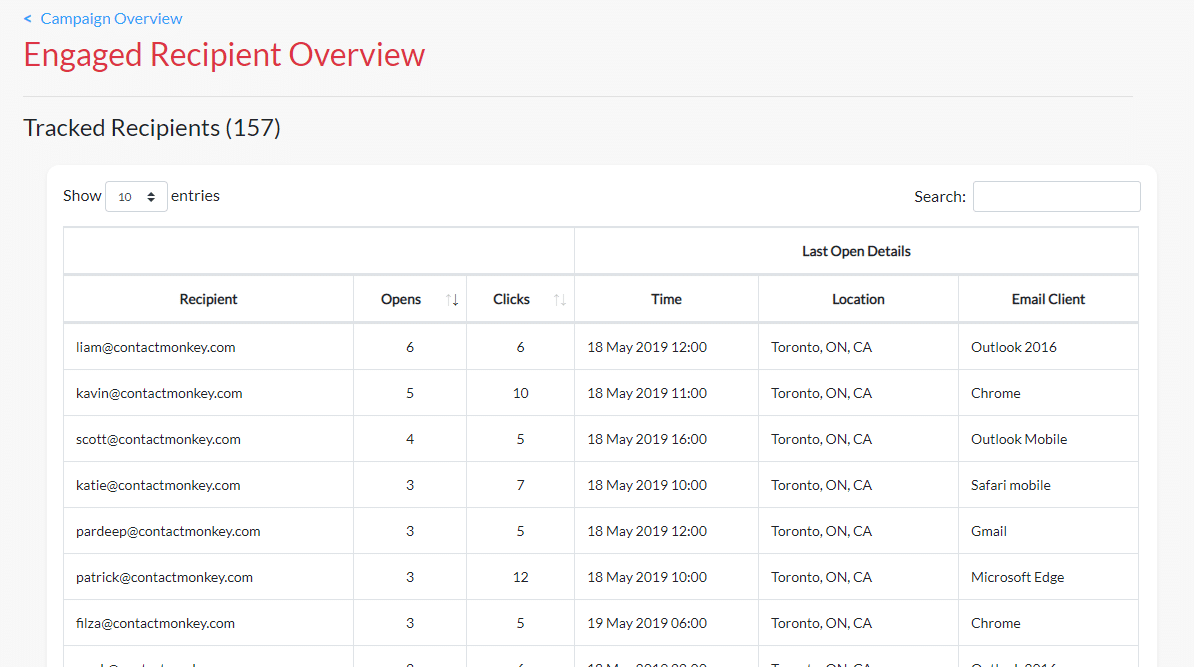 While individual tracking gives you information that overall tracking omits, it can also slow down your email sending process—especially if you're sending to a large distribution list. But overall tracking can be just as powerful.
Don't have distribution lists set up? Learn how to make a distribution list in Outlook in no time.
Overall email tracking
Want to know how to track emails in Outlook? Overall email tracking gathers metrics based on how your recipients interact with your internal email campaign. Chart your email engagement in real time within the campaign dashboard: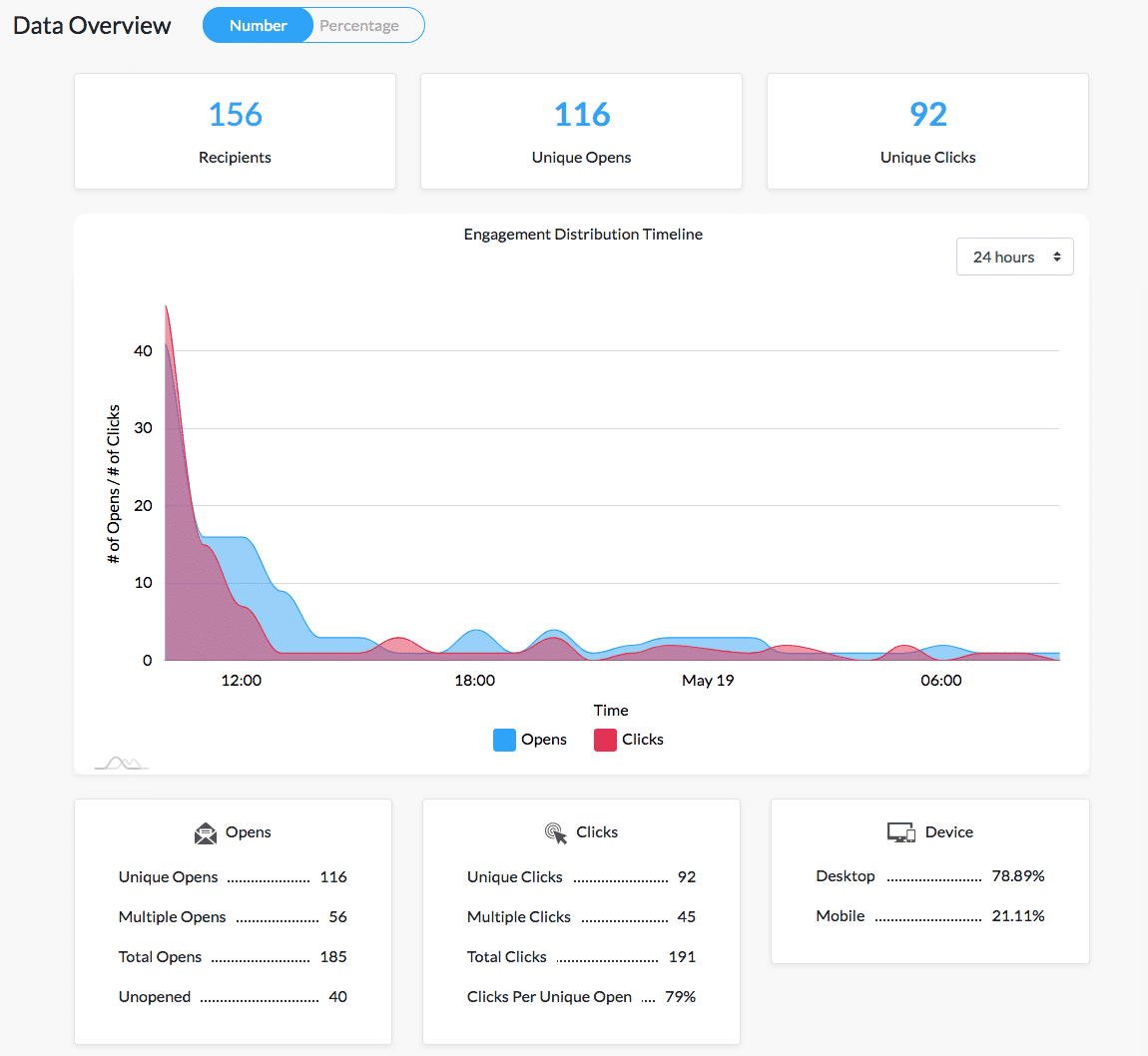 This data can help you identify who's most interested in your emails, and what content is resonating the most with your audience. Sending engaging content is easier than ever when you use a data-based approach to internal communications.
With ContactMonkey, collecting individual and overall email metrics from Outlook is easier than ever. And if your organization has regulations around email privacy, you can gather email metrics while maintaining your employees' privacy.
Book a free demo to see how ContactMonkey can optimize your internal communications:
Gather Qualitative and Quantitative Data
Email metrics can give you a good idea of how your employees are viewing your content. But a truly comprehensive internal communications strategy accounts for both email metrics and employee feedback.
Getting your employees' opinions on your email content isn't always easy, but its invaluable for improving your emails and increasing employee engagement. With ContactMonkey, you can turn your internal newsletters into a two-way communication channel between you and your employees:
Use emoji reactions, engagement pulse surveys, eNPS, anonymous employee comments, and more to learn exactly how your workforce is feeling. Or gather qualitative feedback on your newsletter itself to improve the content you send.
You can also improve email engagement by targeting only relevant employees using custom email lists. With ContactMonkey's List Management feature, you can create email lists without needing IT approval, and they can integrate with your Human Resource Information Systems (HRIS) like Workday and ADP, as well as Azure Active Directory, so they'll automatically update as employees join and leave your company.
You can even measure how employees are engaging with your individual emails using ContactMonkey's click maps feature: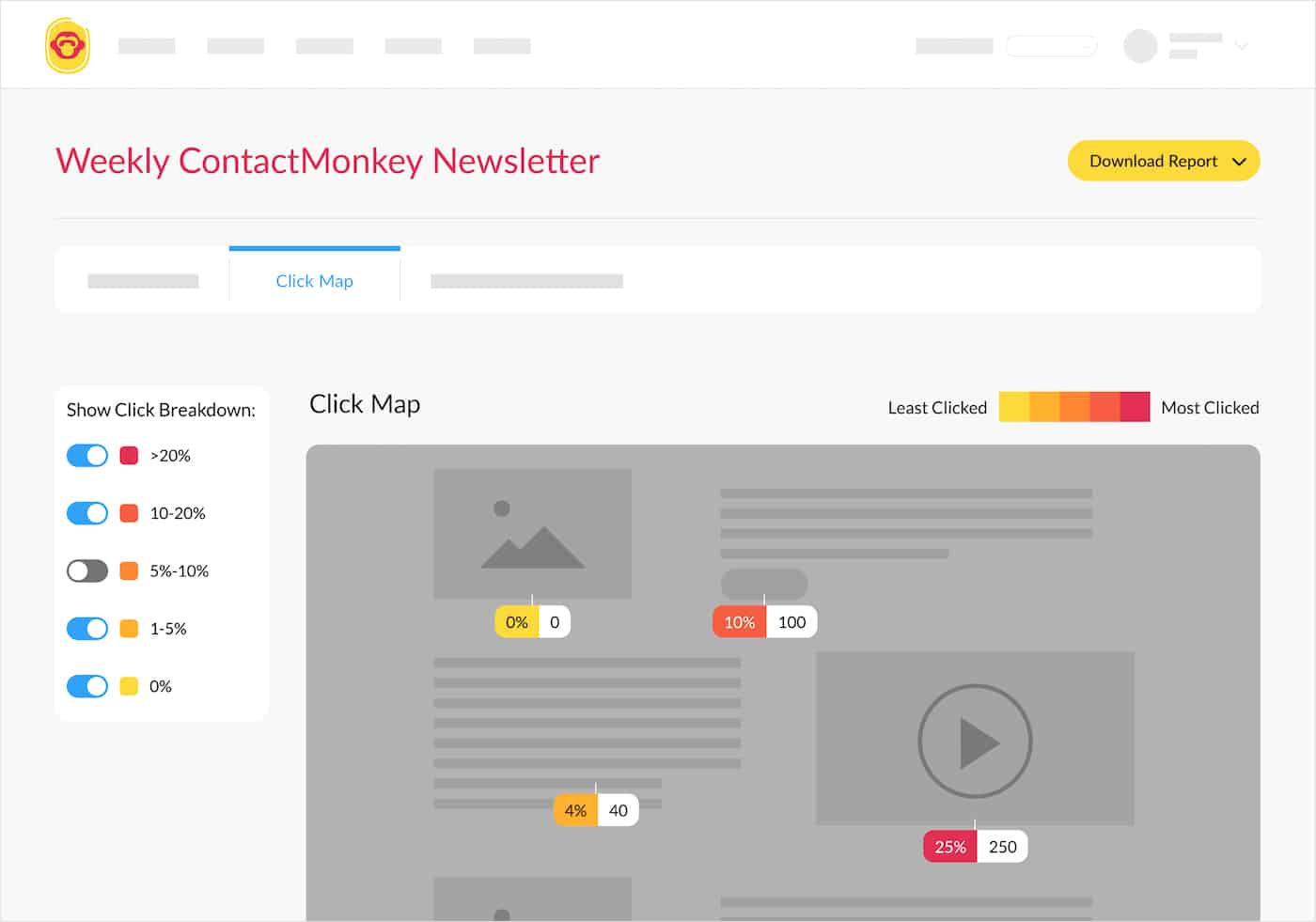 Click maps data can be used to optimize your email design to ensure your employees are seeing the information you need them to see.
You Control Email Tracking, Not Your Recipients
Use an email tracking software like ContactMonkey instead of relying on Outlook's read receipt system. Outlook's default read receipt require your recipients to confirm that they've seen your email, which can result in a skewed picture of your email engagement.
When you gather email tracking metrics with ContactMonkey, you get the power of individual and overall email metrics that give you a precise picture of who is interacting with your content and how they're doing it. Combined with ContactMonkey's internal email benchmarks, you can learn how to be an industry-leader in internal communications.
Want to leave Outlook read receipts in the past and start tracking emails like a pro? Book a free demo with one of our internal comms experts to see how ContactMonkey can streamline your internal communication strategy.