How can you know if your internal communications measure up to others in your industry? Internal email benchmarks let you know how you stack up against others in your sector.
You can spend hours on perfecting your internal communication strategy and execution.
But how can you know if your company's performance is where it should be?
A good place to start is by comparing your email tracking metrics with companies similar to yours. With it, you can determine if your employee engagement metrics are where they should be. You can easily see if you need to hone your internal communications approach to match your industry's standards.
Try ContactMonkey Email Builder today.
Start your 14-day trial. No credit card is necessary.
What Are Internal Email Benchmarks?
Internal email benchmarks are email metrics aggregated from multiple businesses within a specific sector. Email metrics can include open rate, click-through rate, click-to-open rate, device comparison, read time, and other measurable statistics.
Open rate: Measures the percentage of employees that opened your email.
Click-through rate: Measures the percentage of employees that clicked on a link within your email.
Click-to-open rate: Measures the number of link clicks by employees who opened your email.
Device comparison: Measures which device was used when an employee opened your email.
Read time: Measures the time an employee spends reading your email.
Click maps: Measures the location on your emails that generate the most clicks. Click maps help refine your email design to ensure important information is placed where it will be noticed.
Internal email benchmarks let internal communicators know what are realistic targets for their own email metrics. Your employees' open rate of 60% might be low for businesses different from yours, but might be exceptional for similar businesses.
Internal email benchmarks let you analyze engagement across your various distribution lists? Don't use distribution lists? See why to use them and how to make a distribution list in Outlook in seconds.
Why Pay Attention To Internal Email Benchmarks?
Internal email benchmarks add context to your internal communications metrics. What is a good open rate for an internal email at your company? The answer could be different than you expect depending on how your competitors perform.
Internal email benchmarks give you goals for your email metrics. They can also provide you with insight on how to achieve better internal communication performance.
For example, you may learn that other companies in your sector benefit from sending out their emails consistently at 9-10 AM on a biweekly basis. You may alter your approach and begin to schedule your internal emails for similar times on a similar basis.
You can learn more about how companies measure their success and see who is succeeding and who needs to do more. Is your company's open rate closer to the highest open rate at 83%? Or the lower end at just 57%? This data can help shape your approach to internal emails.
Small changes to your internal communications strategy like this can be surprisingly impactful for your internal email metrics. ContactMonkey's Internal Email Benchmark Report for 2022 is full of actionable, easy-to-scan data that can help you improve your internal email statistics.
Start tracking your internal email metrics.
Collect data, and optimize your internal communications.
How To Use Internal Email Benchmarks To Improve Internal Communications
There's loads of valuable information within the Internal Email Benchmark Report that can help contextualize your internal communications metrics.
Determine which industry best describes your business. The report analyzed over 8400+ email campaigns from companies in 18 different industries including automotive, construction, higher education, non-profit, pharmaceuticals, telecommunications, and more.
Simply click on your industry and you'll be shown relevant email metrics and other benchmarks.
You can also analyze internal email benchmarks according to company size using our chart: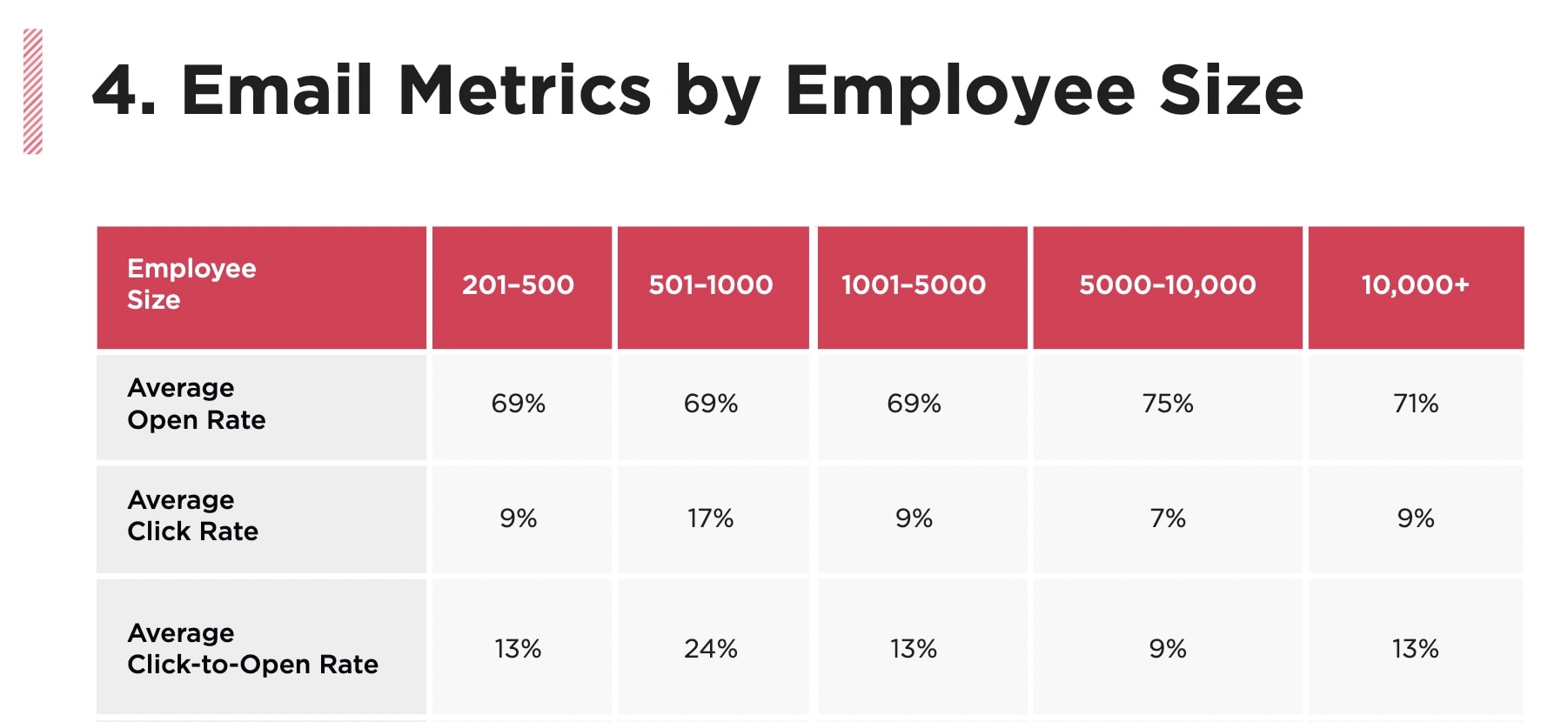 Record the information that you feel best fits your business and compare it to your current internal communications strategy. Is your organization ahead or behind the curve?
Practical tips for better internal communications
The report also contains simple-to-follow advice for improving your internal communications. These tips aren't specific to any particular industry, so feel free to implement those you feel would make the biggest positive impact on your internal emails.
Try these tips after you've gathered your email measurements. Choose a time period appropriate for tracking the changes in your internal communications strategy. Then re-measure your internal email metrics after that period of time. This will give you a solid idea of whether the tips had their desired effect.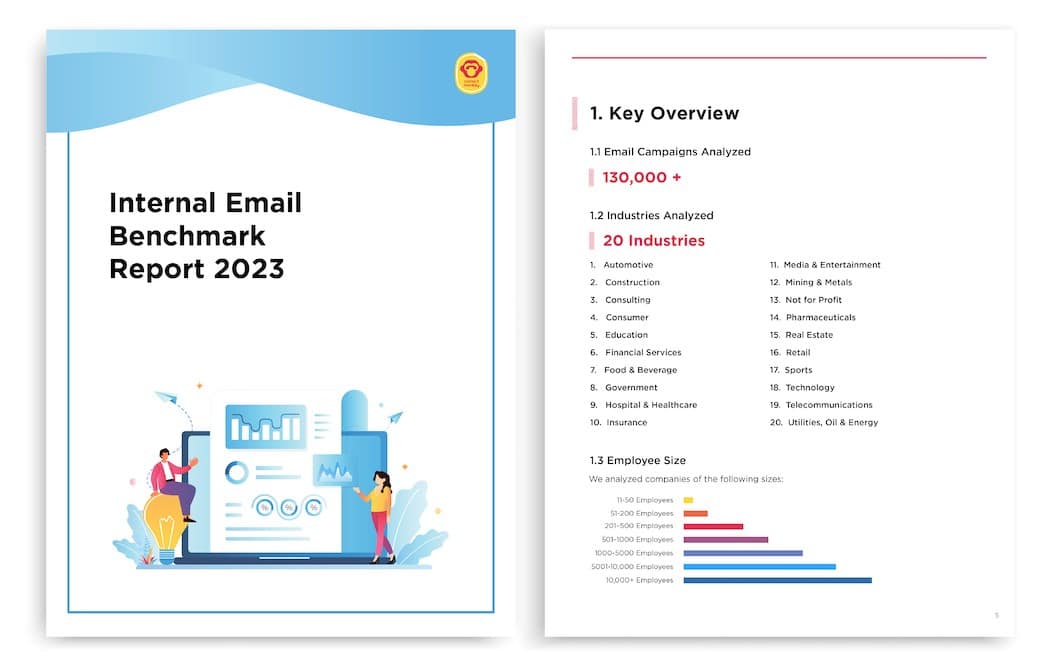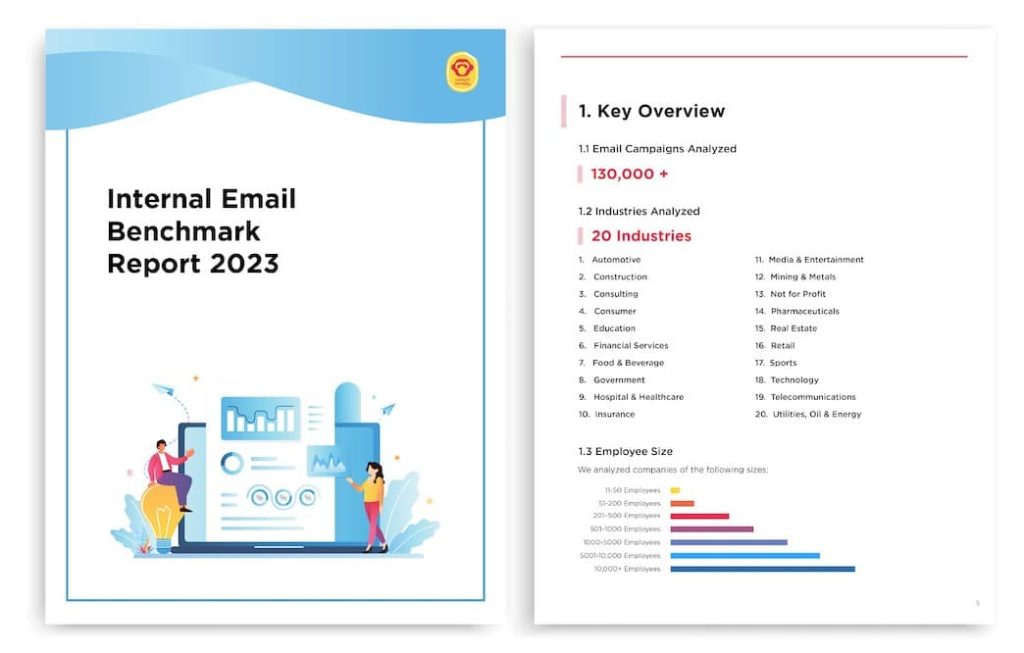 ContactMonkey is all about internal communications, and we've created an Internal Email Benchmarks Report to help you set realistic goals for your email metrics. We'll explore how you can use our report to improve your internal communications and send better emails.
Improve Your Internal Communications With ContactMonkey
An internal communication software like ContactMonkey can make measuring and achieving your internal communications benchmarks a breeze.
Are your employees engaging more with newsletters that have lots email hacks for Outlook like videos and images? Does your overall readership go up when you offer multilingual emails? These are all questions you can answer with internal email analytics.
With easy-to-use email tracking and beautifully visualized metrics, you can easily ensure you meet your internal communications goals: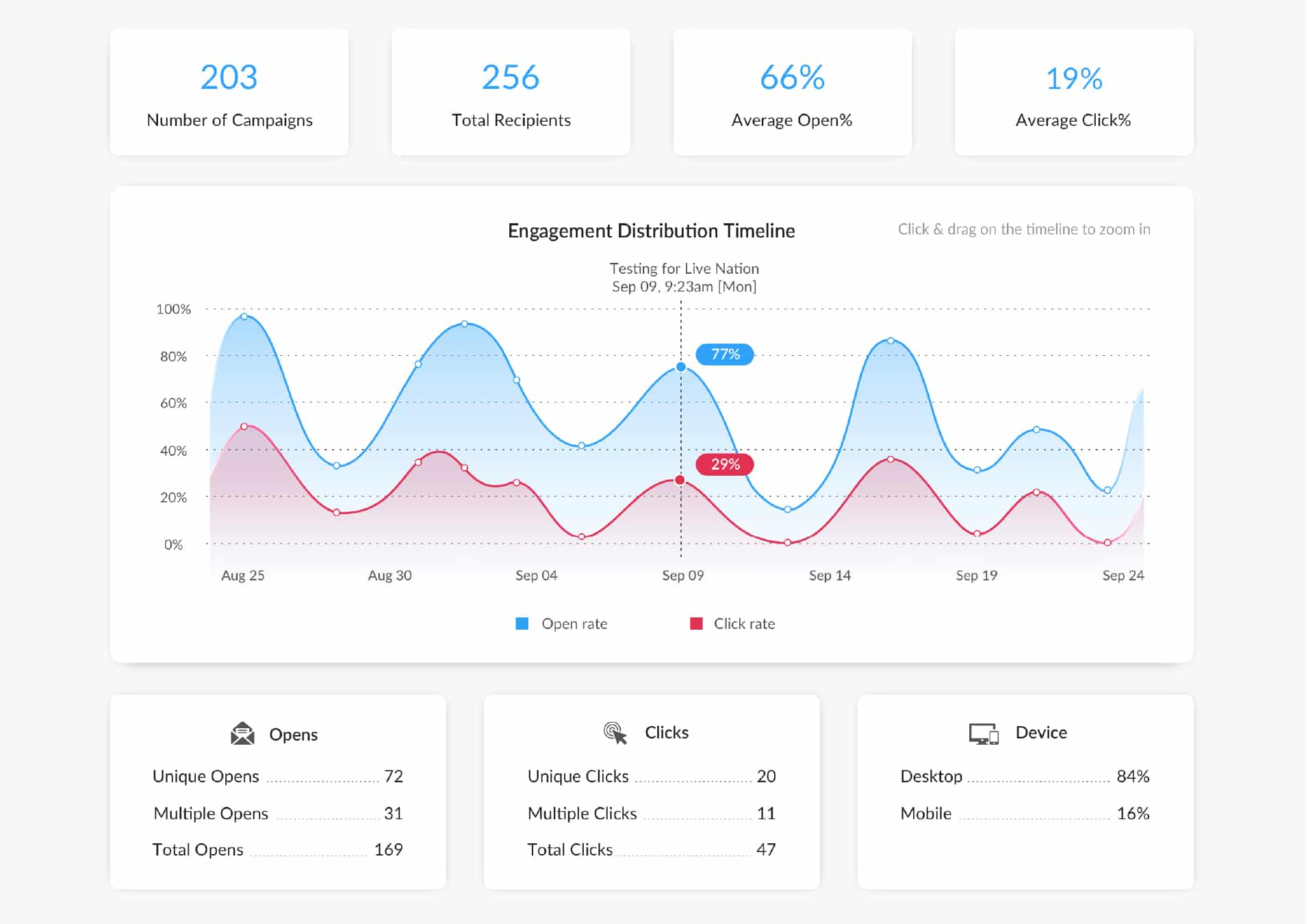 You can use our Reporting tool to analyze metrics from your best-performing email content. This can help you determine what most resonates with your employees.
If you find that certain content resonates most with certain sections of your employees, you can use ContactMonkey's list management feature to create custom email lists in order to target your internal communications to relevant audiences:
Our list management feature integrates with your Human Resource Information System (HRIS) like Workday and ADP, as well as Azure Active Directory, so your custom email lists will update automatically as employees join and leave your organization.
Using the segmented email stats feature, you can track engagement across different categories in your company: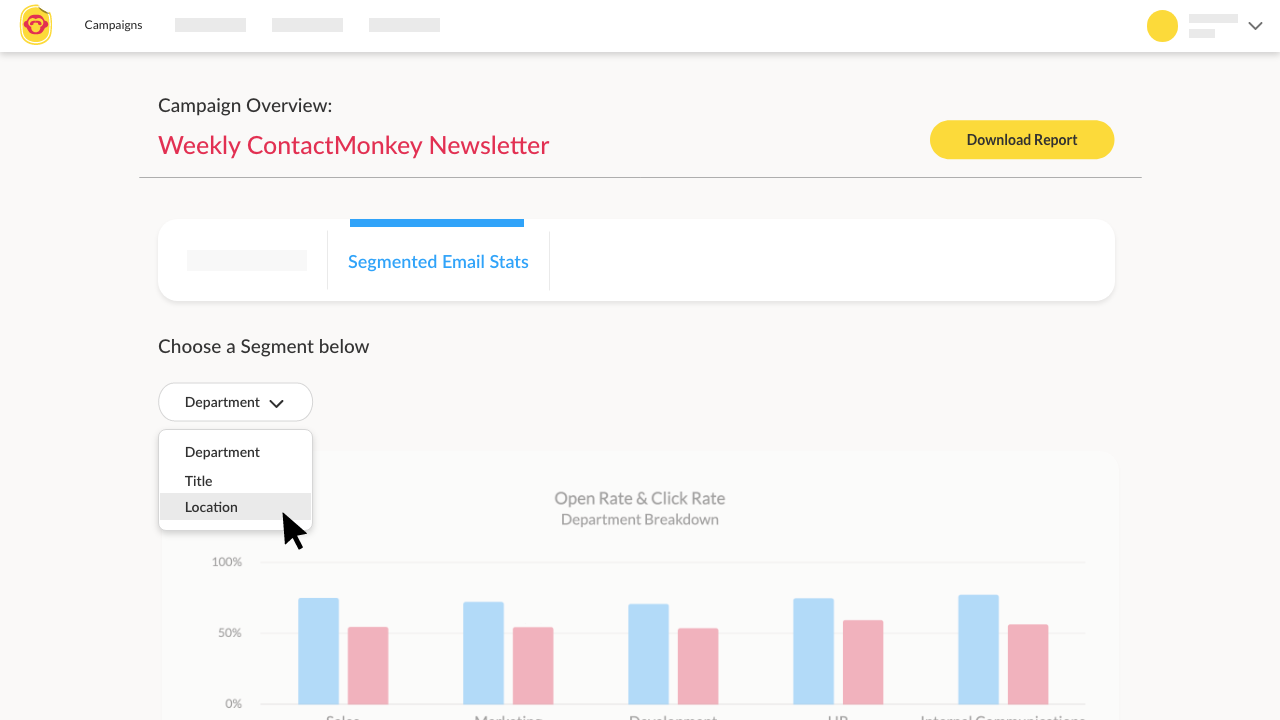 Ultimately, you want your internal email metrics to give you a clear picture of how your employees drive email engagement. This way, you can point to the content you've created and can definitely say, "this content drove X amount of engagement, which is an improvement from X date".
If your organization has internal or external regulations around email privacy, like GDPR, you can use ContactMonkey's anonymous email tracking to gather email metrics while maintaining your employees' privacy.
For internal communicators, ContactMonkey can help you prove the value of your internal emails while helping you send even better content to your employees. You can book a free demo to see all that ContactMonkey can improve for you and your company.
Let us show you the benefits of ContactMonkey.
Book a 15-minute demo to see the power of this tool.
Get Industry-Leading Internal Email Engagement
Our Internal Email Benchmark Report can help you take your internal communications from a nice-to-have to a must-have. Having well-defined, trackable goals for your internal emails can help guide your content strategy and demonstrate to management that you are improving employee engagement.
You can download the report for free to check out how your company stacks up against others in your industry, or to just see the various kinds of email metrics you could be measuring.
If you're serious about embracing a data-based approach to internal communications, we recommend using an internal email tracking software like ContactMonkey to easily create, send, and track your employee emails. You can view your internal email metrics in a centralized format so you can quickly determine if you're meeting your internal communications goals.
Book a free demo of ContactMonkey to see how to measure internal email metrics in Outlook and Gmail.