Your internal communications help your business grow and your employees flourish. Learn how our internal communications software buyers guide can help you find the best solutions to drive growth at your business.
Your internal communications connect your employees to your business and to each other. But not every business treats this essential aspect of their business with the seriousness it deserves. Meanwhile, the cost of employee disengagement remains high.
Poor communication can lead to wasted time, needless clarifications, and reduced employee engagement. How can businesses prioritize internal communications to help realize its true value for their organization? With an internal communications software, you can take control of your communication channels to optimize their performance and help them drive employee engagement.
Try a modern internal communications tool.
Start a 14-day trial. No credit card is necessary. Zero risk.
What is Internal Communications Software?
An internal communications software is any technology that enables the sharing of information between your employees and your business. These softwares come in many different forms depending on the internal communication channels they aim to improve or implement.
Why does your company need internal communications software?
Whether your business has an office-based, remote, or hybrid workplace, your employees rely on internal communication to do their jobs and stay up-to-date with company news. Internal communications software helps you create, share, and track the information you share with your employees. It also helps employees communicate with one another more effectively.
When choosing what kind of internal communication software would best benefit your business, it's worth taking into consideration what channels your business relies on. We suggest creating an internal communication strategy that maps out how your business approaches internal communications, which will give you a better idea of your internal communication landscape and what channels you can improve via internal communications software.
Learn how to improve your employee communications with compelling internal communications storytelling.
Top Channels for Internal Communications Software
As internal communications digital transformation continues to drive innovation, we've broken down the top channels for internal comms software.
While this is no means an exhaustive list, our internal communications software buyer's guide compiles the most popular channels for internal communications. This selection is based on responses to our Global State of Internal Communications Survey for 2022, which catalogues overall internal communication trends of the previous year.
Emails and email newsletters
Emails and email newsletters are the most popular channels currently used to improve internal communications for your small business, large corporation, or across university email marketing. Email has been a cornerstone of business success for nearly two and a half decades, and its popularity shows no signs of waning.
Countless internal communications softwares are designed specifically for your email communications (like ContactMonkey), and can dramatically improve your email creation processes and employee engagement resulting therefrom.
For example, ContactMonkey's OpenAI ChatGPT integration can give you new ideas for your internal communications and provide template text upon which you can build your email content. Simply provide a prompt describing what you'd like to generate, and then edit the output according to your audience.
For a real world example of how an internal communications software can help your business, see how Mettler Toledo saved 25 days a year on their internal communications after switching to ContactMonkey.
Create better internal emails and newsletters.
Start a free 14-day trial. No credit card is necessary.
SMS text messaging
While email is a great resource for office-based and remote workforces, not every employee spends their day at a computer where they can easily read and send emails. For those employees who work outside an office, their main means of internal communication is their mobile device.
Whether a boss needs to send a work schedule to an employee, or an employee needs to coordinate a pickup time with another employee, SMS texts are a crucial resource for internal communications.
SMS text messages can be a difficult channel to improve, mainly because there are few centralized software solutions for improving SMS text-based internal communication. This is one of the main reasons ContactMonkey has expanded our capabilities to facilitate businesses communicating to their employees via text. With ContactMonkey, you can easily take charge of your SMS employee communications to make it a reliable internal communications channel, like email and email newsletters.
Discover other ways you can use ContactMonkey to improve internal communications and boost employee engagement.
Instant messaging
With the rise of remote work, businesses have adopted instant messaging tools to help remote team communication flow in a faster manner than email. While instant messaging does have its drawbacks (information can get lost and not all users reply promptly), this channel has become an asset for countless businesses to address the challenges of remote teams.
Slack is one of the most popular tools for instant messaging. Its channel-oriented interface allows users to organize their chats and focus conversations around particular topics. When it comes to Slack vs email, we recommend leveraging both depending on the type of communications you are sending.
Intranet
Businesses have been using intranets for some time now, but their utility has been emphasized by the growing number of remote workforces. An internal intranet is a kind of company-run website accessible only by employees where they can share and store information, communicate with one another, and get updates about the organization.
In contrast to instant messaging, intranets are built around having information be efficiently-stored and quickly-accessible. They may not be the best for direct employee-to-employee communication, but they are certainly useful for data storage and resource sharing.
The biggest challenge with this employee communication idea is that intranets need you to persuade employees to use them regularly. Unlike email, it can be difficult to gauge how popular your intranet is with your employees. With ContactMonkey's email tracking, you can include links to your intranet and track link clicks within that email. This will give you a good idea of how many employees are actually engaging with your intranet.
Benefits of Internal Communications Software
How your business benefits from internal communications software ultimately depends on how your business approaches internal communication. What channels does your business prioritize? Which channels are your employees most active on? The software you choose should either improve the communication already taking place at your business, or create a new channel that will be an asset for your employees.
While the benefits of internal communications software will differ for everyone, let's review some of the main ways these resources can improve your internal communication channels.
Reach
Whether you're improving an existing communication channel or creating a brand new one, internal communication software makes it easier for you to send and receive information from your employees. Your internal communications succeed only so long as your employees actually are impacted by it. The right software extends or reifies the reach of your internal communications.
Targeted communications
An internal communications software can help you ensure your employees only receive information that is relevant to them, and reduce the overall amount of emails they receive.
Using ContactMonkey's List Management feature, you can create your own custom email lists without needing IT. Build email lists to target your internal communications, and integrate your lists with your Human Resource Information System (HRIS) like Workday and ADP, as well as Azure Active Directory, so they update automatically.
Fast response
In addition to improving reach, an effective internal communications software should reduce the amount of time it takes to send and receive information at your business. Email software can help you create internal emails faster, while instant messaging applications improve the speed and frequency of employee communications.
Collaboration
A big part of what improves response time is the ability to have multiple stakeholders working on a single project. Rather than sharing a document back and forth, good internal communication software should allow simultaneous creating and editing.
For example, ContactMonkey's email template builder allows multiple users to work on an internal communications template at the same time. This reduces the time it takes to receive edits and improves the speed of your design process.
Information management and sharing
Similar to the benefits of collaboration, your ability to store and share documents reduces the legwork your employees have to do to access the resources they need. Intranets and file sharing apps are great for remote employees who need to share documents frequently.
Build a strong company culture
Your company culture has a huge impact on employee engagement; it helps employees connect with each other and find meaning in their work. With the right internal communications software, you can prioritize employee-to-employee communication, recognize when your employees have done stellar work, and share company success stories with the entire organization.
Employee feedback
How can you measure whether your company culture is resonating with your employees? Just ask them. An important feature of internal communications software is the ability to collect employee feedback. Employee feedback has a double benefit for businesses: your employees get to share their opinions and feel heard by the organization, and you get valuable insights into what issues matter to your employees and innovative internal communication ideas on how to improve employee engagement.
Tracking and measurement of internal communications
Employee feedback is a great way to gather qualitative feedback about the efficacy of your internal communications. But to gather quantitative data, it's best to use a software that allows for in-depth internal communications tracking.
Steps to the Buying Process: Top Considerations
Now that you're familiar with the various channels and benefits that comprise internal communications software, let's examine how to apply that knowledge when deciding which solution to pursue.
1. Define business requirements
Before looking for a solution, you must first identify an issue or problem. What goals did you outline in your internal communications strategy? What issues have employees mentioned via employee feedback? Is your current software solution in need of an update to match a changing work environment? All of these questions should be considered before looking for a new internal communications tool.
Consider creating an outline of your current internal communications landscape. This will help you compare your communication goals against your current infrastructure to identify weak points that a software can help improve. This will also help you create criteria for your potential software solution which will help narrow your search. Here are some useful criteria for you consider:
Will the potential software solution help you achieve your business goals?
Will the solution work with your existing software requirements i.e. information security, email phishing awareness, accessibility, user experience, etc.?
What channels will your software solution improve or implement?
Can the solution integrate with your existing internal communications infrastructure?
Is customer service readily available to help you troubleshoot potential issues adopting a new software may create?
This is the foundation for your internal communications software business case, and will inform how you proceed searching for a solution that helps—rather than hinders—the realization of your internal communications objectives.
2. Determine the features you need
Compare the requirements you outlined above with software solutions relevant to your goals and objectives. It's best to look for internal communications software according to what channels they address; you don't want to adopt an intranet if what you really need is an email software solution.
For this step, it's useful to balance your business objectives with compatibility requirements. For example, a business relying on Outlook and Gmail for their internal email communications may look for a solution that works with those platforms. A tool like ContactMonkey expands the capabilities of Outlook and Gmail to enable businesses to send responsive HTML emails and email newsletters directly from their inboxes. This reduces the amount of resources required to adopt ContactMonkey as an internal communications software while maintaining your existing infrastructure.
Consider the nature of your workforce. In-office, remote, and hybrid employees all have different communication needs. It's best to choose a software solution that can accommodate the specific configuration of your employees.
With ContactMonkey's all-in-one internal communications tool and pulse survey software, you can reach in-office and remote employees via email, and use SMS to send employee text alerts for deskless and frontline employee engagement.
For information that you need to get to your employees immediately, ContactMonkey lets you send SMS text messages from your Outlook and Gmail inboxes to help centralize all your internal communications.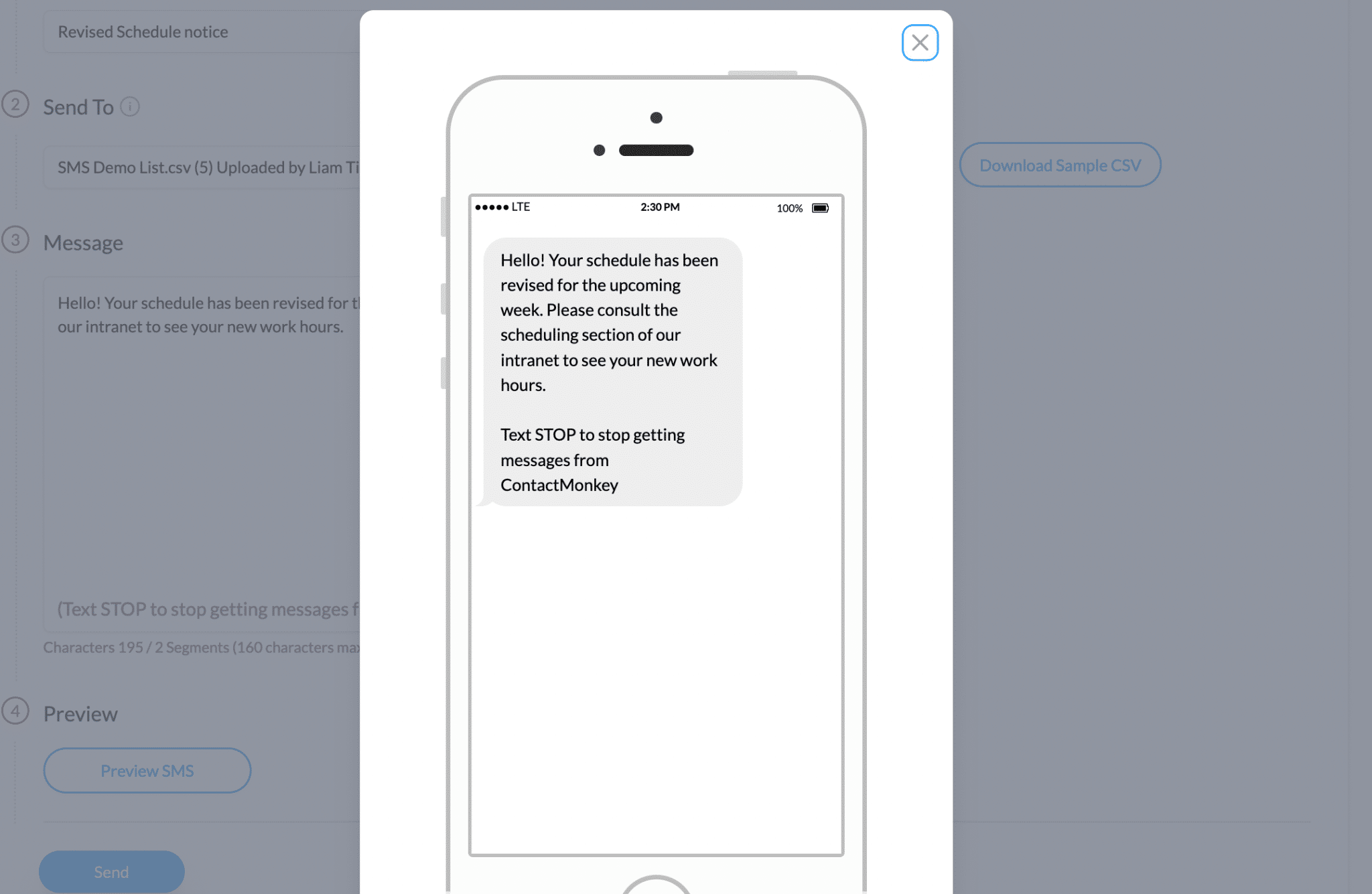 There are numerous resources available that let you directly compare the features of various softwares based on category. Websites like G2 can provide you with comprehensive information and reviews about many software solutions for various business aspects.
3. Set up a demo and discovery call with vendor(s)
Once you've selected some potential software solutions—whose features ostensibly meet your needs to achieve your business goals—it's time to see the software in action firsthand.
Choose a timeframe to schedule demos for the various softwares you've selected. It's best to book these demos fairly close to one another so information is fresh in your mind when you're viewing multiple software solutions. ContactMonkey demos are always free and you can book a demo at whatever time is convenient for you. You'll be contacted within 24 hours of booking your demo!
4. Gather any questions to ask vendor
With your demos book, we recommend planning what question to ask ahead of time. Not only will this save you scrambling to think of good questions during the demo, but it will help you directly compare the answers you receive from various companies.
However, there may be questions that arise during the demo that you didn't plan on. Be sure to note the impromptu questions you ask so that you can carry them over to future demos. The more information you can gain from these software demos—and the more internal communication case studies you review—the better you'll be equipped to make a positive decision for your business.
5. Demo software with key stakeholders
Finally, it's the day of your first internal communications software demo. You've prepared the questions you plan to ask and are ready to record the answer given by the vendor.
But even if you're thoroughly prepared for the demo, you may not be the only one at your company who will use the software. Be sure to invite those who will be impacted by your chosen software solution to join you on the demos you've scheduled. This will reduce the amount of explaining you have to do when the decision is to be made, and your stakeholders will likely have their own questions in addition to yours.
When demoing ContactMonkey, you're welcome to invite multiple stakeholders to the meeting so you know exactly what you're getting. You'll be shown ContactMonkey's many internal communications features and how they fit with your business' internal communications. And of course, the free demo can be booked in as little as 24 hours.
6. Get a customized proposal form for the software
After your choice vendors have demonstrated their softwares to you, it's time to decide which option is the best fit for your company. Once you've made your pick, the vendor should draft a customized proposal form that is specific for your organization.
The proposal form can contain information like the duration of your contract, number of users who will need to access the software, additional feature choices, and other variables in your final decision. Be sure to have key stakeholders and your company's legal team review the contact before you sign off on it.
7. Sign off on order/deal
After you've reviewed the proposal form with the key stakeholders at your company, you're ready to make a decision. If you've all agreed that the software you've chosen is the best solution to achieve your internal communication goals, then you're ready to sign off on the deal.
8. Implementation of software with customer success team
After you've signed and returned the proposal form to the vendor, then it's likely they will schedule time with you in order to set up your new internal communications software. This may be done by a different team than who you communicated with during the demo process. It's common for a vendor to assign a member of their customer success team to your account who will answer your questions and troubleshoot any issues you experience while using the software.
At ContactMonkey our Customer Success Team coordinates with one another to provide the best experience for you and your team. They have flexible hours and are super quick to respond to any and all of your inquiries. We have Customer Success Managers located around the world so regardless of what time zone you're in, you'll have a solid resource for any of your ContactMonkey questions.
Read our blog on the importance of internal communication and learn how to get team buy-in for effective digital employee communication tools.
Bypass email-sending limits of Outlook and Gmail.
Send all of your internal emails within ContactMonkey.
Key Features of a Top Email Internal Communications Software
Email is the most popular internal communication channel currently used by businesses. When choosing an email internal communications software, it's worth being as scrupulous as possible to ensure your chosen software is exactly what you need it to be.
ContactMonkey's internal communication software is an all-in-one solution for easily creating, sending, and tracking internal emails and email newsletters. ContactMonkey operates using your existing Outlook or Gmail inbox, which means there is no need to change your email platform and your emails are not sent through an external email server.
With our drag-and-drop email template builder, you can create stunning HTML email templates that display perfectly across all email service providers and devices. You can see how your emails will appear on your employees' using the Preview function: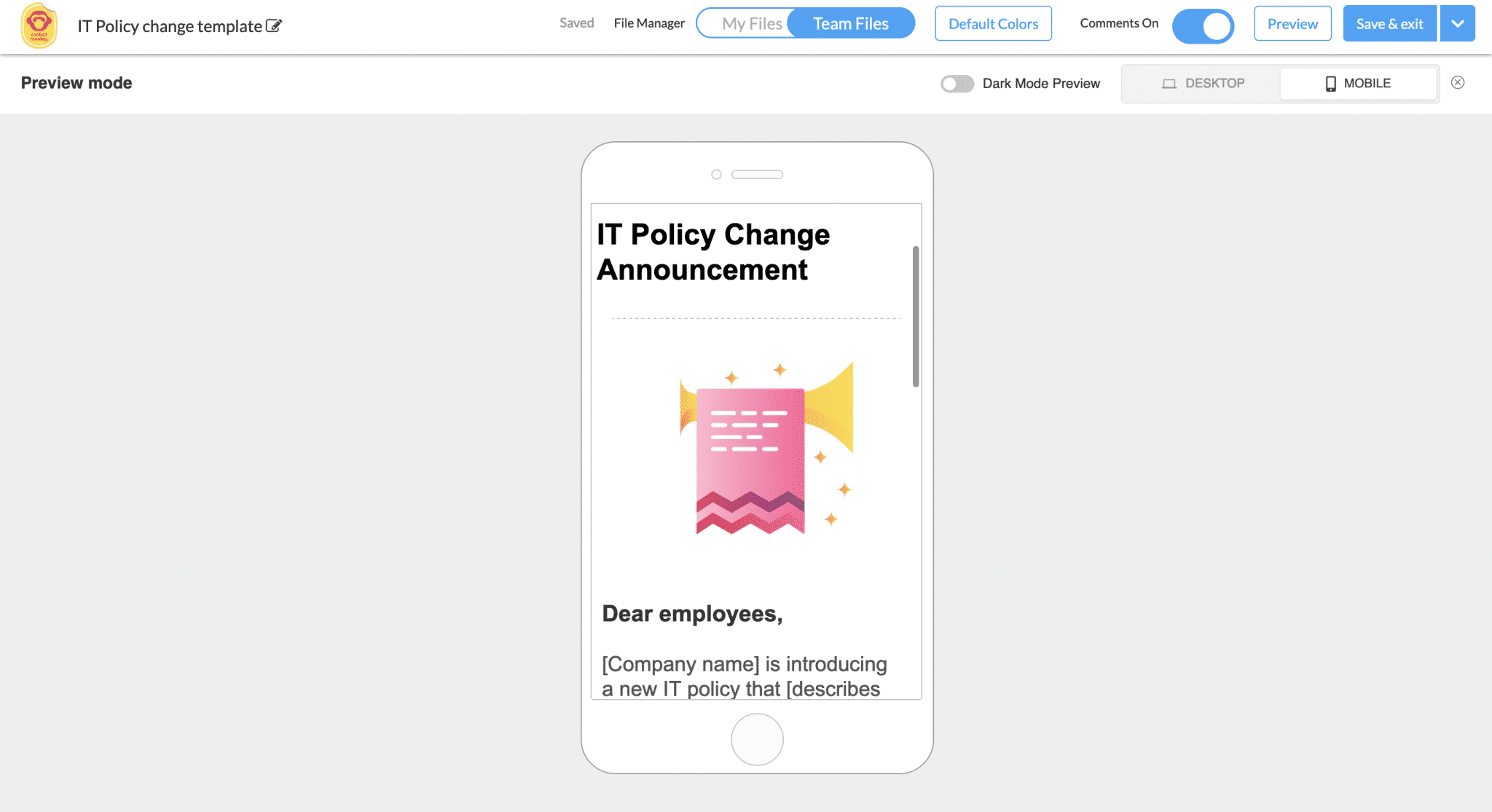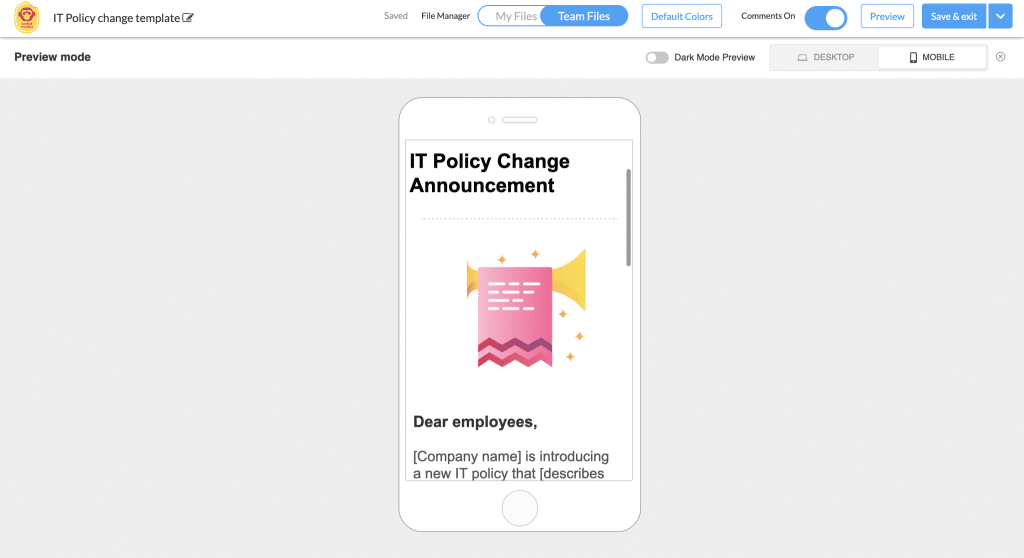 In addition to the many types of content you can feature using ContactMonkey, you can use your emails to gather employee feedback and conduct pulse surveys to help strengthen your company culture. With emoji reactions, star ratings, thumbs up/down, yes/no, and more, you can gain real-time feedback for everything from job satisfaction questionnaires to employee exit surveys.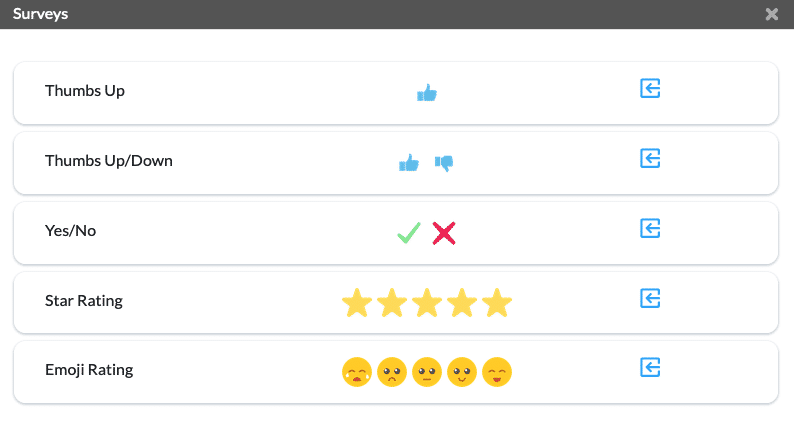 Sending your HTML emails is a breeze with ContactMonkey's Outlook and Gmail integrations. You can quickly import your recently-created email templates directly into your inbox. Add personalized subjects lines and body text using merge tags, and schedule your emails to be sent when your employees are most likely to open them: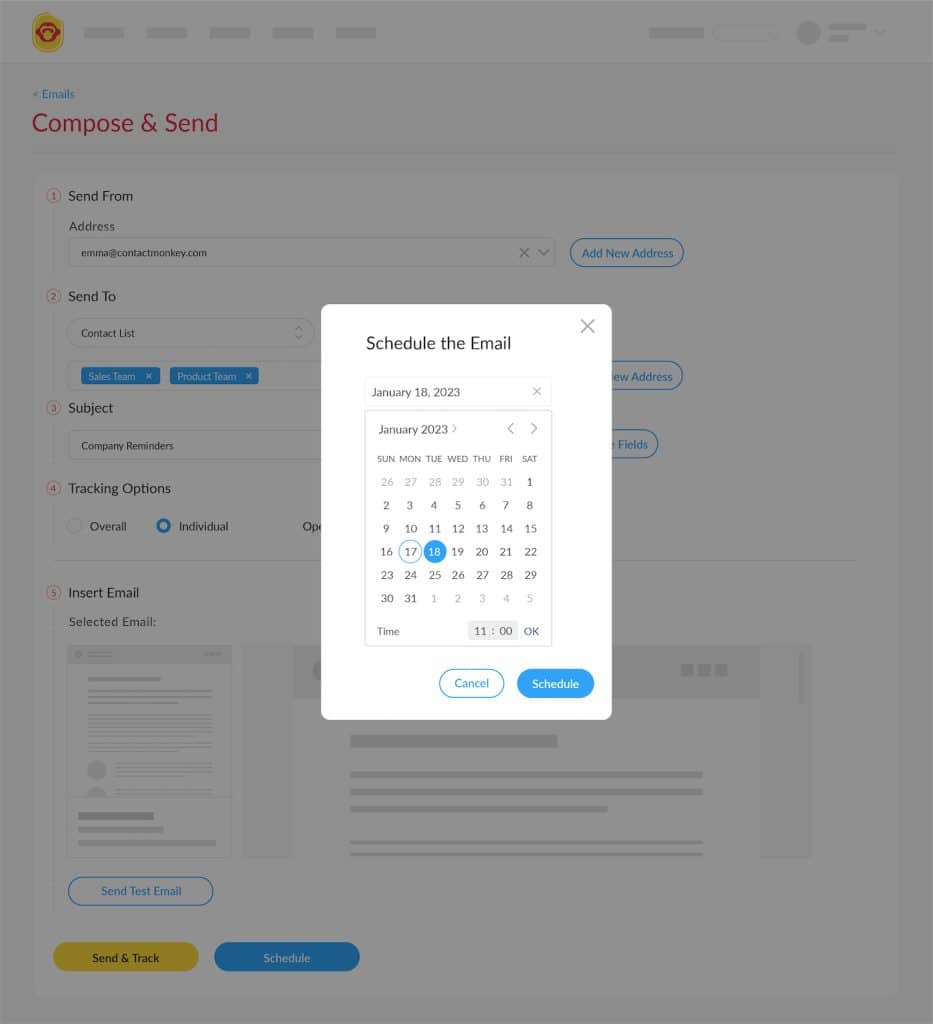 But how can you know when your employees are most likely to open your emails? Using your analytics dashboard within ContactMonkey, your email metrics are visualized via an interactive chart: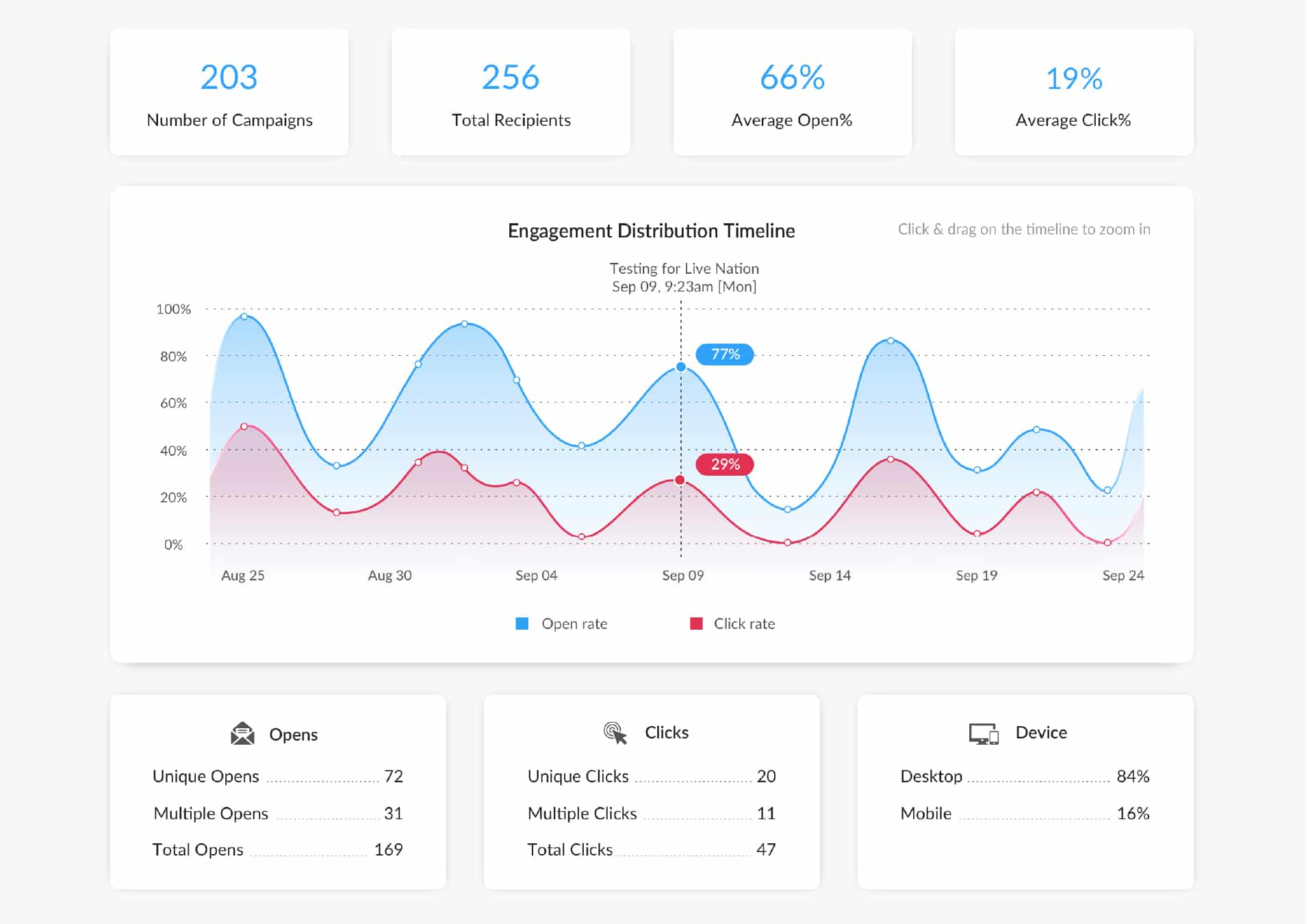 From here you can track open rate, click-through rate, read time, opens by devices and location, and individual email metrics which help you understand how your employees engage with your emails. Analyze your email metrics using the compare campaign feature to find the content that most resonates with your employees, and use segmented reporting to find the most engaged sections of your company—or more importantly, the least engaged: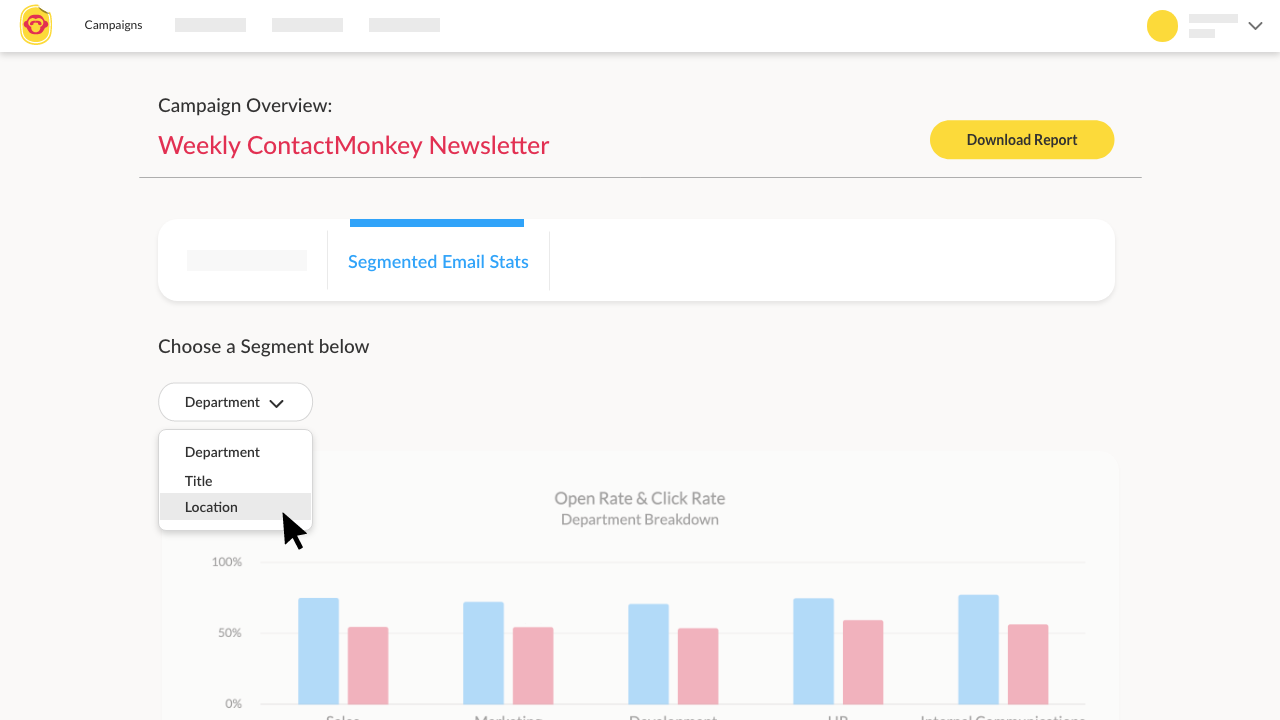 Email metrics not only help inform your internal communications strategy, but also provide hard data to show the value of your communications to leadership. Build solid KPIs using our internal email analytics tool to chart exactly how much you've improved internal communication and employee engagement at your organization.
ContactMonkey's support team is ready to assist you on any aspect of our software, and are eager to help you achieve all of your internal communications goals. And we're always adding new features to ContactMonkey based on our customer's needs, so if you have a particular problem you're not sure how to solve, we're more than happy to find a solution together.
Learn how you can keep pace with the top employee engagement companies using ContactMonkey.
Get The Exact Solution Your Business Needs
You're now prepared to make an informed decision about which software solution will best address your internal communications needs. Whether you want to augment your existing internal communications channels, or create an entirely new one to connect with your employees, our internal communications buyers guide should help you make the right decision.
Interested in seeing how ContactMonkey can drastically improve your internal emails and employee engagement? Book a free demo to see all the ways that ContactMonkey makes your internal communications faster, easier, and more reliable: