Between onboarding remote staff and engaging hybrid employees, today's internal communicators have a lot on their plate. ContactMonkey's all-in-one internal communications software was designed to help internal comms professionals face up to the challenges of a modern workplace.
The COVID-19 pandemic showed us the power of communications technology when it came to connecting with our family and friends. Zoom, FaceTime, and SMS helped us redeem some of the closeness that we lost during lockdown.
In the corporate domain, internal communications tools hold a similar power. And their importance has grown since remote and hybrid work became a part of our daily reality.
With an all-in-one internal communications software like ContactMonkey, organizations can face up to the challenges of the modern workplace. From connecting hybrid employees to onboarding and engaging remote staff, ContactMonkey helps you tackle all of it with a single tool.
Try a modern internal communications tool.
Start a 14-day trial. No credit card is necessary. Zero risk.
What is ContactMonkey?
ContactMonkey is an internal communications software and internal email tracking tool for Outlook and Gmail. Designed to target the most common challenges faced by internal communicators, ContactMonkey simplifies email design while offering in-depth email analytics.
Using ContactMonkey's simple drag-and-drop email template builder, your team can create stunning HTML emails in minutes. Add GIFs into your Outlook emails, along with videos, clickable icons, and surveys to make your internal communications more engaging for employees.
ContactMonkey also helps you save hours in the workweek. It does this by allowing users to embed their HTML email template directly into their existing Outlook or Gmail inbox.
Beyond the ease of use, ContactMonkey also boasts powerful analytics. It lets you track and measure the success of your communications using a range of email metrics, including email open rates, click-through rates, read times, and dozens of others.
Read our guide on the latest internal communication trends to boost employee engagement across your organization.
Why Your Company Needs ContactMonkey
ContactMonkey doesn't simply help you track communications and create great-looking emails.
It empowers your team to build continuous dialogue across your organization and to create a culture of feedback and engagement. Here are a few ways that you can use ContactMonkey to accomplish this, and dozens of other tasks:
1. Create professional emails that captivate employees' attention
In 2022, plain text emails simply won't cut it. ContactMonkey's HTML email builder makes it easy to take your email design to the next level. Choose from dozens of professional email templates and customize any element to your liking.
Each part of your email can be tailored to suit your design preference or branding requirements. You could even add multimedia elements to make your email truly stand out and avoid ending up in the 'unread' folder in the long run.
2. Allow multiple people to collaborate on email creation
Aligning your internal comms team and getting everyone's input on important messages is easy with ContactMonkey's email collaboration. Up to 5 users can edit email content and work on design simultaneously.
As changes sync immediately, collaborators see updates made in real-time. If you're a devoted Google Docs user, you'll definitely appreciate this feature.
3. Deploy the tool quickly and easily
ContactMonkey's email template builder takes minutes to install. And it's even quicker to use. So you can avoid the learning curve and headaches that come with navigating traditional internal comms tools.
ContactMonkey's Outlook and Gmail integration means that you never have to leave your existing mailbox to send emails. For Mettler Toledo, this was a huge time-saver because their team had to leave Outlook every single time they used Mailchimp for internal communications. With ContactMonkey, everything happens in one place.
4. Gain in-depth email analytics to optimize campaigns and messages
ContactMonkey tracks your emails from both Outlook and Gmail, and delivers a wide range of email metrics. These include the essentials, like email open rates and click through rate. But our metrics also extend to read times, most popular internal links, survey response rates, and engagement by company location, department, and job title.
By understanding how your emails are performing, and assessing the internal email benchmarks for your industry, you can set specific employee engagement goals. This will help you make continuous improvements to your internal communications and optimize employee engagement.
5. Avoid unsubscribes
There are significant differences between external communication vs internal communication. External marketing newsletter tools don't get along with internal emails. The biggest problem: external tools, like Mailchimp and Constant Contact allow employees to unsubscribe from emails much like customers.
That's because marketing tools automatically include an unsubscribe button on every email sent through their platform. This is designed to accommodate marketing prospects. But when it comes to employees, it's a huge disadvantage.
Employees who unsubscribe from internal communications would be at risk of missing urgent updates, crisis communications, and the like. A dedicated internal marketing software, like ContactMonkey, provides an employee-focused alternative to Constant Contact, Mailchimp, and similar external tools.
It ensures that employees can't unsubscribe from key company communications and that no one misses vital updates.
6. Take advantage of our design service
ContactMonkey recognizes that not every internal communicator is a design expert. In addition to simplifying the design process with our customizable email templates, ContactMonkey also allows you to skip design altogether.
With our Outlook email design service, customers have the option of enlisting our in-house designers. They'll build you a custom-made email template, complete with employer branding.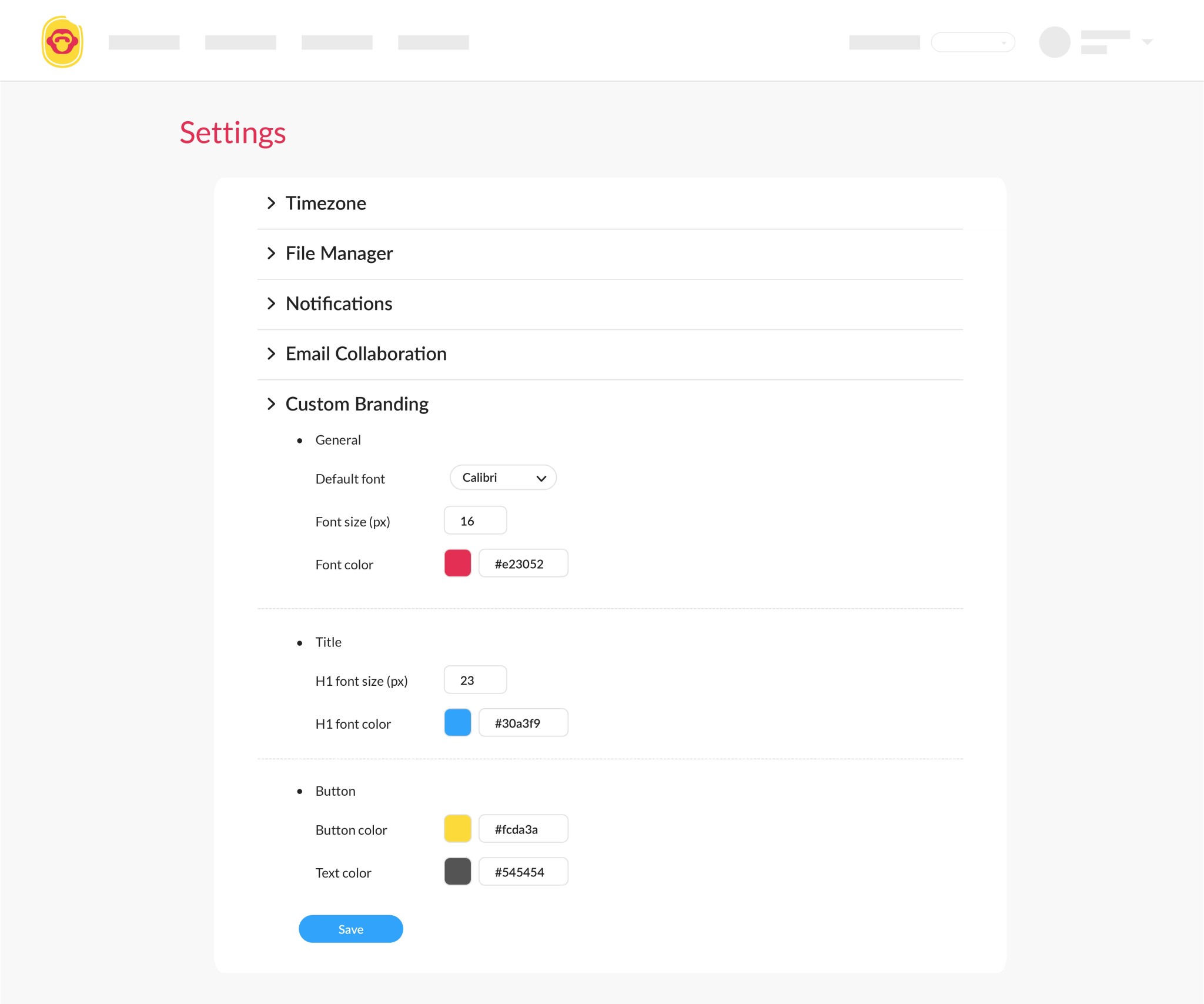 7. Personalize messages
Mail merge makes cold, impersonal mass emails a thing of the past. ContactMonkey's mail merge tool enable you to automatically individualize your email subject lines and body copy using the names in your distribution list or CSV. They'll also help you avoid some of the most common mail merge s.
With ContactMonkey, users can test their merge fields to make sure they work as intended. By accessing the "validation report" you can instantly see how your inserted merge fields are performing right from Outlook. Errors or broken merge tags will be flagged in red, and you'll be able to fix the entry before sending.
You can also ensure only relevant recipients receive your email by using custom email lists. ContactMonkey's List Management feature makes it easy to build emails lists without IT so you can reduce the amount of unnecessary emails your employees receive. Email lists created with ContactMonkey integrates with your Human Resource Information System (HRIS) like Workday and ADP, as well as Azure Active Directory, so they'll update automatically.
8. Ensure employee privacy
Another problem with using an external marketing tool for internal communications is employee privacy. When you use an external tool, such as Mailchimp, the software system creates a web version of all your internal communications campaigns on their server. You'll always have to be mindful of the information you're sending and make sure you're not sending sensitive details that you wouldn't want available on the web after they're sent out. 
With ContactMonkey, every email you send comes from your very own email servers. So your communications are never uploaded to the web, and never pose security risks for employees or your company at large. You can also use your internal communications to promote IT security training and email phishing awareness.
Email tracking with ContactMonkey can also ensure your employees' privacy is protected. With anonymous email tracking, you can gather email metrics will maintaining your employees' privacy and anonymity.
9. Save hours in the workweek
With easy-to-customize email templates, as well as Outlook and Gmail integration, ContactMonkey saves teams up to 4 hours a week on their internal communications. Email templates can be shared between teams so that there's never a bottleneck in your internal communications. If someone is off sick, another person in your team can easily take over sending communications.
You can also save time and generate new email ideas using ContactMonkey's OpenAI ChatGTP integration. Simply write a prompt describing what kind of text you'd like, and then generate and edit the output according to your audience.
10. Build strong internal brand voice with employer branding
ContactMonkey's email template builder lets you set default brand colours, layouts, and graphics. This lets you ensure that your emails are aligned to the rest of your brand visuals, from your intranet internal communications, to your social page. The result: a solid and cohesive brand image. No matter who's taking over email design in the future, they'll be able to easily replicate your branded communications by utilizing your pre-set templates.
11. Ensure that emails display properly
If you've ever received an email with distorted images and bare lines of code, you probably know just how much this can ruin reader experience. This sort of malfunction is usually the result of unresponsive email templates and/or incompatible servers.
With ContactMonkey's Gmail newsletter templates and Outlook add-in, you can rest assured that emails will reach your employees exactly the way you intended—no coding experience required.
12. Adapt to mobile devices
46% of all email opens happen on mobile devices. To adapt to this reality, you need to use a responsive HTML email builder. ContactMonkey not only guarantees fully-responsive emails, but it gives you peace-of-mind through a mobile preview option.
The feature is embedded into your email builder, so you'll be able to check how your newsletter displays in mobile at any stage of the design process.
Bypass email-sending limits of Outlook and Gmail.
Send all of your internal emails within ContactMonkey.
13. Streamline event management
Whether it's your virtual town hall, or an employee game night, company events are an important part of your internal engagement strategy. With ContactMonkey, you can boost attendance by promoting your event and enabling registration all in one place. ContactMonkey lets you build events and add registration options straight from your Outlook inbox.
The event management feature lets you add relevant details such as dates, location, time, organizer details and registration forms—all into your employee emails. You can also set reminders to alert employees of an upcoming event. Once registrations start rolling in, you can access a list view of your scheduled events and RSVPs in your ContactMonkey dashboard.
14. Compare campaigns to make strategic improvements
How do you know when your internal communications need improvement? Where exactly are your emails underperforming—is it your content, layout, or something else? What can your past emails tell you about improving your future ones? Those are just some of the questions that ContactMonkey's campaign comparison tool helps you answer.
Choose up to 10 campaigns you'd like to see side-by-side in your ContactMonkey dashboard. Then, click the "Compare Campaigns" icon to get a detailed breakdown of campaign performance. You'll be able to compare emails based on opens, audience engagement, click-through rate growth, and 34 other email metrics. In turn, this practice will help you implement strategic improvements to your internal emails going forward.
15. Appeal to visual learners using images and videos
There's a reason that YouTube and TikTok are one of this generation's favorite entertainment platforms, while platforms like Netflix are worth almost $180 billion. People love visuals. They tap into our emotions better than text alone, but help us retain information longer.
With ContactMonkey, you can step up plain text emails by embedding video internal communications, images, email tables, and GIFs directly into your company newsletters. Share infographics and training videos in your employee emails to help staff understand and recall information better and become more engaged with the content.
Learn 10 strategies for managing a multigenerational workforce and improve employee engagement across different workforce demographics.
16. Gather anonymous feedback
Whether it's getting employee feedback on managers, or resolving an office dispute, there will always be times when anonymous feedback is essential. With an anonymous feedback tool like ContactMonkey you can encourage more employees to speak up, while helping them feel safe.
All you have to do is embed a pulse survey question into your ContactMonkey email template. Then, turn on anonymous commenting to automatically generate an anonymous feedback box. It's that simple. All the comments are collected in a visual display housed in your analytics dashboard. From there, you can sort your responses by department, location, and other criteria.
17. Schedule communications in advance
Whether it's at the start of the day, or immediately after the lunch break, there's always a time when employees are most likely to read their emails. And ContactMonkey's email tracking tool helps you tap into this information.
Check at what time employees are most likely to engage with your emails using the analytics in your ContactMonkey dashboard. Then, use the schedule sending feature to ensure your messages go out at the best times. ContactMonkey automates your Outlook or Gmail inbox to send out emails at a pre-set date and time, so you never have to rely on reminders. Emails go out at the right time, every time, and you get to watch your open rates soar.
18. Create two-way conversations
ContactMonkey is different from other internal communications tools because it doesn't just send out information. It encourages conversations.
With ContactMonkey's embedded pulse surveys and anonymous comments, you can engage in dialogue with employees and get honest feedback right from your email newsletter. This includes feedback for company culture surveys, employee exit surveys, and countless other types of employee surveys.
All you have to do is access your email template builder and drag and drop a pulse survey tile into your email template. Choose from emoji reactions, star ratings, and a handful of other options to automatically turn one-sided emails into interactive experiences.
19. Calculate eNPS
What is eNPS? Your Employee Net Promoter Score (eNPS) tells you how many employees in your company are brand promoters. The results are widely considered to be a good indicator of employee engagement and satisfaction across your company. And with ContactMonkey, uncovering your organization's eNPS is easy.
You'll find eNPS surveys among the menu options in ContactMonkey's drag-and-drop email builder. They consist of a single, focused question, which employees respond to using a numerical scale. The survey can be quickly embedded into any employee email, so you can check up on employee engagement levels at a regular cadence.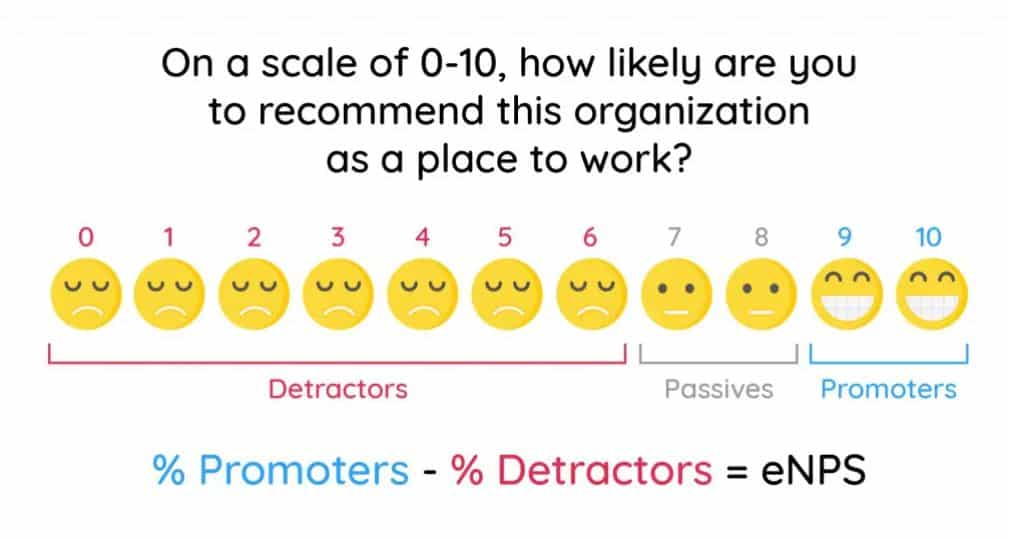 20. Increase employee engagement
Whether it's building dialogue with employees via pulse surveys, or captivating staff with multimedia content, ContactMonkey puts employee engagement at the forefront. But the biggest way in which ContactMonkey helps you boost workplace engagement is by giving you the tools to continuously measure employee engagement levels. With the widest range of email analytics of any internal communications tool, ContactMonkey makes it easy to track, benchmark, and improve employee engagement.
21. Create specific distribution lists
Dividing email subscribers into smaller groups, or 'segments', with common criteria has proven to increase email open rates by over 14%. And that shouldn't be a surprise. This approach lets you deliver more relevant communications that are tailored to staff needs.
Using ContactMonkey, you can create personalized messages for specific employee groups or departments using distribution lists. This way, the subject lines and body copy will be based only on the recipients in your distribution list. You'll also be able to track and compare email metrics for the individuals on these distribution lists specifically, and get individualized employee engagement analytics.
22. Take advantage of segmented reporting
ContactMonkey makes it easy to optimize segmented email engagement by providing you with segmented email stats.
ContactMonkey's segmented reporting offers a detailed picture of your employees' engagement patterns by department, job title, and more. You could even filter your campaigns by location to help understand employees' interests in different office locations.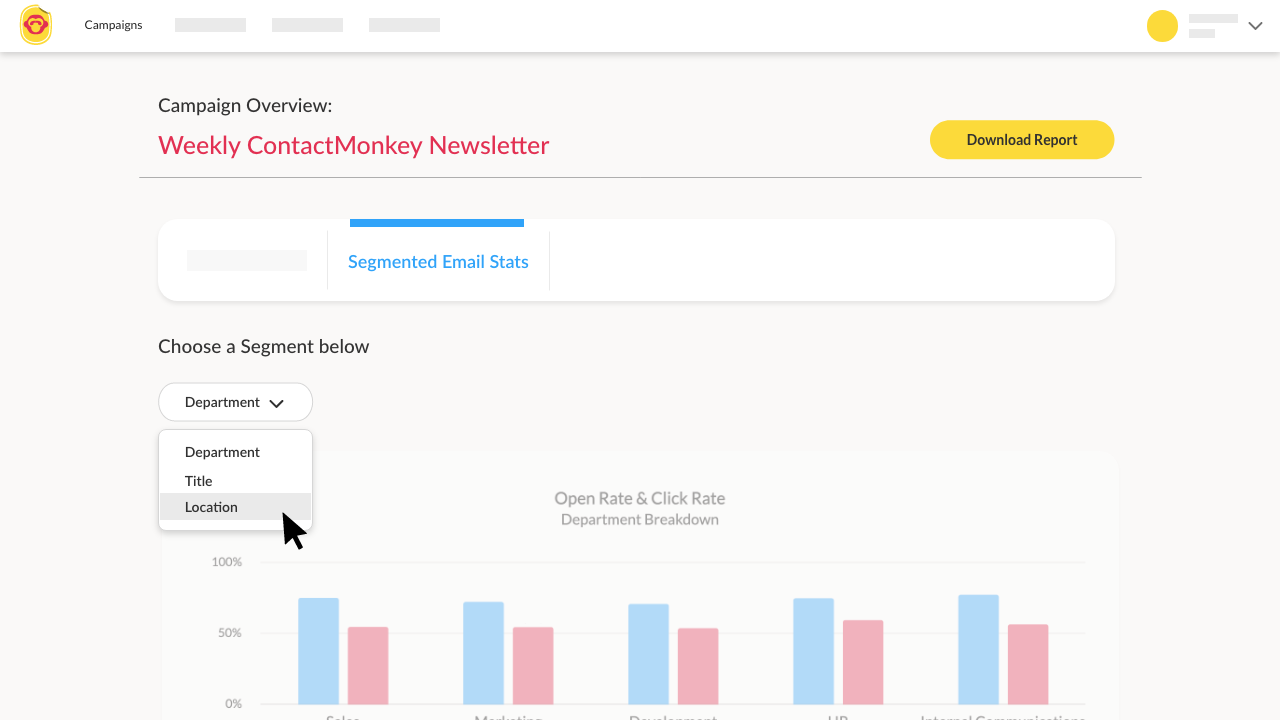 23. Gain employee feedback and insights
With ContactMonkey's pulse surveys, you're not only able to encourage multilateral conversations across your whole company. You're also able to gather invaluable feedback on a range of workplace topics. Pulse surveys help collect quick, precise, and hassle-free feedback from employees.
Since pulse surveys are so short, and easily accessible to staff in their email newsletter, employees are less likely to see surveys as a chore. In turn, they're more likely to complete them in full. The range of feedback options also offers room for both closed-ended and open-ended employee survey questions. So you can gather more detailed and precise employee feedback.
24. Strengthen company culture
By making it easy for employees from all parts of your company to engage with one another, ContactMonkey helps your team build a strong company culture.
Embedded employee survey options foster a culture of transparency and collaboration. Personalization features help add a more intimate touch to your messages, while creating a friendly tone. Together, these elements humanize your communications and promote a sense of community.
25. Improve employee onboarding
Employee onboarding can be a journey. And things get more complicated when you introduce remote and hybrid work into the mix.
ContactMonkey helps simplify things by streamlining the way you engage with new hires. It does this by letting you combine onboarding agendas, surveys, video messages, and resource links all in one place—your new employee email.
26. Make change management more straightforward
Whether it's introducing a new company policy or switching to a new office space, change is a nerve-racking process for most employees. Having a reliable platform that employees can always turn to for information and updates can ease the transition.
ContactMonkey offers this sort of stability by serving as a one-stop shop for all of your employees' informational needs. An added benefit is that ContactMonkey lets you embed change management pulse surveys into all your employee emails. So you can open a channel for employees to ask questions or express concerns throughout your change management communications.
27. Support employee health and wellness
Destigmatizing conversations about employee mental health and wellness is a long-term feat. But the first step is nurturing honest and transparent conversations about wellbeing. This is something that you can start to accomplish by conducting regular employee wellness surveys.
With ContactMonkey's pulse surveys, you can begin to normalize discussions about employee wellness by making bi-weekly wellness check-ins the norm across your workplace.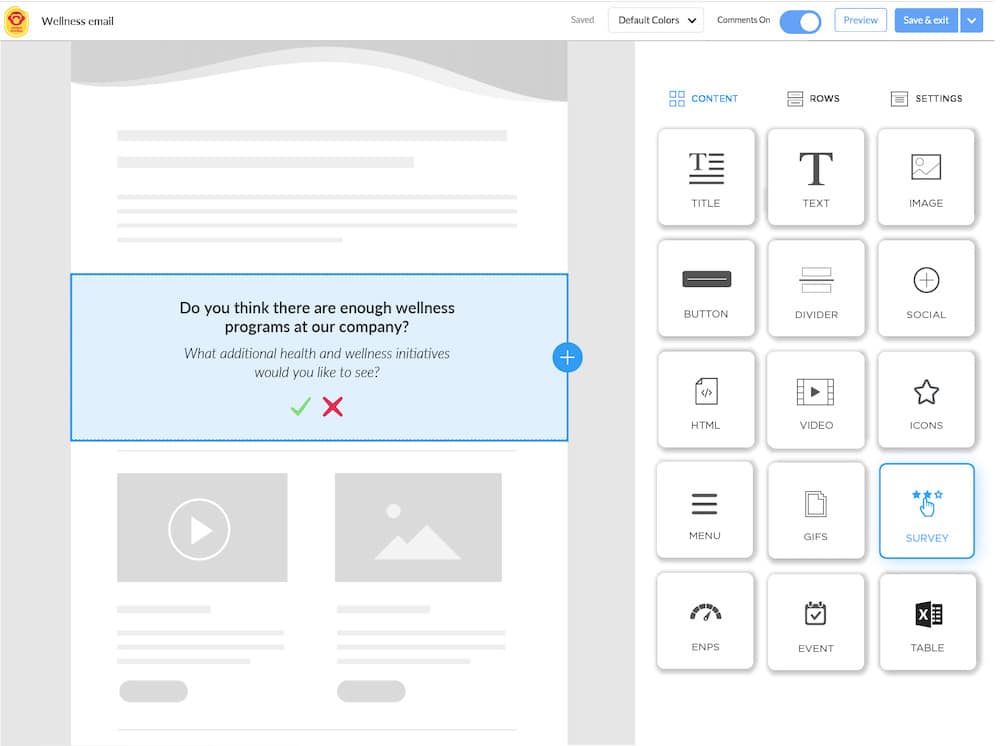 28. Facilitate employee recognition
Regular employee recognition is a key driver of employee engagement. And making employees feel appreciated isn't just about gift cards or financial bonuses. Showing gratitude regularly can be as easy as writing a thank you note or sending an employee appreciation email to your team.
With ContactMonkey, you can create thoughtful and dynamic employee thank you messages. Our drag-and-drop email builder lets you harness the power of images, GIFs, and even videos to turn your next company newsletter into an employee wall of fame.
By showcasing your employees' accomplishments in your newsletter it shows just how proud you are of their accomplishment and helps boost employee morale.
29. Improve leadership communication
Effective leadership communications should be personal, honest, and consistent. ContactMonkey helps you hit these targets by helping you personalize and humanize leadership communications with mail merge tags and embedded feedback.
Leaders can foster top-down communication by encouraging employees to ask them questions and send anonymous comments. All of this can be done straight from your internal newsletter, which your internal comms team can send on behalf of leaders using ContactMonkey.
30. Strengthen health and safety awareness
With ContactMonkey's employee pulse surveys, you can quickly embed employee safety questionnaires right into company newsletters and emails. You have the option to use both dichotomous and Likert scale surveys to touch on a wide range of safety-related topics.
Your questions could ask, "Does our leadership team clearly communicate health and safety standards?" and "What resources would improve your understanding of workplace safety?" With anonymous comments, employees can give concrete examples of what they'd like to see. On your end, you get actionable insights into what can be improved.
31. Facilitate crisis communications
As the COVID-19 pandemic has taught us all too well, a crisis can strike when we least expect it. And it can turn the workplace on its head. Having an internal communications planning tool, like ContactMonkey, can help take some of the stress out of managing a crisis.
By giving your team the ability to set, save, and store pre-made email templates, ContactMonkey makes it easy to create a crisis communication plan. If an emergency strikes, you can quickly access and edit any of your templates, but the core content will already be prepped, saving you lots of time.
More importantly, with ContactMonkey's email tracking software you'll be able to tell how many employees opened your emergency updates and if they clicked on key resources. This will make it easier to tell who you'll need to follow up with or reach out to via other channels.
32. Support diversity and inclusion
Diversity, equity, and inclusion can be a sensitive topic in the workplace—especially if there is in fact a problem with DEI. Employees may feel like they'll face repercussions for expressing concerns, or be downright ignored. In such cases, anonymous surveys are the best way to understand the effectiveness of your diversity and inclusion efforts.
ContactMonkey lets you create a channel for anonymous feedback in any employee newsletter, via anonymous comment boxes. Contextualizing your questions about diversity and inclusion also becomes easier. That's because you can add feedback options following a newsletter feature about workplace diversity and inclusion or your current D&I programs.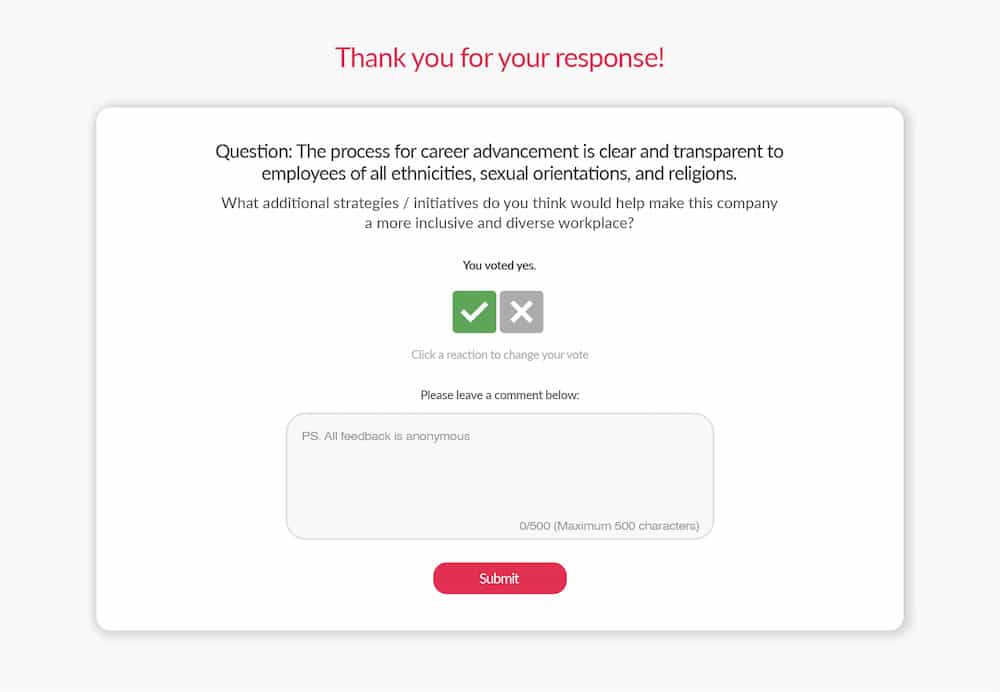 33. Improve customer service and share customer stories
By ensuring smooth internal communication, ContactMonkey supports a range of business goals. The most notable of these is quality customer service. By supporting multimedia content and smartlinks, ContactMonkey allows you to synchronize a range of employee resources in one place.
Customer call instructions, case studies, and product information can be distributed altogether using a responsive email template. This way, employees always know where they can find client-related resources. In turn, they can provide a superior customer experience. Not to mention, you can showcase customer success stories in your internal newsletter as a way of showing company-wide employee recognition, and boosting employee morale.
34. Easily facilitate employee coaching and training
Employee coaching enhances employee engagement by helping staff excel at their job and reach new career goals. With ContactMonkey, it's easy to develop an employee coaching program, whether it's training a new hire or helping a long-term employee grow in the company.
You can create interactive employee coaching emails where employees share what resources or support they need for their development. By turning on commenting within your ContactMonkey email builder, you can ask questions to dive deeper into their goals.
You could ask things like, "What are your 5-year career goals?" and "What resources can this company provide you with in order to help you achieve these objectives?" After engaging employees in a discussion about their aspirations, you can easily create and deliver an employee coaching plan targeted to their needs.
35. Enable alignment between HR professionals and internal comms teams
As the importance of internal communications expands, many organizations have a dedicated Internal Communications team alongside their Human Resources department. With ContactMonkey's email collaboration, aligning HR and internal comms teams becomes easier.
Your internal comms team can easily create, save, and share email templates with Human Resources, and vice versa. Also, by creating dedicated sections for HR updates, such as new company policies or safety protocols, HR can easily add their content on a weekly basis. If the need arises, your two teams could even collaborate on a single email in real time using ContactMonkey's email collaboration software.
36. Send Employee SMS
With ContactMonkey's latest feature, employee SMS, internal communicators can send employee mass texts to deskless workers, frontline staff, and dispersed teams.
As the traditional corporate workplace continues to transform, employee SMS accommodates a wider range of employee needs. Here are just some of the scenarios that SMS text messaging for internal communications can help your team address:
Communicating with employees without access to a work computer

Quickly reaching contracted employees with no corporate email address

Avoiding overcrowded email inboxes

Navigating a limited range of available channels for urgent communications
Get the most out of employee SMS internal communications with our guide on business texting etiquette.
How Your Company Can Use ContactMonkey
We hope that some of these ContactMonkey use cases resonated with your own organizational needs. But no matter what your priorities may be, each ContactMonkey customer receives a customized solution. Whether your goal is to improve employee communication with stunning design or boost engagement with internal email tracking, ContactMonkey can tackle your specific internal comms needs.
Learn how to use internal communications software to create professional, on-brand emails, increase open rates, and service your unique communications goals? Book a free demo with one of our dedicated Customer Success Managers today.