The reality of a digitally-driven world is that employees spend a good part of the workday on their phone. With SMS employee communication, you can get more out of mobile use in the workplace.
Today, employees spend nearly an hour a day on their mobile phones. Organizations that want to make information accessible and engaging to all employees will need to start paying attention to SMS employee communication.
For office workers, cell phones allow them to stay connected and informed on the go. Meanwhile, retail associates and security personnel rely on mobile phones as their primary line of communication with employers. Not to mention, frontline workers don't have access to internal email tools at all.
The bottom line: SMS communication is perfect for any deskless workers who don't have easy access to email. To tap into the power of this internal communications tool, learn SMS best practices and pitfalls to avoid.
What is Employee SMS Communication?
SMS stands for 'short message service,' but you probably know it better as—texting.
These days, most of us spend an average of 48 minutes a day on text messaging, or almost six hours a week. Whether it's with friends or family, texting helps us stay in touch and stay connected.
Now, employers can also reap the benefits of mobile messaging through SMS employee communication. This is the process of sending internal communications straight to your employee's phone, without an intermediary like Slack or Microsoft Teams.
Can SMS be Official Business Communication?
As remote work becomes the norm, SMS for official business communication is also going to be more common. When employees are working from different locations and time zones, texting simply becomes more convenient. This is especially the case once it comes to delivering urgent updates or crisis communications.
With SMS text messaging for internal employee communications, employers can reach their staff more efficiently. On the other end, staff gain more freedom and flexibility in their schedule because they're not tied to their computers.
Not to mention, workers that don't have access to email tools and employee newsletters gain a whole new, reliable channel for communicating with colleagues.
Building a Culture of Flexible Communication
Of course, making SMS an official part of your organization's corporate communication will require a bit of planning. You'll need to encourage a culture of flexible communication and make employees feel comfortable using their phones for business.
You should also ask employees how they feel about receiving work messages on their personal devices. With ContactMonkey's anonymous employee surveys, you can gather honest and insightful feedback straight from your internal newsletters.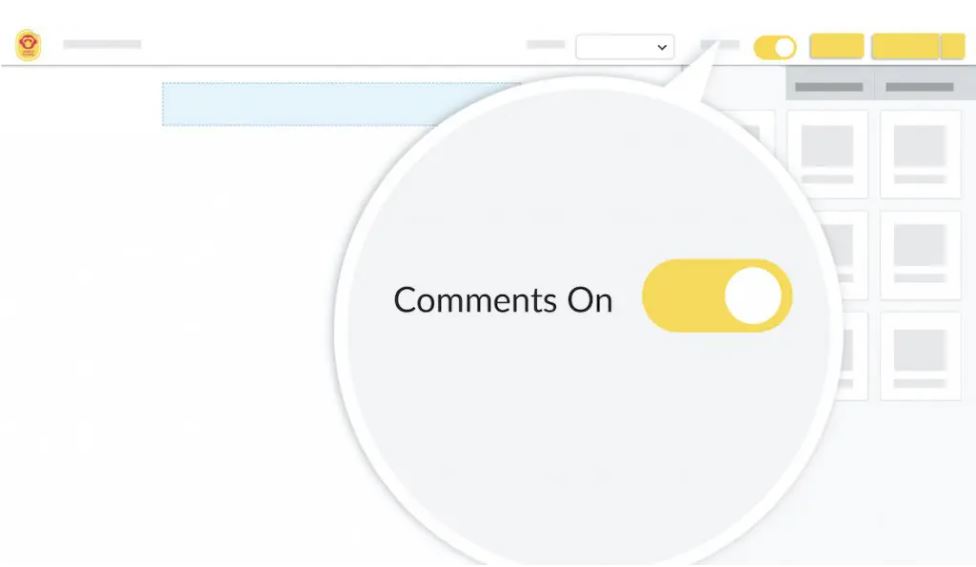 Conduct a pulse check to see how employees feel about receiving work texts and what sort of boundaries they want you to observe. Ensure to turn on anonymous comments so that staff can leave detailed and candid input.
Engage staff with internal email or SMS messages.
Start a 14-day trial. No credit card is necessary. Zero risk.
Why Use SMS Text Messages for Internal/Employee Communication?
Over 50% of organizations say that optimizing their internal communications channels strategy is a top priority. Consequently, exploring the benefits of SMS employee communication is a no-brainer.
Using SMS text messaging for internal employee communications is one of the latest internal communications trends—and with good reason. Let's breakdown the top benefits of employee SMS:
More than 90% of texts are opened within the first five minutes, which makes them optimal for sending urgent information.

If you need to send out crisis communications, text messages provide a faster, more reliable channel.

Texting is something familiar to everyone so there's little to no learning curve involved.

It's easier to stay connected with non-desk and/or frontline workers at any time.

Employee SMS intuitively encourages two-way communication.
ContactMonkey's employee SMS tool makes it super easy to send custom-made SMS content directly to your employees' cell phones. And you can do it all from the same place where you manage your Outlook and Gmail newsletters.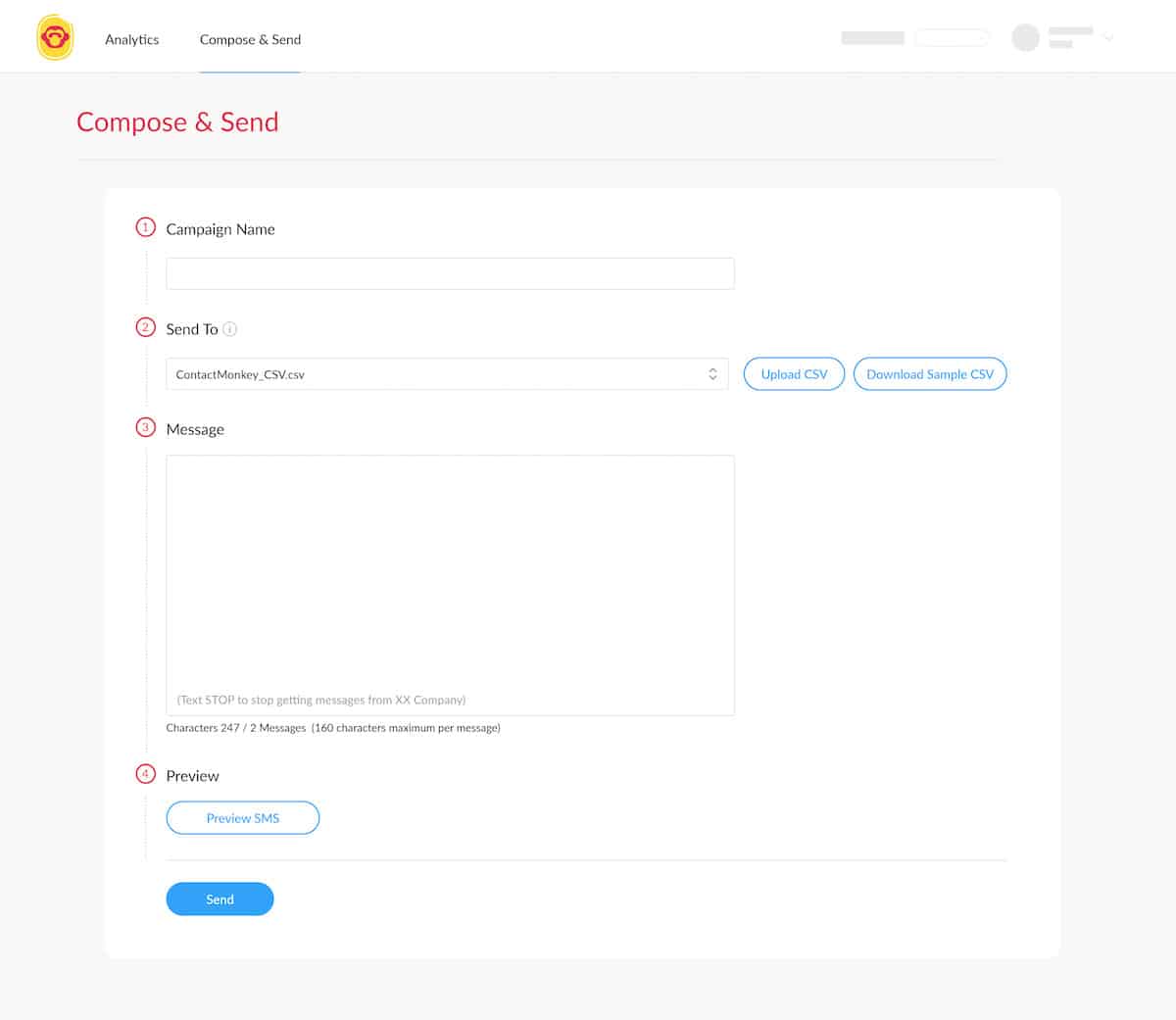 What are the Legal Considerations for SMS Employee Communications?
Employee SMS is a reliable and creative way to communicate with employees. But to get the greatest advantages from employee SMS, it's important to know the legal and professional considerations around texting employees.
While it's legal to send SMS employee communications, it's essential to get consent before texting employees. You can do this easily with an SMS opt-in form. Or, if you're using ContactMonkey, you can simply ask employees to opt-in through an SMS registration prompt embedded in your internal emails: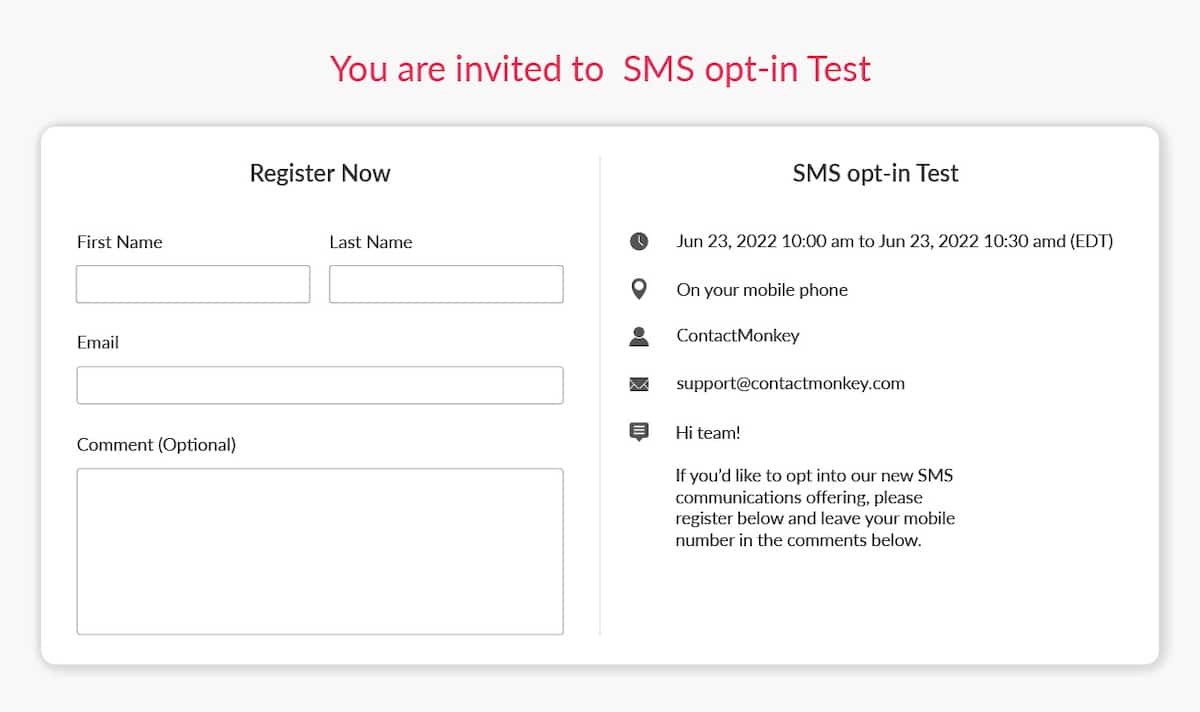 Successful leaders are always respectful of their employees and mindful of their time. This means ensuring that leadership communications support employees' work/life balance. It also means writing in a professional tone and style, and never flooding employees with mass texts.
Whether you have salaried staff, or hourly employees, the rules are the same. If an urgent update or reminder is necessary, SMS communication is a great option. But avoid overwhelming staff with too many communications, or else it will impact both their productivity and employee experience.
How to Use SMS Text Messages to Communicate with Employees
SMS mass texting comes in handy when communicating time-sensitive information to employees. Not to mention, it's great for coordinating among dispersed workers.
Say you're headed to a client meeting and notice that one of your employees isn't present. In the midst of a busy workday, it may have simply slipped their mind. It happens. But you want to ensure that your reminder reaches them as fast as possible.
In this scenario, email or slack may not be the best channels. With a 90% average open rate, you're much better off taking your chances with employee SMS in such a situation.
On the other hand, if you're managing a retail business or factory operations, your employees are unlikely to rely on email at all. In these cases, setting up a reliable SMS employee communication channel is absolutely essential. It will be your primary line of communication for schedule updates, emergencies on the premises, and other immediate updates.
How to Send an Employee a Text Message
While employee SMS holds many benefits, you'll need to handle this type of communication thoughtfully and professionally. Common pitfalls that organizations must keep in mind include hastily written texts and ambiguous messages that further confuse employees.
Here are some steps to check off your list when sending an employee text:
Choose an employee SMS platform or integration: employee messaging systems like ContactMonkey are designed specifically for employee SMS communications and let you conveniently compose and send text messages from the same place where you create internal emails.
Get consent: ask employees to opt-in to receive your SMS messages through an opt-in form or phone number request.
Create your SMS distribution lists: using the phone numbers provided via your SMS opt-in form, create a CSV of your contact numbers. With ContactMonkey, you can create unique distribution segments and import them directly into your SMS builder.
Create your SMS message: keep your message short, to-the-point, and try not to exceed 160 characters.
Preview your message: double check spelling and grammatical errors with an SMS preview option. This is default setting in ContactMonkey's SMS communication system.
Send and track: you're ready to hit 'Send.' With ContactMonkey's SMS analytics you'll be able to get insights on your deliverability rate and make data-based improvements.
Employee SMS Text Messaging Best Practices
To avoid the need to troubleshoot issues down the line, it's best to observe a few SMS content best practices from the get-go.
Keep texts short, clear, and to-the-point.

Only send texts with essential and time-sensitive information.

Make an effort to send all employee texts within work hours unless it has to do with an emergency.

Appoint specific teams, or your internal communications team, to oversee employee messages.

Avoid enabling everyone to send employee messages en-masse as it makes quality control more difficult.

Keep messages professional; don't include anything that you would otherwise avoid in a traditional employee email.
How To Use Internal SMS Messages to Your Employees
Using SMS text messaging for internal communications is a great way to improve efficiencies in your business. But to make the most of employee SMS, your messages need to be composed tastefully and with tact.
It's important to recognize the different types of updates you can send over text, and how each one should be articulated. Below, we've highlighted some SMS based employee communication examples to get you on the right track:
HR updates
Send HR updates to your employees via SMS. These types of SMS internal communications can include policy changes, updates to employee benefits or reminders for staff benefits surveys, or timelines for open enrollment.
There's also usually a time-sensitive element to these sorts of messages. If employees miss a deadline, it can lead to problems.
Once a deadline is approaching, send out an employee text with a reminder and a link to where they can find the necessary details.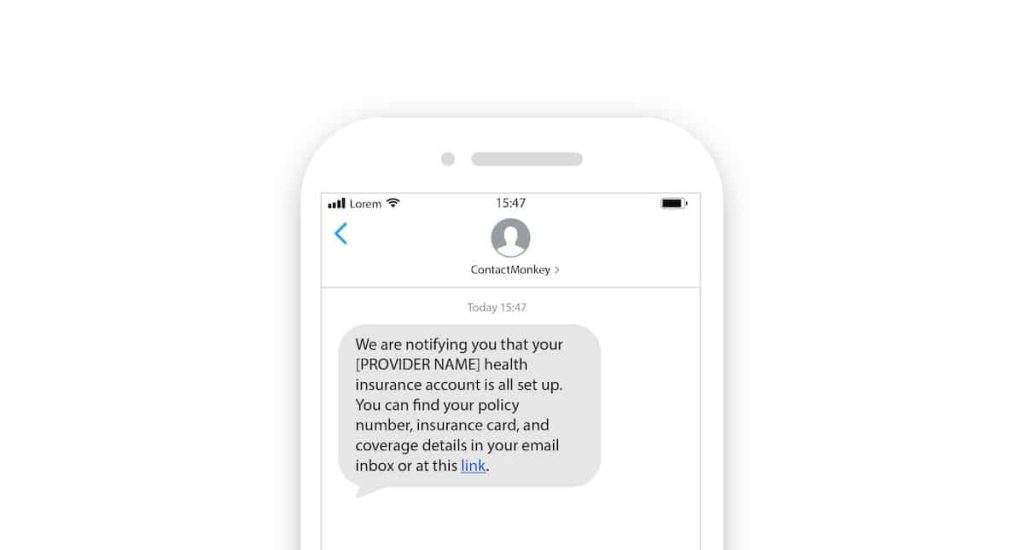 Policy updates
The COVID-19 pandemic has shown us how fast company policies can change. Perhaps your organization is going through a change management process that involves significant policy change.
Before an important update is launched, send an employees via SMS and verify that everyone's in the loop.
Use your existing recipient lists for SMS messages.
Try ContactMonkey's SMS tool. Improve internal comms.
Security alerts
Use SMS text messaging for internal employee communications so can help you reach employees instantly and limit security risks.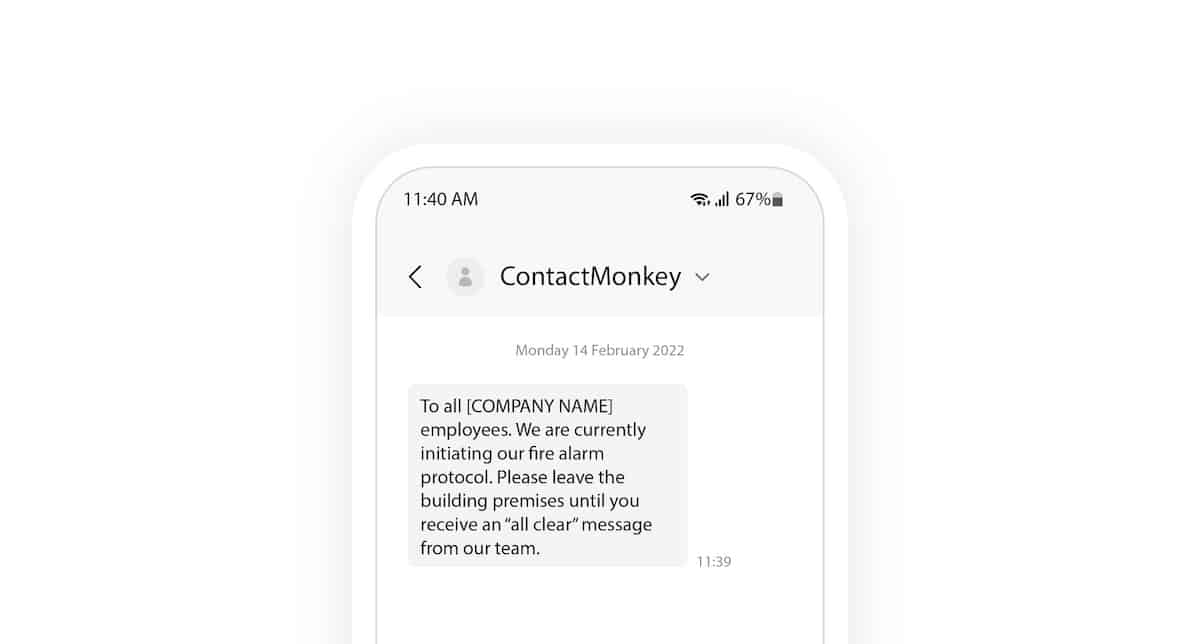 Emergency alerts
Since employees are more likely to check their phone notifications, they're also more likely to receive and act on emergency alerts promptly.
In case of an office lockdown, building evacuation, or similar emergency, use SMS employee communications to reach your staff within seconds via an emergency employee alert. 
Company events
Send a reminder using SMS employee communications to let your employees know about upcoming company events.
With mass texting, you can send a quick message to remind staff about the time, details, and other details regarding your event.
Pro Tip: Instantly generate customized employee messages in the same place where you create emails and SMS messages. Use ContactMonkey's OpenAI add-in.
Employee feedback
Use internal communications SMS to conduct a range of employee surveys—from job satisfaction surveys to employee exit surveys.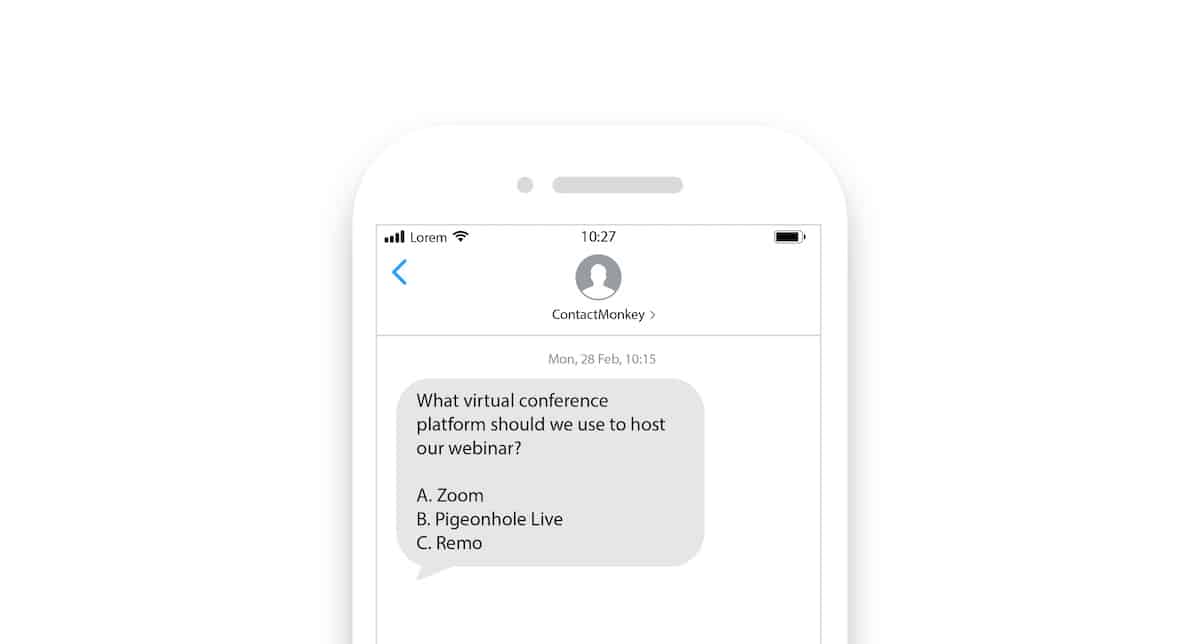 Instructions
Sometimes, you'll need to send relevant instructions that help employees on-the-spot. For instance, a new employee needs to know how to set up their work computer but don't yet have access to a corporate email.
In such instances, a SMS message is a fast and simple solution for getting the situation sorted.
Training
While it's essential to send out all of your onboarding information in your new employee email, following up over text can provide added support to your staff. To offer your employees the most efficient training experience, you can share links to study materials and company policies via text messages to maximize the efficiency of employee coaching in the workplace.
Shift scheduling
If you have hourly staff or shift workers, employee SMS becomes an indispensable employee engagement tool for communication. This is especially the case when it comes to shift scheduling.
Understand what drives engagement in your organization with these employee engagement survey questions.
There will always be times when someone calls in sick or can't make it on short notice, and you'll need to think fast. With employee SMS, you can relay updates quickly, so it serves as a more practical alternative to other types of communication.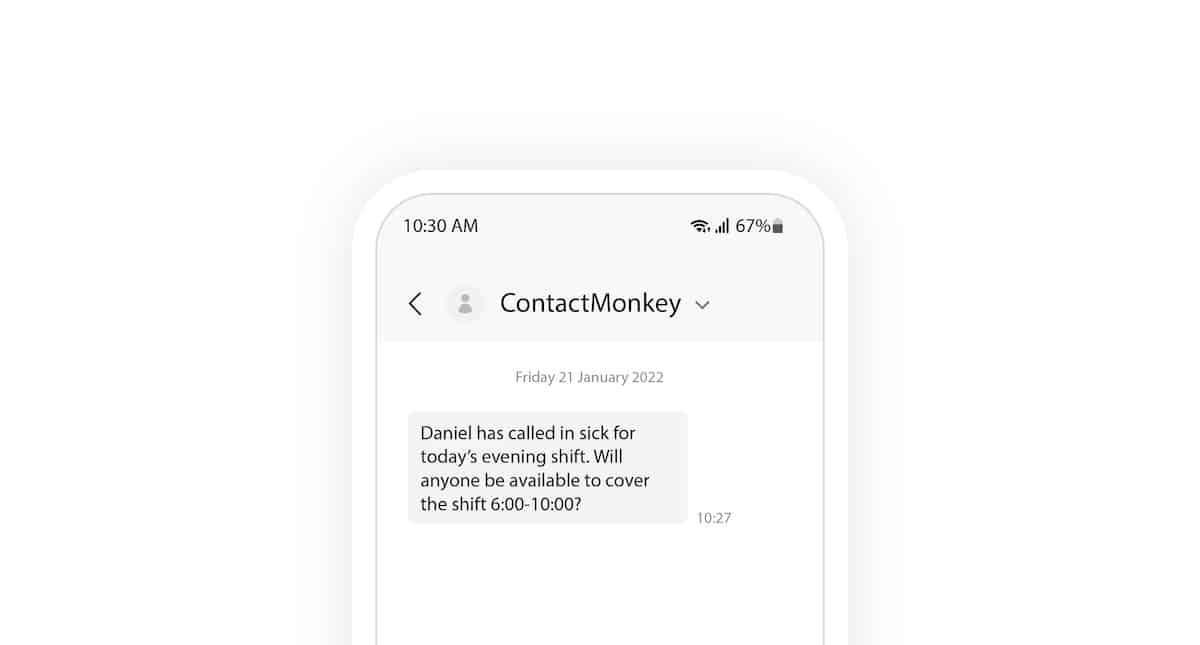 Welcome SMS to new employees
When a new employee joins your team, they're spending a good chunk of their day figuring out the ins and outs of their new workplace.
While new hires are setting up their emails and uploading slack, sending a text can be the simplest way to say 'welcome.'
Not to mention, it's also the quickest way to reach employees when they're still learning the ropes of your workplace.
Connect with remote workers
Keeping remote employees aligned and connected in real-time can be difficult with meetings and email updates alone.
Employee texting is a great way to complement these communication channels. You'll be able to check in with your digital nomads, wherever they may be, and ensure your workforce is continuously aligned.
Reminders
Employee text messaging will not only benefit your staff, but ensure that you maximize participation in important company campaigns and initiatives.
For occasions when employees need to sign off on something, complete training, or show certification, setting up automatic reminders will also help speed things along.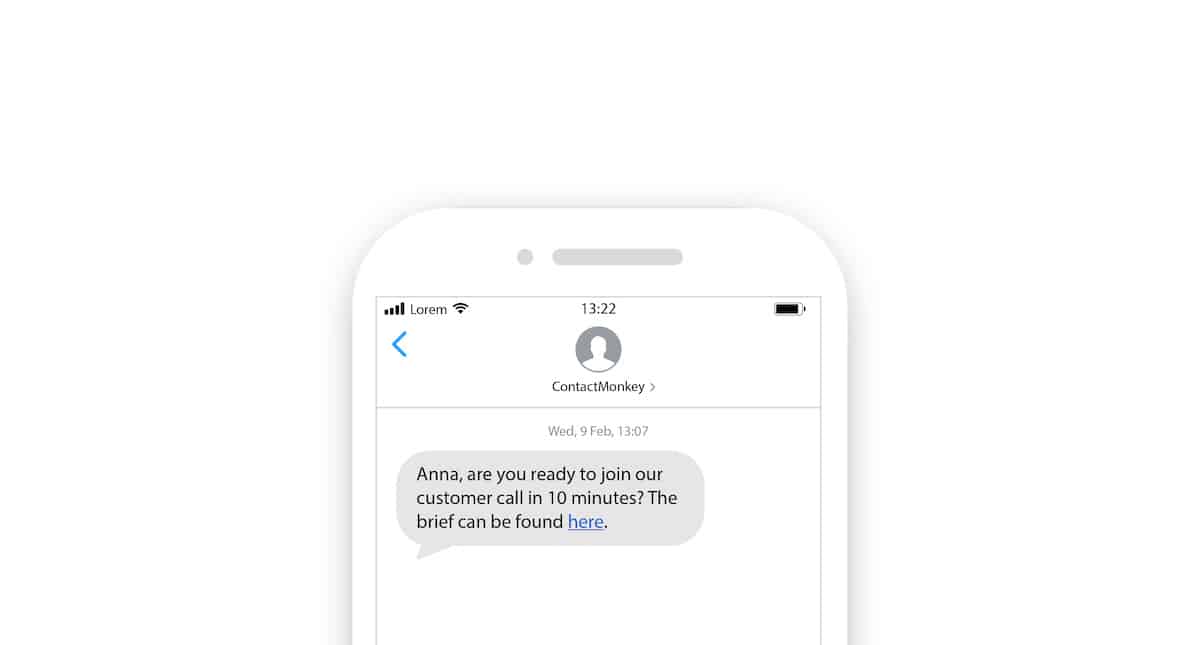 How Employee SMS Text Messaging Works With ContactMonkey
ContactMonkey's new employee SMS feature is designed to help you engage frontline employees, remote staff, and deskless workers. As the traditional corporate workplace continues to transform, SMS internal communications accommodate a wider range of employee needs.
Here are just some of the scenarios that SMS text messaging for internal communications can help your team address:
Communicating with employees without access to a work computer

Reaching dispersed employees faster

Quickly connecting contracted employees with no corporate email address

Avoiding overcrowded email inboxes

Navigating a limited range of available internal communications channels for urgent communications
Surveying our clients, we recognized that there was a need for a dedicated communications channel to distribute urgent information to employees. In light of this, we launched ContactMonkey's employee SMS software. This new feature empowers clients to communicate beyond emails and to increase employee engagement while ensuring business continuity.
Request your free demo of ContactMonkey's employee texting platform today!
Keep Your Workforce Connected with SMS Text Messaging for Internal Communications
Whether you're managing a corporate enterprise, retail operations, construction, or anything in between, using SMS for employee communications can optimize business operations. By helping to deliver urgent updates to employees in time, internal SMS ensures that staff never feel left behind—whether they're in the office or on the factory floor. Not to mention, deskless workers and frontline employees gain a reliable employee messaging channel for staying in touch with their teams.
ContactMonkey's employee SMS tool allows you to send internal texts from the same platform that you rely on for all your employee communications. Align your messaging while ensuring that employees meet important deadlines and never miss an emergency update. Curious to see how it works? Request a free trial today.