From added security to speedier communications, the benefits of SMS for banks and financial services are undeniable. But finding the right text messaging service for the finance sector requires some strategizing.
While launching our internal SMS software, we were inspired by the many ways SMS could help clients in the finance sector deliver outstanding customer service⁠—and employee experience.
But we also noticed how confusing it can be to choose the right SMS software.
In this article, we break down the top tools offering SMS text messaging services for banks and help you pick the right software for your business.
Why Use Text Messaging for Financial Services?
With 90% of all texts read in three minutes, it's easy to see why more and more financial institutions are turning to SMS communications.
Instant messaging allows employees in the finance sector, as well as their clients, to navigate money matters quickly and conveniently.
Whether it's sending an overdraft notice, flagging a stolen credit card, or sending late fee reminders, instant messaging offers financial institutions a more reliable communications channel.
See how ContactMonkey can turbocharge your finance and banking communications.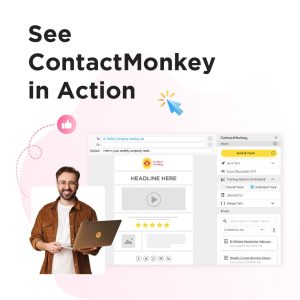 Benefits of SMS for banking and finance
Let's take a closer look at the key benefits of SMS for banking and finance:
Convenience: Let's face it, banking from the comfort of your couch is simply better than waiting in a slow-moving line to speak to a cashier.
Instantaneous communication: Exchanging information over text is faster and easier than doing so over the phone or even email. Banking employees can communicate late fees and payment deadlines faster and free up time from having to call customers with reminders.
Interactivity: Banking and finance often feel impersonal. This is a drawback when employees or customers feel vulnerable and need support. SMS makes it easier to foster quick and convenient two-way conversations.
Personalization: By enabling quick, two-way communication, SMS enables banks to build more personal, high-touch relationships with customers and employees alike.
Cost-effectiveness: Removing the need for countless client calls and stopping security breaches in their tracks, SMS for banking offers both cost and time savings.
Increased awareness: By delivering workplace updates to employees faster, SMS in the banking sector enables finance workers to access key information quickly and optimize their work.
Use Cases of SMS for Banks and Financial Services
There are a number of ways that banks and financial institutions can leverage SMS text messaging to enhance business. Here are just a few common use cases of SMS for banking worth mentioning:
Notifications: Keep banking clients on top of the important things, like when a bill is due or when a statement's ready.
Emergency alerts: Inform clients if there's suspicious activity on their account or any unusual transactions. Banking employees can be notified of security breaches and other potential issues to discuss with clients through employee text messaging for internal communications.
Transaction confirmations: Clients can quickly know the status of their transactions and flag suspicious payments.
Two-factor authentication (2FA): Banks and other financial services may use SMS to send one-time passcodes (OTPs) as an additional layer of security when logging in to an account or making a transaction.
Pulse surveys: Ask banking employees about their biggest challenges or most frequently asked questions from clients to help them deliver better service.
Payment authentification: With SMS, banking clients can quickly verify mobile banking payments and ensure that any security concerns are flagged in advance.
Marketing and promotions: Financial institutions may use SMS to send promotional offers and special deals to customers.
Mobile payments: SMS can also be used as a payment method. Some mobile wallets, like Google Wallet and Venmo, use SMS to send and receive payments.
Top 10 SMS Software Providers for Banks and Financial Services
We've narrowed down 10 SMS banking solutions that can take on the unique challenges of the banking and finance industry. Let's take a close look and examine what makes each text messaging software stand out.
1. ContactMonkey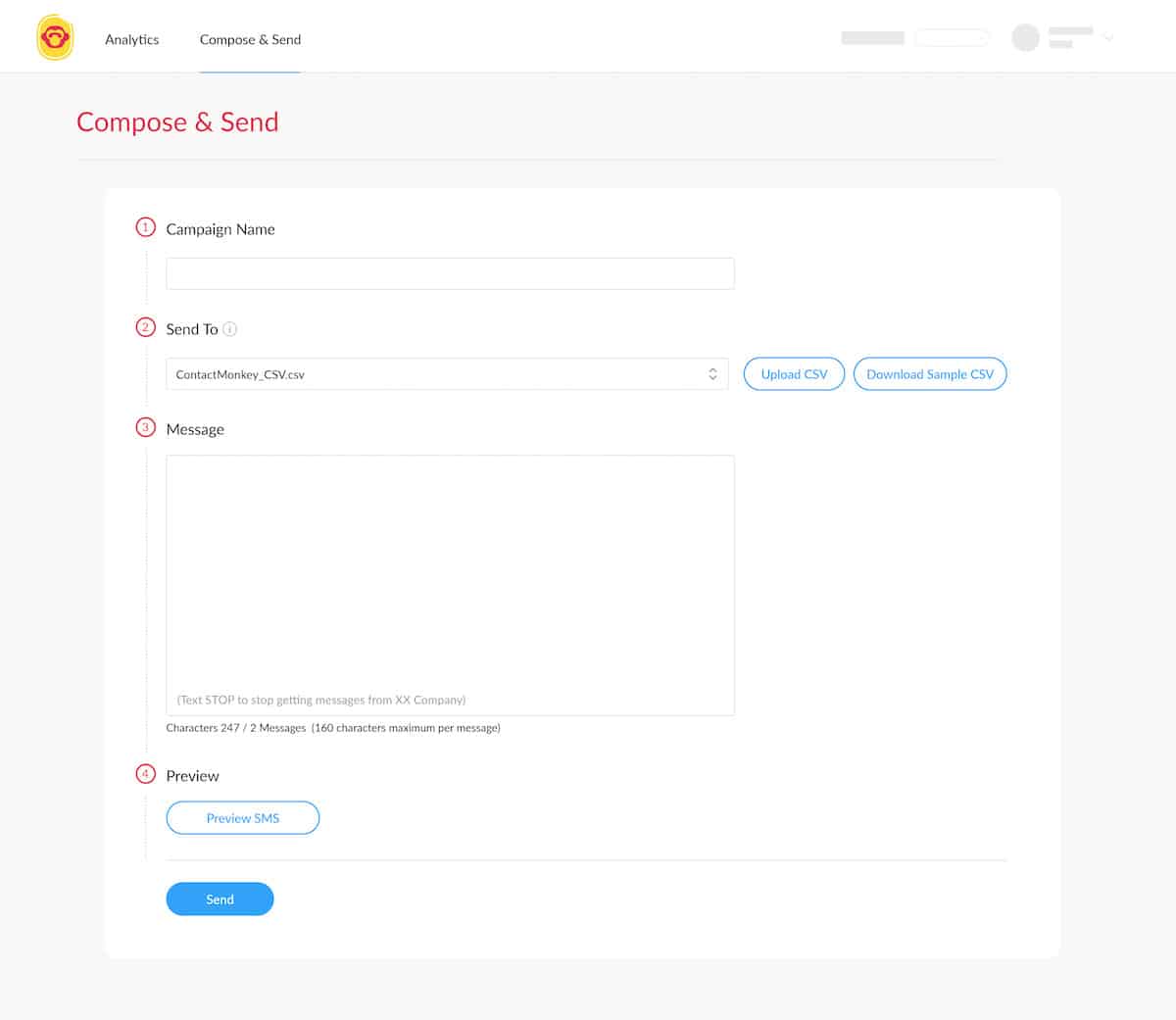 ContactMonkey is an internal SMS software that streamlines communication between employees in the finance sector. Bank managers and HR teams can instantly engage frontline staff and office employees with emergency alerts, client updates, and shift changes, among other communications.
Outlook and Gmail integration enables ContactMonkey users to send email and SMS messages from a single interface. This makes it easy to follow internal communications strategy best practices. Employee communication becomes quicker and more convenient as alignment between frontline employees and corporate staff improves.
Here are a few more things that ContactMonkey's internal communication tool can do for the banking and finance sector:
Create, send, and organize SMS messages and internal emails in the same place.

Build or instantly import a CSV of employee contact numbers for faster outreach.

Create unique distribution segments for frontline staff and office employees.

Send shift schedule changes with embedded URLs to shared calendars.

Embed documents and meeting links into text messages.

Track SMS delivery and bounce rates through analytics.

Use premade

SMS text messaging templates

.

Preview text messages to avoid errors.

Get guidance for

SMS best practices

.
2. ClickSend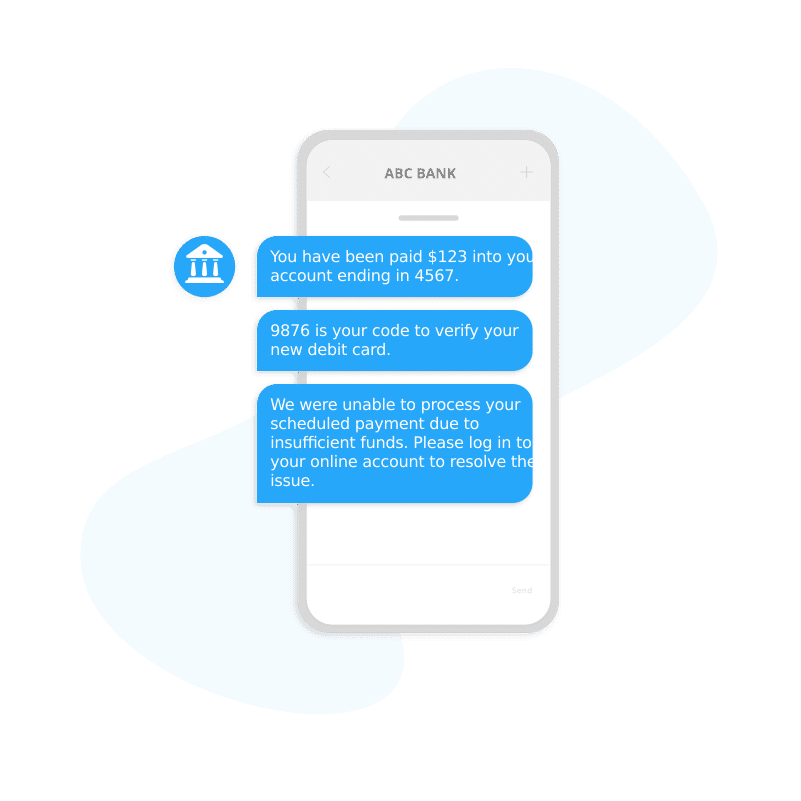 ClickSend is an external SMS software that can easily be adopted for banking and finance. With Clicksend's automated SMS messaging, users can instantly notify consumers of account transactions, send payment reminders, and collections notices. It also lets you deliver routine reminders for customers to monitor account activity.
Here are a few major features that are available with ClickSend's SMS banking:
Payment reminders

Real-time fraud alerts

Two-factor authentication

Instant account transaction notifications

One-time passwords to reduce fraud and theft
3. Trumpia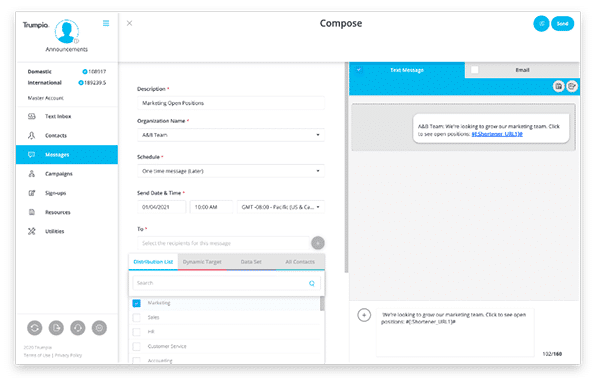 Trumpia is an SMS software solution with a proven reputation in the finance and banking sector. With two-factor authentication, Trumpia helps prevent fraud and offers a secure text messaging system that finance workers can rely on. Trumpia also offers landline texting and enables users to create customized workflows for more tailored communications.
One downside is that Trumpia is designed as an SMS marketing software and has limited capabilities when it comes to internal employee communications.
Here are a few Trumpia features worth noting:
SMS keywords

Auto campaigns

Team management

Drag-and-drop workflow builder

Payment and appointment reminders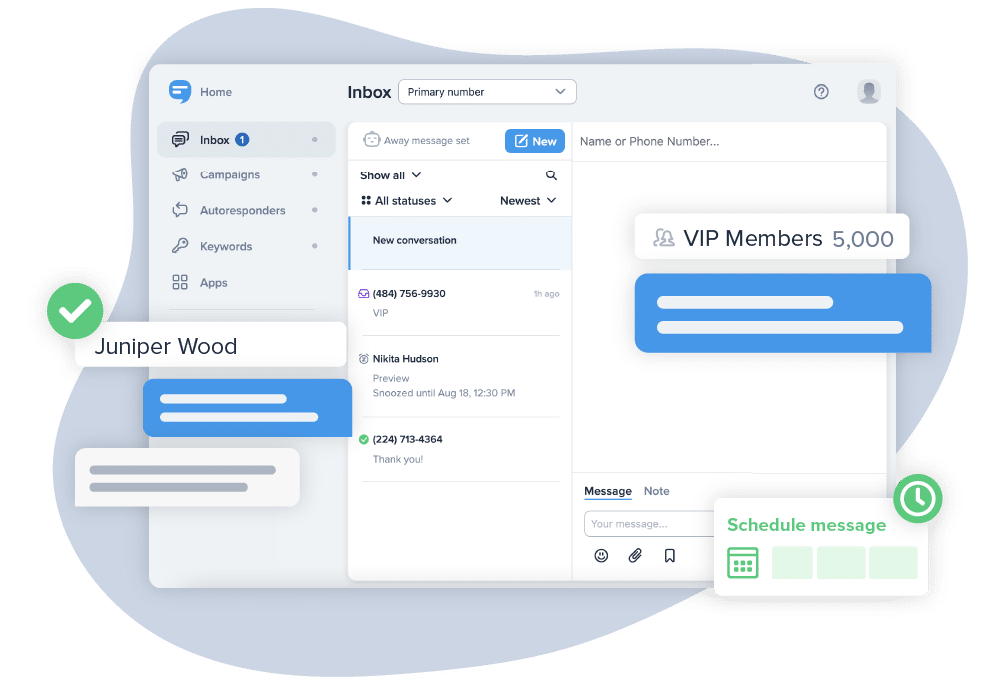 z
4. SimpleTexting
SimpleTexting is an SMS marketing software that's compatible with the finance and banking sector. They deliver the basics like text blasts and automated messaging along with 1-on-1 texting and segmented messaging. Pre-made appointment reminder templates are also available to users of the text messaging software.
Here's an overview of all the things you can do with SimpleTexting's SMS software:
Import existing contacts

Enable two-way texting

Automate text messages

Segment SMS contact lists

Automate tax return status updates

Send out appointment and fee reminders
5. TextMagic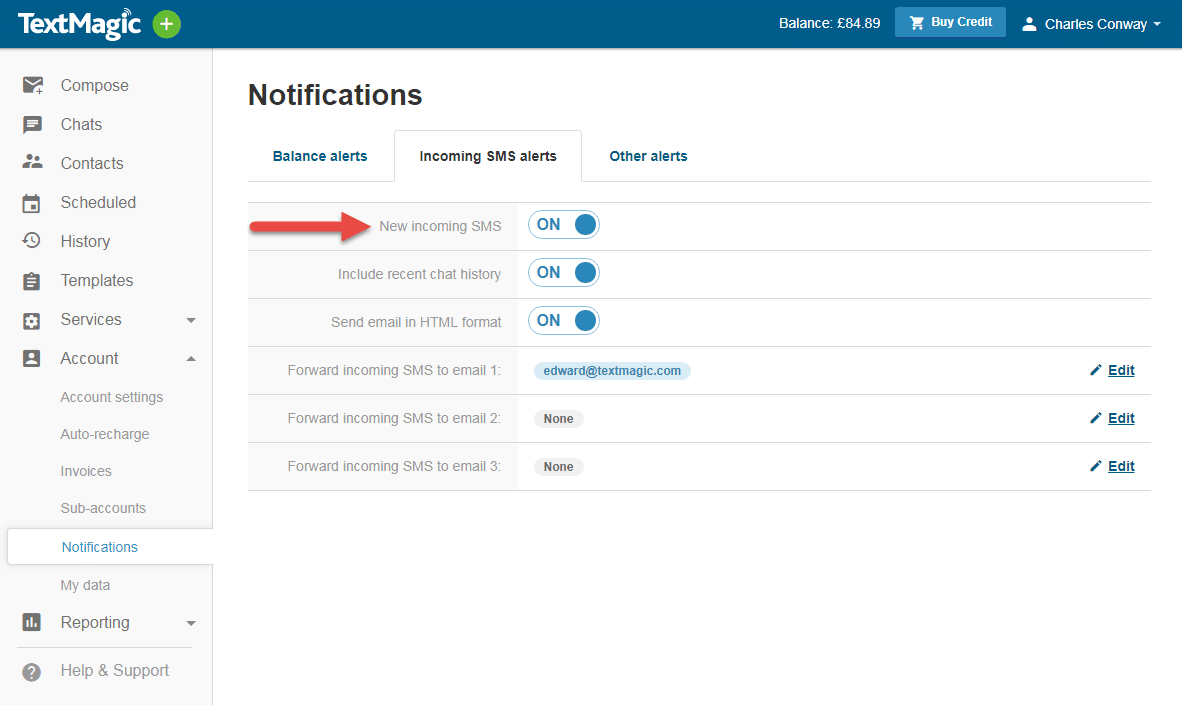 TextMagic is a reliable client-facing SMS software solution for banking. Banking customers can quickly obtain key information about their accounts and two-way messaging allows them to request financial reports as SMS attachments. The text messaging software also allows customers to monitor ATM and card usage, get real-time transaction alerts, and review balance updates.
Here are our favourite TextMagic features:
SMS feedback surveys

24/7 customer support

Two-factor authentication

Easy-to-use desktop dashboard

Customized SMS banking alerts

Automated text message campaigns
6. Textedly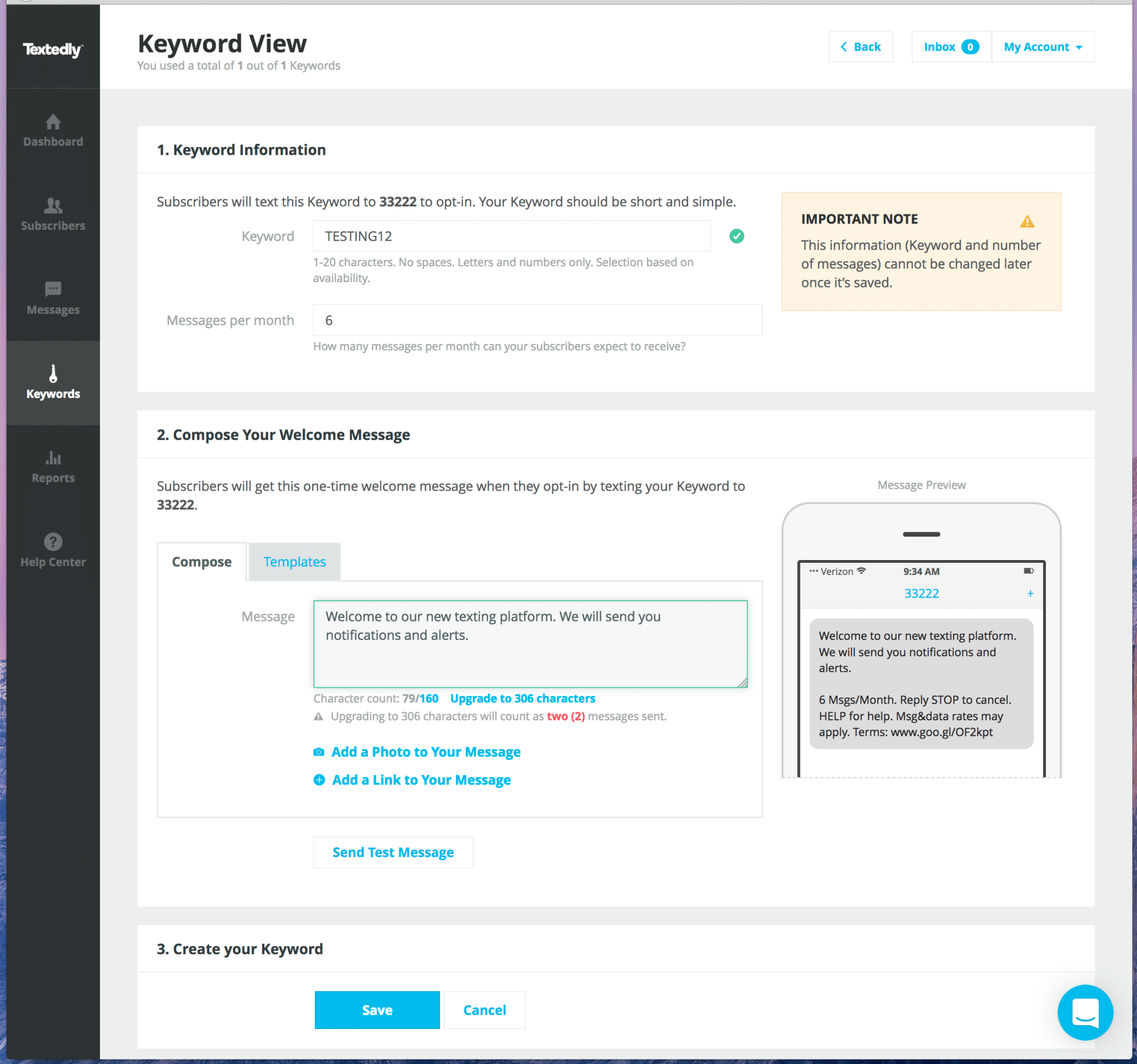 With automated message scheduling and two-way messaging, Textedly is a reliable SMS software solution for banking and finance. Users can send mass updates about account changes, confirm upcoming appointments, and send payment reminders.
A few other Textedly features worth noting:
Automated text blasts

Appointment reminders

Account status updates

SMS customer feedback requests
7. EZ Texting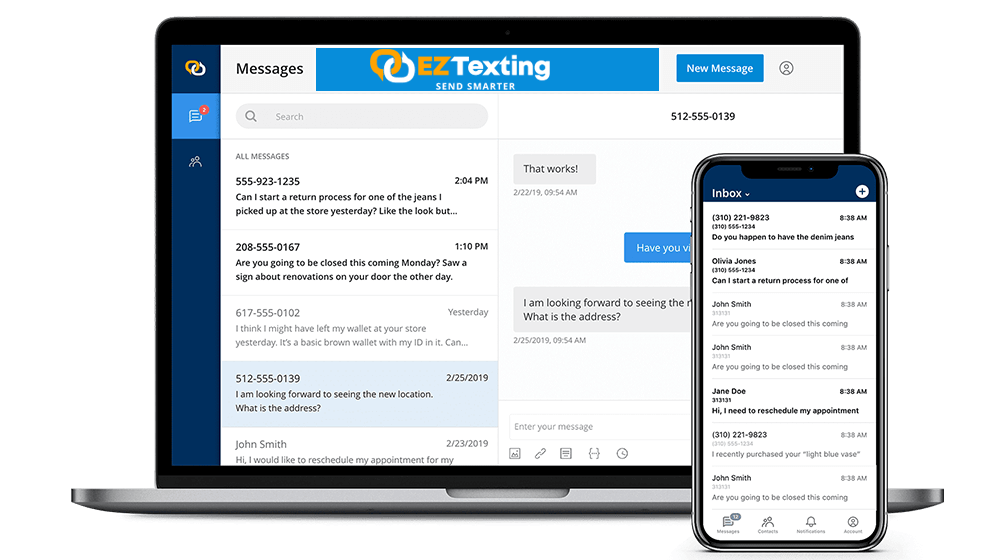 EZ Texting is a low-cost SMS software solution best used by small banks and financial institutions. What the tool lacks in intricate features it makes up for in simplicity and ease of use.
Users reliably get the basics:1-on-1 conversations, promotion and marketing automation, and customizable integration options to streamline workflows.
Here are some more things worth noting about EZ texting's SMS solution for banking:
They offer a wide range of text messaging templates.

Allow you to upload pictures and videos into text messages.

Shortcodes let users opt-in or take advantage of promotions.
8. Mobile Text Alerts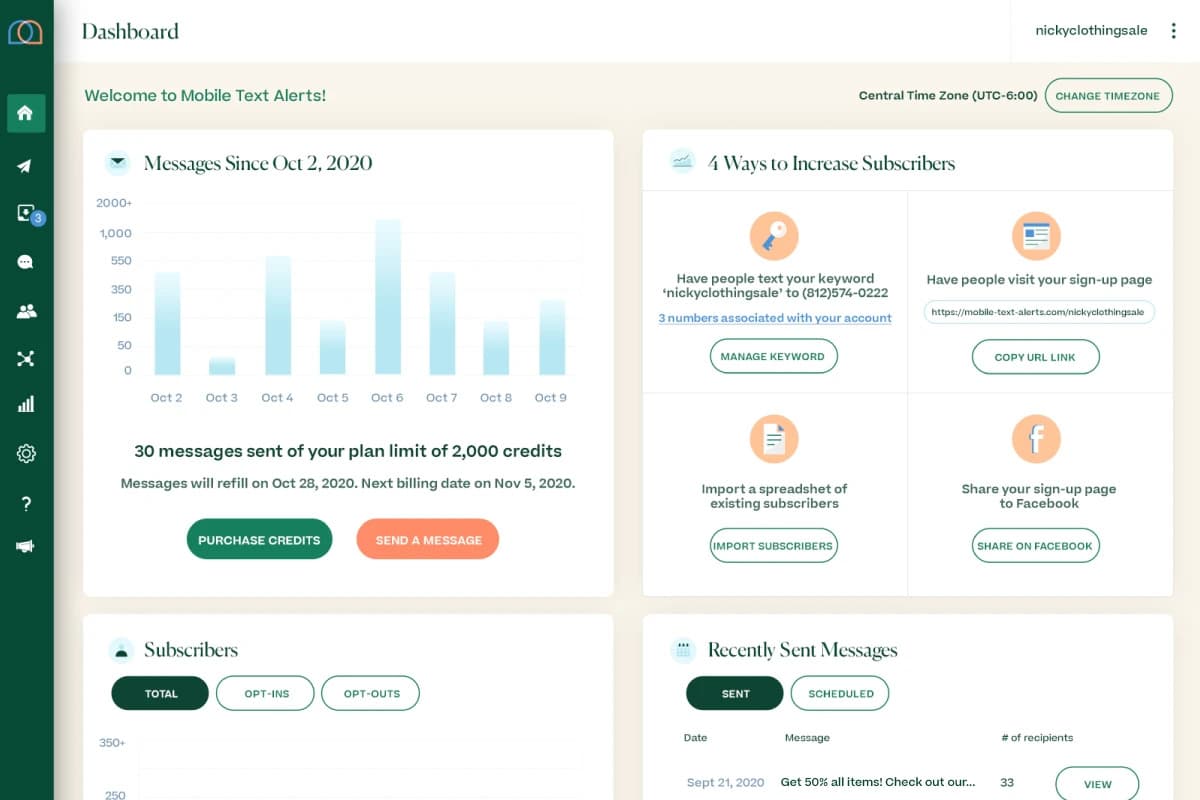 Mobile Text Alerts is an SMS software solution that has been around for quite some time and can easily be adopted by banks and financial institutions. The text messaging software enables two-way conversations with banking customers and even offers round-the-clock automated customer support. It also boasts multiple integrations with Zoom, Gmail, WordPress, and more.
Here are our favourite features from Mobile Text Alerts:
Automated reminders

Employee SMS shoutouts

Banking feedback surveys

Embedded links to resources and meetings
9. TextSanity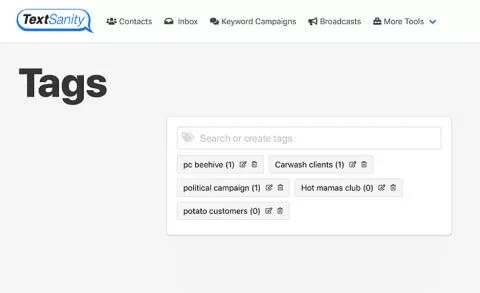 TextSanity is another reliable SMS software for financial institutions and banks.
This text messaging software lets banks create drip campaigns, send text message blasts, and create keyword campaigns to segment customer groups. The service is ideal for banks that have a marketing focus and regularly send out customer promotions.
Here are TextSanity's standout features:
Text message tags

Automated welcome messages.

Invoice and payment reminders.

Personalized SMS communications.

Text messaging cadence recommendations.
10. SMSGlobal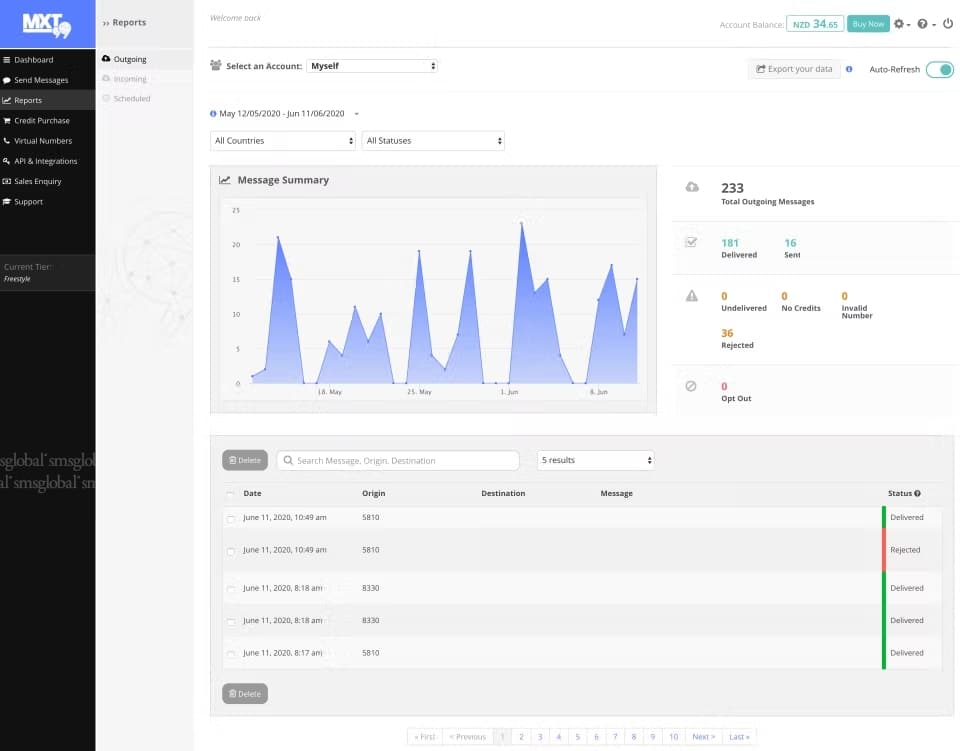 SMSGlobal is a secure text messaging software that can be used for banking and finance. Their business text message gateway lets users easily send personalized mass text messages, automate SMS notifications and reminders, and schedule mobile messaging campaigns.
Here are some of our favourite SMSGlobal features:
Two-factor authentication

Two-way SMS customer support

Full GDPR and CCPA compliance

SMS reminders and appointment confirmations

Text message automation for banking status updates
Improve Communication with SMS for Banking
SMS messages are playing an increasingly vital role in helping banks and financial institutions gain a competitive advantage in the market. Not to mention SMS tools relieve both employee and customer stress by making it faster and more efficient to navigate finance—a topic that can be tricky, to say the least.
If you haven't jumped on the bandwagon yet, it's time to harness the power of SMS for banking and finance!
ContactMonkey's internal SMS software makes banking and finance communications faster, more secure, and reliable. Learn how ContactMonkey can help you improve employee experience and customer service through one simple tool. Book your free ContactMonkey demo today!